25 Summer holiday ideas for teachers to get the most out of your free time

Dimitri Bongers & Sheryl Place —
Did the summer holiday already start where you live? Lucky you!
Are you counting down the days? Hold on: summer break is just around the corner!
In either case, you'll find some great ideas for a splendid summer in this blog post, which consists of two parts:
For those who want to take a practical approach to this, we have created a very handy Planner Widget. All 25 activities from this blog post can be found in the planner, but you can completely personalize it by choosing your own activities and determining their order. The most important links mentioned in this blog post are also included in the Planner's activities.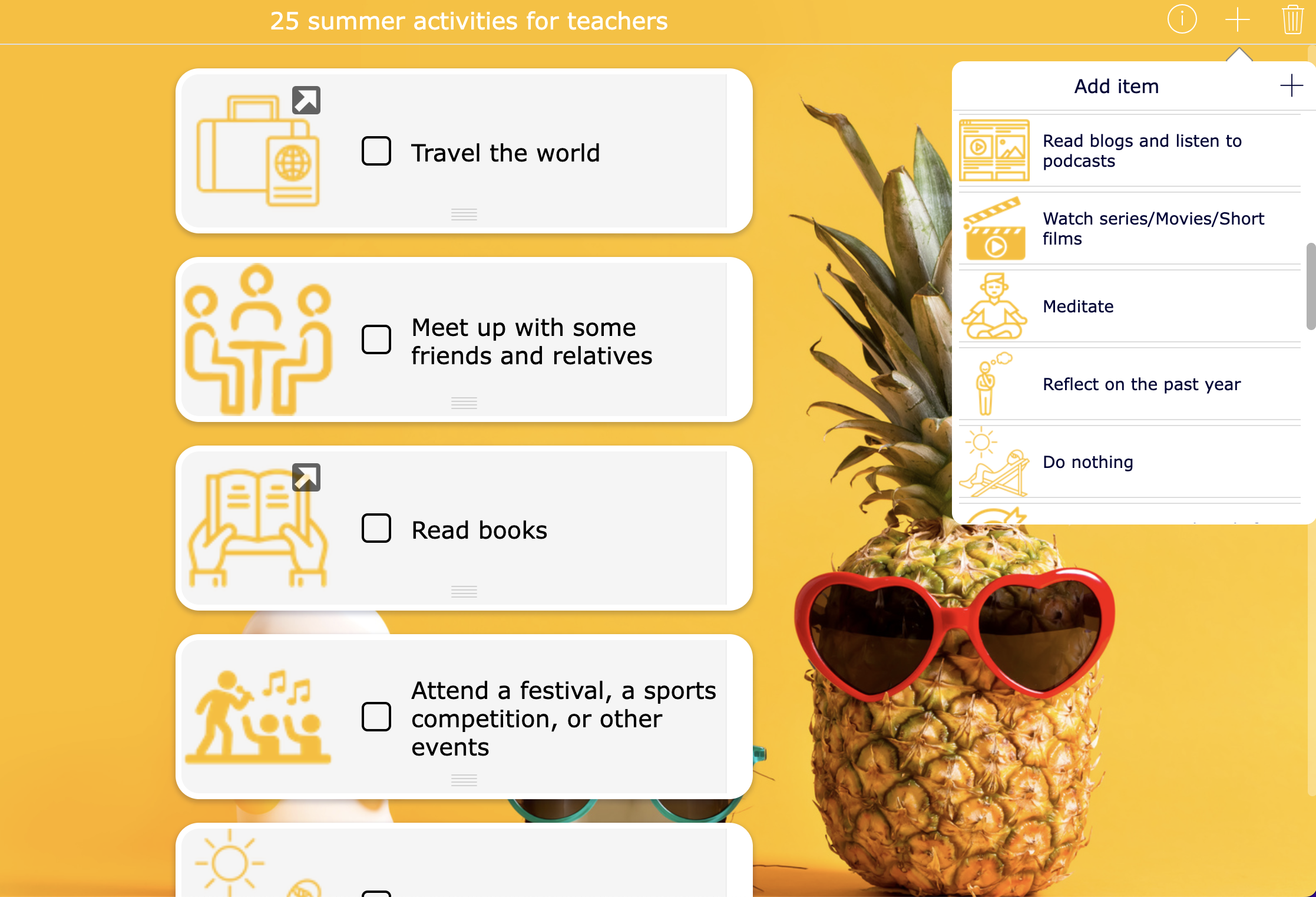 Click to open
Part I - Ideas to disconnect and relax during the summer break
Are you looking for inspiration to fill your free time? The first part of this blog post is all about refreshing your soul and your mind before you dive in again. We'll provide you with our best tips for your 2022 summer.
1. Meet up with some friends and relatives

After more than two years of lockdowns and restrictions, it is finally time to get back together. Which friends, family members, or (former) colleagues have you not seen for a while? Call them and make an appointment to have a drink together and catch up. What's better than a good talk with a friend and a cup of coffee?
2. Attend a festival, a sports competition, or other events

A lot of events were canceled or postponed over the past two summers…. time to catch up! There are plenty of choices with major sporting events like the Tour de France, some European F1 Grand Prix, or the World Athletics Championships in Oregon. For music fans, don't miss out on big music festivals like Rolling Loud (Florida / New York / Canada / Netherlands / Portugal), Lollapalooza (Illinois), Glastonbury (UK), Tomorrowland (Belgium), or Sziget (Hungary). Of course, you can also attend smaller events near you and support your local artists and athletes.
3. Travel the world

"The world is a book, and those who do not travel read only one page."
If your summer vacation is long enough, why not take advantage to explore the world? The good news is there are hardly any travel restrictions. Traveling is not only about relaxing, it is also a way to learn about other cultures. You will undoubtedly have experiences that will enrich you as a person and as a teacher.
Still looking for a destination? Check out this Google Maps Widget with the best travel tips from the BookWidgets team members! Don't expect the typical tourist attractions. In this overview, you will find hidden gems and untrodden paths that are absolutely worthwhile.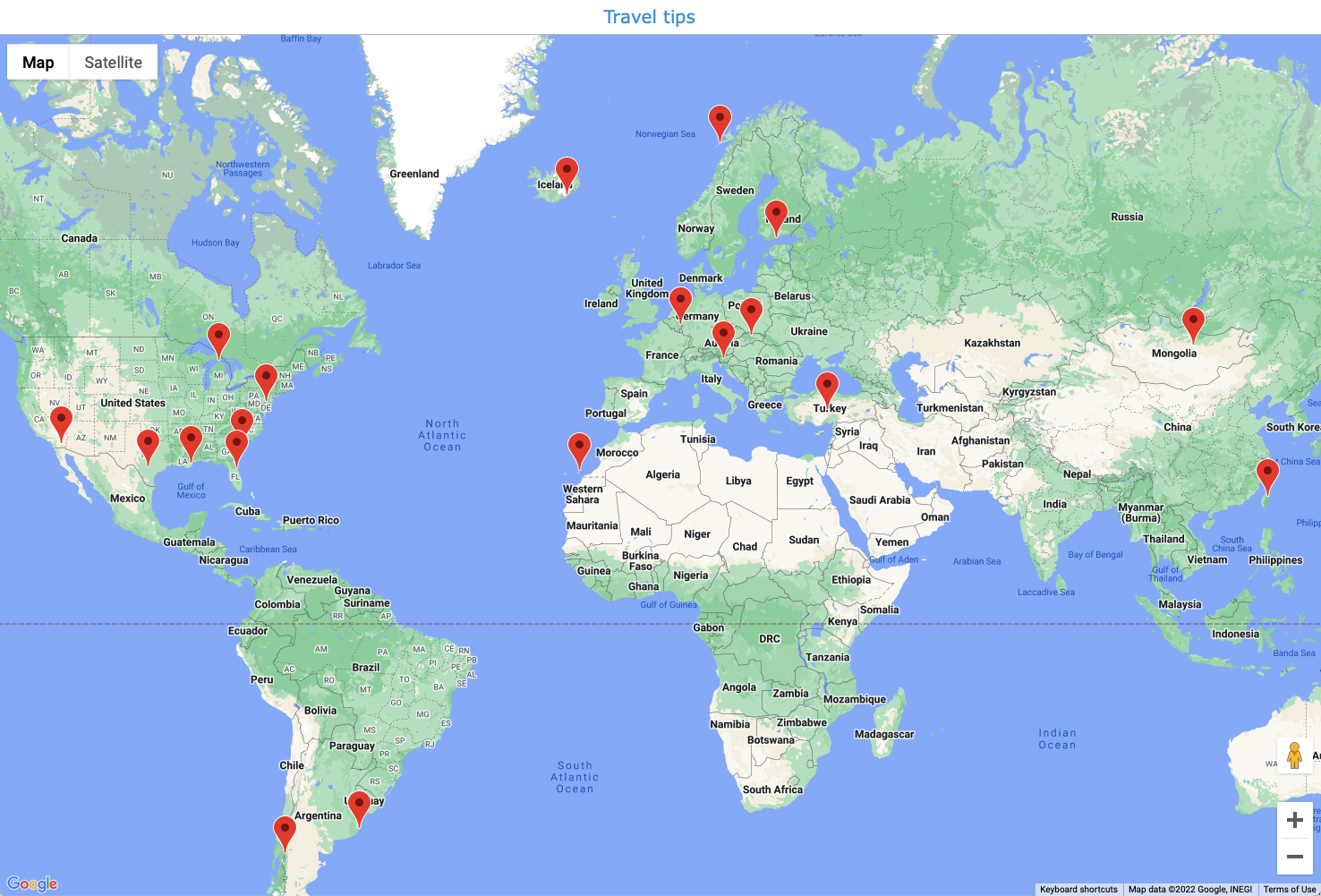 Click to open
Are you not in a position to travel far? No problem! The covid period has taught us that short trips close to home or even a staycation can also be really fun. Go local - check out a farmer's market, thrift store, and more.
4. Do day trips

A day trip - with or without children - is always a good idea. Whether you're visiting a museum, a nature reserve, or a city…. you always learn something and the day is over before you realize it. If you have a teacher's card, be sure to check at which places you get a discount or even free admission.
A successful day trip could be repeated with your students next school year as a field trip. Be sure to check out our blog post on field trips for inspiration.
An escape game could also be a fun activity. Nothing beats the experience of a real escape room, but online versions can be a good exercise. Try this digital adventure, where you follow a certain Eric Murphy throughout a remarkable day and find some other examples in this blog post.
5. Step out of your comfort zone and learn something new

Skydiving, geocaching, computer science, scuba diving, photoshopping, making TikTok videos, baking carrot cake, starting your own YouTube channel, write a book, …. there are plenty of things you have never done before and summer break is the perfect time to try them! This way you will experience for yourself what your students sometimes go through during the school year and it will enrich you as a person and as a teacher.
6. Cook and bake new things

When you have a little more time, outside of the hustle and bustle of workdays, you can finally try some new recipes. Looking for inspiration? Here are three tasty and super-easy recipes to try!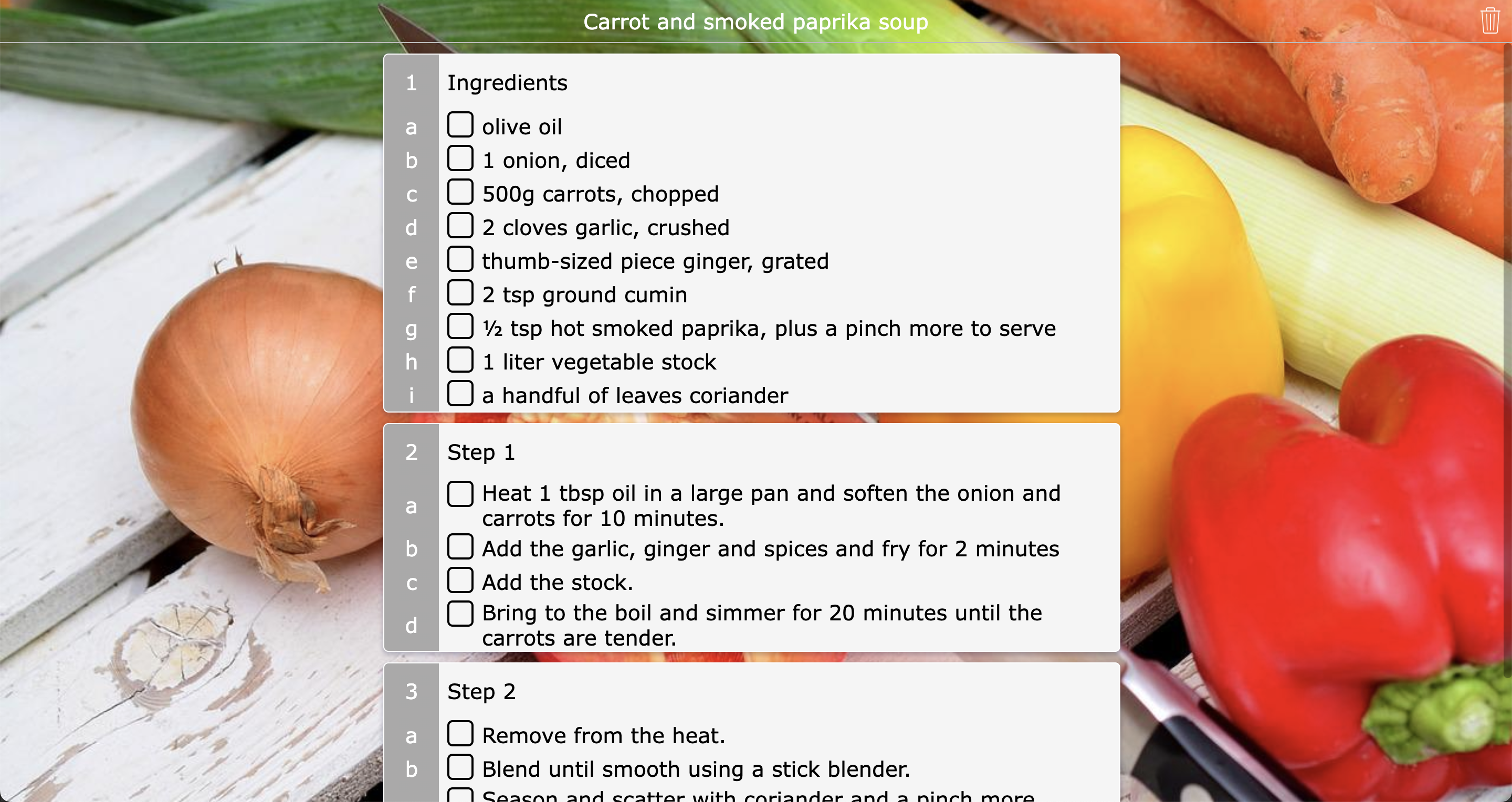 Click to open
7. Read books

Throw your laptop and smartphone aside for a moment, summer is the perfect time to read a good book. You don't have to spend a lot of money on new books. Check out what your local library has to offer, browse the used market, or borrow books from friends (who can give you good reading tips right away). Looking for inspiration? Check out our summer reading tips for teachers in the Tiptile widget.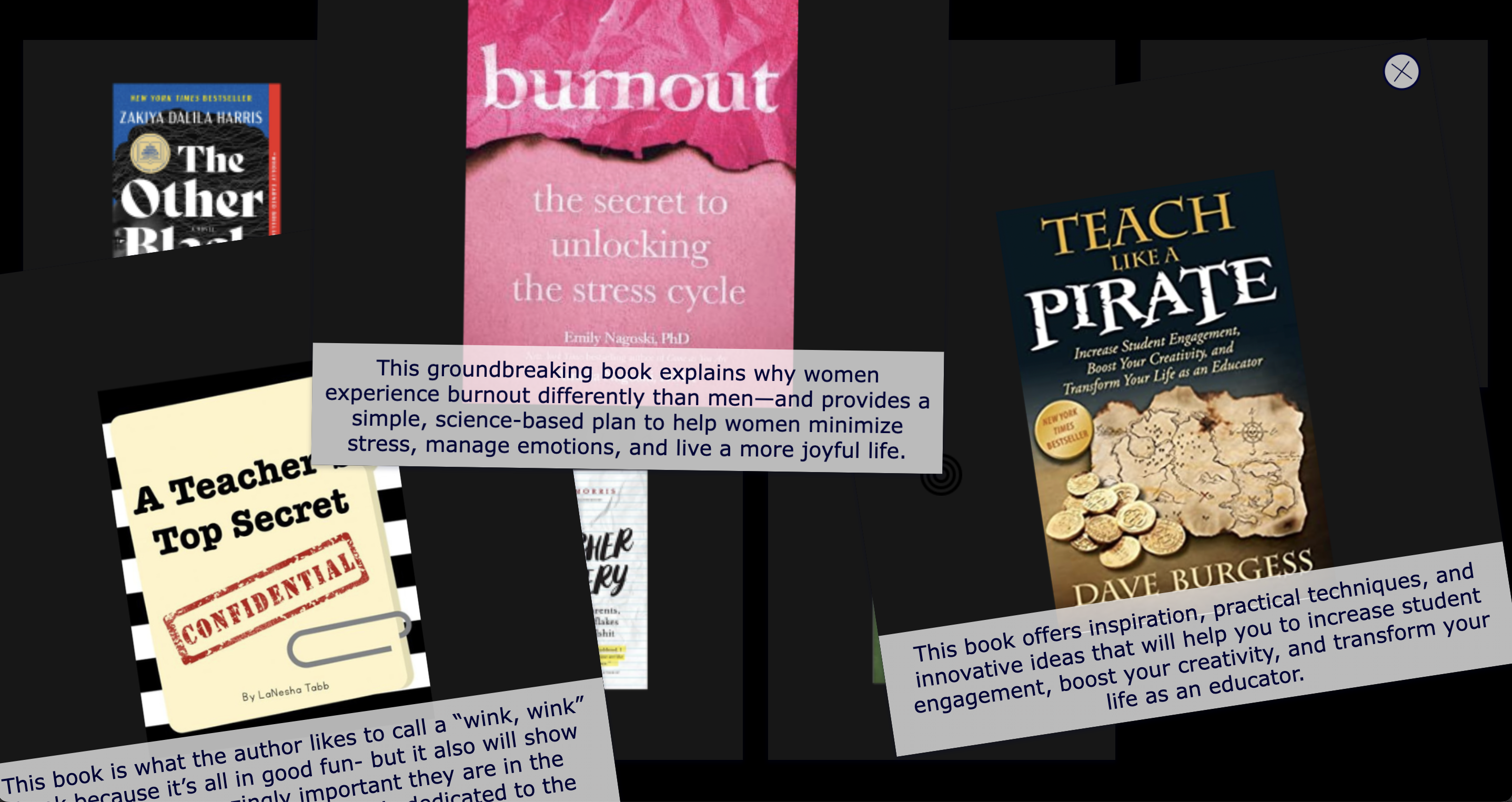 Click to open
After reading a book, you can reflect on your reading experience and analyze the story. In this blog post, we give 15 creative ideas about book reports for students. When you read a new book yourself, you have the perfect opportunity to test some of them and see what works best. Two birds with one stone.
8. Get outdoors

Hike, (e-)bike, run, swim, ride a boat, a kick scooter, a monowheel, or a skateboard … No matter which way you move, by getting outside you always discover interesting places or you get to know the places you already know in a different way. You certainly don't have to travel long distances. The important thing is to get a dose of fresh air and vitamin D. And while you're moving around, a picnic is a perfect break.
Looking for an app for finding and creating routes near you? Check out Strava, RouteYou, MapMyRide, or Komoot.
If you're in the United States, enjoy local, state, and national parks. Get off the beaten path and visit some lesser-known parks with fewer visitors:
And while you're enjoying the outdoors, you can immediately test a few lesson ideas from this blog post so you can share this experience with your students later.
9. Read blogs and listen to podcasts

During the school year, you sometimes see interesting blog articles or podcast episodes come along, but don't always have the time to read or listen to them in detail. Now is the time to catch up!
Looking for inspiration? You can start with the 5 most popular articles on the BookWidgets Blog from the past school year, or of all time.
BookWidgets' 5 most read blog posts of 2021-2022
BookWidgets' 5 most read blog posts of all time
Other useful edublogs can be found in this article.
Are you more of a podcast listener? Then be sure to check out this list of interesting podcasts for teachers. Or listen to some podcasts related to your teaching subject, that you could also share with your students
10. Watch series/Movies/Short films

While we recommend you get outdoors as much as possible and limit your screen time, sometimes it's just nice and relaxing to watch a good movie or series. Tip: go to a small alternative cinema or watch lesser-known foreign series and movies instead of the blockbusters.
Are you still looking for inspiration? In this Tiptile Widget, you will find some must-see movies for teachers.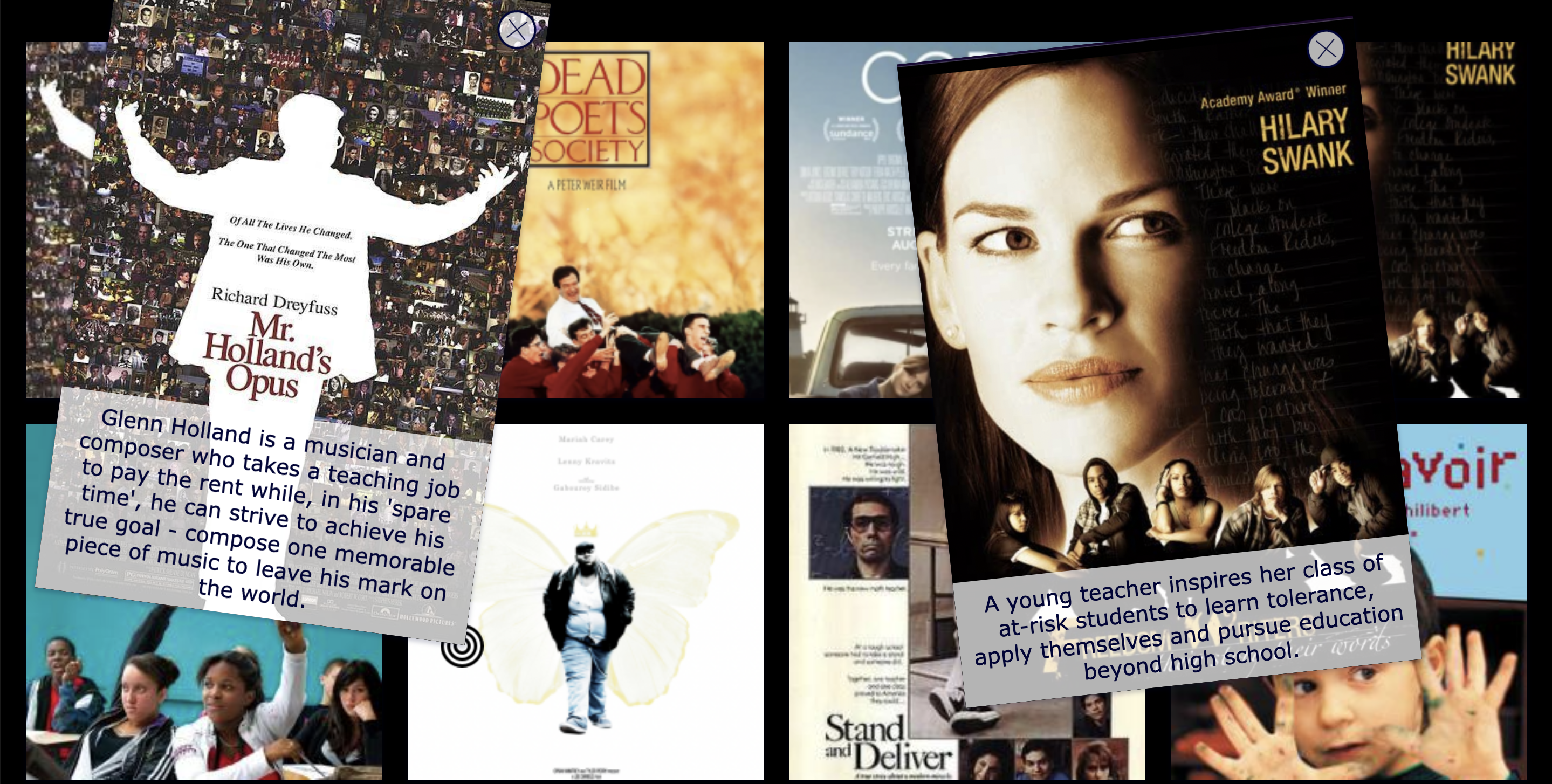 Click to open
Or check out the short films in this blog post, which can inspire you for next school year's lessons.
11. Meditate

Take some time to invest in your most important resource - YOU.
Setting up a summer meditation routine now may also help once the new school year begins. The effects of mindfulness and meditation have been well-documented in reducing stress and increasing focus. A recent RMT Study indicated that mindfulness and meditation can:
Reduce stress and feelings of burnout.
Improve emotional health, including self-confidence, empathy, compassion, and patience.
Enhance teachers' ability to concentrate and focus.
Improve health, including reductions in absenteeism.
Enhance job performance (better classroom management for example)
Here are some great free meditation apps and resources just for teachers.
Once again, you can share your own successful experiences in this area with your students later. Inspiration can be found in this blog post.
12. Reflect on the past year

Another school year is over! It was undoubtedly a special year, with COVID-19 still present, but thankfully fading more and more into the background. The summer break is a good time to reflect on what the past year has brought for you as a person and as a teacher. How have you grown? In what ways were you more than just a teacher to the students? What will you remember from the past year? Why?
Of course, you choose which way to reflect: thinking, talking with colleagues, and even journaling about the year so that you can close that chapter and begin a new one.
To learn more about reflecting, check out this blog post.
13. Do nothing

The tips above will no doubt give you a lot of great ideas, but the most important tip is to completely clear your head and recharge your batteries. Definitely don't plan too much and at times just do nothing. Above all, don't forget to enjoy the summer!
Part II - How to prepare for the next school year
Is your summer vacation almost over and are you ready to start the new school year with full energy? Then you will find in this second part of the blog 12 tips to be perfectly prepared at the starting line.
14. Set some personal goals for the new school year

As a teacher, you know that every well-prepared lesson starts by defining the learning goals. So why not set some personal goals for the new school year? If you have reflected on the past school year (see tip #12), you have probably found a few opportunities for personal growth. If you struggle with finding your personal goals, we recommend the "What is your why?" method. Once you have the why, the how will come.
To not lose sight of your goals once the hustle and bustle of the school year arrives, it is recommended that you write down your personal goals. To make it very visual you can create a vision board and put it in your classroom or near your desk.
15. Consider Professional Development

If you have set your personal goals (see tip #14), you may realize that to achieve them it may be helpful to pursue professional development. Whether it's learning new teaching methods, mastering new EdTech tools, or immersing yourself in your field, there are always interesting PD courses to be found. It's a good idea to start considering this now so that you take it into account in your planning right away. During the school year, you may lose sight of this.
Looking for inspiration? Check the 20+ professional development resources for teachers in this blog post.
16. Organize classroom materials and supplies

Your classroom is the place where the magic happens! It is the place where your students grow in their learning process, where they sometimes have discussions, and where they feel safe.
As a teacher, you want to provide an environment that offers structure, but also stimulates their creative process. Maybe this year it's time to give your classroom a facelift. Often, a few small interventions (like changing the seating arrangements, see tip #22) are enough to create a completely different feeling.
To get inspired, check this Pinterest board and this Instagram account with classroom decorating ideas.
Before you buy new supplies, check with your school board about the available budget. If it's limited, you might be able to do some fun things with some creative ideas. You could also consider registering on sites such as Adopt a classroom or Donors Choose.
17. Archive the work from last year

To start a new school year with a clean slate, it is recommended to close the previous school year administratively. Depending on the rules in your country, state, region, or district, you will need to retain certain lesson content from the past school year, e.g. for an inspection. If in doubt, it is best to inquire with your school board. Do this first, so that from now on you can turn your gaze fully to the new school year.
If you used any EdTech tools last year (we bet you did 😉), be sure to check what happens with content and results from the previous year in these tools.
If you work with BookWidgets, we have good news. All previous student results are automatically organized by school year. As of this year, widgets are also automatically reset, meaning that repeaters will no longer see their completed answers from the previous year when you reuse the same widget. More information can be found in this recently updated blog post.
18. Check the licenses/accounts of your favorite EdTech tools

Technology is great… when it works. The start of the school year is a good time to check and get a few things in order. Here's a small checklist with our tips:
Check that you still have access to your school's LMS and your most-used EdTech tools (do you still remember your passwords?);
Check with your school's IT admin if you need to renew some licenses. If you have a BookWidgets account, click here to check the expiry date of your license;
Check if your favorite EdTech tools have done any interesting updates that could be useful in the new school year (like the Rubrics question and the Word import feature in BookWidgets);
If you manage a student/parent communication tool yourself, update student (and parent) data;
Archive previous years' data to start with a clean slate (see tip #17);
Check for professional development on EdTech tools (see tip #15);
19. Make a plan

"Plan your work and work your plan."
Proper planning is the best way to keep track of things during the school year. Of course, it is not the intention that you have planned every lesson in detail on day one; planning can always change. But planning does give you and your students something to hold on to. It is best to take the following elements into account when making a plan:
What major curriculum components do I need to cover?
How much time do I have?
When are the holidays?
When are the exams?
How much time should I provide for repetition and remediation?
Which large assignments do the students have to do for my subject and for other subjects?
When are field trips scheduled?
When do I plan professional development?
If you want to make your planning visual, be sure to check out these fun free template planners from Canva or invest in a complete planner on Teachers Pay Teachers.
20. Create an emergency substitute folder

It can always happen that you are absent during the school year, or need to replace an absent colleague. This always happens at an inconvenient time, leaving you too little time to create an alternative assignment for the students. Therefore, it is recommended to have an "emergency substitute folder" ready in advance. The good news is that with BookWidgets you can do this very easily! Read more about it in our blog post "4 ways to help students continue learning when the teacher is absent".
21. Create and follow groups to collaborate with other teachers

If you're looking for fun lesson ideas, know that there are several groups in BookWidgets where teachers share ready-to-use digital lessons and interactive exercises. If you have a BookWidgets account, you can view all of these lesson materials, duplicate them to your own account, edit them if necessary, and then share them with your students.
So, don't wait any longer, create a free BookWidgets account if you don't already have one and start looking for relevant groups. We highly recommend these groups:
Or search for groups related to your profession yourself in the "My groups" section of your account.
Reciprocally, you can also share your own teaching materials in these groups so that other teachers can use your great ideas.
Learn more about collaborating in BookWidgets in this recorded webinar.
22. Determine your desk and seating arrangement

Despite the fact that so much has changed in education in recent years, the seating arrangement of classrooms still often looks surprisingly "old school" (pun intended). However, certain new teaching methods work even better when you also adjust the classroom setting accordingly. The start of the school year is the perfect time to take a moment to review with your colleagues whether you might want to change the setup of the school desks. For inspiration, be sure to read our blog post "19 classroom seating arrangements fit for your teaching".
23. Prepare for the first day of the school year

The first day of the school year… everyone back at their post with vacation stories and recharged batteries, familiar and new faces, a little healthy stress, and most importantly, a very important day to get off to a good start with your students. Every teacher knows that the first day of school (and by extension the first week) often sets the tone for the rest of the school year, so it's extremely important to get a good start.
In past years, teachers have made the most of our ready-to-use lesson ideas for the first day of the school year. You can find them in these blog posts:
24. Get to know your new students

Depending on your school organization, you will receive your class lists a few weeks to a few days before the start of the school year. Although it is often difficult to learn so many new names in a short period of time, it is an important form of recognition for the students that you get to know them quickly.
A handy and fun way to quickly get to know your students is this fake Facebook profile page (created with the BookWidgets Worksheet Widget) which also asks students to add a photo and pronounce their name.
25. Don't forget to enjoy your last days of summer break and… don't stress

Yes, there will probably be a lot of elements to manage from the start and unexpected things like a copy machine that's not working in the first week… but you can manage that! If it does become a bit tough, use your meditation app's techniques (see tip #11), have a look at your vision board (see tip #14), or check your planning (see tip #19) to count down the days until the next break!
Wrap up
Do you want to use some examples from this blog post in your lessons? You'll find them in this BookWidgets group.
Have you decided yet how you are going to fill up your summer? Which tips from our list are you definitely going to apply? We're very curious, so be sure to let us know on Twitter! - @ibookwidgets
On behalf of the entire BookWidgets team, we wish you a great summer break and an excellent new school year!
Continue to be awesome. 🎉 Let's enjoy summer together! ☀️ ~Dimitri & Sheryl