4 Superpowers every teacher must add to their Google Classroom with add-ons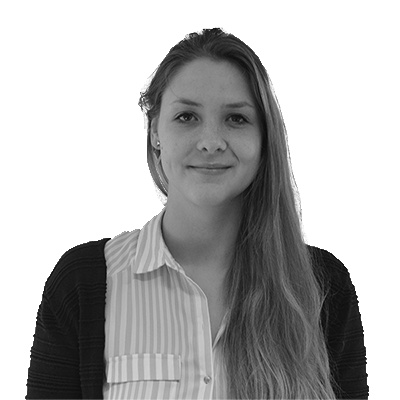 Lucie Renard —
Google Workspace for Education schools with the Teaching & Learning Upgrade, and Google Workspace for Education Plus schools can add their favorite EdTech tools to their Google Classroom. When creating new assignments, you can choose to add an add-on resource. And…🥁🥁🥁: BookWidgets is included!
Here's where you can find the BookWidgets add-on 👇
Go to Google Classroom,
Select a class and go to "Classwork",
Click on "Create" and choose "Assignment",
Fill in the details of your assignment. Then, click the BookWidgets add-on under the "add-ons" section in your assignment. If BookWidgets is unavailable, ask your Google Workspace administrator to add or allow the BookWidgets add-on;
After clicking the add-on, BookWidgets will pop up, and you're ready to go!
Make sure to watch this 1-hour webinar course to get started with the BookWidgets add-on in Google Classroom.
Now, let's see how BookWidgets can lift your Google Classroom to the next level with 4 new powers.
1. The power of creation 🦾
Choose between 40+ interactive template activities to add to your Google Classroom
When selecting the BookWidgets add-on, our tool will open in Google Classroom, allowing you to create a new "widget" (or digital activity). A widget library immediately opens, and prompts you to choose the type of your first lesson activity: a crossword puzzle, timeline, webquest, whiteboard, quiz, … These are all easy to configure with your own content, and can be used for any subject area and grade level.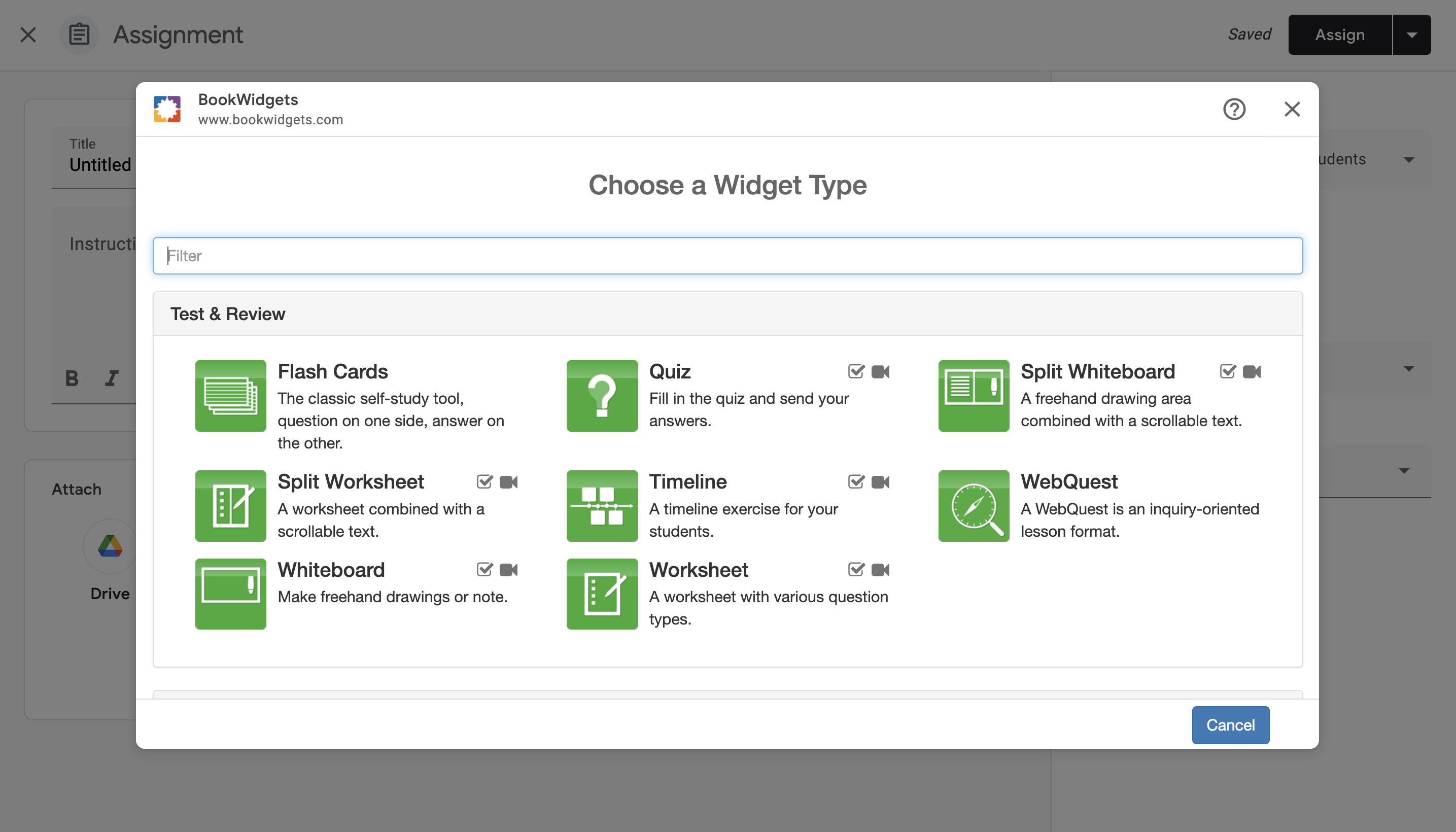 The lesson templates have settings that make them easily adaptable, both in terms of accessibility for students with special needs, as well as tailoring them to your lesson type. Is it a formative or a summative evaluation? Is it homework? An exercise with immediate feedback for practicing? How about exercises that succeed each other inside a learning path? A complete digital lesson? A learning game to repeat a lesson?
Let me show you some examples:
I created a few BookWidgets activities for the first day of school: A counting-to-10 worksheet activity for kindergarten, a first-day-of-school bingo for primary school, a classroom rulebook for middle school, and a fun icebreaker randomness activity to start the first day in high school. Click on the links and go check it out. I have another goal-setting worksheet for you just below. Click on the image to take a look. 👇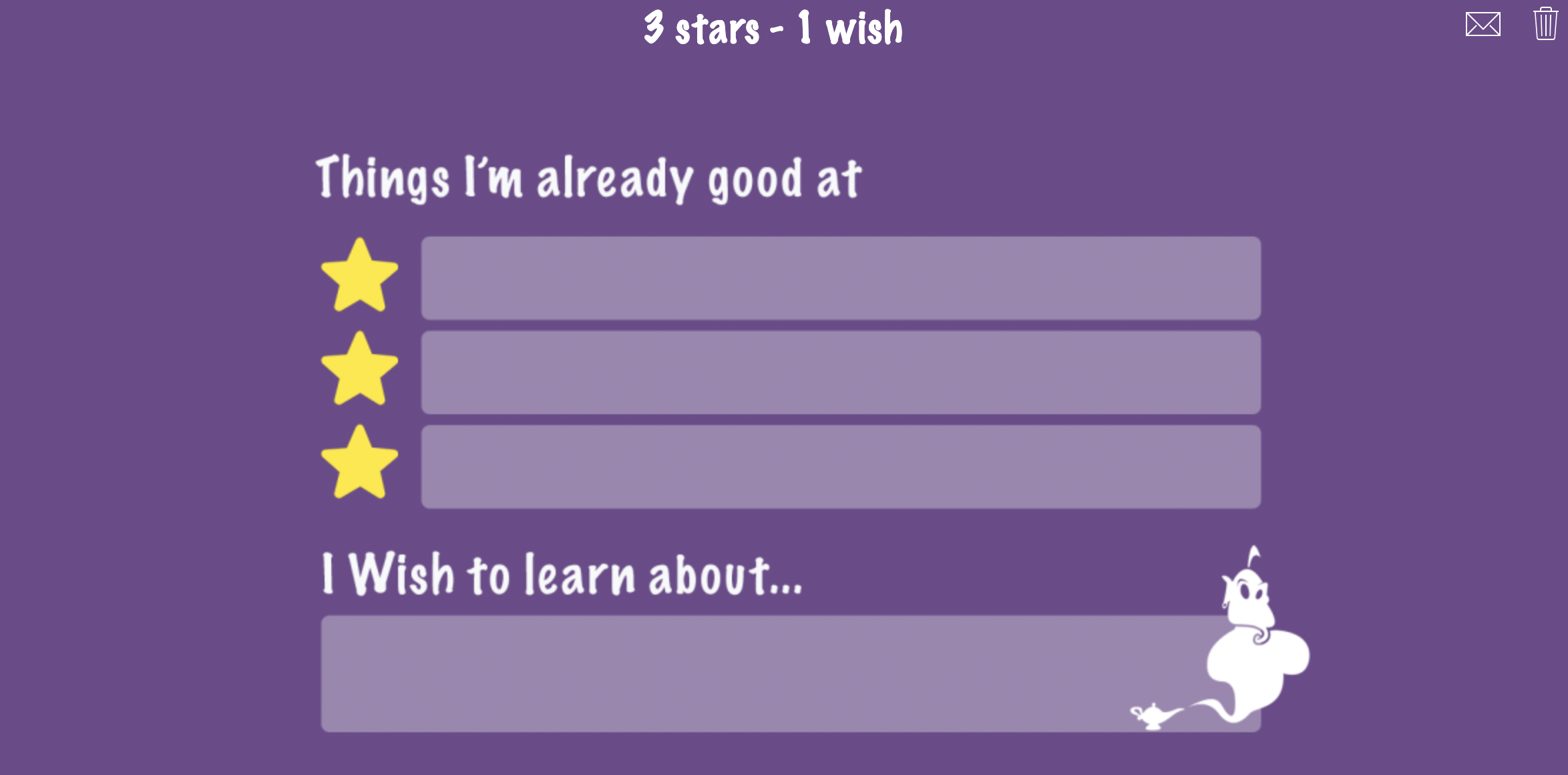 Click to open
As you can see, the BookWidgets add-on can be used for any age. Now let's check out some examples in different subject areas:
For a book review, my students need to invent a WhatsApp conversation between two important characters. For comprehensive reading, you can also let them read instructions and show their understanding by drawing. How about solving a pair matching game with complex math formula? A quiz activity has some amazing question types and possibilities developed just for math and science teachers. Here's a fun science exit ticket including a TikTok video! For Biology, I have two more examples. One about frogs and one about birds. And last but not least, a lesson example for history, one for geography, and another one for… again, geography.
You get the idea. With the BookWidgets add-on in Google Classroom, you can do anything.
On to the next superpower!
2. The power of auto-grading ✅
Create auto-graded assignments with over 35 different question types
With the BookWidgets Worksheet and Quiz widgets (lesson templates), you can create self-grading assignments that you can use in both formative and summative assessments. You can add lots of interactivity by using 35 different kinds of interactive questions. Make sure to include multimedia elements in your assignments such as audio, video, and images to engage your students even more.
Here's an example worksheet with all of the available question types in it. Click on the image and go check it out. Remember, it's just the formatting that counts as you can adapt them with your lesson content. How will you use this in your lessons?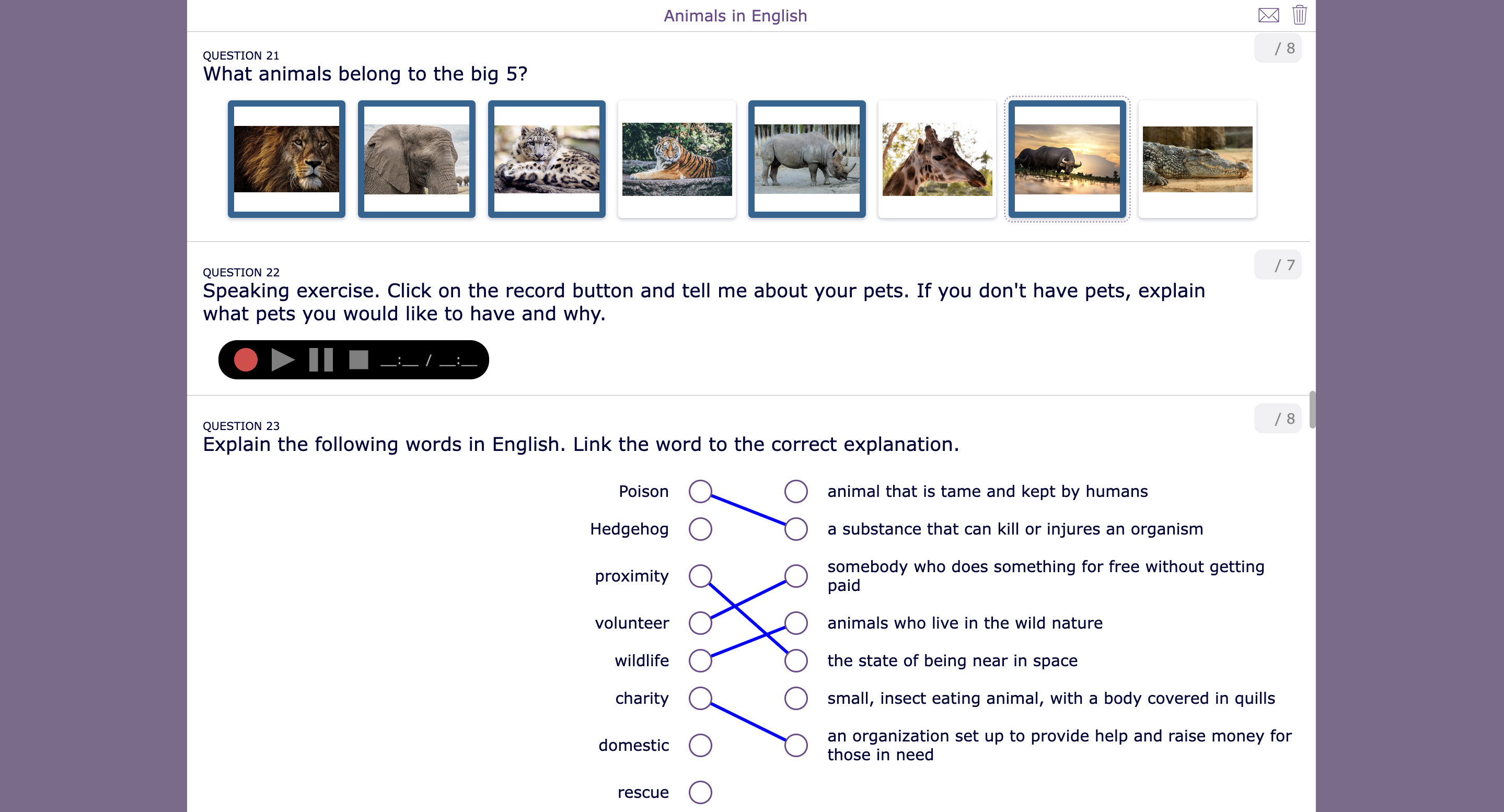 Click to open
Here are my 5 favorite question types:
The Crossword Question: Spice things up in your assignments. Anyone who believes that a quiz or worksheet is plain and boring should think again. Engage your students with game elements in your assignments.
The Group Items Question: Students can link elements such as text, audio, and images to each other. They can drag and drop the correct items into a group.
The Audio Recording Question: Students can record their voices to answer your question. It's perfect for practicing speech at home. Teachers can easily follow up and give feedback on their voice recording after.
The Whiteboard Question: Students get a white canvas, or potentially a canvas that already has a background image on it. This question type allows students to indicate certain things on an image with drawings, straight lines, and text in different colors.
The Rubrics Question: Add this question to see if your students can reflect on their understanding. Students have to assess themselves, and you as a teacher can overwrite this when returning the assignment and feedback.
Ready for the next superpower? 👇
3. The power of sight 👀
Monitor students' work in real-time in Google Classroom
You can follow up on your students in real-time while they are working on your BookWidgets assignment inside Google Classroom, and help out where needed. Discover which students need greater challenges and which ones need an extra hand, all through the use of your Live Widgets Dashboard, accessible from inside your Google Classroom.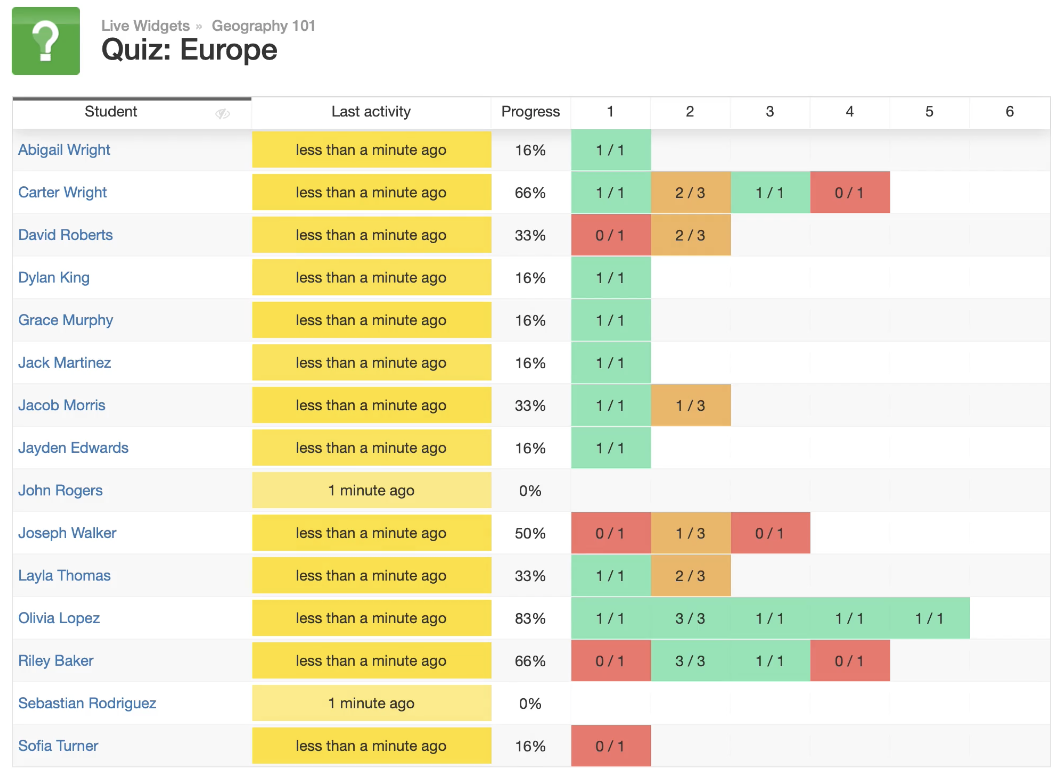 The Live Widgets dashboard also makes it possible to do (anonymous) live surveys. For example, using this exit slip widget, students need to take a stand on a statement by selecting 1 of the 3 emojis. In the Live Widgets dashboard in Google Classroom, the emojis will represent colors. You can project your screen, so students can see how everyone votes. You can blur out names too, so the voting happens anonymously. Now, let's start a conversation!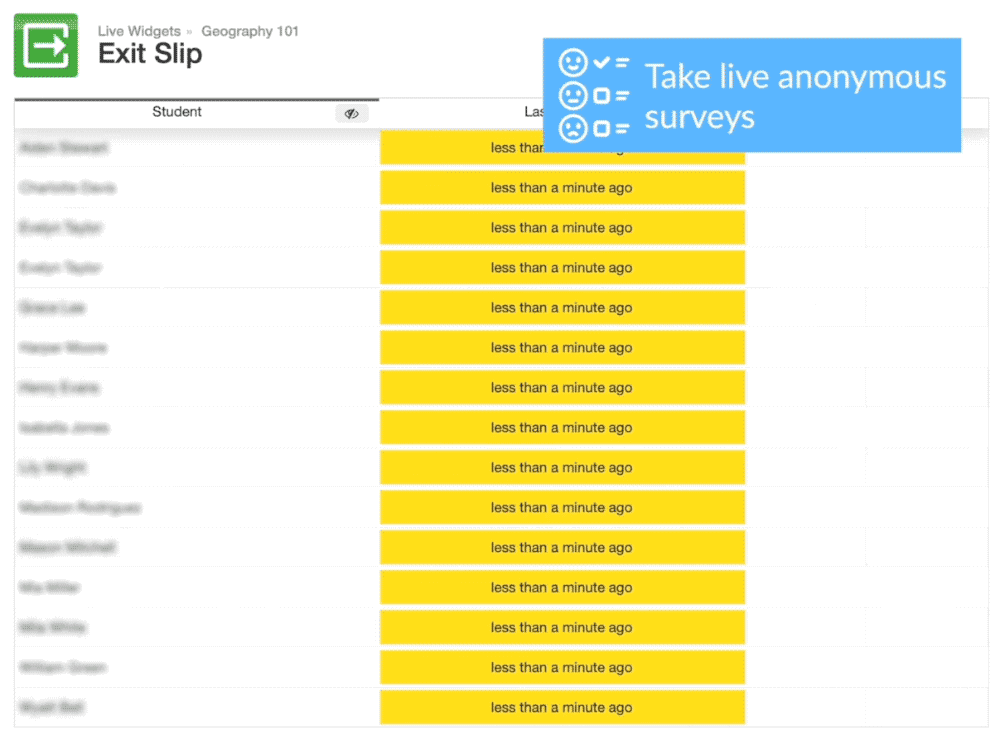 4. The power of feedback 💬
Open up an efficient reporting dashboard for review & feedback
After students have finished an auto-graded assignment in Google Classroom, you can navigate to the BookWidgets reporting dashboard. Here, you can review your students' work, add comments, change the automatically given grades, and use filters to hide the correct answers so you can focus on answers that need your attention. All of this without ever leaving your trusted Google Classroom environment.
When finished, you return the work to your students within Google Classroom. You can even choose what kind of feedback they will see as a group or as an individual student. One student's feedback view might differ from all the others. Maybe this student gets a second chance, and you don't want to show the grades or solutions yet. This student will see your feedback and can immediately try again.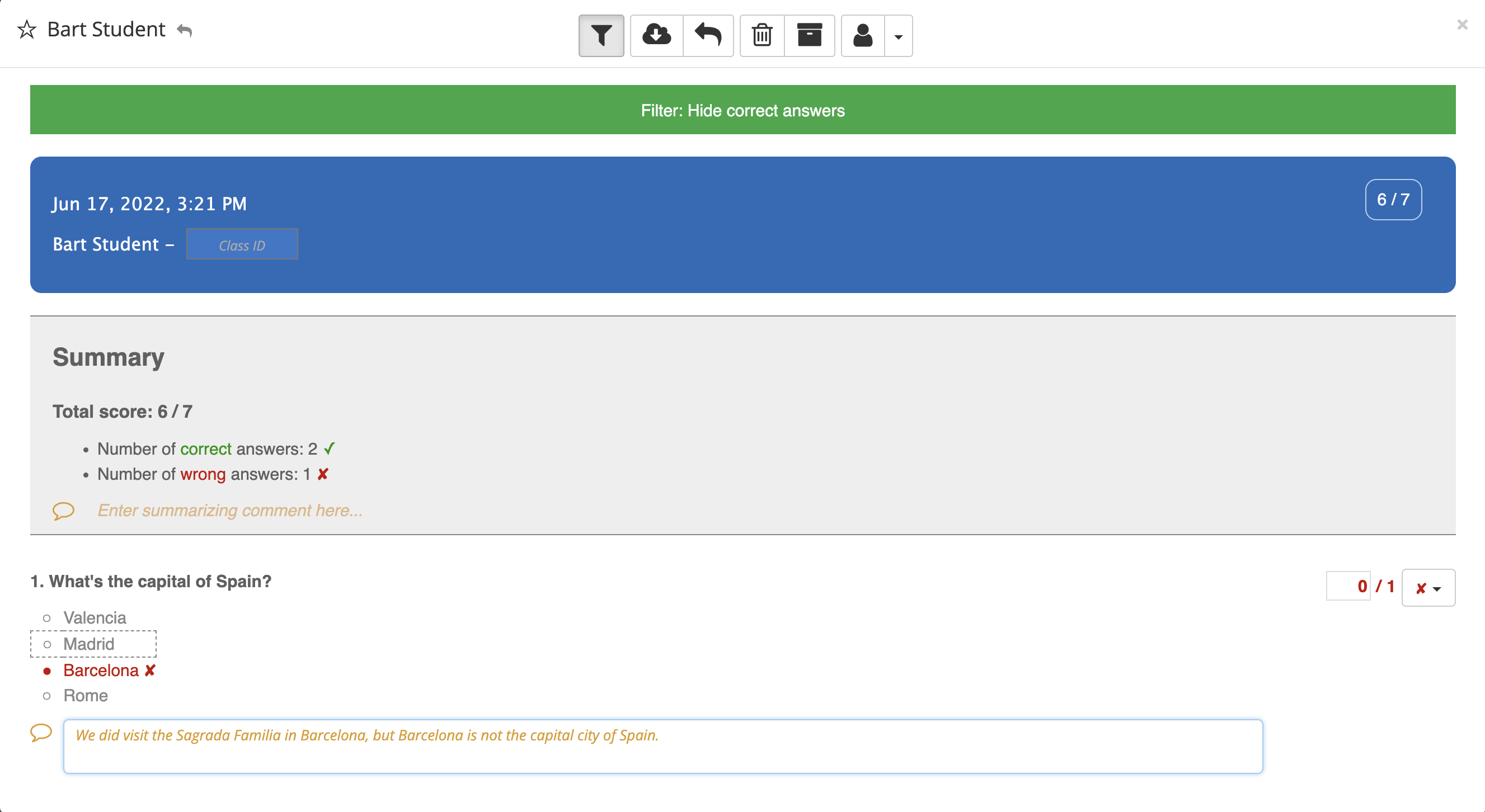 Getting started with the BookWidgets Add-on in Google Classroom
There are a few requirements to get the BookWidgets add-on going in Google Classroom.
First, your school needs a Google For Education Plus account or the Teaching and Learning edition. This opens up the possibility to add third-party applications to your Classroom using "Add-ons". (If you're using the free Google Classroom version, you can still use our Chrome extension, just like before.)
Next, you can create a new assignment and look for the BookWidgets add-on. Click on it. You will get a message to contact our helpdesk. Or you can do this right away, here. As the BookWidgets add-on only works school-wide, we need to enable it for your entire school.
Once that's done, all teachers in your school can get started! You now have a supercharged Google Classroom! ⚡️
If you're a Google Certified Trainer, you're in luck! Make sure to mail us and mention that you're a Google Certified Trainer. You're in for a treat…
Wrap up
That's it! I hope BookWidgets will open up thousands of new teaching and learning possibilities in your (Google) classroom. Give us a follow on Twitter and join our teacher community on Facebook.