15 Creative and digital book report ideas that will get your students excited to read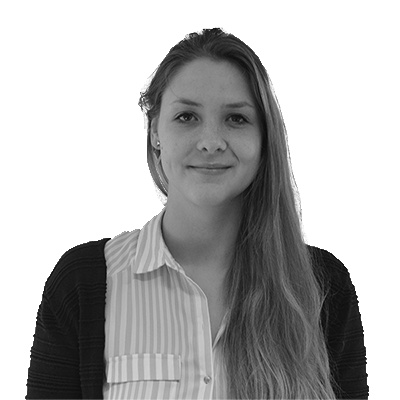 Lucie Renard —
Not all students are excited to read a book. So how can you make reading a book more engaging and fun? This is a huge challenge for most teachers, so I hope I can help you out!
Here's what you'll find in this blog post (click on the title if you want to jump to the section directly)
5 tips to get your students excited about reading
Before you dive into the book reports, you have to get your students excited about reading first. In this previous post about reading, I've listed 10 tips that will encourage your students to read. I've come up with 5 more amazing tips! Here we go:
1. Use AR apps

If younger students don't like to read, it's often just due to a lack of imagination. Imagination is basically a child's superpower. AR apps (augmented reality apps) can bring books to life and immerse students into a whole new fantasy world whilst reading.
Here are a few apps with amazing storylines and AR books.
Wonderscope, for example, is an excellent storytelling tool. It uses augmented reality to transform ordinary places into real-time stories. Students also learn to read with the app. They ask questions to the characters in the story and listen to the characters' answers.

The Ghostkeeper's journal and field guide: This book is an immersive adventure for readers aged 10 and up, offering several AR experiences to enhance the storyline. These are accessed via a mobile app "Ghost-o-Matic".
Bookful creates an engaging reading experience and brings stories and characters in books to life. The app holds the world's largest 3D/AR library with hundreds of titles from leading publishers and brands such as: The Tale of Peter Rabbit, DK's Encyclopedia, and children's favorites such as Barbie, My Little Pony, Thomas & Friends, Transformers, and The Smurfs.
2. Escape lessons

Everything is much more fun if you include a challenge in your reading lessons. Instead of giving your students a real book, you can switch it up from time to time. In this case, you're creating your own escape the classroom game. For students to get to the finish and complete your challenge, they have to read your storyline and understand what they are reading. If they don't understand the text, it will be hard for them to finish your lesson. The most fun thing about this is that you get to control the narrative and content in your lesson.
Here are 3 fun ready-to-use escape lessons to spark your students' joy of reading:
A Halloween Murder: Let your students investigate the murder of the victim: Brat Spook. When they find the murderer, they get their "inspector" badge. Let them look for evidence in the murder scene, talk to suspects, analyze lab results, and so on!
Finding Rudolph: Save Christmas by helping Santa find back Rudolph. Students go through different challenges, talk to eye-witnesses, and follow Rudolph through a winter maze, so Santa can deliver all the presents to the children.
Easter Bunny Substitute: Can your students find a good Easter Bunny replacement? In the last breakout game for the classroom, the Easter Bunny is hurt, so your students need to interview the possible applicants and take tests to replace the Easter Bunny themselves. If they succeed in the challenges, they get an Easter Bunny substitute badge.
3. Storytelling

In every language course, students learn more than just language. They generally also learn about famous poets, singers, and writers of their time. They learn about important historical events and milestones in the countries where the language is spoken.
If you bring cultural elements into your lessons by telling a story, your students will be more eager to learn. Storytelling makes students want to "live the story". And they do this by reading it. If your story is strong enough, your students will love learning and reading. They will even remember the lesson content better.
Here's a fun & ready-to-use example: The life of William Shakespeare
4. First chapters

One of the most effective ways of getting someone's attention is saying "A", but NOT "B". They will beg you to tell the rest of the story. This trick also works for encouraging students to read. Every Friday, you read the first chapter of a new book out loud. Then, stop. Your students are now dying to know how the rest of the book will go.
5. Books & sleepovers

For some reason, reading a book is mostly done before bedtime. Get cozy in bed with a nightlight, and start reading. When you're tired, just switch off the light and go to sleep. So, why not do this with your entire classroom? Organize a classroom sleepover event dedicated to "the world of books".
You can even add different parts to your sleepover. For example, let students read their favorite passage in a book of choice out loud, and 1 hour before bedtime, all your students take their book and read in silence. Or how about creating cozy themed corners? Fantasy, science fiction, detectives,… When your students are reading in themed corners, they get the full experience. They can even dress up as a character in their book whilst reading.
15 Creative and digital book report lesson plans
Step 1: Get your students excited about reading. ✅ Step 2: make sure they don't lose their interest when you're announcing the book report assignment! ☑️ This part can be demotivating.
As the lower grade students often still get fun book report assignments, the higher grade students often get a dull worksheet where they have to describe the characters and give a summary. Change up your book report assignments with these creative, free & ready-to-use lesson ideas.
Take a look at all these ready-to-use and free digital book report activities. They're all made with BookWidgets. You can even make exercises like these yourself in your own BookWidgets account.
Keep on reading to find out how to use these exercises in your lessons.
1. Glasses
How did your students experience the book? Let them fill the glasses with drawings of the storyline/the book. The glasses represent the view of the students. Students can get really creative and use the toolbar at the bottom to draw and type.
You can ask your students to present their book report artworks to the other students as well. This way, your students can explain what's on their drawing.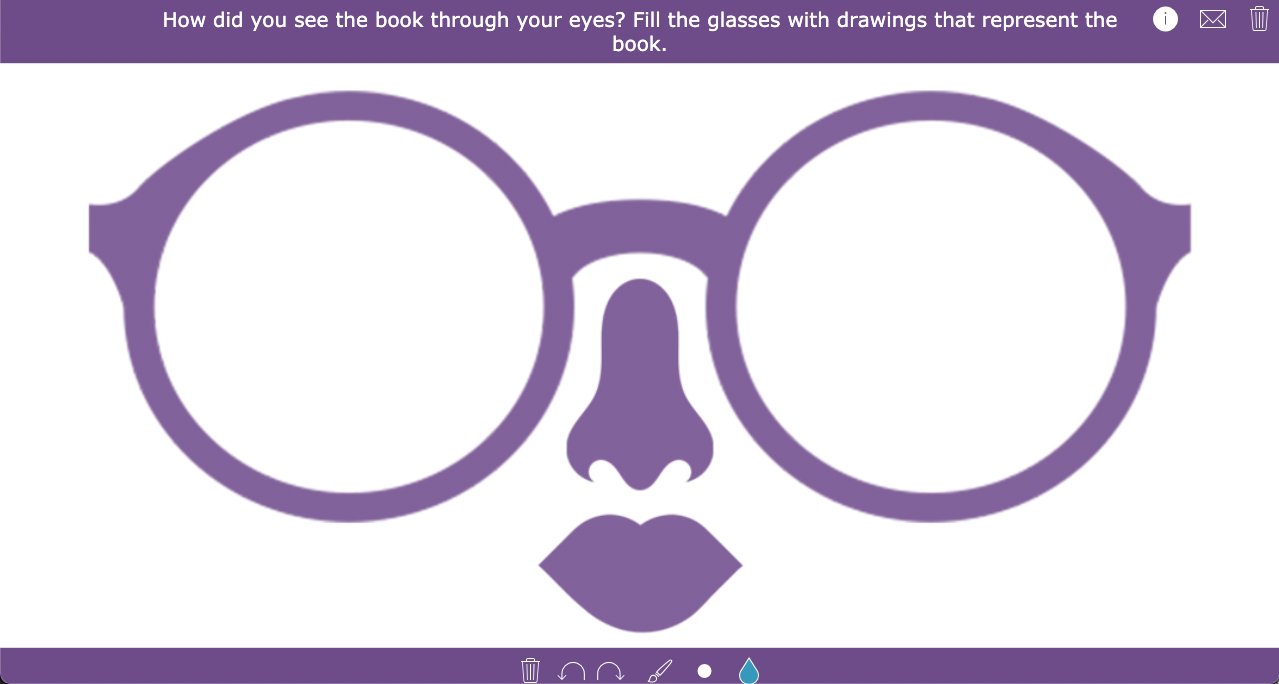 Click to open
2. Bookworm
This is a quick exit ticket for book reviews. If your students all had to read the same book, article, or text, you can give them this exit ticket at the end of the lesson to see if they understood what they read. You can also assign this as a part of different book report exercises.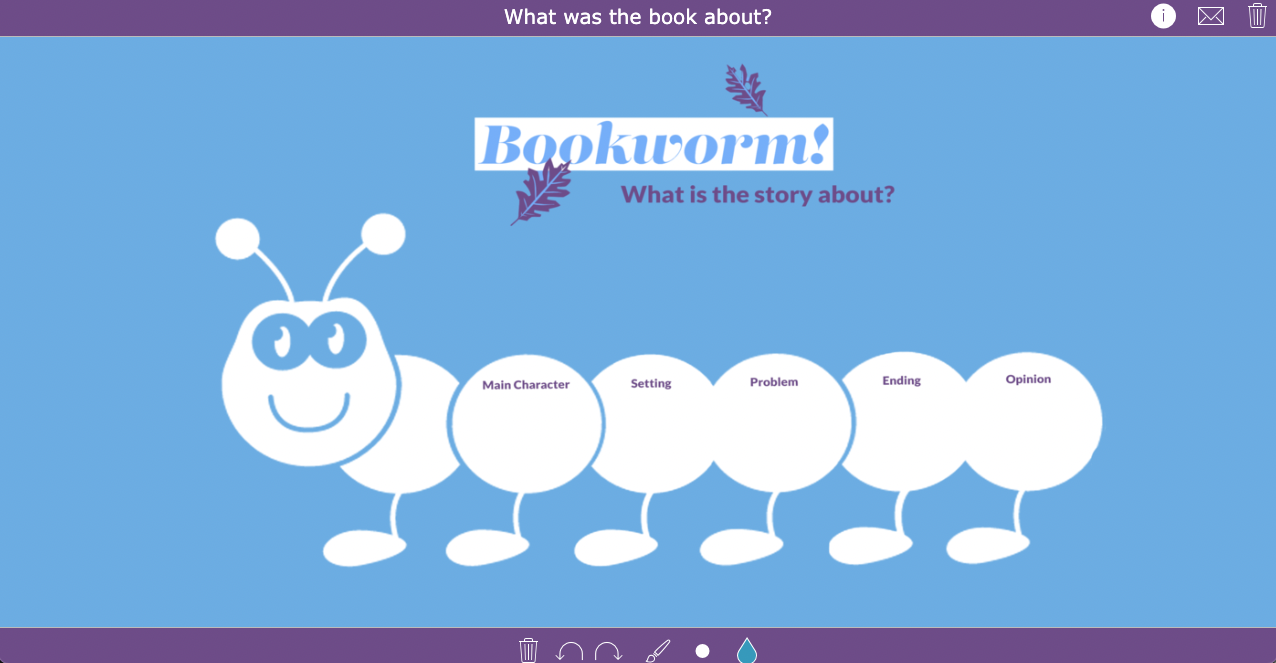 Click to open
3. Timeline
This interactive book report asks your students to create a timeline of the story. When did what happen, chronologically? The have to add the biggest events in the story to the timeline.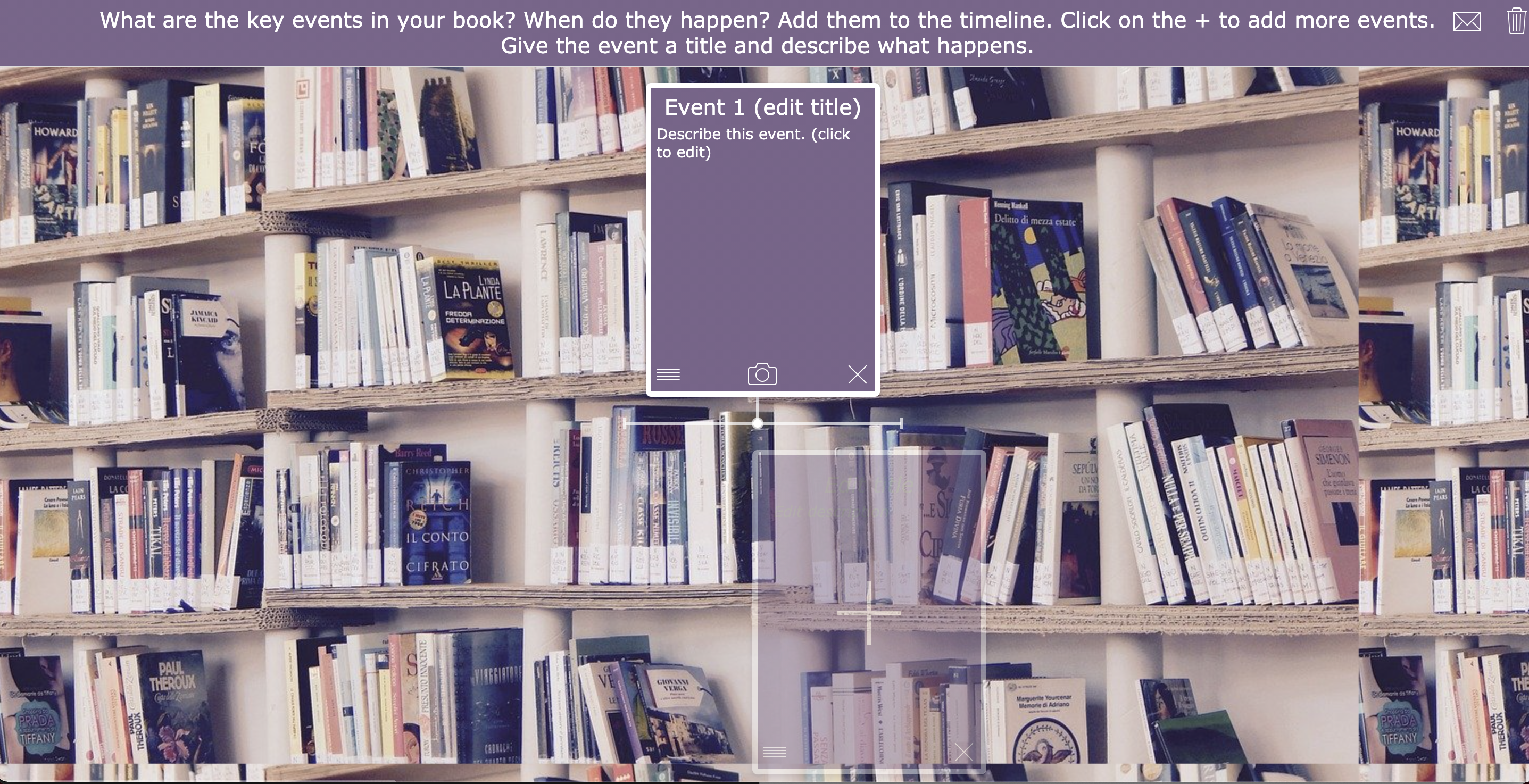 Click to open
4. Comic book
In this book report exercise, your students have to write a comic book based upon the book they've just read. When they click on the "start" icon, they can choose fitting text balloons to go with their story.
Here are three other fun websites that let students create comic books: Storyboard That, Comic Life, and Toonytool. They already give you creative templates and drawings. This is a bit easier for students. This way, they don't have to start from scratch.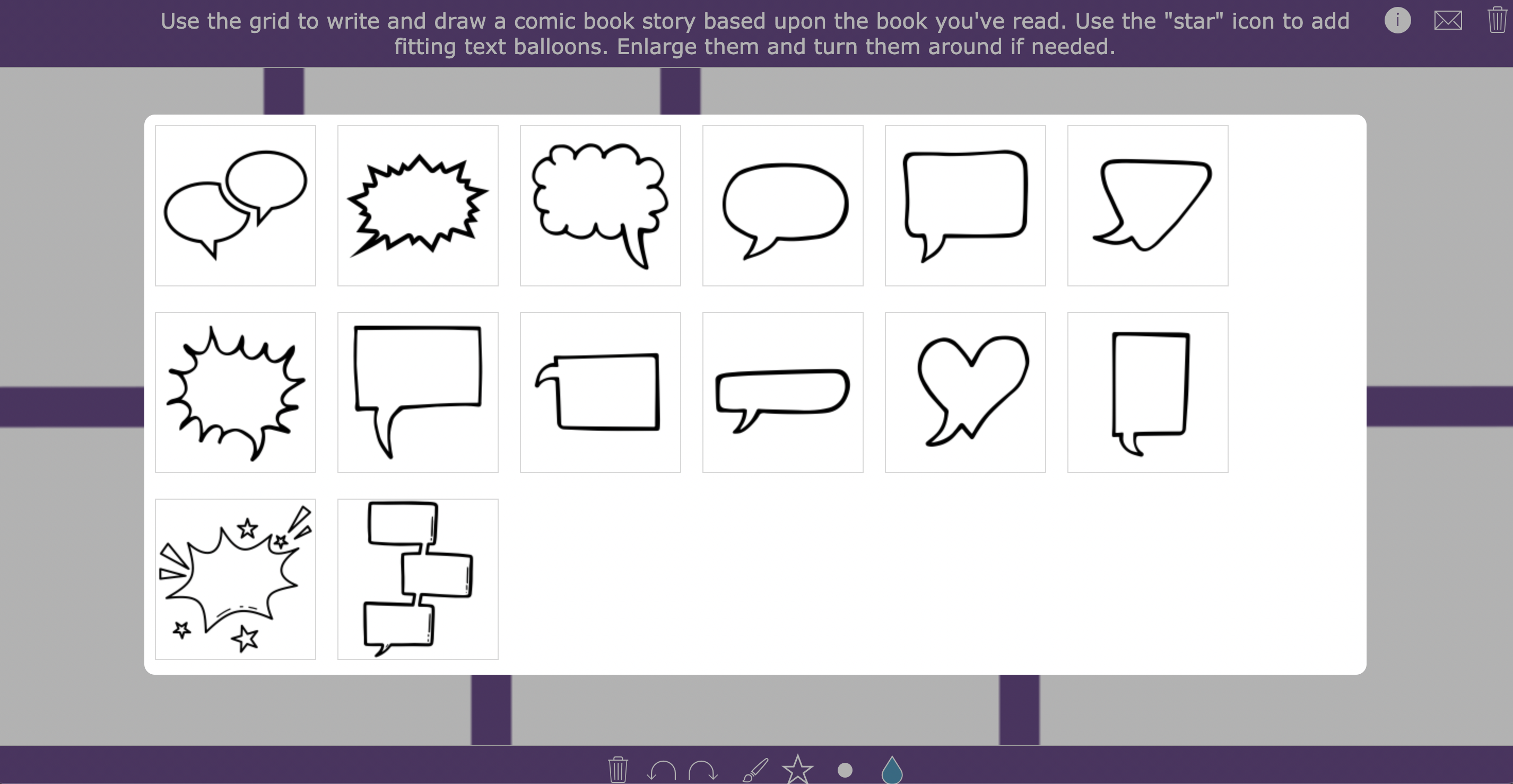 Click to open
5. Character portrait
This book report exercise is all about the main character. Your students have to draw how what they look like, and write down everything about the character. What kind of personality do they have? What's the setting (where do they live)? What are their strengths and weaknesses?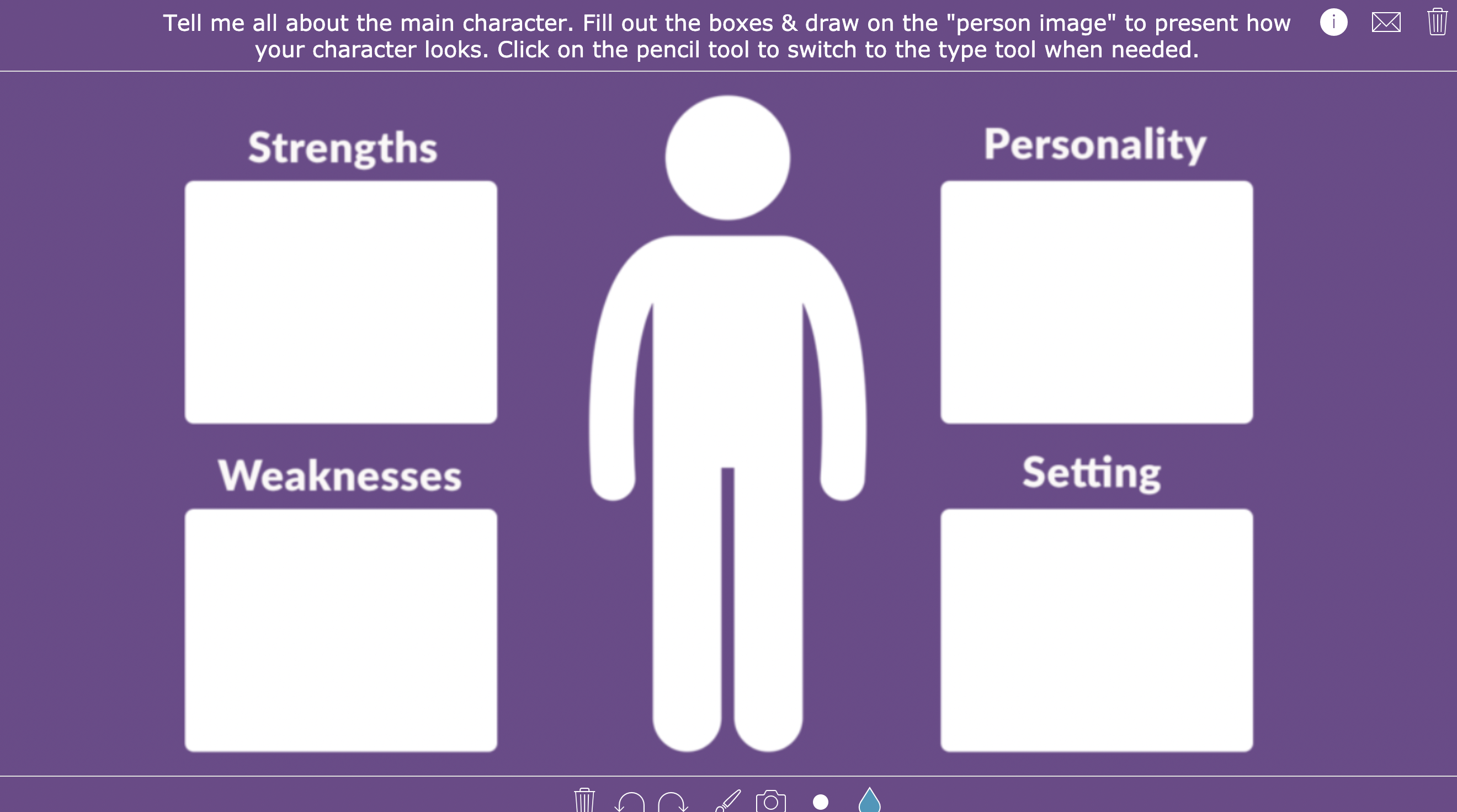 Click to open
6. Randomness task
Just… add a little spice. I've turned the ordinary book report task, where students have to describe characters, the setting, plot, etc., into an exciting one. Your students don't know yet what they'll have to describe. They spin the randomness wheel and their task appears. The fun thing about this one is that all of your students will write a different book report.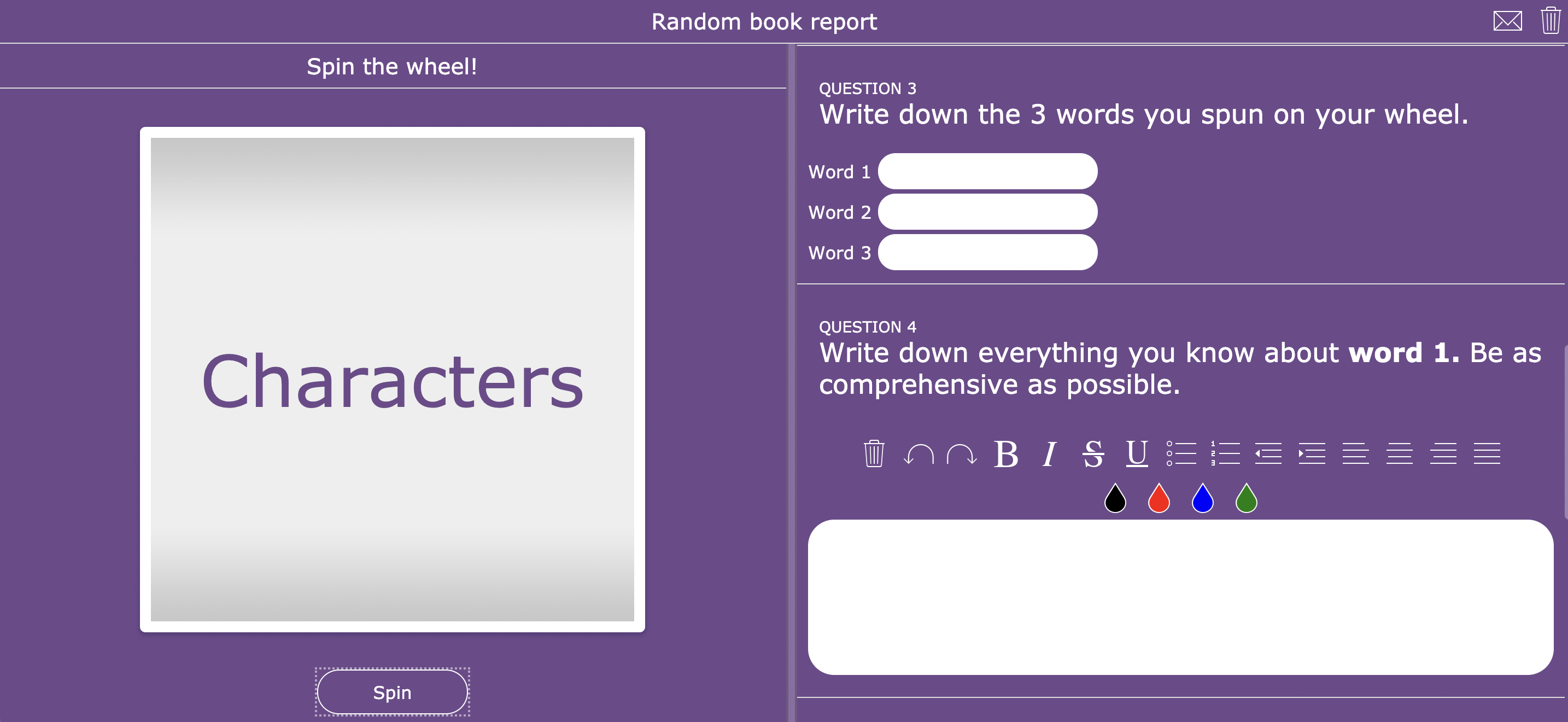 Click to open
7. Book cover
Here, students get to be creative and invent their own book cover (front and back) of the book they just read. Or maybe just a cover for of a piece of text you've read out loud. They can use the whiteboard tools: pencil, type tool, switch colors, add images, etc.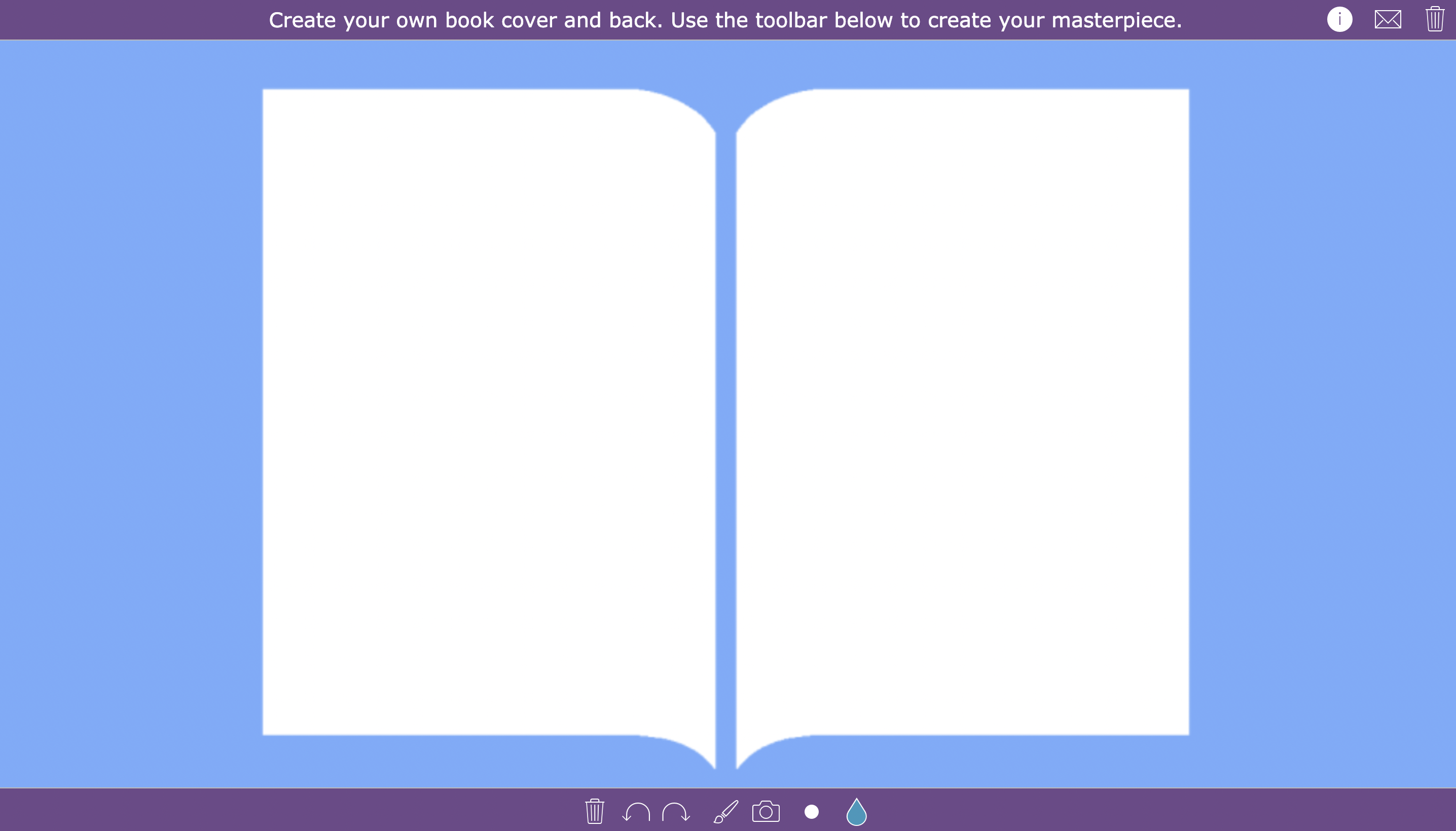 Click to open
8. Character family tree
This digital mind map exercise allows your students to add boxes with text and connect them to each other. This is perfect for a book report activity focusing on the characters in their book.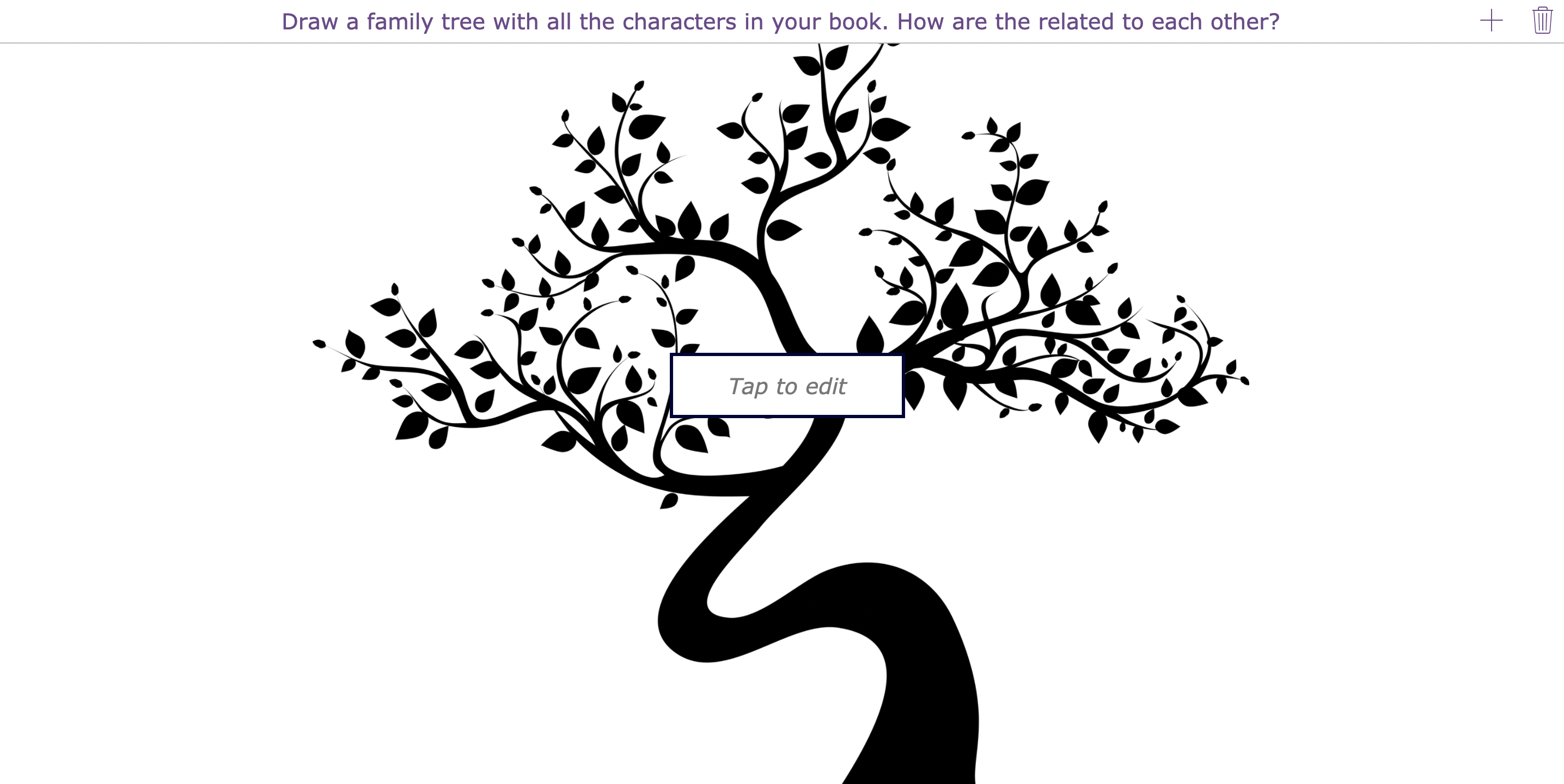 Click to open
9. Facebook Profile
Modern days call for modern book report lesson ideas. Image the main character having a Facebook profile. What would be on it? That's exactly what your students have to figure out here. Create a Facebook profile about the main character.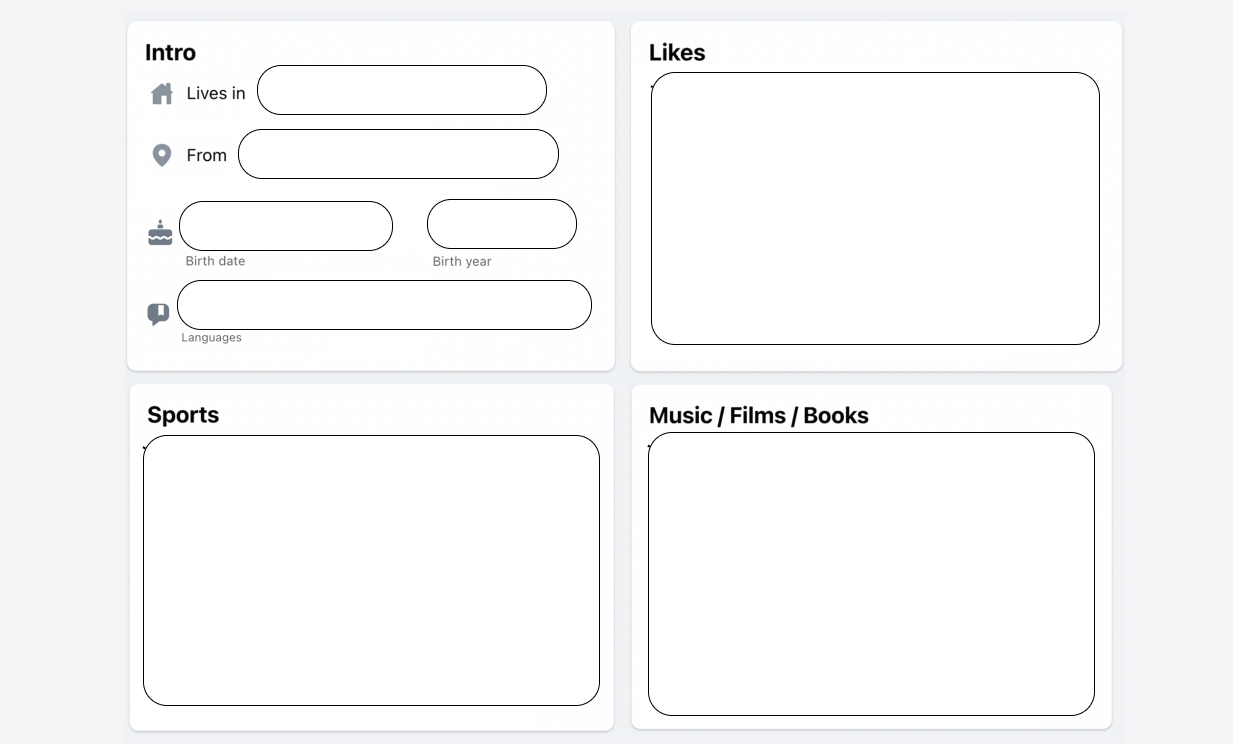 Click to open
10. Book Collage
Here, students have to add 10 pictures or images that have to do with the book. They can do so by clicking on the photo icon and adding images into their collage.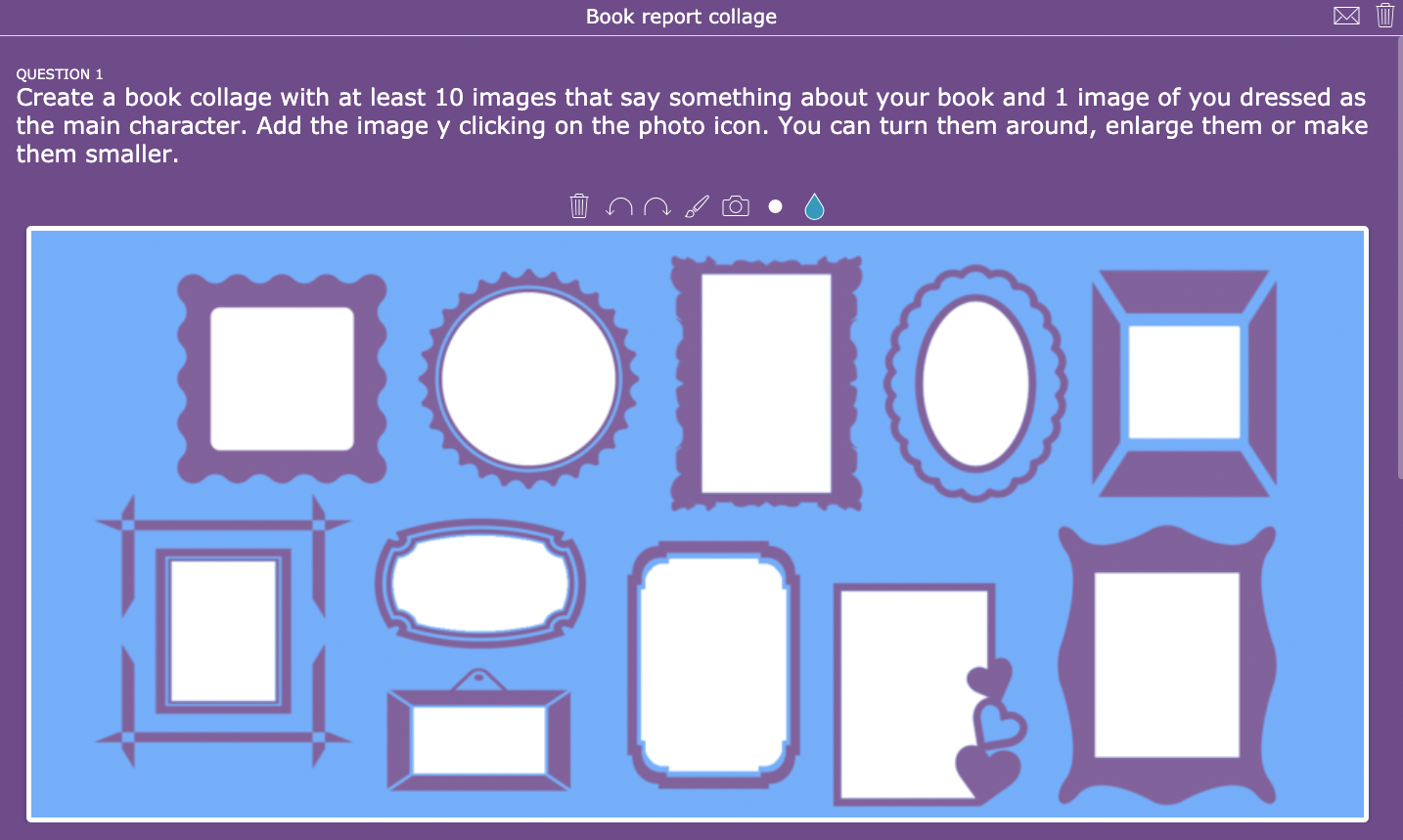 Click to open
11. Mirror selfie
In this creative book report, students have to dress up like the character in their book, including holding 3 attributes that refer to the personality of the main character. They have to take a picture or mirror selfie of themselves dressed up, and add that picture to the whiteboard. You can ask them to come forward and present their images and explain why they've chosen those specific attributes.
The fun thing about all of these exercises is that they work on smartphones as well. So in this case, students can just open the exercise on their smartphones, take a mirror selfie with their phones and add it to the mirror in the digital whiteboard exercise.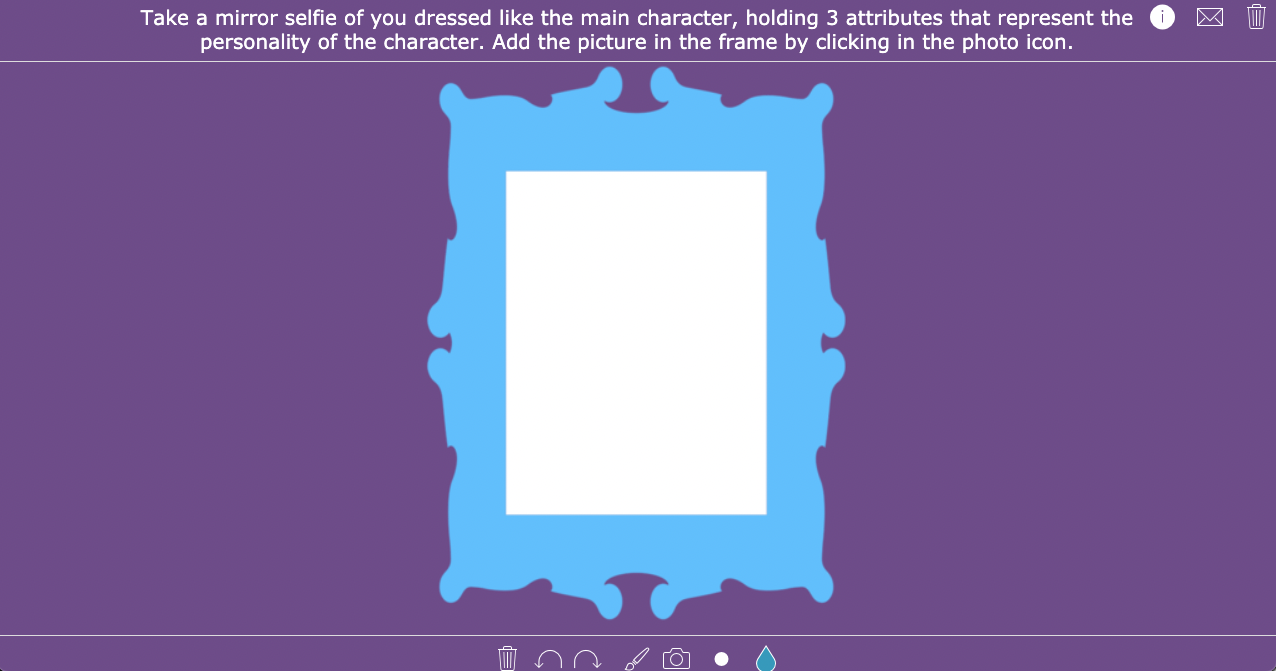 Click to open
12. Email to the author
Your students have the chance to write a friendly email or letter to the author of the book they just read. Students have to share:
their opinion;
the character in the book they liked most, and why;
their favorite part of the book and why;
questions that they have about the book.
If you have an email address of the author, ask your students to submit their works to you, the teacher, first. After having given feedback on their letters, they can make some changes and send it over to the author.
If you have the author's postal address, it's much more fun to write a classic letter.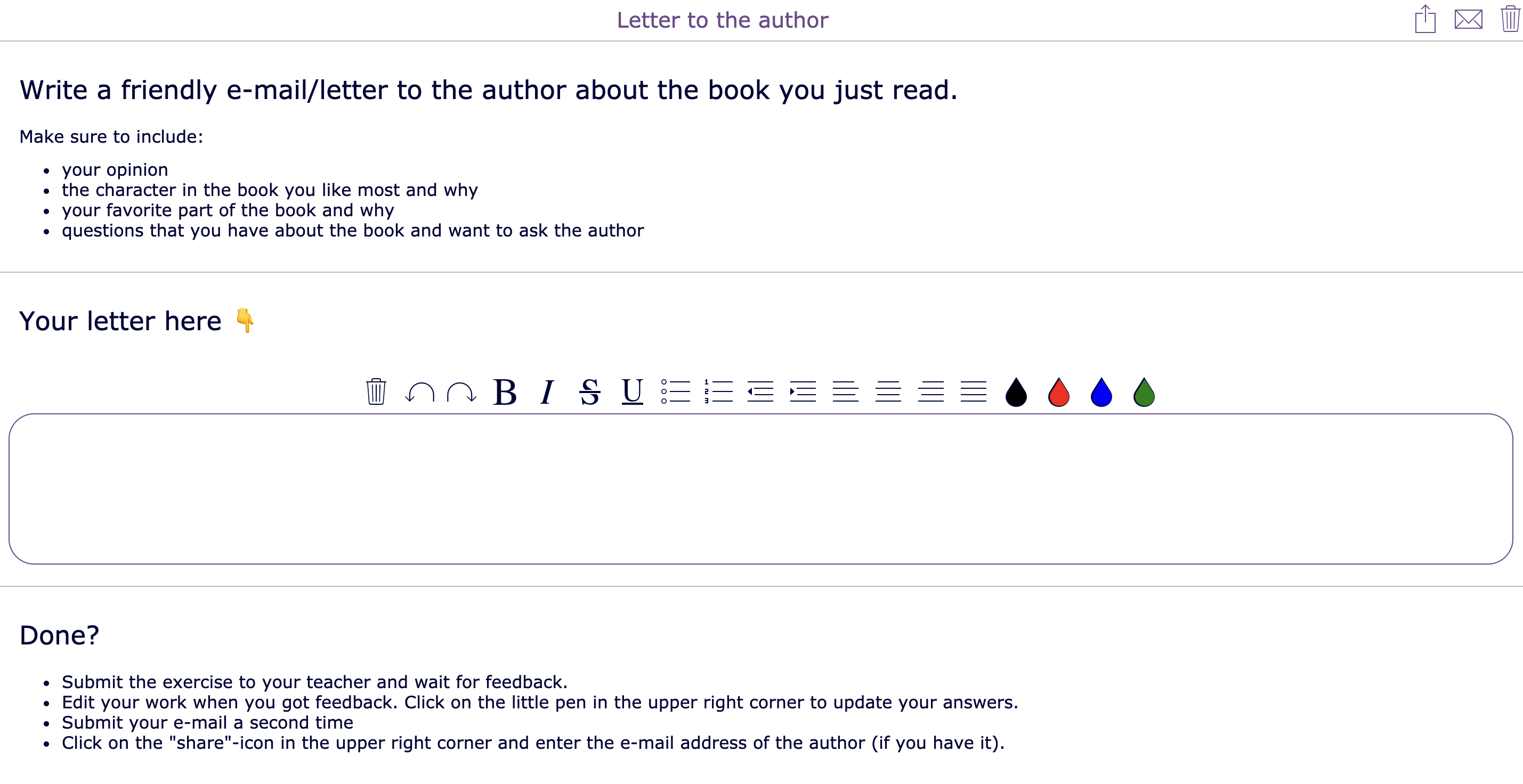 Click to open
13. Conversation between characters
There is something called a "texting thumb" or a "smartphone pinky". This shows that students like to send texts. A lot of them. So why not include it in your book report lesson plan? In this digital book report, students have to invent a conversation between two characters in their book.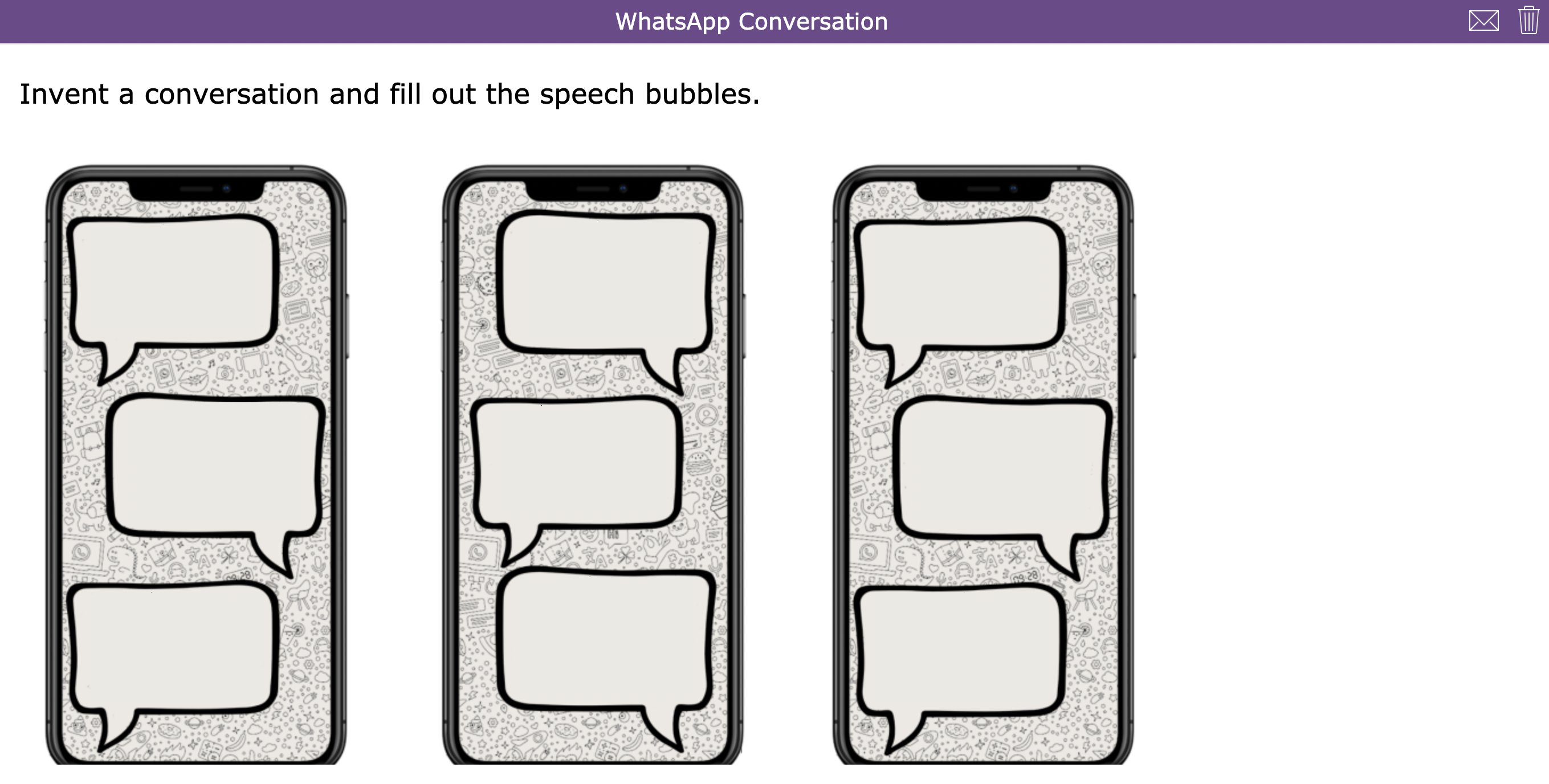 Click to open
14. Movie vs. Book
A lot of books have a movie version too. If your students choose a book that also has a movie, it's interesting to let your students make a comparison. With this book report exercise, you're also sure your students actually read the book instead of just watching the movie and write a summary of the movie and not the book.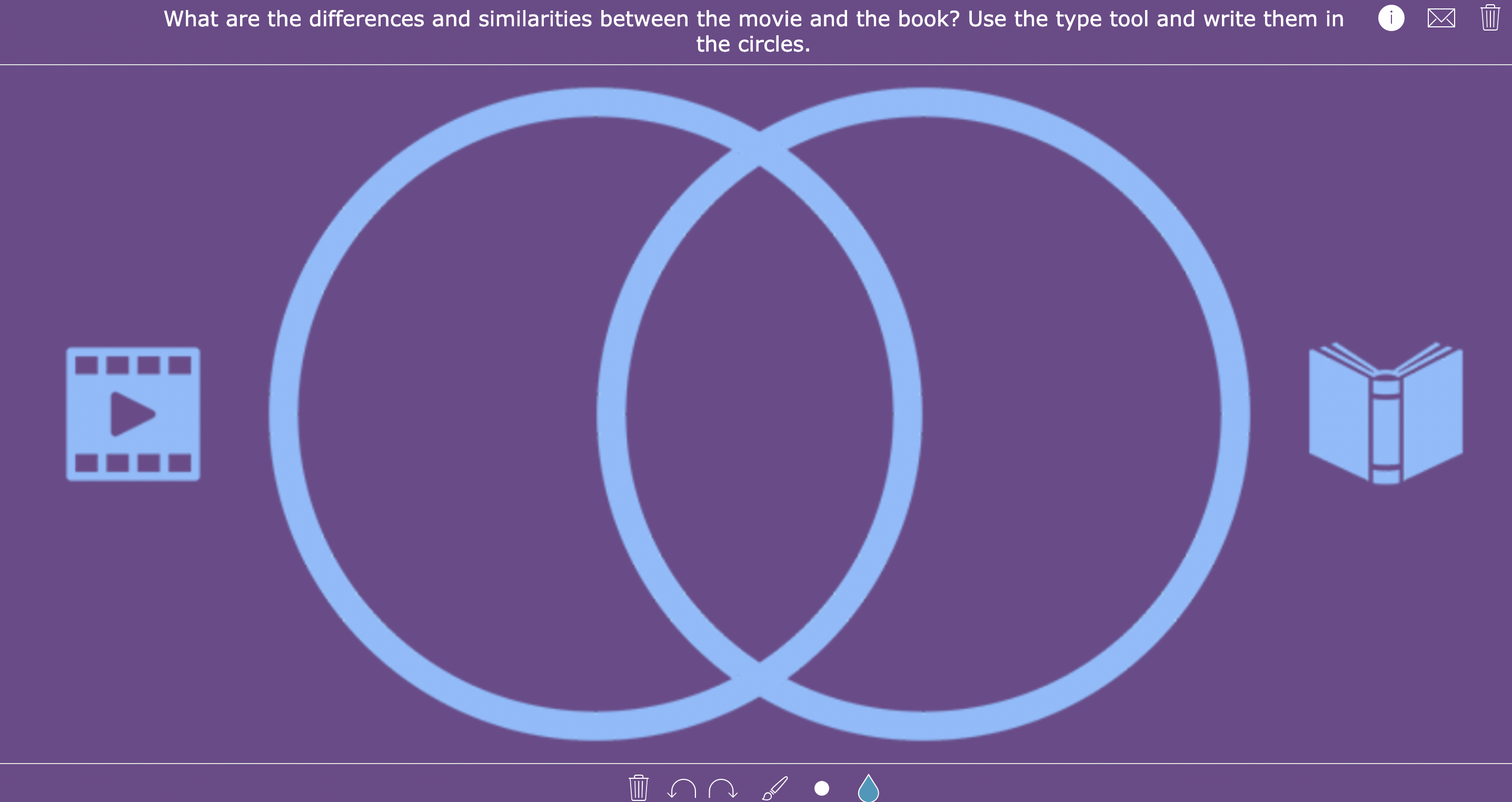 Click to open
15. Emoji summary
The last exercise is also one students can relate to. Nowadays, we use emojis after almost every sentence when we're communicating with friends. Emojis also have a strong meaning and can be used to express feelings or say something without actually saying it.
In this digital book report lesson plan, your students need to explain everything about the book by using their imagination and their knowledge of the emoji language. Looks like a lot of fun!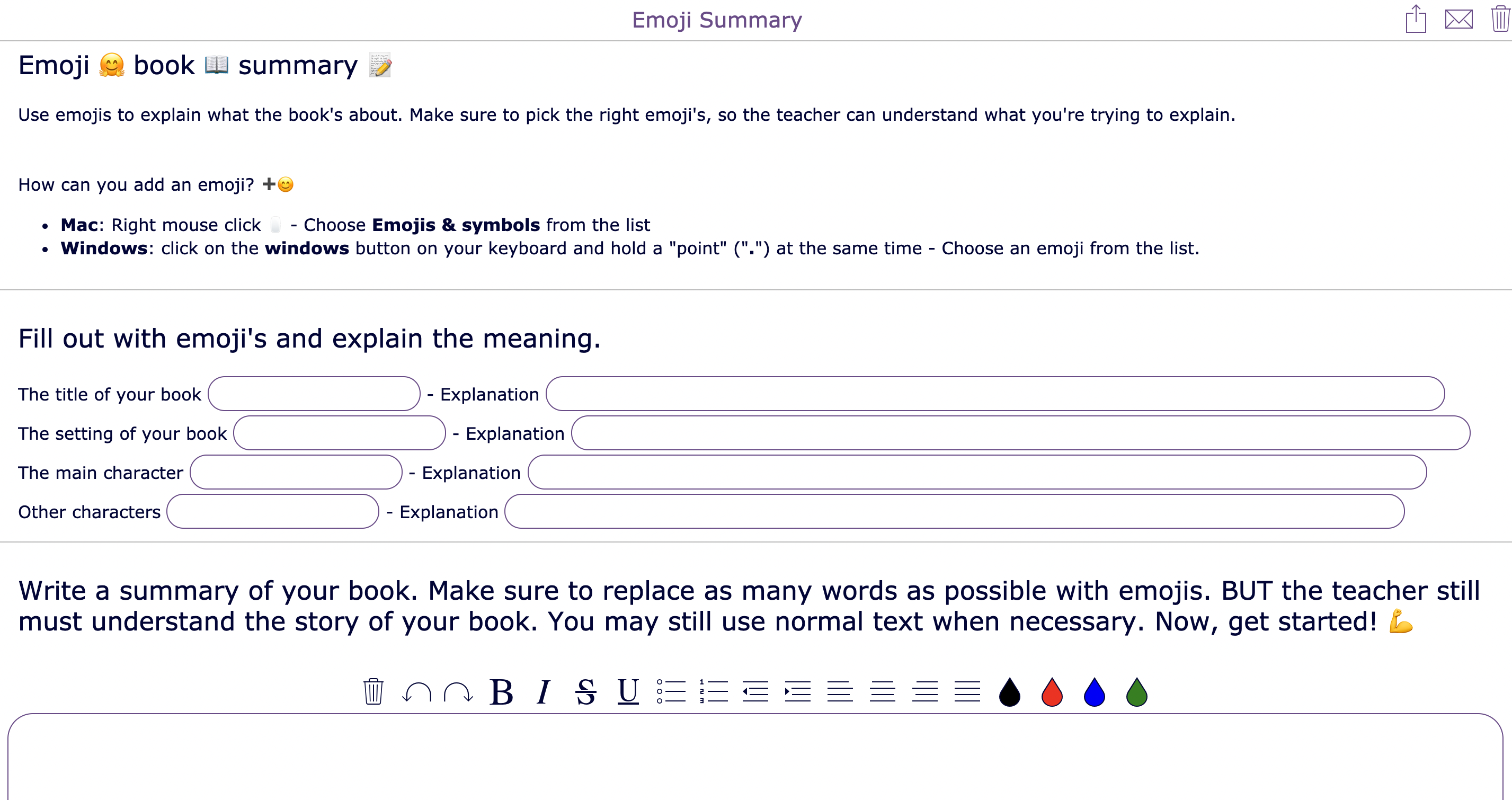 Click to open
The complete collection of book report lesson ideas in one assignment
All these book report exercises are so much fun and yet they don't take up a lot of time. Perhaps they just ask your students to only describe a certain part about the book. Cue… the planner widget.
With this type of BookWidgets activity, you can combine several lessons into one. You can let your students take matters into their own hands and choose which book report activities they'd like to finish.
It's actually pretty easy. Your students read the instructions in the instructions widget and then start adding at least three book report activities to their planner. They finish the activities, submit them to their teacher, check off their planner, and that's it!
Take a peek at the planner here 👇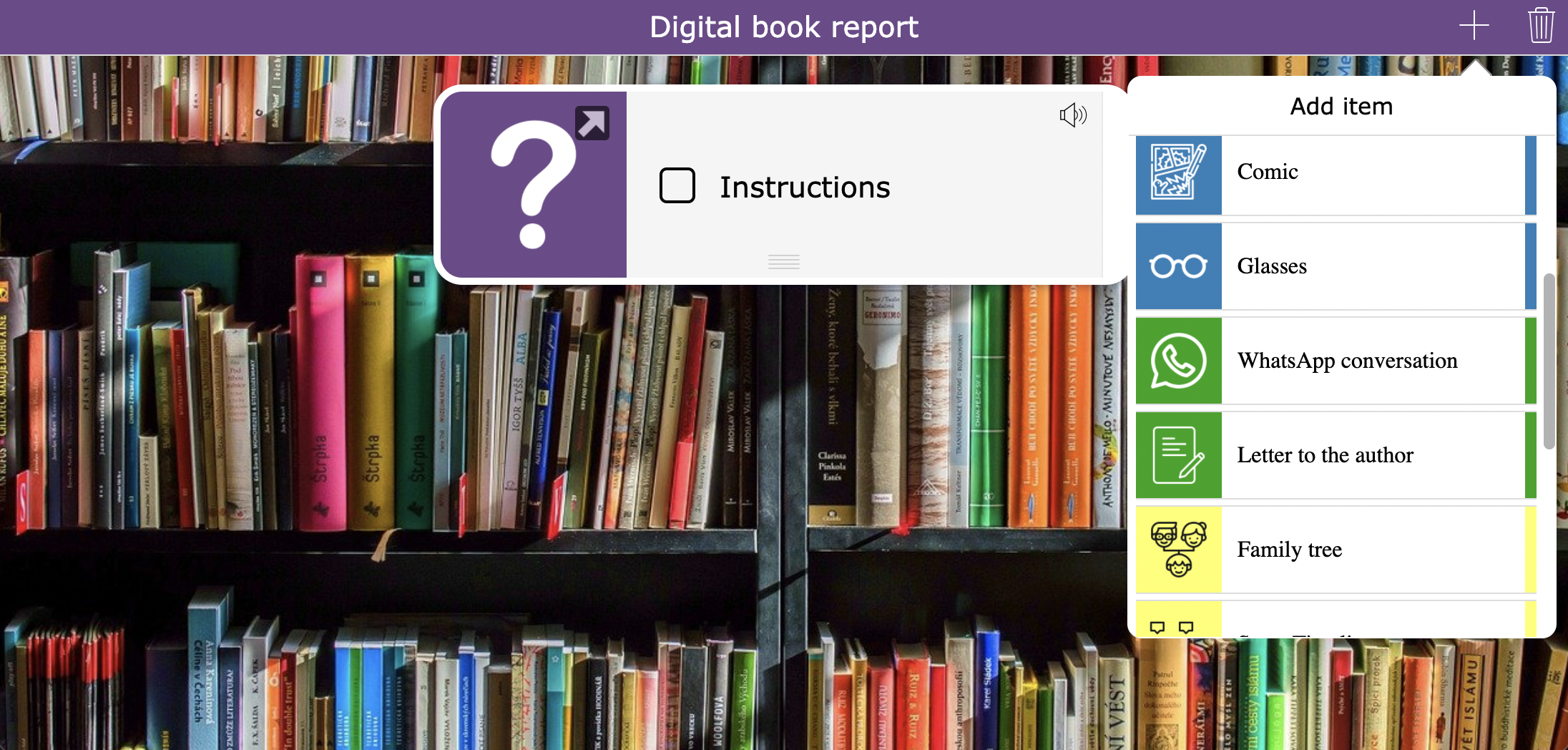 Click to open
Instructions on how to use these digital book report lesson activities
Above, you can find the 15 ready-to-use book report activities. You can use these lesson examples for free. Since they're all made with BookWidgets, I've listed them in this BookWidgets group. Here's what you need to do:
Click on this link. It will immediately bring you to the group with all of the book report activities. If you don't have a BookWidgets account yet, you'll have to sign up first for free.
Duplicate all the book report activities. Click on the settings wheel, select all widgets, click on the settings wheel again, choose duplicate selected widgets. Choose where you want to save the activities in your BookWidgets account.
Go to your saved book report lessons. You can now click on the black dropdown arrow next to the 'Show' button of a particular exercise and select Edit. You can make some changes to this activity (if you want). If it's perfect for you, click on Share in the upper right corner.
Share this link with your students. When they click on it, they can fill it out. A lot of the book report examples above have been made with BookWidgets' Whiteboard widget, in which students can use the tool menu at the bottom to switch tools (draw, type,…), and to switch colors. When done, they can submit the book reports to you by clicking on the envelope in the upper right corner.
As a teacher, you go to "Grades & reporting" in BookWidgets to find your students' answers.
Of course, now that you've got your own BookWidgets account, you can also create book report activities or other assignments yourself!
Attention! Once your free trial runs out, you'll only be able to use the widgets you've already finished/shared with students. While your BookWidgets account will still work and you'll still get your students' results with the free BookWidgets version, you won't be able to duplicate widgets nor create new widgets yourself anymore.
Wrap up
So that's it! I hope these lesson ideas are useful for your classroom or at least give you lots of new ideas for your book report lessons! You can even create ones yourself!
Have fun, share this with fellow teachers and keep on rocking your classroom!