How to boost your field trips with technology - The Complete Teacher Guide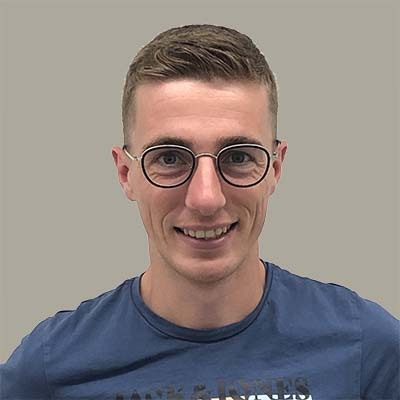 Dimitri Bongers —
Spring has arrived (in the northern hemisphere)! The perfect time to take your students out of the classroom and organize a field trip! If you're wondering how to make your next school outing a successful learning experience, look no further! In this blog post, you'll learn how BookWidgets can level up your next field trip.
This field trip guide contains the following sections:
All digital exercises are created with BookWidgets, a content creation and evaluation tool for teachers. Create a free BookWidgets account (if you don't have one already) and duplicate the widgets, which will allow editing. All examples in this blog post can be found in this BookWidgets Blog group and are free to use.
How to prepare students for their next field trip
Communicate practical information (by using a WebQuest and a Checklist)
A field trip always involves a lot of practical concerns that you need to communicate to students and parents. If you draw up an information letter, there will always be students who lose it long before their parents get to see it. We've all had the unpleasant experience of some students showing up late or forgetting their lunch boxes and appropriate clothing.
These annoying situations can easily be avoided by sharing all the practical information in a WebQuest widget. Below is an example of such a WebQuest for a field trip to Everglades National Park. Be sure to check out the handy Checklist of items students should bring on the third tab (which is an integrated Checklist Widget)!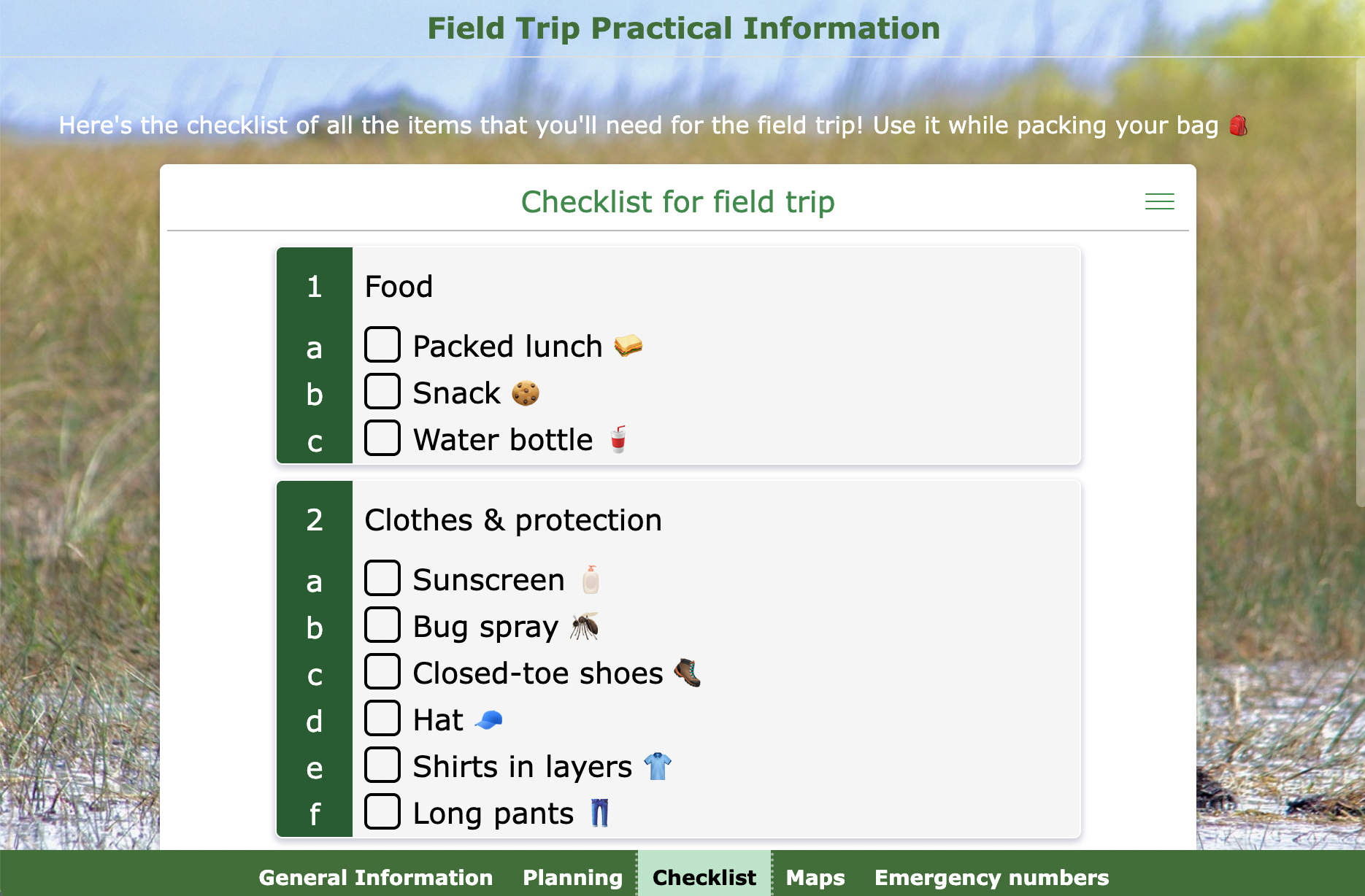 Click to open
Prepare your students by providing lesson content related to the field trip (in a Quiz, a (Split) Worksheet, or a WebQuest)
To make a field trip a meaningful learning experience, you probably want to prepare students for what they will see and experience during that day. In prior lessons, you can focus on learning material relevant to the field trip. The example below is a Split Worksheet with a video and accompanying questions that I used in preparation for a trip to Lille as part of my French classes. In this assignment, students discover some of the city's typical places, dishes, and expressions.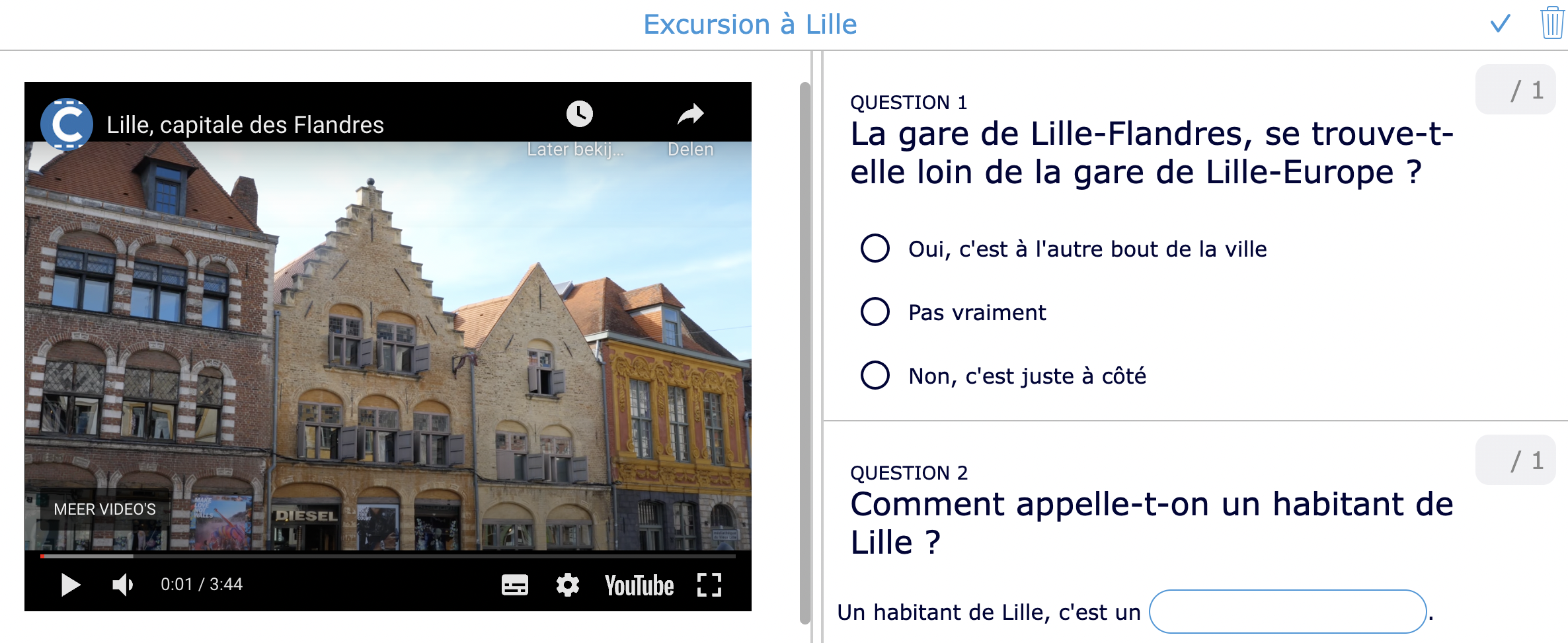 Click to open
How to improve the students' learning process during the field trip
Create Quiz or Worksheet widgets that students need to fill in during the field trip
The time of students walking around with clipboards and the typical experience of papers flying away whenever it's a bit windy is a thing of the past. Nowadays, most students have smartphones or tablets, which are very useful during field trips. With BookWidgets, teachers create interactive quizzes and worksheets that students can easily fill in on their mobile devices.
In addition to the "common" question types such as multiple-choice questions, open-ended questions, fill-in-the-table questions, there are numerous interactive question types that work particularly well for field trips. Here are some ideas:
A Fill-in-the-blank(s) question can be interesting if the students need to fill in words that they can find on display boards or hear on audio guides.
With an Annotate Picture question showing a picture related to the site that you're visiting, students will be motivated to find the keywords. The subject matter is thus immediately assimilated.
The Whiteboard question allows students to take notes or make annotations, or just draw things. As a teacher, you can add a background image if desired. For example, show an old photo of a building that has been damaged and ask students to point out the damage on the photo.
Use the Photo question to be sure your students see or look for certain elements, e.g., special architecture, animals, detailed parts of a piece of art, examples of urbanization …
Do you want your students to do street interviews with locals? Use the Audio recording question.
Click here to see the complete sample Worksheet for a school trip to New York, combining all these question types.
For more inspiration, here are two great examples:
Make the trip fun and engaging with other widgets (Timeline, HotSpot, Bingo, …)
With BookWidgets offering almost 40 different widget types, of course, teachers don't need to stick to quizzes and worksheets for field trips. Here's a selection of other widget types that could be useful, engaging, and fun:
Timeline widget
For World History, students need to place events in the proper historical context. A Timeline widget makes this very concrete and interactive.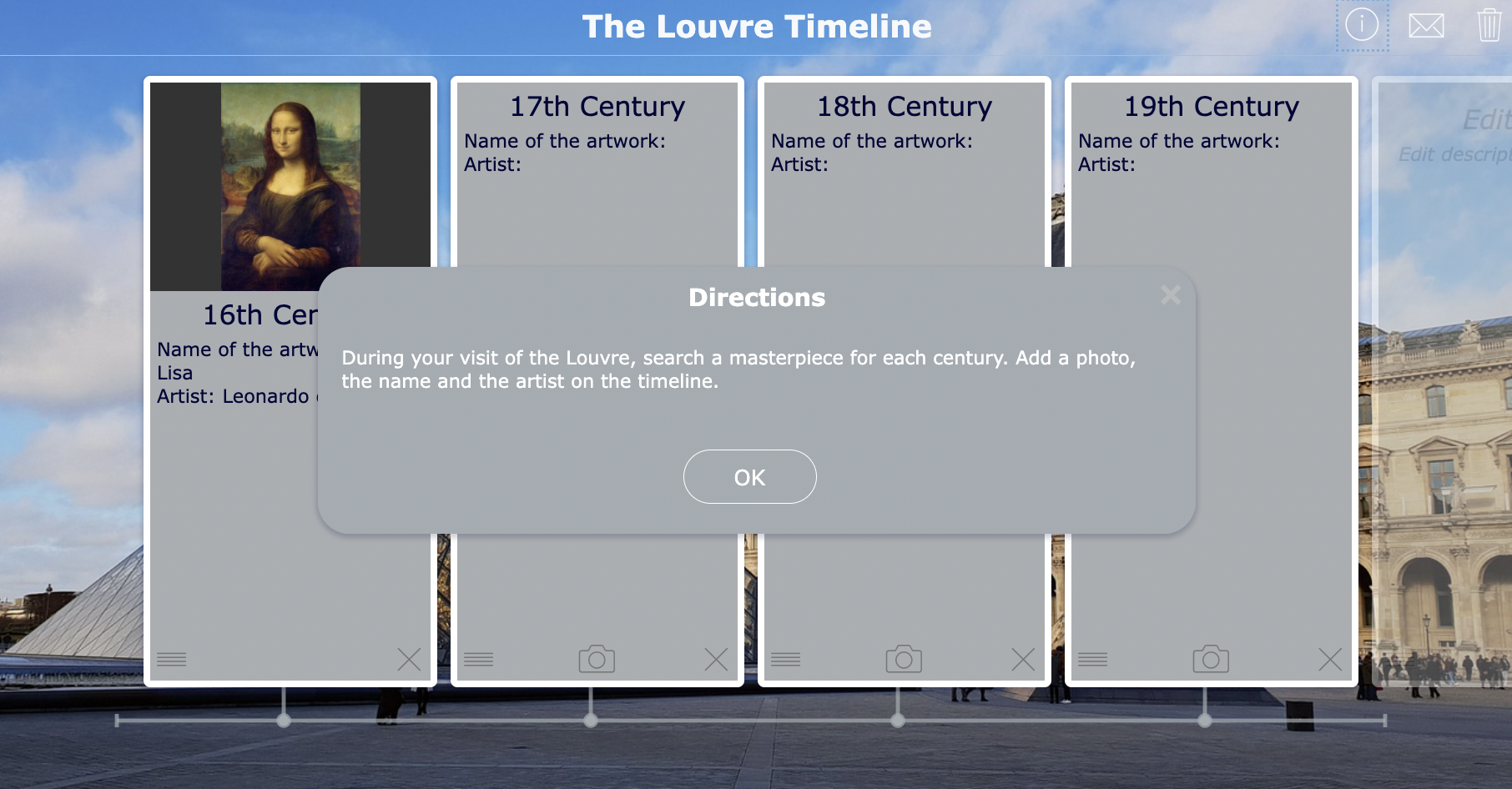 Click to open
HotSpot Image widget
When students do the field trip individually or in small groups without a guide or chaperone, a HotSpot widget is an ideal tool to support them in their exploration.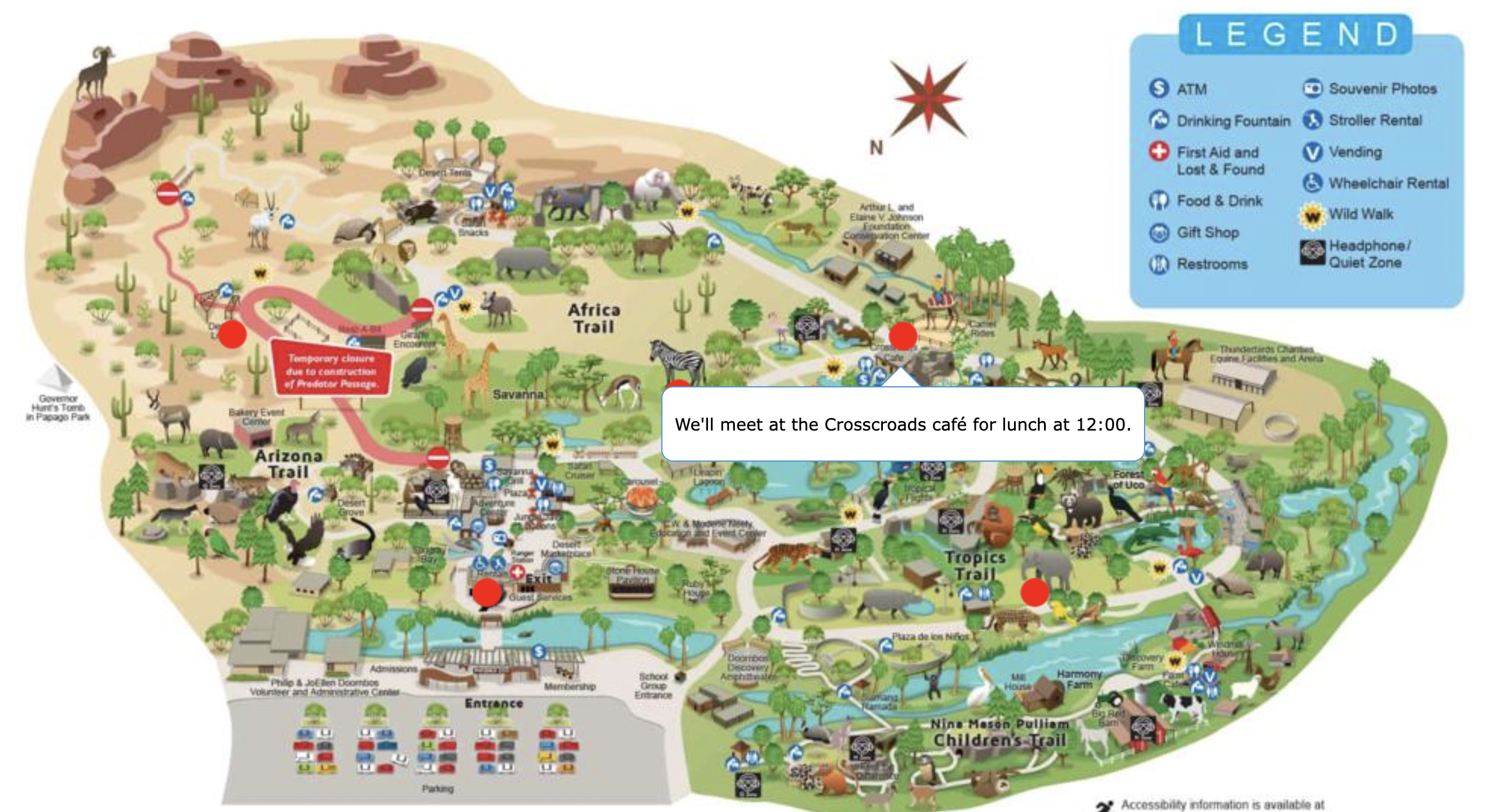 Click to open
Randomness widget
To form random groups the Randomness Widget is the perfect tool.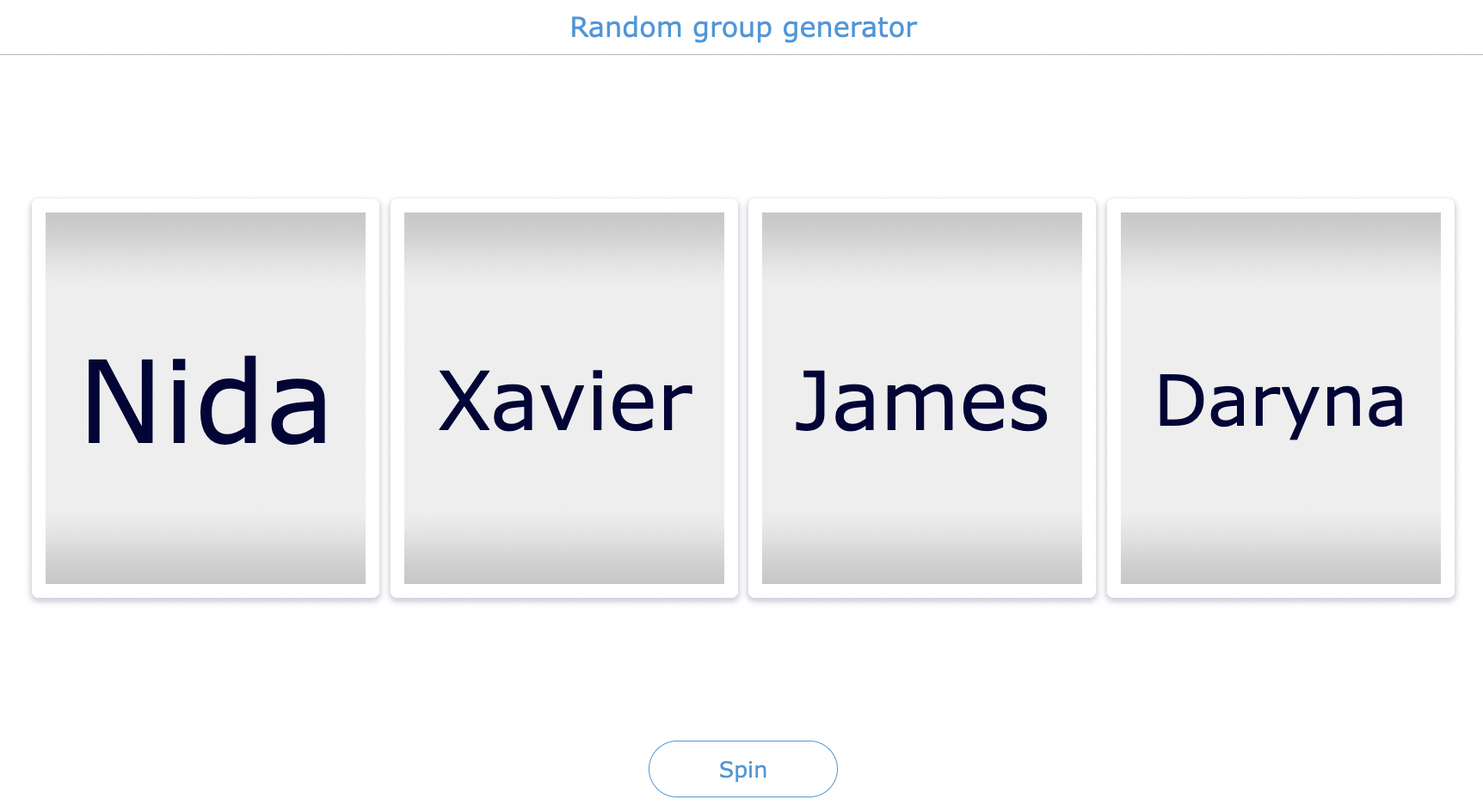 Click to open
Bingo widget
The Bingo widget is ideal for having students search for specific elements, or just to make the field trip more fun.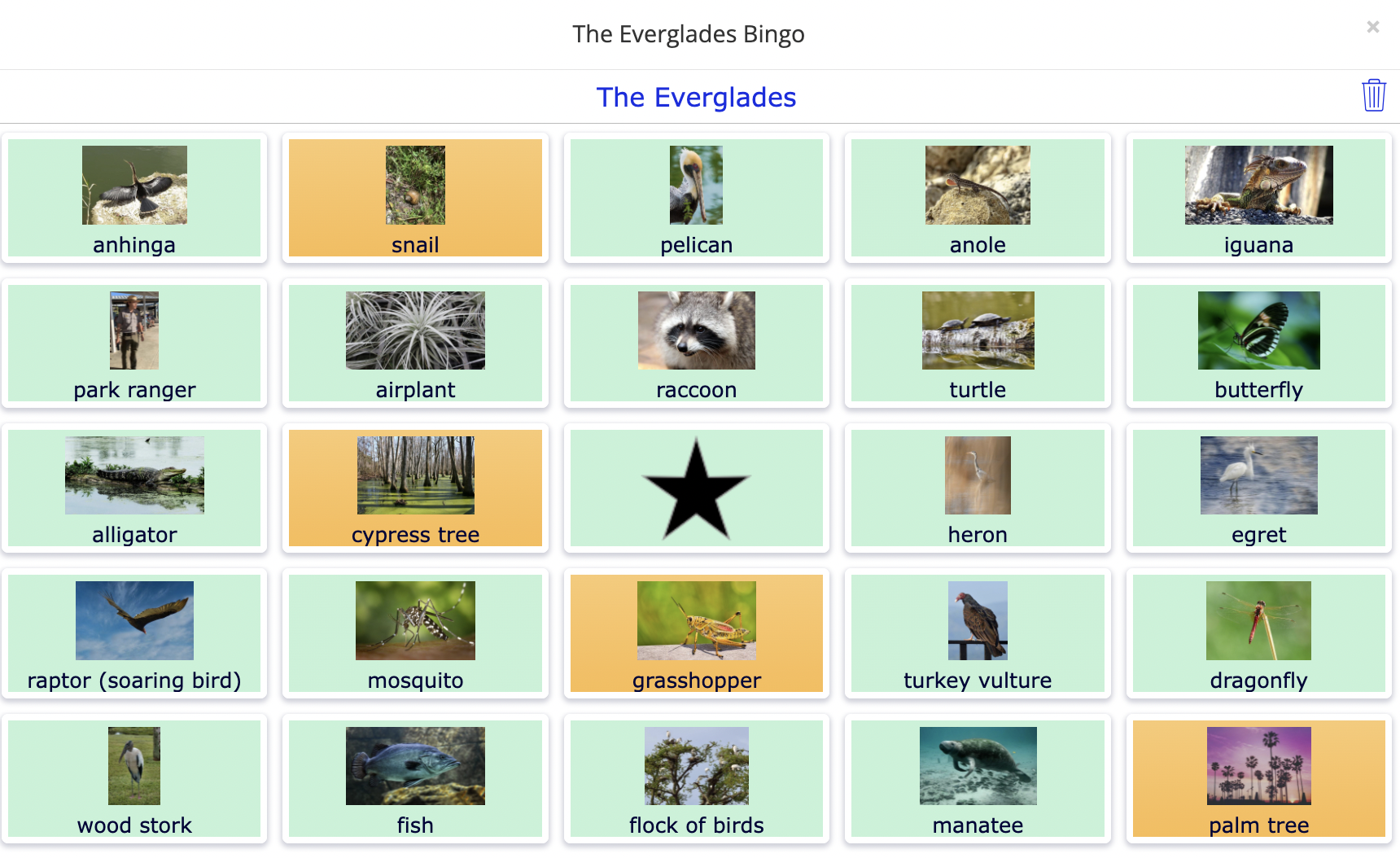 Click to open
Game Widgets
Other games, like Puzzles, Pair matching, and Crossword puzzles can be a fun way to engage with the field trip topic, especially during a long bus trip.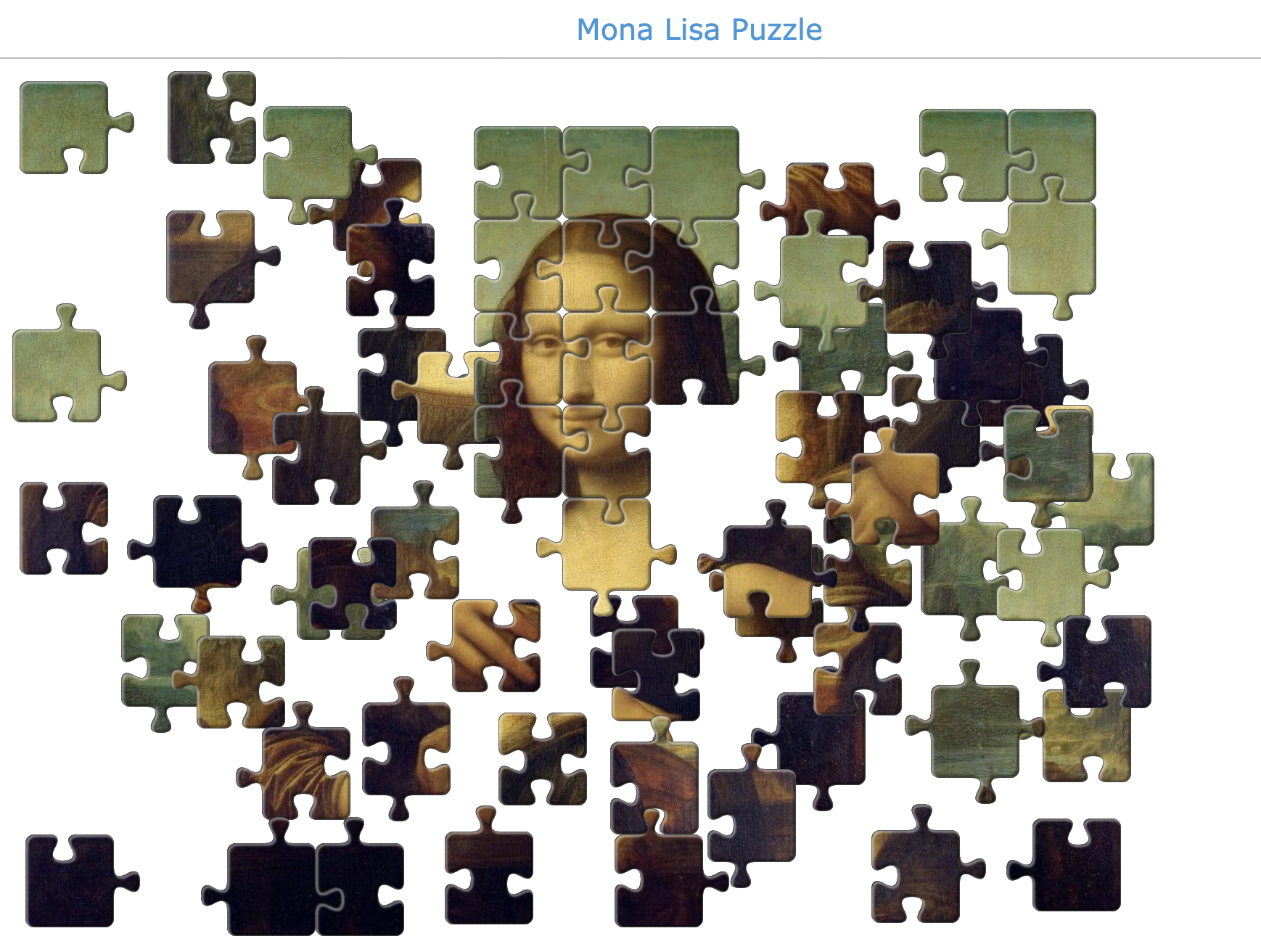 Click to open
How to continue the learning process after the field trip
Reflect on the field trip with an Exit Slip
An exit ticket - also called exit slip - is a sheet of paper or, in BookWidgets' case, a digital widget with questions that each student answers individually at the end of a lesson… or a field trip! Exit tickets are short and simple but provide great feedback. They usually can be completed in less than 5 minutes, so you could ask students to do it right away on the bus ride back to the school.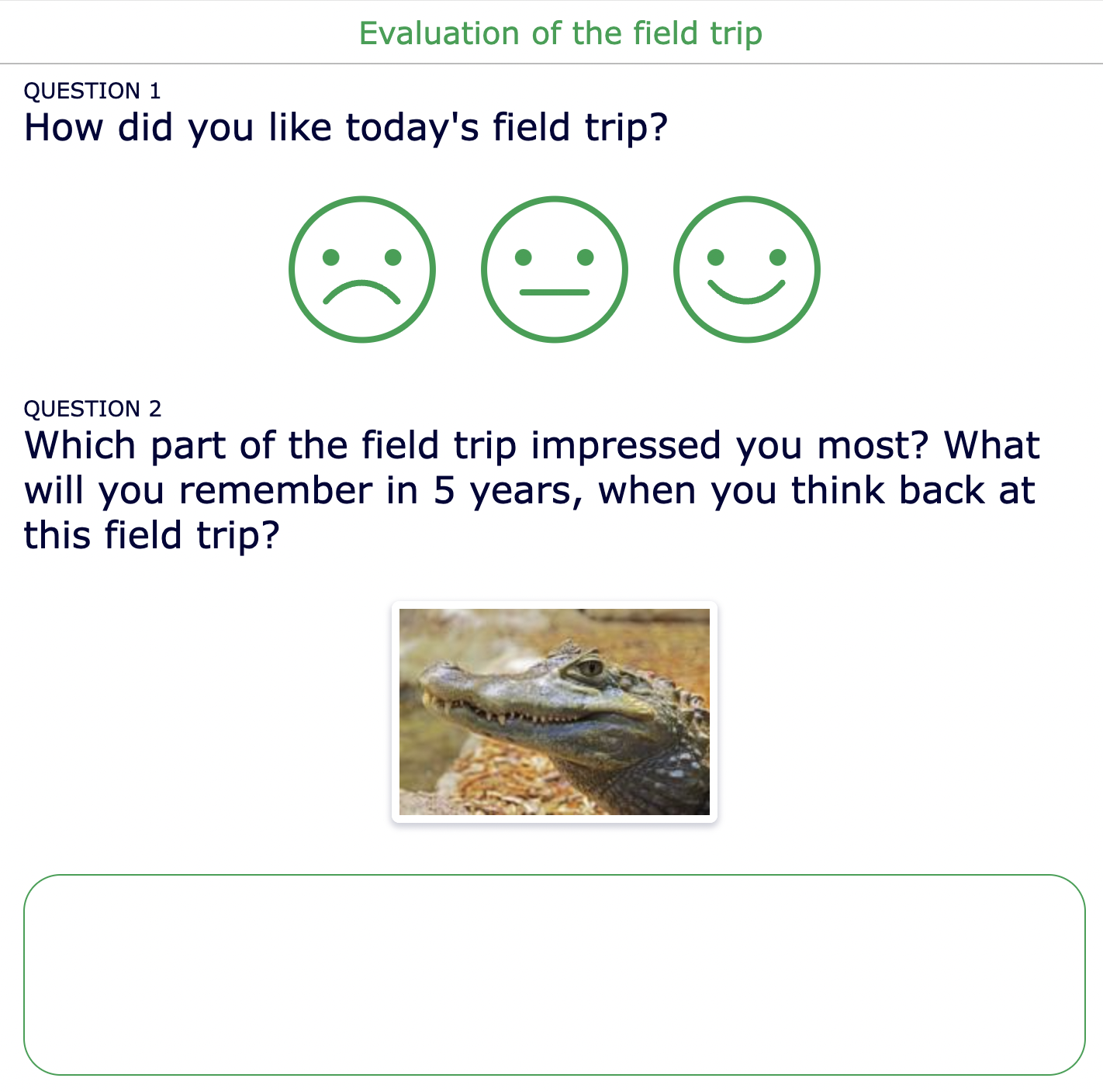 Click to open
To find some other great examples of exit slips for field trips, check this folder.
Learn how students and parents experienced the field trip with a Survey
There is a lot involved in organizing a field trip, so you may not always be aware of how the students experience it during the trip. And of course, the opinion of the parents is also important. With a Survey, you immediately receive very direct feedback, which will make next year's field trip even better.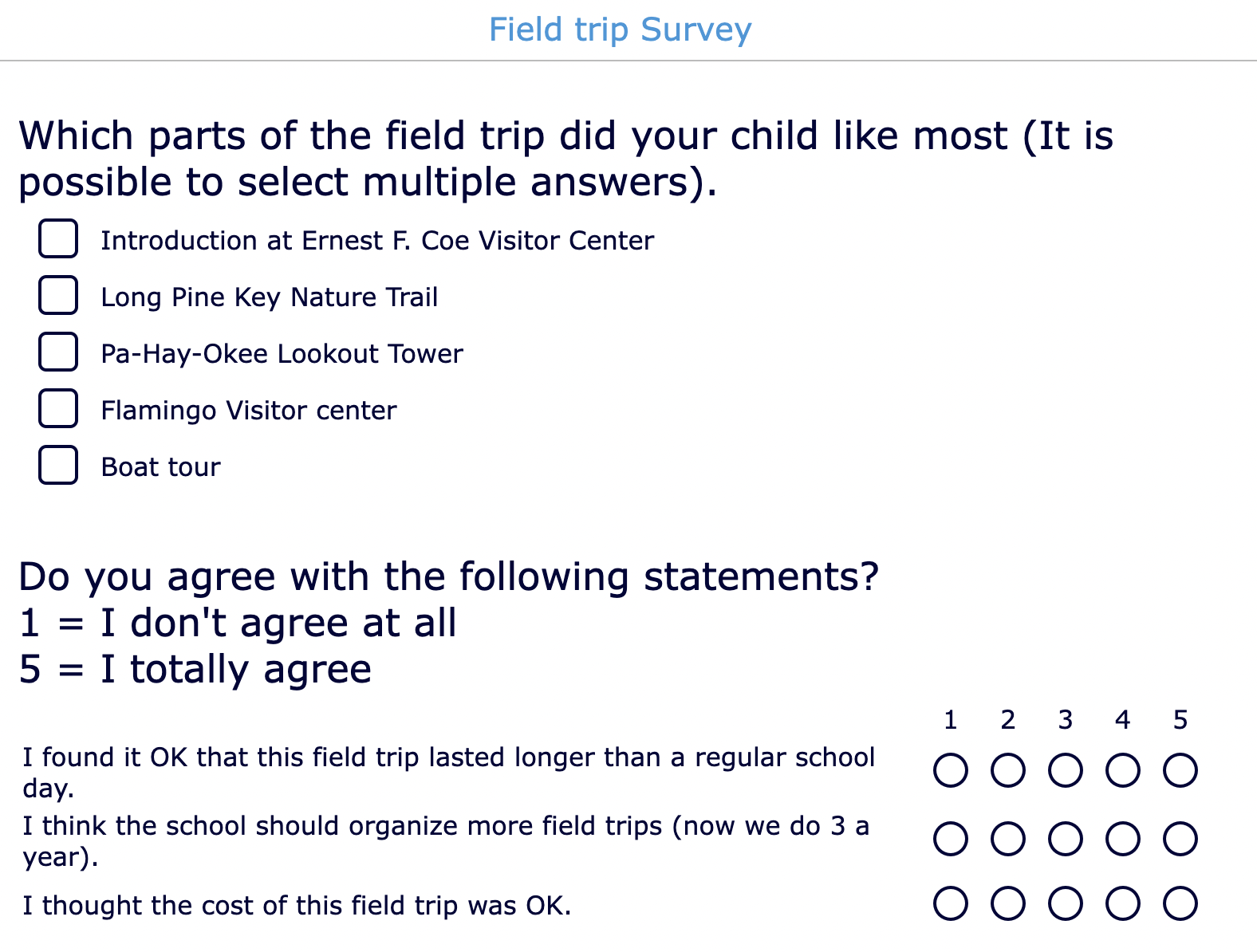 Click to open
Share photos from the field trip with students and parents
Looking for a way to caption some pictures from the field trip and then share them with students and parents? The Image Carousel is what you're looking for!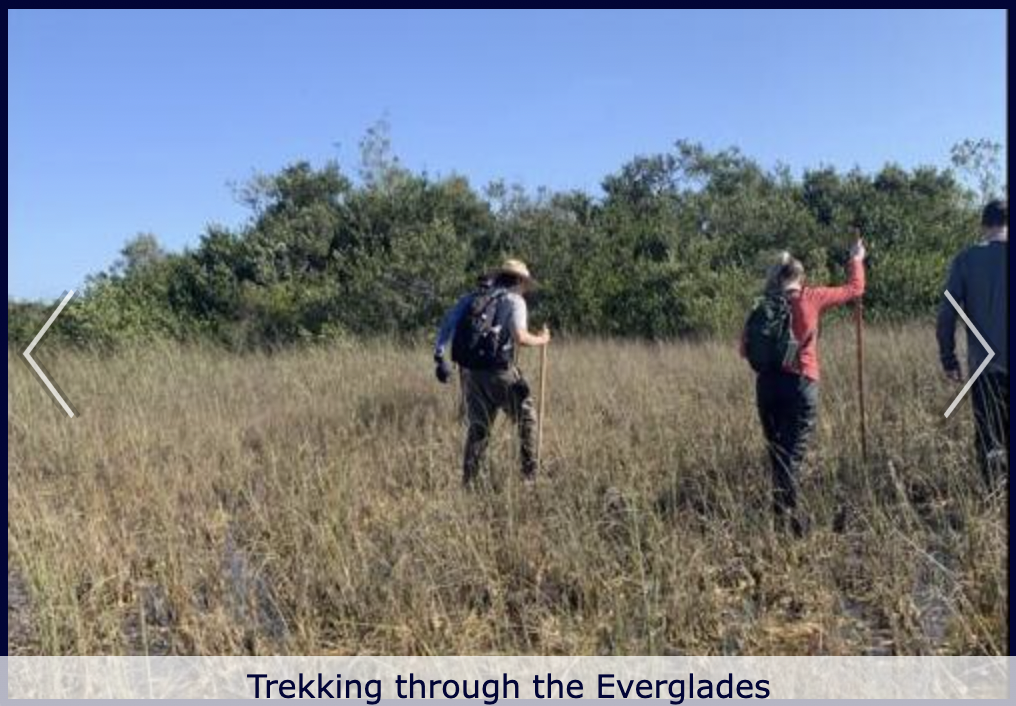 Click to open
Formative evaluation
Field trips are often a fun outing for students, but of course, the goal is for them to learn something from it as well. In the days following the field trip, you can go deeper into all their experiences in class, followed by formative evaluation. In this blog post I'm not going to go into that in-depth, but be sure to check out our extensive blog post on formative evaluation with BookWidgets if you want to learn more about this topic.
Bonus: organize virtual field trips with BookWidgets
During the pandemic, of course, field trips were not possible. However, many creative teachers organized virtual field trips. At the time of writing, real-life field trips are possible again, but these virtual versions are still very useful: they allow students and teachers to visit interesting places around the world (and beyond) for free!
Create your own virtual field trips in BookWidgets
BookWidgets provides you with numerous tools to create your own virtual field trip. With a few good images or videos, you can get creative and, with a little imagination, your students will be on the other side of the world in no time. These virtual field trips do not always have to be very elaborate, even a short exercise that takes students to a different setting will have an effect. Here are some ideas:
Time travel with the Before/After Widget
Of the 40+ widget types in BookWidgets, this is one of the simplest, but at the same time perhaps one of the most powerful. Show two photos of the same location at two different times and your students will immediately see the evolution.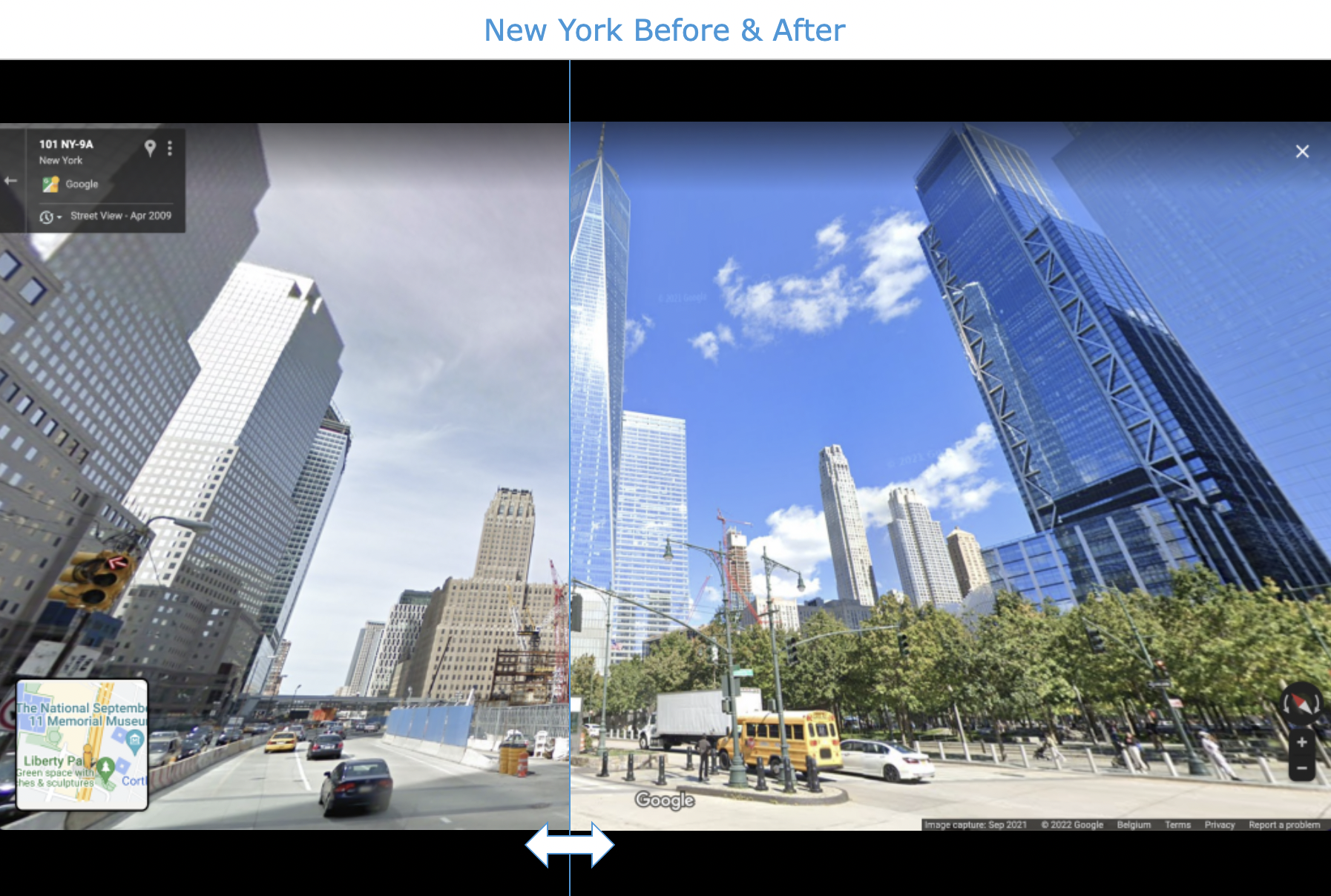 Click to open
Have a detailed look at buildings or objects with the 3D Widget
If a picture is worth a thousand words, a 3D image might be worth a thousand books. By letting your students work with 3D objects themselves, they can analyze them from any perspective, which will definitely motivate them!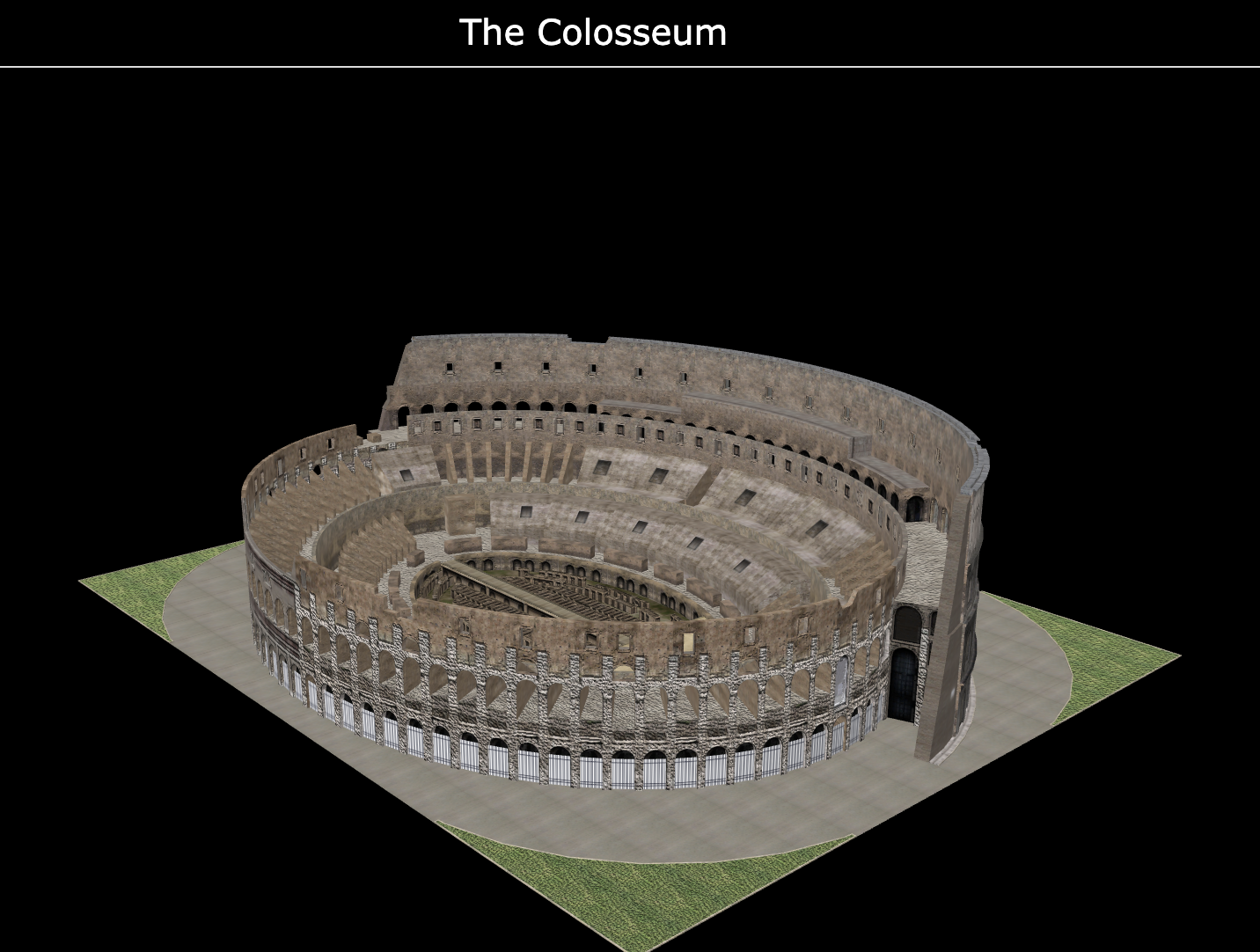 Click to open
Embed Google Street View in a Split Worksheet
Google Street view allows you to visit almost any public place in the world in 360°. You can even use it to virtually visit certain museums and national parks. And the good news is that it is perfectly possible to embed Google Street View in BookWidgets, e.g. in a split worksheet! Read more about integrating tools like Google Street view into BookWidgets in this blog post.
Click to open
HotSpot Image or Google Maps Widget
Earlier in this blog post, I already explained how the Hotspot Widget can be useful when students do the field trip individually or in small groups without a guide or chaperone. Guess what? It also works great for virtual trips! Just add a background image of a map, site, or building and add different kinds of interactive links (hotspots) on the image! Or apply the same idea on a Google Map, so students learn to locate the main buildings and characteristic places of a city.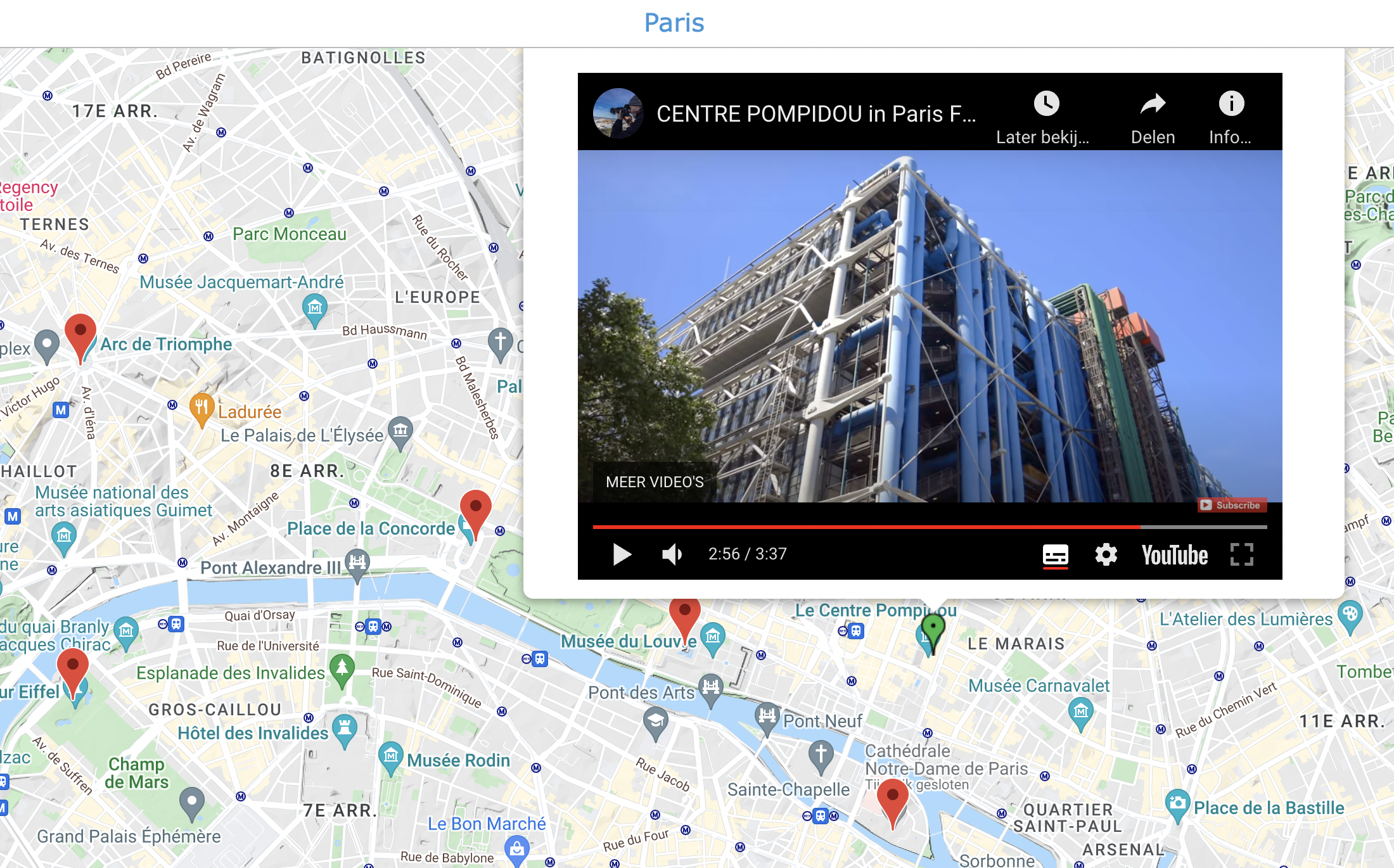 Click to open
A selection of great existing virtual field trips
There are an awful lot of virtual field trips available online. I've made a selection of five very well-made and instructive virtual field trips.
Wrap up
Want to use the examples from this blog post in lessons? Join this BookWidgets group.
Are you organizing your next field trip and thinking about using any of the ideas in this blog post? Or did you try a virtual field trip and do you want to share your experience? Let us know on Twitter! - @ibookwidgets
Or share your best practices for field trips in the Teaching with BookWidgets Facebook group so that in turn, you can inspire others!
Have fun!