15 fun school holidays activities for students - The bucket list
Lucie Renard —
School's almost finished. The summer break is around the corner. But that doesn't mean you can't give your students something to do during their free time.
This post isn't about giving your students homework, it's about giving your students challenges and fun activities they can do during the school holidays. Keep them busy and motivated. Some of the activities they can do with friends or family, others they can so alone.
Bucket list activities for students
Let's create a digital bucket list with holiday activities for your students!
Good news…you don't need to do this, I already made one with the planner widget from BookWidgets.
Here it is: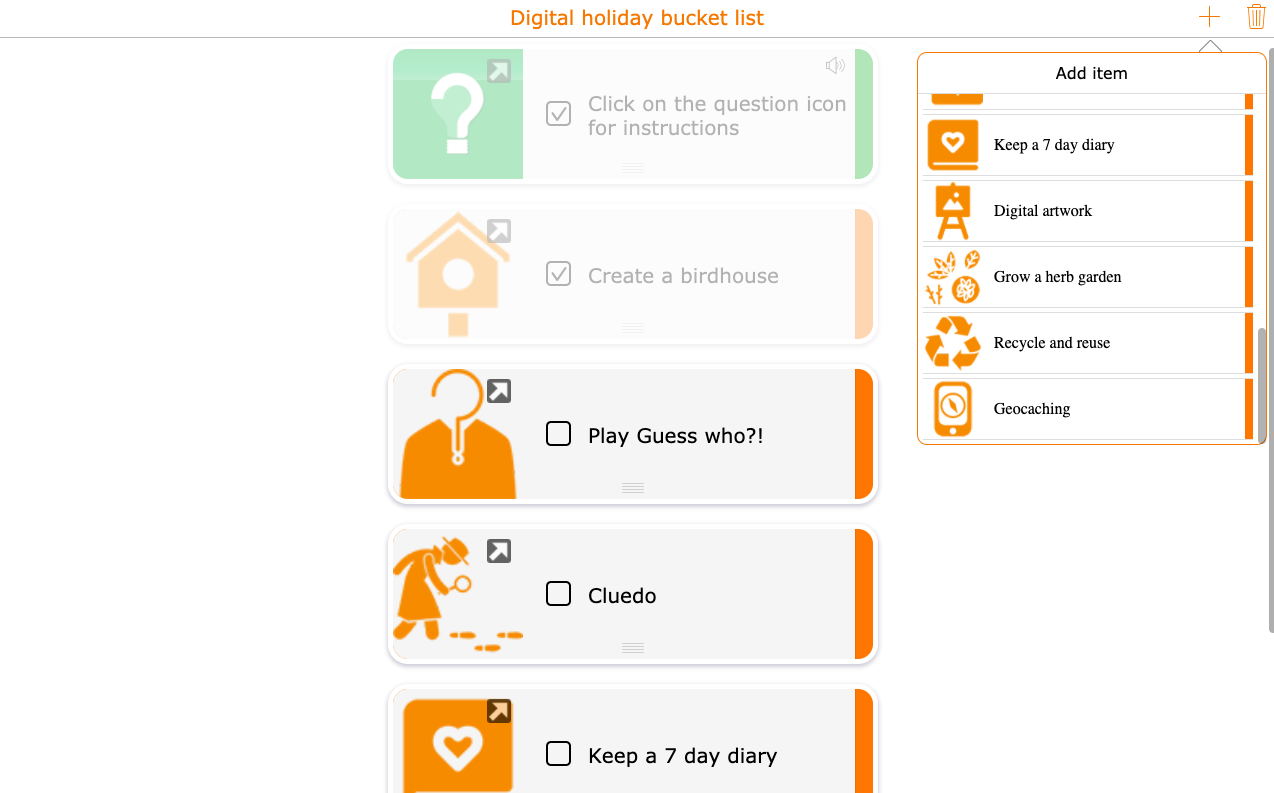 Click to open
How does it work?
I added a list of 15 fun activities to this digital planner. Some are completely digital, others ask your students to be creative, handy, and to go outside. The activities are perfect for primary school students and high school students. It depends on the activity they choose and if they get help or not. Just share the link with them.
Students can open the digital school break bucket list by clicking on the link. Now, they can put together their own vacation bucket list with activities.
They click on the + icon in the upper right corner and start adding the activities they want to do this summer. As a teacher, you could say they at least have to 10 bucket list activities.

Most of the activities ask students to take a picture from their work and send it to the teacher. For that, make sure to create a free BookWidgets account so students can send their work to your BookWidgets account so you can take a look at their work. Just go to the "Grades and reporting tab > Student work" to see the work they've submitted.

OR, create a digital bucket list with activities yourself using the BookWidgets Planner widget.
15 fun school holiday activities for students
Of course, I want to give you an overview of all the activities in the planner with, for some of them, the link to the digital exercise. You can use them in your own planner as well.
1. Colour hike

In this challenge, students take a walk down their neighborhood or a hike in nature, with some friends, their siblings, or parents. The first purpose is to get them moving outside. The second is to make "a walk" more fun.
Students open this digital worksheet on their smartphone.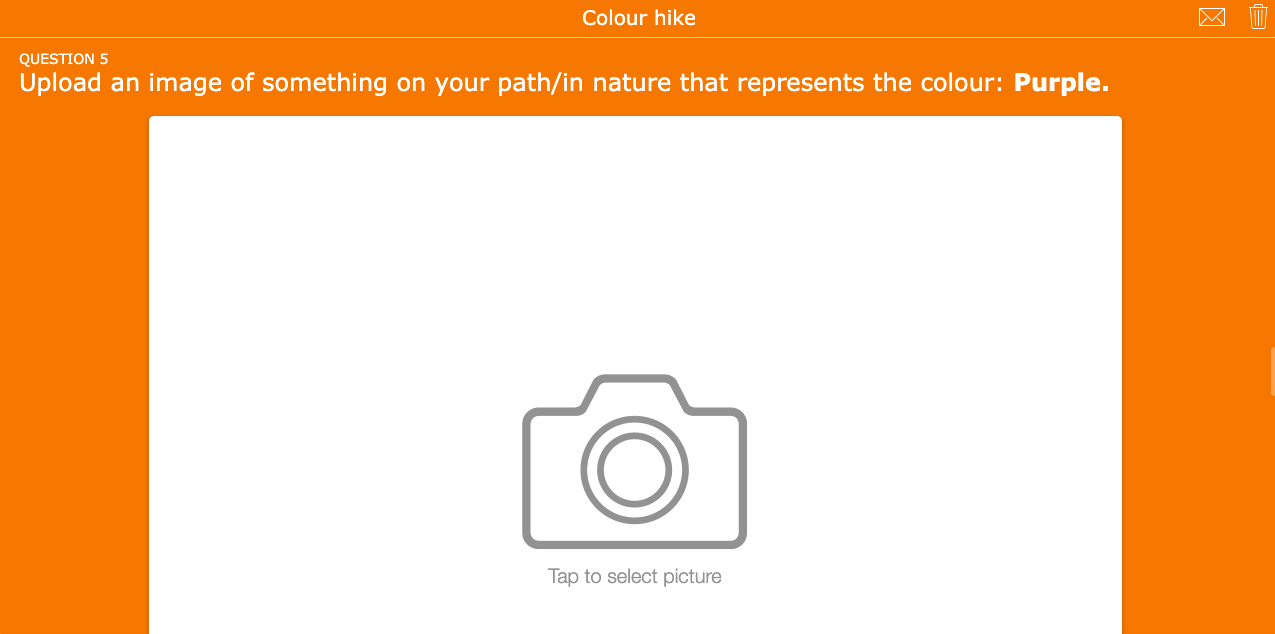 Click to open
They have to take pictures and upload them to the digital worksheet. Of course, the pictures must relate to the assignment. They have to take pictures of nature that represent different colours and the earth's elements. When walking, students have to pay attention to their environment so they can take pictures.
2. The m&m game

This is a game to make new friends over the school break. Whenever they have a camp coming up, or they meet a new person, it's a really nice icebreaker activity that engages communication between new persons.
Ask your students to bring some m&m candy. Then, when the time is right, they get together and open this digital game on their smartphones. It's full of fun questions, based on the m&m colour they pick.
Check out the digital game and instruction right here: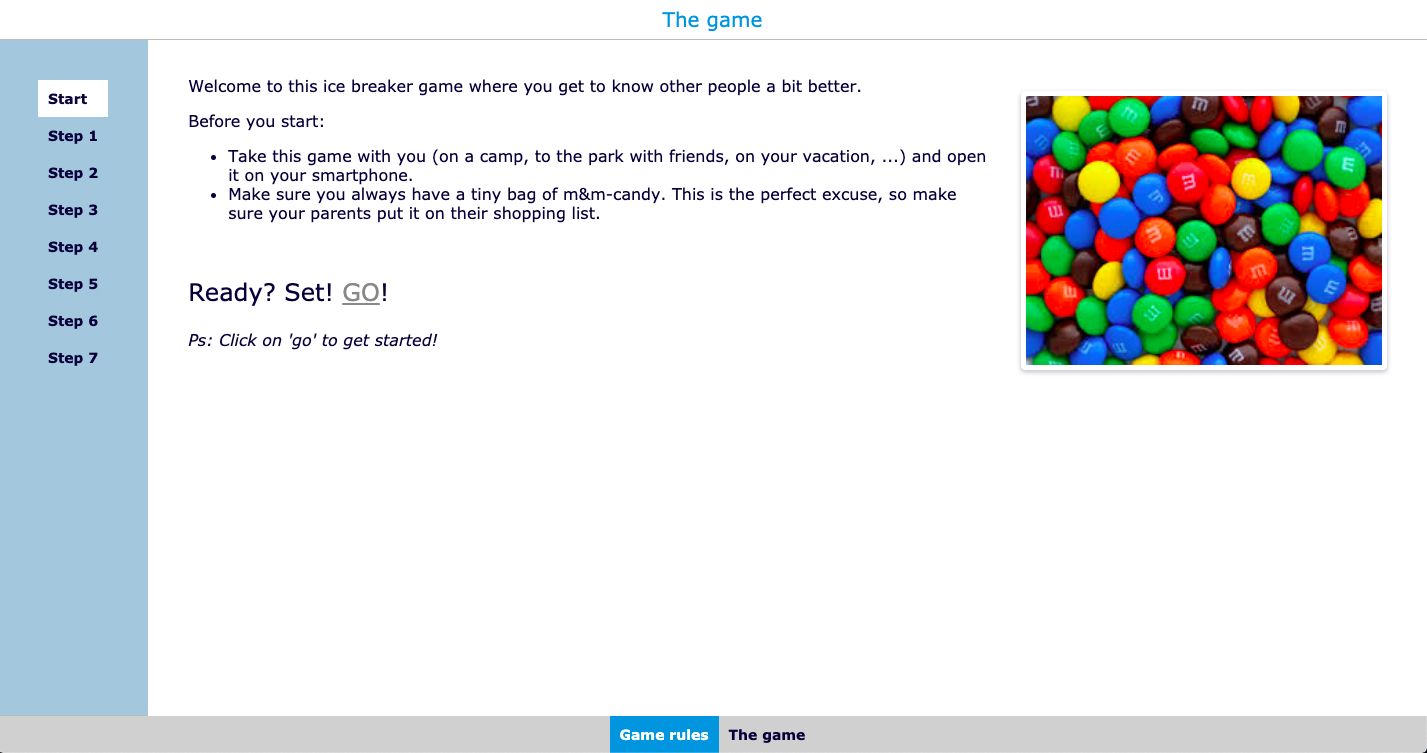 Click to open
This ice breaker game was digitized by Eva Robyn, a Belgian teacher.
3. School holiday video

What did your students do during the school holidays? How did they spend their summer break? Let them put together a video so they can showcase their unforgettable school break.
Let them use the free Adobe Spark video maker for that. It's easy to use and has many different video templates available.
4. Cluedo

When you want your student to get reading and get the best out of their inner detective, this digital Cluedo game version is the right fit. They can play on their own. They have to look for clues to find the murderer, murder weapon, and location of the murder.
This version in particular encourages students to read and keep up with their problem-solving skills. And it's fun too!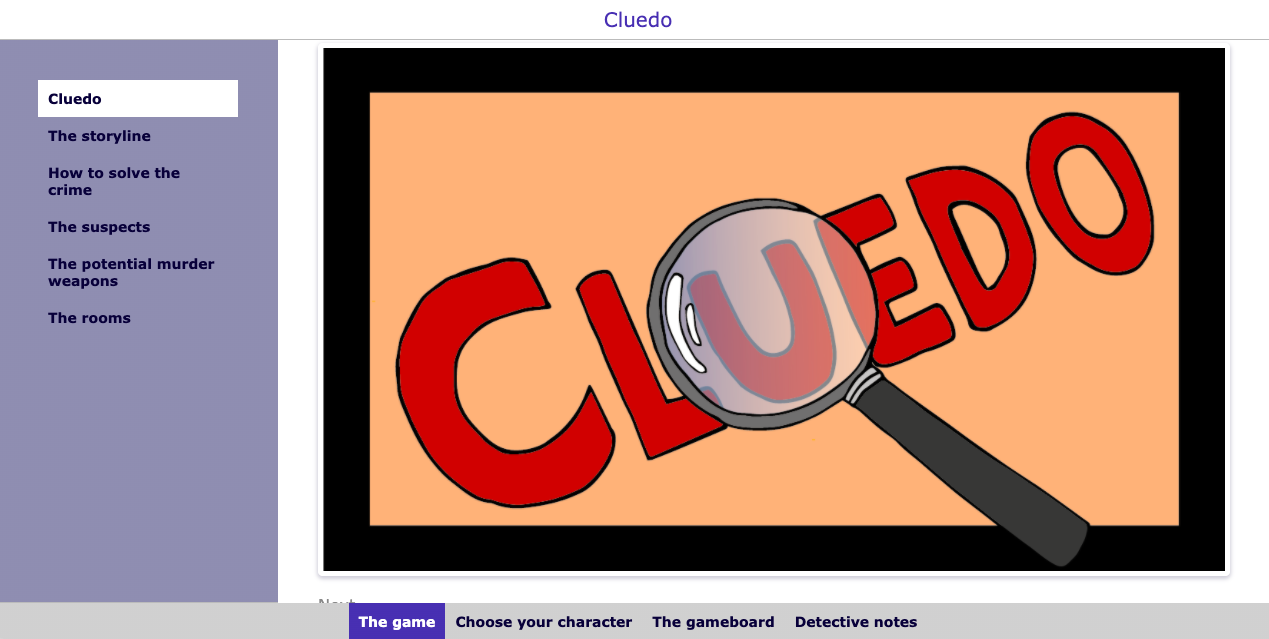 Click to open
We've many different Cluedo game versions in different languages in this post. Find out how to create your own with BookWidgets as well.
5. Postcard time!

This one doesn't need much explaining. Let your students send at least 3 postcards to people that play a significant role in their life. This can be to family, friends, neighbors, … It doesn't matter what's on it. What matters is that they know, your student thinks about them. Teenagers might forget to mention that from time to time.
6. Create a birdhouse

This is definitely one for older students or students that have a helping hand. Let them create a birdhouse following the guidelines you give them using this digital checklist.
If you are dealing with older students you could ask them to go beyond the plans… Let them design their own dream-birdhouse.
When finished, students can upload a picture of the image in the digital worksheet.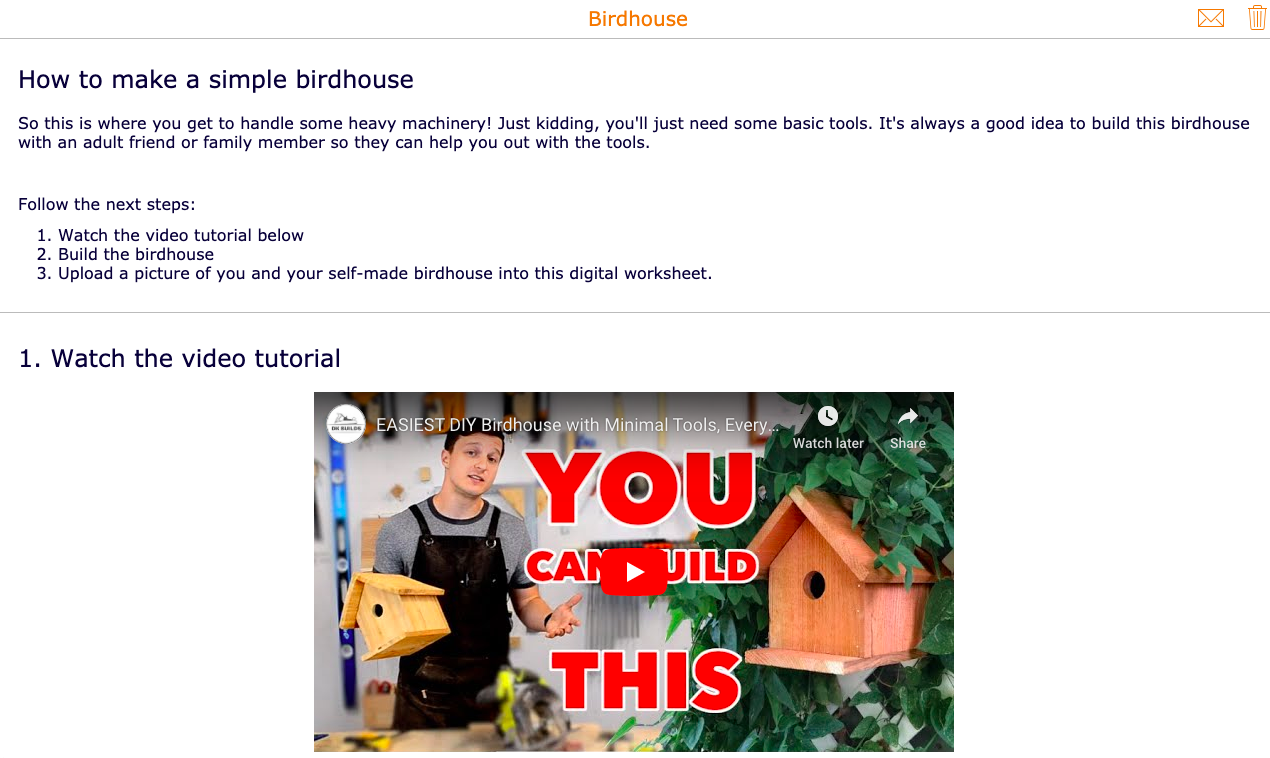 Click to open
7. Guess who?

This teacher, Sharon Widmer, created a digital Guess Who?! game. So if you want your students to practice their "describing a person" skills, you can give them this challenge to keep up with this knowledge in a fun way. They have to find clues to discard all the characters on the digital board game until just one character is left. Just share the link with them, or the digital bucket list planner.
Take a look and try it out yourself!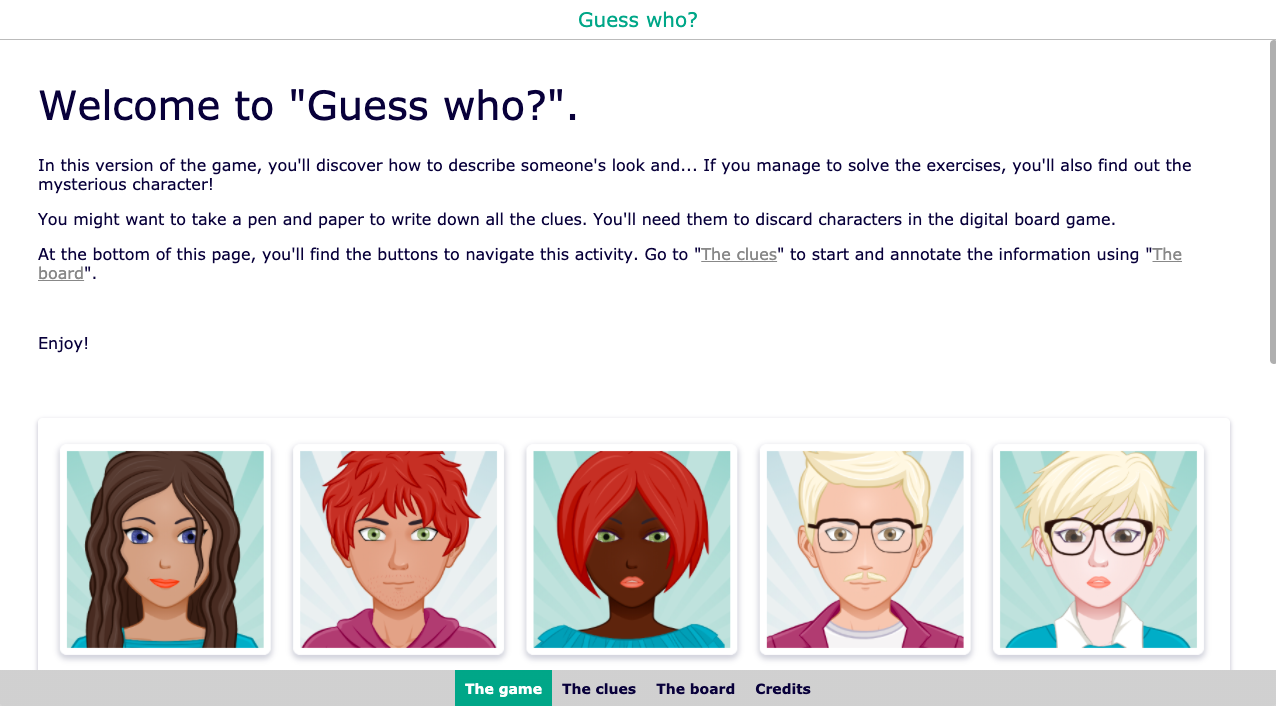 Click to open
8. Make a board game

If your students are creative, let them invent and create their own board game so they can play it with friends or family later on. They have to make cards, pawns, draw, write, cut, and paste. They have to use their imagination and inventive ideas to create a coherent board game.
Check out this digital worksheet. Here they get a checklist that will help them with this project. When done, they have to take a picture of their board game and add it to the worksheet.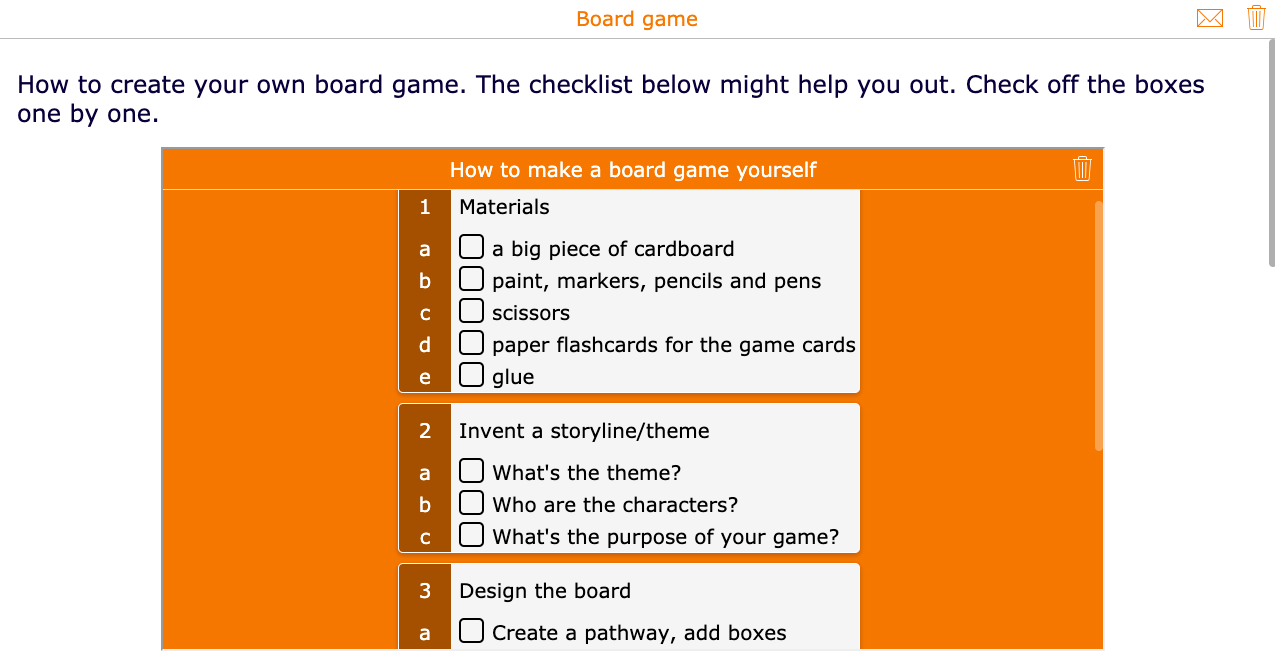 Click to open
9. Play cards

Most card games like hearts, patience, bridge, poker, … require a good amount of common sense (and counting). Encourage your students to visit their grandparents and play a game with cards. Their grandparents or family will love it!
10. Picture album

School holidays are about making memories. What better way to frame those memories inside a photo album. Many websites like my album or FlippingBook alow you to create a digital photo album. Sometimes it's also possible to let them print the album so you have a paper version as well.
11. Keep a diary

Ask your students to keep a diary for at least one week. This activity is a fun way to practice writing. But your students don't have to know that. 😉
Use BookWidgets' timeline widget for that. Here, students can add an event for each new day and describe what they did. They can also add images of that day. You can ask your students to submit their dairy to you (if they want to).
I already created a dairy template for you. Just share the link with your students. Click on the image below to open it.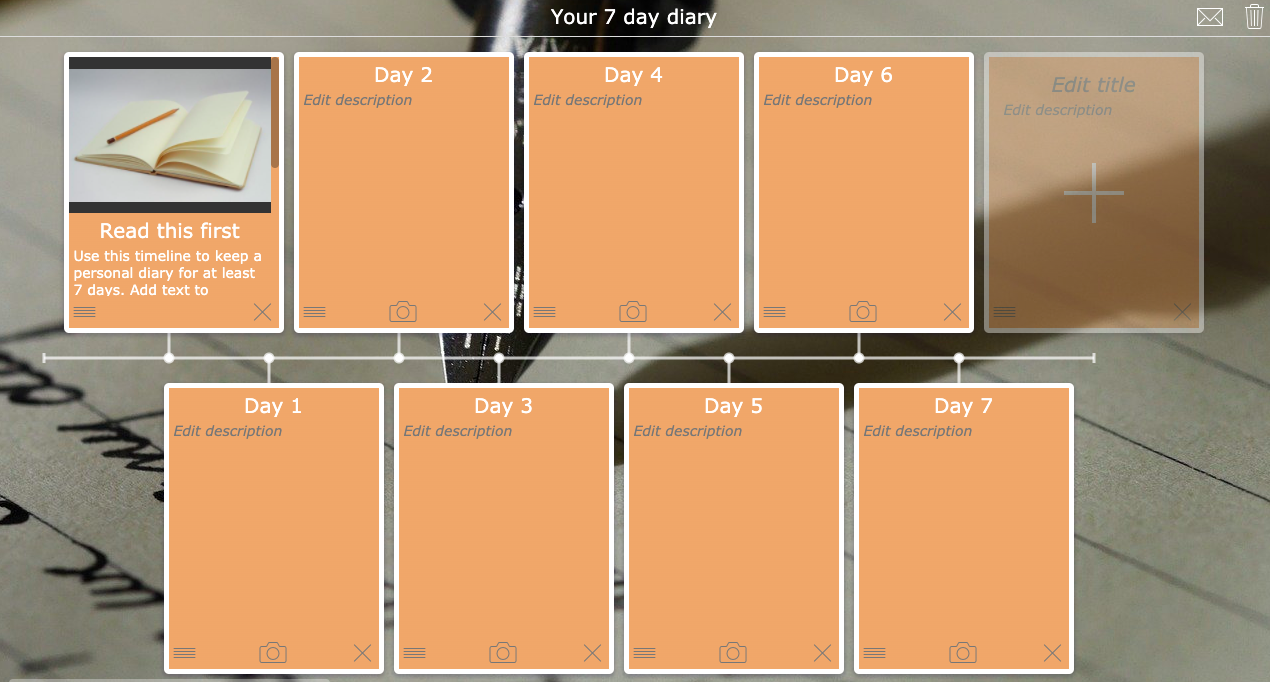 Click to open
12. Digital artwork

This one sparks the digital creativity of the students. In this whiteboard widget, students have to add a picture of them with their friends or family. Now, they have to transform that image into something arty. Students can add text balloons and icons by clicking on the "star" icon. They can also draw and type on the image. There are no rules. Art has no rules.
Here's this digital artwork template you can share with your students. It's made with BookWidgets' whiteboard widget.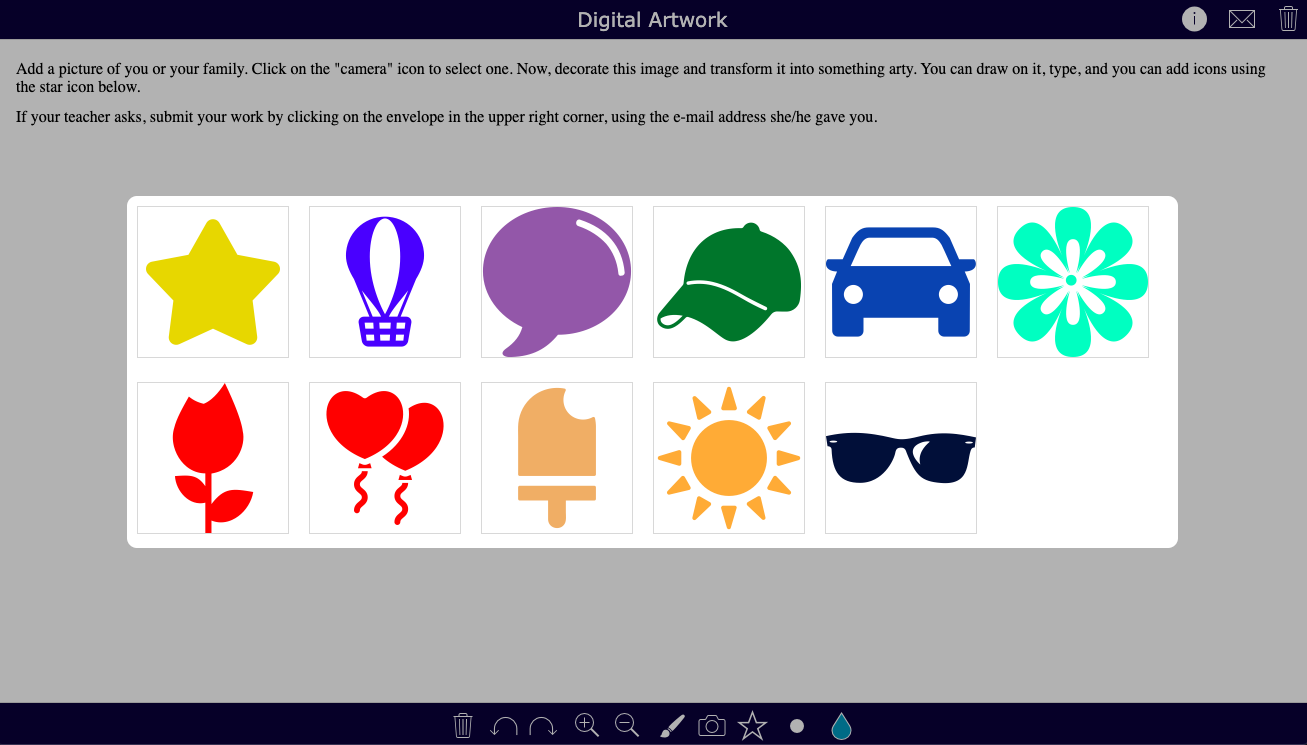 Click to open
Again, if you sign up for a free BookWidgets account, students can send in their work by clicking on the envelope in the upper right corner and type in the e-mail address of your BookWidgets account.
13. Grow a herb garden

They say that grinding your hands in the earth works as mindfulness. So why not grow a herb garden. This is a big project, I know, but it helps your students' parents as well.
This project is about being creative and crafty and getting knowledge about the herbs they want to add in their garden.
I already added a digital worksheet with tutorials on how to create a herb garden. Students can also answer a basic question about the herbs they chose for in their garden and they can upload an image of their garden.
14. Recycle and reuse

Lots of people throw away perfectly recyclable things you can still use. You can even give those objects a new life. The purpose of the tool may be something totally different. Students will also see that the amount of (plastic) waste is still immeasurable. Hopefully, it will encourage them to reduce their own waste consumption.
Share this worksheet with many fun ideas students can use as inspiration. They can also upload an image of their creation.
15. Geocaching

Another way for students to discover things outside is through the Geocaching app. This is a fun app where students have to look outside for hidden codes and coordinates. It teaches them to orientate, look for details, and fun facts about Planet Earth. And of course: they are moving!
Geocaches are scattered all over the world, so students can do it anywhere, whether it's in their neighborhood or on a vacation.
Wrap up
I hope you can use the planner so your students can create their own holiday bucket list. If not, you can pick out one of the activities mentioned above and just share it with them. I hope these activities can motivate and keep students engaged during school breaks.