Organize your BookWidgets account and start fresh next school year
Lucie Renard —
Now the school year is over, there's just one more thing to do: organize your BookWidgets account so you can start the next school year with a clean slate.
In this post, I'll give you some tips on archiving and saving student work, and on bringing structure in your widget lists.
Clean up student work
Starting a new school year is always easier when you can start fresh. This also goes for your BookWidgets account, or more specific, for your student work.
Last year, your students have submitted tons of widget results, so all that work is now lingering in your account. You don't need to have them readily available anymore, but may want to hang on to them in case your school audit or inspection asks for it in the future.
There are a few things you can do with student work from last school year.
But first this: Whatever you do, be careful when deleting student work. Be sure you really won't need it anymore. Deleting results cannot be reversed.
1. Archive student work
If you don't want to see al your student work from last school year anymore, just archive the work. When student work is in the archive, it will not be visible anymore by default, but you can still look for that work and open it in case you need it.
You can quickly archive all the results of the previous year with a few easy steps:
On your BookWidgets dashboard, go to the "My Courses" page (or, if you don't use an LMS, to the "Student Work" page) under "Grades & Reporting"
Choose "Select all" from the menu
Select "Archive…" from the menu
Tick the checkbox in the dialog to limit the archiving by date, select the last day of the school year you want to archive, and select "Archive".
You won't find the archived work in the "Student work" or "My courses" page anymore. When starting the new school year, newly submitted student work will start showing up.
If you need it later, you can find the archived results either in the "Archive" page under "Grades and reporting", or by using the "Show archived results" on your course page.

Archived results don't have a separate structure. Although you can't for example create folders for separate school years, read on to learn how you can use the search function to find back the results you want.
2. Search for student work
The search function is a really handy tool when you want to look for specific results, even archived results. Let's say your school administration asks you to show some tests and results about a particular theme or from a particular course or class, or for a specific student for a specific period.
Just go to "Grades and reporting" and click on "Search". Now select the right filters, and the student work will show up.

3. Export results
If you want to keep an offline copy of all your results, we have recently added something for you: you can now export all the student results within a certain period of time. Indicate the period, click on export, and download the results. Exporting results can take several hours, depending on the number of results.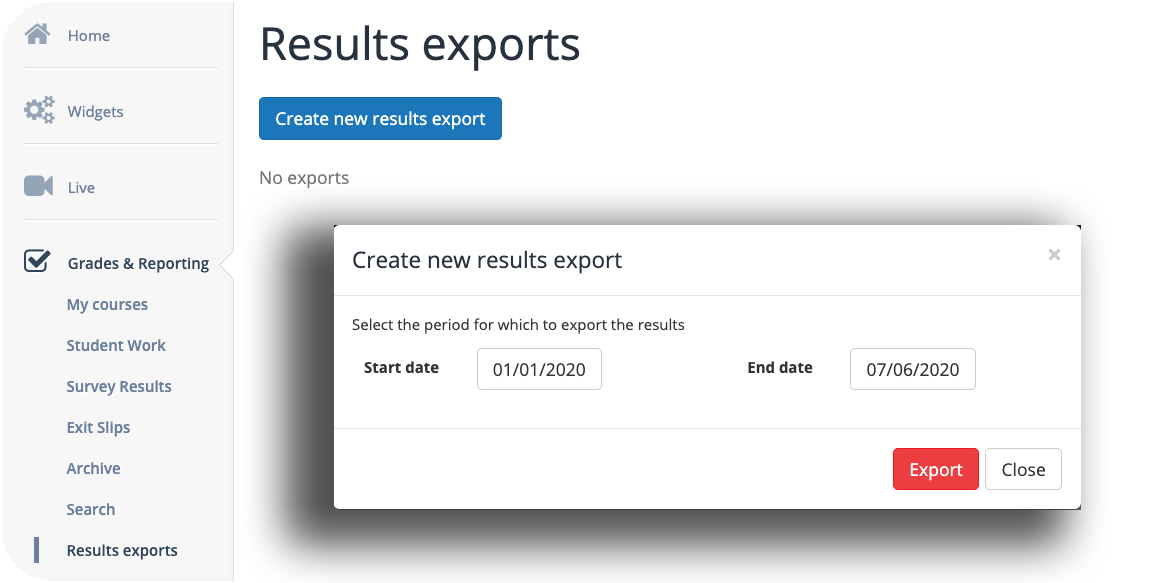 Once downloaded, you can extract the package, and get all your student results nicely organized in a folder structure. Click on the work of a student in the folder of the assignment to open that student's work offline in your browser. You can click on the title to open the widget linked to these results.
4. Remove students from your courses
When starting a new school year, you may still see old students listed in your courses. The list of students shown for classes in the "Grades & Reporting" section is automatically derived from the student work that's sent in.
To remove students from the list, you need to archive (or delete) their student work.
Clean up your widget lists
Now your students' results are stored safely, you might want to take a look at your widgets. Here are a few tips to bring structure to your widgets list.
1. Add folders
Add folders using the cog wheel menu on top of your widget list. Now, drag and drop widgets to your newly created folder. You can also move a widget by choosing 'Move' from the dropdown menu on the right of the widget.
You can even add folders to folders. This makes it easy to organize all your widgets and bring structure to your BookWidgets account.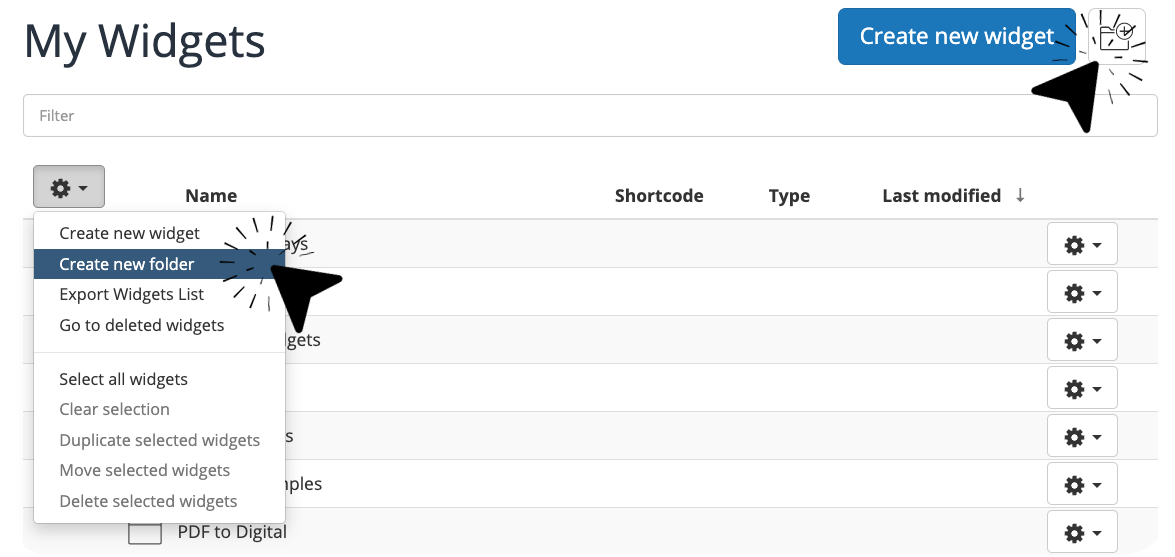 2. Create widget templates
Are you using the same widgets with the same settings over and over again?
For example, suppose you're always using a worksheet widget for testing. You're also using the same worksheet settings for all your tests. When you create a new widget, those options will be reverted to the default options, and you'll always have to change them again.
Here's what you can do to make this easier:
Add a folder named "Templates" with the widgets you use the most. Configure the widgets how you want them to be, with the right submission and general settings, or a background you always use. Give the widget a name such as "reading comprehension template".
Whenever you want to create a new reading comprehension assignment, go to the templates folder and duplicate the "Reading comprehension template" widget. Now, just add your questions/ content. You don't have to add a background or change the settings, because you just made a copy of the template widget with all the right settings. This will save you a lot of time!
3. Delete widgets you don't need
Nothing is more annoying than a widget list full of "unfinished" widgets. Unfinished widgets are widgets you created but didn't share with your students. So, ask yourself: do you still need these widgets?
Most of the time, this unfinished widget was just a test to try something out or see what's possible. Then, you realize this isn't the right widget type.
Delete the widgets you don't use or that are empty. Start with checking the unfinished widgets. Make sure to take a look first, before you delete it.

When you accidentally deleted a widget you still might need later on, just click on the cog wheel menu and choose for "Go to deleted widgets". Here you can restore accidentally deleted widgets.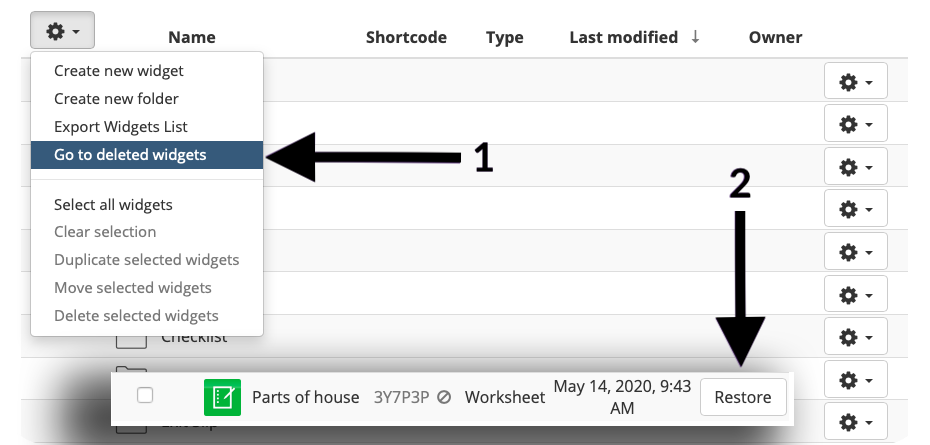 4. Find widgets using the filter
Preparing already for the next school year? Then you need to know what widgets you already have and if you want to make some changes or not. Or maybe you just want to organize all your widgets and move them to the right folders.
But what if you can't find a widget? Use the "Filter" search bar on top of your widget list.
Filter on
the widget's name/title (or just a part of it),
a widget shortcode,
a widget type.
You can also use the filter when you're a member of a large BookWidgets group where other teachers share widgets as well. If you don't know if the widgets in that group are what you're looking for, filter on a theme, title, or particular course. You immediately know if the group has widgets with your content.
The "Filter" works within that particular widget list/group. So if you have different groups with widgets, you'll need to filter there as well.
That's it!
Now you can start the new school year with an organized BookWidgets account.