30+ ready-to-use TikTok lesson ideas for teachers - The Complete Classroom Guide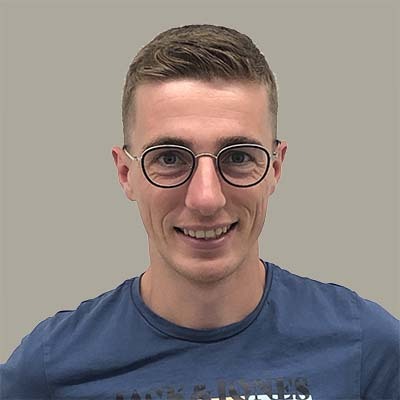 Dimitri Bongers —
TikTok… yet another social network that keeps today's students even more glued to their smartphones. Its short, entertaining videos have become immensely popular during the early days of the pandemic, but many teachers, parents, and researchers are worried about the impact of this application on today's youth.
Despite this justified skepticism, TikTok does offer interesting possibilities for adding interactivity, creativity, and fun to lessons. Moreover, questions and assignments can be easily linked to a TikTok video by embedding it in BookWidgets.
This blog post is a complete "TikTok guide for teachers", which includes the following components:
All digital exercises are created with BookWidgets. Create a free BookWidgets account (if you don't have one already) and duplicate the widgets, which will allow editing. All examples are in this BookWidgets Blog group.

What is TikTok?
TikTok is a video-sharing platform launched in 2016 by the Chinese company ByteDance. With over 1 billion active users and counting, it ranks 7th in the list of most used social media applications.
According to TikTok's website, the application is "the leading destination for short-form mobile video. TikTok's mission is to inspire creativity and bring joy".
The platform is hugely popular amongst teens and tweens who watch, like, share, comment, and create uncountable ultra-short videos. The content on the platform is created by TikTok's users (TikTokers) and covers a large variety of topics: pranks, DIY tricks, cooking tips, fashion, education, fitness… but TikTok is best known for its music and dance videos. The trending hashtags (#) and popular challenges encourage users to create and share their versions of viral videos, which might give some creators the hope of becoming a famous TikToker one day.
With an average usage time of 52 minutes per day, it is apparent that TikTok is an engaging (while some might say addictive) platform.
TikToks's most liked video

How does TikTok work?
What makes TikTok different from other social media platforms, is the way new content is shown to the users. On most platforms, users begin by following people, brands, or organizations and then see the content they share. Sometimes, users get some suggestions based on interests or the popularity in a network (similar to the suggested videos YouTube provides users on the right side of the screen), but basically, the majority of content is related to user choice.
TikTok is different. When users set up a profile, the app directs them to indicate some areas of interest (with suggested topics) before being redirected to the TikTok home screen - the For You Page.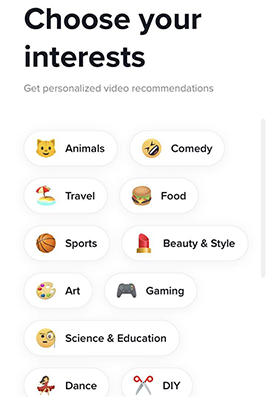 Image of selecting preferred content
Once at the For You Page, the video stream immediately starts playing! Users will be able to see the first video which they can like, comment and share. If they want to see the next video, swipe up on a mobile device (or use the arrows on a computer keyboard). It is possible to watch thousands of videos without following a single profile.
Over time, TikTok's algorithm understands which kind of content you like and will show you related videos. Even if you follow some accounts, the home screen will show you a lot of content from accounts that you're not necessarily following, except if you click on Following on the top of the screen. Nevertheless, most users don't seem to use this Following option and prefer scrolling through the For You Page to discover new trends.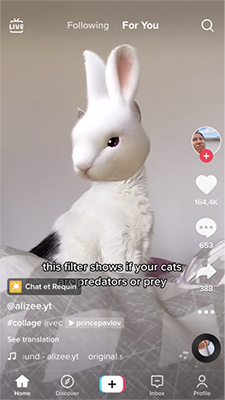 One of the first videos on my "For You Page"
It is also possible to search for specific videos in the Discover-area of the app. Here, viewers will be able to see a list of trending hashtags and related videos. They are also able to search for videos by topic using the search bar tool.
Users who want to create videos will quickly find the + button in the middle of the page. There are endless possibilities to video creation. Adding images, stickers, text, and audio, adding special effects and applying filters … anything is possible. Creative minds will certainly find enough tools to produce fun, engaging content.
Yours truly... with a somewhat special TikTok filter
One of the best features for creative TikTokers: the app contains a database with thousands of songs that creators can very easily add to videos.
This music library definitely contributes to the app's popularity, given the huge number of videos where young people dance and/or lip-sync to popular songs. Some of these videos go viral and are the start of a "TikTok trend", which encourages others to make their own version of a popular video. Viewers might even be tempted to try a TikTok challenge, like The Celeb Look-Alike Challenge which needs no further explanation.
With features like Duet, which allows creators to put a video next to an existing one, and Stich, which allows users to add a video at the end of an existing video, TikTok is pushing even harder on the idea of users inspiring each other to create more content for a fastly growing community.
Ed Sheeran also likes to do a TikTok Duet from time to time

Reasons to consider using TikTok in the classroom
With this understanding of TikTok, how can educators add value and incorporate these videos into lessons? What are the benefits of using TikTok in the 21st century classroom? How can the platform be used as and education tool? Let's investigate:
TikTok videos are short and to the point. This is important knowing the attention span of many classroom learners. Suggestions for use are as a lesson starter, or lesson summary. This may be a great time saver rather than selecting a longer YouTube video.
Depending on grade levels, many students may already be using TikTok. Learners will be excited to utilize TikTok in the educational environment and may even encourage user to discover more instructive TikTok videos and accounts.
When introducing the use of TikTok in class, educators have a wonderful opportunity to discuss digital citizenship, media literacy, screen time and the influence apps like TikTok have on learners. A reflection and discussion about social media in general is a great idea in any classroom environment.
Last but not least, the platform offers funny, original, and inspiring videos relating to almost any topic an educator can imagine. By providing students TikTok assignments with authentic real-world content this moves teaching and learning up the SAMR model of technology creation while at the same time allowing educators to show "withitness" by keeping up with trending topics in students' lives..

Ready-to-use TikTok lesson ideas
Fully convinced now with the idea of using TikTok videos in your lessons? Wondering how to introduce TikTok into lessons? Where can good, appropriate videos be found? Let's check out some lesson ideas and examples which can be used for any subject.
First, I'll give you some general TikTok lesson ideas and examples. These TikTok ideas for teachers could be used for any school subject:
Click on the links (below) for curated lesson ideas and examples for specific content and subject areas:
General TikTok lesson ideas (+ examples)
1. Use a TikTok video as a lesson starter
With a TikTok video at the start of a lesson, educators will definitely grab students' attention. Showing a video related to the upcoming lesson will be a great starting point to start a discussion, activate prior knowledge and create excitement for learning.
A TikTok video like this one is a powerful lesson starter
2. Use a TikTok video for a summary at the end of your lesson
TikTok videos can also provide a solution for bringing it all together at the end of a lesson. A short yet powerful video will catch the learners' attention of last time… and may even create opportunities to extend the lesson beyond the ringing of the dismissal bell. A TikTok video may also be integrated into an exit slip to assess students' understanding of the day's topic. Read more about exit tickets in a previous blog post.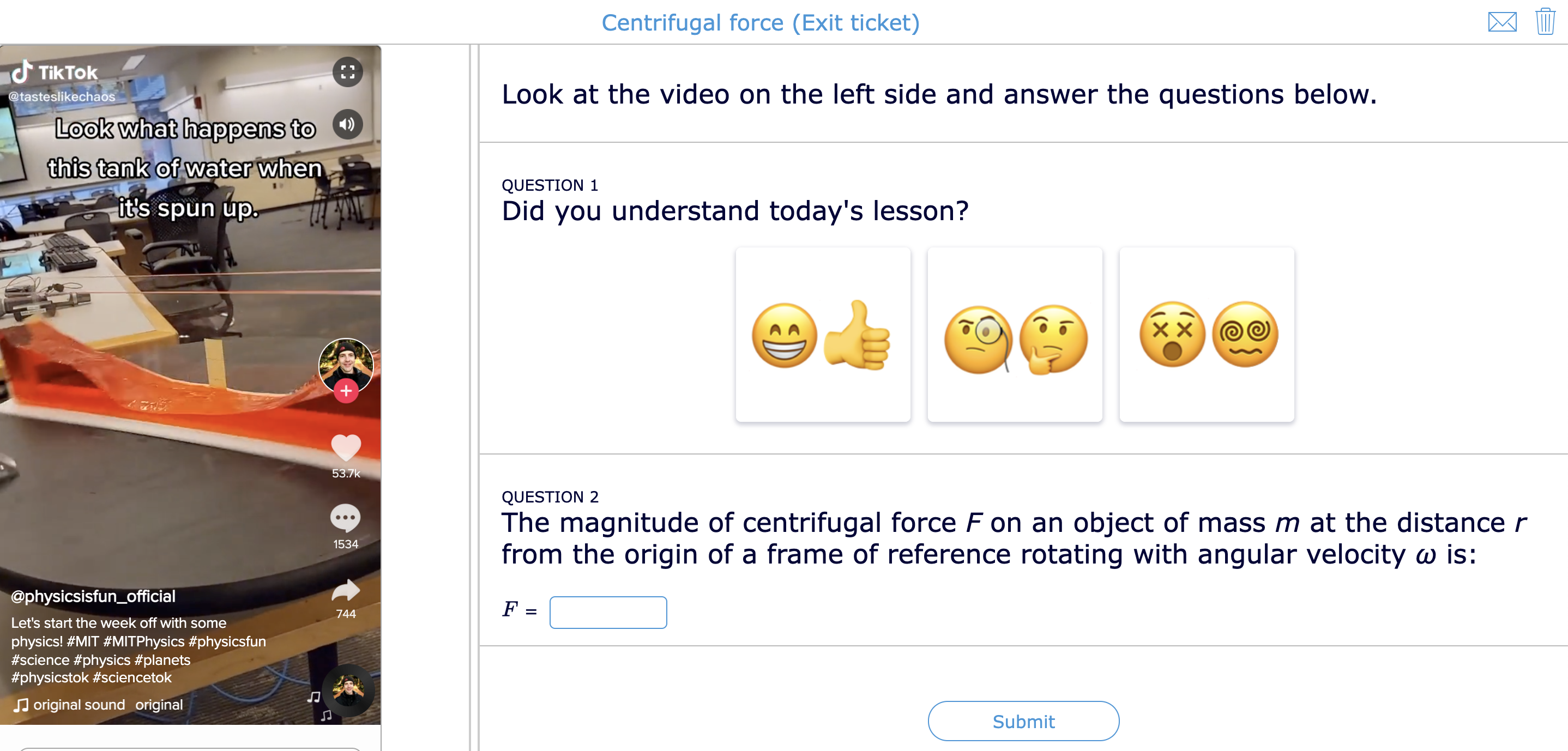 Click to open
3. Ask students to research for a TikTok video about your lesson topic
Why go looking for good videos when there is a classroom full of TikTok expert users. Ask students to find a school appropriate video on the lesson topic and create a curated video library. Students will be using their critical thinking skill and may even consider this the best homework assignment ever. In addition, they will probably find good videos that you can use again in your next lessons. Tip: teach them how to search for videos using hashtags and how to share the video link.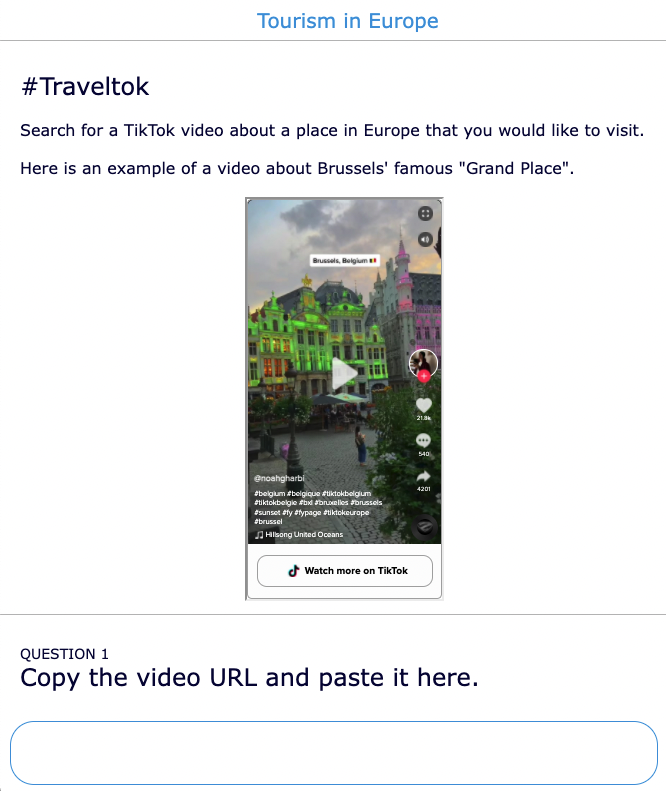 Click to open
4. Ask students to present a TikTok clip
This lesson idea stems directly from the previous idea. If students are able to find and appropriate TikTok video, extend the learning by allowing learners to orally present their research in class.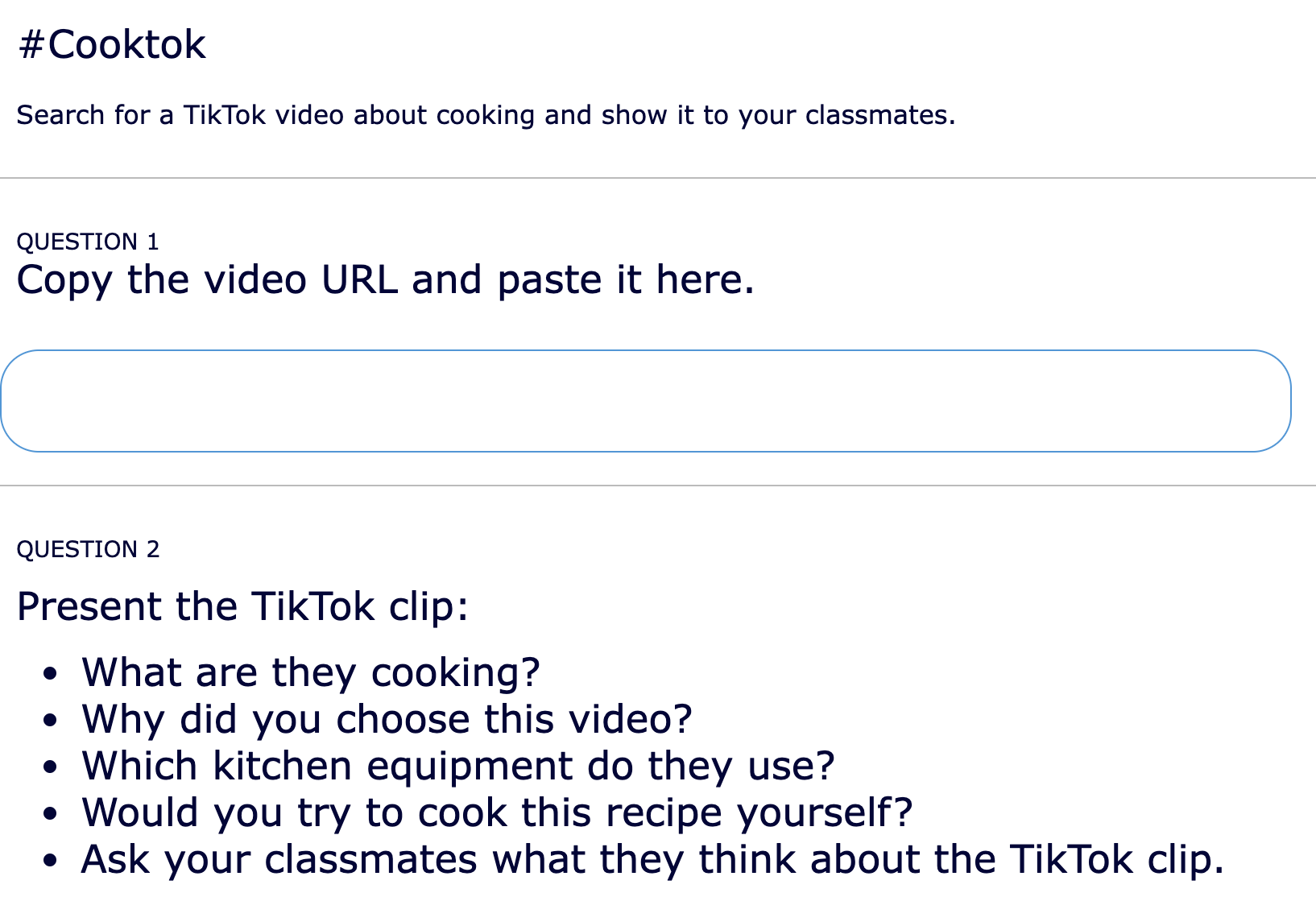 Click to open
5. Write a comment on a TikTok video
Ask students to write a comment for a particular video. This activity will encourage students to spend time analyzing the video content as well as understanding the importance of writing thoughtful comments on social media. Of course, always get parental permission as needed. Students don't actually need to post this comment on TikTok. Comments can be easily sent to the instructor using the Split Worksheet option is BookWidgets. An example is provided below.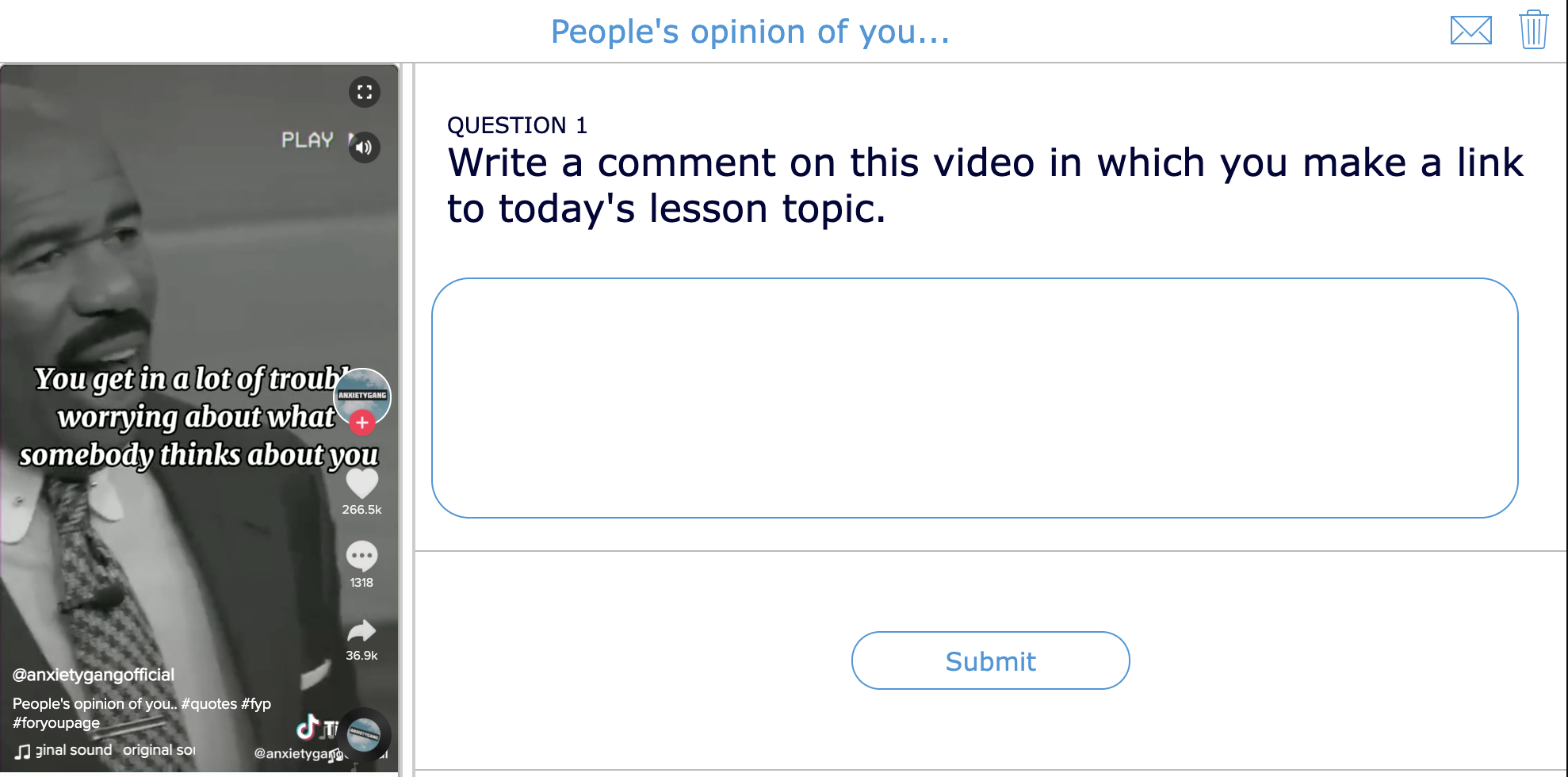 Click to open
6. Ask students to create a video about the lesson topic
"I hear and I forget; I see and I remember; I do and I understand." - Confucius
It is a very good idea to ask students to create a video about lessons. By engaging with the lesson content in a different way, students will learn more and acquire various skills while stimulating creativity, critical thinking and communication.
Note that the word "TikTok" is missing from this lesson idea. As explained later in this blog post, it is not recommended that you require your students to create a TikTok account and add content to it. There are plenty of alternative video creation apps that allow students to let their creativity run wild (e.g., Clips, Flipgrid, Kinemaster, and Quik).
A biology teacher asked her students to create a video to recap the lesson about genetics
TikTok lesson ideas and examples for specific school subjects
Below, you'll find you some TikTok lesson ideas and examples for specific school subjects:
1. Tiktok lesson ideas for world languages
Apart from the above mentioned general ideas, there are numerous ways to utilize TikTok videos in a language lesson:
I. Make use of thousands of videos published by dedicated language learning accounts
There are many dedicated language learning TikTok accounts. Because their videos are so short, they often contain very concrete tips or a short, simple explanation of important grammar rules. The videos with pronunciation tips are also an added value because this is something you find much less on other platforms. I've made a selection of interesting and good-quality TikTok accounts for learning English, French, Spanish and German.
Suggested TikTok accounts for learning English:
Suggested TikTok accounts for learning French:
Suggested TikTok accounts for learning Spanish:
Suggested TikTok accounts for learning German:
Ideas on to to use language learning TikTok videos in class can be found in these BookWidgets examples.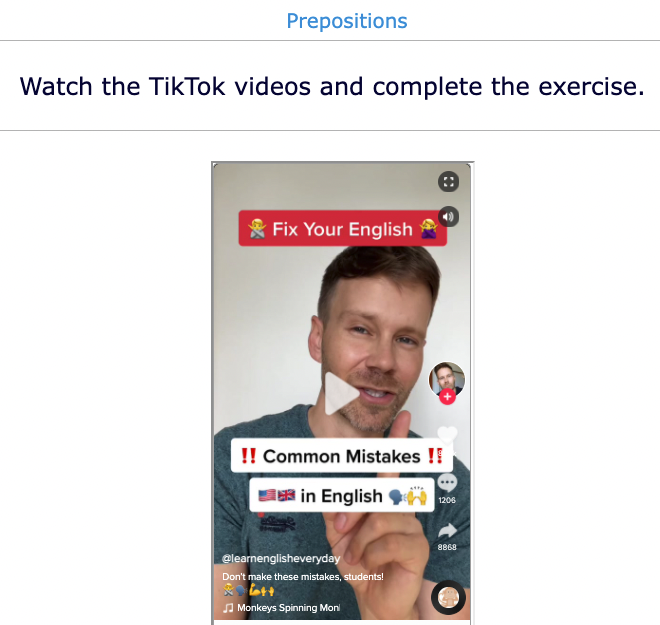 Click to open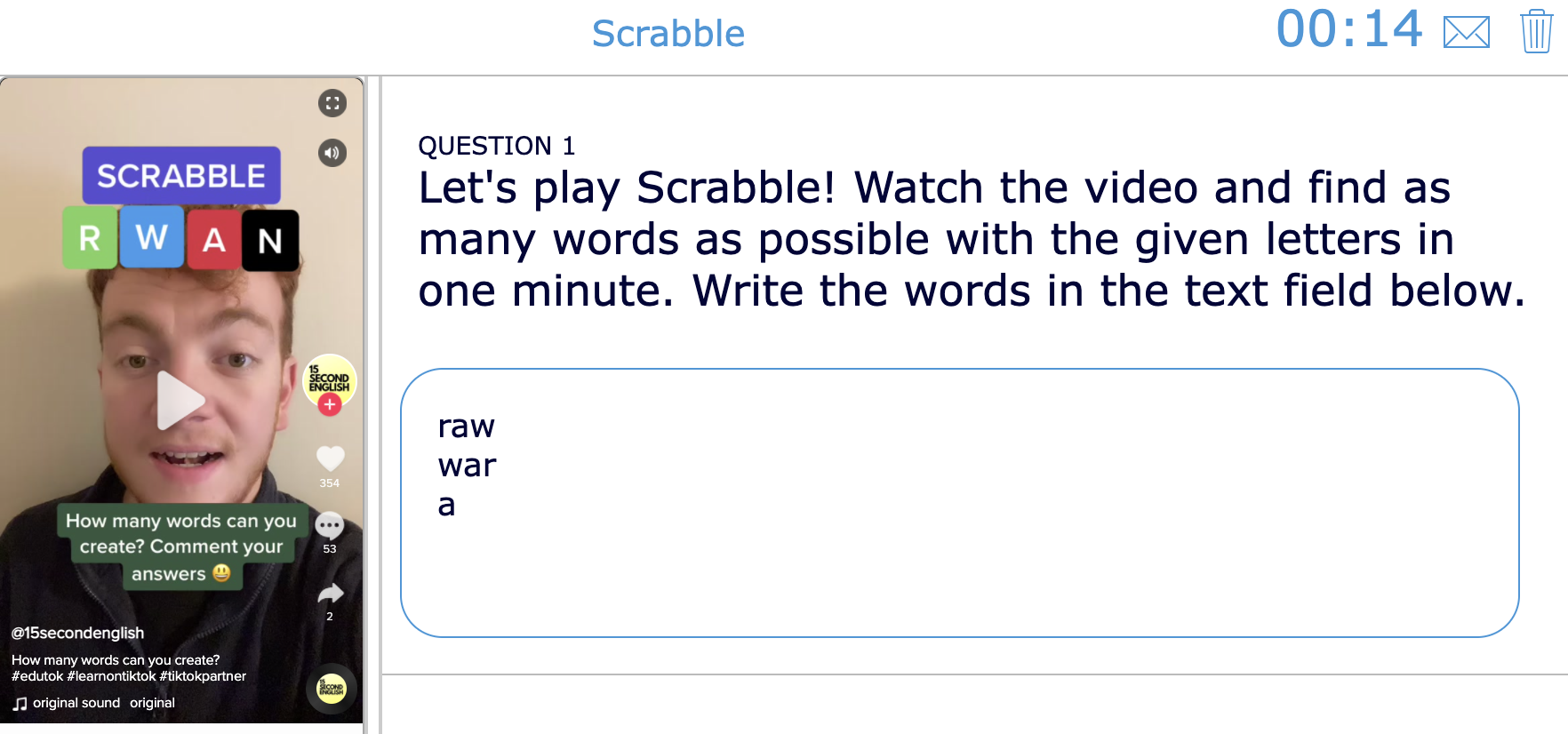 Click to open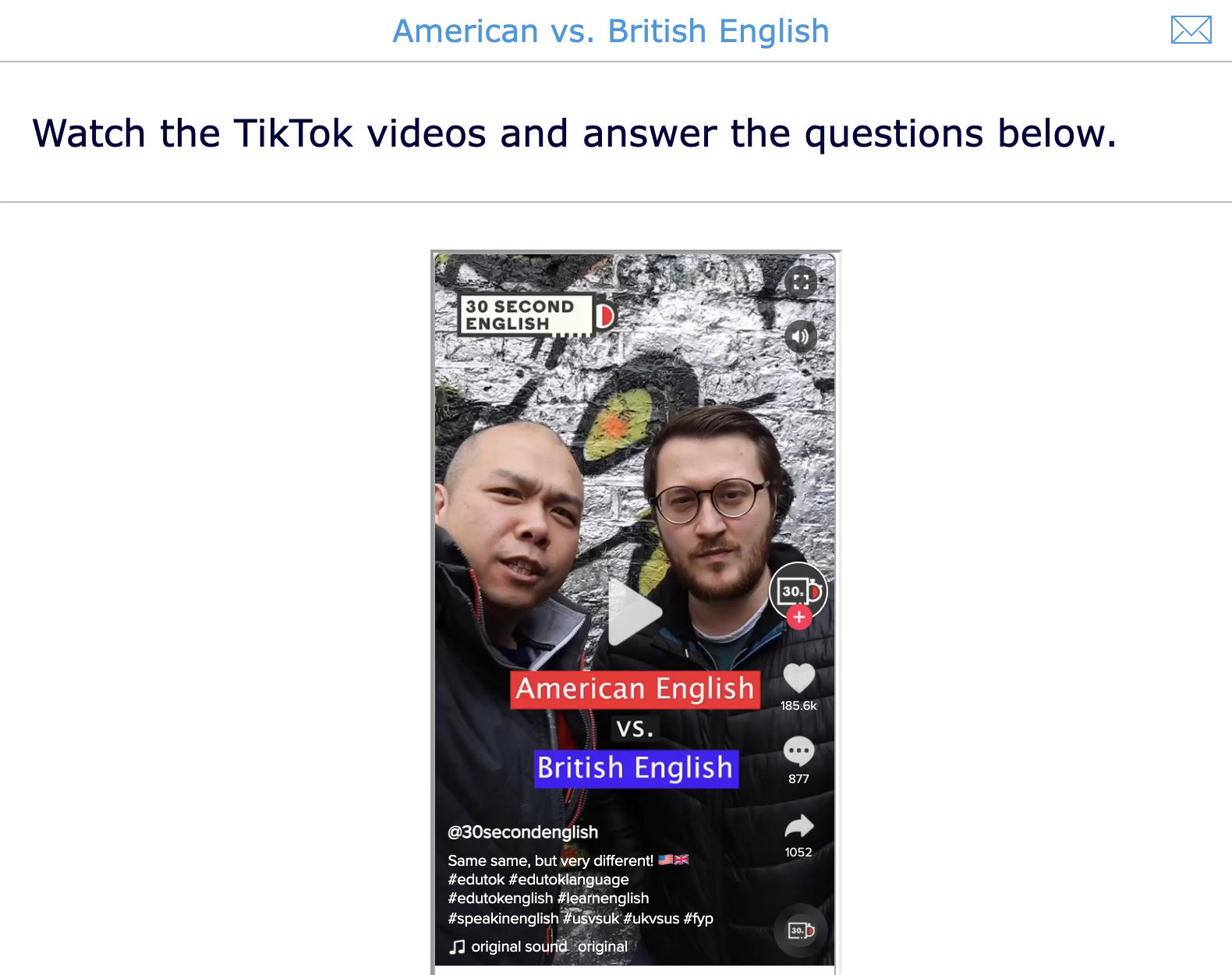 Click to open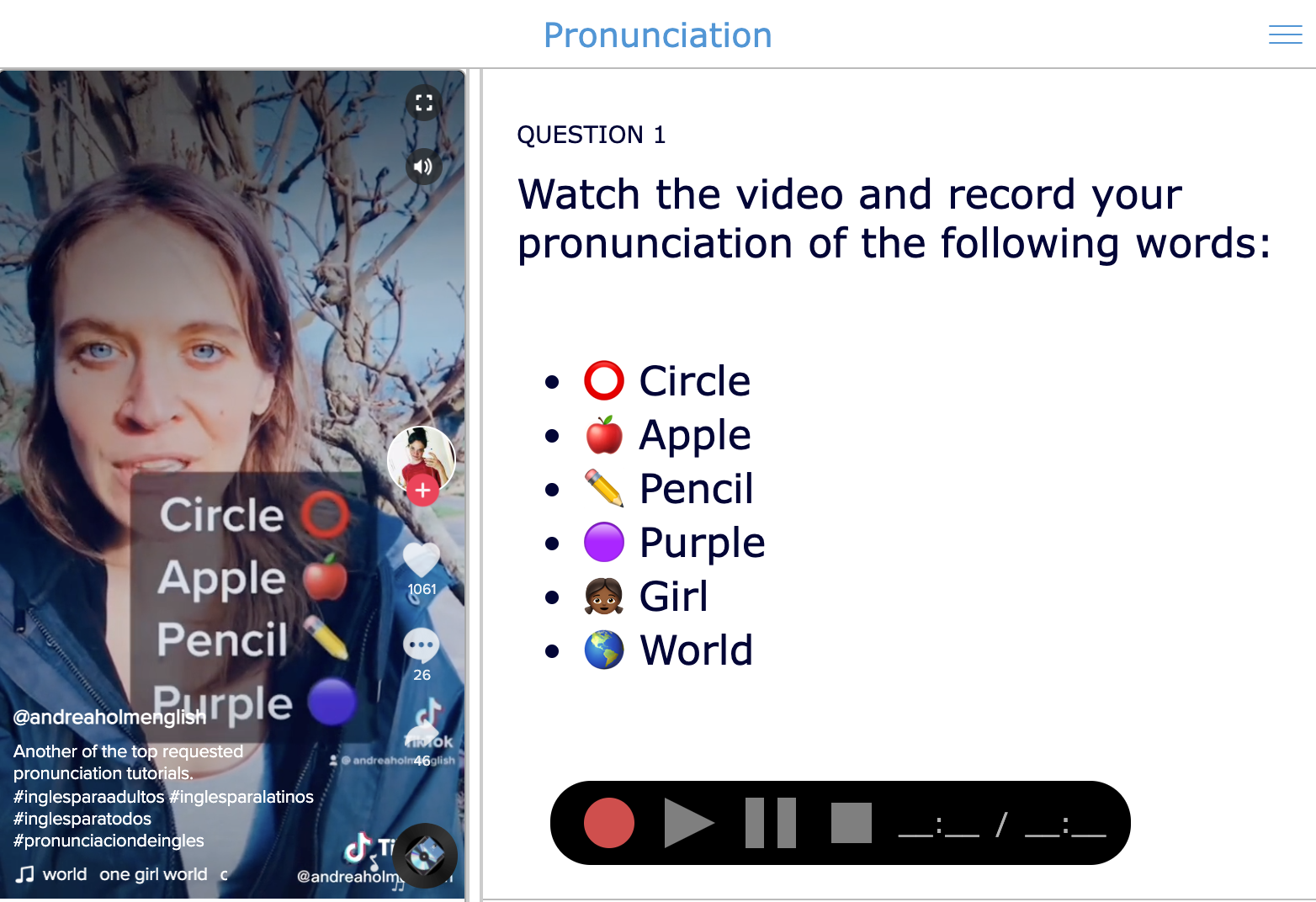 Click to open
II. Incorporate the Duet function for practicing conversations
The Duet feature allows TikToks users to react to an existing video by creating a new video. The result is a split-screen video where the original video and the reactions are posted next to each other. This feature is often used for music videos where TikTokers make music together, as in the example with Ed Sheeran earlier in this blog post. Some of the dedicated language-learning accounts publish videos in which the idea is to have a conversation by using the Duet function. If you like this idea, but you don't want your students to post the result on TikTok because of privacy concerns, you could do this kind of activity within a split worksheet in BookWidgets, like in the two examples I've prepared below (one for English, the other for French).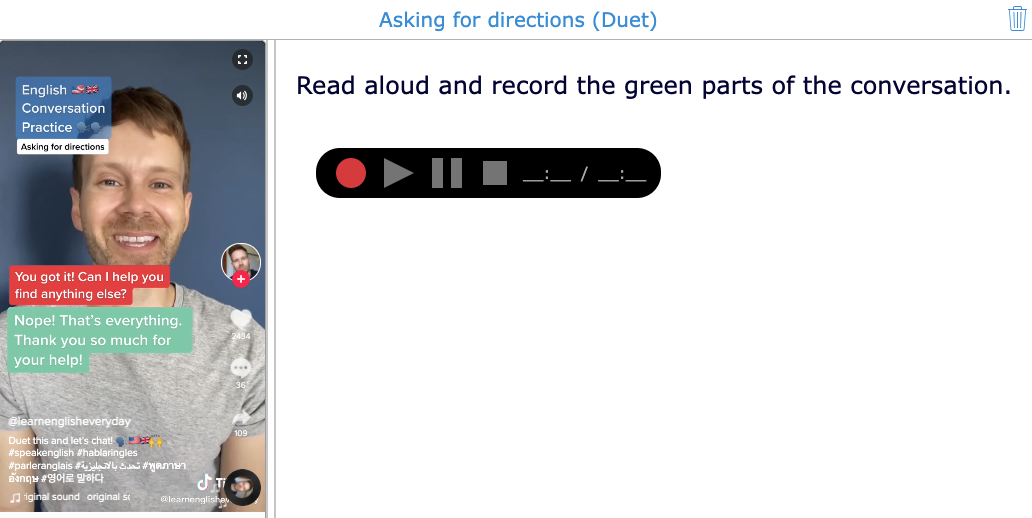 Click to open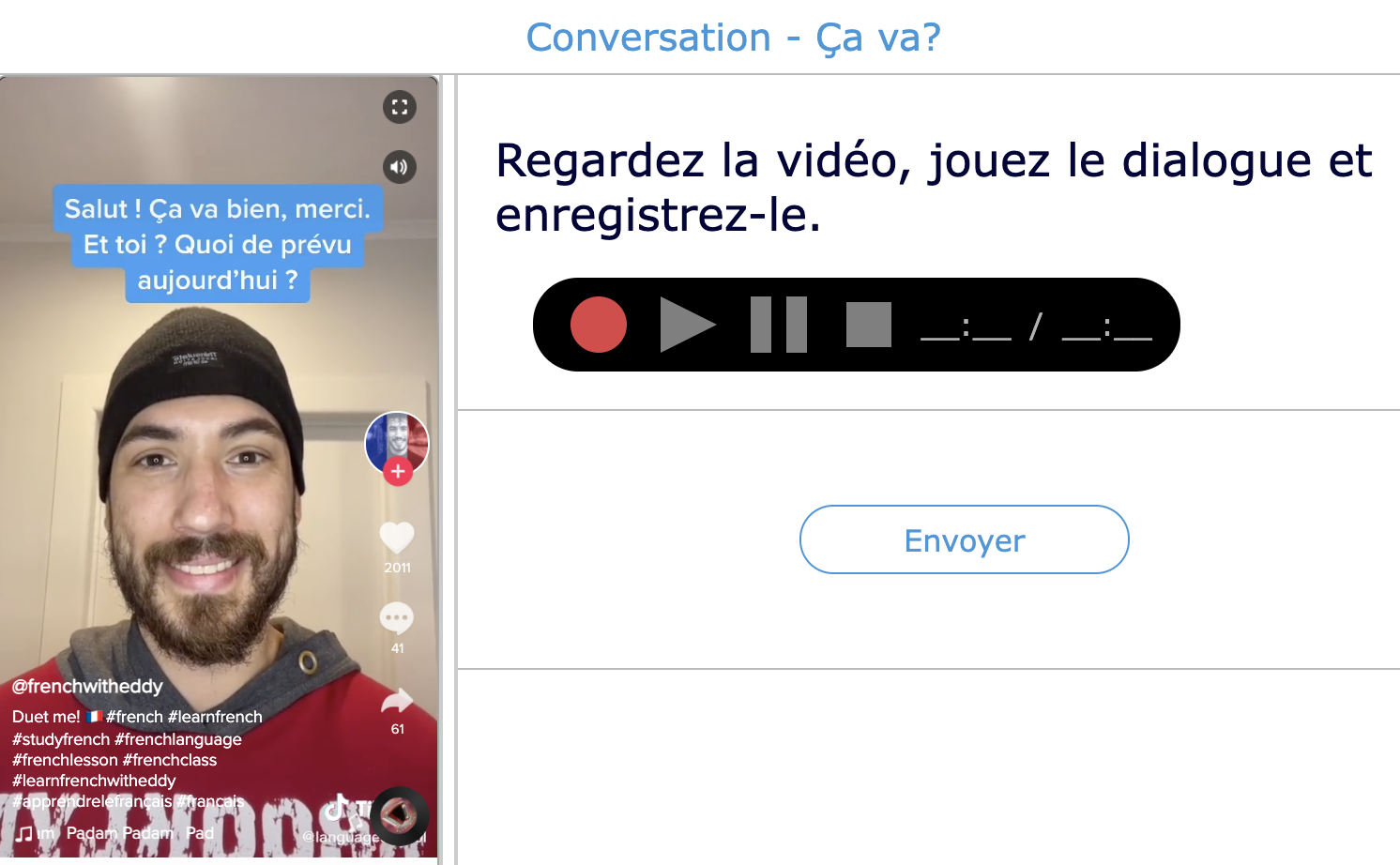 Click to open
III. Deploy TikTok videos for listening comprehension
When teaching language, TikTok is also a great place to find short, interesting authentic videos created by (young) native speakers. Using current, appropriate and fun content in the target language is very motivating for your students. These videos can be used as listening comprehension exercises. See the example provided for French learners, which is based on a video published by an account that promotes interesting activities in the area of Lille, France: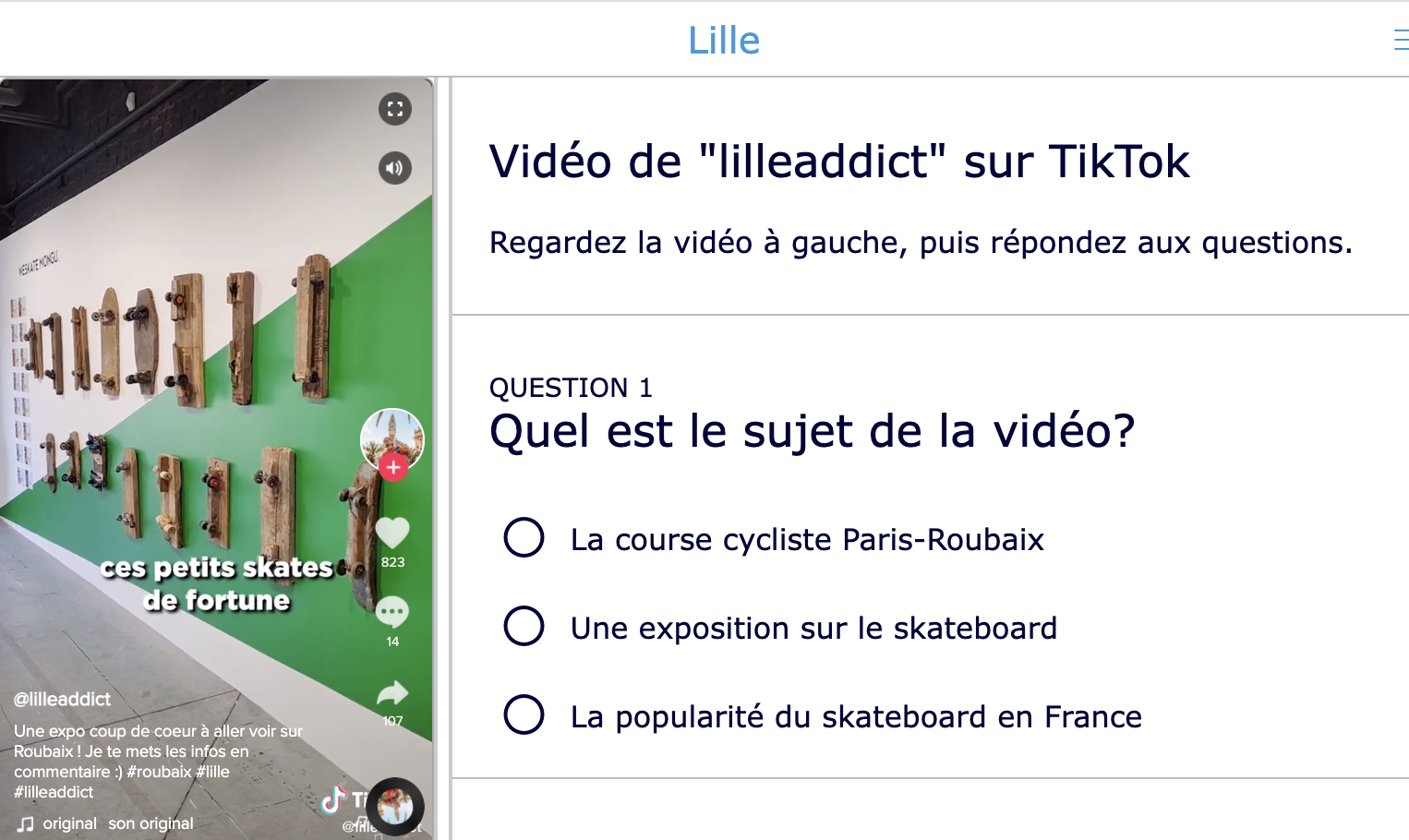 Click to open
IV. Use the surprise effect of the For You Page to practice expressing an opinion
This is a really fun TikTok assignment when students are taught how to express their opinions about something. Ask a random student to watch the first video on his or her For you page and provide their opinion. This can be done as a written assignment but may be more engaging and valuable if done orally in class. If there is the option to mirror or project the student device others will be able to watch the video and provide opinions as well.
It is also possible to incorporate (highlight) media literacy at the same time by asking students to reflect why the believe the video appeared on the For You Page and why their classmates see different videos. Please be aware that some topics may be sensitive. Alternatively, you could do the same exercise with some screenshots of preselected TikTok videos, as shown in the example below.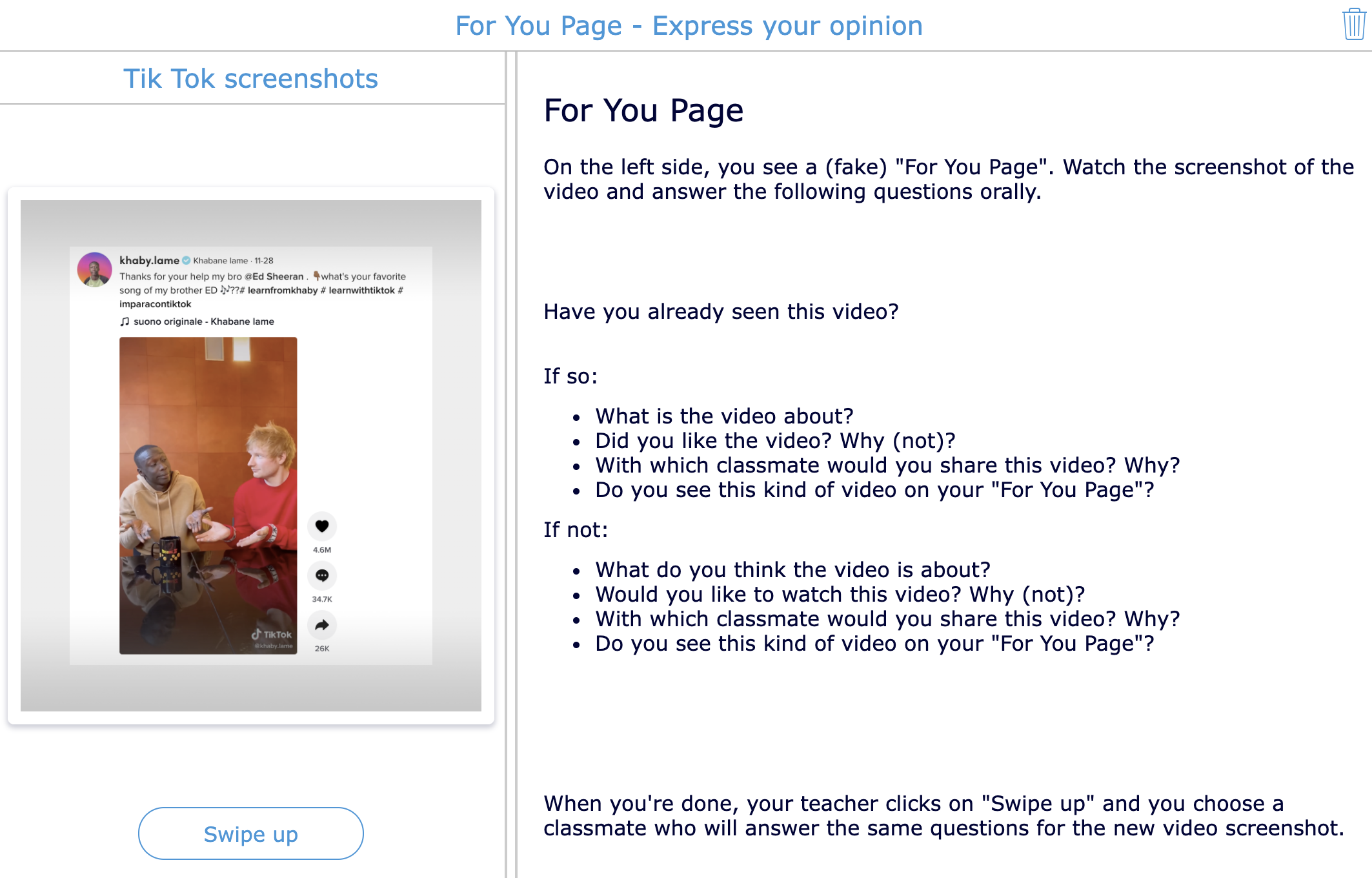 Click to open
V. Find inspiration for book reports
#Booktok is a popular hashtag on TikTok and it might be a way to introduce some books to students. By researching this hashtag, students may find some interesting ideas for their next book report.
This kind of video might inspire your students to read more books
Another lesson idea is to ask students to find a video on TikTok about a book they've read or to make their own video book report.
A video book report can be a fun and instructive assignment
2. TikTok lesson ideas for science courses
If teaching biology, chemistry, or physics, there are plenty of TikTok science experiment videos. Encourage students to create cool science experiment videos just like their favorite TikTokers do!
In the assignment below, students will find nine simple, yet engaging science experiments to do at home. The idea is to watch the videos and then recreate at least three of them, accompanied by scientific explanations.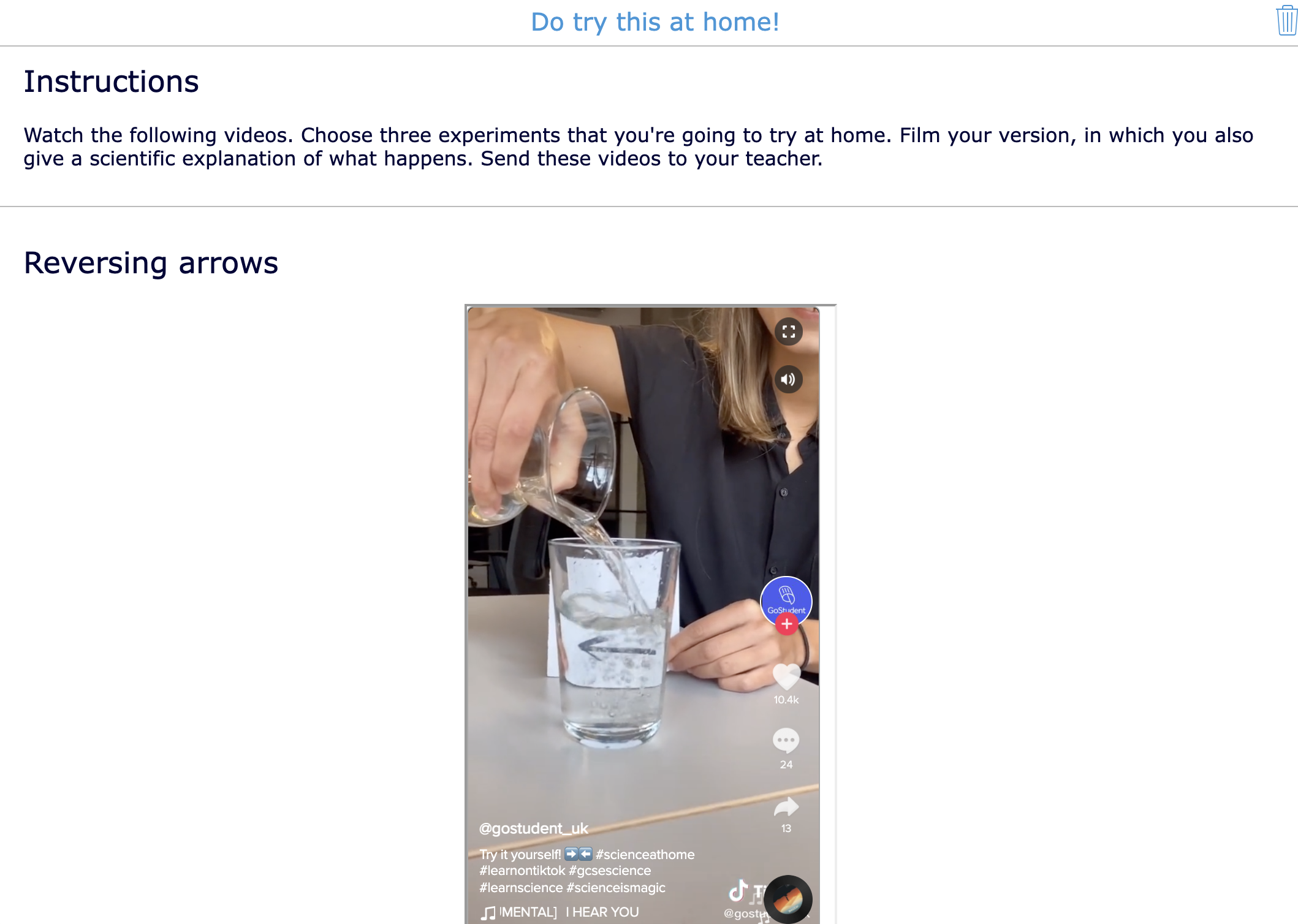 Click to open
Link these TikTok science experiment videos to your lesson topic, like in the example about Centrifugal force (presented earlier in this blog post).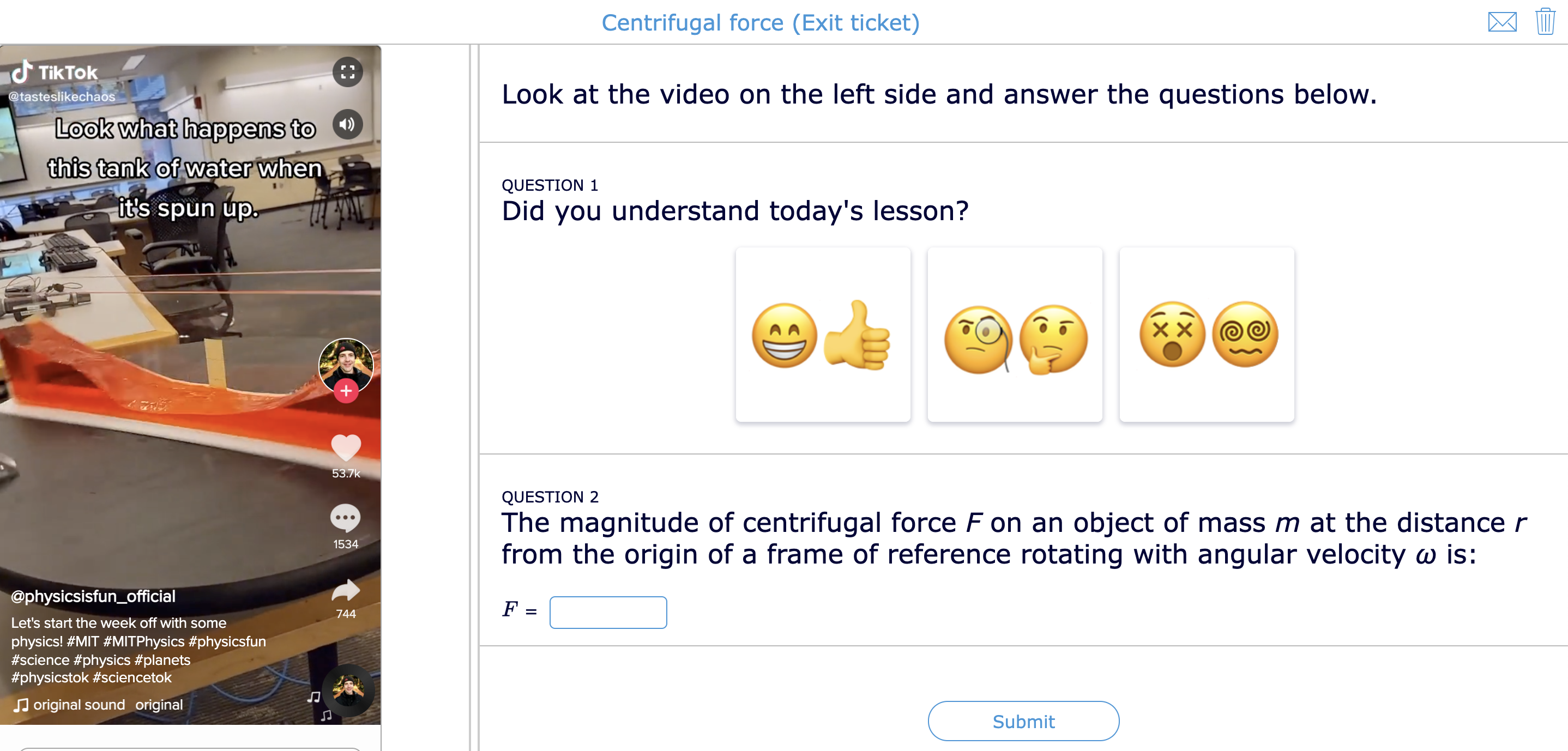 Click to open
For geography teachers, the Hotspot Image in BookWidgets is a great widget type for integrating TikTok videos from different countries or regions. Check out the example on the Seven Wonders of the World.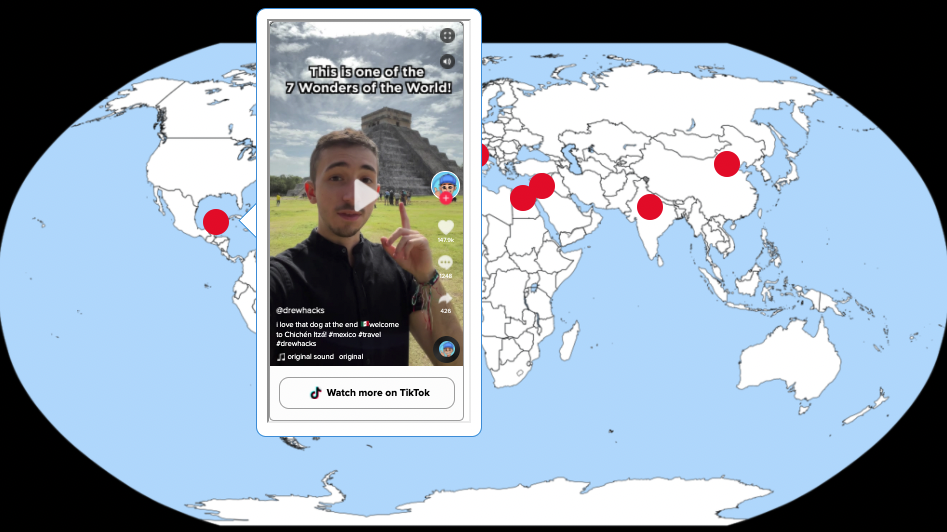 Click to open
Looking for more TikTok videos related to science lessons, then use the hashtags #sciencetok and #tiktokscience to help find relevant content. See below for some science related TikTok accounts.
3. TikTok lesson ideas for History classes
Surprisingly, History may be the school subject that has jumped on the TikTok train the fastest. History enactment and explanation videos have been trending on the platform for some time. In this Time magazine article, find more information about the phenomenon and some ideas about the use of this concept in History lessons.
A video about the shortest war in history
These short history-related videos can be a great addition to lessons. It is important that students understand that a TikTok video never tells the whole story, as it is impossible to do this in the short video format. But it can be a starting point to do more research about a historical topic. One of the first things students will need to learn about is to check the quality, accuracy and bias of the videos as anyone is able to publish videos which may contain incorrect or unsuitable information.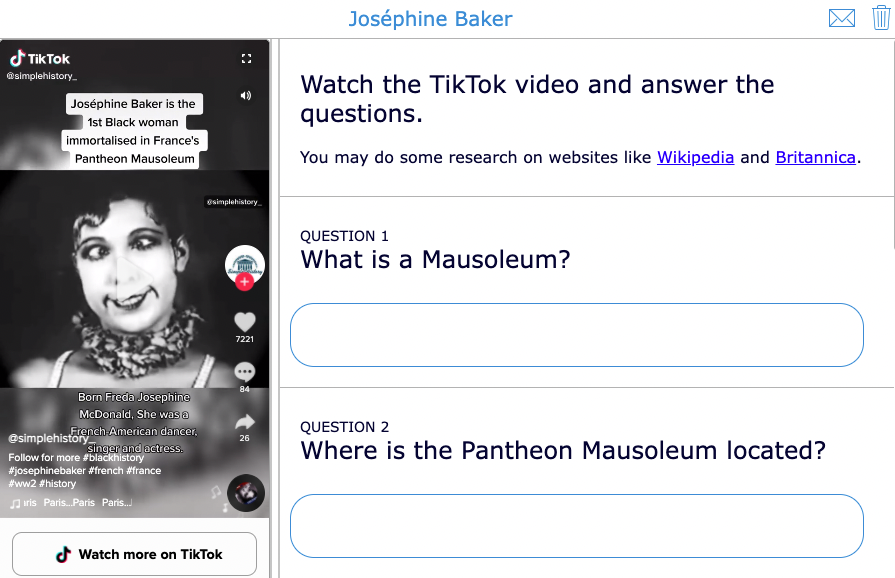 Click to open
Looking for more TikTok videos related to History? Use the hashtags #historytok and #historytiktok, which may help discover relevant content. Here are some suggested TikTok accounts (below).
The accounts listed below are great for covering current events in class.
4. TikTok lesson ideas for math lessons
Quite unexpected, but TikTok can also be used for mathematics instruction. There are plenty of videos explaining the basics of math, as well as tricks and best practices. In some videos, the creator gives a question to the viewers, which they can solve via the comments on TikTok. If you want your students to send the answer to you, it can be done very easily via the equations question type in BookWidgets, as shown in the example below.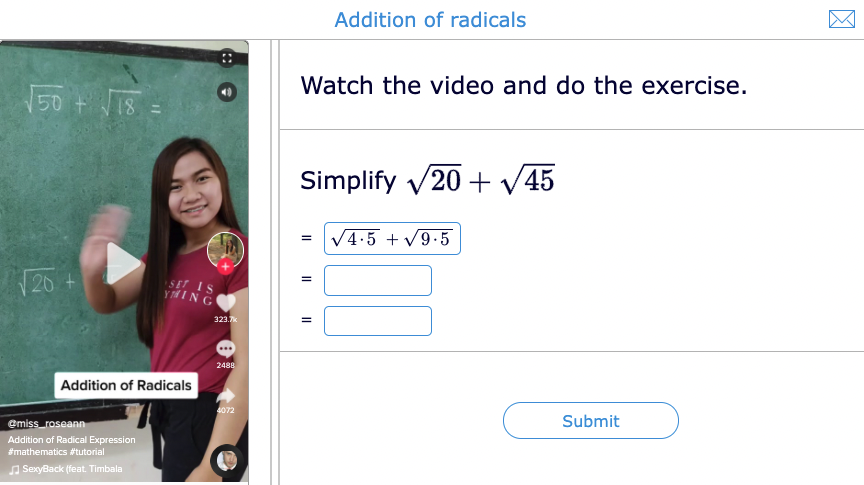 Click to open
There are also many instructive videos on geometry. Once again, it is very easy and practical to integrate these videos in BookWidgets to add exercises and receive answers from students. The example below utilizes the WhiteBoard Question type in BookWidgets.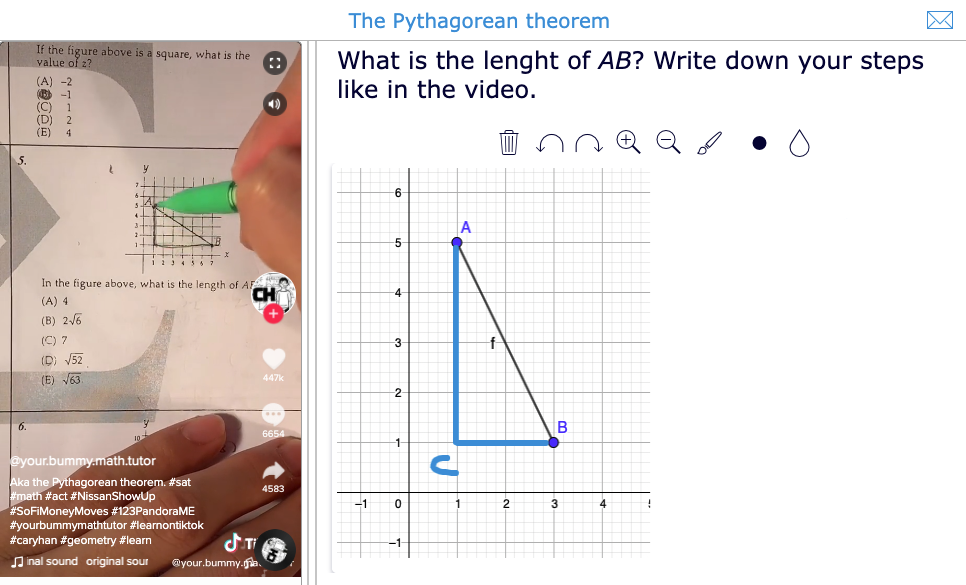 Click to open
Want to find more TikTok videos related to math lessons, use the hashtags #mathtok and #mathtiktok to find relevant contend. Some suggested accounts are listed below. As always, please preview content to find the best fit for the classroom.
5. TikTok lesson ideas for Economics and Marketing
If teaching Economics, it is interesting to explore the business model of TikTok and other social media platforms with students. Provide an assignment in which they search for information like the mother company, business model, and yearly revenue. Additionally, ask students to investigate how these platforms keep trying to take away each other's market share. An example of this type of assignment is shown below.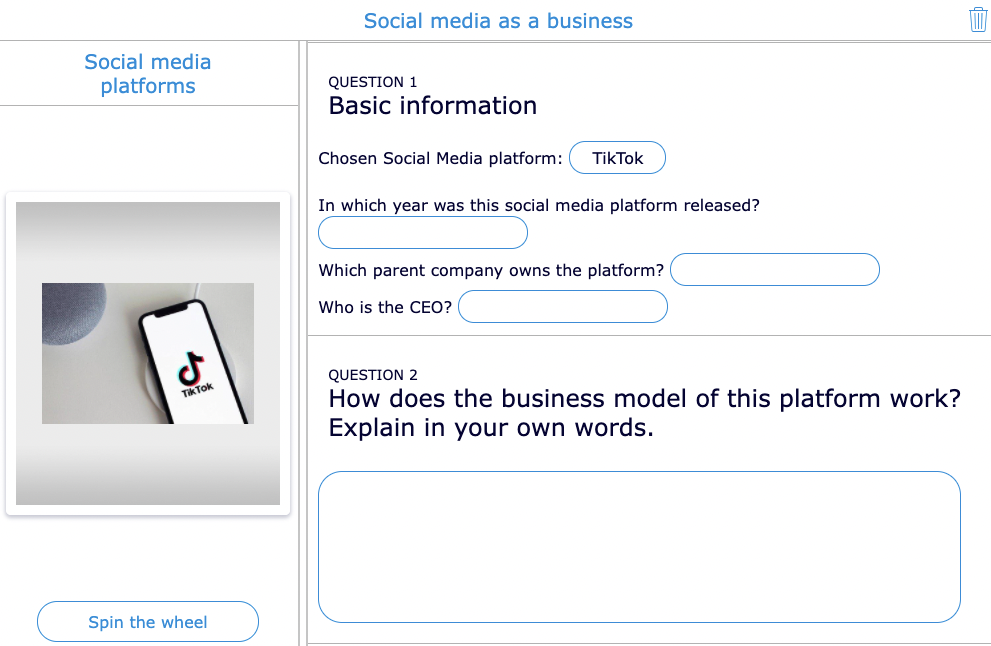 Click to open
Interesting and relevant economics-related videos on TikTok can be found on the Planet Money account. Their short and funny videos explain a lot of economic concepts in an understandable way.
An interesting video about the concept of "Skrinkflation"
In Marketing classes, students can explore how some companies use TikTok as part of a marketing campaign. By analyzing these examples, students discover the interests of the platform for companies.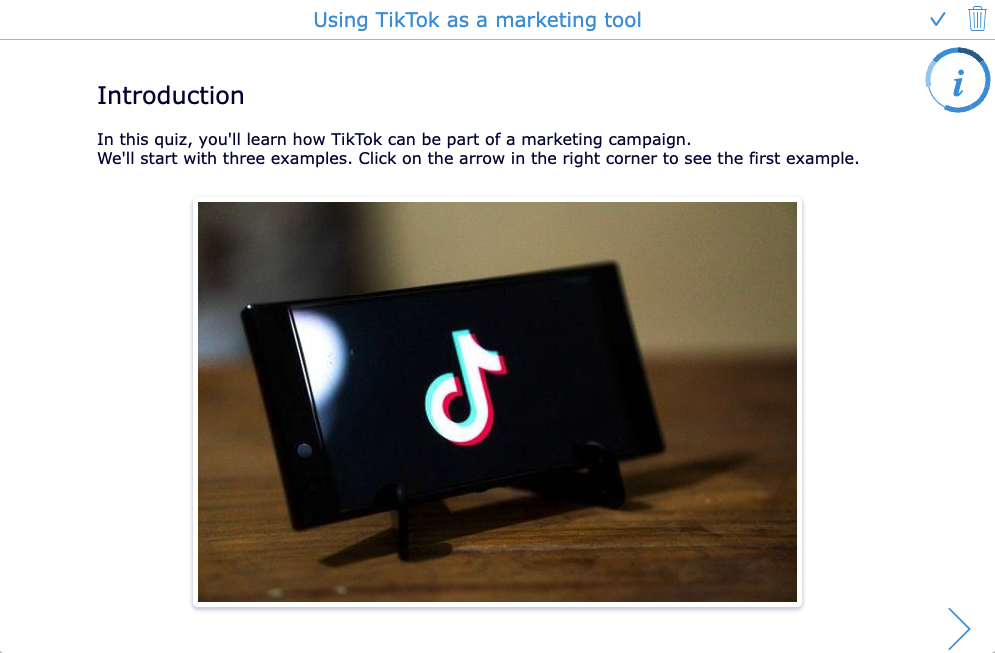 Click to open
6. TikTok lesson ideas for Music lessons
TikTok is known for its music videos in which young people dance or lip-sync to popular songs. The platform has become very important to the music industry, as many songs were hits on TikTok long before they were picked up by the mainstream media. There are also plenty of examples of old songs that are enjoying a revival thanks to TikTok. Below are some ready-to-use TikTok lesson ideas for music lessons. Keep up with current trends, new opportunities will undoubtedly emerge.
I. Analyze popular TikTok songs
A first lesson idea is to have students analyze whether there are certain elements that a song should have in order to become popular on TikTok. Today, music creators are searching for the answers because being successful on TikTok can also generate commercial success. Many of the popular TikTok songs have an upbeat rhythm and are easy to sing along, but what exactly makes a song suitable for TikTok is a question that is probably best answered by students.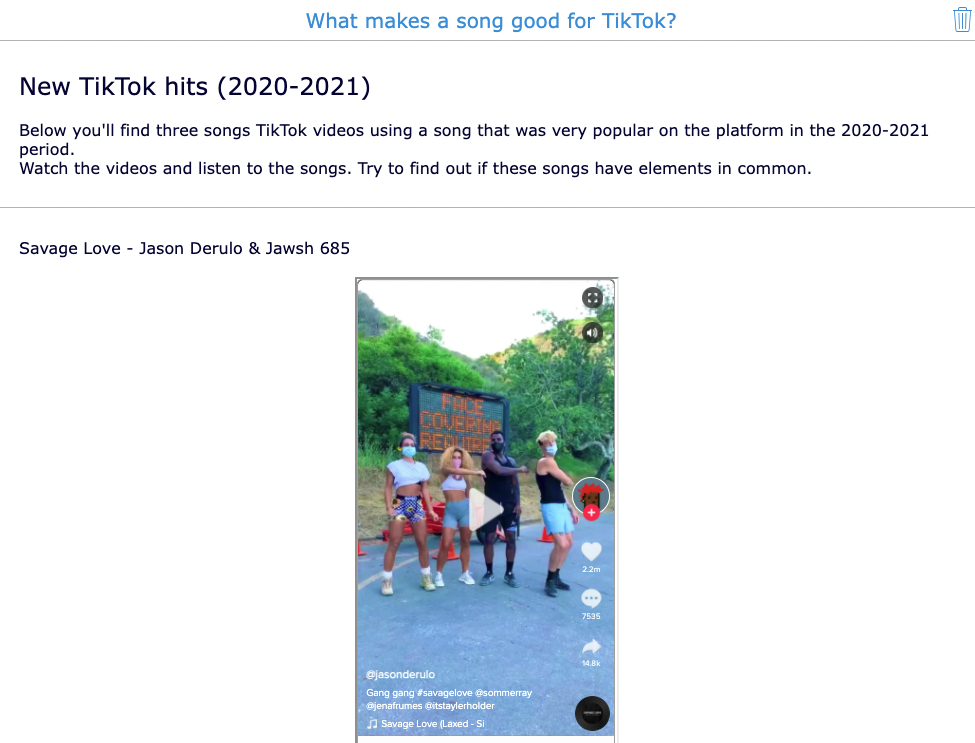 Click to open
II. Understand the different layers of a song by listening to TikTok Duet creations
TikTok often brings out the musical talent of young people. Thanks to the Duet function, musicians from all over the world can jam with each other, and in this way, new songs can even be created, as in the example below. Such videos are great content when you're learning students the different layers of a song. They'll easily understand what each instrument adds to the song.
III. Participate in a musical challenge
In addition to the many dance challenges, there are also some fun musical challenges. We selected three that can be perfectly implemented in the classroom or as home learning.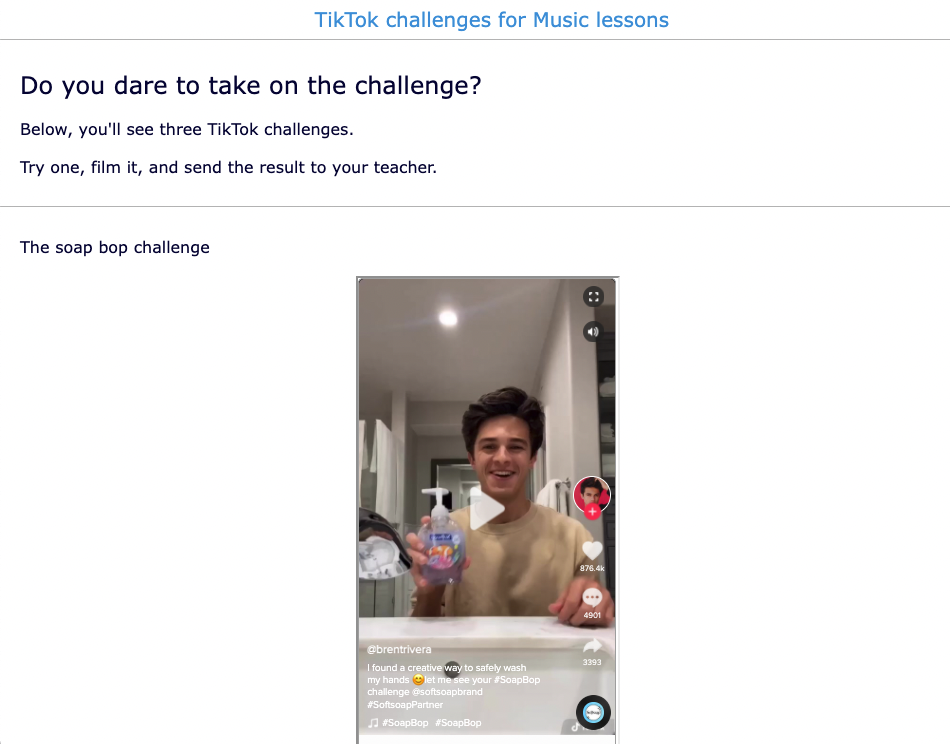 Click to open
IV. Rhythm exercises
There are a number of teachers who create their own TikTok videos to teach students basic concepts of music. Rhythm, for example, as in the video below by Jen Slaght. Be sure to check out her account for even more inspiration, she'll show you musical games and activities like bucket drumming (from beginners to more advanced learners). The ready-to-use lesson example below is based on a video by Miguel Jaramillo, another music teacher.
This kind of video can help your students to understand the rhythm of a song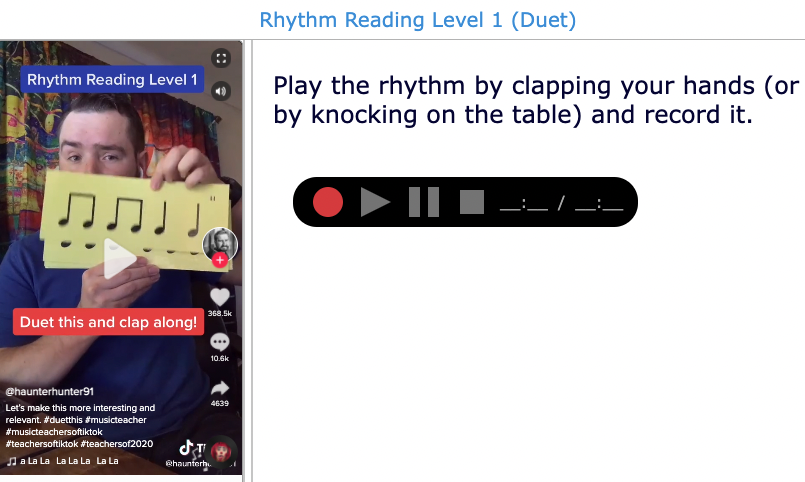 Click to open
V. Learn to play famous TikTok songs on the piano (or another instrument)
When students learn to play an instrument, they don't always have to play the classics by Mozart, Beethoven, or Bach. There is nothing wrong with teaching them to play contemporary music as well. In the Quiz Widget below, there are the notes for five popular TikTok songs. Students can listen to the music before learning it themselves. If necessary, they can adjust the tempo.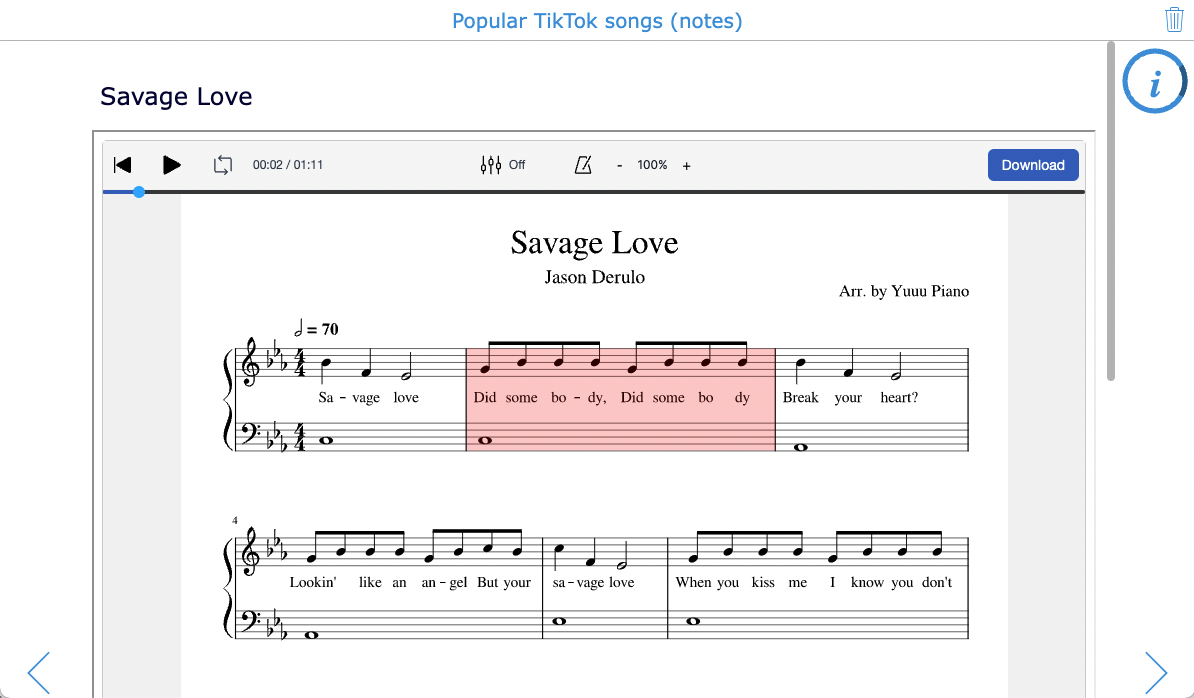 Click to open
7. TikTok lesson ideas for physical education
Of course physical education teachers will want students to spend less time on devices and move around more. TikTok has a solution for this. Make up a TikTok challenge and ask students to imitate the video as best they can. This is also a great activity for a substitute lesson when absent.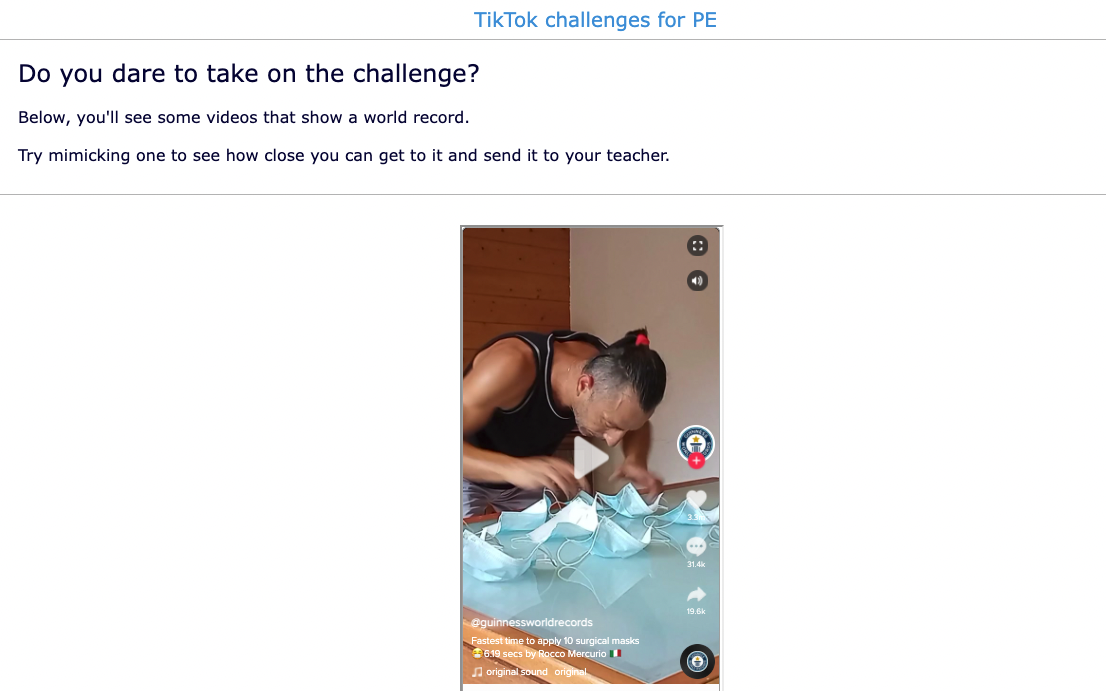 Click to open
In addition, there are also physical therapists who publish good TikTok videos. Hopefully, they can inspire students to be more active. Be sure to check the quality of the videos, though. There are many workout videos that are less suitable for students.
8. TikTok lesson ideas for technical courses
For technical subjects, relevant instructional videos are more likely to be found on YouTube, but TikTok videos can be inspiring and help give technical subjects the cool image they deserve. The Widget below provides examples that may be useful. The accounts Popularmechanics and Katvoltage also provide good quality content related to (electro)mechanics.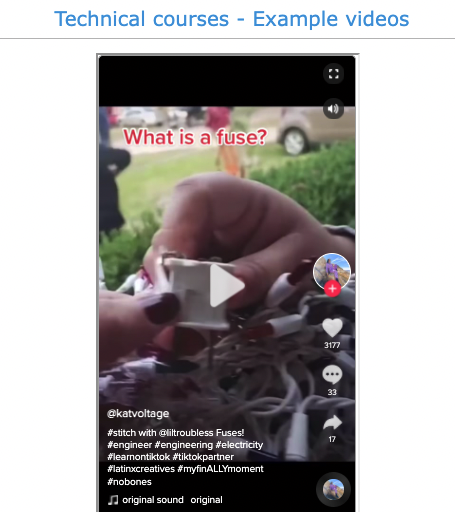 Click to open
9. TikTok lesson ideas for art class
If any museum knows how to reach young audiences through TikTok, it is the Uffizi Gallery in Florence. They have fully understood the language of the platform and create fun content, like the video below where the protagonists of Boticelli's "Spring" do the "Nails Hair Hips Heels challenge". You might ask your students to make such a video, to look at a historical work of art from a different perspective.
The "Nails Hair Hips Heels challenge as performed by the protagonists of Boticelli's "Spring"
Other museums with a TikTok account can also provide useful content for your classes:
10. TikTok lesson ideas for Information Technology (IT) lessons
It is surely appropriate for IT teachers to cover the use of TikTok, social media, digital literacy and digital citizenship in class. Teach students how to select appropriate privacy settings, create a secure password, how to pause or delete accounts; how to report inappropriate content and more. Instructional videos for IT classes are more likely to be found on YouTube than on TikTok, but there are a few accounts that share interesting tips:

How to integrate TikTok videos in BookWidgets
Integrating a TikTok video lesson using BookWidges provides several advantages over other methods:
Students don't need to go to the TikTok app or website to search for the video. They'll find it right away, inside the digital lesson or exercise.
Easily create exercises related to the video: BookWidgets offers almost 40 different question types: multiple-choice questions, open-ended questions, audio recording, draw or annotating a picture… all possible directly within BookWidgets platform.
Easily receive student responses, check them and provide feedback. Many BookWidgets tools provide auto-grading of student work.
Embedding a TikTok video in BookWidgets may take some practice. Follow the steps below to become a BookWidgest embedding pro.
Step 1: Find the video code
To find the video code, first, find the video link. If you are working on a computer, just watch the address bar. If you're on a smartphone or tablet, hit the share button and send the link to yourself.
The link should look like this: https://www.tiktok.com/@iamthatenglishteacher/video/7044534316973493509
Those numbers at the end of the URL are the video code. Copy this code.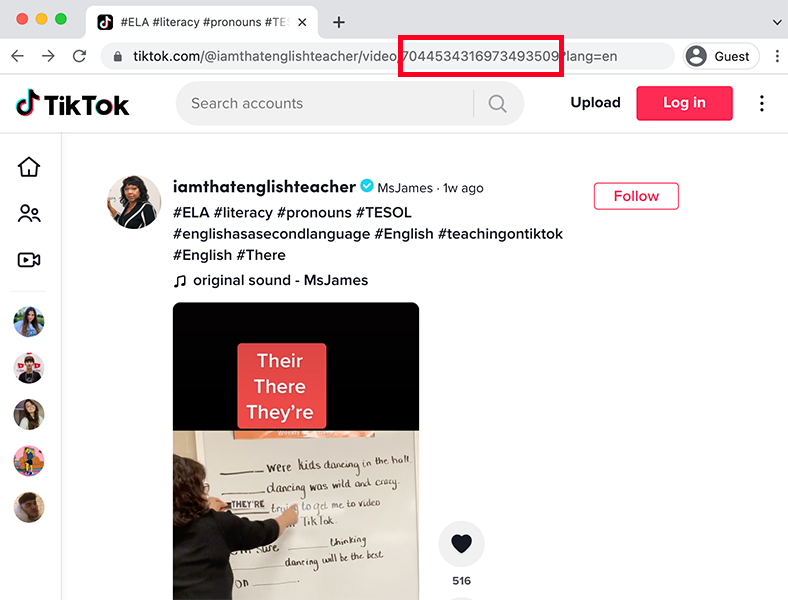 Step 2: Create an embed link
Type the link https://www.tiktok.com/embed/ and paste the video code at the end. For our example, this would be "https://www.tiktok.com/embed/7044534316973493509"
Copy this complete embed link.
Step 3: Use the embed link in BookWidgets
For Split Worksheets and Split Whiteboards
In the Text part, under Text pane type, choose web embed. Under Link type select the option I have a URL. Then paste the embed link in the URL field. Click on Preview in the upper right corner to verufy that the video appears correctly.
As TikTok videos are always vertical, you might want to make the Text part a bit smaller. To do so, go back to the widget editor and click on Design. Under Split style, change the Initial % text pane (e.g. 30%)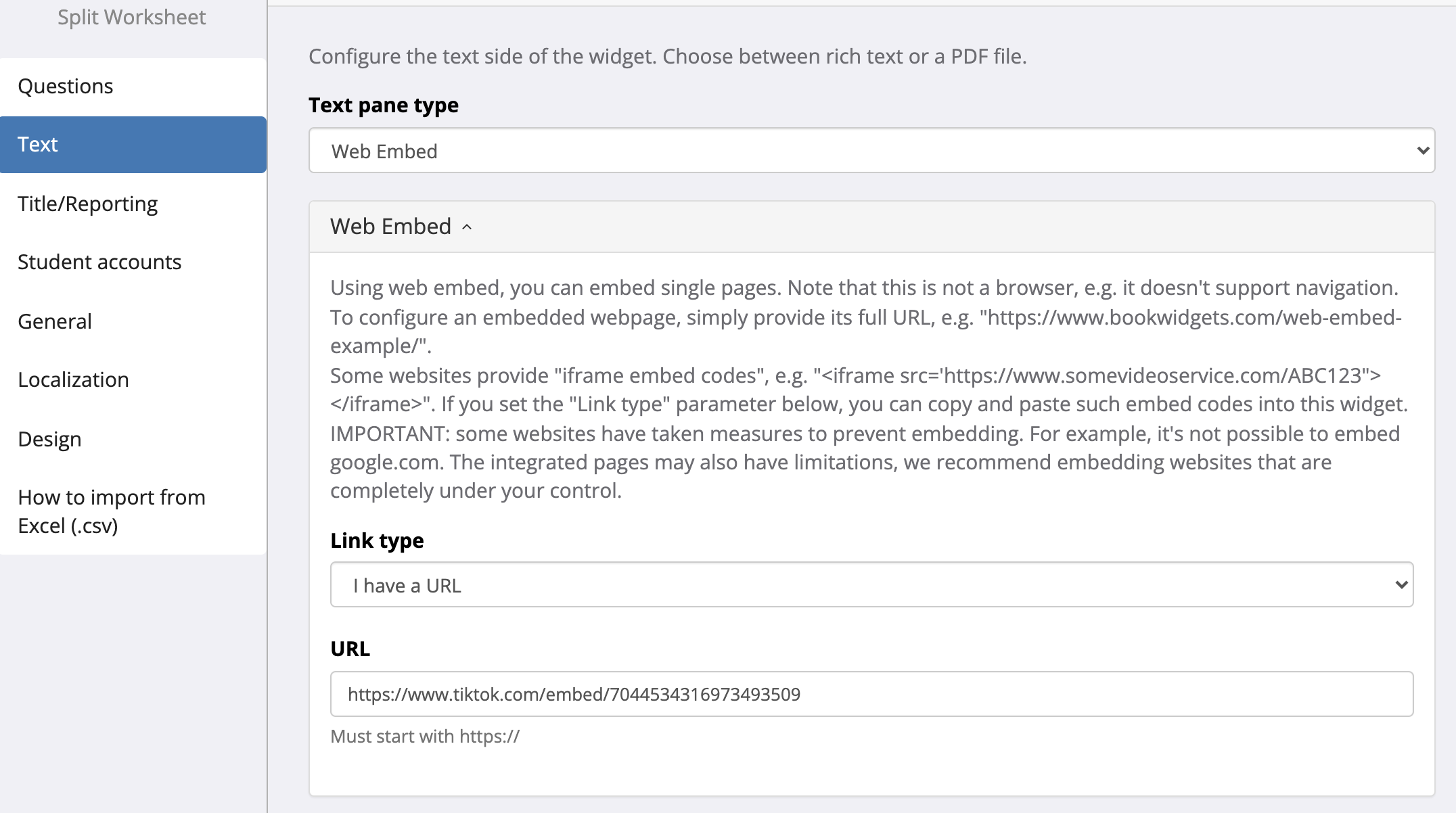 For quizzes and worksheets
Add a Text question. Add a title and text in the fields provided. Scroll down until you find the Web embed-part. Under Link type select the option I have a URL. Then paste the embed link in the URL field.
As TikTok videos are always vertical, change the width and height. A width-height ratio of 1:2 works well for TikTok videos (e.g. Width 200 - Height 400). Click on Preview in the upper right corner to check if the video appears correctly.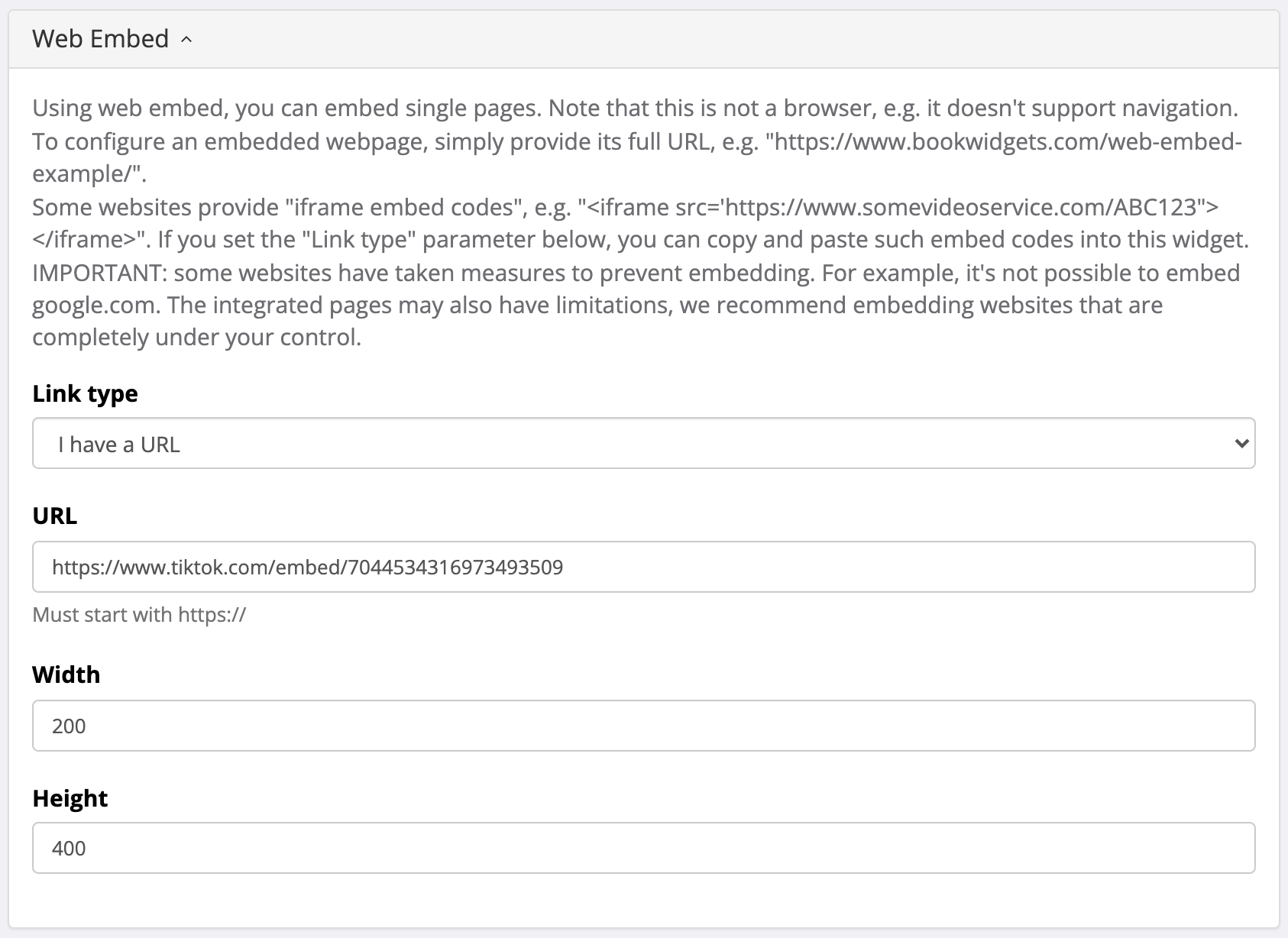 Best practices for using TikTok in the classroom
In its fast rise in popularity, TikTok has been pointed out several times for different areas of concern. When considering using TikTok in class, it is important to be aware of this criticism. It is important to have a balance in this blog post. Below please find a summary of the main concerns as well as tips for responding to these issues.
Like with any social network, I use it with moderation and caution, especially in a school setting. Since TikTok is hugely popular amongst students, the TikTok-related issues and concerns may just be a starting point to initiate a reflection on the use of the platform with them (and colleagues!).
1. TikTok's privacy and security
Critics opinions of TikTok's privacy and security range from "it's similar to other social media like Facebook, and that's not a compliment" to "it's just spyware disguised as a social media platform."
It comes as no surprise that TikTok collects data from its users. Lots of data. Things like your username, phone number, location, IP address, search history, the device you're using, the content you're viewing…
The big question is who has access to this data and what can be done with it. TikTok gives the following answer on their website:
"We share your data with third-party service providers who help us to deliver the Platform, such as cloud storage providers. We also share your information with business partners, other companies in the same group as TikTok, content moderation services, measurement providers, advertisers, and analytics providers. Where and when required by law, we will share your information with law enforcement agencies or regulators, and with third parties pursuant to a legally binding court order."
That's a vast list, and what's particularly concerning is that it's all very broadly interpretable.
A TikTok video explaining which kind of data the platform collects
In addition to the limited control over what TikTok does with personal data, sharing so much content with other, unknown users is never without its dangers. This privacy issue is, of course, extra sensitive because TikTok a massive amount of young users. Officially users must be 13 years old to create a TikTok account. However, there are ways around this. Statistics show that up to one-third of TikTok subscribers are between 10 and 19 years old.
The platform, meanwhile, is aware of the sensitivity and in early 2021 updated the default privacy settings for children. The accounts of children between 13-15 are now private by default. Children under 16 also can no longer make Duet or Stitch videos. Kids aged 16-17 can, but by default only with friends. TikTok has also released several Family Pairing features to let parents link their TikTok account to their children's to enable some content and privacy settings.
What can be done about these concerns if using TikTok in the classroom lessons?
Taking these privacy and security concerns into account, there are a couple of recommendations:
Discuss with colleagues and school administration about the use of social media and TikTok in particular in the classroom.
Understand that it is not necessary to create a TikTok account in order to watch a video. Use the BookWidgets tools to integrate fun, engaging TikTok videos into lessons and thus provide students with an assignment that does not require creating an account on the TikTok platform. Integrate a fun TikTok video into BookWidgets and thus give students an assignment about it without the need for an account.
Engage students in a discussion about these privacy and security concerns. If students already have a TikTok account, teach them how to make it private and how to best configure other privacy settings, such as turning off personalized ads.
​​Reflect with students about the content they share on TikTok and other social media platforms.
Ask students if they are aware of how many people have access to their personal data and if they want these people to have access to their personal data.
Have students reflect on whether they would want this content to be available online 10 years from now.
When giving a creative assignment that requires students to create their own video content, do not force them to do so on TikTok. There are other video creation apps available that allow them to create a "TikTok style" video and upload these into your school's LMS. Some examples include Clips (available by default on iOS devices), Flipgrid, Kinemaster, and Quik. Of course, prior to using any application, check in with parents/ caregivers, and administrators. Look at the privacy policy of these applications as well.
A TikTok video about privacy from the official TikTokTips account
2. Concerns about TikTok's content and the algorithm
Who sees what content?
There is also a lot of criticism about TikTok's content. This is a difficult issue because the algorithm shows different content to each individual user. So, it is difficult to estimate what other users are seeing, although a look at the most popular videos can tell a lot. But, the content not seen can be the most frightening. On a platform where anyone can post videos so easily, fake news and conspiracy theories can spread quickly if there is no proper moderation.
An unrealistic image of society
On social media, everyone is (almost) always showing their best side. When growing teens constantly see perfect photos and videos of others, it can subconsciously make them insecure. This is not new, but TikTok can reinforce this phenomenon. When young people only see explicit dance videos with perfect bodies on a daily basis (because those videos simply score well), this can give them a very unrealistic image of society.
When TikTok worsens problems
But the opposite can also be true. There are cases of teenagers going through a more difficult period. The algorithm recognizes their mental state and shows videos of other young people testifying that they are having a hard time. This is not necessarily a bad concept, as it may help the viewer to feel less alone with their problems. However, when viewers get into a constant loop of "depressing" videos this can worsen the problem. For example, using the TikTok algorithm, there have been instances where teens with eating disorders only receive video recommendations of others counting calories or giving so called "tips" to lose weight.
When content doesn't fit the picture of TikTok
In addition, TikTok has been criticized many times for deliberately pushing back content from certain groups of people. According to a leaked internal document, moderators would have been asked to suppress content from ugly, overweight, disabled and LGBT creators. In the summer of 2021, there was a strike by black TikTokers who felt that non-black influencers often take over their creative ideas without giving them the credits they deserve. Again, it is unclear to what extent the algorithm does or does not show content from social groups to which viewers do not belong. However, TikTok did not turn a deaf ear to this criticism and created an official BlackTikTok account.
The first video from the official BlackTikTok account
Impact on children's attention span
Finally, many scientists are concerned about the impact of constant exposure to super-short films on the attention span of growing children. So far, there has been very little scientific research on this topic, but there is no question that today's young people are growing up with an overabundance of flashy, energetic, and rapidly changing content.
What can be done about these concerns if using TikTok in the classroom lessons?
Taking these content related issues into account, there are a couple of recommendations:
​​Reflect with students on the content they get to see on TikTok and other social media. Ask them to give examples of how social media platforms create a distorted view of society.
Ask students how much time they think they spend on TikTok and other social media. Teach them to use a screentime app and after a week, ask how much time they effectively spend on these platforms.
Show diversity, equity and inclusion as often as possible in the chosen content for classes. Be critical and include all sectors of society in teaching materials as appropriate for the school or district.
Vary the types of content. A fun TikTok video from time to time can add value, but alternate this content with other formats where there is room for a more in-depth analysis of the work. This may include podcasts or other long-reads.
Reflect on the use of social media in students' lives by applying this ready-to-use lesson idea, based on three short films about social media.

Teach students to fact-check information, and to distinguish facts from opinions. Below is a video that was published on the official TikTokTips account on this topic.
A TikTok video about the differences between facts and opinions
3. It can be hard to find the right TikTok videos
When I asked some teachers about their experiences of using TikTok in class, one of them answered me "I once used a nice TikTok video that a colleague had shared with me, but when I tried to find videos on my own I found that it was impossible without spending hours on the platform. I found the app far too addictive and deleted it after three days"… and I completely understand her reaction!
being a math teacher and preparing a lesson about the Pythagorean Theorem. It is possible to to to YouTube and utilize the search term "Pythagorean Theorem" and the first results may provide good quality Videos. This is due to the fact that YouTube's algorithm does its best to show user the most relevant videos based on elements including the number of views, likes and comments as well as the videos previously watched. Using the same search term on TikTok will not necessarily guarantee that the videos first selected are useful. There may even be students videos complaining that they don't understand the Pythagorean Theorem
Yet, the Pythagorean Theorem is an easy example, which does have some nice videos on TikTok. The process can be frustrating and time consuming in order to find the perfect videos for the content being taught. Remember, many social media applications are designed in a way to keep the user engaged and spend as much time as possible interacting with the application.
A nice TikTok video about the Theorem of Pythagoras
What can be done about these concerns when using TikTok in lessons?
Using hashtags is one solution (e.g. #EduTok, #LearnTok, …).
Additionally, looking for accounts that post content related to the course being taught may provide good content. Also, this blog post has some great suggestions.
Wrap up
Want to use the examples from this blog post in lessons? Join this BookWidgets group.
Do you already use TikTok in class or are you planning to do so? I hope I gave you some new ideas that might inspire you. Which of these ideas is your favorite? Let us know on Twitter! - @ibookwidgets
Or share TikTok lesson ideas in the Teaching with BookWidgets Facebook group so that in turn, you can inspire others!
Have fun!