How to share widgets with your students

by Lucie Renard — Dec 12, 2016
Creating fun and interactive widgets changes your way of teaching. Active lessons equal an active classroom.
Teachers create great lesson materials and then share it with their students. BookWidgets wanted to make sharing as easy as creating widgets.
This blog post will show you a few possibile ways to share your widgets. Make sure to take a look at the tutorial at the bottom!
1. Sharing a widget via iBooks Author
Many of our users create their own multi-touch books using iBooks Author, and then use BookWidgets to make it really interactive. Adding a widget to an interactive book in iBooks Author is very easy. In short:
Create a widget with BookWidgets.
Save the widget somewhere on your computer.
Drag and drop the widget on your iBooks Author project.
Take a look at this post for more information and a tutorial.
2. Obtaining a "shareable link" for your widgets
The other ways to share widgets described in this post all require a so-called "shareable link". I'm sure you've heard of a little website called YouTube, right? Every video has its own link. To send someone a video, so simply send them the link. Well, BookWidgets works in much the same way: every widget gets its own unique link (the "shareable link"), and whoever has the link can play the widget.
There are two ways to obtain a shareable link. If you're using the BookWidgets desktop tool for Mac or Windows, you do that by clicking the "Upload" button and copying the sharing link: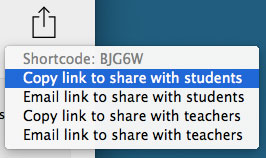 In case you're using the BookWidgets web editor, there's no need to upload, just hit the "Get shareable link" button and copy the sharing link from the dialog that pops up: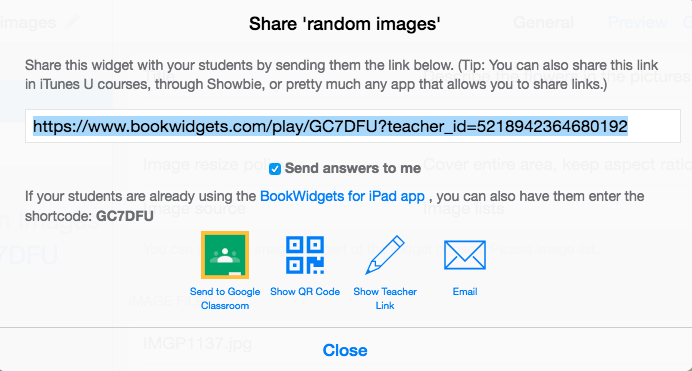 Armed with the sharing link, we can now use the widget in various ways, described in the following sections.
3. Using the widget via the BookWidgets iPad app or Iphone app
When your students are using an iPad or iPhone, they don't need the entire link. When they open the BookWidgets app, they'll see in the right upper corner that they can enter a "shortcode".
To get the shortcode: take a look at your link. You only need the last part of it. The shortcode is made of 6 or 7 characters. For instance, if your sharable link is https://www.bookwidgets.com/play/SEMSS, then your widget's shortcode is SEMSS.
Write it on the blackboard, or add it to your student's digital agenda. Students can now enter the shortcode in the BookWidgets app and open your widget.
4. Using the widget via a browser
No iPads or iPhones? No problem. The shareable link can also be opened in any web browser on a teblet, smartphone or pc. Let your students go to www.bookwidgets.com/play. Now students have to fill in the widget's shortcode. That's it!
You can also just share the complete link that students have to copy to their browser.
5. Embedding widgets in Wordpress
If you maintain a blog for your class, or assemble learning materials on your own website, chances are you're using Wordpress to create that site. Luckily, adding widgets to Wordpress sites is straightforward.
First, you need to install our plugin. Once you have that set up, you can embed widgets by copy/pasting the widget's shortcode.
Here's a post with more information on how to download, install and use the BookWidgets Wordpress plugin. At the bottom of that post is a handy tutorial.
6. Embedding widgets in other websites
This part gets a bit technical… To embed widgets in other websites, you'll need to figure out how to add an "iframe" to your site. In some cases, this requires installing some sort of plugin, in other cases, you can simply copy and paste HTML code that looks like this:
<iframe src="COMPLETE WIDGET LINK HERE" width="1024" height="768"></iframe>

7. Sharing via LMS integration
BookWidgets is now completely integrated in Google Classroom, Canvas, Moodle, Schoology and Smartschool. This means that you can create and share widgets right from inside your known learning management environment. Want your own platform integration? Send us a mail to sales@bookwidgets.com
Tutorial
Still completely clueless to what I'm saying? Don't worry. Here's an enlightening tutorial to help you on your way.
If you still have questions or need some help, don't hesitate to contact us at support@bookwidgets.com