30+ creative ways to use Padlet for teachers and students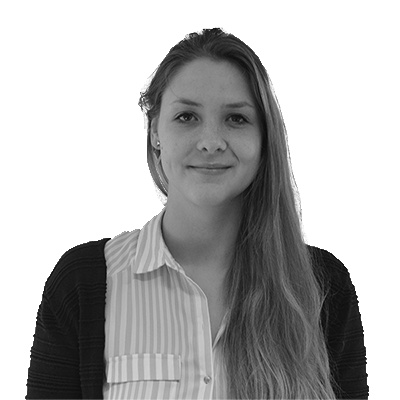 Lucie Renard —
I'm always excited when I'm using Padlet. Is it the interface, the way everything is designed, its purpose or the fact that I'm organizing things smoothly? I don't know. It just makes me happy.
And today I'll try to make you happy as well. How is it that this online Post-it board can make your day? How to use Padlet in your classroom? What are the best lesson ideas with padlet? How can you use Padlet in the elementary classroom and in high school? I'll tell you right away…
But first:
What is Padlet?
Padlet can be used by students and by teachers. With padlet you can create an online post-it board that you can share with any student or teacher you want. Just give them the unique Padlet link. Padlet allows you to insert ideas anonymously or with your name. It's easy to use and very handy.
Whoever has the Padlet board opened on his smartphone or computer, can see what's on it and what everyone is writing. Students just have to take a device and start adding little sticky notes online. They can see all the ideas gathered on the teacher board immediately.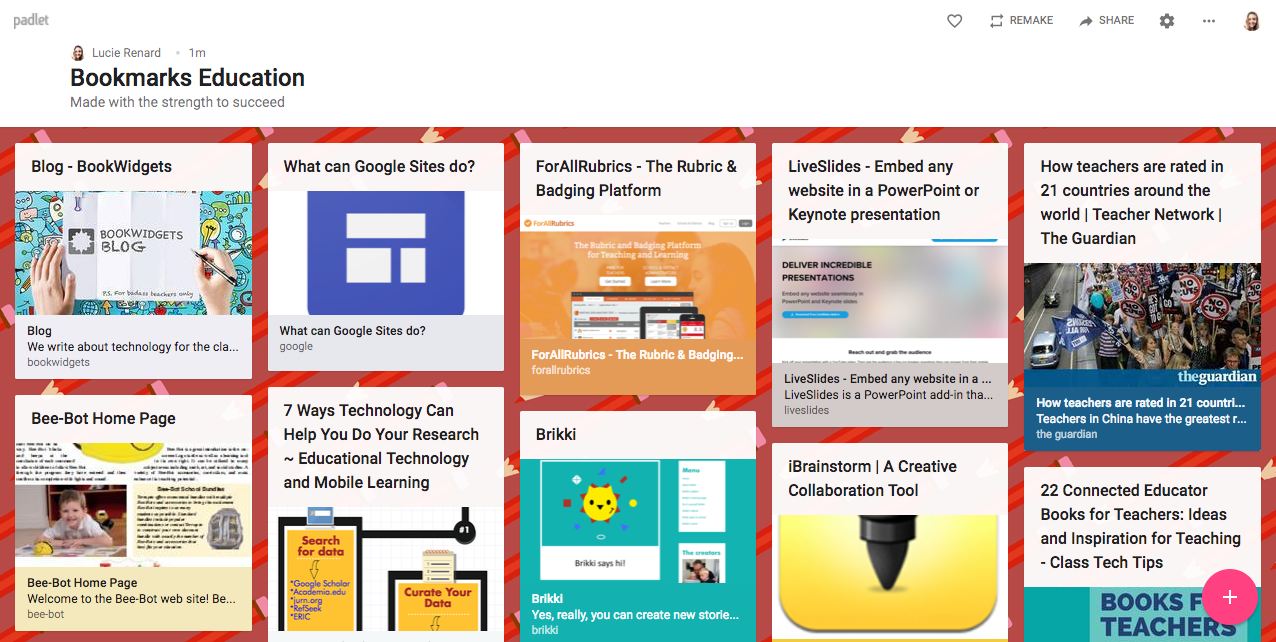 How to use Padlet?
Using Padlet in the classroom is easy. You can install the Padlet app for Apple or for Android on your phone or just go to the Padlet website.
Here you create an account and make your first board. Once that is settled, you have to get the board to your students. Sharing a Padlet board is easy; choose for a QR code or a link. There are more sharing options, but these two are the most obvious.
Let your students insert the link in the browser or in the Padlet app. They can 'continue as guest' so they just have to scan the qr code with the Padlet app or type in the URL, without creating an account. Shortly after, they will be directed to your first Padlet board.
Then there's one more question that needs to be answered: How to post things on Padlet? Well, there are a few ways to do this:
double click anywhere on the board;
drag files in;
paste from clipboard;
save as bookmark with Padlet mini;
or just click the '+' button in the lower right corner.
There is also the possibility to incorporate your Padlet into a Widget. That way, you can provide a challenging and educational task where your students have easy access to. Check it out! (You can find it below: 'Integration of dedicated learning tools'.)
30+ Ways to use Padlet in the classroom
Padlet reaches as far as your imagination. It's you that makes an educational app like this really powerful. So, let me give you some padlet ideas for in the classroom.
1. Brainstorming on a topic, statement, project or idea

This lesson idea is probably the most popular among teachers. That's why I've put it first on this list.
Give a statement students have to discuss or a project about which students have to brainstorm. Share the board and let students share their ideas and comments. This way, every student can see what the others think. You can discuss a few of the given answers with the whole class.
Let's try it out for this post. I listed 30 ways to use Padlet, but there are so much more lesson ideas with Padlet. Why not share them with everyone? How do you use Padlet in your classroom apart from the ones that are already in this list?
Just click on this link, and start collaborating. I'm so curious about how many ideas we'll get! Nothing to contribute? Then just take a look! After a while, the board should contain a lot of fun classroom Padlet ideas.
2. Live question bank

Let your students ask questions during the lesson. It's very handy when students don't understand something or need a better explanation. Stop your lesson 10 minutes early and go over the questions.
This way students who are afraid to ask questions can still ask their questions anonymously. It gives a voice to every student in the room, even to the shy ones.
3. Gather student work

Use Padlet to gather student work, all in one place. Don't use it for ordinary homework, because all the other students can see what the others have done. Use it for articles and research on a topic.
When you let your students do some research on, for example, 'great historical poets', you have all the articles and research on the same place. Other students can take a look at the research of someone else as well.
When it's international poem day, you could ask your students to post a poem they really like.
4. Online student portfolio

Use Padlet as a student portfolio tool. Create boards for every student and let them post assignments, articles and projects on it. As a teacher, you can comment on each one and give meaningful feedback.
Whenever a student finds something helpful for his portfolio, he just has to save it on his portfolio Padlet board. No more editing and printing articles.
5. Exit Ticket Padlet

Let your students answer some important exit ticket questions like "What did you learn today?", "What didn't you understand?" or "What questions do you still have?".
It gets better…
Here are some other exit ticket promts your students could answer:
Write down three things you learned today.
If you had to explain today's lesson to a friend, what would you tell him/her?
What question do you have about what we learned today?
What part of the lesson did you find most difficult?
What would you like me to go over again next lesson?
Write down two questions you would put in a quiz about today's lesson.
What were the main points we covered today?
Did the group activity contribute to your understanding of the topic? Why?
Read this problem … What would be your first step in solving it?
I used app X extensively today. Was it helpful? Why or why not?
Would you like additional examples? Check out the post about 60 digital exit tickets for teachers.
6. Icebreaker: 2 truths and 1 lie

Let your students post a selfie and add 2 truths and 1 lie about themselves. It's up to the other students to find out which one is a lie. You'll be surprised by how well students can lie!
Find out more in these blog posts '15 Fun classroom energizers for students' and '15 fun team building activities and trust games for the classroom'.
7. End of the schoolyear: Give a compliment

Add al the headshots of your students on the Padlet board or let them add a picture. Then, everyone has to write at least one compliment as a comment beneath everbody's picture.
This is a fun goodbye as they are going to the next year. Everyone loves compliments!
8. Graduation time

When students graduate, you would like something to remember them. What better way to let them fill in their best times as a student in your school.
Simply create a board with the question "what's the most fun thing you did in this school?"
Other questions could be:
Who's your favorite teacher? Why?
What would you do over again 100 times if you could?
What will you never forget?
What are the things you will miss the most?
What do you love the most about this school?
9. School events

When its open house in your school, you could leave a tablet at the exit point, so parents could add a post on your Padlet wall. Ask for a comment on your "guest wall", or for their first impression of the school. You could even ask for some innovative new ideas that would make the school a better place.
10. "Thinking" maps

Use a Padlet wall for students to create various thinking maps or mind maps. You can upload a custom background to help them with the layout and they can start adding Post-it notes to a flow map, tree map, or even a circle map format.
11. Classroom communication

Familiar with the Google Classroom stream? Well, you can do the same with Padlet. Use the Padlet stream layout and communicate assignments and important lesson material to your students by adding posts to the communication stream.
You can even add some fun BookWidgets exercises in the stream.
12. parent communication

Use the same stream layout like in the classroom communication idea to communicate with parents. Enable email notifications so you receive an email whenever parents post on the Padlet wall. This way you stay on top of all the posts and potential questions.
Use the stream for fun classroom updates. Having personal conversations is not the best idea because any other parent can see them.
13. Book discussions

When the complete class has to read the same book, it's fun to create a discussion about the characters, things people do in the book, hidden meanings, plot twists, etc. You can even let them invent a sequel to the book.
14. Prior knowledge

Try to figure out what students already know about the topic you're about to teach. What prior knowledge do your students have about that particular topic and what don't they know? Students just post their knowledge on Padlet, so you can see how to build your lesson.
15. Analyze a quote

Start the lesson with a quote that concerns the lesson topic. Let your students brainstorm on what the quote is about and if it has a hidden meaning or not.
Students will start digging really deep looking for hidden meanings, even if there are none. You'll laugh with the stories and theories they came up with!
16. Current events

To speak about current events, you could let a student add an article on the Padlet board for the next day. Every day a different student has to add another article. A fun way to go through the current events of the week.
17. Birthday wall

When its a student's birthday you could create a Padlet wall on which every student has to write some nice birthday wishes.
You can do the same for a sick classmate. Instead of birthday wishes, you let them write some get well notes or add some nice drawings.
18. Classroom newsletter

Let your students be the reporters of the classroom newsletter. Gather all the articles and games on a Padlet board, and when it's finished, share the link with their parents or the complete school.
19. Gather teacher feedback

Once in a while, you should ask your students for feedback. Create a Padlet wall just for that and make sure to let students comment anonymoulsy. This way they will be more honest. Don't foget to really do something with the feedback they gave you.
20. Book Wishlist

Students may not always choose their own book to read for a book review because the teacher hasn't read them yet. That's a pity, because students won't be eager to read that way.
Let your students add some books on a Padlet wishlist board. You can choose 5 books (or more if you want) that pass your inspection.
21. Suggestion box in the library

Just like with the book wishlist above, students can make some suggestions of books they want to read. The library will look into the books and purchase them if it are some good suggestions.
22. Tops and tips

Use Padlet for peer assessment. Let students add two 'tops' and one 'tip' on the Padlet wall of their fellow student who just finished his presentation.
Tops are things the student did well and a tip could be something the student should improve the next time.
23. Geocaching

For physical exercises, students have to go walking more. Let you students do some geocaching and let them post pictures of themselves and the treasure to the Padlet board. It will encourage the others to find the treasures as well.
24. Notetaking

While listening to the teacher, students can work together and add notes to a Padlet wall to create a wall with resources they can use later on.
As a teacher, you could do the same thing in staff meetings.
25. Class agenda

Use a Padlet board to share every important date with your students so they have something to look forward to. These can be holidays and free days, field trips, school events and students' birthdays.
26. Free time funny videos

Having fun between two lessons should be allowed from time to time. Let your students add funny videos to a Padlet board. So every student can have some fun during the lesson breaks. Make sure to put in some rules and to check the videos on the wall.
27. Complete the story

Create a story and ask students how it should continue. Students can post their ideas on the Padlet. Finally, take some of your students' ideas and complete the story. You'll have some funny stories!
28. Event Planning

When you're planning a field trip or a class party, you can post everything you need to think about and to arrange on a Padlet board. This can include pictures of the destination, a list of who's bringing what, links to important websites and more.
29. Crafty ideas

Share a Padlet wall with your teacher colleagues and let them post crafty ideas for father's day, mother's day, valentine's day or just for the weekly craft class. This way you get inspired by other teachers and try out new things.
30. Bookmark with Padlet mini

Use Padlet mini to bookmark interesting articles on the internet. That way, you won't have to search for that article or creative ideas again. Most of the times you can't find it again anyway. Create different Padlet boards like "Classroom management ideas", "Classroom decoration ideas", "educational apps to try out", etc.
31. New vocabulary

To introduce new vocabulary, you can use the image view "column". Provide the new word, the translation and an image. It is up to your students to make the right combinations and put them together.
32. Theses

Give students multiple theses. They need to respond with FOR or AGAINST and the corresponding argument. This is a fun lesson starter for a debate between your students with good arguments.
33. Starter of the day

To start the day, look up a fun fact. You will discuss this with the class and then post the fact on your Padlet wall. At the end of the school year, you will have an overview of all the facts discussed.
34. One against all

Create your own wall with all the tasks the students have to complete. Maybe it's a nice idea to include BookWidgets lessons in the assignments as well? For example, you could include an escape room. Check out this blog post for inspiration. When the assignment is completed, the students have to change the color of the card. That way, as a class, you maintain a good overview of everything that has been done and still needs to be completed.
35. Contract work

To encourage student independence, you can use contract work. These are different tasks that students must complete. You can involve the Padlet as a task to repeat topics your stdents have already learned about. Place all digital flash cards on the board and let the students choose which part they want extra practice.
36. Task board

Create one column for every class: French, mathematics, … List below the assignments students have to complete related to that specific subject. In the last column, you could place a quiz, or a worksheet. This can easily be made with Bookwidgets. The quiz can be a variety of different lessons or it can be used in cross curriculum lessons. It is a check to see if the students have understood the curriculum. Here's an example of a worksheet created with BookWidgets. You can choose between over 35 question types for your lesson content!
37. Fun activities between lessons

Do your students sometimes have a hard time concentrating? Use fun activities between lessons to get their attention back. On the Padlet wall you can create different game widgets (=kind of assignments) with BookWidgets. Some examples: memory game, spot the difference, jigsaw puzzle, word search, … It just takes 5 minutes to create a game with BookWidgets! And it's even more valuable when you can create games with your lesson content.
38. Awareness days

To get society more involved in the classroom, you can capitalize on special days during the year. Create columns by month and place some of these days below. Before the month begins, discuss with students which days you will cover. Make an assignment around the topic on the given day. If you're looking for inspiration, check out this folder! You will find some ready-to-use examples.
Wrap up
As you've probably noticed, you can use the Padlet in several ways. Now it's your turn! How do you use Padlet? Let us know and contribute your ideas on this Padlet.
Follow us on Twitter for more inspiration! Also, don't forget to join our Facebook Group. The perfect place to ask all your questions.
Be sure to let me know on LinkedIn what you think of this post.