20+ clever Google Maps lesson ideas (and not only for Geography lessons!)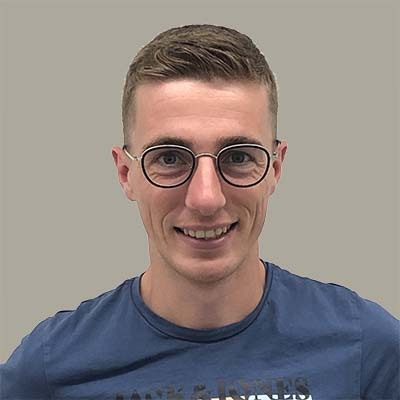 Dimitri Bongers —
Raise your hands if you've used Google Maps within the last week… 🙌 Google's interactive online map is a handy solution in many circumstances: from finding the best route from A to B, looking for restaurants and shops, to virtually walking around in a foreign country with Street View, Google Maps has it all. But have you ever considered using Google Maps in the classroom?
This blog post is a complete "Google Maps guide for Teachers", which includes the following components:
All digital exercises in this blog post are created with BookWidgets. Create a free BookWidgets account (if you don't have one already) and duplicate the widgets, which will allow editing. All examples are in this BookWidgets Blog group.

Google Maps, the basics
Before I dive into the ready-made lesson ideas, I'll present the basics of Google Maps. If you are already a master of Google Maps and its related tools (My Maps, Street View, and Google Earth), you might skip this part. However, if you're unsure, it may be helpful to read on to better understand Google Maps' different services and the related terminology.
Google Maps, launched in 2005, is a website and online application (available on Android and iOS) with an interactive world map. The tool is most known for its powerful search engine, allowing users to search for specific places worldwide. Within seconds, you can find any country, state, city, street, … or look for public places like schools, restaurants, libraries, and shops. Other features include:
Up-to-date information on public places (schools, restaurants, shops, …), including address, phone number, opening hours, and reviews;
Route planning (including live traffic information and the possibility of comparing several options);
Navigation functionalities;
Satellite images;
Location sharing options;
Google Street View (see below)
And more …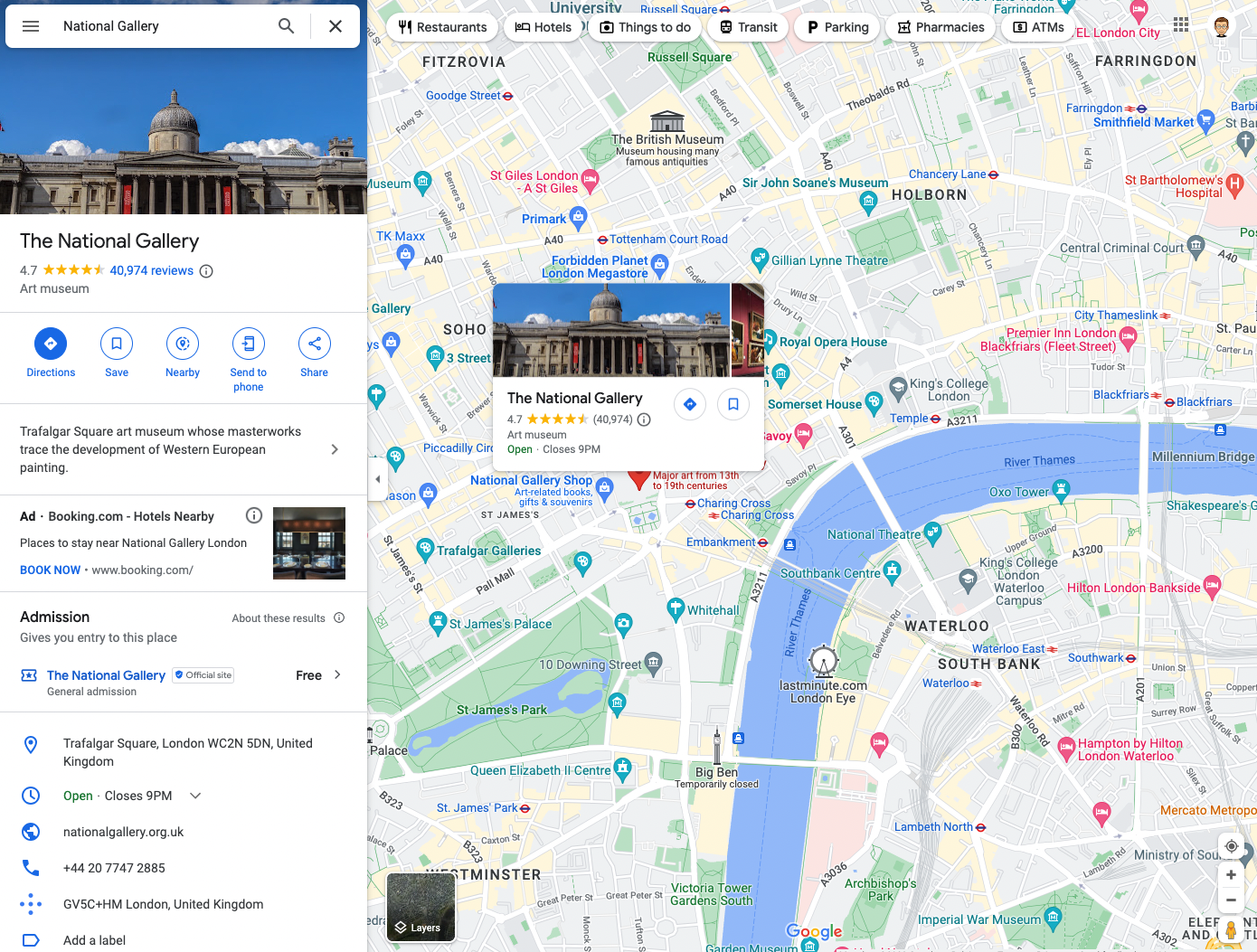 The National Gallery (London, UK) on Google Maps
Google Street View is an extensive collection of 360° images that allows users to visit places virtually. Most of these interactive images are created by Google cars equipped with 3D cameras. Google Street View is integrated into Google Maps and Google Earth. As the name "Street View" suggests, it mainly covers images recorded from the streets. However, there are also an increasing number of natural areas, national parks, and buildings that you can virtually visit through this tool.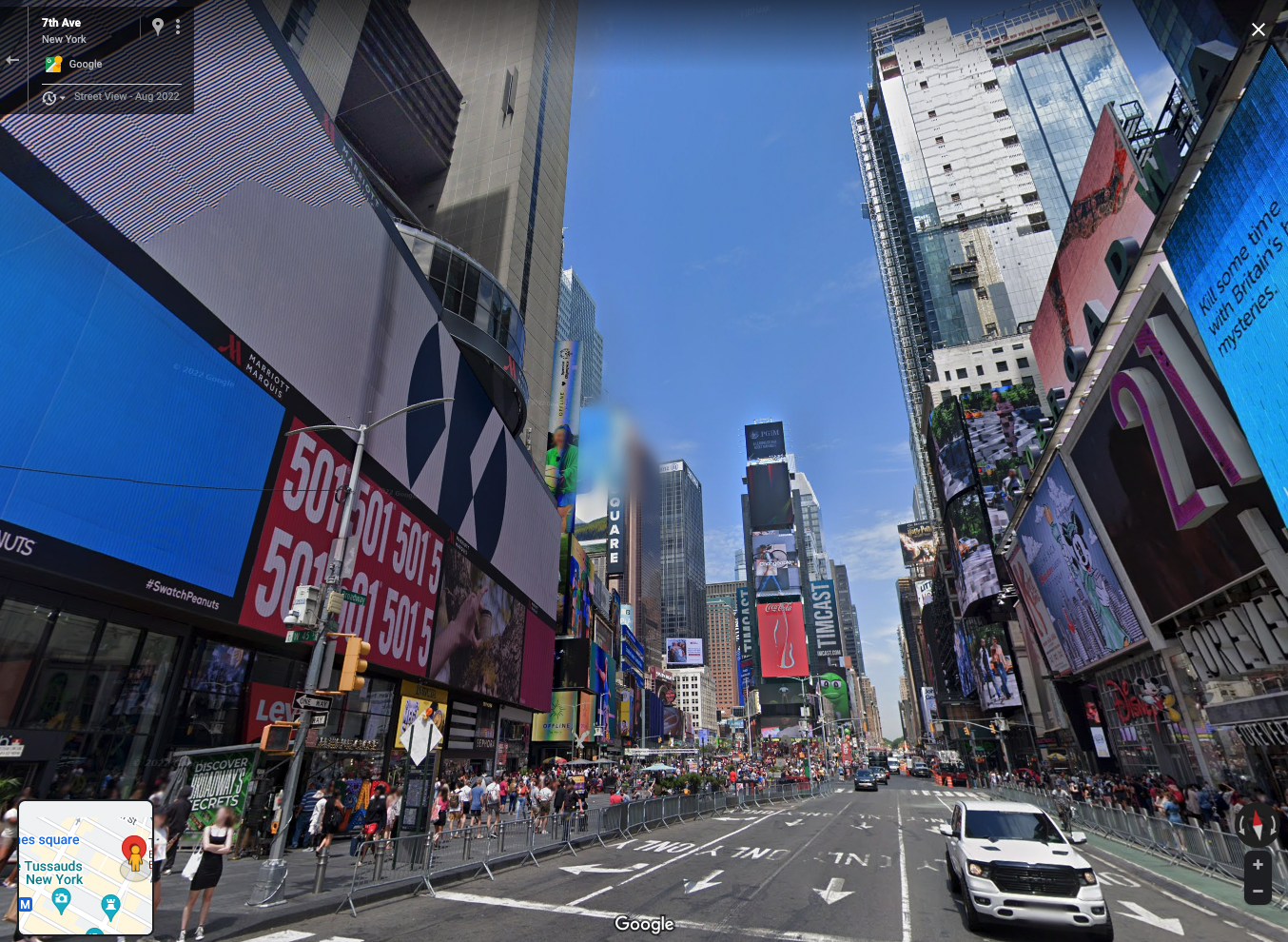 A virtual visit to Times Square with Google Street View
Google Earth is similar to Google Maps in some ways. It is an online tool that allows users to:
Look up places all over the world;
Plan routes;
View satellite images and 360° photos (via Street View) of places
Yet there are some key differences. Google Earth:
always shows the map in a "Globe view" (see the first lesson idea for Geography) and only has satellite images;
can be installed on a computer for offline use;
has more 3D photos and some extra tools compared to Google Maps.
This blog post focuses on Google Maps, but some of the suggested lesson ideas are also (or only) possible via Google Earth.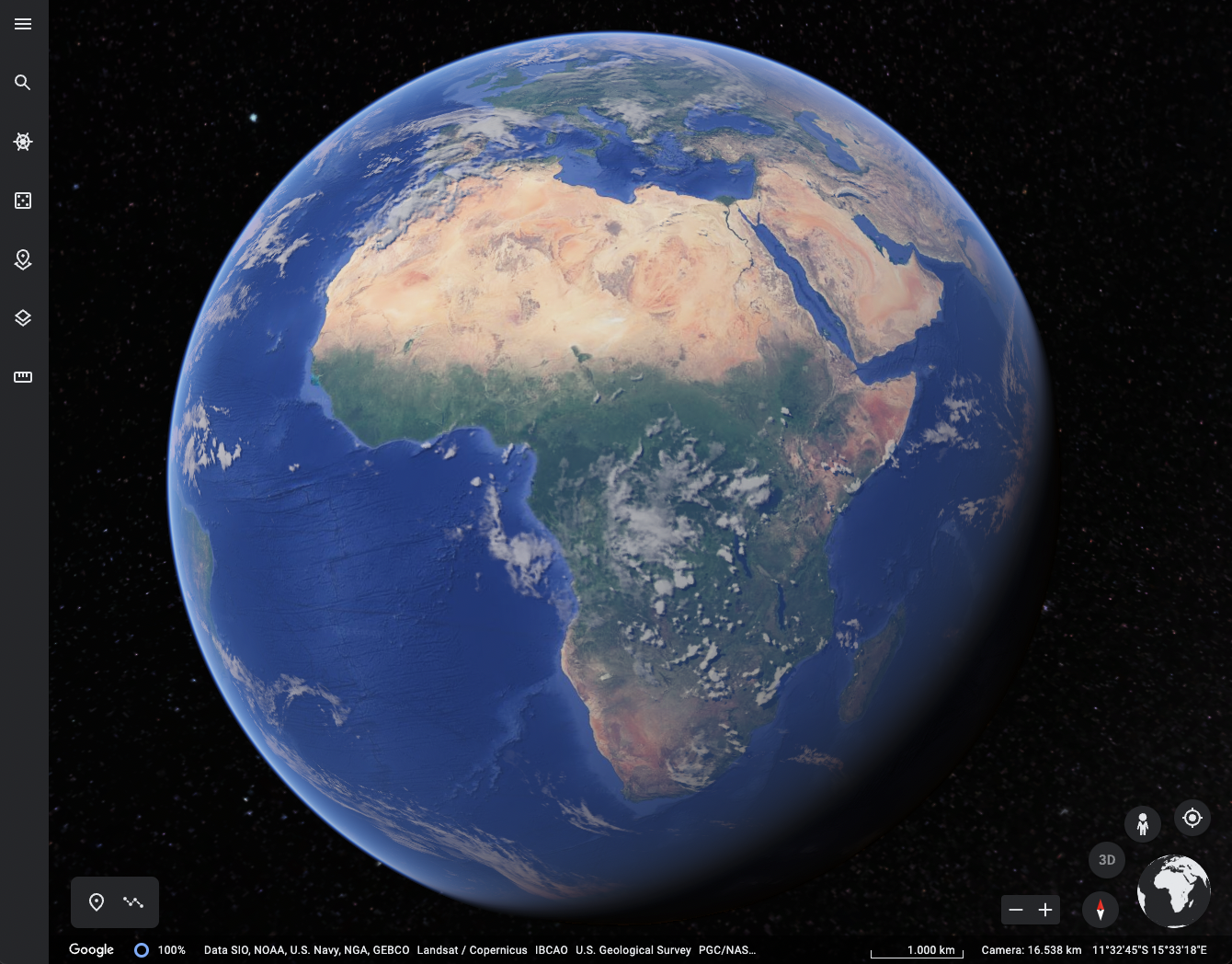 Google Earth
Google My Maps is a handy application for annotating maps, with markers and information in your chosen places. You can easily share these maps and even collaborate with others on a shared map. You can see an example of such a map among the lesson ideas for History, and I go into more detail about Google My Maps at the end of this blog post.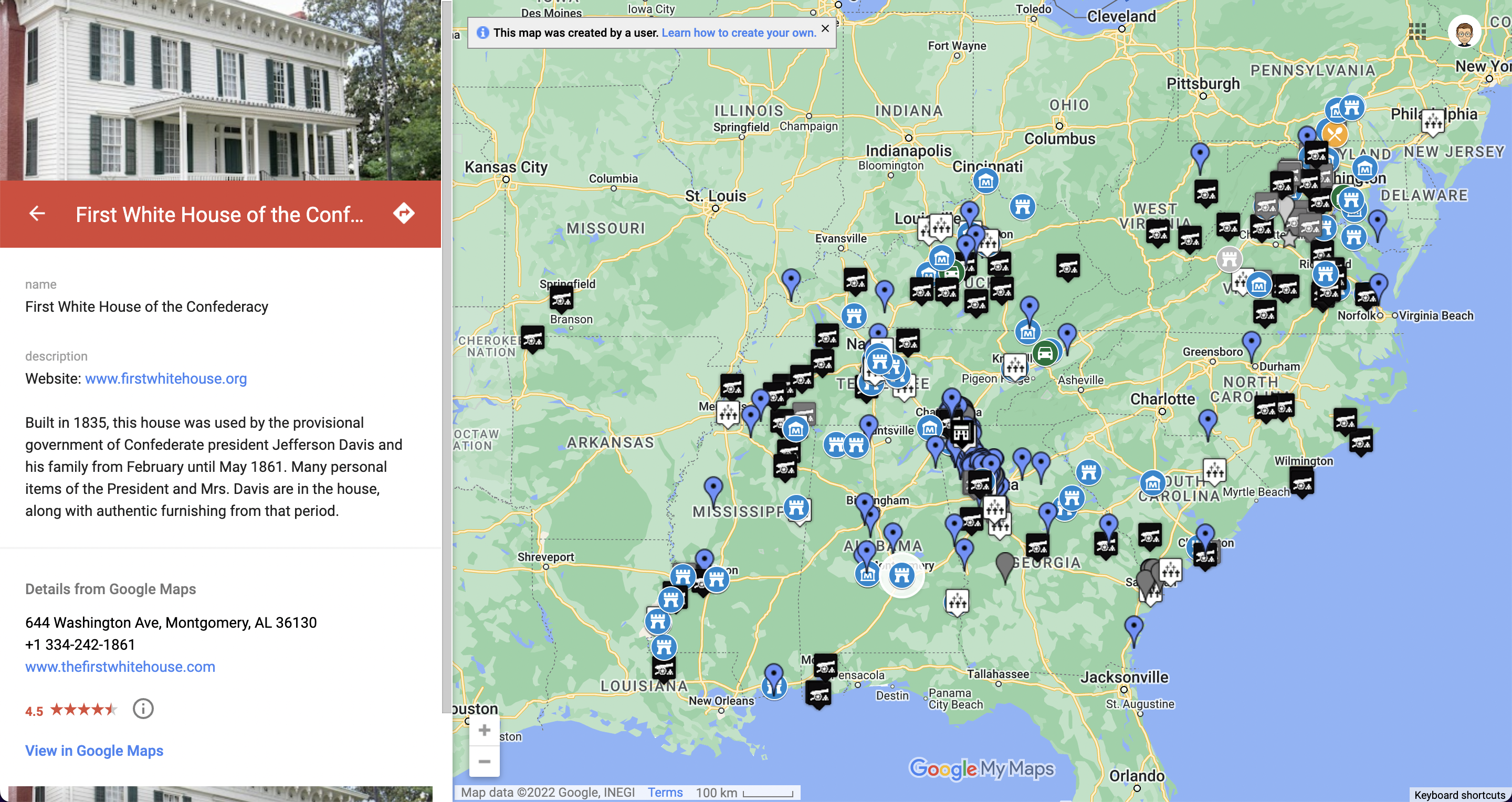 Example of a Google My Map about the Civil War

Google Maps lesson ideas per subject
🌎 Geography
Using Google Maps (and Google Earth) within Geography lessons sounds obvious. You only need an internet connection and a digital device (laptop, tablet, Chromebook, smartphone, smartboard, … ). Then, you're set to take off! With Google Maps in Geography lessons, teachers and students can look up any place in the world within seconds and watch corresponding satellite or 360° images (via Street View). Below, I'll present some ready-to-use Google Maps lesson ideas based on features of Google Maps that you may not yet be familiar with.
1. Flat maps vs. Globe view 🗺
It is a classic when teaching students the basics of cartography: the maps we know distort reality because it is impossible to perfectly show a 3D object in 2D. In Google Maps, you can visualize this effect for students in three clicks:
In the bottom left corner, click on layers;
Chose More;
Check Globe view.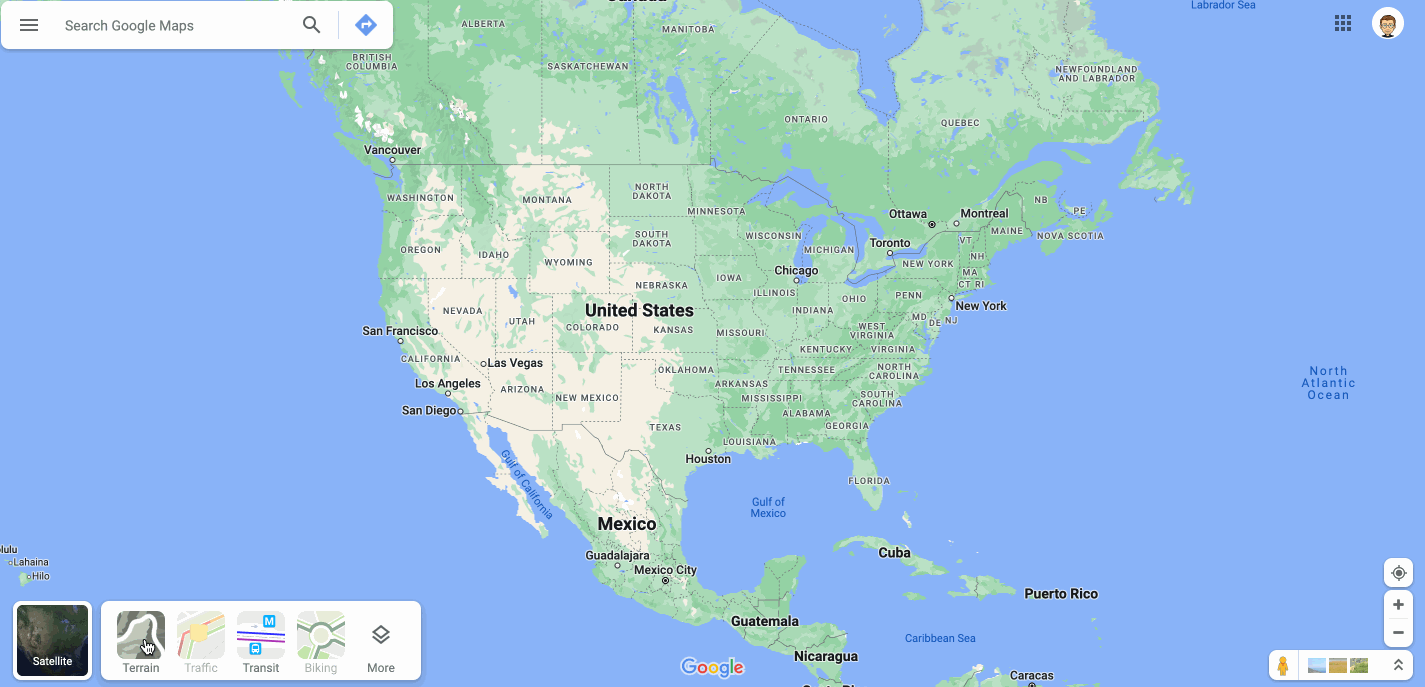 2. Choose Terrain to see the relief 🏔
When learning about mountain ranges, teach students how they can choose a map with relief in the Layers > Map details part. This will help them to understand and interpret a topographical map. The advantage of Google Maps is students can easily switch back to the "Default" map or choose the satellite images and compare those layers.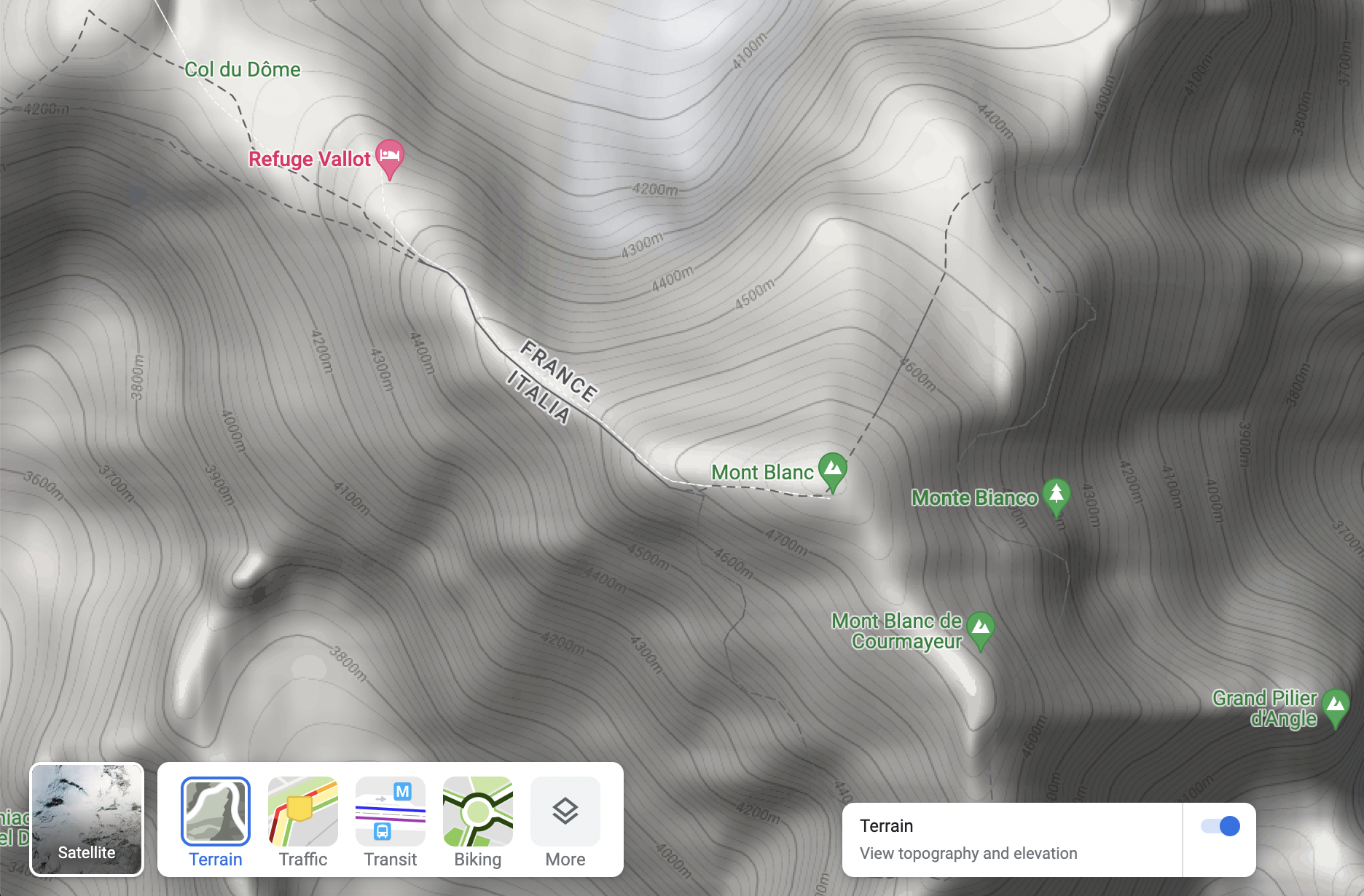 3. Mastering the geographic coordinate system 🧭
When teaching the geographic coordinate system, Google Maps is your friend. You can find the coordinates of any place on earth with one (right) click. Conversely, you can also enter any coordinate in the search bar, and Google Maps will immediately show you the corresponding location.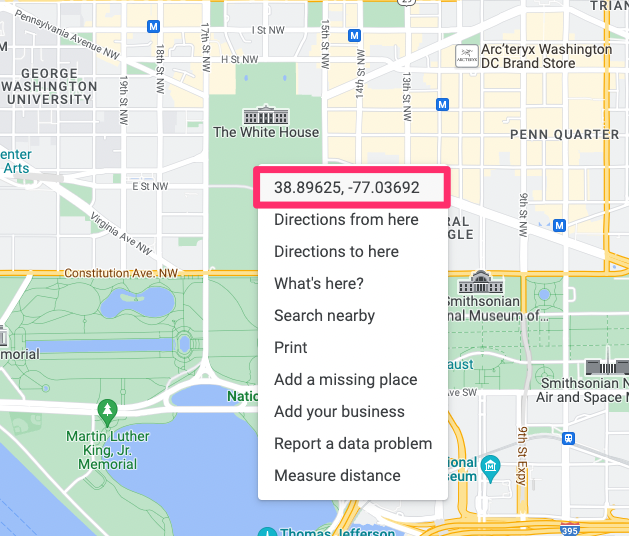 4. Measure the distance between two points 📏
Imagine you want to travel from Miami to Tampa. Google Maps is a helpful assistant to prepare for this trip: enter the starting and ending points and see the distance, the directions, and the time this trip will take. Of course, you can also compare transport methods like driving or public transportation (or even cycling and hiking). But did you know that Google Maps also allows you to calculate the distance as the crow flies?
Right click on the point from which you want to calculate the distance;
Choose Measure distance;
Click on any other place;
Google maps will automatically show the distance between both locations.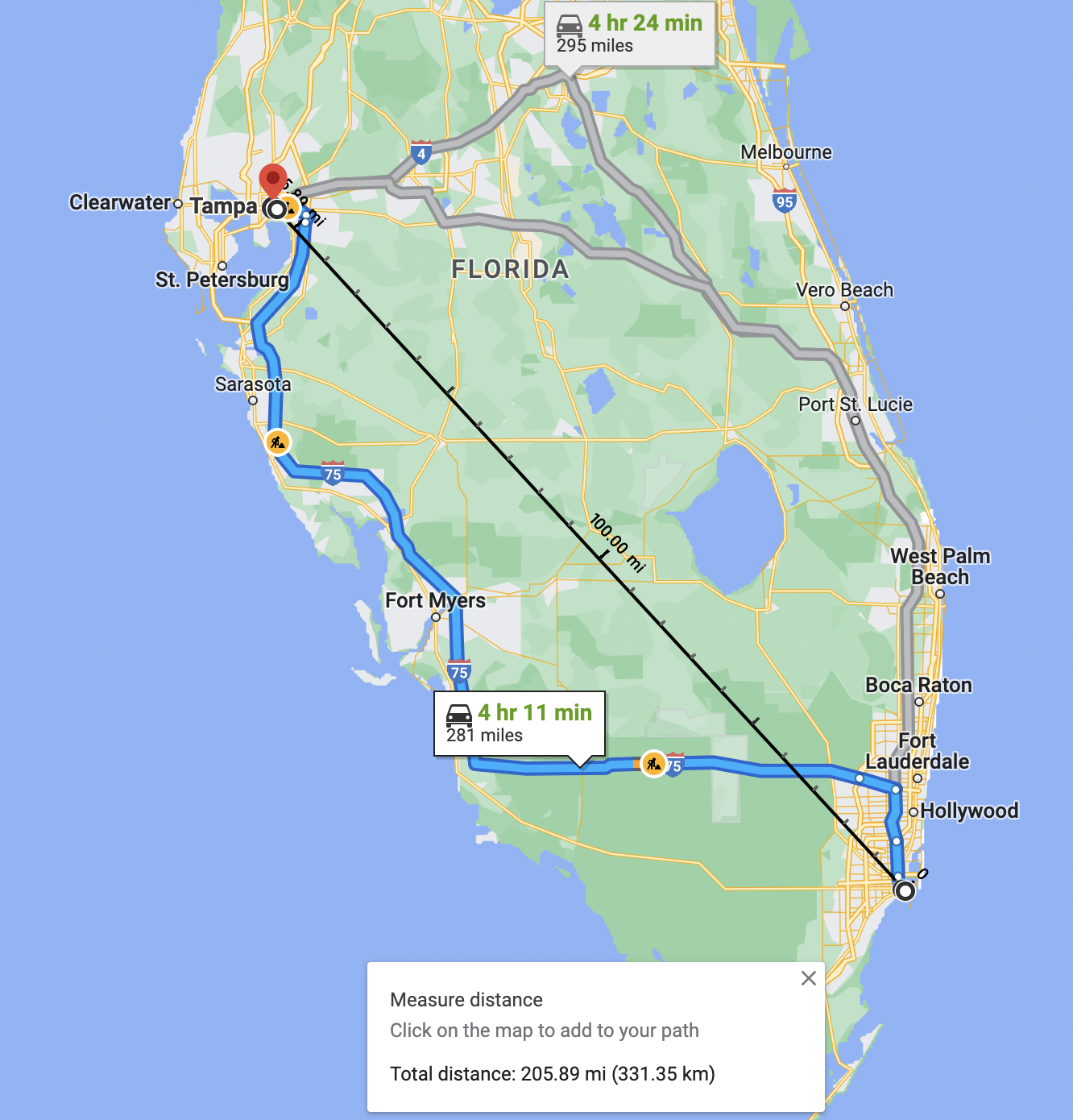 5. Throw a virtual dart at a map 🎯
Do you want students to do a research project on a randomly chosen place on the globe? You can ask them to throw a dart at a map or choose the (safer) option to use the I'm feeling lucky option in Google Earth. Students will automatically get some information about the randomly chosen city or landmark, which will be the starting point of their project.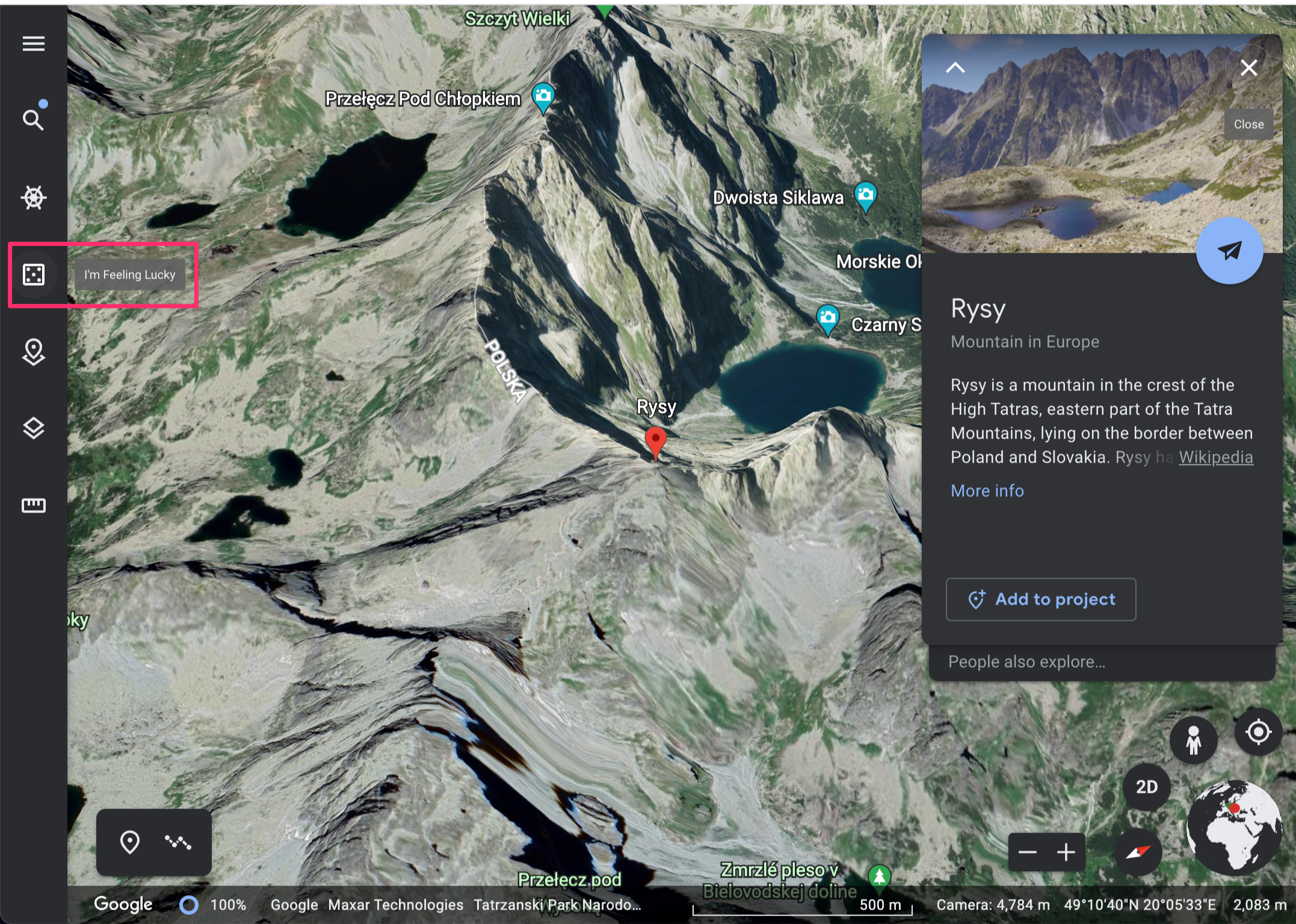 6. See Climate Change's impact on Google Earth 🌡
The saying "A picture is worth a thousand words" certainly applies when watching satellite images from across the world that show how global warming is affecting different ecosystems. Below are two tools that show the evolution of specific ecosystems using Google Maps' satellite photos.
Alternatively, you can take screenshots and use BookWidgets' Before & After Widget, like in the example below.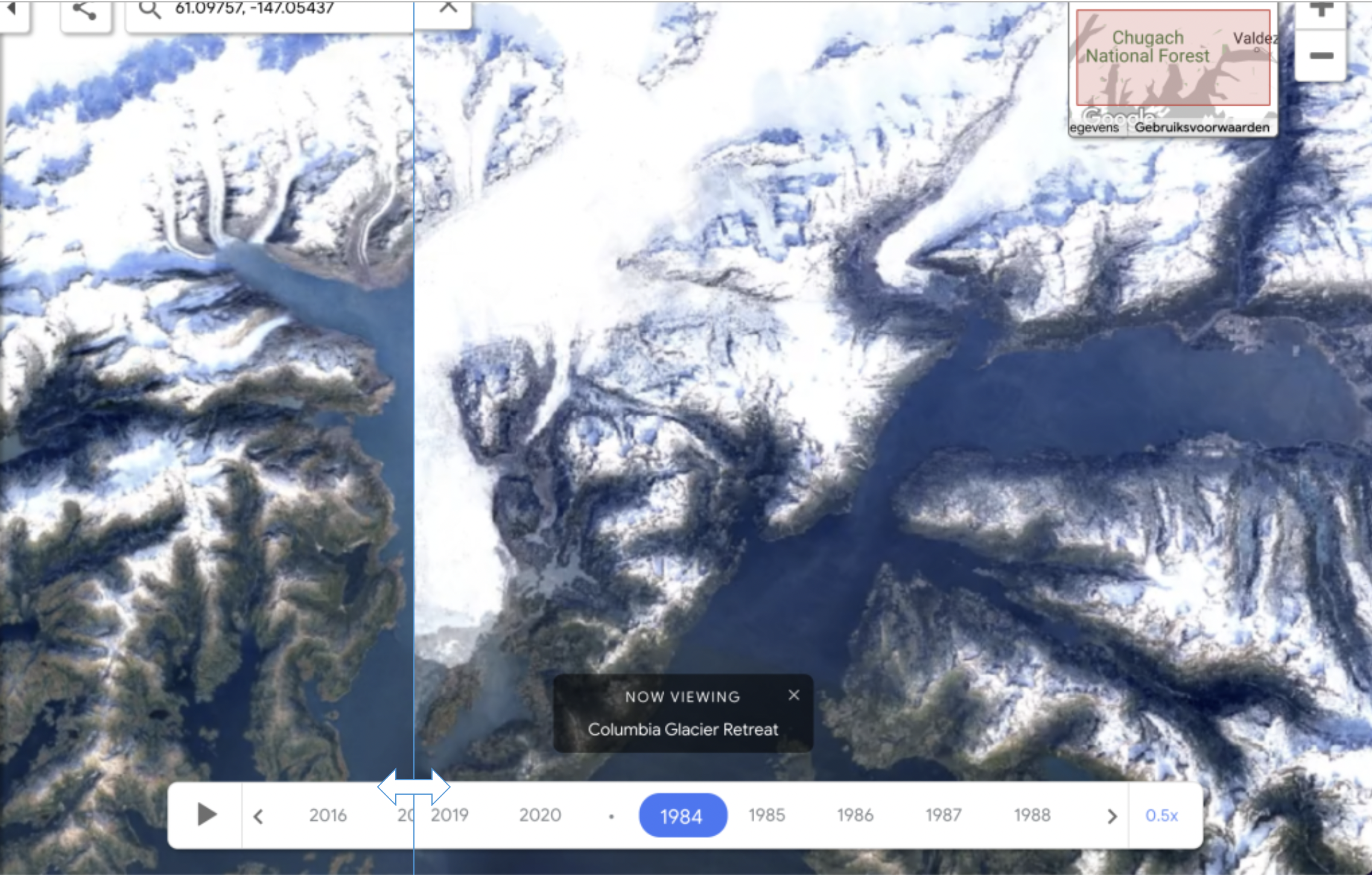 Click to open
7. Explore Mars 👽
When exploring the planetary system with your students, interactive tools allow you to navigate Mars, almost like Google Maps. Traffic information and restaurant reviews are not available (yet), but otherwise, Google Mars seems almost identical to Google Maps. Another exciting element in this context is the Mars Desert Research Station (MDRS), a research center in Utah where scientists prepare space missions. A virtual visit is possible through Google Street View.
Furthermore, NASA's website contains some interactive tools that are not related to Google but cannot be missed in this section:
Mars Now is a Google-Earth-like tool showing live data of Nasa's current Mars Missions.
Explore with Perseverance allows you to follow along with NASA's rover on Mars. The 360° navigation feels very familiar when you're used to Google Street View.
Follow Perseverance's route in this interactive map.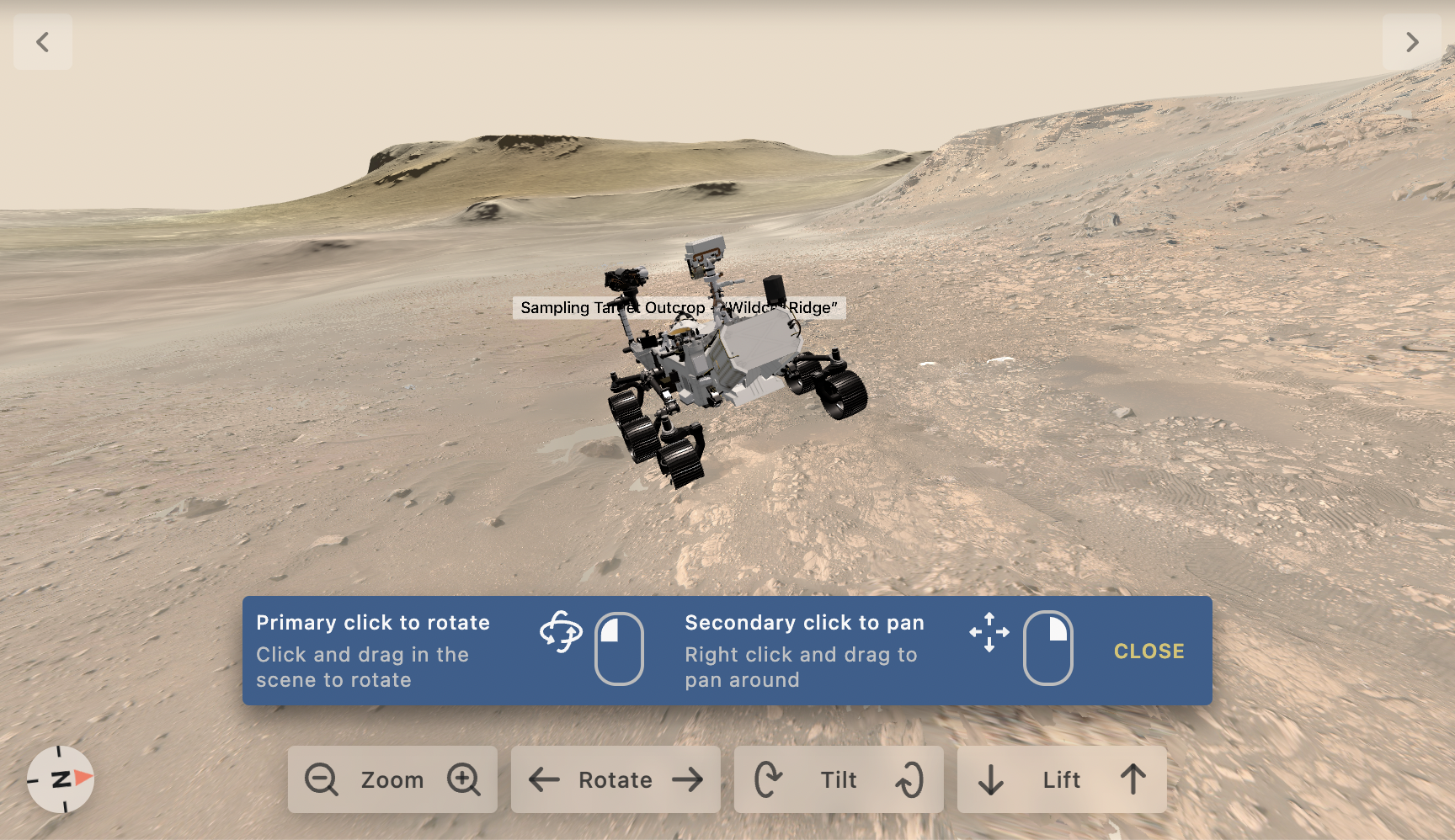 Explore with Perseverance on NASA's website
🏛 History
Google Maps mainly shows current information, so you may wonder what you can do with it in History classes. Firstly, Google Maps allows you to visit some historical sites virtually. Secondly, History teachers and students can pin historical information on interactive maps using My Maps.
8. Virtually visit historical sites 🕋
Are you teaching about ancient Rome, Egyptian pyramids, or Louis the Grand? Looking up the related places in Google Maps will give your students a better understanding of their geographical location. In addition, most major historical sites can now be virtually visited with Google Street View. Some suggestions:
With Street View, you can virtually visit the Colosseum without traveling to Rome
9. Create your interactive maps with My Maps 📍
Google My Maps is a tool based on Google Maps. It allows users to pin information (text, pictures, videos, widgets …) at specific locations. Check out this example about the Civil War and read more about this way to annotate maps from Google Maps further in this blog post. With Google My Maps, History teachers and students can easily annotate maps or collaborate on shared maps.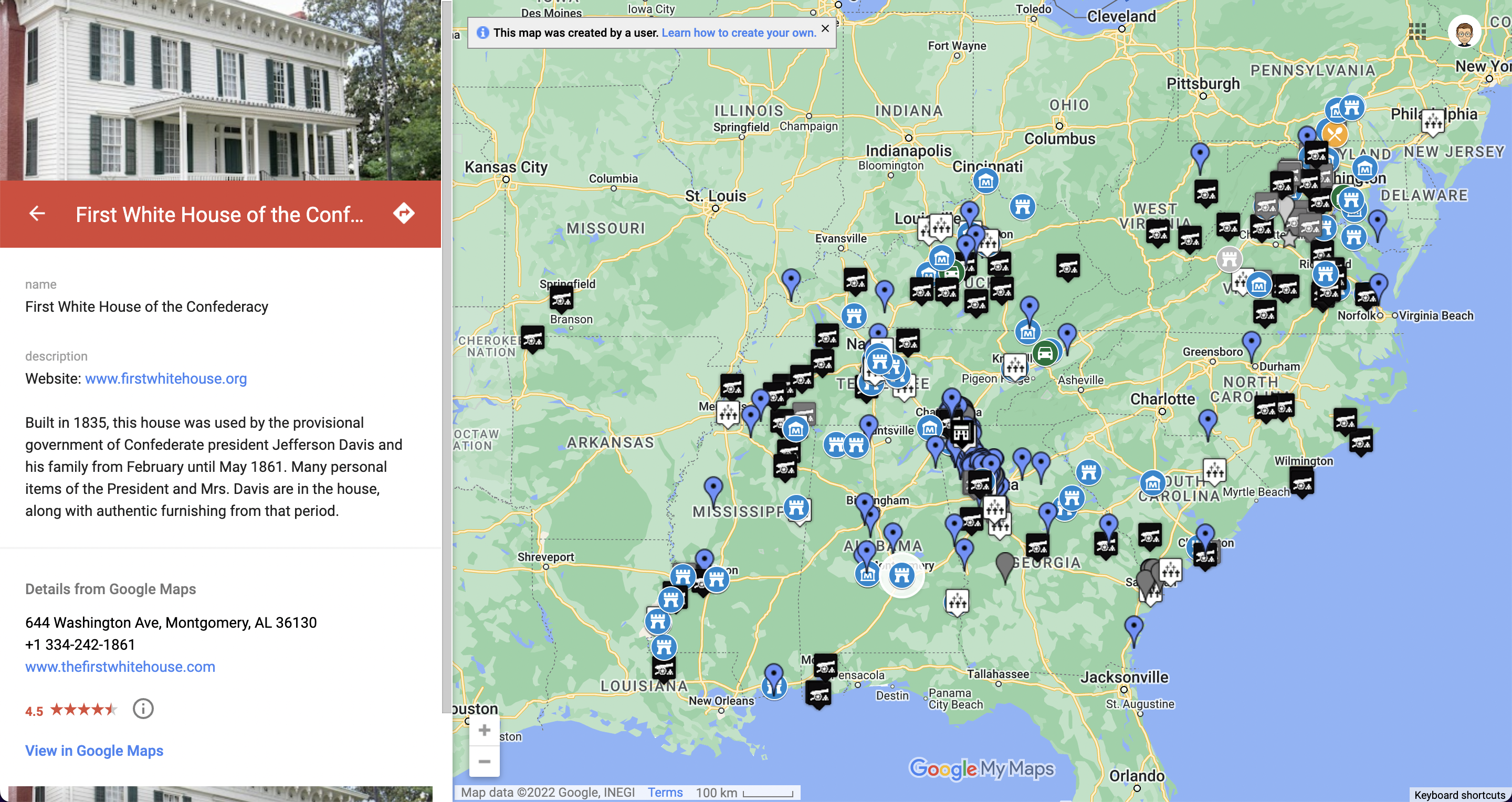 Example of a Google My Map about the Civil War
🗣 World languages
Using our everyday digital tools as teaching materials makes language lessons as authentic as possible. Google Maps certainly offers teachers and students some possibilities in the context of language education. First, however, it is essential to adapt the language of Google Maps to the target language of your lesson. This can be done via the three dashes (hamburger icon) in the search bar, where you'll find the Language option.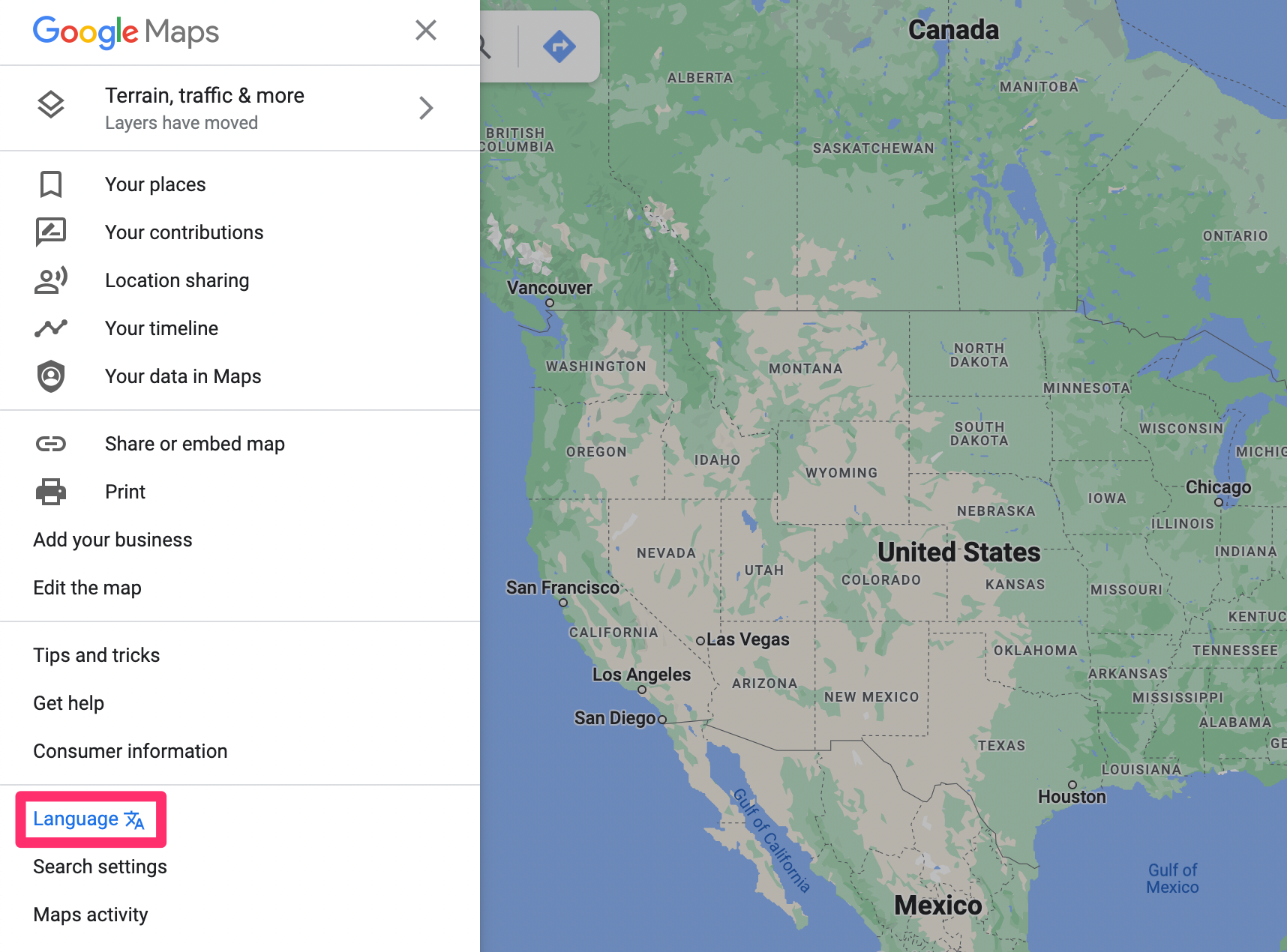 10. Learn to find essential information on Google Maps 🩺
When students learn a foreign language, the first lesson goals are often very practical. For example, when on vacation in France and not feeling well, a student should be able to get to a doctor or pharmacy. Therefore, students usually learn those typical phrases to address someone and ask for help. While those are certainly still useful, teaching students how to find a doctor or pharmacy on Google Maps is also relevant. In addition, students can learn to consult the route and check opening hours.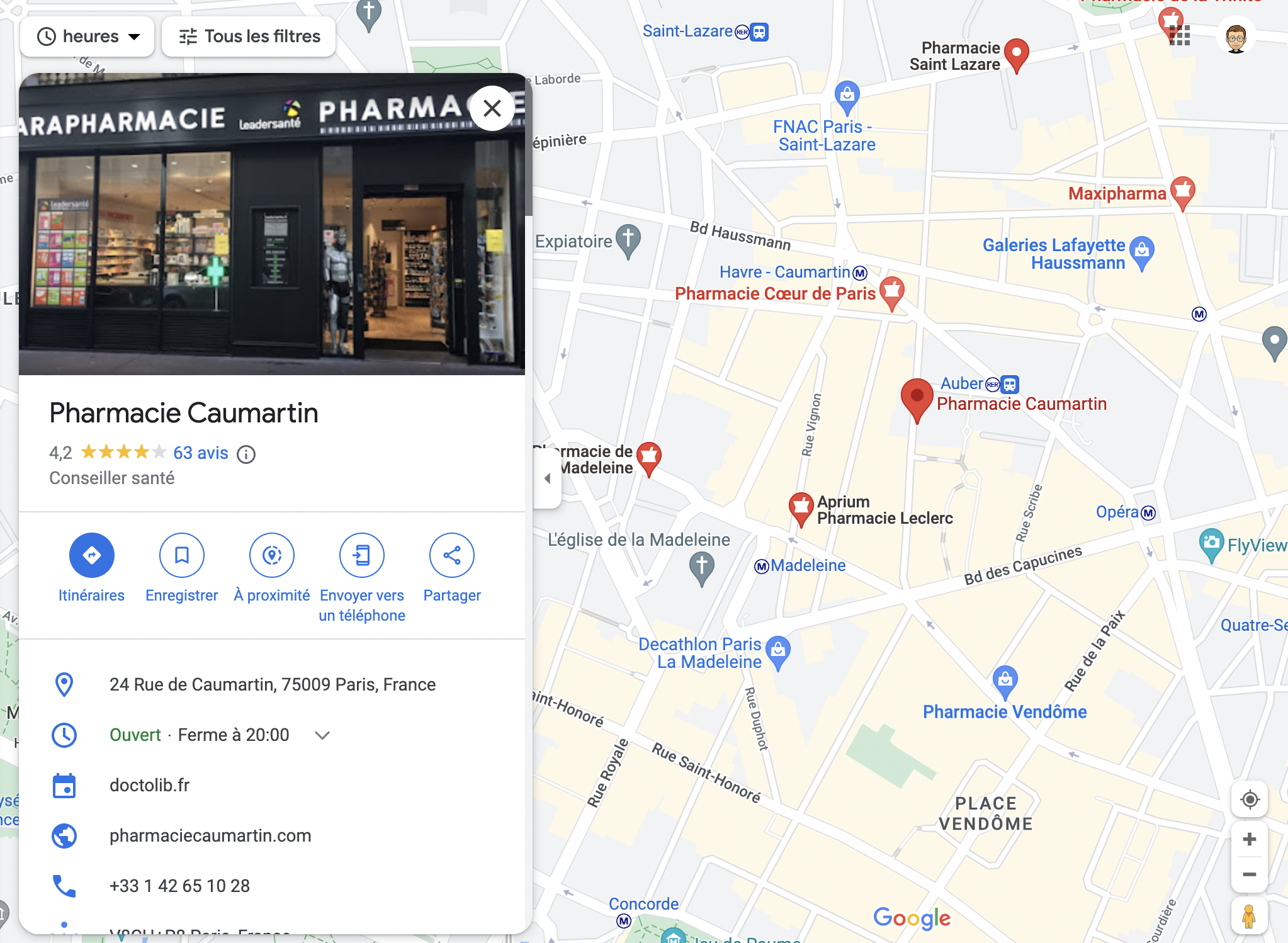 Using Google Maps to find a Pharmacy in Paris
11. Navigate through a city using Google Maps / Google Street View 🧭
When learning a foreign language, students will learn how to ask for or give directions in the target language sooner or later. In classical textbooks, they often have to draw that route on a fictional city map. As a teacher, you can make this experience more realistic by using Google Maps or Google Street View to visit a real city virtually, as shown in the examples below.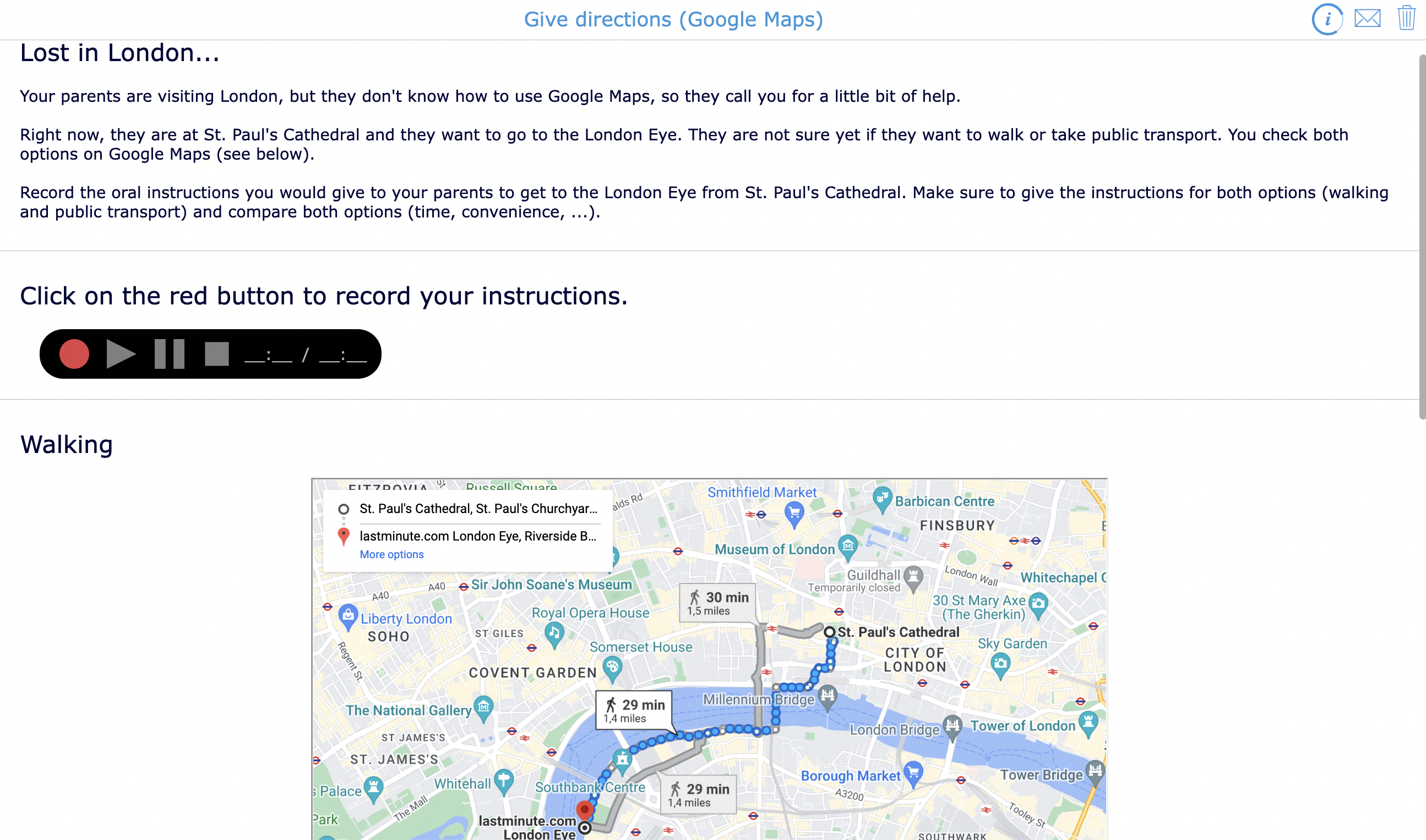 Click to open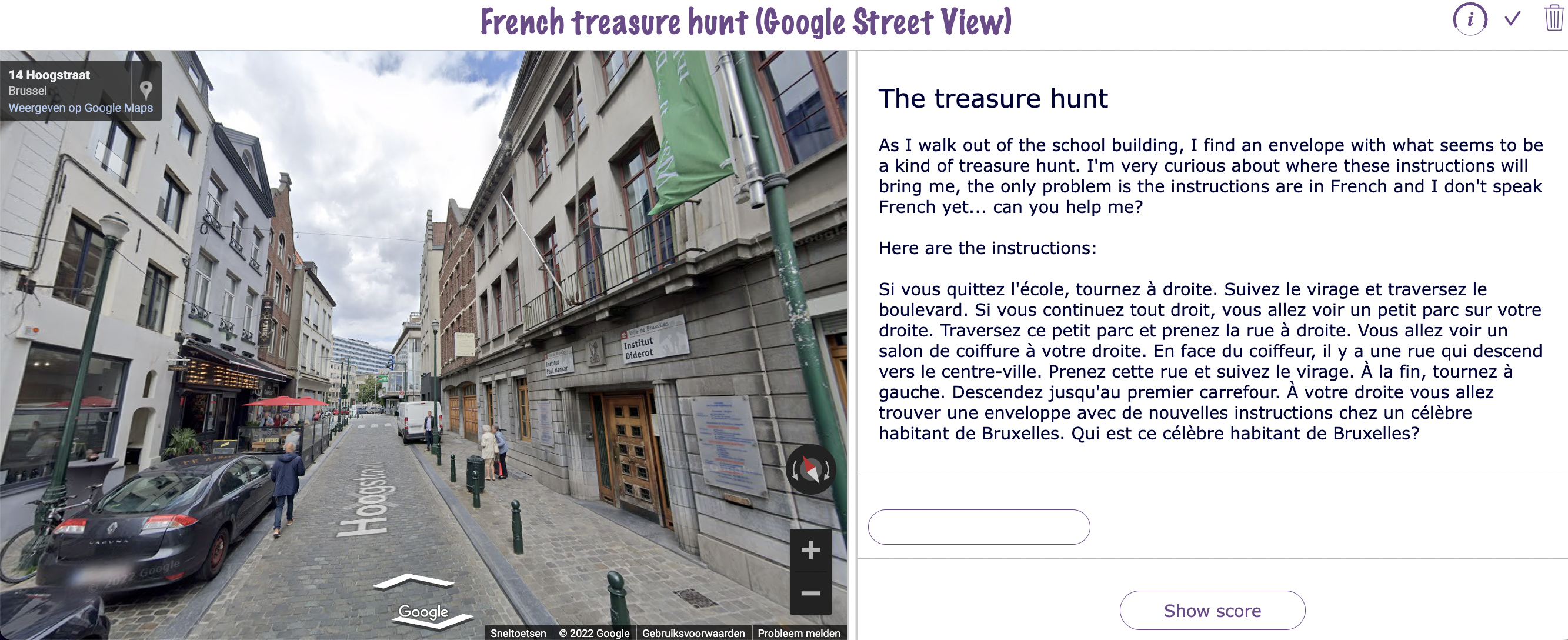 Click to open
12. Read and write reviews of museums, restaurants, … 🍲
When looking for a store or restaurant in a city you don't know, Google Maps is often the most efficient tool. You can check opening hours and sometimes even see how long of a wait there is. When looking for a restaurant, you will probably read reviews as well. Are you a Spanish teacher? Have your students search for restaurant reviews in Spanish-speaking cities like Madrid or Mexico City. Then, ask them to choose a restaurant based on these reviews for your next field trip, or plan a writing assignment by asking them to compose a (fictional) review.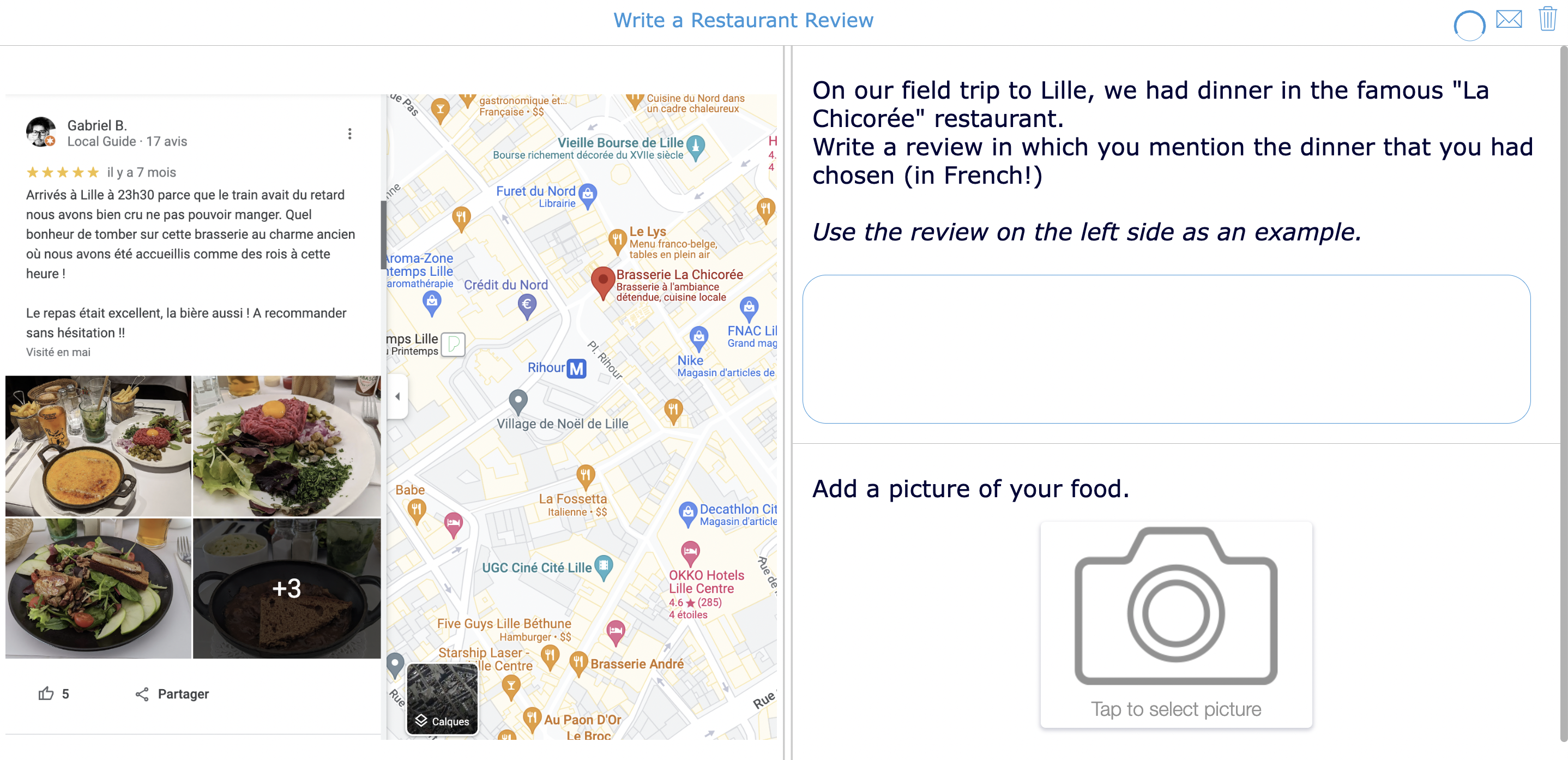 Click to open
13. Prepositions 📦
Another "classic" when learning a foreign language are the prepositions of place. Most textbooks teach this through a picture of a cat located in, under, behind … a box. Why not use Google Maps to make the learning experience more realistic? Below is an example for French learners.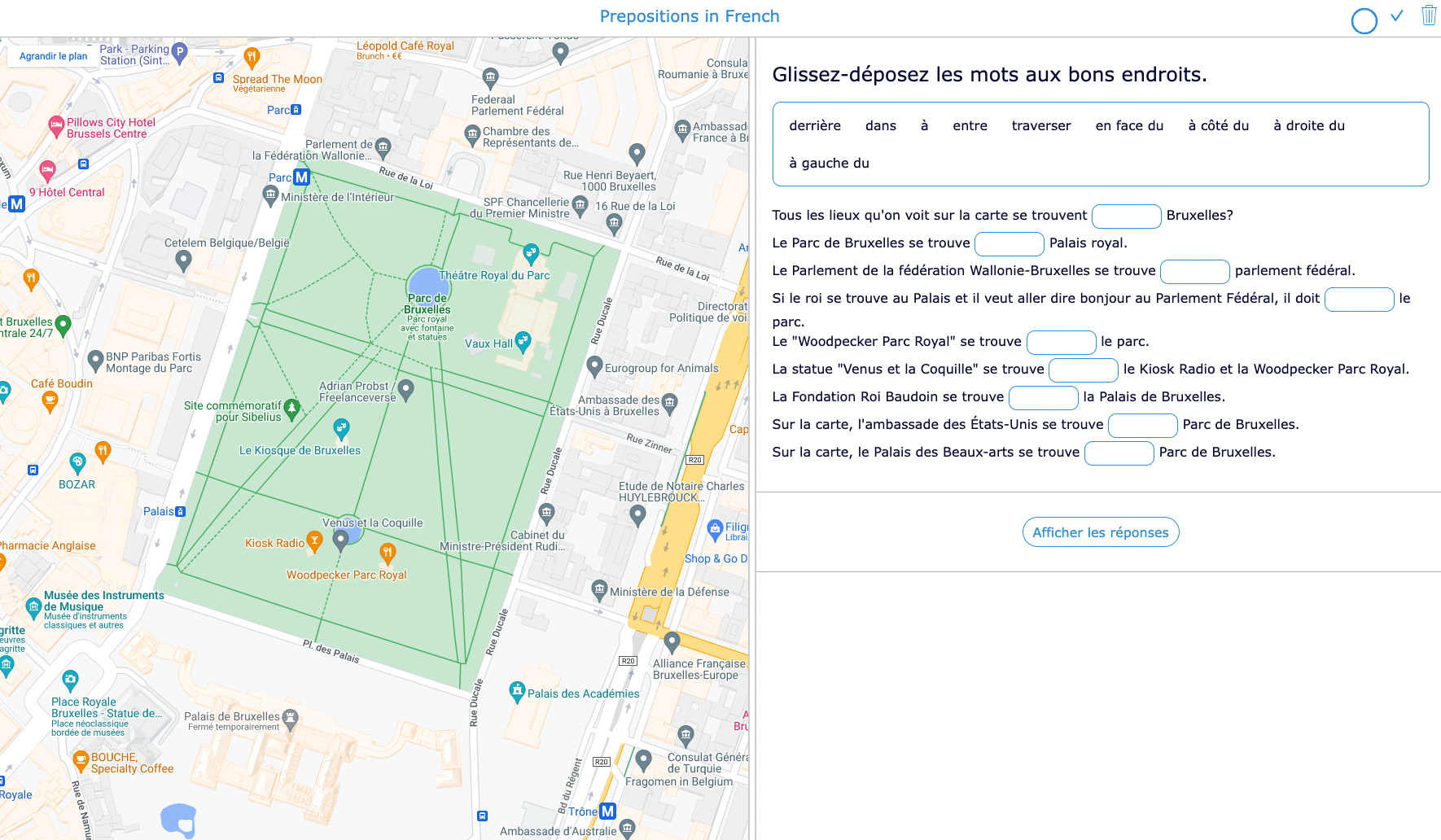 Click to open
14. Before & After 🎞
Google Street View has been around since 2007, and in some places, Google's 360° camera car has already passed by several times. Using the slider at the top left in Google Street View, you can easily compare the different shots and notice how the chosen place has evolved. When you are teaching comparisons or the past tense vs. the present tense, this is an excellent tool to support speaking or writing assignments. If you like the idea but don't want your students to play around in Google Street View, you can make screenshots and use a BookWidgets Before & After widget.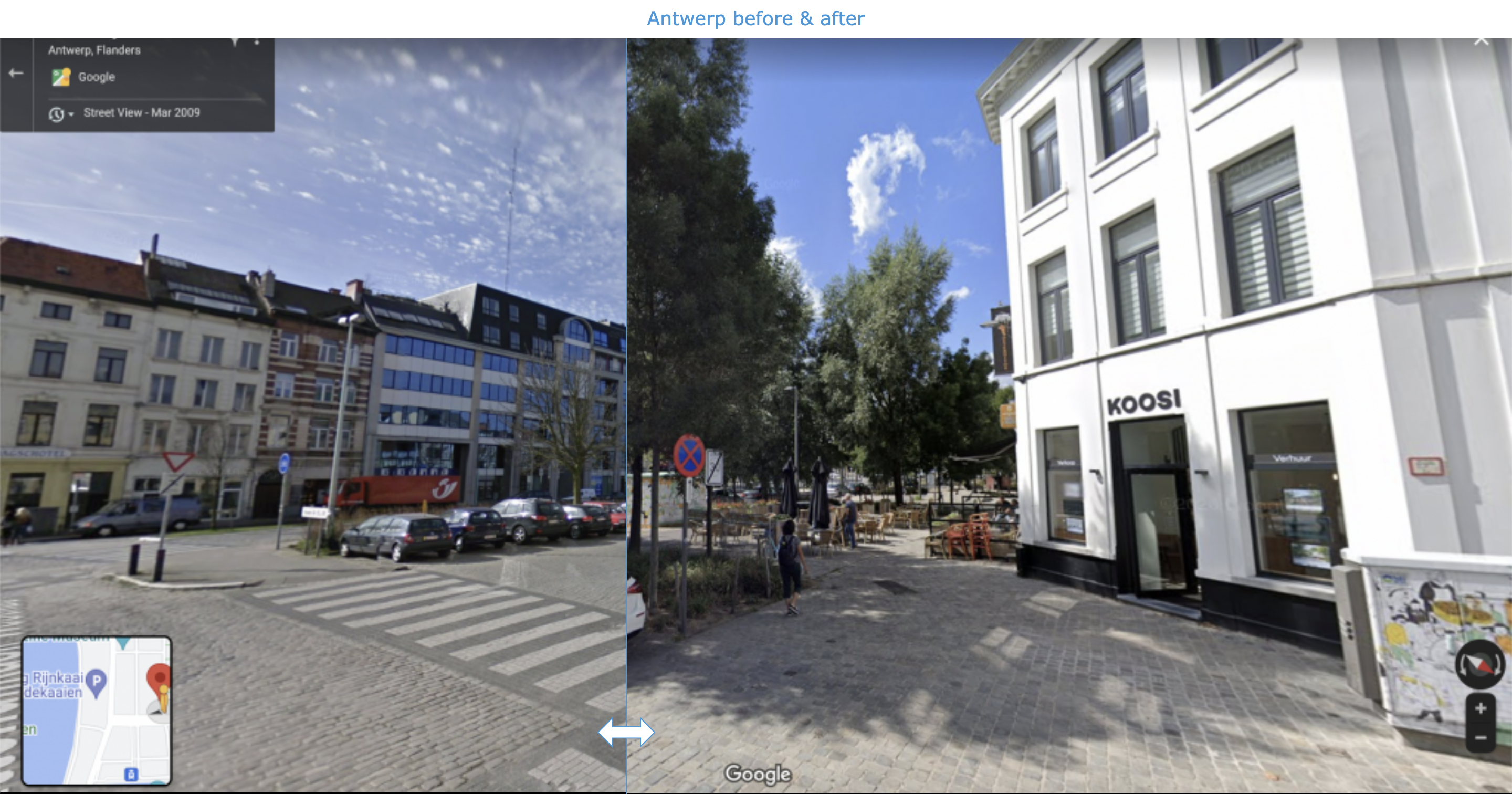 Click to open
15. Learn the names of countries, states, and cities 🌆
Country names differ in other languages, as do important regions and cities. A personal anecdote proves that this is not always obvious, but it is important: when I pointed out to some Dutch people that they had to change trains because our train had arrived at the station of Bergen, they replied in surprise, "But we are in Mons, aren't we?" Google Maps is a useful tool for practicing translations of city names and immediately situating them on the map. Your fellow geography teachers will thank you!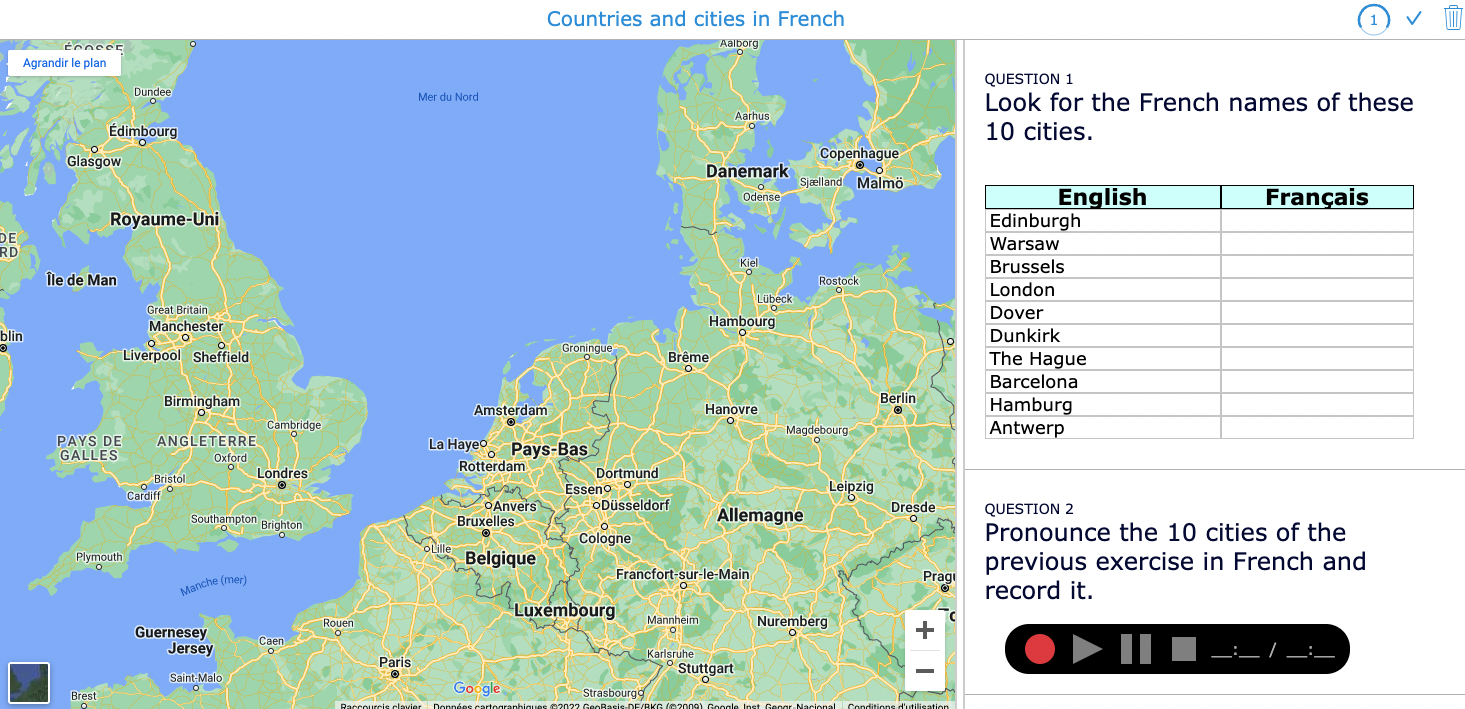 Click to open
🧮 Mathematics
16. The Traveling Salesman Problem 🚗
Have you ever heard of the "Traveling Salesman Problem"? It's a famous math problem about a salesman that needs to drive to different cities. The distances between the separate towns are known, but what is the shortest route connecting all those cities? It's a complicated problem; even the most powerful algorithms struggle to find the fastest way when the number of cities increases. With Google Maps, you can easily create a route with different stops and change the order to check the total distance.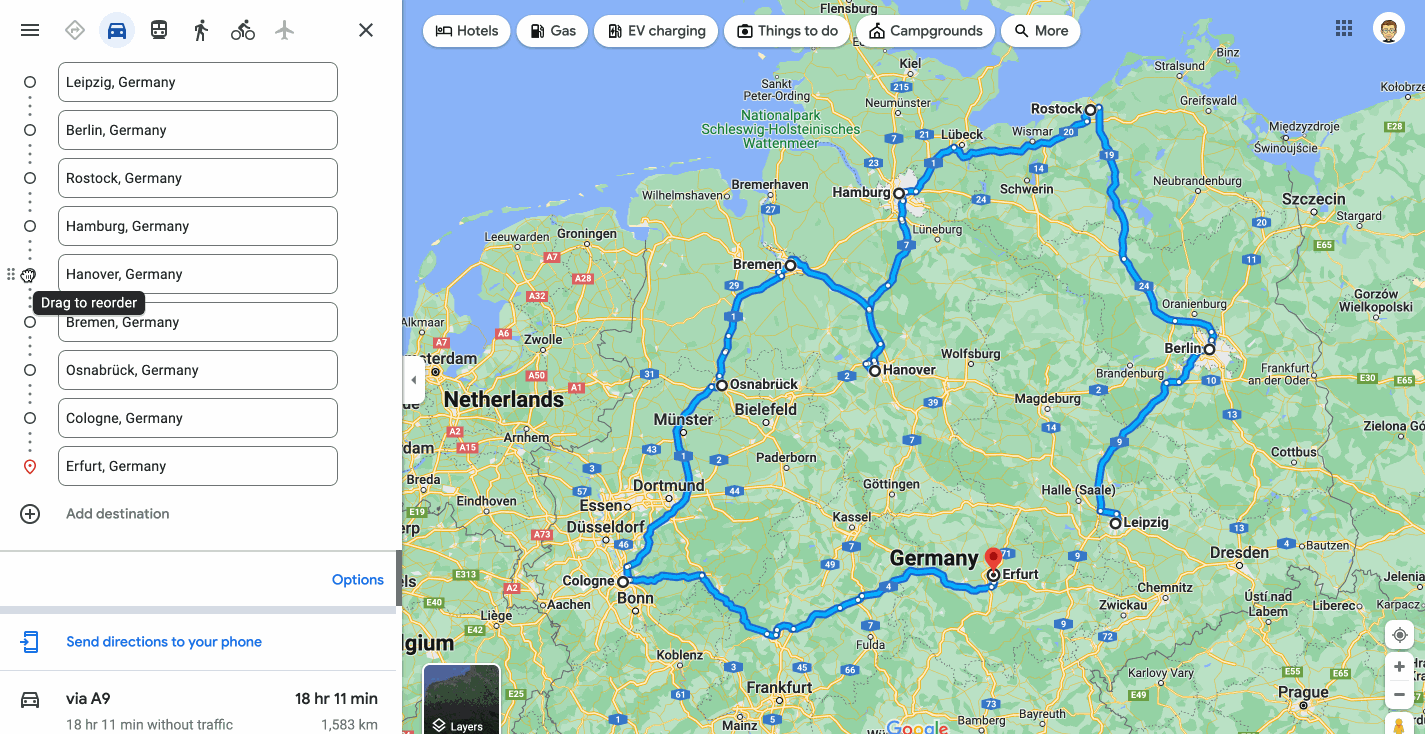 17. Calculate areas and perimeters ⭔
Are you teaching how to calculate areas and perimeters of different shapes? Have your students calculate the areas of some real parks, buildings, or even states. Then introduce the CalcMaps tool, which allows students to verify the result in a few clicks.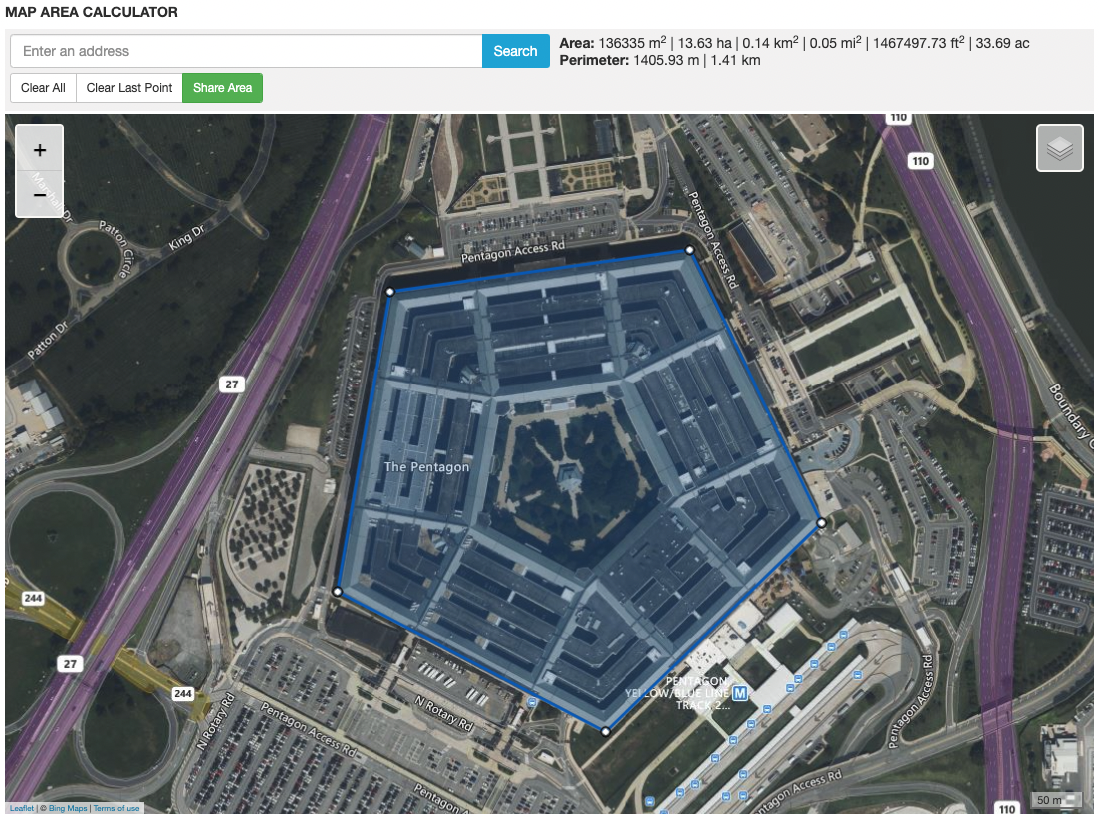 The area and perimeter of the Pentagon calculated with CalcMaps
18. Math problems based on information from Google Maps 🧠
Google Maps is full of data, and some of these can serve for real-life math problems. Some ideas:
Given the distance between two cities and the predicted travel time according to Google Maps, calculate the average speed.
Given the distance between two cities and the average car consumption, calculate the number of gallons of gasoline the car will consume and its price.
Given the distance between two cities and the average CO2 emissions of a car, calculate the total CO2 emissions. Compare with the predicted CO2 emission for the same journey by public transport.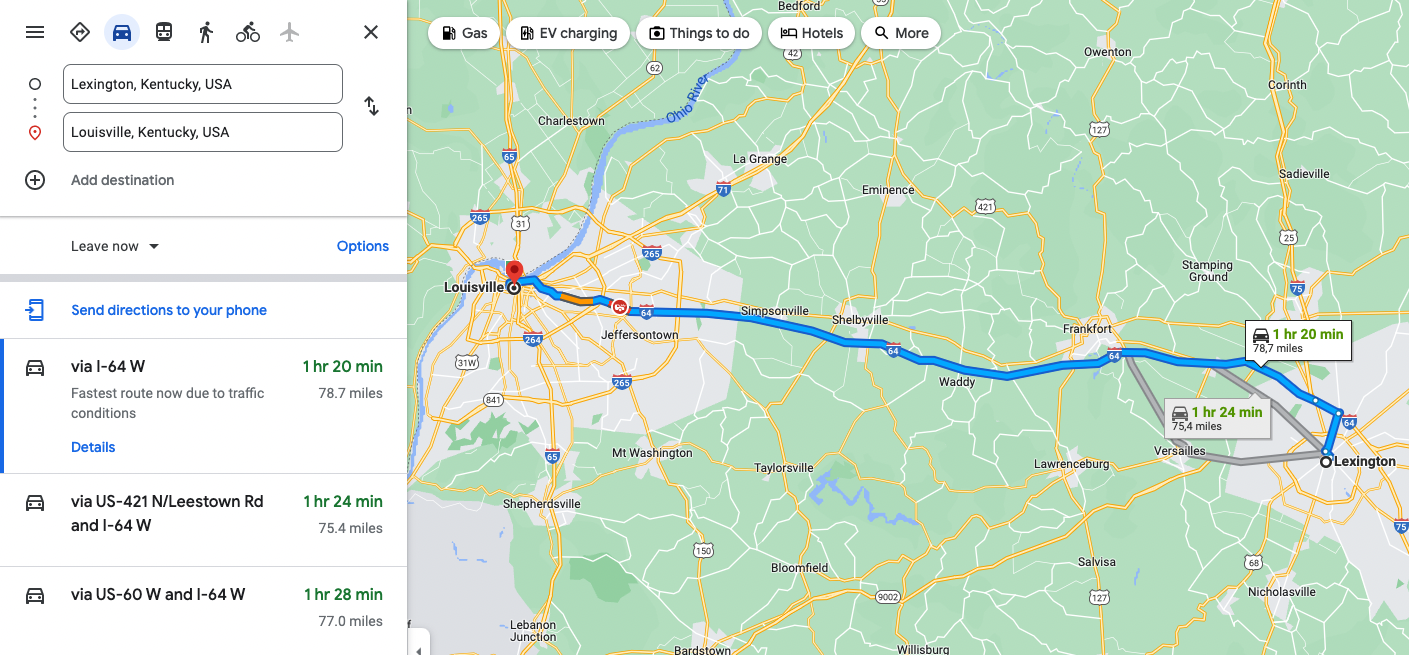 In this example, the average driving speed from Lexington to Louisville is 59 miles/hour.
19. Practice statistics with average travel times 📊
Google Maps has a lot of valuable data, including live traffic information. For example, when users plan a route, they see a predicted travel time that takes into account current traffic conditions. These are ideal data for a statistics assignment: ask your students to track the expected travel time for a particular route at different times of the day. Have them repeat this for at least a week, then visualize the data on a graph. Two handy tools for this activity are the Active Plot and the Chart in BookWidgets. An example of both is available below. In the active plot, students jot down the raw data via the table on the right. In the Chart, students have already calculated the average travel time per time block and can then enter it in the widget to visualize the data.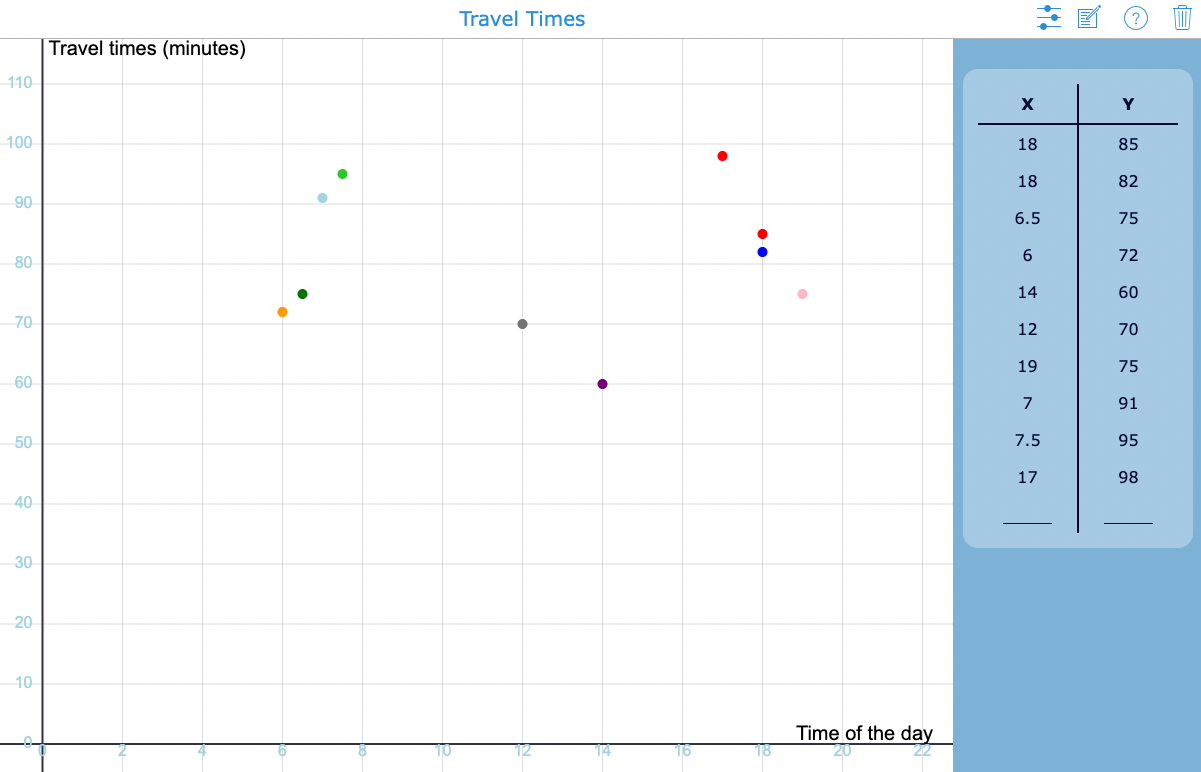 Click to open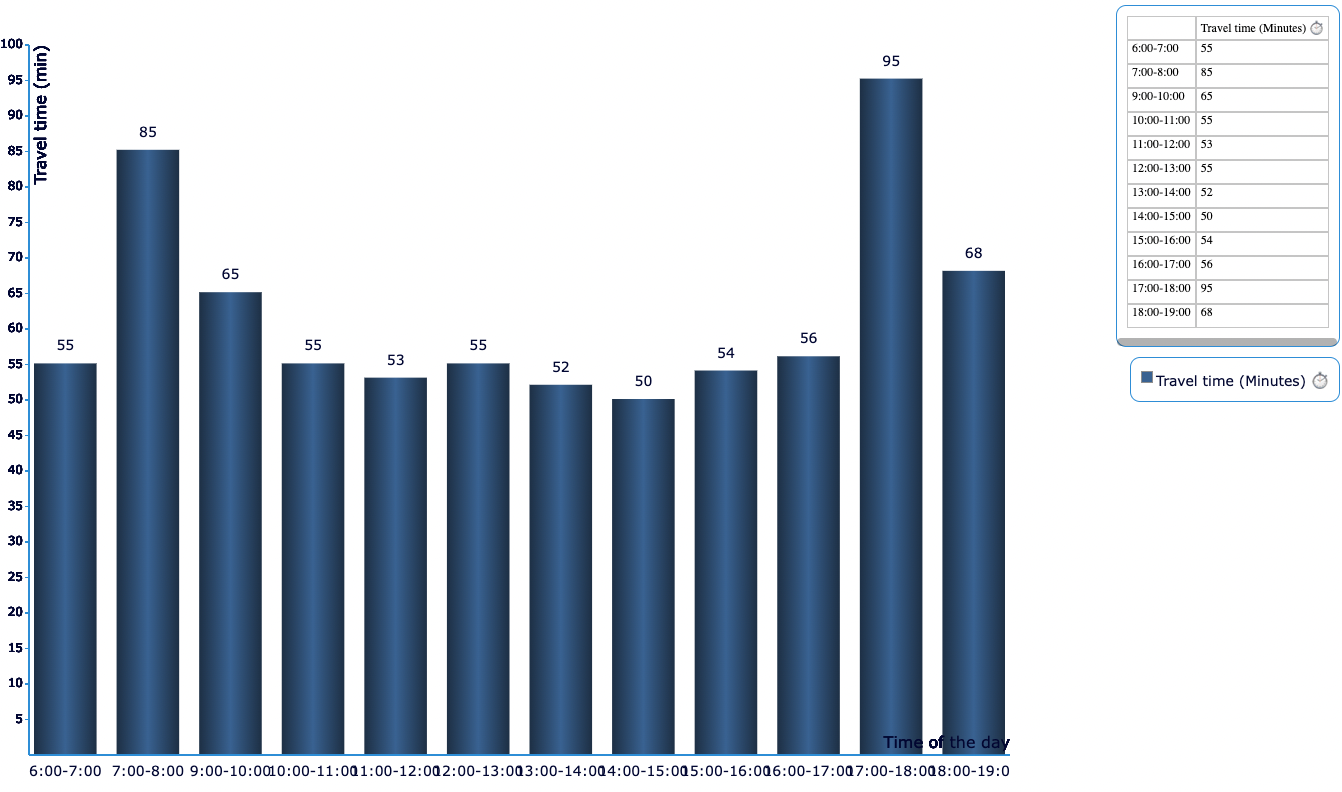 Click to open
🎨 Arts
Integrating Google Maps in Arts Lessons might be less obvious, but here are at least two ideas.
20. Virtually visit art museums 🖼
In the Google Maps lesson ideas for History classes section, I presented some historical sites on Google Street View. The same goes for multiple art museums you can visit from your computer. In addition, an excellent selection of visitable museums can be found on Google Arts & Culture, a veritable treasure trove of content for art lessons.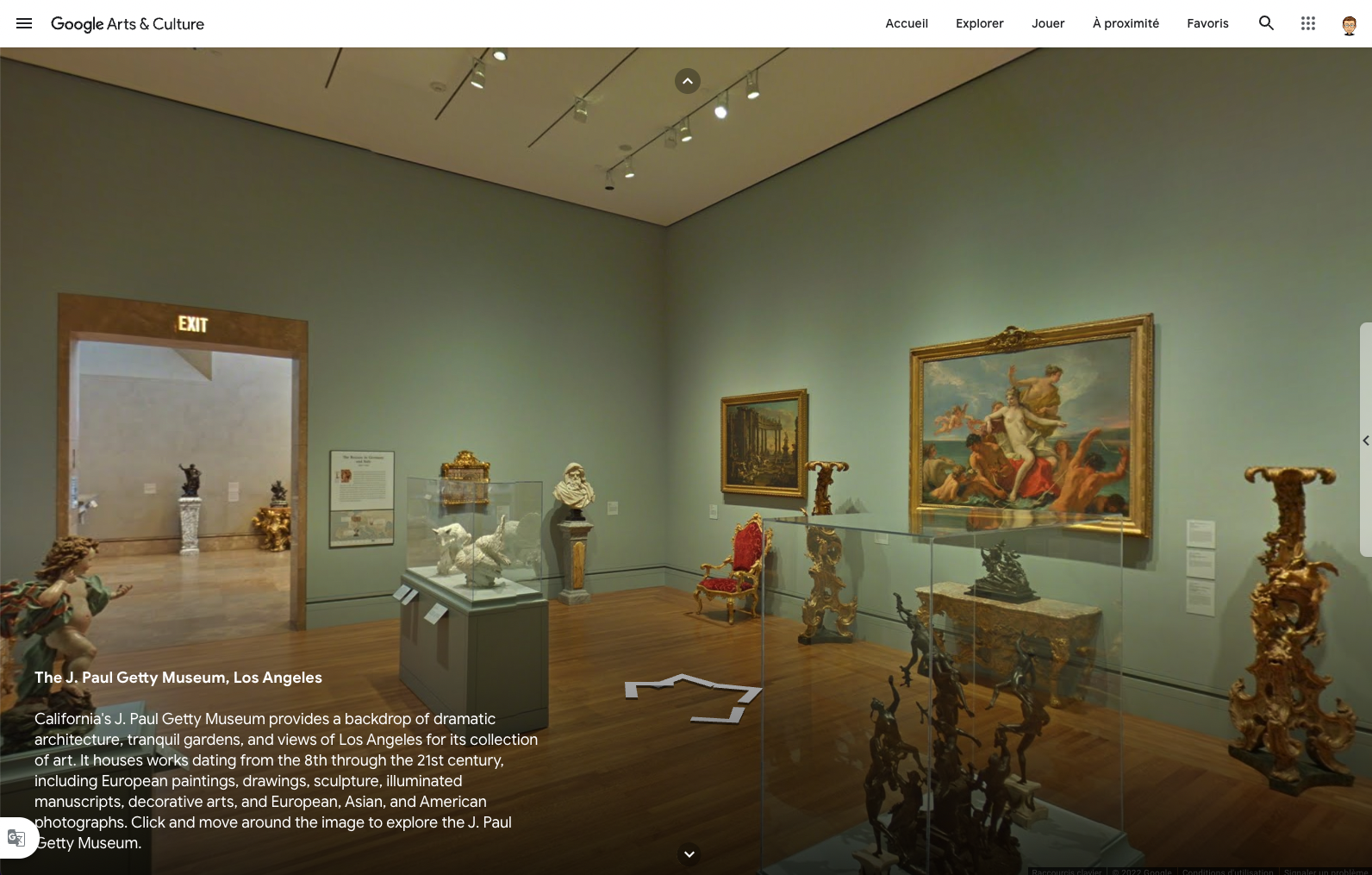 The J. Paul Getty Museum is one of the museums on Google Arts & Culture
21. Use Google Street View to paint the world 🖌
Take a look at the beautiful artworks of Bill Guffey and Nao Tatsumi. Then, like them, let your students get inspired by landscapes on Google Earth for their next painting.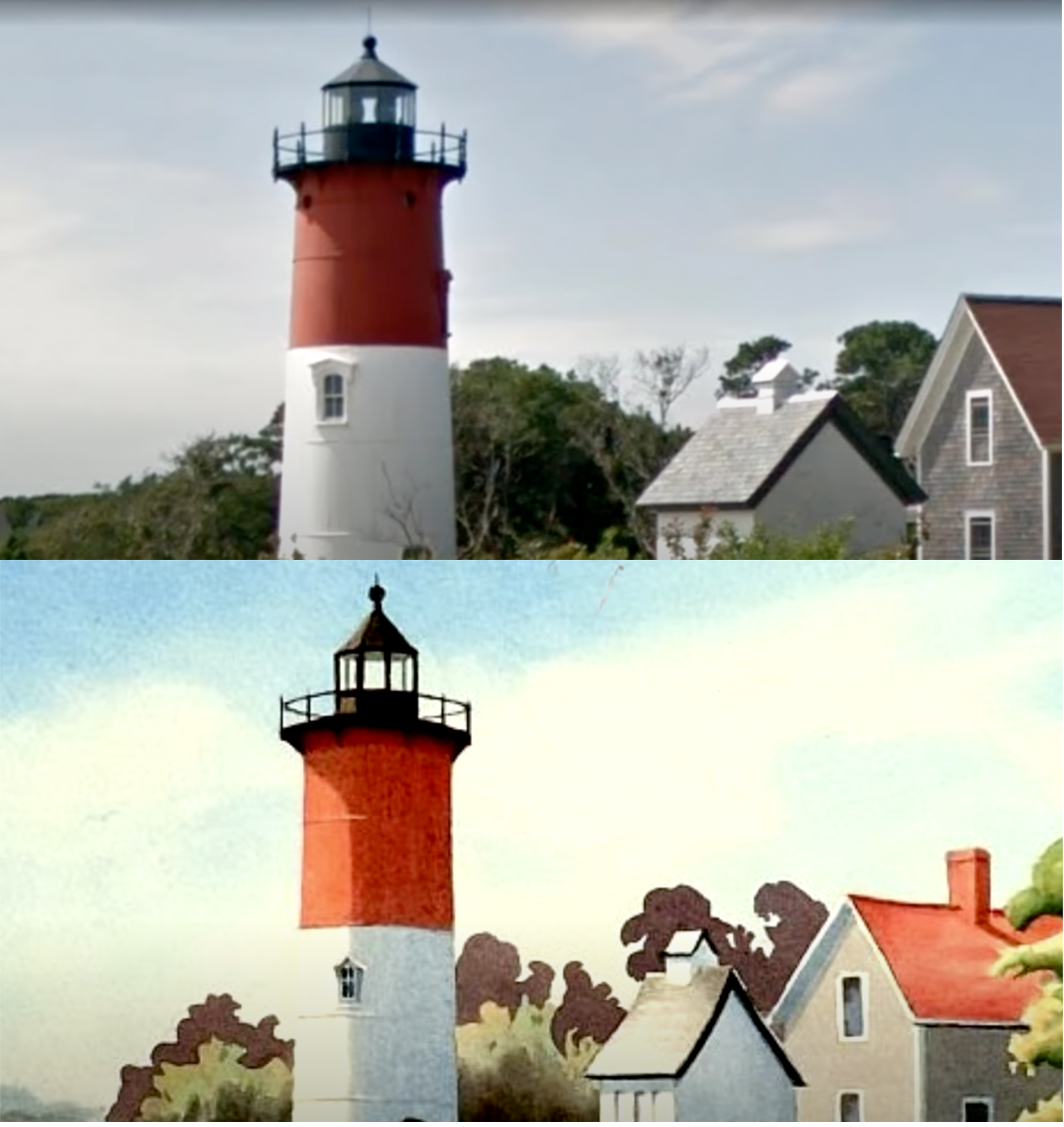 One of Bill Guffey's creations
💻 Technology
Last but not least, Google Maps can also be addressed in Technology classes. In school, students learn the basic mechanics of typing, word processing, and working with spreadsheets, but the digital tools we use in our daily lives are often ignored. Today's students are often considered as Digital Natives, which implies that they have the necessary skills to master the most common digital tools themselves. However, studies have shown that this is a myth. In addition, a school is a place where students must learn to think critically about online tools. Hence these two lesson ideas around Google Maps in the context of Technology or IT lessons.
22. Learn students the basics of Google Maps ☑️
Most students will be able to look up places on Google Maps, but they might need some help to:
Find the address or phone number of a place;
Find the opening hours of a place;
Plan a route and compare the different options proposed by Google Maps;
Share their location with others;
Find out what a place looks like by using Google Street View;
And more…
When your school is organizing a field trip, the lessons right before the trip might be the perfect opportunity to prepare for the journey in class and introduce the basics of Google Maps. Two birds with one stone!
For more advanced learners, using Google Maps Functions in Google Sheets is an exciting exercise.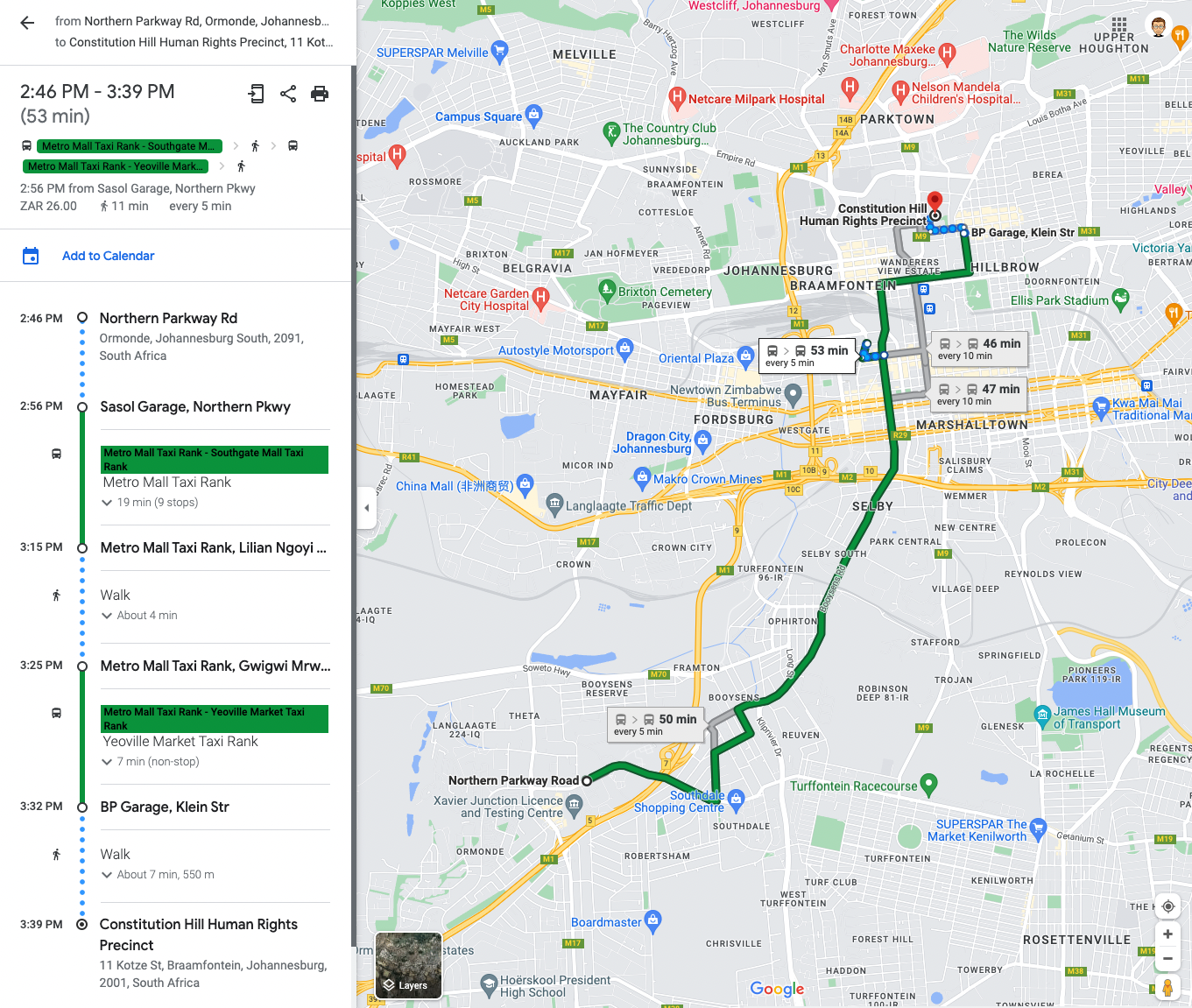 Learn to plan a route by public transportation
23. Think critically about the use of Google Maps 🧐
Google Maps is a super handy tool that can literally save your life. Still, it's good to have students think critically about its use. Here are a few questions about Google Maps that can be used to introduce a class discussion on the tool. You can also broaden the conversation and address the general dependence on digital tools and devices.
Can you read a paper map? Are people too dependent on Google Maps?
Do you know which data Google collects when you use the app?
Did you know that Google Maps increases cut-through traffic in residential neighborhoods?
Your home can possibly be viewed via Google Street View, including by those with not-so-good intentions. What's your opinion on this?
Check Google Timeline - Has Google been tracking your movements, even when you were not using the app?
To delve deeper into this, you can use the webquest below.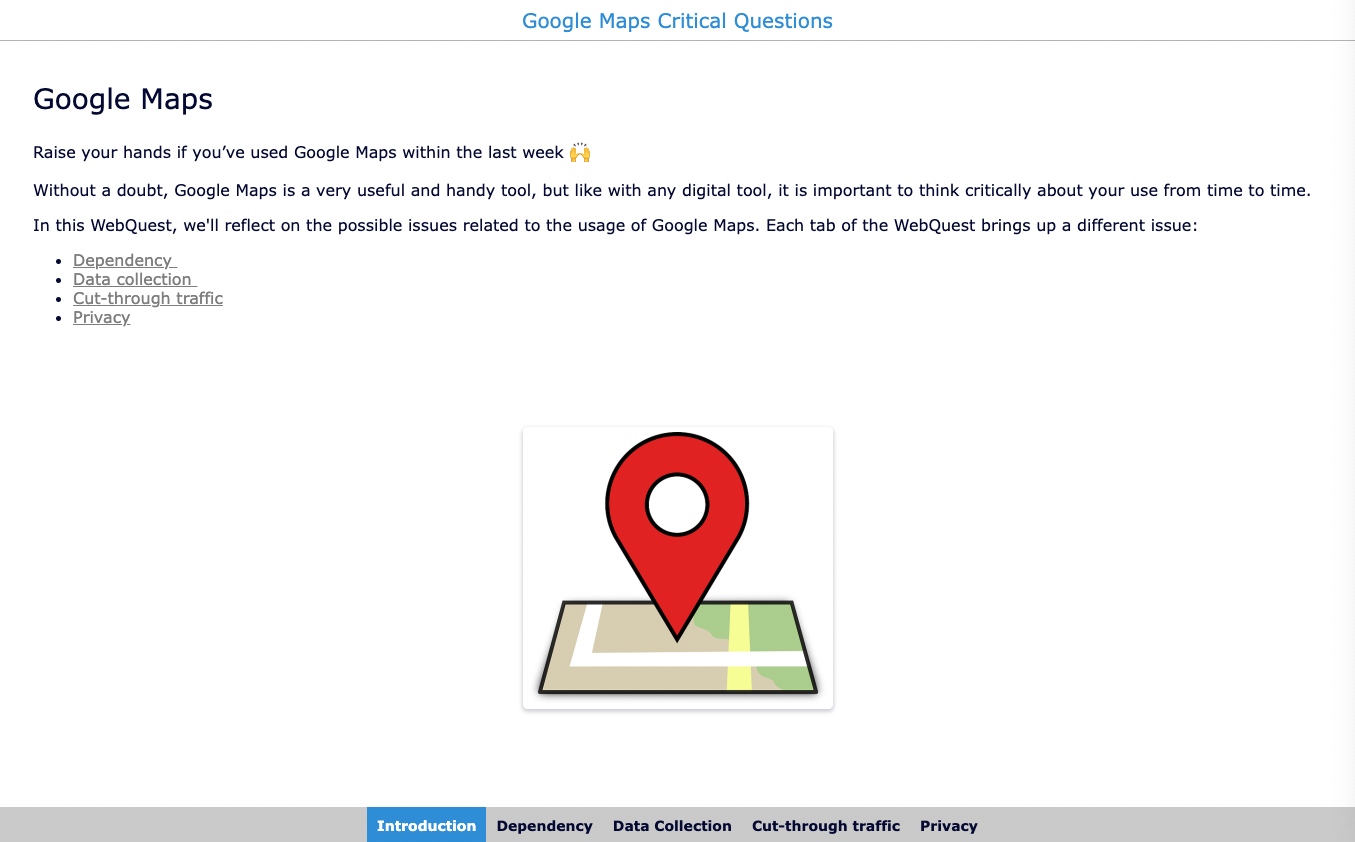 Click to open

How to annotate maps
Google Maps is a super handy application in our daily lives, but as a teacher you may want to pin content to certain places on the map to turn Google Maps more into a teaching and learning tool. In this section of the blog post, I explain two ways you can add text, web links, videos or even online exercises to Google Maps.
Google My Maps
As described earlier, Google My Maps allows teachers to create their own maps and share them with students. If desired, students can be given the ability to edit the map. I could write a full blog post about the possibilities of Google My Maps, but instead, I refer to this clear and comprehensive tutorial from Technology for Teachers and Students.
The Google Maps Widget in BookWidgets
BookWidgets is an online content creation tool for teachers with 40 different template types (or 'widgets'). One of the templates is the "Google Maps" Widget, which allows teachers to pin content to an interactive map. The Google Maps widget is straightforward to set up and, unlike in Google My Maps, you don't need a Google account. Below is an example of one such Google Maps widget created with BookWidgets and the steps to create such a Google Maps Widget yourself. Other examples can be found (and duplicated) in this BookWidgets group.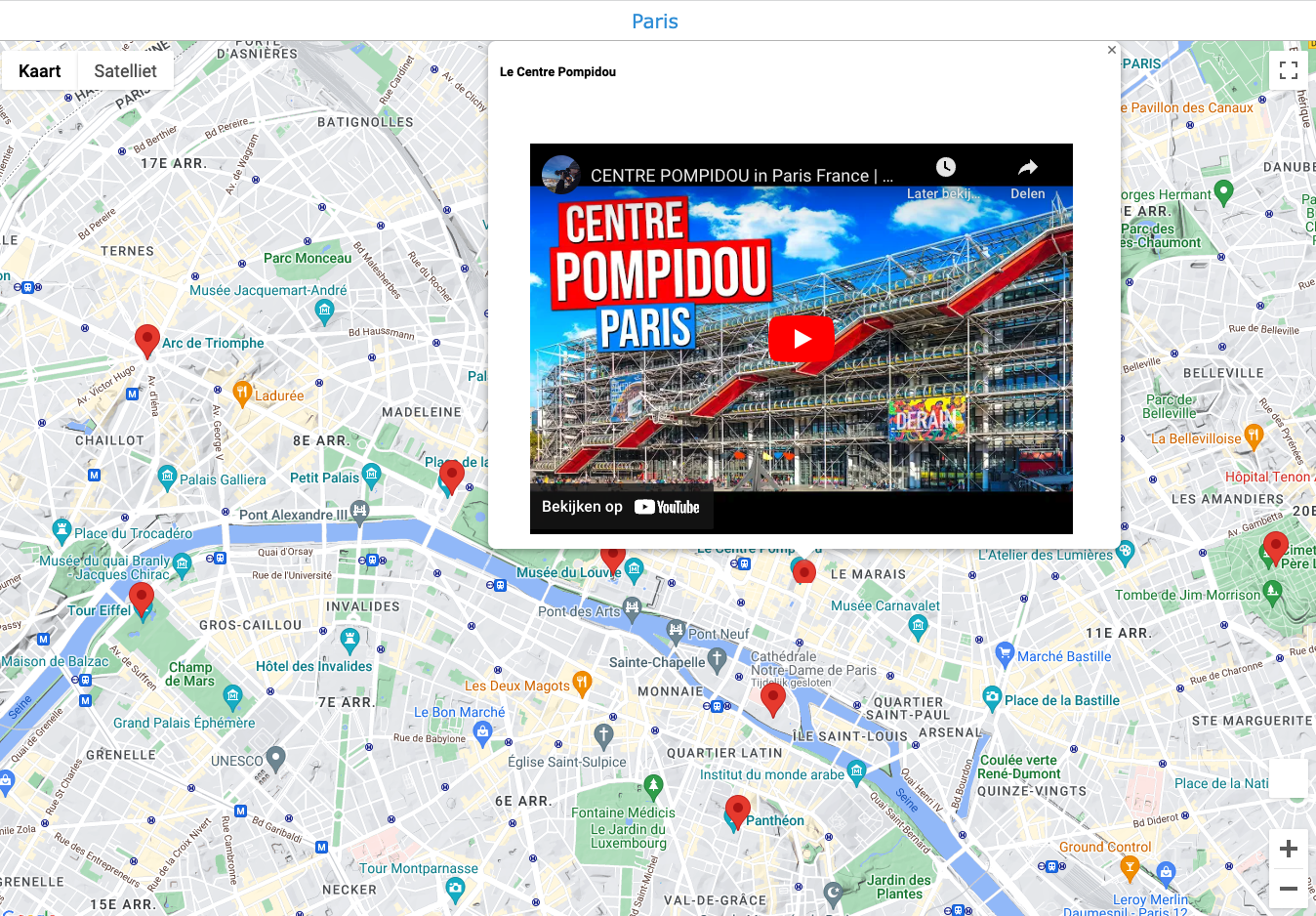 Click to open
Step 1: Create a new widget
Log in to your BookWidgets account on the BookWidgets website or within your LMS;
Choose Create new widget and select the Google Maps widget;
Give your widget a name and a description if needed.

Step 2: Copy-paste the Google Maps URL
Go to Google Maps and navigate to the part of the world that you would like to use for your lesson ;
Copy-paste the link from the address bar in your browser (e.g. for Paris, this link would work);
In the widget editor of your Google Maps Widget, go to General and paste the URL in the first text field;
Change options like Map type and Map style if needed.

Step 3: Pin content on the Annotations tab
In the widget editor of your Google Maps Widget, go to Annotations and choose Add annotation;
For each annotation, fill in the following fields:

Name;
Text (which can include images, videos, links to websites, links to online exercises, …);
Location (enter the coordinates, which you'll find in Google Maps by right clicking on the exact location).

Repeat this for other annotations.
Click on Preview in the upper right corner to check if everything appears correctly.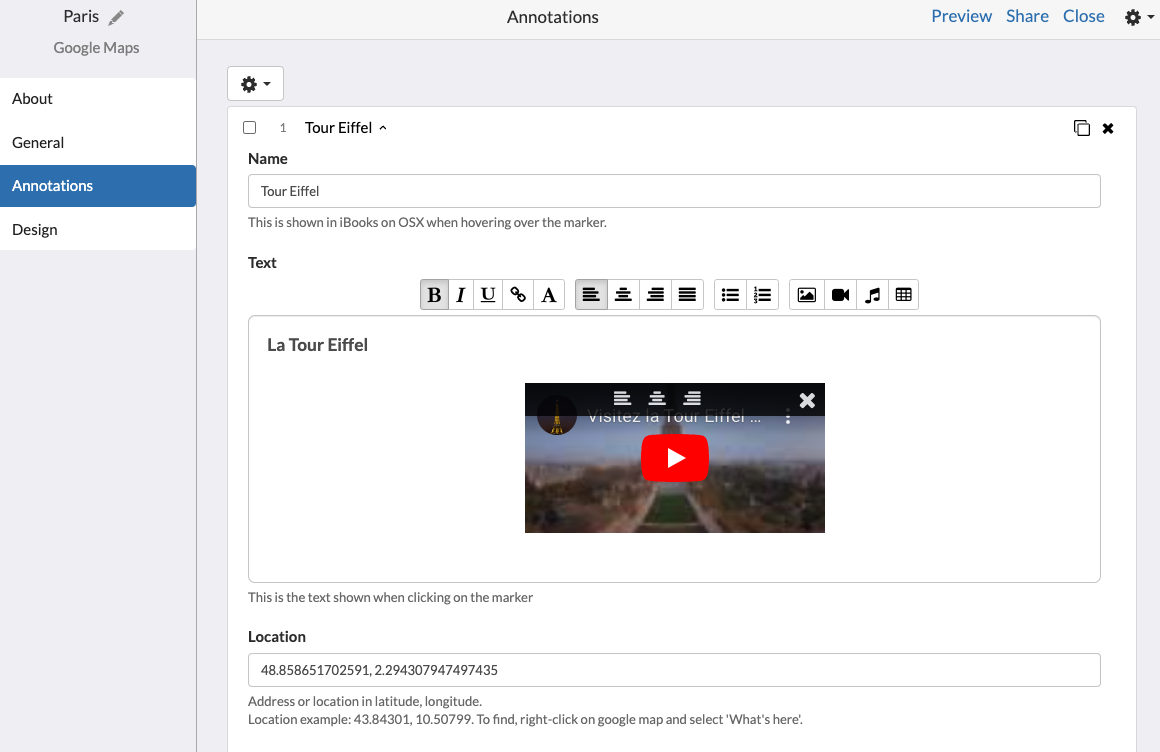 How to integrate Google Maps into BookWidgets
BookWidgets is a tool that allows teachers to create and share interactive online exercises with students. All lesson ideas in this blog post that do not work directly within Google Maps (or Google Earth, Street View, or My Maps) are created with BookWidgets. With BookWidgets, you can easily embed Google Maps' interactive maps into an exercise and then use the 35+ different question types. In this section, I will explain step by step how to embed Google Maps (or Street View) in BookWidgets.
Step 1: Get the embed code from Google Maps (or Street View)
Go to https://maps.google.com;
Navigate to the specific section of the map you want to embed;
Configure settings such as language, layers, zoom … as desired;
Open the menu via the three bars (hamburger icon) in the upper left corner;
Click on Share or embed map
Open the tab Embed a map
Copy the HTML code
If you want to embed a Google Street View 360° image, follow the same steps.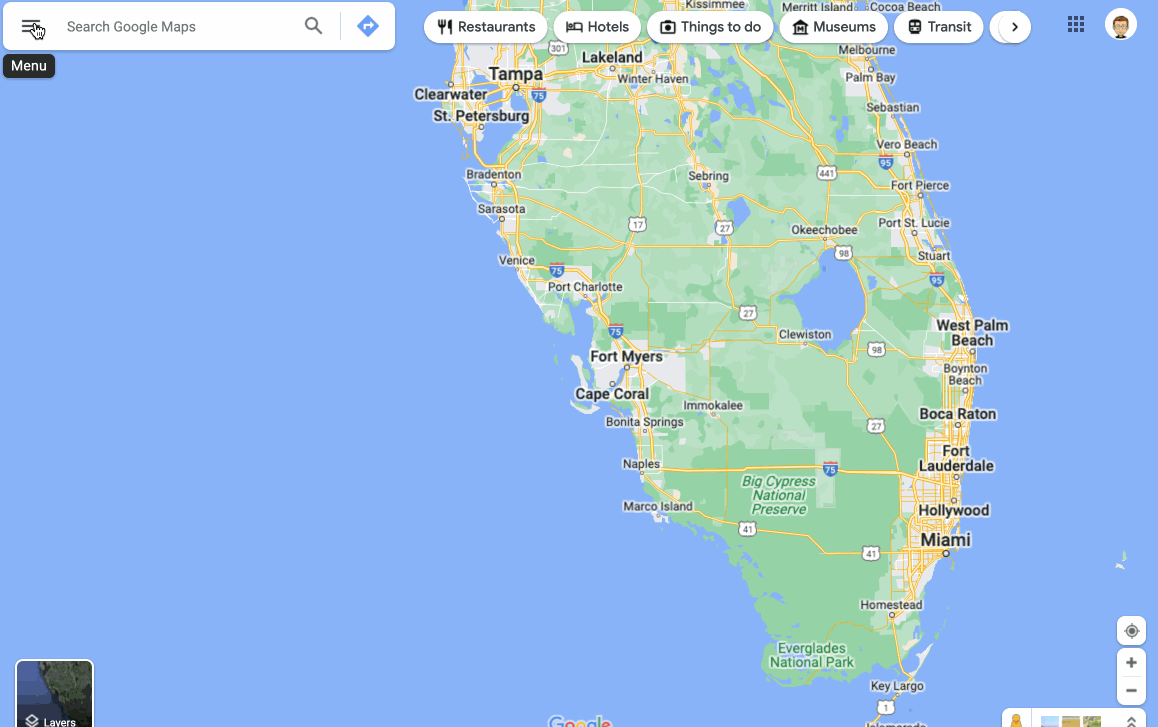 Generating an Embed Code from Google Maps
Step 2: Create a widget
Go to your BookWidgets account and click on Create a Widget. You'll now have to choose a Widget type. As you might know, BookWidgets offers over 40 activity templates, but if you want to embed content from another tool, the most used option is the Split Worksheet.
In a Split Worksheet, you can embed content on one side and add several questions next to it on the other side. There are over 35 question types, for example multiple-choice questions, fill-in-the-blank questions, word or sentence ordering questions, and more.

Among the list of 40+ widget types, the Split Worksheet is usually the best choice for integrating Google Maps
Other widgets that allow embedding of Google Maps are: the Quiz, the Worksheet, the Split Whiteboard, and the WebQuest. In this blog post, I'll explain the integration in a Split Worksheet. The information on embedding Google Maps in other widget types is available in this previous blog post.
Step 3: Paste the embed code or the URL in the Widget editor
After copying the embed code (or the URL) of the educational tool and creating the Widget, it's time to make the magic happen! Basically, the last step is to paste the embed code (or the URL) at the right spot in the Widget editor.
In the Widget editor, go to Text. Under Text pane type choose Web embed and open the Web Embed configuration section. Below Link type, select I have an iframe embed code, and paste your embed code in the field under iframe embed code.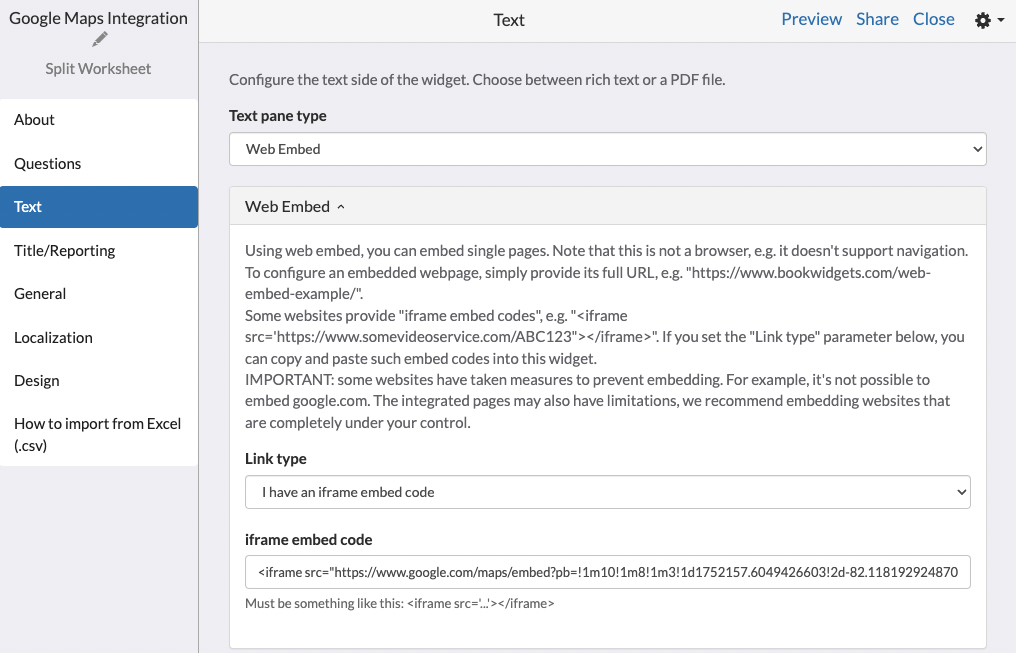 Pasting the Google Maps embed code in the text pane of a Split Worksheet
Click on Preview in the top right corner to check if the content appears correctly.
Follow this tutorial to then add questions in the Split Worksheet.
Wrap up
Wow, when I started writing this blog post about Google Maps lesson ideas, I never thought I would come up with so many possibilities. The fact is that it is hard to imagine our lives without Google Maps. Since Google Maps and its related services (Google Earth, Street View, My Maps) have so many features, you can certainly do something with it in your lessons. I hope you got some inspiration from this blog post.
Want to use the examples from this blog post in your lessons? Join this BookWidgets group.
Do you already use Google Maps in class, or are you planning to do so? I hope I have given you some new ideas that inspire you. Which of these ideas is your favorite? Let us know on Twitter! - @ibookwidgets
Or share Google Maps lesson ideas in the Teaching with BookWidgets Facebook group so that, in turn, you can inspire others!
Have fun exploring the world with your students!