30+ Ready-to-use lesson activities that will spice up your Google Classroom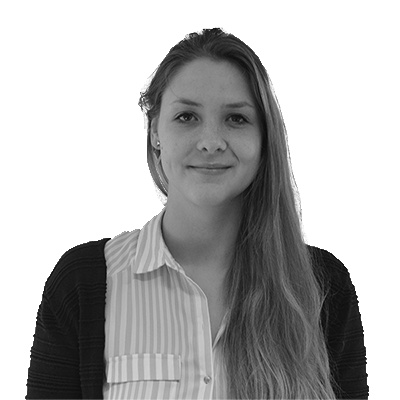 Lucie Renard —
You can do so many things to spice up your teaching when you're a Google Classroom teacher. But, most of the time, we all return to the safe lesson where nothing can go wrong.
Today you'll learn how to create safe lessons in Google Classroom. And nobody said they can't be fun too! We're going to spice things up! And the best is yet to come: you can use these lesson ideas for free and share them with students in your Google Classroom! Cue… confetti! 🎉
I'll split this post into 3 parts:
If you want to skip a part, just click the title you want to check out, but remember: I'm explaining everything for a reason. 😉

Spice up your Google Classroom with the BookWidgets add-on
Every digital lesson idea you'll find in this post is created in Google Classroom with BookWidgets. There's more. You can also monitor the activities live when students are working on them, review the work and give comprehensive feedback.
There are two ways to get started:
⚠️ Only for schools with a Teaching and Learning upgrade or Google for Education Plus account.
You can attach BookWidgets content to your assignments using this newest addition in Google Classroom. Go to Google Classroom, create a new assignment, choose the BookWidgets add-on, and you can start creating digital exercises and evaluations right there!
Learn everything about the add-on in this free 1-hour webinar. Register now and take your chance to win BookWidgets for your entire school!
Check out this tutorial or this short video on getting started with the BookWidgets add-on in Google Classroom. Then, reach out to support@bookwidgets.com so we can enable it for your entire school.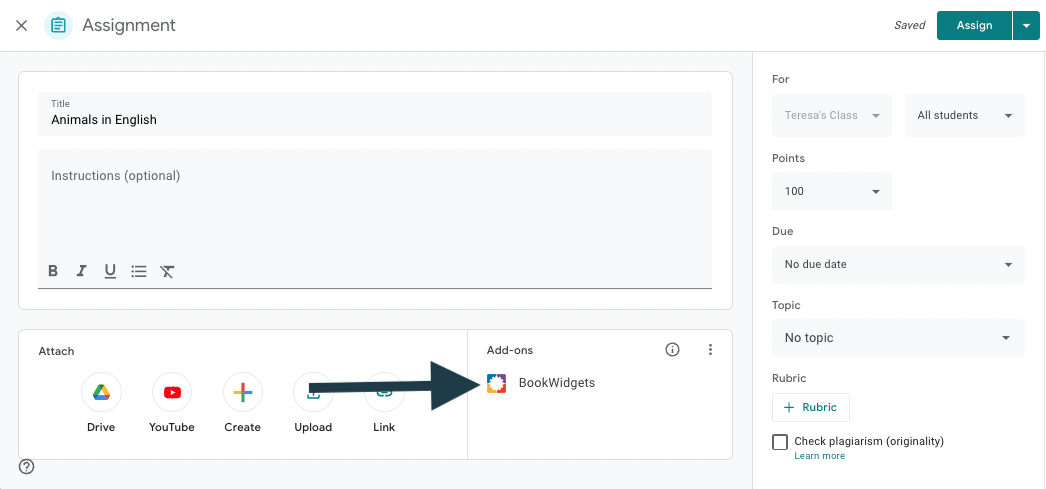 ⚠️ If you're using the free Google Classroom version, the BookWidgets Google Classroom extension is the right way to go.
Download the Chrome extension, open your Google Classroom and go to Classwork. Now, hit the "Create" button and choose BookWidgets.
Here's a step-by-step tutorial and webinar for beginners to get you started.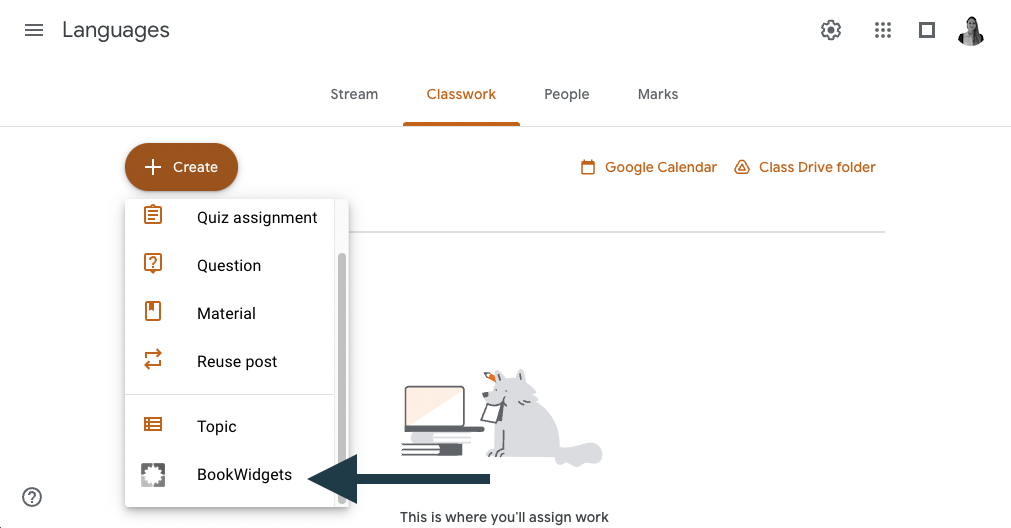 30+ ready-to-use lessons for in your Google Classroom
I've divided these free Google Classroom lessons or activities into 10 categories so you can find what you need in one click. Remember, you can use them for free make a duplicate. I explained how you can do this here.
Here we go!
Ready-to-use icebreaker activities and energizers
Use the following free lesson plans in Google Classroom to spice up a dull moment or to get to know each other better. If you can create a good team spirit and classroom where all students know each other on a deeper level, they will be more motivated to learn.
1. The Icebreaker Bingo
When you share this digital back-to-school bingo activity OR fun energizer with your students in Google Classroom, every student will get their own scrambled bingo sheet. Then, you only have to stand in front of the classroom and shout, "I'm looking for students who…have brown hair".
All students who, for example, have brown hair can stand up and immediately tick off that box on their bingo sheet. Pro tip: ask those students standing up to tell a bit more. That way, everyone gets to know each other better.
Another way to use this digital bingo sheet is to have your students walk around and look for another student that fits the box. When they find that student, they introduce each other and have a small chat. Then, the student returns to his place to tick off the box.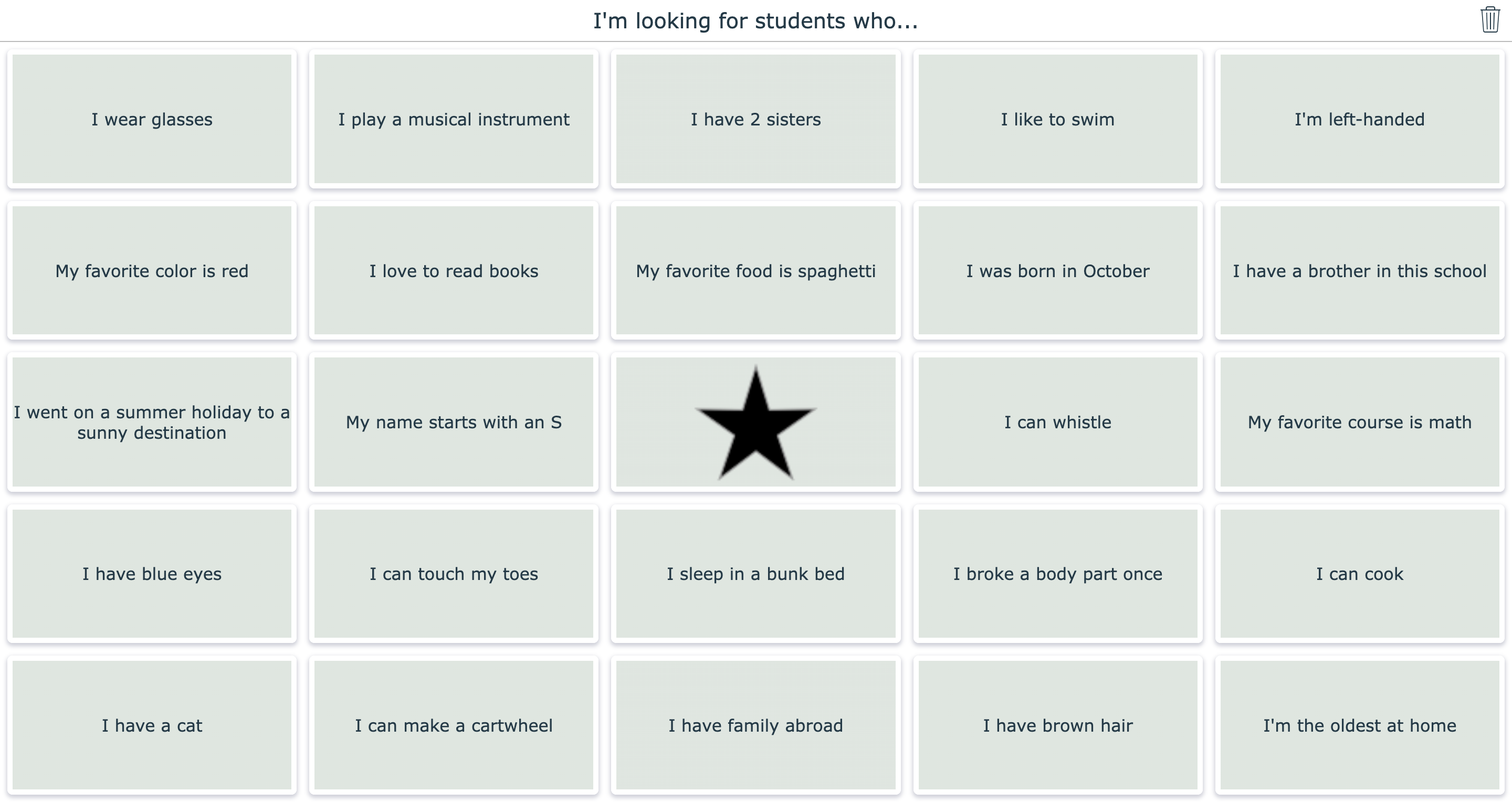 Click to open
2. Icebreaker questions
If you're out of creative questions to ask your students, this icebreaker activity for high school students is the solution. It was created and brought to our attention by Guido Merry, a teacher in the Netherlands.
There are two ways to play this question icebreaker game:
Project the question wheels on a large screen in your classroom and ask a student to come forward and spin the wheels. The first question is always for the teacher. The second question is for the student in front of the classroom and the last question is for another student. The student in front of the classroom, can name a fellow student. In turn, that student must answer the question and come forward to spin the wheel. Just continue like this. The game ends when every student has answered 2 questions.

Divide your students into groups of 5. Let them take turns spinning the wheels. Each student has to answer all three questions in their spin-turn.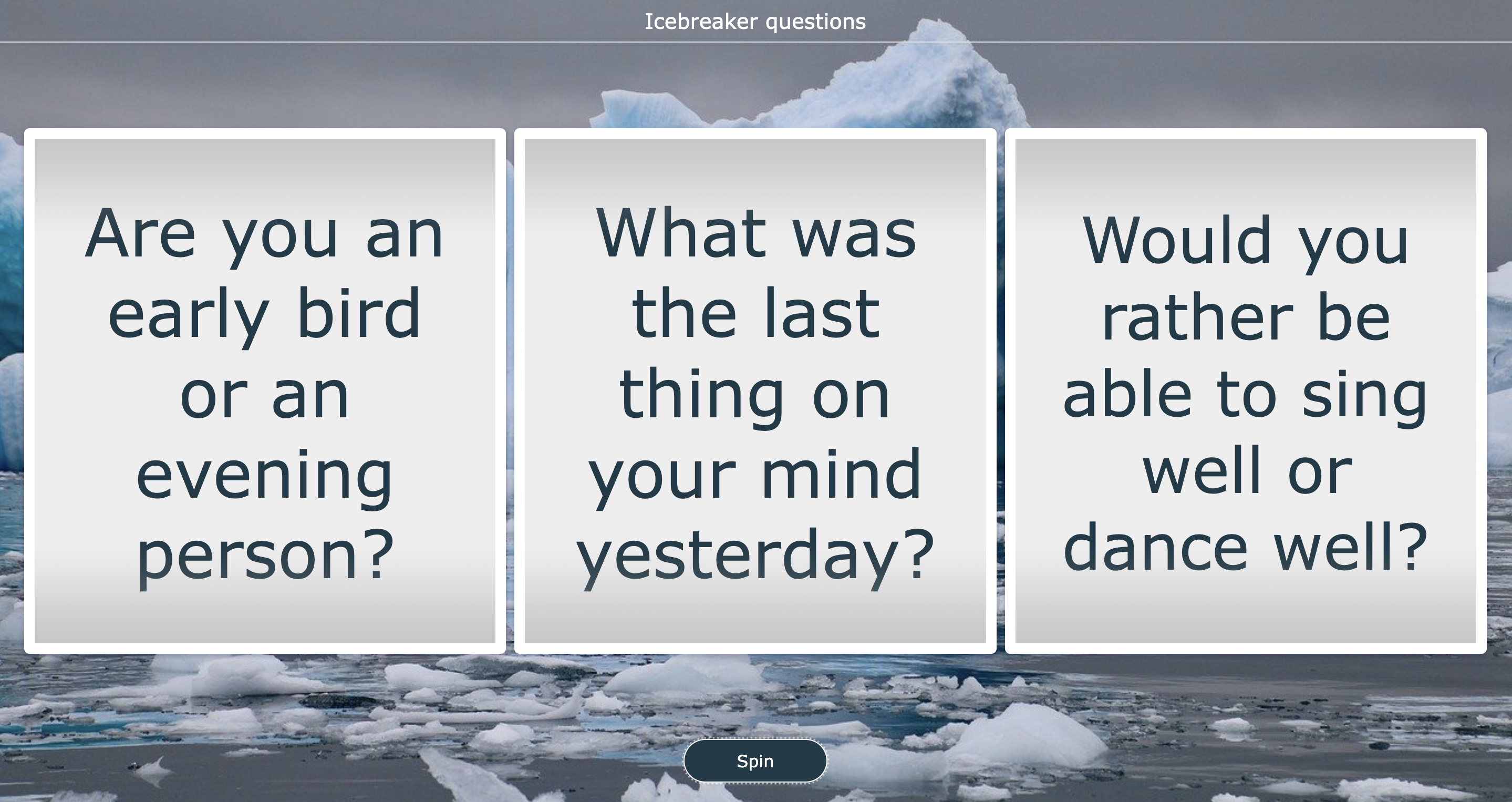 Click to open
3. The Facebook profile
The good thing about social media channels is that you have to make a profile and fill it out with information about yourself. It triggers students to think about who they are and how they want to present themselves.
So… it's a perfect first day of school activity. Below, you'll find a digital (fake) Facebook profile form your students have to fill out. When they've submitted all the forms to you, you pick out a few profiles anonymously and read their likes, intro, or interests out loud. Then, other students have to guess to which student the Facebook profile belongs.
Pro Tip: You can also use this as an ESL lesson and let students practice writing.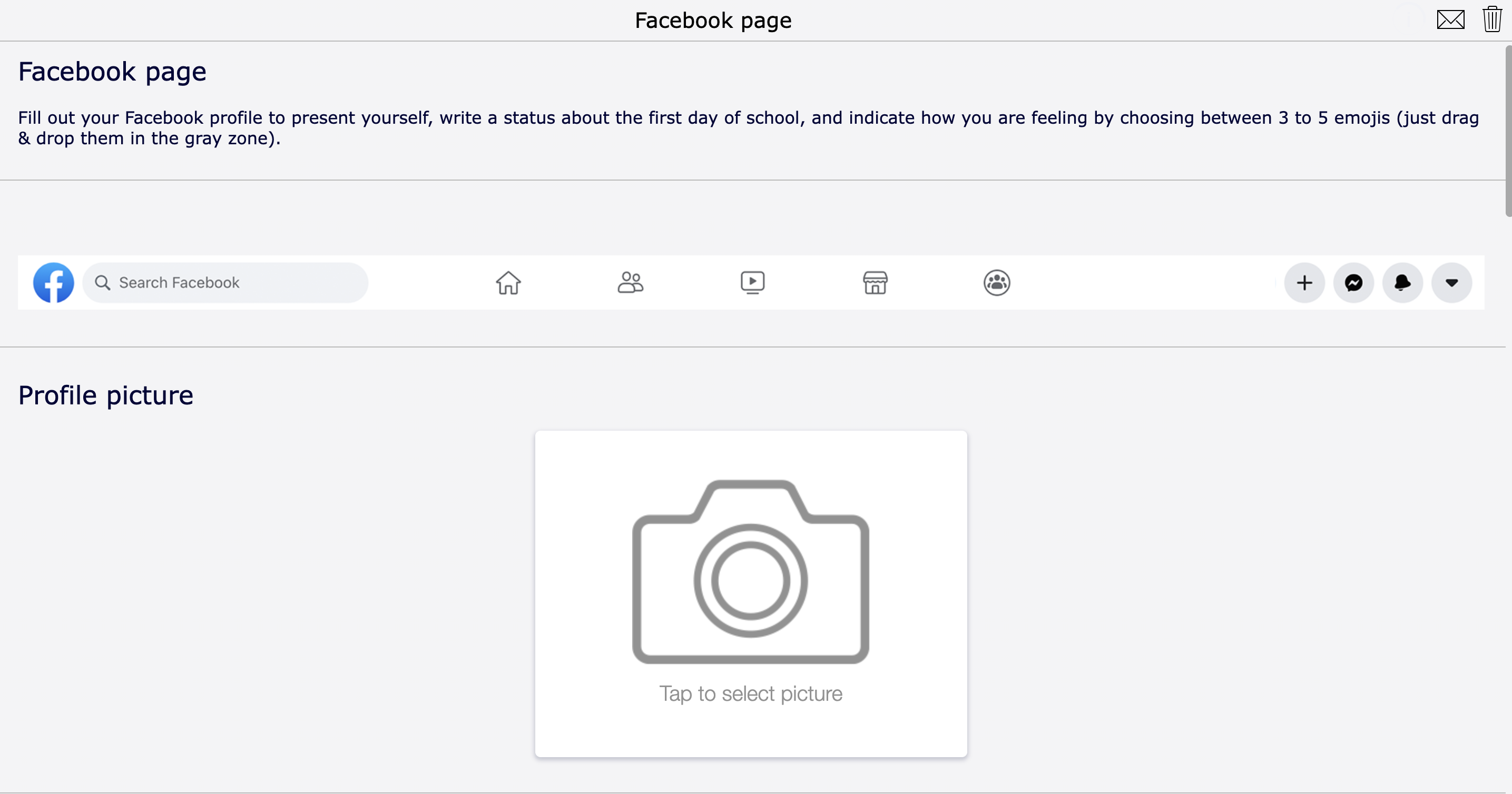 Click to open
4. Two Truths, One lie
A fun classic. This will get your students to know each other on a deeper level. It's a lesson activity you can use on the first day of school and when a dull moment hits as a classroom energizer.
All your students submit 2 truths and 1 lie to you, and you turn it into a fun game! You can read the truths and lie out loud in front of your class, without telling who it's from AND without revealing what the lie is. Your students will have to guess the name of the student, and they will have to guess the lie. Then, that student may tell them if they guessed correctly and elaborate on his or her story.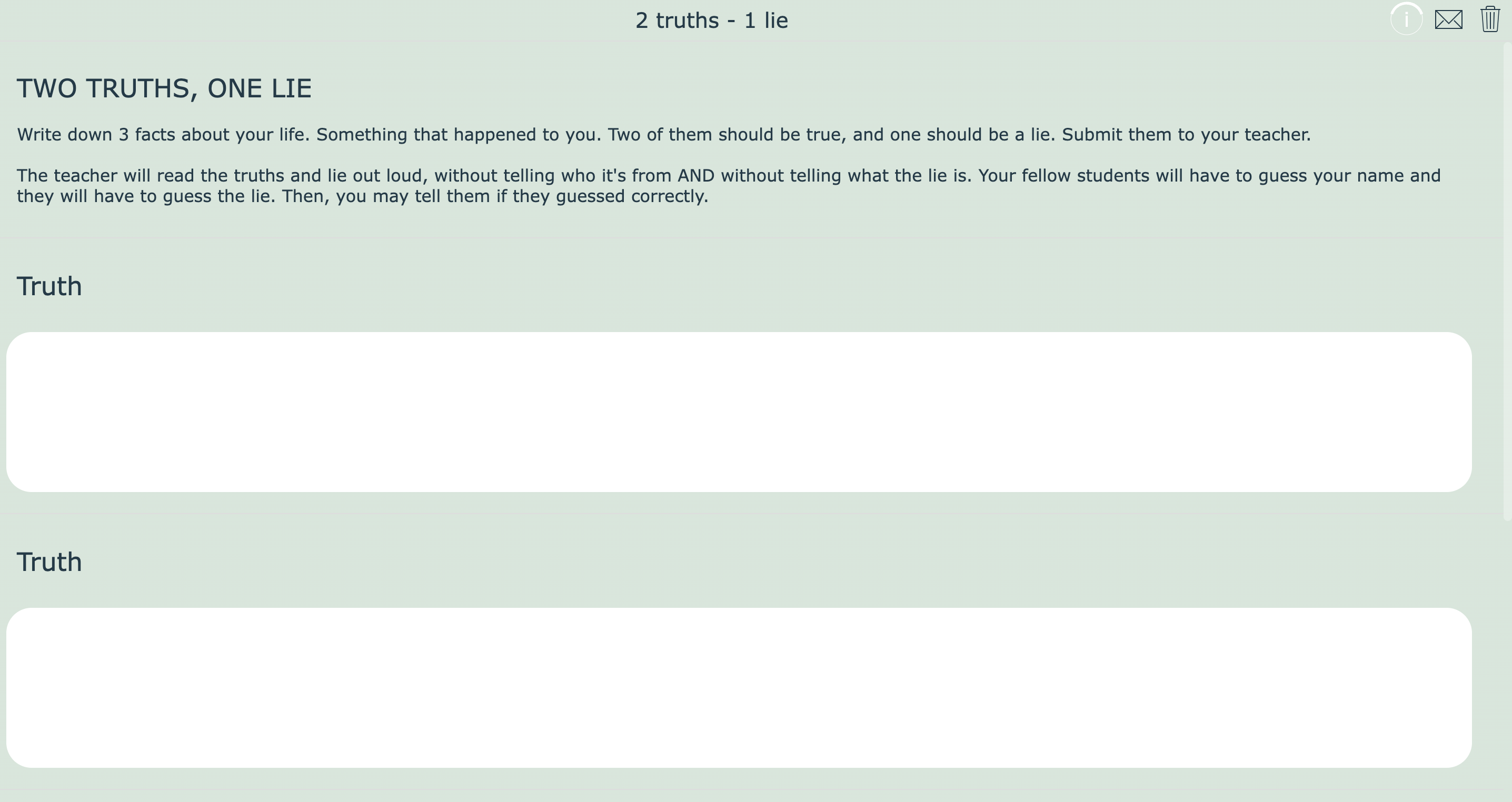 Click to open
5. The M&M game
When there's candy involved, students are suddenly all ears.
This free activity will help your students get to know each other in a group, playing a fun game. They have to pick an m&m and complete a challenge or answer a question in order to be allowed to eat the m&m.
Just share the game with your students in Google Classroom. Each group just needs 1 computer or tablet for the game board. Make sure to go over the rules before they get started.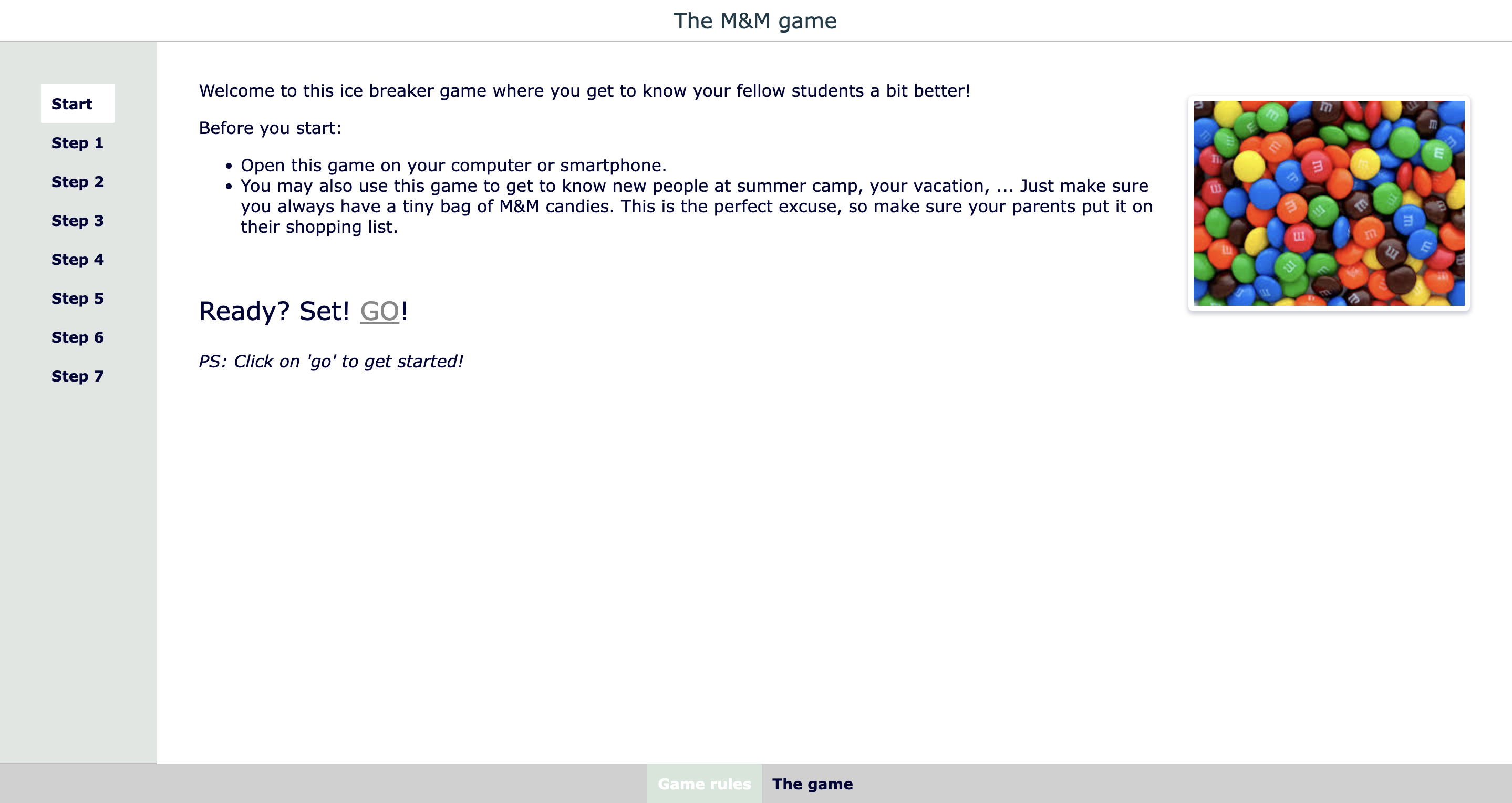 Click to open
Ready-to-use lessons to explain and introduce classroom rules
When you want to introduce your classroom rules, or maybe re-introduce them if needed, you can do this in a fun way or in a way where students have a say about your rules too. Go check out a few ready-to-use lesson ideas on explaining classroom rules. There are more free lessons in this blog post about classroom rules.
6. Emoji rules
This pair-matching game about your classroom rules is perfect for younger learners. Using emojis will help mediate meaning. Students have to find the classroom rule and pair it with the right symbol, or in this case, emoji.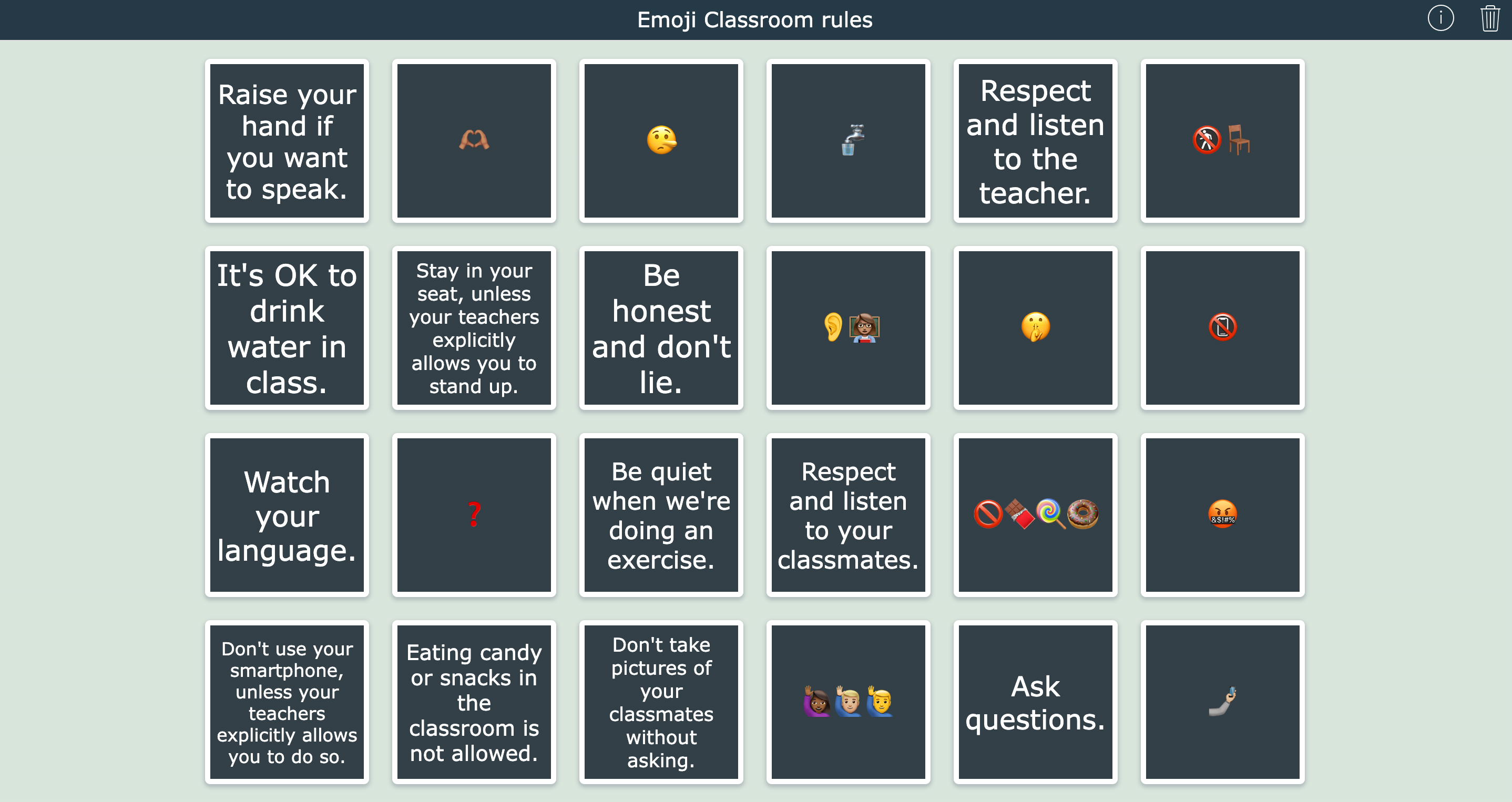 Click to open
7. Collaborate on classroom rules
Ask your students to fill in this form to get a clear view of the rules that students find important. Giving them a choice means that they will be more willing to obey your classroom rules. In Google Classroom, you can always attach the final version of your rules to this assignment afterward. A final version can be something like this digital classroom poster explaining the rules.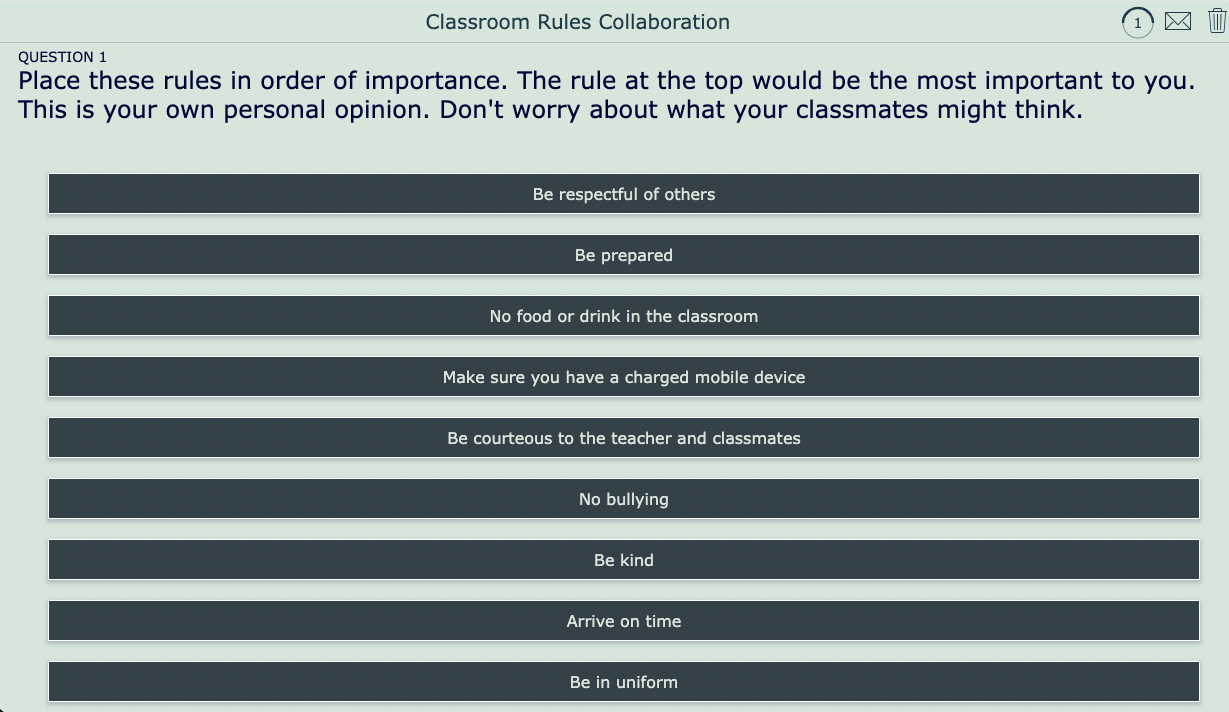 Click to open
8. Classroom rules checklist
Here's another way to give students a voice when it comes to introducing your classroom rules. List your classroom rules in a checklist and let students check the boxes. You can review their answers and discuss the rules that students indicated they didn't understand or they didn't agree with. Go check out the lesson plan below, adapt it with your rules, and share it on Google Classroom. 👇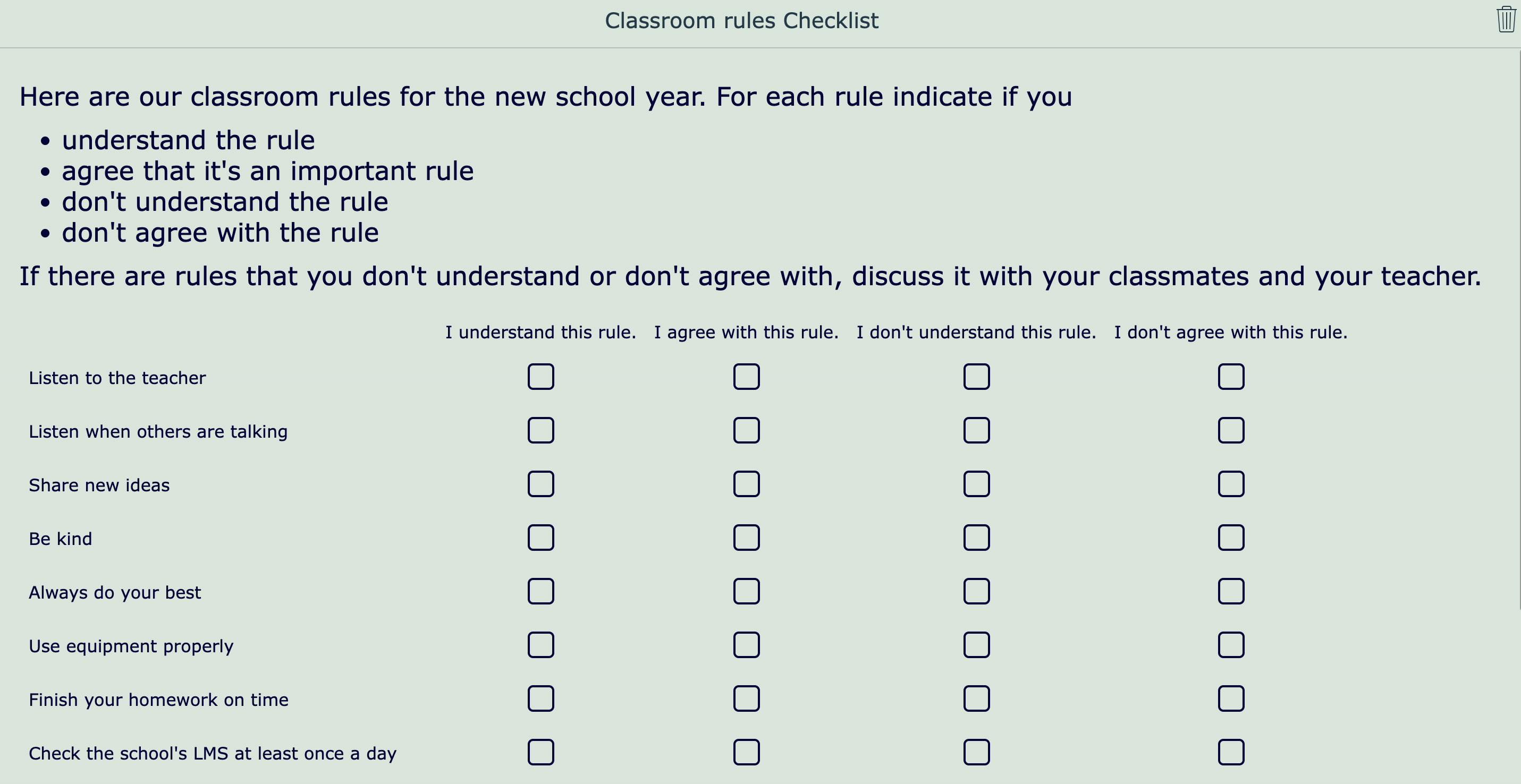 Click to open
9. Classroom rules memes
This is the one I'm using every year again, and my students love it! I teach older students, so I need to keep my cool when introducing my classroom rules. As my students are basically adults, they should know what is allowed and what is not, but they also need to know what I find respectful behavior without distancing me from them too much.
Go check out this fun carousel with memes. Click on the dots on the images to get a better explanation.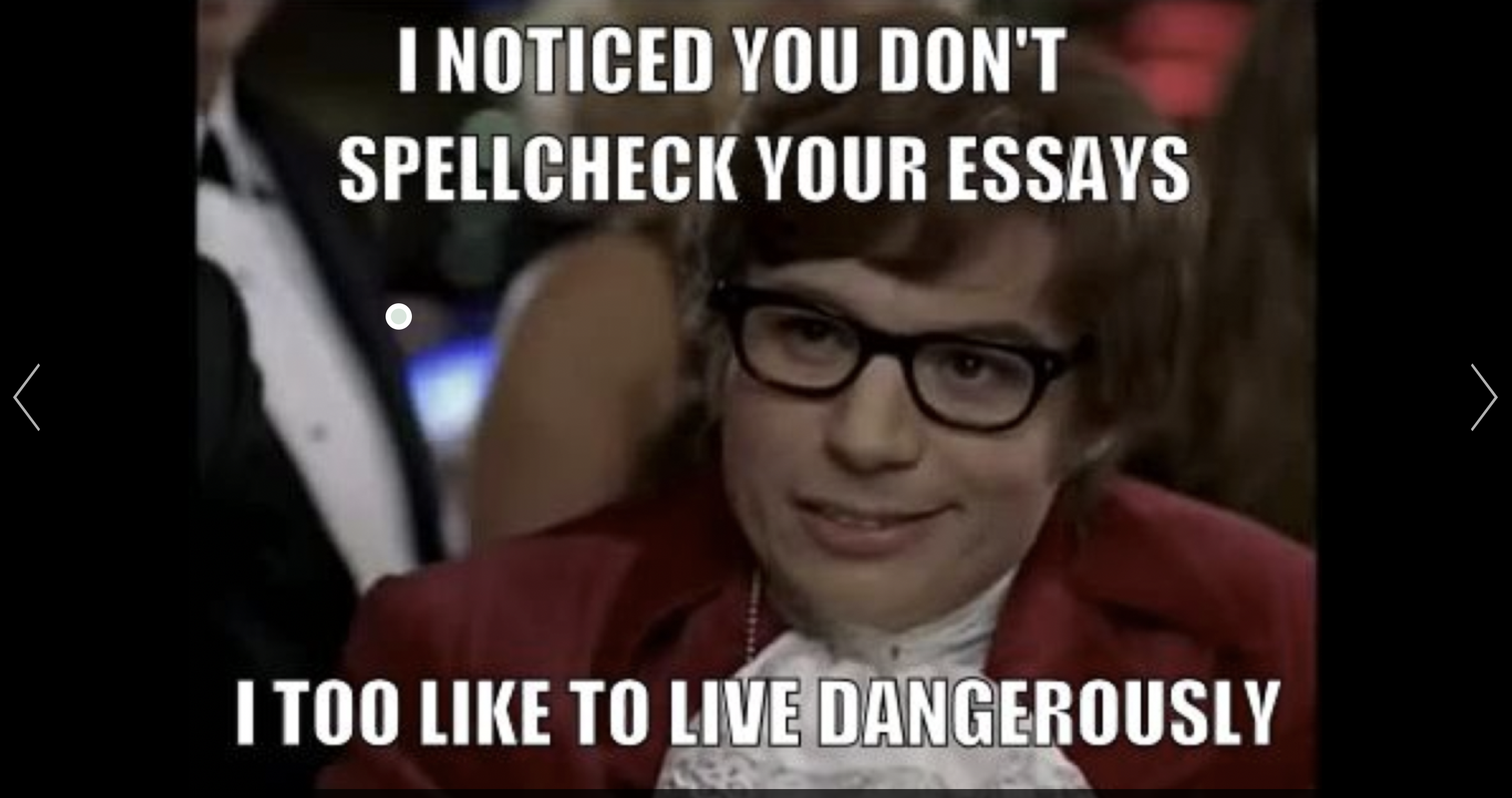 Click to open
Ready-to-use lessons to start a lesson in a creative way
Use the next lesson plans to start a lesson in a fun way or to introduce a new concept. Ask your students to go to Google Classroom at the start of the lesson, fill it out, and submit the lesson. The activities below vary from digital whiteboard lessons to interactive worksheets.
10. (Fore)knowledge hashtags
When you start a new lesson or teach a new concept, ask your students about the topic before explaining it. This way, they activate possible foreknowledge and you can see what your students already know.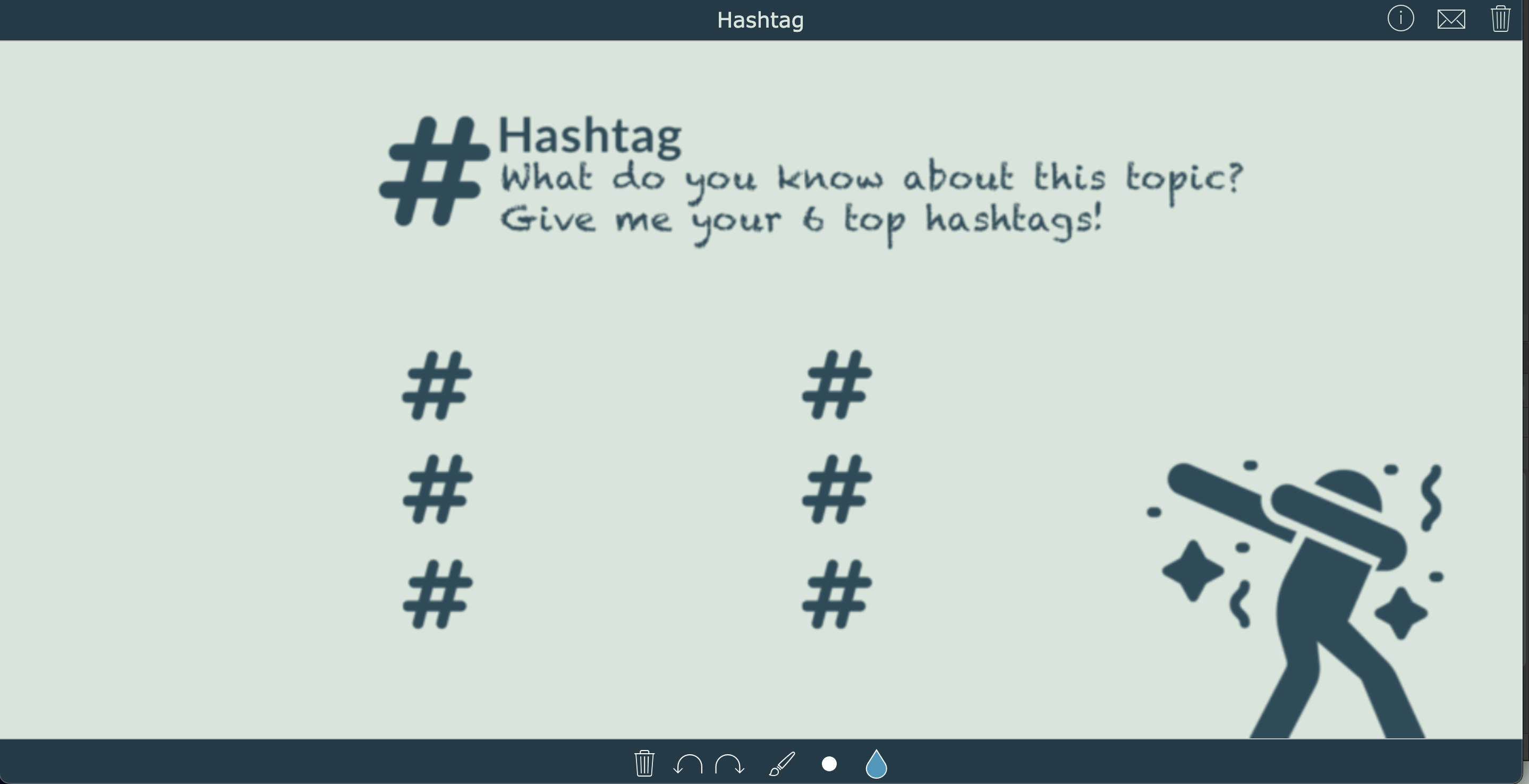 Click to open
11. Change the world
Ready for a fun writing exercise at the start of your lesson? You can also use the next lesson to start a conversation. Or use it as a good lesson starter to make the jump to your next big topic: SDGs! Pick out a few of your students' answers that fit the transition to your lesson topic.
Share this digital worksheet with your students in Google Classroom, and they can start writing. When finished, they hit the "submit" button so you can gather their responses.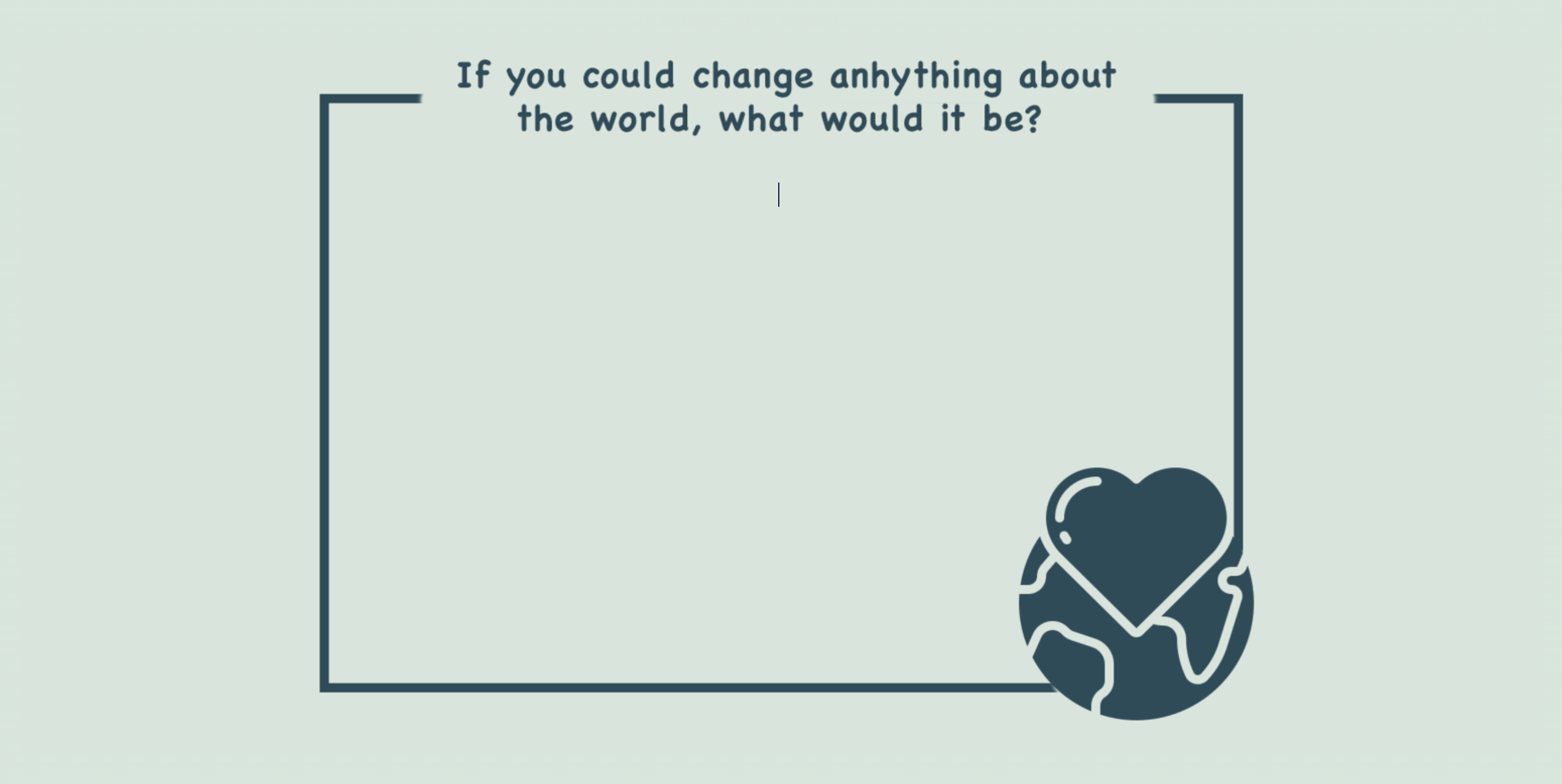 Click to open
12. Sunshine & sunbeams
Share this digital whiteboard lesson in your Google Classroom when you're introducing a new topic. On your blackboard, draw a big sun, with the new subject in the middle of the sun. Ask your students to write down what they already know about the new topic on their digital whiteboard. When finished, ask some students to come to the whiteboard in the front of your classroom and note one word that they have on their whiteboard.
Go check it out. Students can use different tools in the bar below to complete their whiteboard.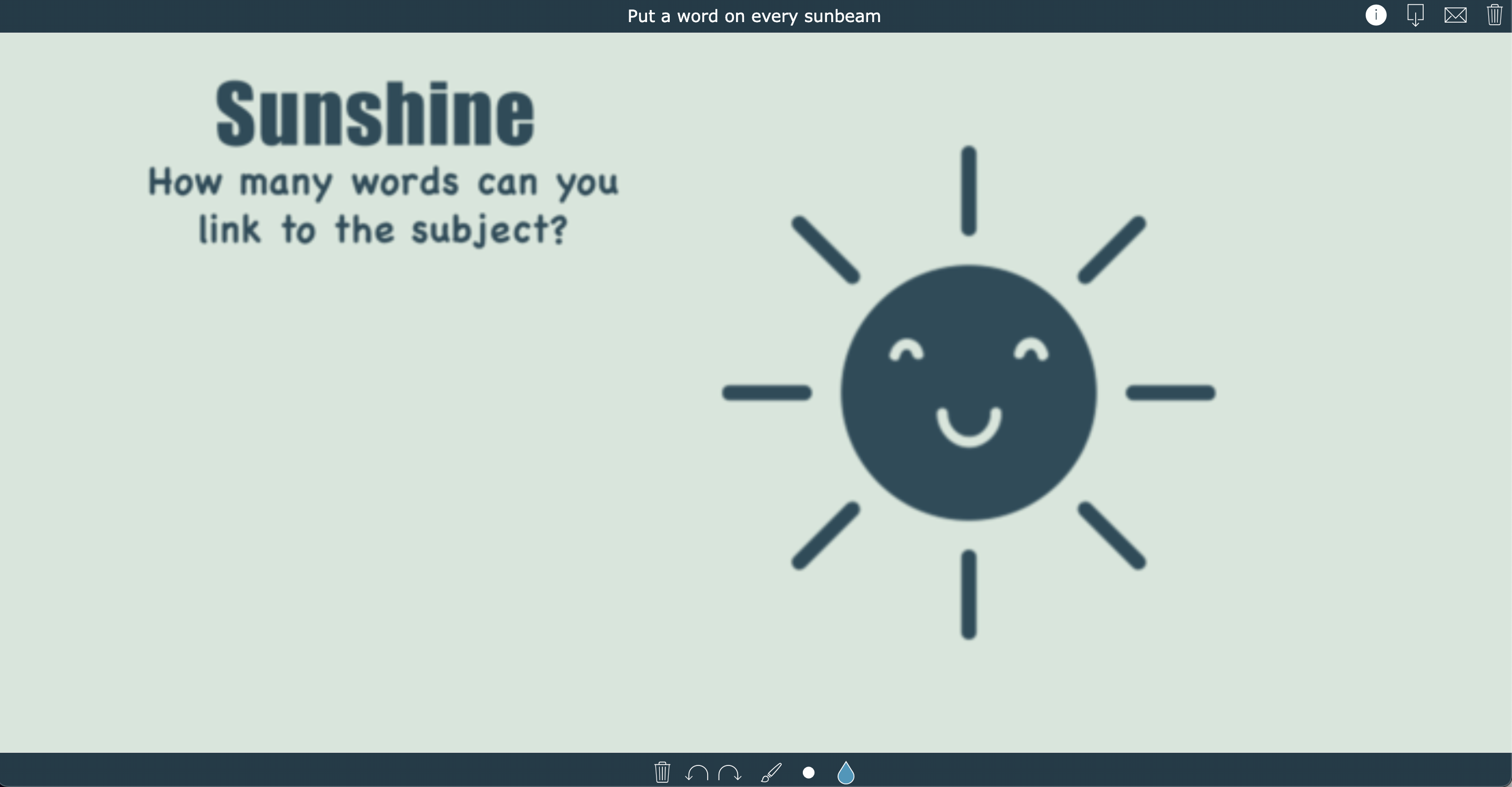 Click to open
Ready-to-use lessons to end a lesson in a creative way
Go out with a BANG 💥 … or a fun exit ticket or exit slip. Exit tickets are quick activities at the end of your lesson. Most of the time, you check your students' understanding of the lesson they just got. It also helps them summarize and remember better. Here's a post with 60 digital exit tickets. I've listed a few of them below.
13. Popcorn exit ticket
Share this digital exit ticket worksheet with your students in Google Classroom at the end of your lesson. Ask your student to write down words that they learned today or that connect to today's lesson topic. When they submit their work, you have everything together in the reporting dashboard and can check if some students didn't write down much. Make sure to give extra instructions to those students. Remember: it's a formative lesson activity - no grades!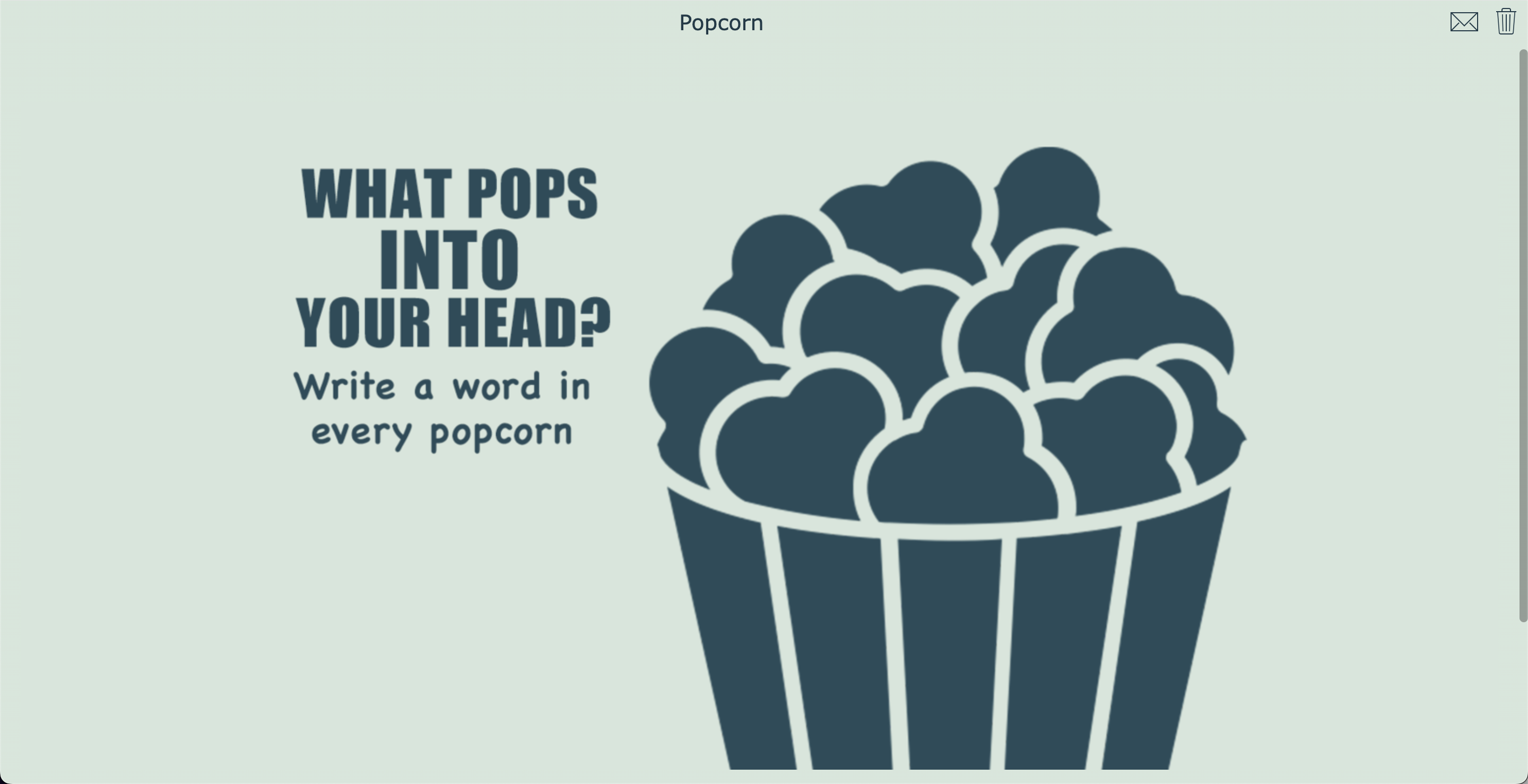 Click to open
14. Exit in 3, 2, 1
Trigger your students to think about the lesson they just got. Let them name 3 things they just learned, 2 things they want to learn more about and 1 question for the teacher about the lesson. It's a good way to rehearse and see if there are more questions.
Students can open the worksheet you've shared in Google Classroom and start editing right away! Go check it out 👇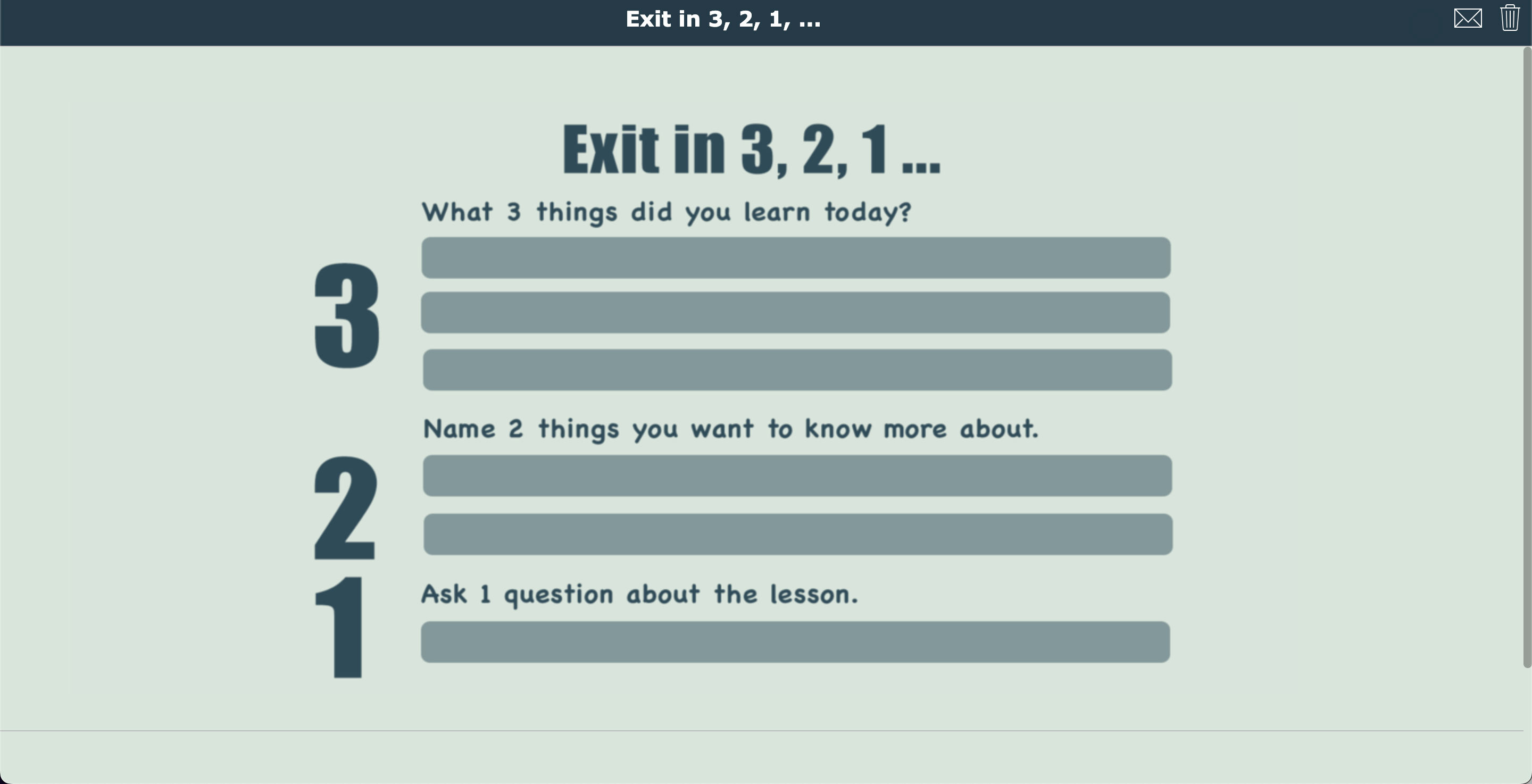 Click to open
15. Three times different
In this exit slip, students have to explain the lesson in three different ways. They have to write a summary, draw the lesson, and give an example. Students can use the whiteboard tools in the bar below. They can use the types tool, drawing tool, and they can even add an image by clicking on the photo icon. This tool is perfect for when your students want to make a drawing on paper and upload it to your digital whiteboard.
Go check out this free lesson plan below 👇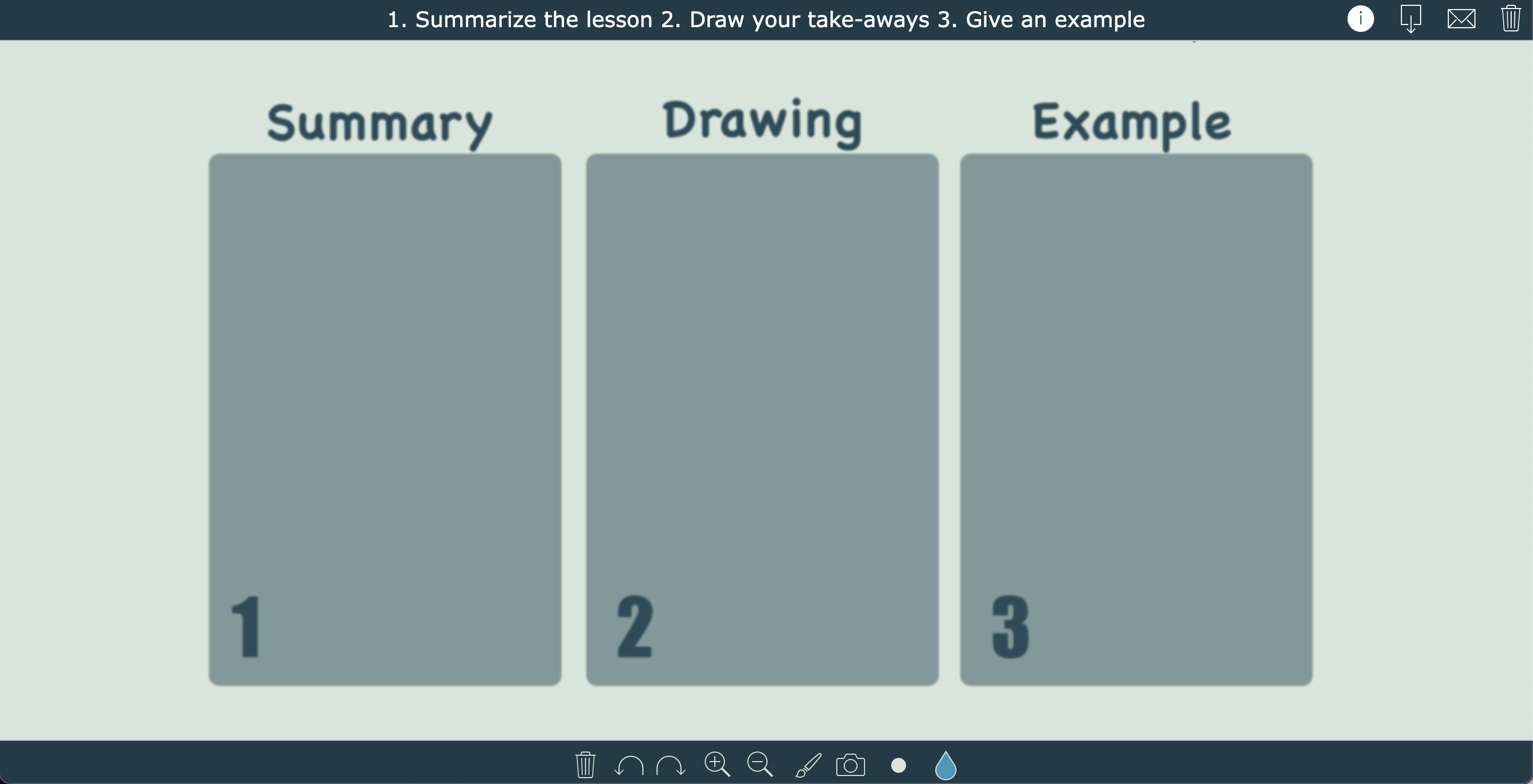 Click to open
Ready-to-use lessons for students to ask for help
"Are there any questions?" If you're a teacher for a long time already, you know that no student will ever answer this question. 🤦‍♀️ Check out the next ideas that will prompt your students to ask questions or ask for help.
16. 3 stars and 1 wish
This is the perfect example of an exit ticket and a way for students to ask for help combined in one lesson activity. Students indicate what they understand perfectley after your lesson, and they also get the chance to ask for help in their "wish".
Click the example below to take a look. As it's a digital worksheet, students can add their answers using their keyboard.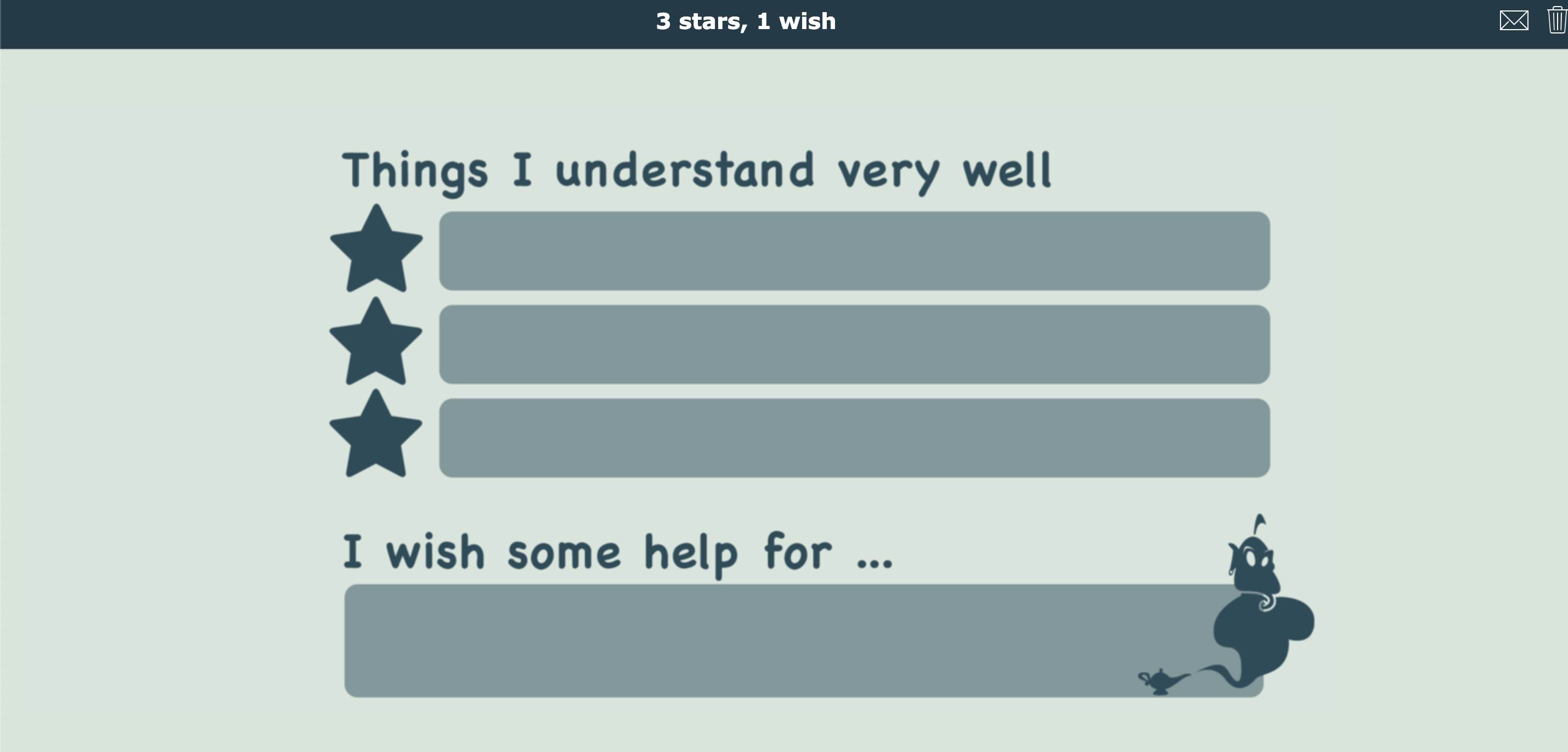 Click to open
17. Mood meter
This mood meter activity for primary school students is the perfect lesson starter. It's a subtle way to know what is happening in your student's minds. As you know, it's not always easy to have an understanding of what is going on. So use this lesson once in a while. Students can talk about their fun weekend, holiday, and evening. And sometimes, the meter will alert you to open up a conversation with students that are not feeling well. There are also students that will indicate that they don't understand your lesson and need help.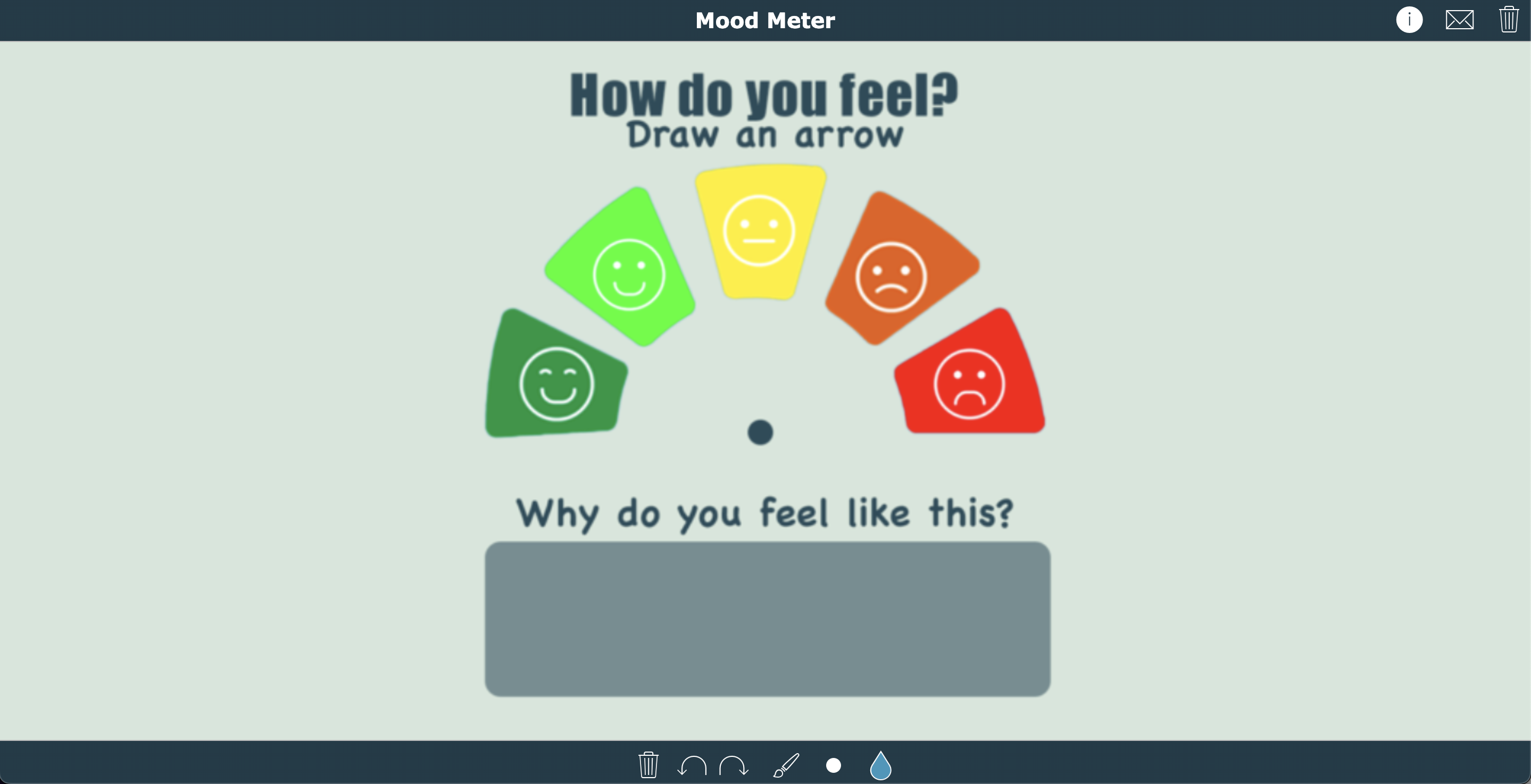 Click to open
18. Traffic light
This interactive whiteboard activity offers students a creative way to ask for help. They color the traffic light and explain their choice. Students send their answers to you in Google Classroom, and you can check immediately which students need help. In the next lesson, you gather all students that indicated a red traffic light and give them instructions again.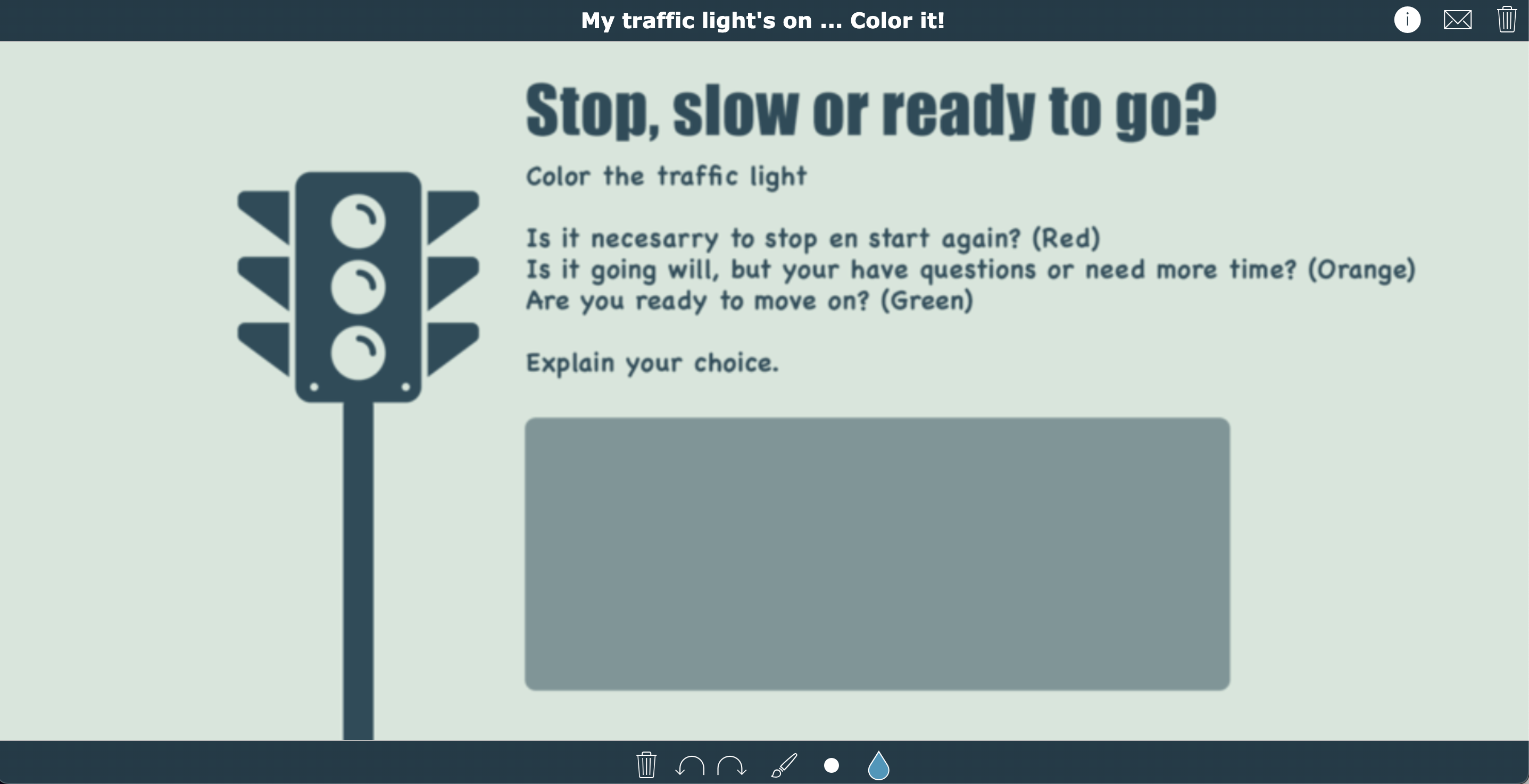 Click to open
Ready-to-use lessons for student self-assessments
You don't always have time to give personalized feedback. One way to go around this is by letting your students assess themselves. You'll also see that students are often more critical about their work than you are…
19. Self-assessment rubric
One of my favorite question types in the BookWidgets quiz or (split) worksheet widget is the rubric question type. I know you can create rubrics in Google Classroom too, but these rubrics can be part of your students' assignments, and they can be used as a self-assessment tool.
In the lesson example below, students have to assess themselves on the task or project they just completed. You can see all the results in your reporting dashboard in Google Classroom. Here, you can indicate whether you agree with the students or not, by filling out the rubric too. Return your feedback without grades (or with grades - that's possible too).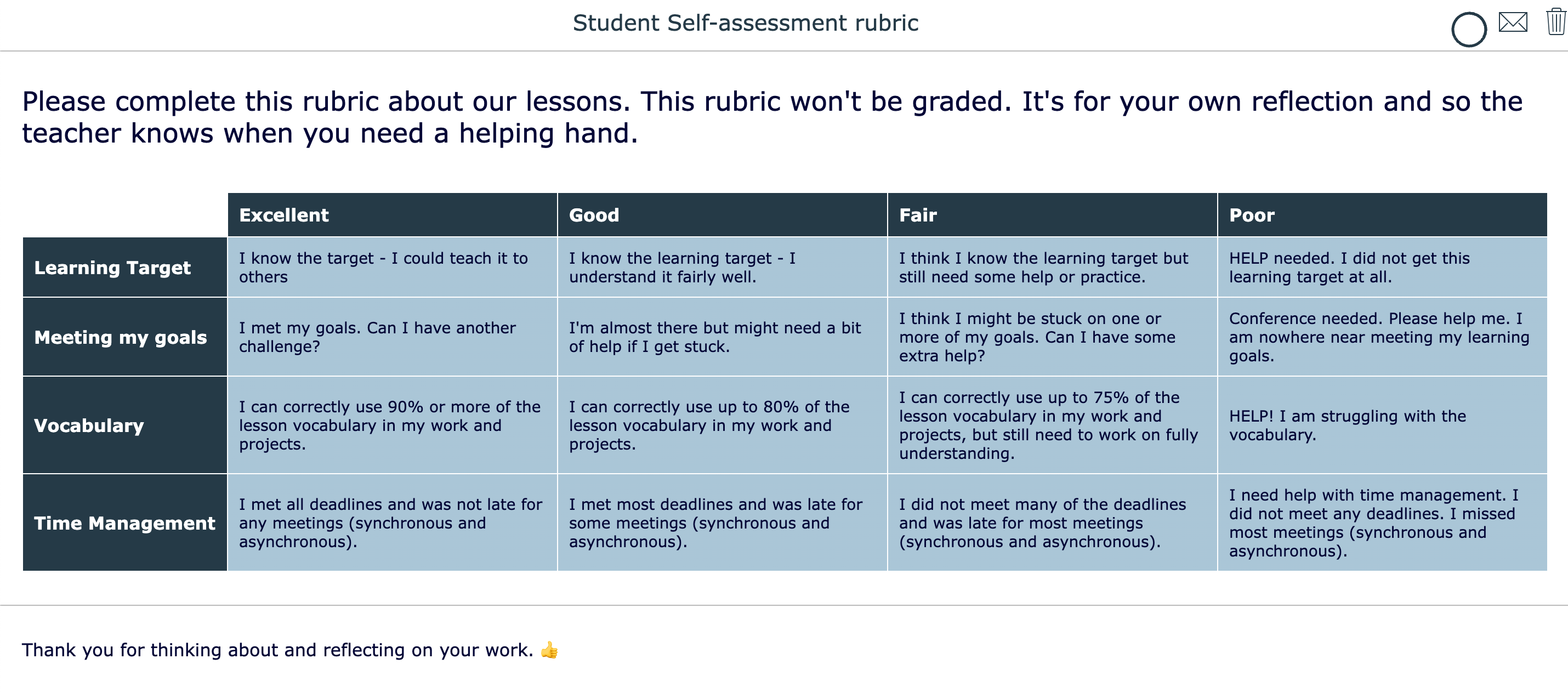 Click to open
Click here to learn more about creating digital rubrics.
20. Emoji self-assessment
A fun and quick way to check metacognition is by letting them complete a self-assessment form… with emojis! And you can immediately see which students need more help on which learning goals. Ask your students to fill it out after a task, project, or homework about the topic.
Ask your students to go back to the worksheet in Google Classroom just before a test about the topic. Their answers will still be there. It will help them focus on the parts that are a bit challenging.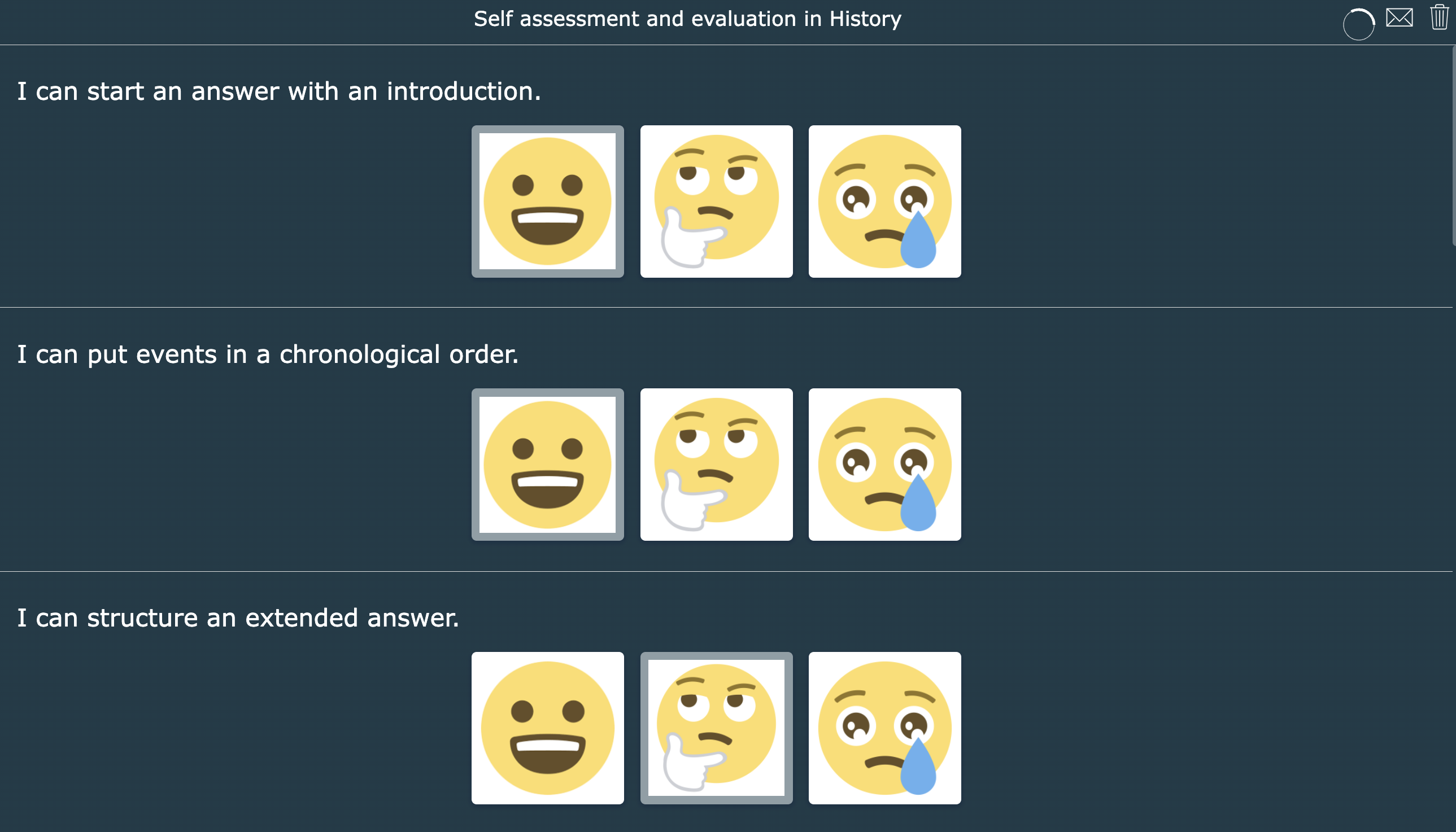 Click to open
21. SELFIE
This is a resource students can use anytime before they submit their homework or a task. It will help them elevate their work to a higher level. And it's fun!
Go check out how this SELFIE assessment works 👇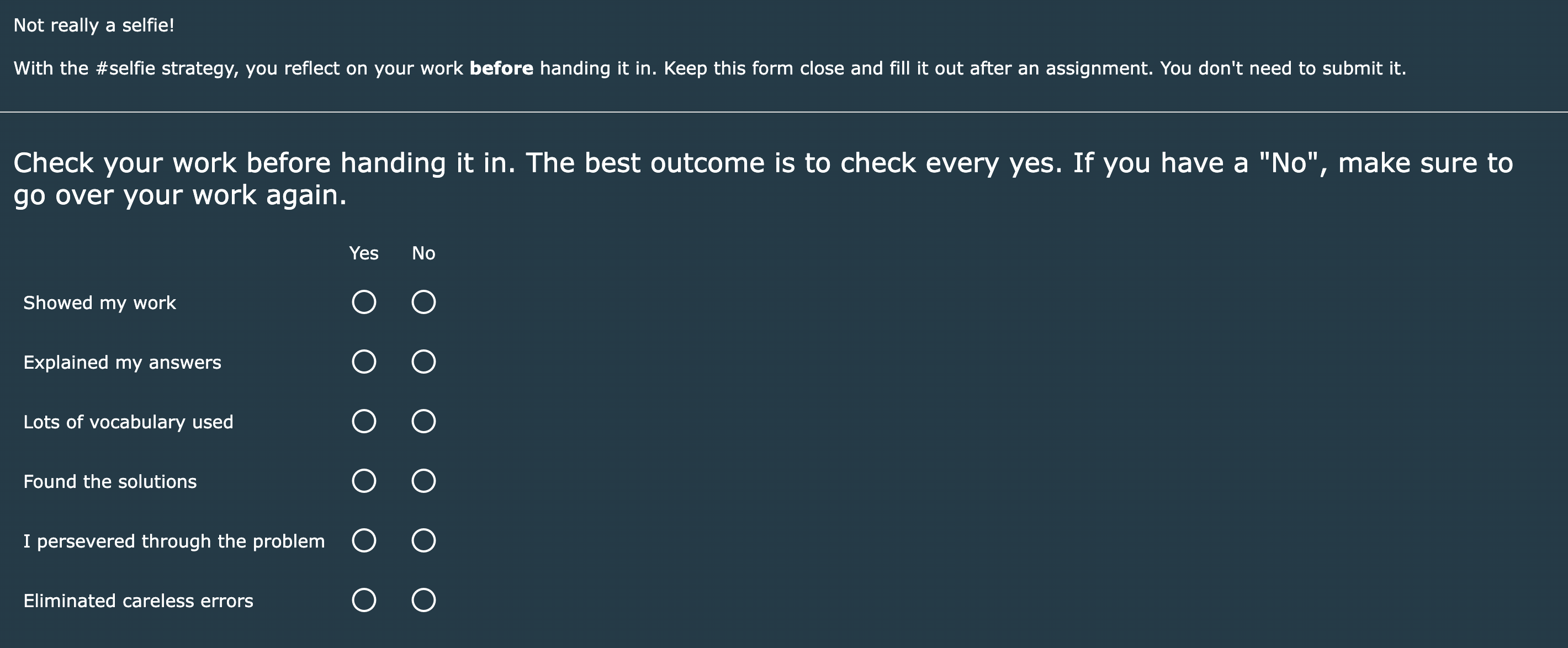 Click to open
22. Tops and Tips
This is a very interesting self-evaluation for students and can also be used as a peer evaluation. After a presentation or task, students need to think about 3 tops - things that went great - and 2 tips - things they could do better next time -. Students can submit their self-assessments to the teacher, or they can download what they've filled out. They can also just leave their answer like that and come to Google Classroom again. Their answers will still be there.
The peer assessment goes like this. All your students open the assignmnet in Google Classroom and fill it out for the student that is presenting. Using the share button, students can send their tops and tips to the student (e-mail address). When that's done, they delete their answers (dustbin button) and fill them out for the next student.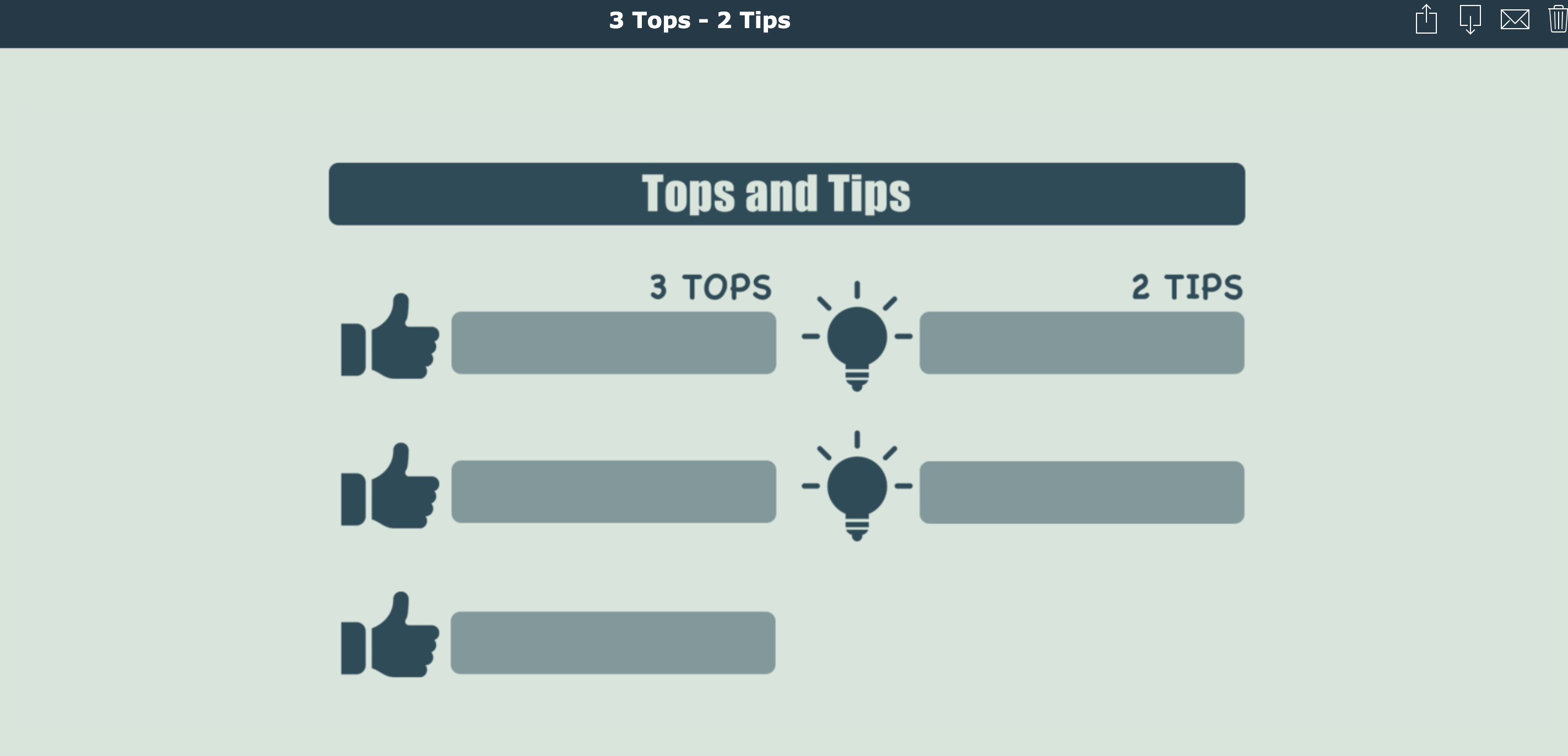 Click to open
Ready-to-use lessons for creative book reports
There are so many fun assignments to do when students have read a book. Think out of the box and get creative. Here are 15 digital book report activities. I listed my 3 favorite activities below. 👇
23. Letter to the author
Here, students have to write a friendly letter to the author. When shared in Google Classroom, they can easily submit their work to the teacher and share it by e-mail with the author (if they can find the fanmail address). So much fun!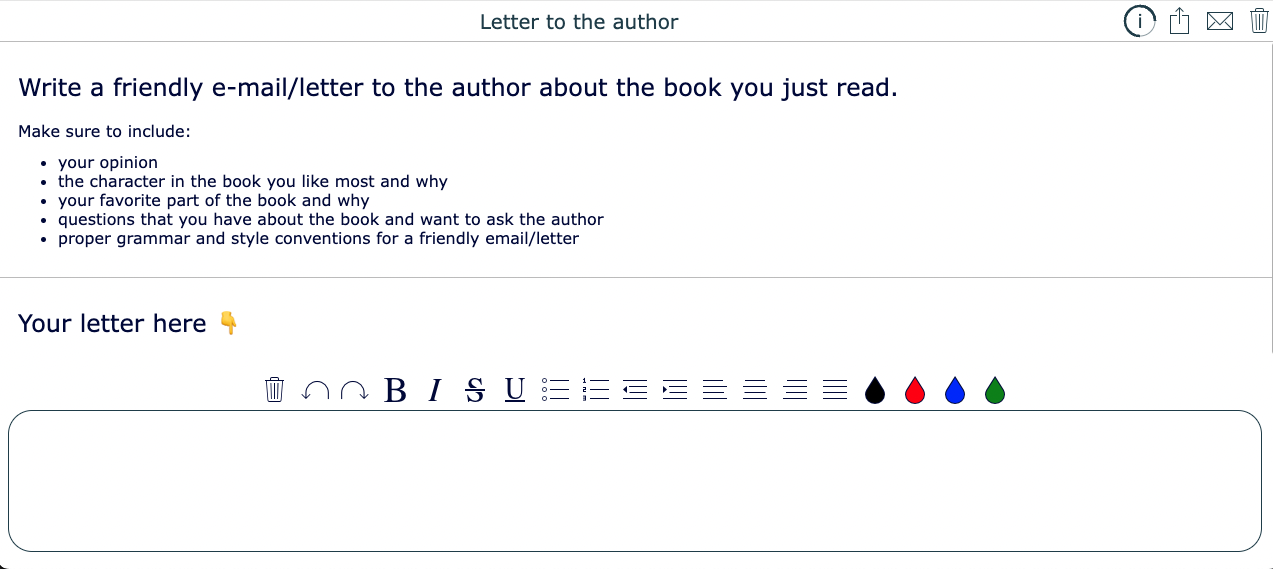 Click to open
24. Story timeline
In this creative book report lesson idea, students have to create a timeline of the story. When did what happen, chronologically? They have to add the biggest events in the story to the timeline.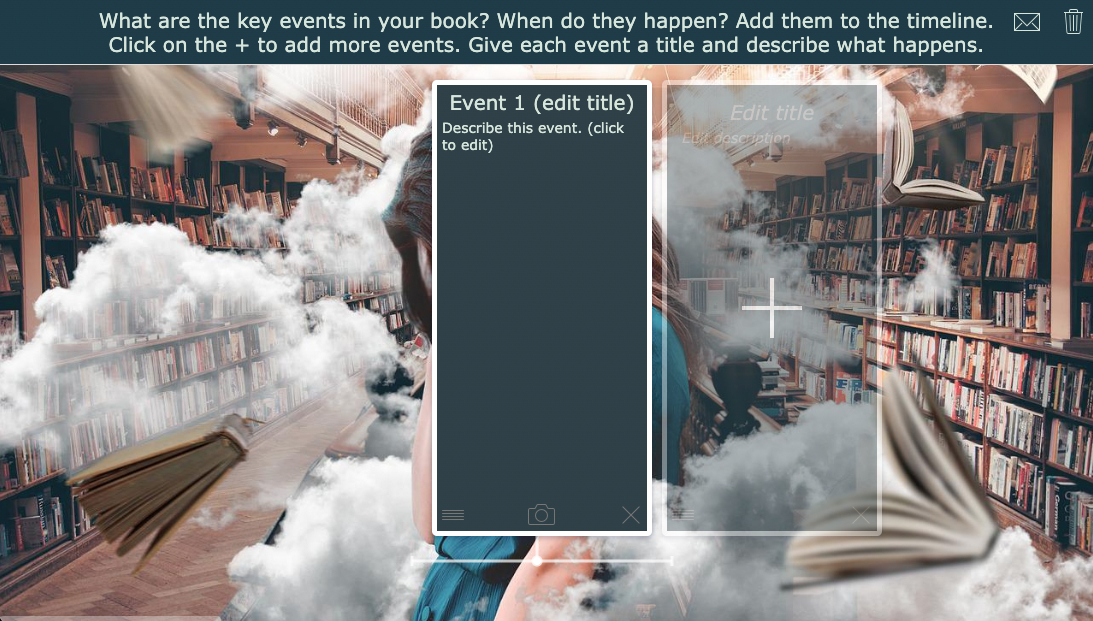 Click to open
25. Comic story
This fun whiteboard activity has the grid of a comic. Students can create a comic story out of their book and add drawings and text balloons.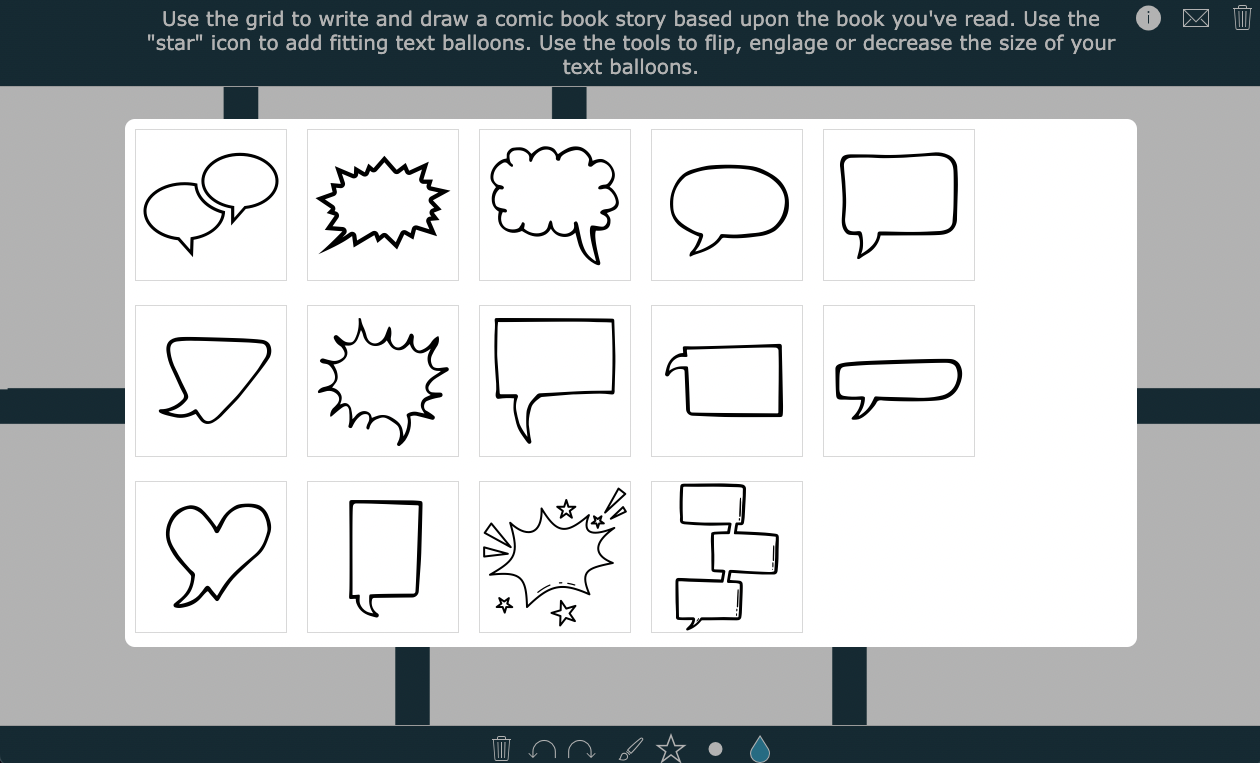 Click to open
Ready-to-use lessons about special days in the year
There's a special day in the year for about everything that exists on this planet! Go check out this awareness days folder in BookWidgets with fun, ready-to-use activities. Share them with your students to introduce the fun days in a creative way. It's a work in progress! We'll keep sharing new lesson activities about the awareness days every week!
26. April fools' day around the world
Here's a fun lesson about culture and traditions around the world. How can one fun day be so different? Let your students go through this frame sequence widget or project this lesson on the big screen and start a conversation.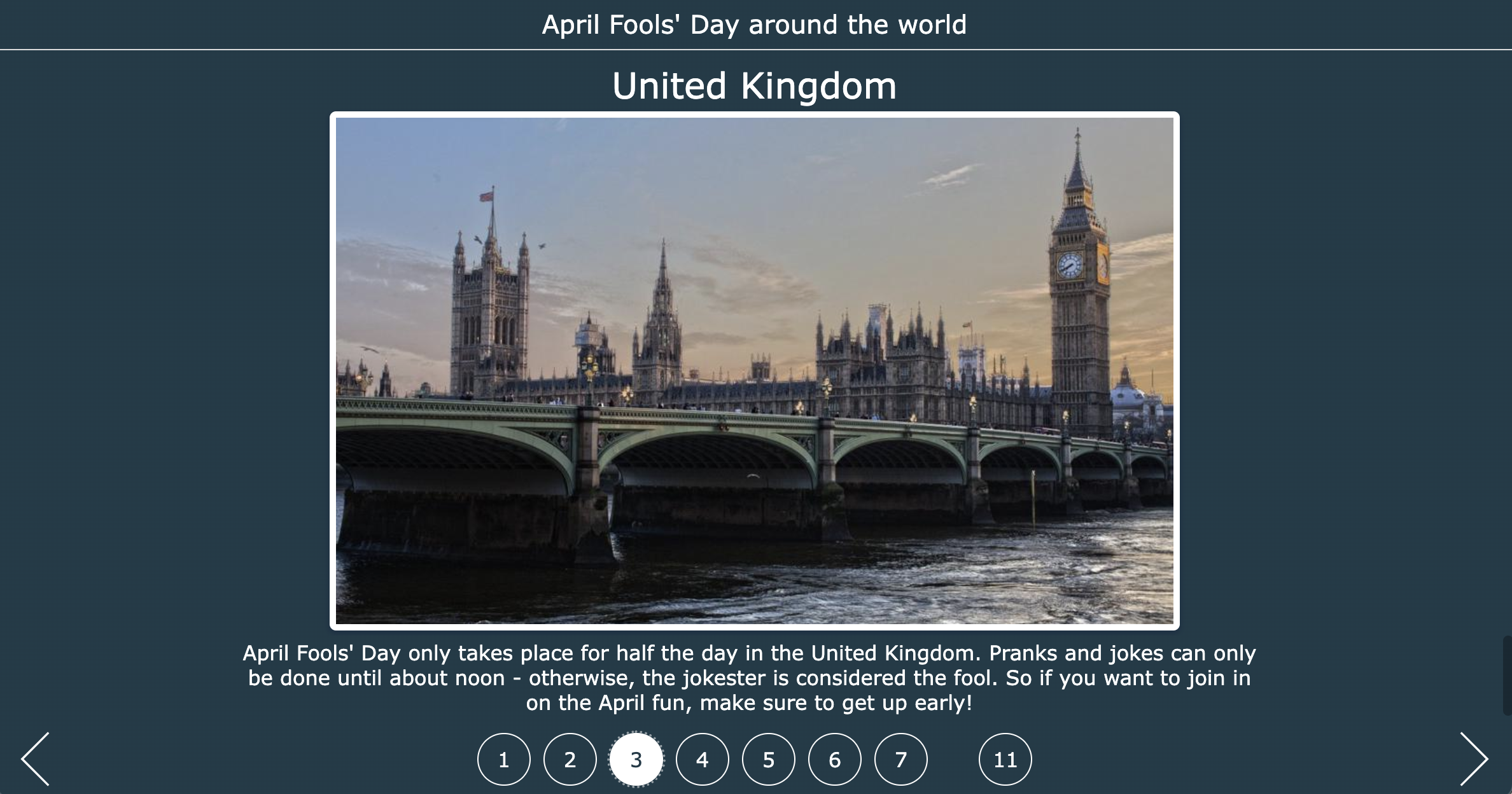 Click to open
27. World Honey Bee Day
Don't worry, 🐝 happy! In this lesson activity about honey bees, your students will become excellent bee experts. They even get a certificate in the end! They will learn everything about the bee from scratch. Share this interactive worksheet with your students in Google Classroom, so they can open it and get started! Now, it's your turn! 👇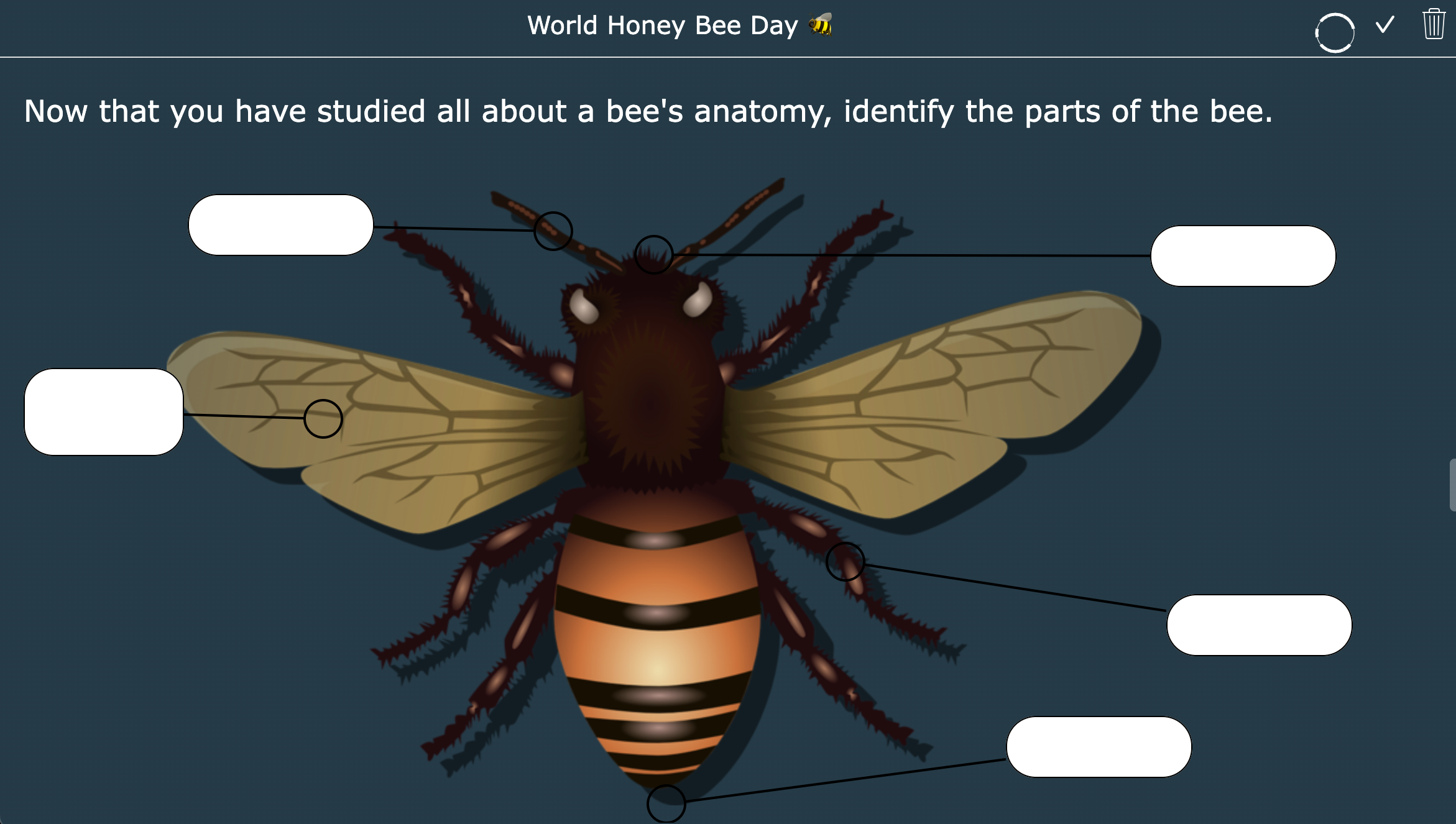 Click to open
28. Summer Solstice
How much do your students know about summer solstice? This ready-to-use lesson explains the concept very well. Students can go through this lesson that you've shared in Google Classroom step-by-step, and they will learn about summer solstice in an interactive way.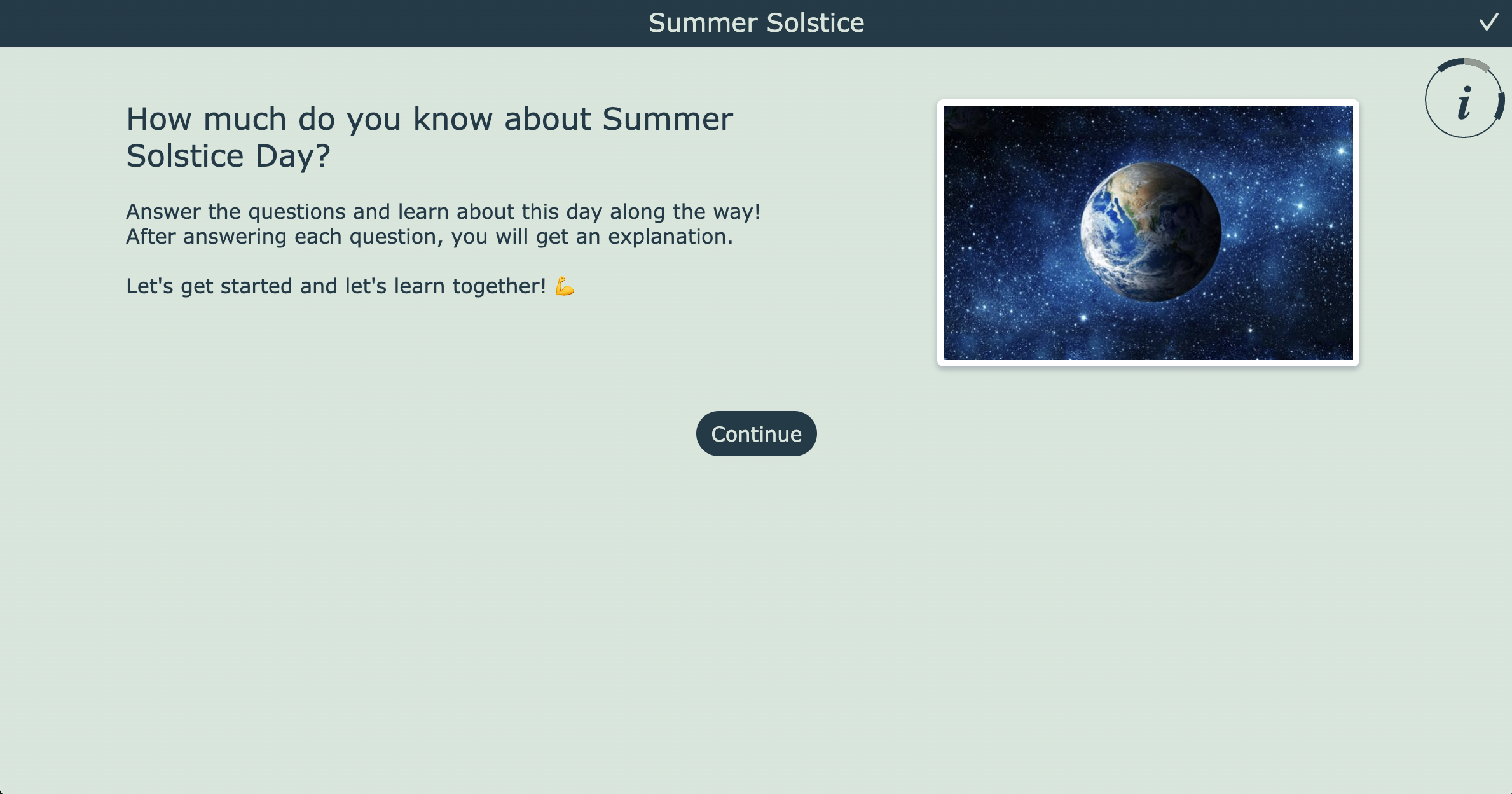 Click to open
Ready-to-use lessons with rich media: TikTok, short films, and podcasts
Integrating rich media like TikTok, film, and podcasts in your lesson will engage your students even more. Click on the links to find even more lesson plans and inspiration!
Use rich media in your lessons to introduce a new lesson topic, start a discussion or conversation, evaluate language skills, and much more!
29. Learning English with TikTok
I wanted to include this lesson that integrates the very popular TikTok app within a lesson about pronunciation. I hope it inspires you to broaden your mindset and think out of the box. Share this lesson in your Google Classroom, and students can start recording their voices. They can easily submit the answers to you so you can listen to their pronunciation and return feedback. Go check it out! 👇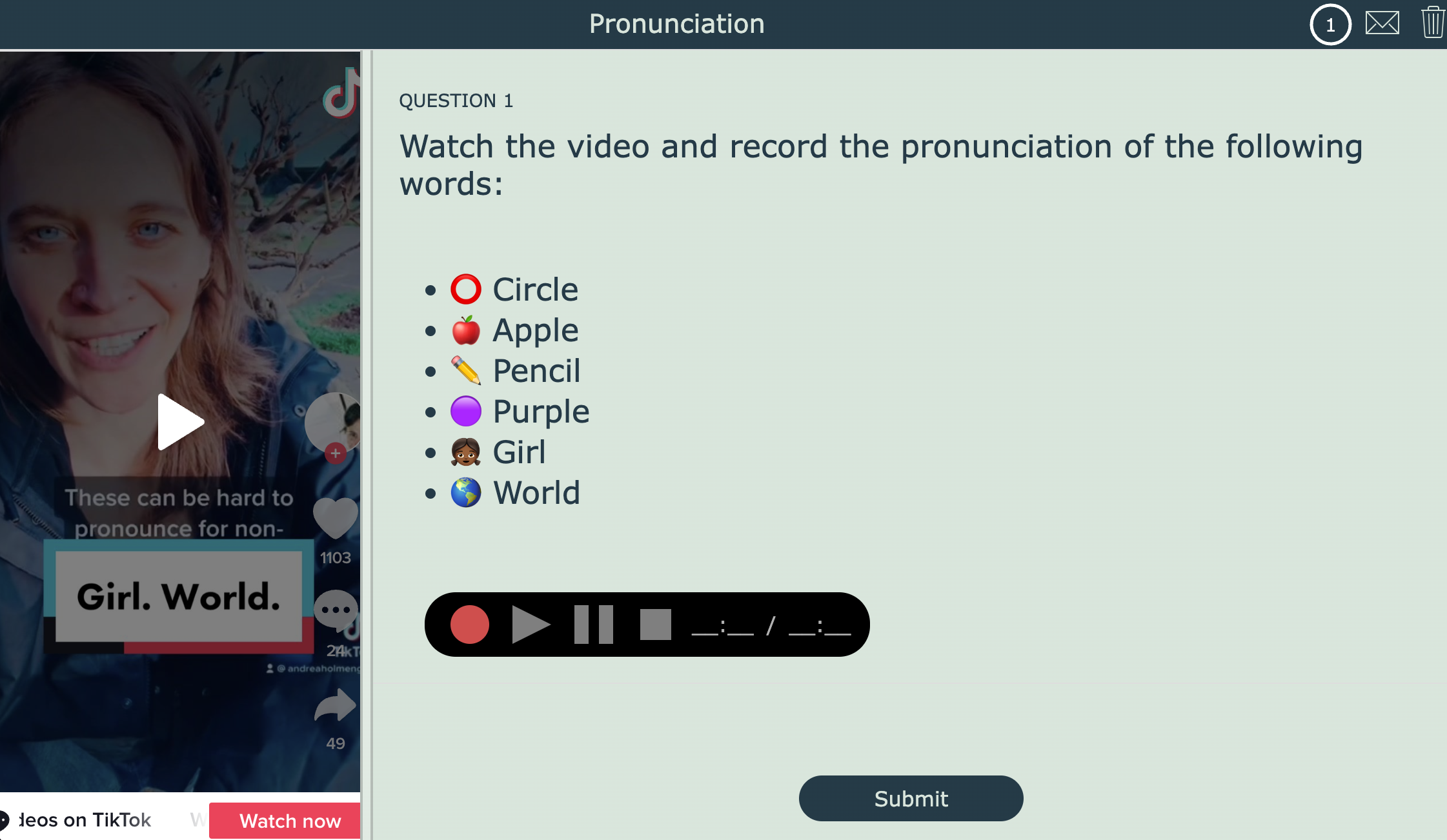 Click to open
30. Short film - Coin Operated
This amazing short film lesson - Coin operated - lets your students see "through" a film. They have to discover the meaning of the story and write it down. As it's a short film without speech, you can still edit this lesson for another language. Just make sure to find the BookWidgets group folder here, duplicate the activity, edit the language and share it in your Google Classroom.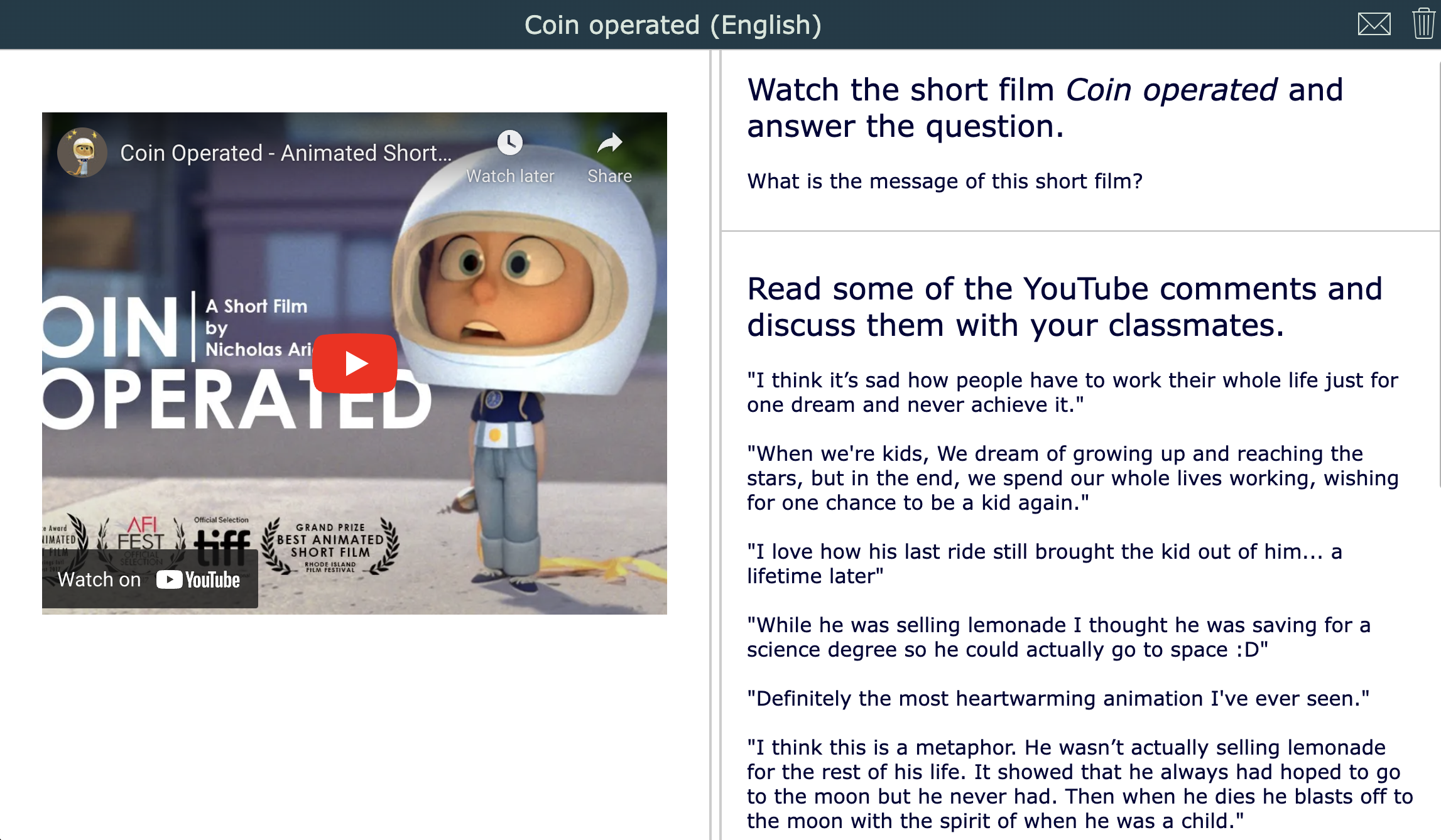 Click to open
31. Learning science with a podcast
The poop collector episode of the "Tumble Science Podcast" is a fun episode you can use as a lesson starter for your science lesson. You can even start your first lesson with it, so students understand the word "science" better. Go check out the lesson activity below!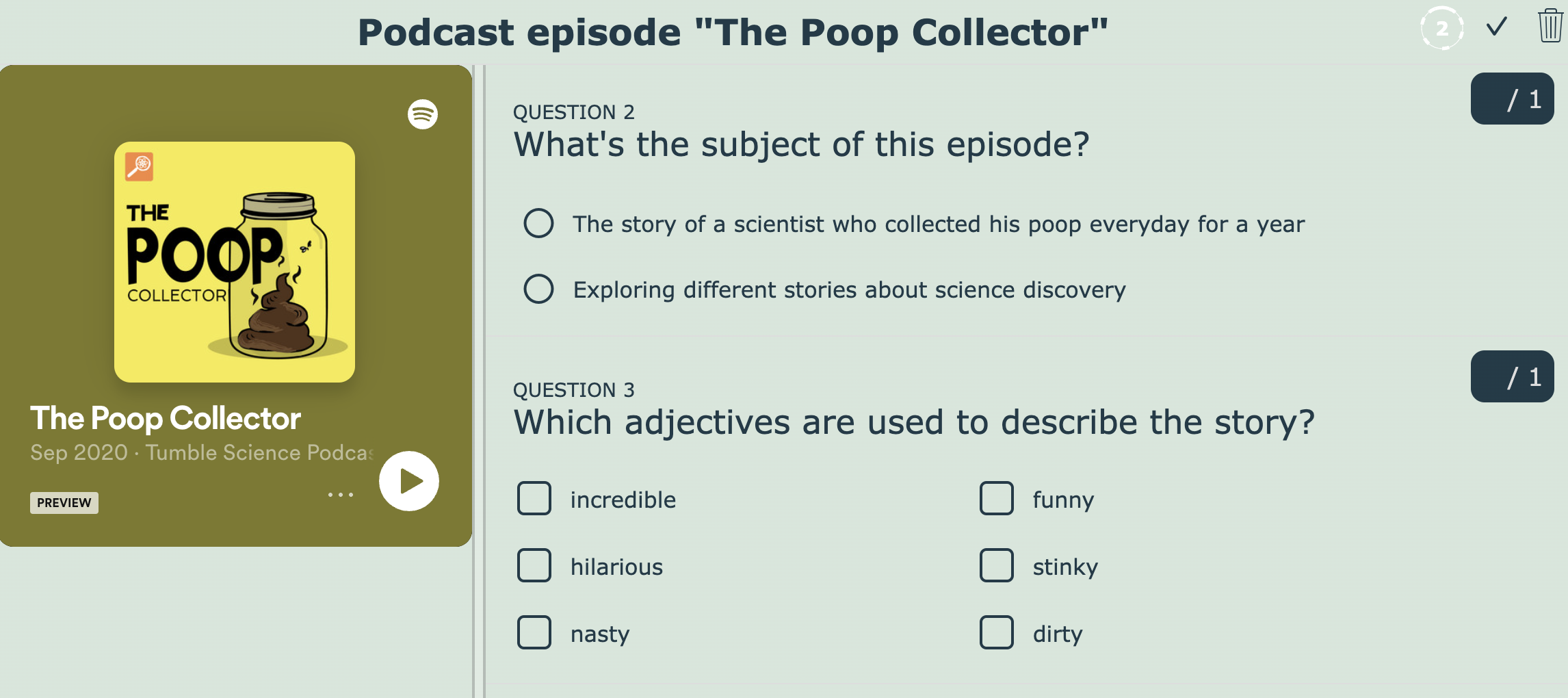 Click to open
Ready-to-use lessons featuring emojis
Emojis are basically a new way of communication. Everyone uses them to express feelings, to emphasize written words better, and even as a replacement for written words. As emoticons really tickle your students' interests, it might be a fun idea to incorporate them into your lessons. Here are some of my favorite lesson plans using emoticons or emojis for all kinds of subject areas. 💪
32. Emoji introduction
This is a fun lesson starter for the first day of school. Ask your students to indicate their interests and other aspects of their life using the given emojis. Students can just drag and drop the emojis and send their answers to the teacher in Google Classroom. Later on, you can ask your students to explain the emojis they have chosen and tell a little bit more about themselves. Access the lesson plan preview below and try it out!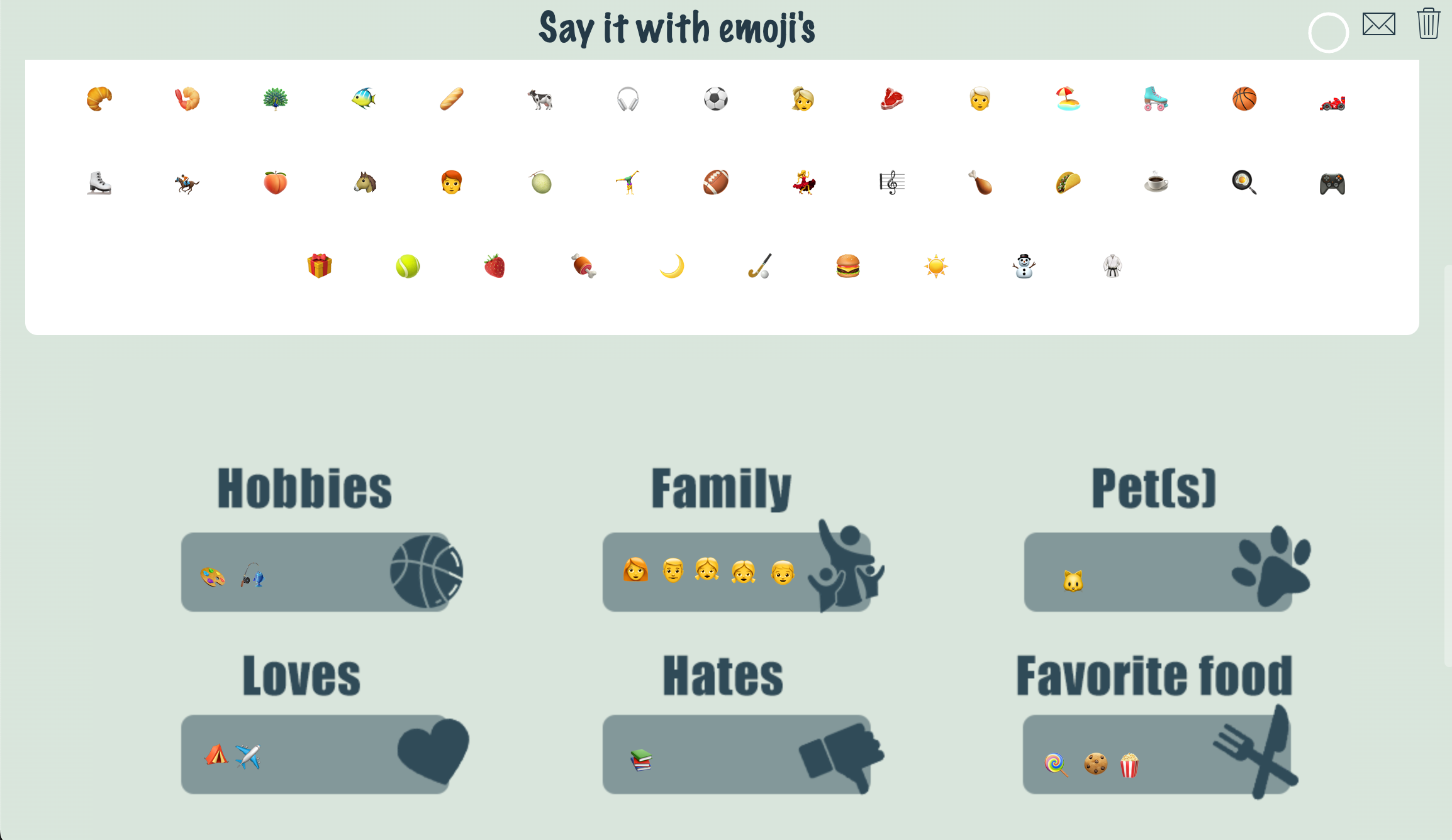 Click to open
33. Emoji artwork
You're absolutely going to love this ready-to-use lesson plan! Students have to spin the wheels and use the three emojis that come up to make a creative painting. They spin the wheels a second time as well. Now, they have to write a story! This lesson is all about inspiring students' creativity and dreams. Bonus: you can immediately check their writing skills too. Go check it out! Which 3 emojis did you spin? 👇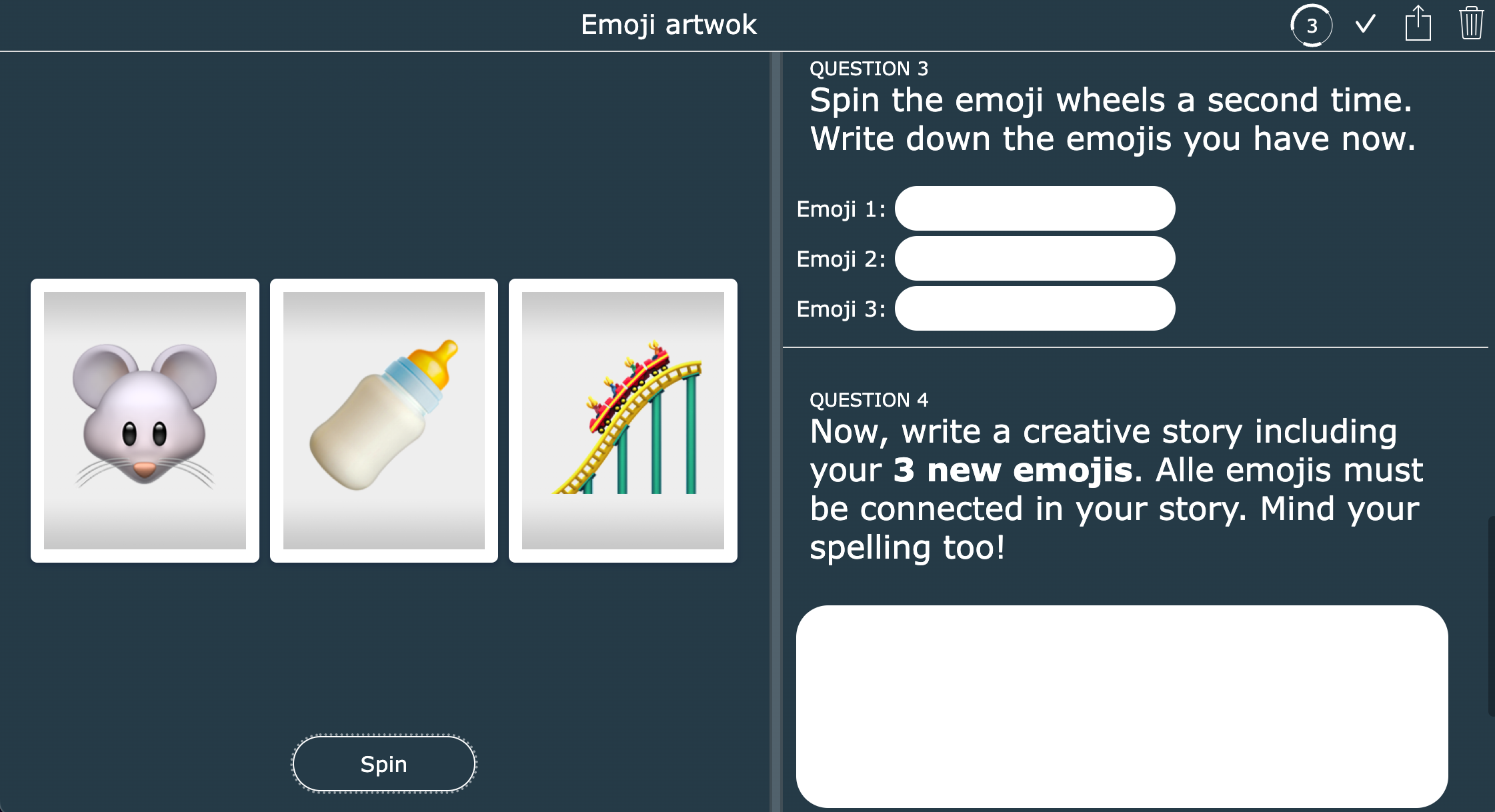 Click to open
34. Emoji sight words crossword
Just when you thought you'd seen it all, there's another fun lesson plan. Use this digital crossword puzzle for teaching languages to young learners. When you duplicate this widget from the BookWidgets Blog group here and edit the activity in your account if you want to change the language. Now, it's an English lesson. Can you complete it? 💡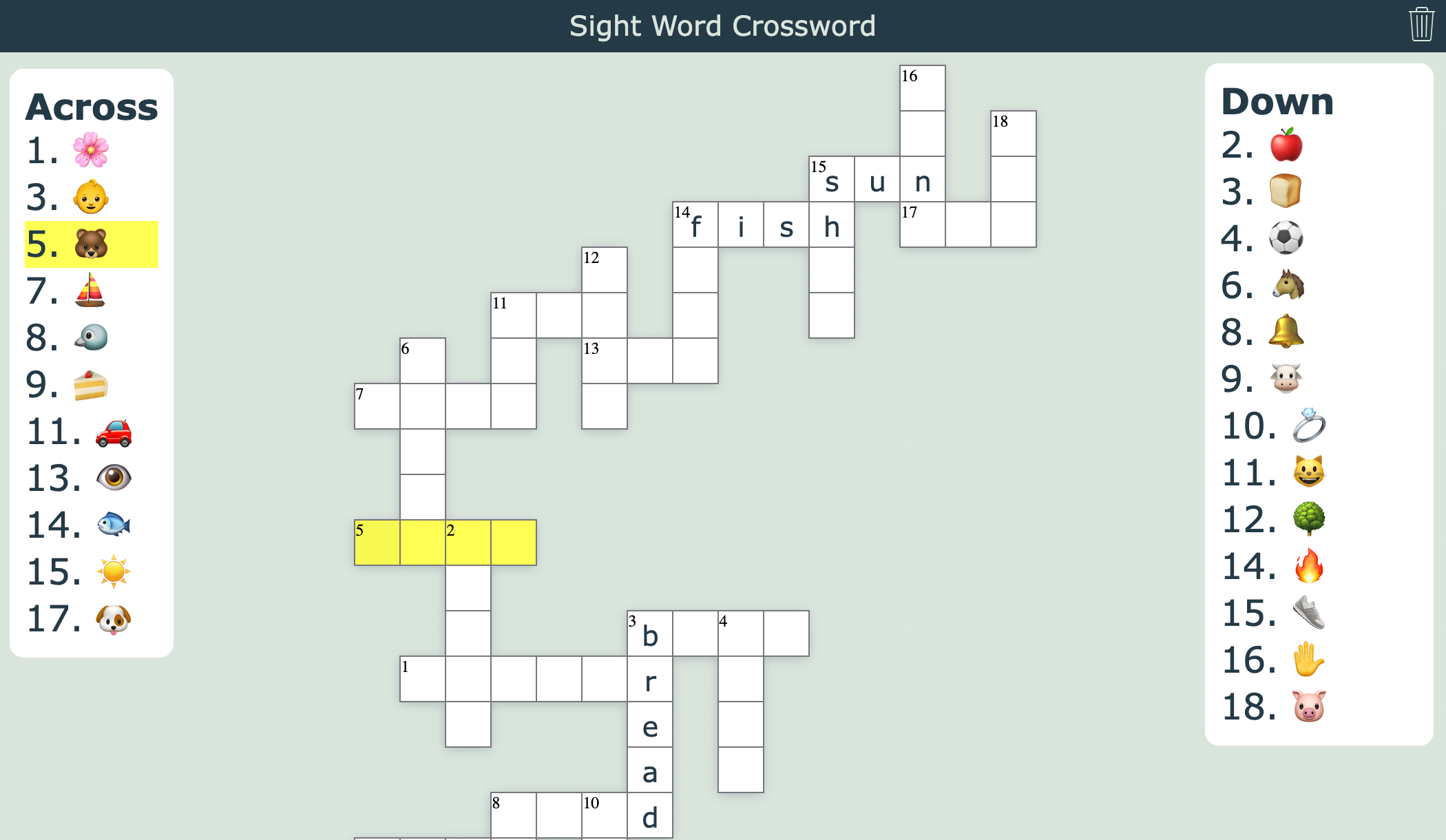 Click to open
35. Emoji exit ticket
Always go out with a bang! Last but not least: the exit ticket or exit slip widget. This activity takes you only 3 minutes to create, and it has so much value! At the end of a lesson, your students have to indicate whether they understood your lesson or how they are feeling. They have to do so by indicating an emoji. As a second part, you can ask your students another open-ended question. This can be a content question about the lesson, or you can ask students to write down any questions they still have.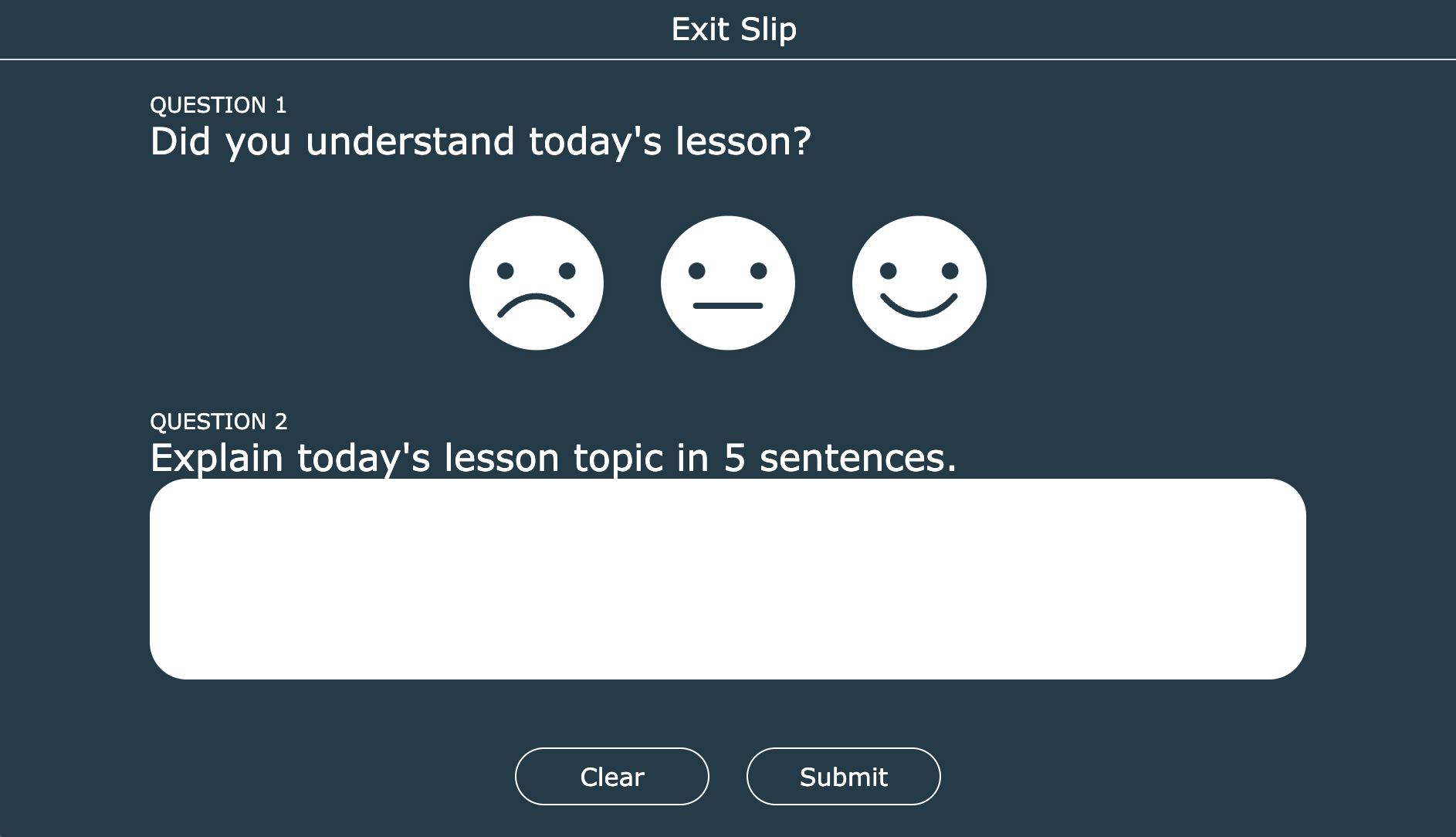 Click to open
How to share these activities on Google Classroom?
We've gathered all the free lesson plans in this BookWidgets Group. Click on the link. If you don't have a BookWidgets account yet, it's now time to create one for free. The best way is to sign up using your Google Single Sign-On - The Google Account you're using in your Google Classroom.
You might get redirected to your BookWidgets account's homepage once you've signed up. If so, just click on this group link again when you are signed into your account.
You will see a list with all the widgets (a.k.a. activities created in BookWidgets) in this post.
Now, follow the next steps:
Click on the cogwheel icon,
Choose "Select all widgets" (or just indicate the widgets or activities you want).
Click on the cogwheel icon for a second time,
Choose "Duplicate selected widgets".
A pop-up window opens. Click on the black arrow ⬅️ next to the title - two times - until you don't see the arrow anymore. Now click on "My widgets" in the pop-up.
Finally, choose "Duplicate here".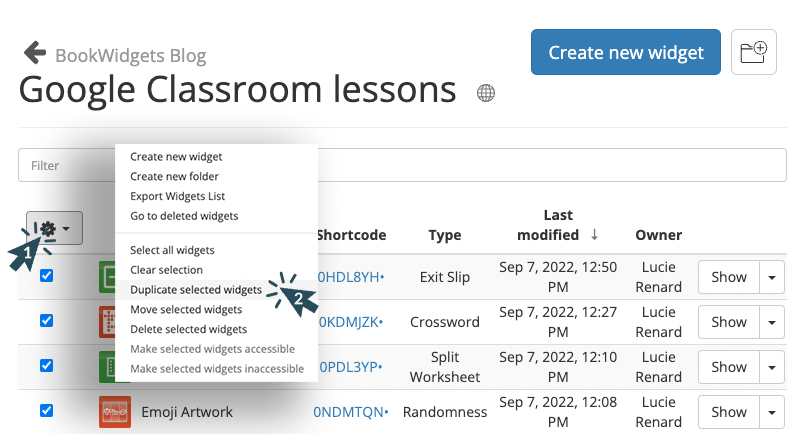 All these widgets are now yours to adapt and share in Google Classroom with your students. Now is the time to go to your Google Classroom and open BookWidgets from there as I've described above - using the add-on or Chrome extension.
Once you've opened BookWidgets in Google Classroom, adapting and sharing these exercises or widgets is easy. Go to the "My widgets" folder. You've just duplicated everything here. Next to the activity - on the right - you will find a tiny arrow pointing down ⬇️. Click on it and choose "Edit". The widget's configuration screen opens. When you're done editing, you can click "share" and choose a Google Classroom course.
That's it!

The endgame: Live monitoring, Auto-grading, and feedback in Google Classroom
When you've shared these lessons with your students in your Google Classroom, BookWidgets allows you to follow up on them. Reviewing a lesson activity created with BookWidgets can be done in two ways: via "Live Widgets" or/and within the reporting dashboard. Both possibilities are available from your Google Classroom account.
Live widgets
Monitor students, live, in Google Classroom when they are still working on your activity. You can immediately discover struggling students and give them a helping hand. You can also find students that need bigger challenges. And… when your students forget to submit, you can still push the button and submit for your students.
Even when it's a fun practice exercise that students don't have to submit, like flashcards, you can see if they did some practicing at home or in class. You can see Live Widgets activity for up to 30 days.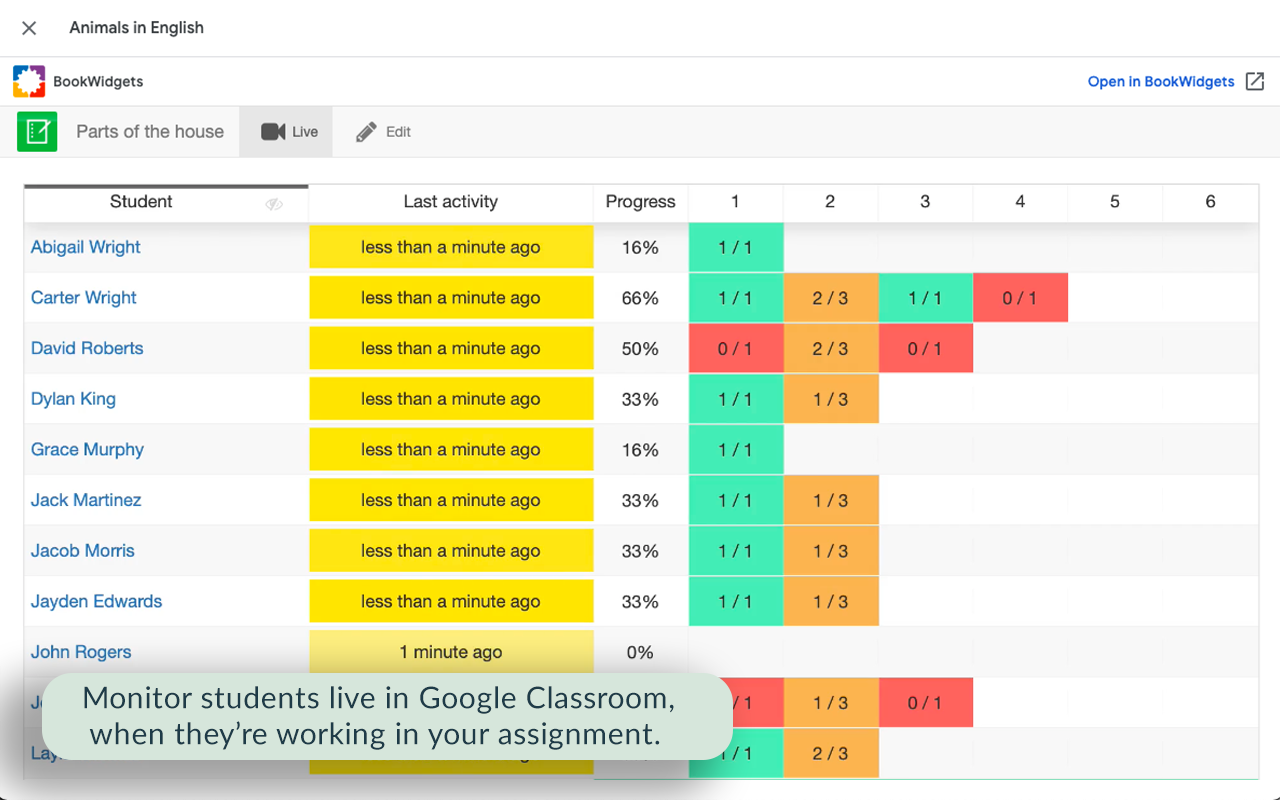 The reporting dashboard
When your students have submitted their work, you can start reviewing it. Most of the activities and question types within a quiz or (split) worksheet get auto-graded. This will save you so much time!
There are some important teacher features that will make reviewing student work much easier:
You can grade student by student or question by question,
You can still change the grade in auto-graded questions,
You can add comments below questions and in your students' answers,
You can use a filter to already hide correct answers and focus on the ones that need your attention,
You can use a filter that groups all student answers on one question that are precisely the same. Your feedback will go to all those students;
You can configure the feedback that your group of students (or individual) students will see. With or without grades, with or without the correct answers, and more.
As you can see, there are lots of handy ways to review student work more efficiently in Google Classroom with the BookWidgets reporting dashboard.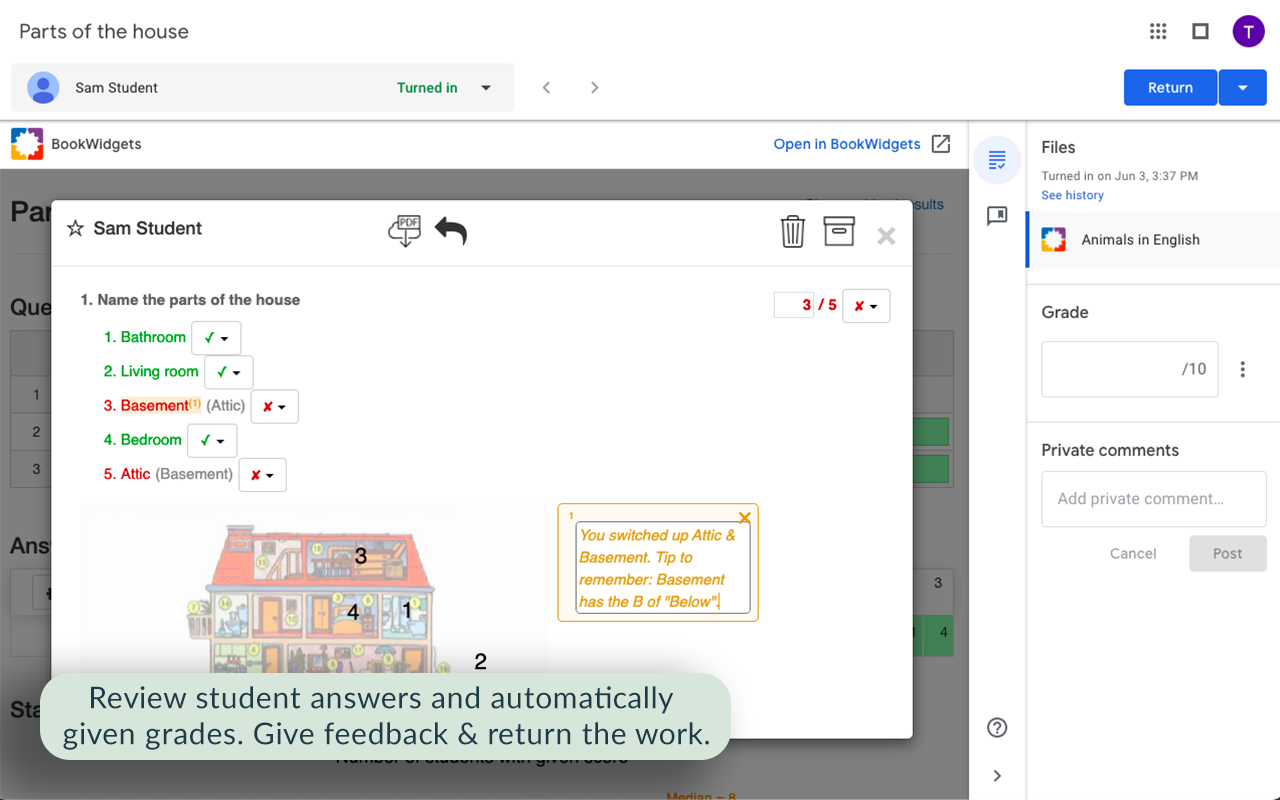 Wrap up
That's it! I can understand that your head is exploding 🤯 with new ideas right now!
Remember, you can duplicate all these Google Classroom lesson plans created with BookWidgets in this group. I explain how you can do this here. Duplicate them to your account so you can start editing and sharing them with your students in your Google Classroom. It's very important that you do this and don't use the link to the lesson. That way, your students' answers can't find their way to you.
Help us inspire many more teachers by sharing this post with them. Hooked on BookWidgets? Join our Teaching with BookWidgets Facebook community and follow us on Twitter.
And me? My name is Lucie. Let's connect on Twitter!