17 Important Considerations when Choosing New EdTech Tools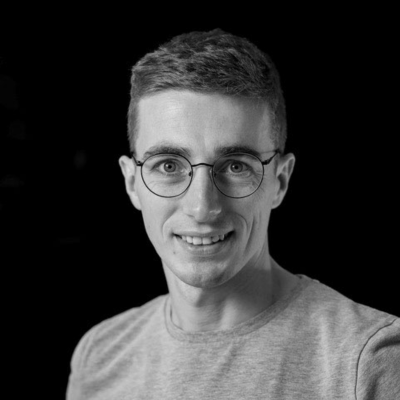 Dimitri Bongers —
EdTech tools can bring many benefits to your classroom:
increased student engagement,
students developing new skills,
efficient grading,
personalized feedback,
and more.
But how to choose the right EdTech tool(s) in the wide range of apps such as BookWidgets, Canva, Flip, Genially, Kahoot, and Padlet, to name a few?
In a previous blog post, we already presented 5 things teachers should think about when choosing classroom technology. In this blog post, we expand the list to include 17 considerations before implementing new EdTech tools. We hope this list helps you to make thoughtful decisions and we wish you good luck choosing your next tool!
Checklist for choosing new EdTech tools
Below is the overview of the 17 things to keep in mind when you want to start using a new EdTech tool. Certain criteria on this list you may find more or less important, which is perfectly possible. We want to offer different considerations to guide you, the final choice remains with you!
We also created a handy Checklist with BookWidgets (an EdTech tool definitely worth considering as well, more on that at the bottom of this blog post). Click on the image to access and use the checklist when considering a new tool.
When you're considering using a new EdTech tool, you probably won't be able to answer all the questions in this list right away. We recommend speaking with colleagues, gathering information online (e.g., reviews on YouTube or by asking a question in a Facebook group for teachers), and taking advantage of a free trial offered by the tool provider. Also, don't hesitate to contact their support team, they'll be happy to answer your questions.
(Continue reading below the image)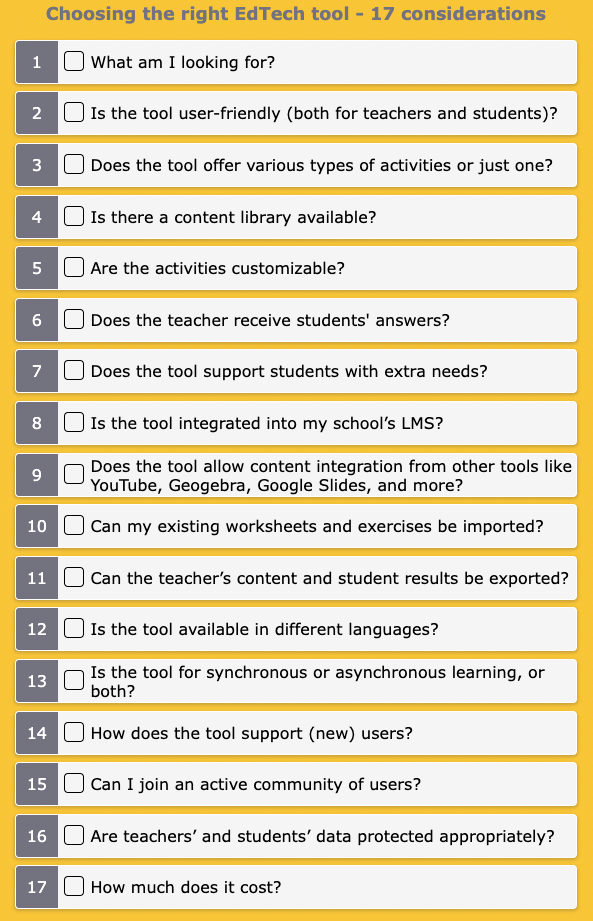 Click to open
1. What am I looking for?

Using technology is NOT a purpose. It's just a means to an end. Keep that in mind at all times. Avoid choosing tools because they look fun and nice when you're unsure about their real pedagogical added value. You need to understand your lesson goal first, and find a tool that can support this goal.
2. Is the tool user-friendly (both for teachers and students)?

Technology is supposed to simplify processes, and while in the beginning, you will certainly need a little time to get to know the new software, setting up digital lesson activities should not be too time-consuming. Make sure to choose user-friendly tools.
Keep in mind that today's students are often wrongly labeled as "Digital Natives" suggesting that they possess the essential abilities to master the commonly used digital tools independently. Research has demonstrated that this belief is unfounded, so it's essential to choose tools that are user friendly for the students too.
3. Does the tool offer various types of activities or just one?

You may want to offer your students various digital exercises. The surprise component of classes is a great motivator and having the option of using different question types, including audio, video, and images for different types of activities will make a huge difference in keeping students engaged.
Choosing an all-in-one tool has some other great benefits:
Teachers teaching different courses can use the same tool - The decision makers in your school might pick it up more easily then tools that are too course specific and add little variety or value.
An all-in-one tool is more cost-effective. Instead of paying subscriptions for small tools that can do one thing each, make sure to find a tool that can cover a few of these tool subscriptions.
4. Is there a content library available?

When using EdTech tools to create interactive exercises or other lesson activities, creating the content is usually the part that takes most of the time. Unless you are a teacher who very much likes to create all of his teaching materials entirely by himself, it is best to check if the EdTech tool you are considering has ready-made content that you can use. Many tools have a public library or groups where you can find ready-to-use digital exercises. Even better is to find an educational app with ready-made resources you can edit to fit your lessons.
5. Are the activities customizable?

Each class group has its own context, and each teacher has their own way of teaching. Many EdTech tools seem fun and useful at first glance, but when you start using them with your students, some turn out to not quite match your needs. Good educational tools give control and freedom to the teacher with options such as:
editing the ready-made content that's available;
choosing if students will see the points for each question or not;
choosing if students will see the correct answers at the end of an activity or not;
choosing if students are allowed to skip questions or not;
enabling a timer;
…
6. Are there reporting possibilities and feedback options?

Having students do interactive exercises at their own pace and receive immediate feedback is a positive way to activate their learning, but it becomes really interesting when the teacher also receives the student's answers and when the teacher can provide personal feedback. Check whether a reporting dashboard is available because as a teacher, you don't want to miss this valuable information. Also, check if you can add feedback to the students' answers and send it back, which is very valuable for their learning process.
7. Does the tool support students with extra needs?

It's important to check the inclusivity of the tool you are considering. Are there solutions for students with extra needs, like:
providing a different version to those students;
supporting screen reader software;
the possibility of adding audio (for students having trouble with reading);
the possibility of enabling extra tools (like a calculator, a scratchpad, …) for students who need these?
the possibility to provide more time;
the possibility to provide personalized feedback;
8. Is the tool integrated into my school's LMS?

If you use an LMS (e.g., Google Classroom, Microsoft Teams, Moodle, Canvas, Schoology, etc.), ensure that the EdTech app you plan to use integrates into the LMS. This will simplify its use because in most cases, teachers and students will not need additional logins, they will use the logins from the LMS (which they already know).
Good LMS integrations have further advantages, e.g., synchronization of the results between the EdTech tool and the LMS' gradebook and the possibility of sending feedback back to students within the LMS. It's also easier for students and teachers to work from within a known and trusted learning environment, rather than to open yet another website or tool.
9. Does the tool allow content integration from other tools like YouTube, Geogebra, Google Slides, and more?

Even if you have found a tool with very extensive features, sooner or later you will come across interesting content elsewhere, that's why it's good to check whether third-party content integrations are possible. Some EdTech tools are very receptive to this, while others limit external integrations.
💡 Combining educational tools with each other is a real hype. It's called app smashing. What apps would you smash? Read more about combining different EdTech tools in this blog post.
10. Can my existing worksheets and exercises be imported?

Some EdTech tools offer the possibility to import the teacher's existing paper handouts. The possibility to digitize paper handouts by importing Word or PDF exercises, worksheets, and tests is a big timesaver.
11. Can the teacher's content and student results be exported?

Since most tools these days work entirely in the cloud, exporting data may not really be a concern anymore. Still, it's a good idea to check this out. The day you decide to stop using this tool, you will be very happy with the export options available. Also… in many cases, the school needs the possibility to access this data when you switch to a different school. In some cases, tools are tied to school accounts, which enables the tech admin to access all school-based results when they need it (e.g. for school inspection). The school actually owns the work you create as a teacher and can be handed over to other teachers to use when you're gone.
12. Is the tool available in different languages?

Some tools might be available in one language only (often English), which is not ideal if you are working with younger learners who do not speak this language sufficiently. In addition, as a world language teacher it is interesting to be able to offer the entire online activity in your target language. As a result, students very quickly learn the words for buttons such as "Save", "Cancel" and "Submit" in the foreign language. So when considering new EdTech tools, check in which languages they are available. Some tools even offer the possibility to change the entire language of the interface.
13. Is it a tool for synchronous or asynchronous learning, or both?

When evaluating EdTech tools, it's crucial to determine whether the tool supports synchronous, asynchronous, or both learning modes. Synchronous tools facilitate real-time interaction, enabling live discussions and immediate feedback, which can enhance engagement. Asynchronous tools, on the other hand, offer flexibility for self-paced learning and accommodate varied schedules. The choice between these modes depends on your teaching objectives and students' preferences, ultimately shaping the effectiveness of the tool in your educational environment.
Learn more about synchronous and asynchronous learning in this blog post.
14. How does the tool support (new) users?

Using new technology can be overwhelming sometimes. When choosing EdTech tools for your classes, ensure you know where to look for information on how to use the tools, like in webinars, step-by-step tutorials, and blog posts. Also, make sure you have the possibility to reach out to customer support in case you ever need it.
15. Can I join an active community of users?

Teachers learn from teachers. The exchange of experiences and knowledge is a valuable asset when implementing new digital tools in your classroom. Learning from teachers who have more experience and a different perspective than you can make a huge difference in helping you explore all possibilities. If the EdTech tool has an active Facebook group, or other social media community, don´t hesitate to join. You´ll be inspired!
16. Are teachers' and students' data protected appropriately?

You're probably not a privacy expert yourself, but it's still important to know if the educational tools you use are handling your and your students' data correctly. We recommend discussing this with your school administration if you have any doubts. Every tool has a privacy policy you can read. If you can't find it on their website, make sure to reach out to the tool. Also ask for clarifications if some things aren't clear to you.
If you're teaching within the European Union, ensure that all the online tools you use with your students are GDPR compliant. This means, among other things, that personal data is stored on servers within the EU, that no more data is collected than necessary, and that the data is only processed for the purpose it was intended for.
17. How much does it cost?

Lastly, the cost is an important element when choosing an EdTech tool, and a teacher's budget is usually limited. Therefore, many teachers tend to prefer free tools, but these often have more limited functionalities, occasionally contain advertising, and are sometimes less clear about protecting users' personal data.
If you are considering a paying tool, discuss this with your school administration. Often a budget is provided for digital tools, and sometimes there is even some form of government funding available. Too often, teachers consider paying for EdTech tools with their own resources without asking about the possibilities within their school.
Have you considered BookWidgets?
If you've read this blog post all the way here, I guess you're currently looking for new EdTech tools. Have you considered BookWidgets? It is a content creation and evaluation tool for teachers with a library of over 40 different types of interactive exercises.
How does your favorite BookWidgets tool score on this checklist? Complete the test yourself! I can only say BookWidgets scores an A+ for me! If you have questions about the checklist and BookWidgets, make sure to reach out to info@bookwidgets.com.
Wrap up
We realize that our list of criteria for choosing the right EdTech tools is extensive and can seem overwhelming, so again: as a teacher, you decide which criteria are important to yourself and which tools best meet them. Either way, it is good to know why you use or don't use certain tools and we hope the overview in this blog post can inspire you.
Which EdTech tools are in your teacher's toolkit? Why did you choose them? Let us know via X (Twitter) @ibookwidgets or in our Facebook group. Or discuss this topic with me on LinkedIn.