What is the SAMR model of technology integration?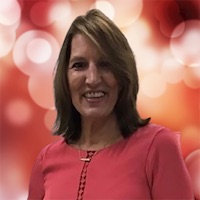 Sheryl Place —
Your school makes one of its biggest decisions in history: "We're going to transform to digital". Your schoolboard or administration drops this bomb and the rest is up to you… CUE the SAMR model.
In this blog post I will explain the definition of the SAMR model. I am also going to demonstrate how you can use these steps to evaluate your BookWidgets activities using this model. I'll also offer suggestions and show opportunities on how to move your awesome assignments up the SAMR model.
What is the SAMR model?
The SAMR Model of Technology Integration introduced by Reuben Puentdura (2006) is a 4-level taxonomy (often referred to as a ladder) used to select, utilize and evaluate technology in the PreK-12 classroom. When educators use this model during lesson planning, they are able to think about the role of technology in teaching as well as how the technology will support student learning. When I use the SAMR model during lesson planning I find increasingly complex ways to use technology which will impact learning in the classroom.
This model was created so that all of us in education would have a shared language to use when creating personalized learning. You are able to look at your lessons and lesson planning using SAMR like a roadmap, assisting you in thinking about the role of technology in your lessons. Finally, Puentadura wanted to create a powerful model which in turn would help students visualize complex concepts. In short, the SAMR model is a model for successful technology integration.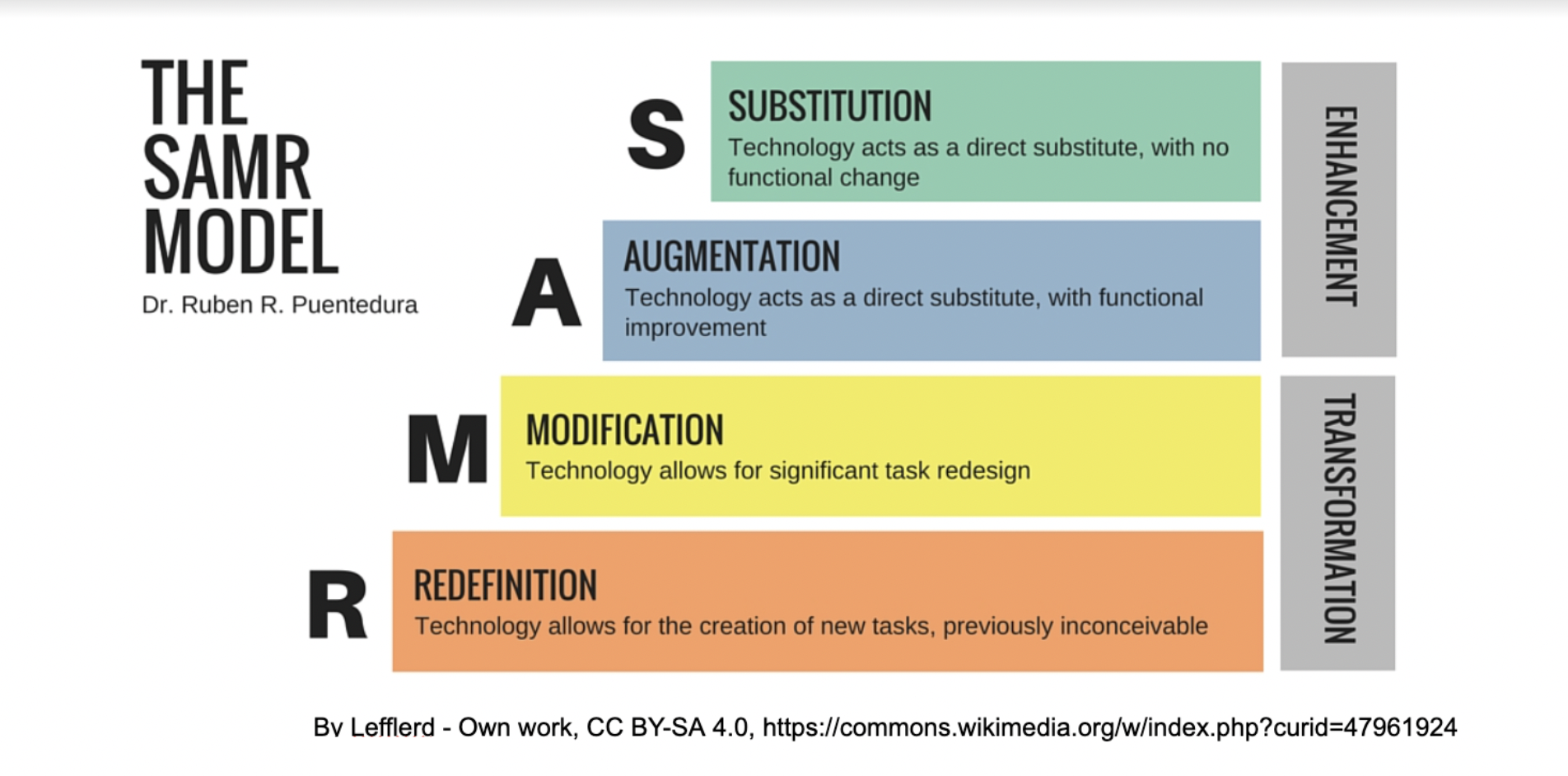 How to implement the SAMR model within BookWidgets assignments and lessons
Below, I will show you how to use the SAMR model along with a critical eye to see where and how lessons can be improved with just a few easy additions. Using the BookWidgets tool will allow you to create fun, engaging activities for learners of all ages.
BookWidgets in short: With BookWidgets, teachers can create over 40 interactive exercises and auto-graded assignments with over 30 different question types (here's an example of a worksheet widget). All teachers from all courses can use BookWidgets.
Teachers can easily integrate BookWidgets inside Google Classroom, MS Teams, etc. The integration enables teachers to follow student progress in realtime when they are working on a BookWidgets assignment. This way, teachers can quickly guide their students in the right direction when they need help.
BookWidgets is being used by teachers all over the world for both summative and formative evaluation. The grading dashboard allows teachers to review student work efficiently and easily give comprehensive feedback.
The four steps in the SAMR model
S = Substitution - Enhance your lessons with technology

It is easy to see how an educator can move a classroom activity to substitution. Merely changing a classroom lecture from the traditional class to a video conference is an example of substitution that many of us (or even all) can relate to with the onset of hybrid and remote learning.
Scanning documents, digitizing worksheets, posting work online, reading from an e-book or digital textbook are also examples of substitution. But, do you know how easy it is to use BookWidgets to
Transforming a paper or printed handout that would be individually distributed to students in a brick and mortar classroom and digitizing it is a prime example of substitution.
In these examples, BookWidgets is acting as a direct substitute with no functional change in the learning activity - the only thing changed is the delivery method: paper worksheets become a digital activity. Check out this math example where the paper worksheet has been substituted for a digital one.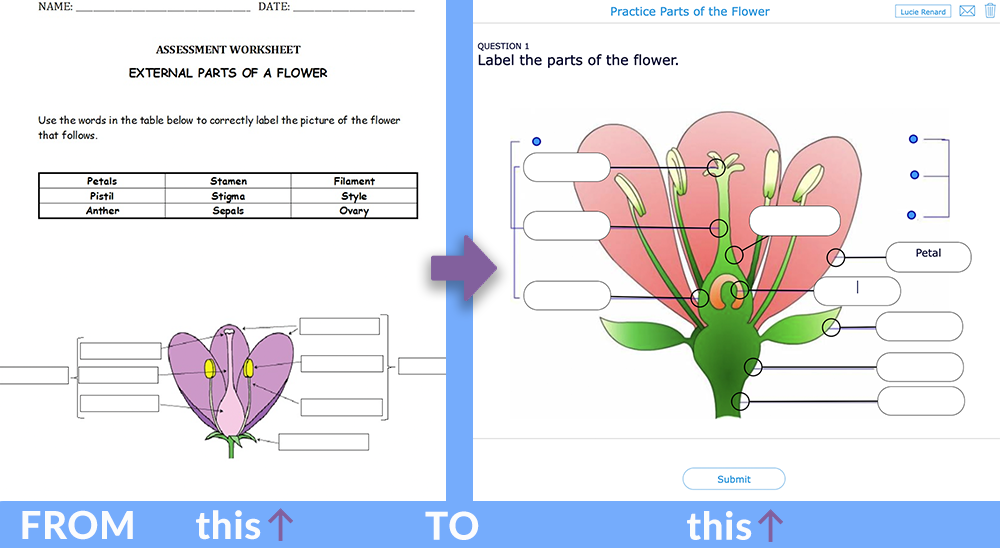 A = Augmentation - Enhance your lessons with technology

As a teacher, you may want to take that digital worksheet and add some type of functional improvement. BookWidgets provides these tools for educators who want to augment a lesson beyond substitution. With over 40 templates and 35 question types, you are now able to take a digitized activity and add enhancements like:
BookWidgets allows you to easily and quickly augment a lesson providing your students with increased engagement. You are now moving beyond the Substitution stage and enhancing the learning process by adding a functional improvement to a static worksheet.
Substitution and Augmentation are used to enhance student learning. Teaching and learning is already becoming more sophisticated using augmentation. With BookWidgets, augmenting a lesson or activity is effortless using the built in templates and question types. Take a look at this example creating an interactive image using a BookWidgets Hotspot Activity: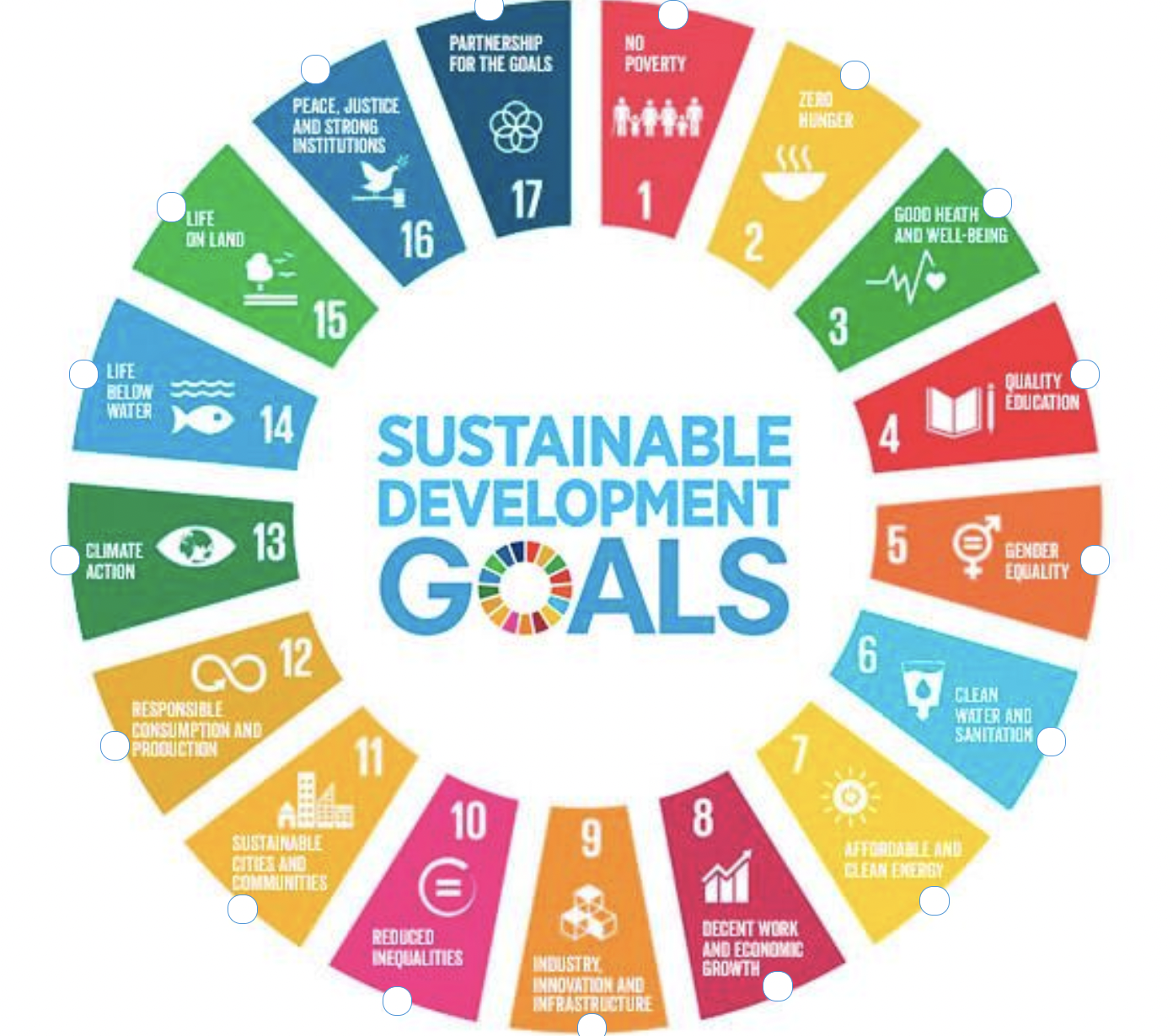 Click to open
For more that you can do with Hotspot images, check out this blog post: The Power of Hotspot Images
The next two levels of The SAMR Model of Technology Integration focus on transforming our lessons (remember Substitution and Augmentation are about augmenting our lessons). Your students are now becoming active producers of content rather than passive consumers of content. You are now clearly thinking about the role and uses of technology in supporting students and their learning.
M = Modification - Transform your lessons with technology

Students and educators are now moving toward the mastery of technology rather than merely using technology. With modification, students are seeing the benefits of novel uses of technology.
As many schools and educators move toward using a LMS integration such as Google Classroom or Microsoft Teams, you can now be motivated to move beyond paper into the digital world. Students are often inspired to innovate, to think critically and to collaborate with their peers. Using backchat channels inside the LMS provides opportunities for ALL learners to have a voice in class. At the modification stage, you will ask students to design, create and innovate.
BookWidgets provides the tools for learner success at this stage. Check out these awesome Widgets:
You are now infusing technology into learning. Devices are being utilized for much more than screen readers, game playing and video watching. Students are actively producing, engaging and interacting with teacher content. Which leads us to the final stage of our model…Redefinition.
R = Redefinition - Transform your lessons with technology

We made it to the top! 
Redefinition is not necessarily the goal for all lessons. Moving lessons to the redefinition stage takes effort and work. The SAMR model is not a ladder to climb and then remain at the top. Look at your lessons and see if it makes sense to move a digital activity up the SAMR model.
By redefining a lesson, you are fundamentally changing it by using technology to create new tasks that were previously inconceivable. At redefinition, you are able to create entirely new learning possibilities and opportunities for students. Students are engaged, lively and excited about learning. Activities produce a growth mindset. Failures lead to more learning. BookWidgets provides opportunities for educators to break down the walls of their individual classrooms and collaborate around the globe.

Think outside the box and use Widgets to guide learning which may result in increased collaboration, more creativity and opportunities to think critically. Widgets can be used to guide students in the creation of: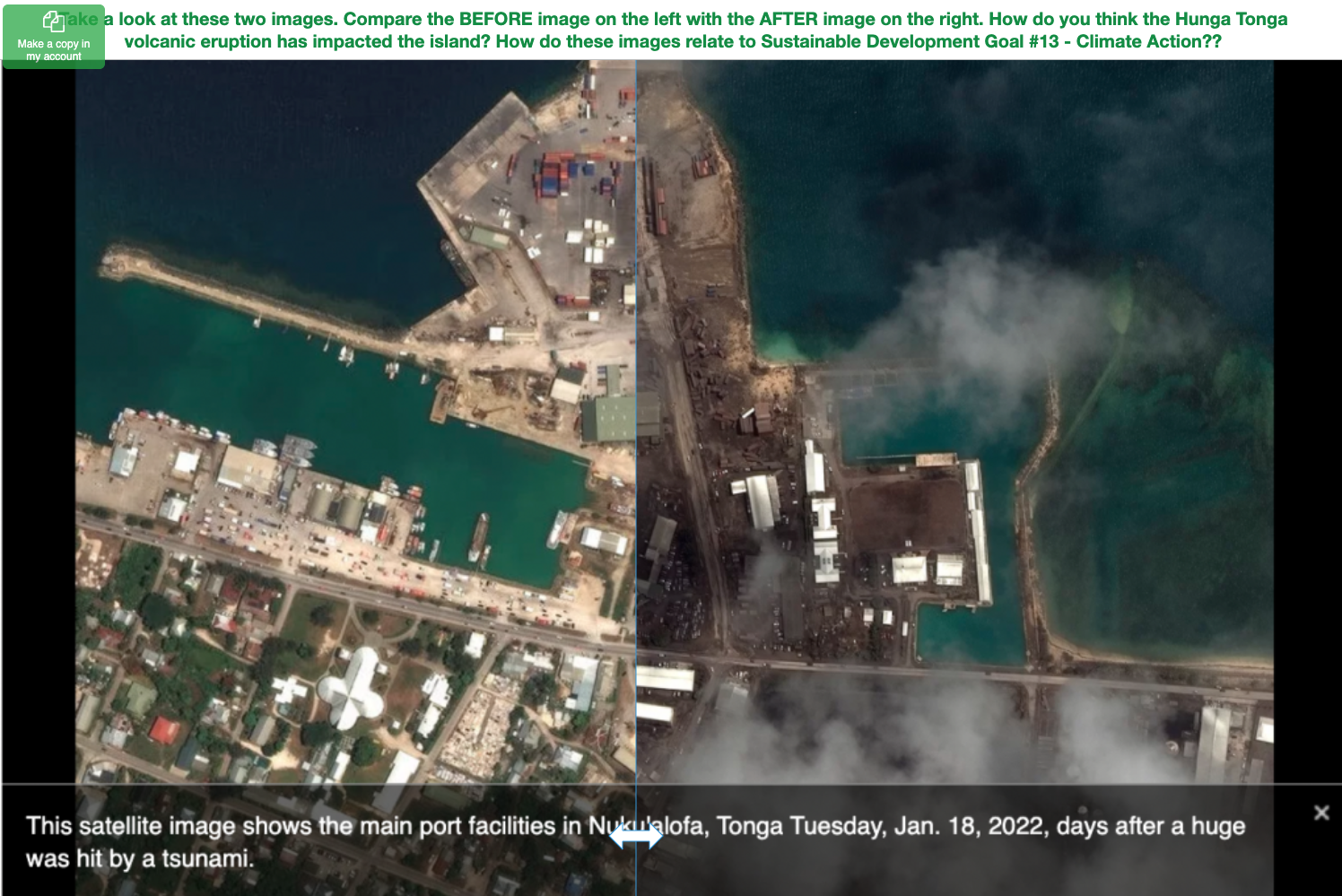 Click to open
For more information on students as creators of content check out this BookWidgets blog post.
SAMR
It is important for you to see the gamut of possibilities available to students when the BookWidgets tools are used in a thoughtful manner. Selecting the SAMR model and strategy that best meets the needs of the lesson at that time is key to successfully using a digital activity. Remember, redefinition is not always the goal of every lesson. I remind myself that creating engaging lessons is a lot like meal prep. I love making an excellent dinner for guests, but I don't make a 6-course meal every night….sometimes take out is perfect!
Utilizing technology not only to enhance instruction but to also strengthen the community of a classroom is also key. Including Bookwidgets containing audio and video helps create community classroom connections. I encourage you to find the purpose of the lesson and create. I often ask myself these guiding questions as I plan technology integration into my lessons.
Is technology being used merely for the sake of technology?
Is this lesson just as great without technology?
How much time will I spend infusing technology into the lesson?

Is the outcome worth the added time?
Will my students be engaged, empowered and excited?
Do I have the necessary tools?
Do my students have the necessary tools?
What will my students learn?
How will my students learn?

Is there a difference in how my students will learn?
Does this lesson or activity have a real-world connection or application?
A few extra resources:
My hope is that you are inspired to take a look at a lesson and see how you can move it along The SAMR Model of Technology Integration using BookWidgets.
Let's Learn Together
I clearly remember what it is like in the classroom. I applaud you all for your hard work and dedication. Don't forget to join our BookWidgets Blog group and check out all the awesome Widgets there. Most activities shared in this post allow you to make a copy in your BookWidgets account. This way, you can tailor the widgets and share it with your students.
Share your awesome Widgets in our Facebook Group as well. I can't wait to see what you create.
I hope you found some innovation, inspiration, and imagination in this post. Which of these ideas is your favorite? Let us know on Twitter! - @ibookwidgets and connect with me.
Continue to be awesome. 🎉
Let's Learn Together! 👩🏻‍🏫
~Sheryl