How to create digital game activities for the remote classroom
Lucie Renard —
How can you bring interactivity in your remote teaching lessons? The most challenging aspect of distance education is probably engaging your students.
In this post, I'll show how to create digital games for your classroom. As a lot of teachers are teaching from a distance (yeah, Corona), these educational games will spice up your lessons. Of course, you can use them in your "normal" classroom as well! As long as you have an internet connection, and some devices like tablets, Chromebooks, computers, or smartphones.
More important is that these digital games have educational value. It's not just a game, it's an educational game.
Today, I'm showing you some examples and I'll give you tips on how to create these educational game boards.
Let's get started!
5 Popular educational game template examples
For the games mentioned below, you can just sign up for BookWidgets and choose a "game widget". These are exercise templates. Just add your educational content, and BookWidgets will do the rest. Then, share your digital exercise with your students by using a link, sharing it in Google Classroom, or another LMS like Microsoft Teams, Moodle, Canvas, or Schoology.
Just add your words and descriptions. Generate the crossword puzzle and adapt the design if you want. That's it! You just created a fun and educational crossword puzzle in minutes.
Check out the example: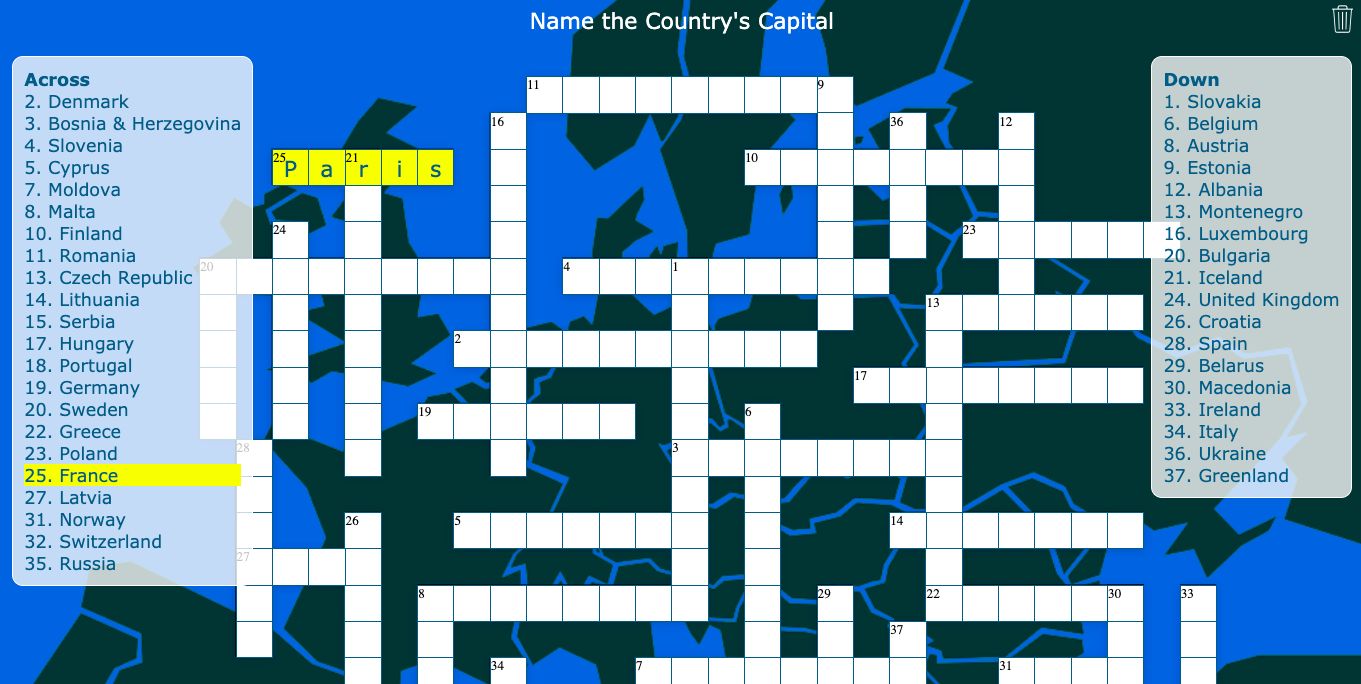 Click to open
Need some inspiration? Check out this blog post with some fun crossword lesson ideas!
Again, all this takes is just a few minutes of your time. Add the words students have to find in the word search. To add even more educational value, give students words and let them find the translations, synonyms, antonyms, or another word that matches the word they get in your word search game. This makes it more challenging.
To make it even harder for students, you can leave the list with words, like in this example below. Here, students really need to trigger their memory and find the answers to your question.
A word search chemistry example: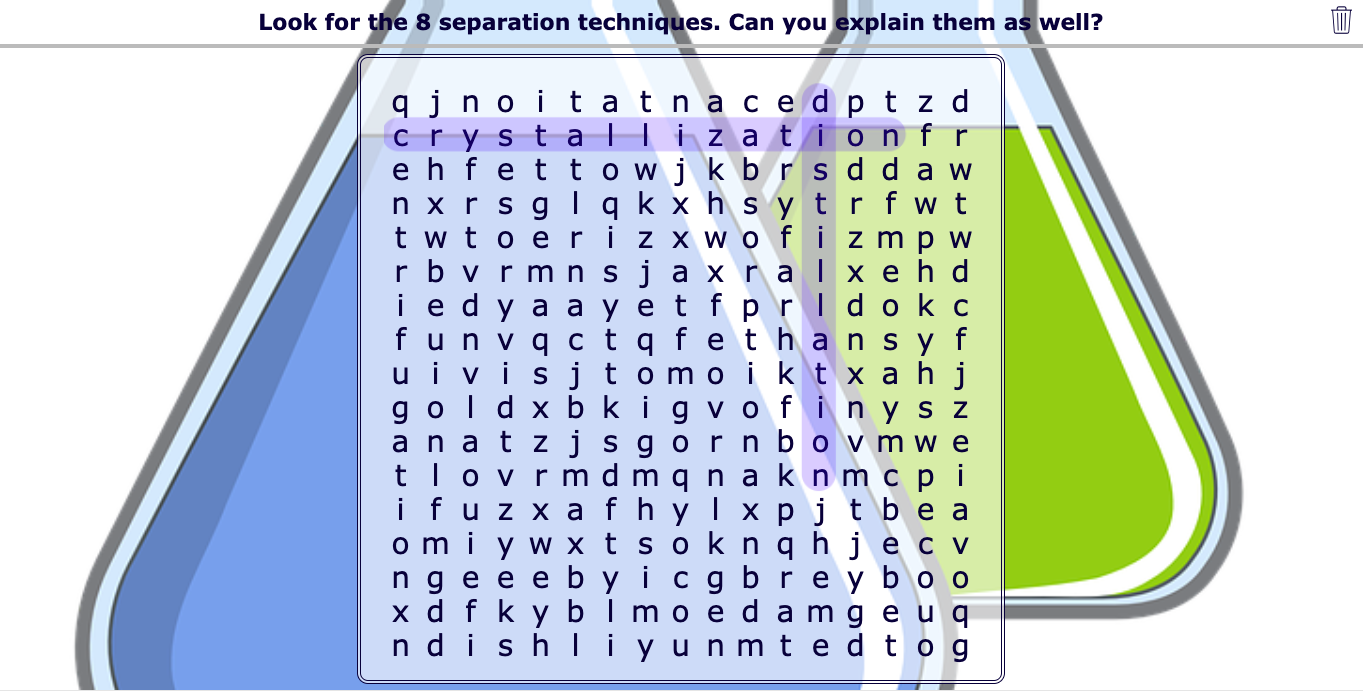 Click to open
In this post, you'll find some more inspiration on how to use the wordsearch game in your remote lesson.
Choose the "Pair Matching" widget and start adding pairs. You can pair up images and text. When added, let your students find the matching pairs. If the images look too small, students can click on it for a few seconds and enlarge the image.
Here's a fun math example: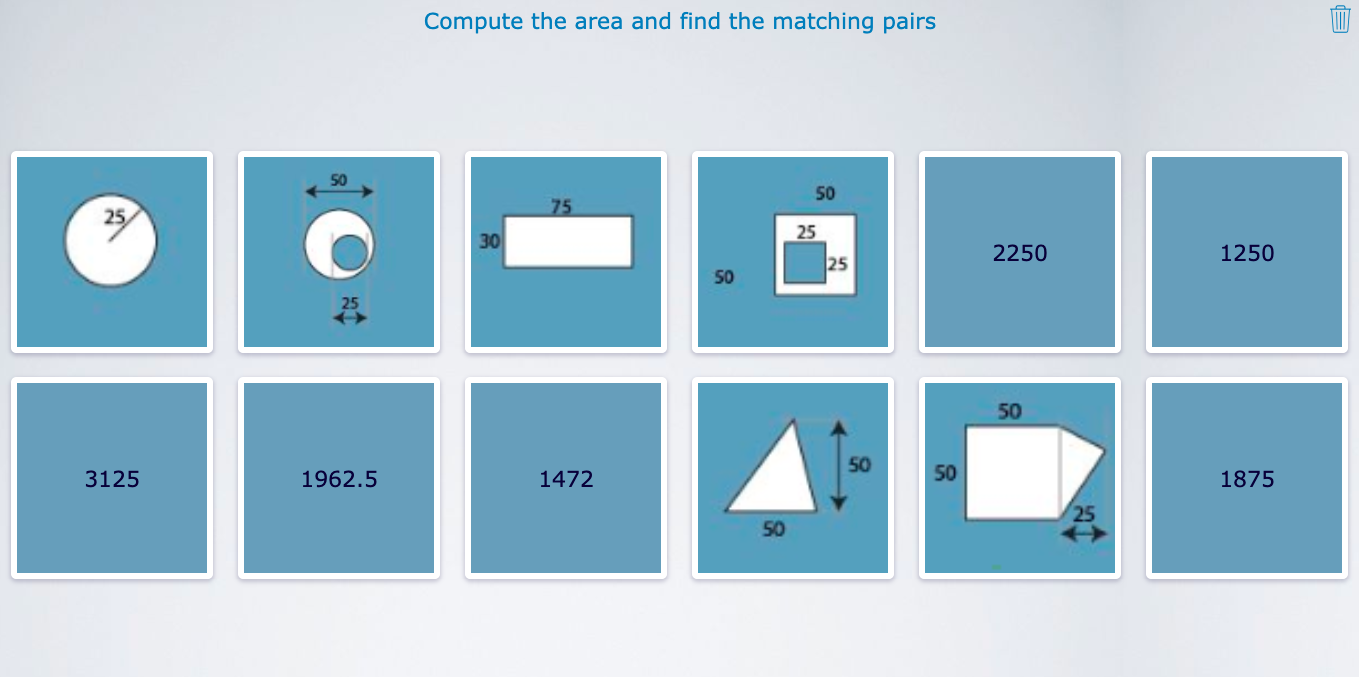 Click to open
Check out this blog post for more pair matching game inspiration.
For this interactive game, there are 2 elements. You, the teacher, shouting out words, definitions, translations, and so on. And the students with each their individual digital bingo sheet. Students will have to tick off the field on their bingo sheet that matches with what the teacher is saying (or showing). At a certain point, one student will shout "bingo!" first.
Add 25 elements to the digital bingo widget template. These can be text or images. When sharing the digital bingo game, BookWidgets will automatically give a different bingo sheet to every student.
Check out this clock reading bingo example below and click here for more inspiration.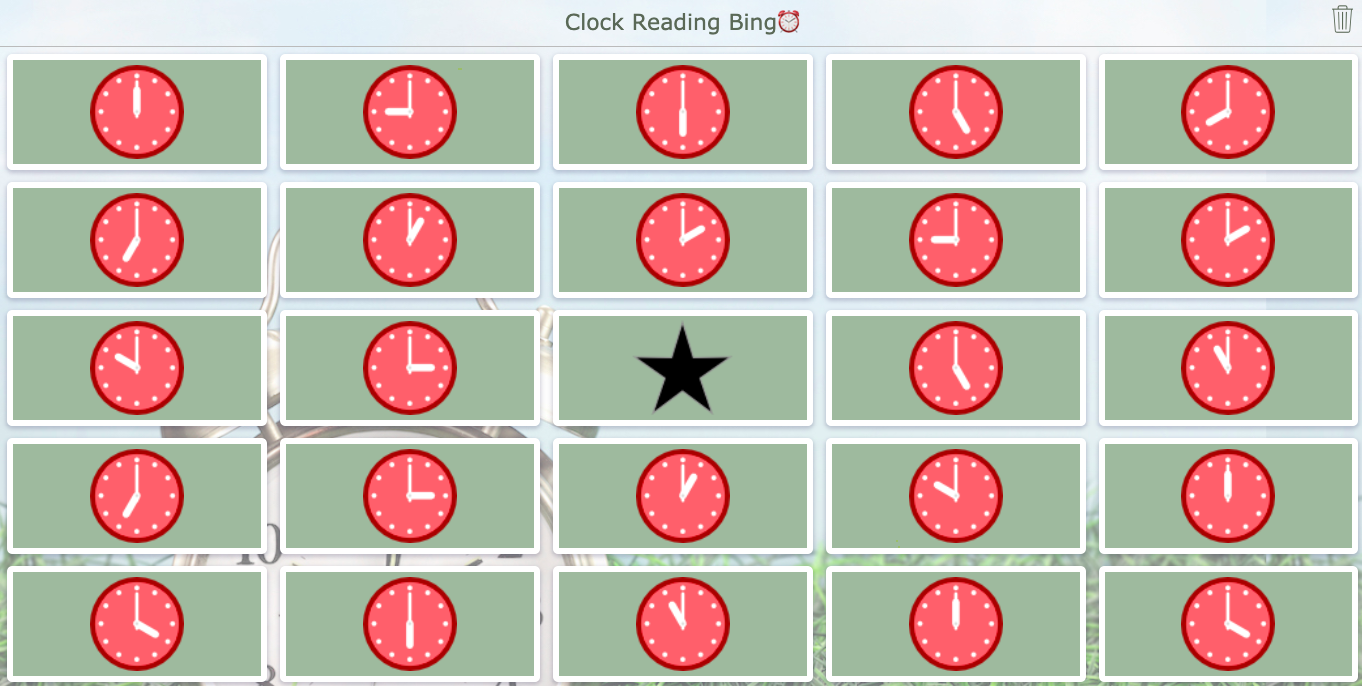 Click to open
This game looks like a slot machine from the casino. In this case, you choose how many wheels you're adding to the slot machine and what's on the wheels. You can add images and text. Let students spin the wheels and the text/images will show in random order.
A fun example: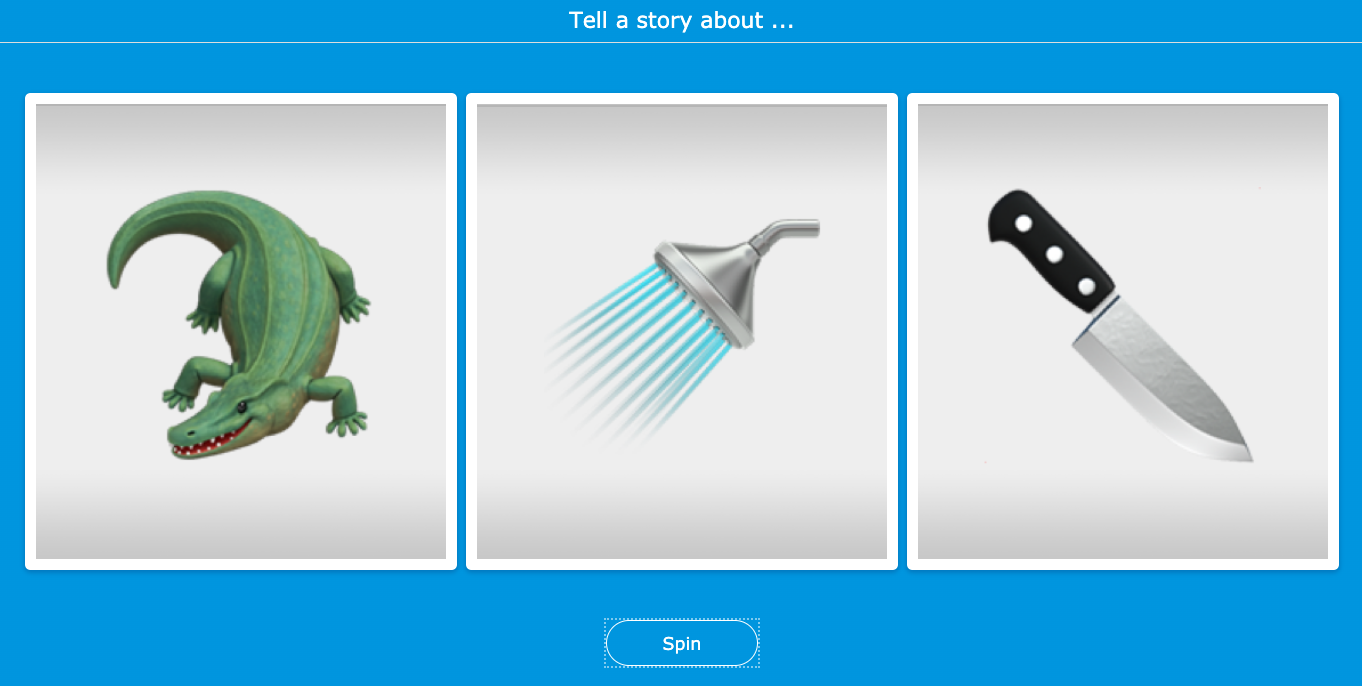 Click to open
So what can you do with this interactive game? Here's a list with some ideas:
5 Interactive classic board games reinvented
The following board games are created by other teachers using the different BookWidgets templates (widgets) in a very creative way. These are classic board games reinvented into a digital educational game.
1. Cluedo
The board game in which you have to solve a murder and find the culprit, murder weapon, and place of the murder.
Using BookWidgets' WebQuest widget, you can create the storyline. Add other widgets so students can look for clues. In the end, students write down their notes and find out if they have it right or if they have to keep investigating. You can even add lesson content if you want!
An example you can use right away (as comprehensive reading exercise):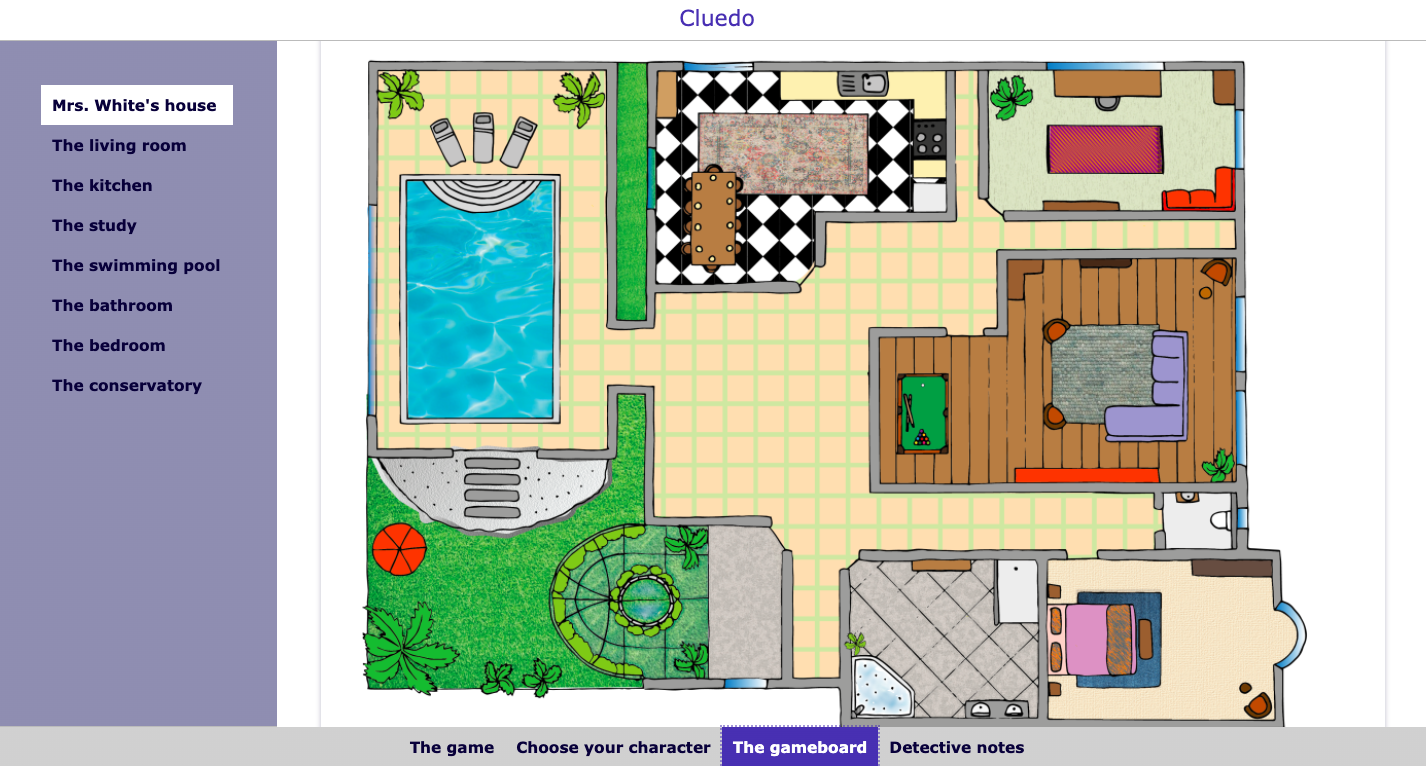 Click to open
Check out this post to find out how you can make a digital Cluedo game and get inspired by the many other examples.
2. Trivial Pursuit
Robin Ramaekers, a teacher from the Netherlands, totally transformed the Trivial Pursuit board game to a digital and educational version.
Check out his digital Trivial Pursuit Board game example: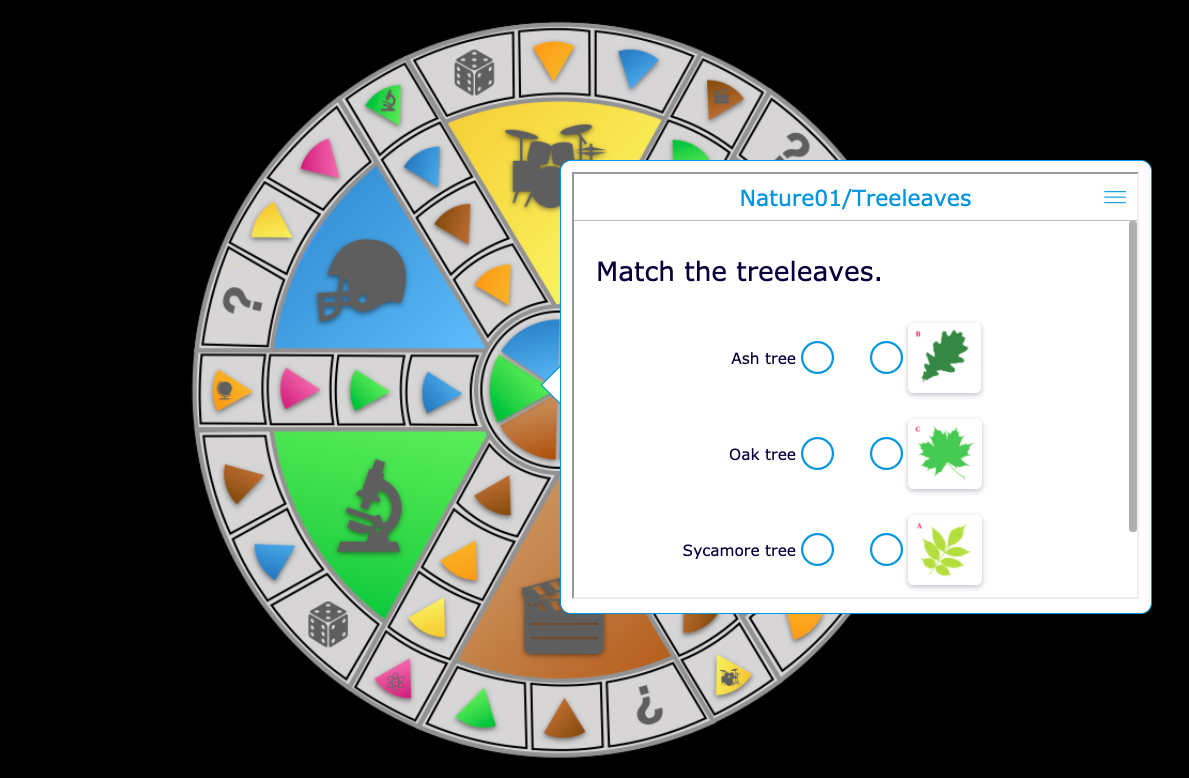 Click to open
So how did he make this?
Obviously, you need some good images first. Or you can design your own Trivial Pursuit board. He used the BookWidgets "WebQuest widget" to give structure to his game. Here, he explains the game's rules and students can keep the score in a worksheet widget. Once 1 student has gathered all the different colored parts, he/she won the game!
For the game board itself, Robin uses a "Hotspot Image" widget. Here, you can add pop-ups with text, images, audio, video, and other widgets on top of the image. He added pop-ups with a worksheet widget for the questions.
3. Guess Who?!
Guess what… Guess who?! is the next board game you can digitize. This educational board game is perfect for when you're teaching your students to describe a person in a foreign language.
Check out this example from Sharon Widmer:
Click to open
First, she teaches students about all the characteristics of a person. This about the eyes, hair, face, and skin. Their, students get lots of clues so they can discard characters on the board.
For the board, Sharon used a "Worksheet widget" with a "Picture multi-select question" so students can just tick off the headshot pictures that don't "hit the brief".
She did something special for hiding the clues. And it's pretty advanced. She uses different widgets and she puts them in a worksheet widget, that of course, is put in the WebQuest widget. So it's a widget, in a widget, in a widget. 🤯
She used an automatic feedback message based on the student's score to give students the clues in the worksheet widget. She also hid clues in "game widgets" by adding the clue as a reward word in, for example, a pair matching game.
4. Monopoly
Yes! You can even digitize the classic Monopoly board game!
Take a look at this reinvented digital Monopoly board game from Robin Ramaekers: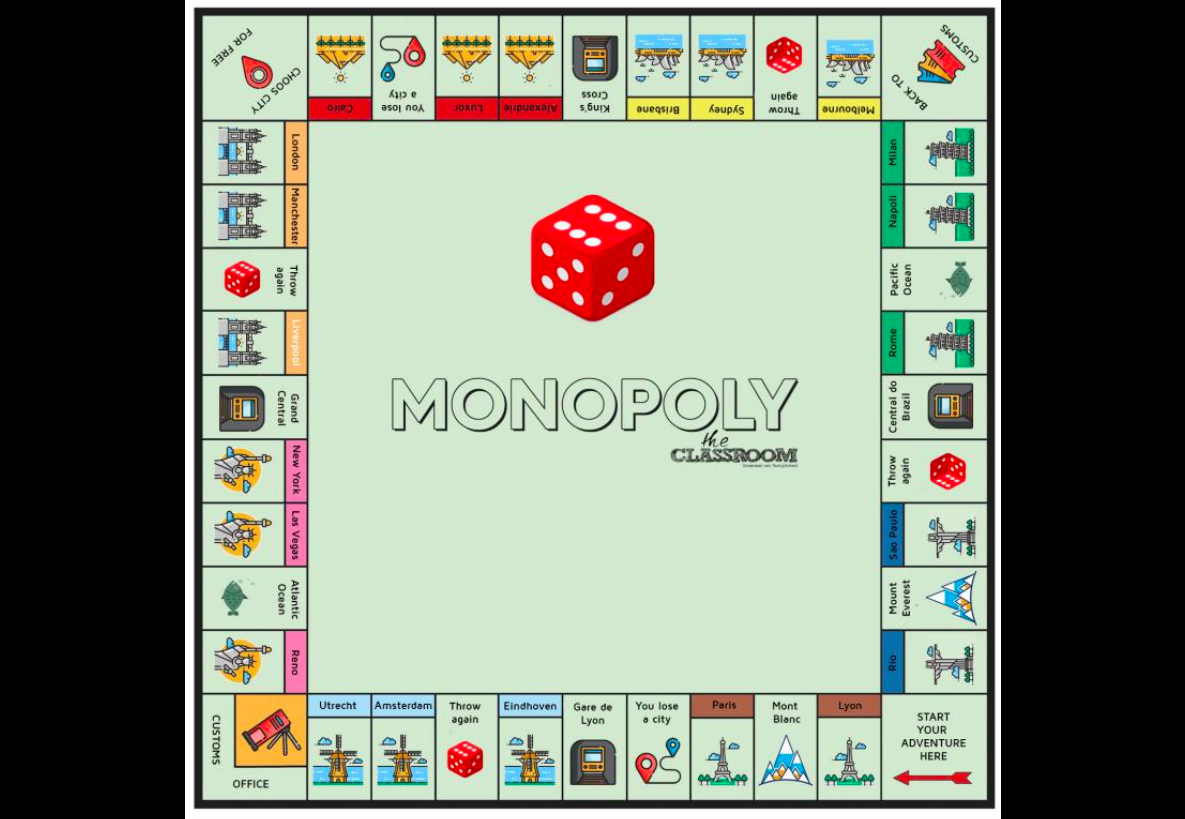 Click to open
He uses a "Webquest widget" to give students a clear structure so they can read the rules, go to the game board and check their conquered countries on their scorecard.
For the board itself, Robin used a BookWidgets "Hotspot Image Widget" and added pop-ups with "worksheet widgets" to ask students questions. For the dices, he uses a "Randomness widget". When students have conquered all the cities from a particular country, they can tick off that country on their scorecard.
5. Escape the classroom
Let students solve a problem so they can escape your classroom using the tips and clues they get. To transform this concept into a digital version, you just have to create a fun storyline and add your lesson content. In the end, it's all about your students solving the problem.
Check out this fun example about gladiators.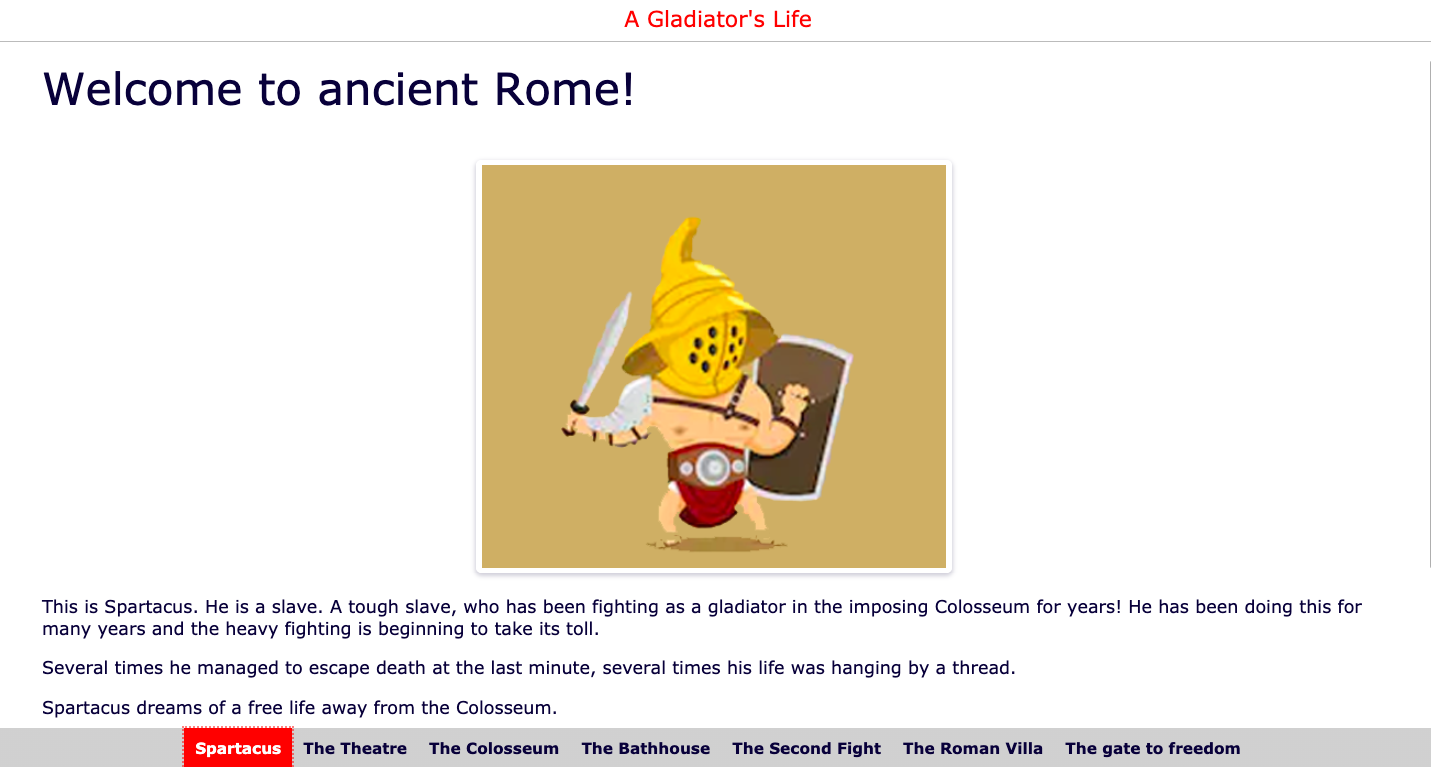 Click to open
Check out this blog post about creating an escape the classroom game and check out even more fun examples.
BONUS example
You can also create your own digital board game from scratch. You invent your own board game, your own rules, give it a nice design and storyline.
Here's an example of an Easter game I made with Maude Moors. She designed the board and storyline and it just looks amazing! Maybe, next Easter, you can share it with your students.
We added different elements like flashcards with challenges, a digital dice, a digital worksheet so students can keep track of their score, and some game widgets on the game board itself.
Check out the example here: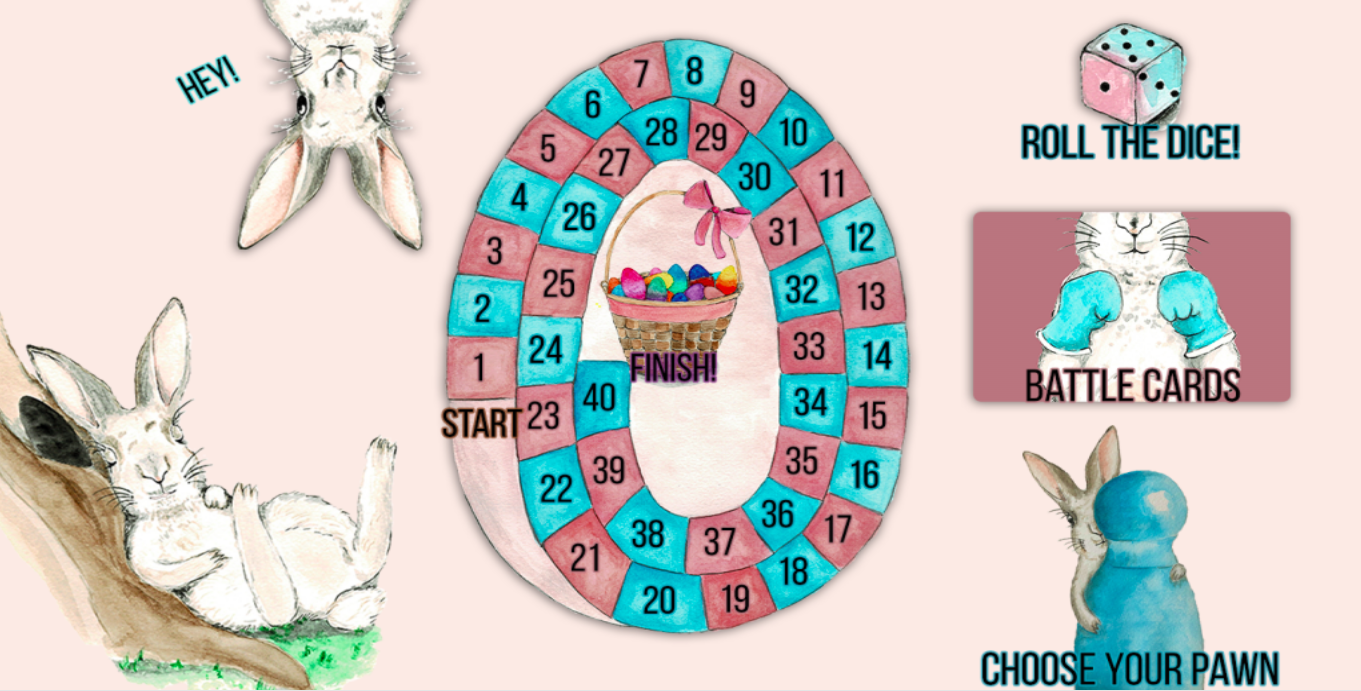 Click to open
5 Tips for creating digital educational board games
Check out these 5 tips and everything will come together. As you've seen the examples, you can see that example is build with the same puzzle pieces. Here are the pieces you need to build your own educational game with BookWidgets.
As you can see in all the digital board game examples, using a WebQuest widget is key to your game's structure. Here's you can guide your students through the rules and other elements of your game. A WebQuest widget allows you to bring together other widgets for your game and make it a whole.
Not familiar with the WebQuest widget? Check out this webinar to learn all about its possibilities.
2. Hiding clues
In some of the board games above, students have to find clues to get to the end. Clues can be hidden in many different widgets. Think about the (game) widgets in which you can add a reward word as a clue: pair matching, memory, spot the difference, word search, jigsaw puzzle, and the arithmetic widget.
You can also use a Hotspot Image widget and use hidden pop-ups to hide your clues on a background image.
3. The game board
As you can see in the examples, the game board is pretty much an image with hidden popups. Basically, a "Hotspot Image" widget.
The most important aspect here is your background image as it represents your game board. Make sure it's visual and easy to read.
Start adding your pop-up elements. Add images, video, audio, text, or other widgets like worksheets with questions or games for bigger challenges.
4. Keeping score
When you're playing a game, it's easy to keep track of the score. In a digital game that's a bit harder. You'll need to create a scorecard on which your students can keep the score.
Use the worksheet widget for this. Here you can add different kinds of questions for students to answer and keep track of their moves in the game.
These questions can also be automatically graded, so if there's but one true solution, students will know if they got it right or if they have to keep looking.
5. Startup Password
If you want your students to unlock a "digital room" or find the right rocket launch codes, a password to open a briefcase, … you should use a Worksheet or Quiz widget. In the general options, you can choose to add a startup password so students have to give the right code or word to be able to enter your quiz/worksheet. Then, use a text question to congratulate them. You can add images, videos, and links to that question type and students don't have to answer it. It's a good way to end your board game.
Wrap up
I hope all these educational game examples inspire you to create games yourself. Whether you are using the BookWidgets game widgets or you create a board game you've put together yourself, one thing I know for sure: your students will be more engaged and motivated to get to the end of your game!
Share this post with creative, like-minded teachers, and start designing!