14 New features in BookWidgets that will rock your digital lessons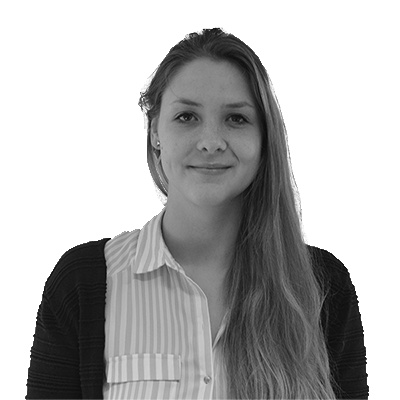 Lucie Renard —
In this blog post, I will show you 14 new things you can do in BookWidgets, your favorite content creation and evaluation tool. These 14 updates have all been introduced in the past 2 months! The BookWidgets team has been working very hard to make BookWidgets even better for all teachers.
There are many new small things (and some big ones!) that will trigger a smile on your face. I've divided them into categories. Let's take a look! 👀
Grading dashboard updates
1. Configure student feedback view
The student feedback view is now configurable! You can choose how you want to return the feedback to individual students or to the complete class. With or without grades? Do you already give them the correct answers or wait so they can try again?
Go to My Courses (not student work!) and click on the ⚙️-icon next to the title of your quiz/ worksheet. Choose "Configure Student Feedback View". This feedback view will go to all your students when you return their work.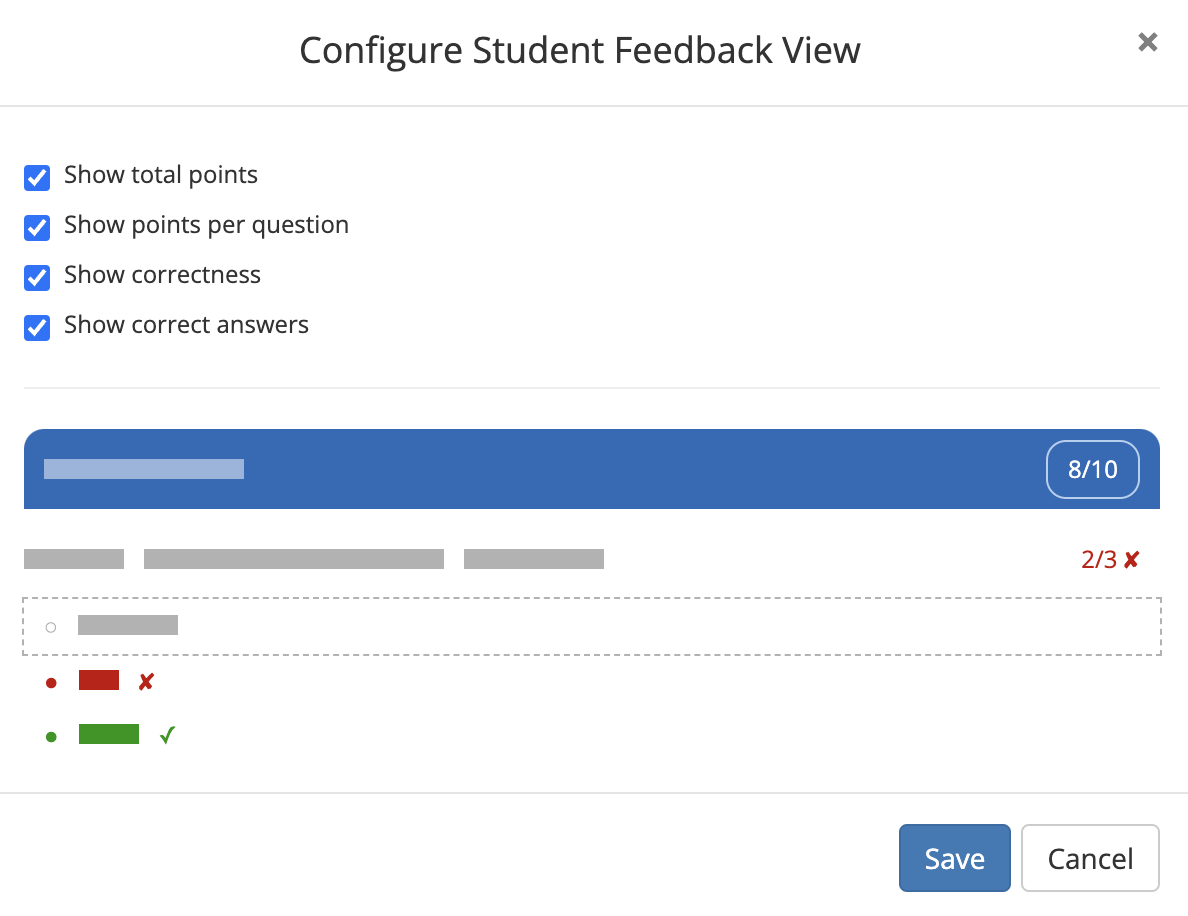 You can also configure the feedback view for individual students. Click on the student's name and the "student view icon" to switch to the feedback view for that student. Click on the arrow next to the icon to change the configuration for this particular student.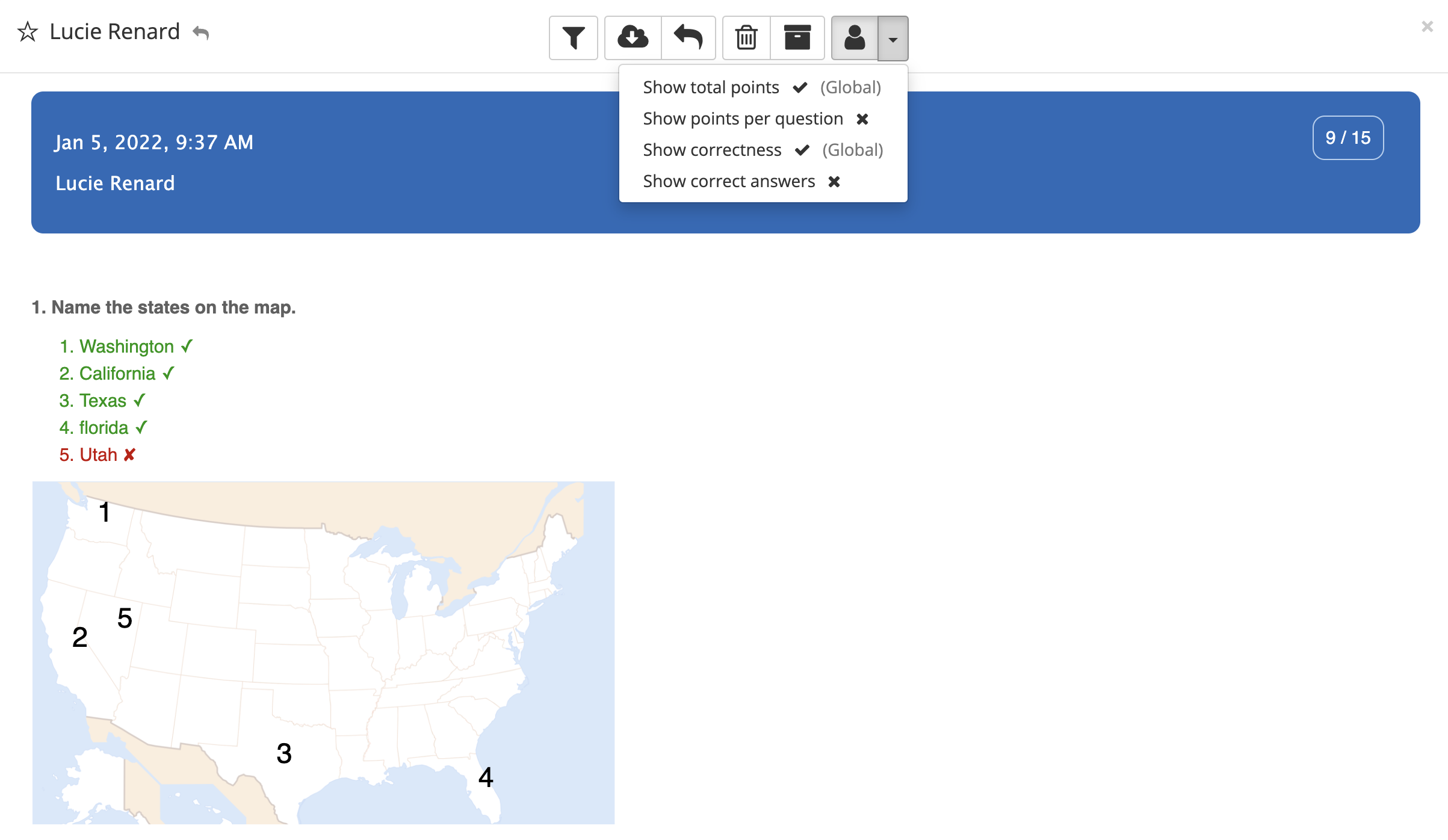 Before you ask: yes, you can download PDFs intended for students (following the configuration), or for teachers (including all info).
Isn't this the best new BookWidgets option for formative assessments? You can hide the grades for your students and still show they where they can improve their learning! 🙌
2. Exporting class/ course scores as CSV
Next to individual widgets, it is also possible to export the scores of an entire course —or even multiple courses at once— as a CSV file.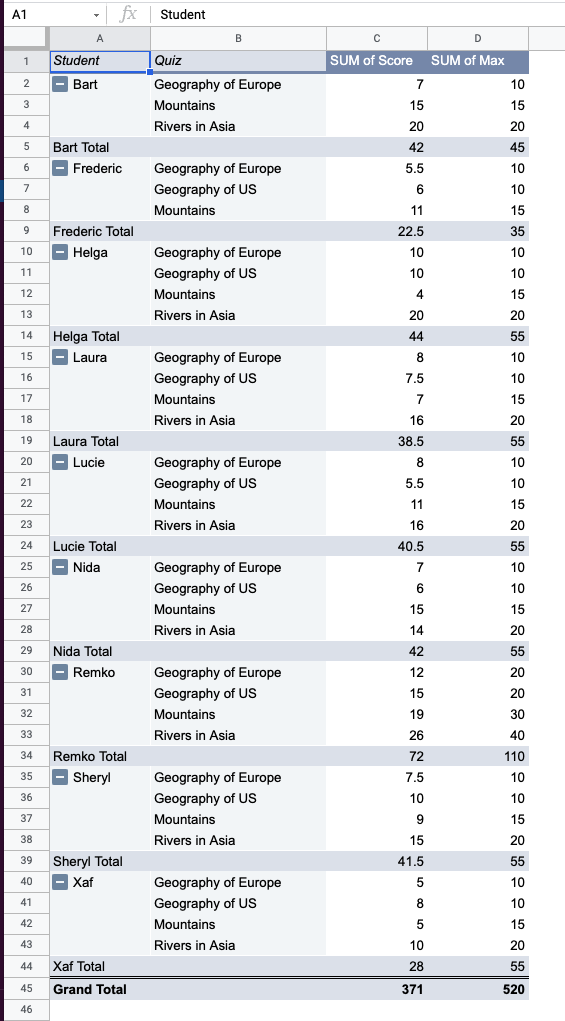 Here's an extended article that will guide you through the process, step-by-step.
3. Star assignments
Besides starring individual student work, you can now star assignments too. Teachers are using this option to remember which assignments they reviewed already. After reviewing, they star the activity.
It's as simple as you want it to be. You can give another meaning to the stars yourself. You might only star assignments with a very low average grade. Or you might star an extra assignment, just for a few students. You might star an assignment where you delivered comprehensive feedback. What's in a name, right?

Live Widgets updates
4. Live view per question
In the grading dashboard you can grade student by student AND question by question. In Live Widgets you could only see the live results for each student. That changes now!
Now, you can also view live results for each question. In general, you can see the live average score for each question, and when you click on a question, a screen will open with a list of live results from all your students on that particular question.
This gives you even more opportunities to discover weak spots and help out your students where needed. You can also guide excelling students to bigger challenges.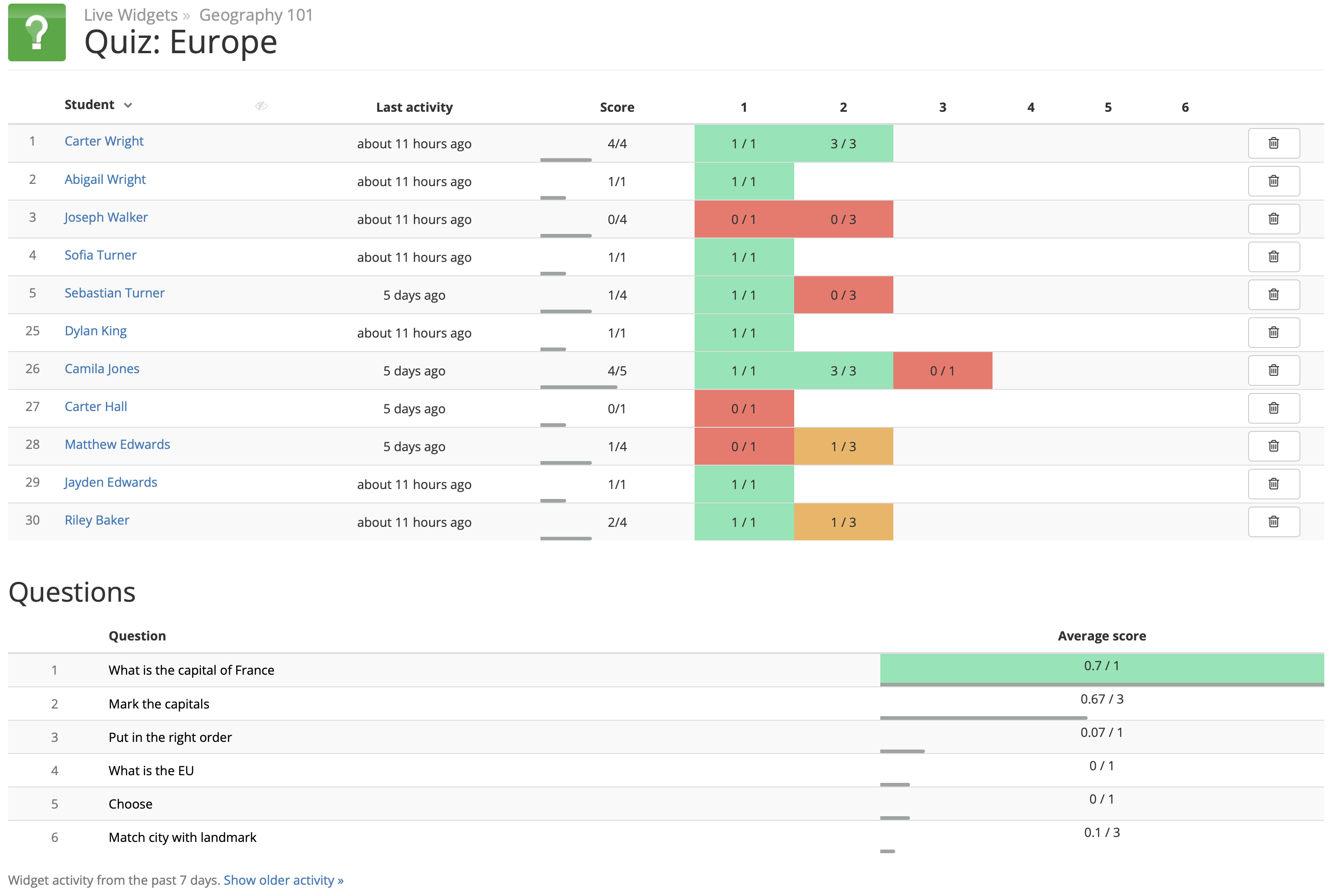 Widgets updates
5. Crossword question - Quiz & (split) worksheet
I figure you already know this one. There's a new kid in town - read question type - in the quiz and (split) worksheet that enables you to add crossword puzzles alongside other questions in your digital assignments.
Bonus: Switch to rich text so you get a few more design options. Add a table in your question and add numbers with images.  Watch the video tutorial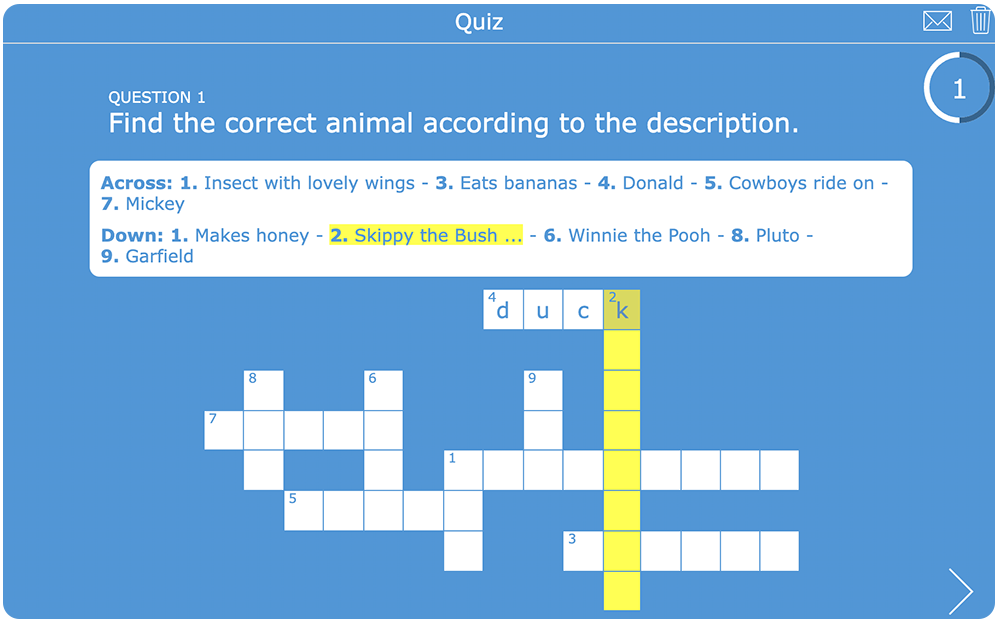 Click to open
6. Define category colors in the "mark sentence" question - Quiz & (split) worksheet
In the mark sentence question, you have to add categories so students can mark the words in the colors connected to the categories.
Now, you can connect a color of your choice to each category on each line. Check out the example: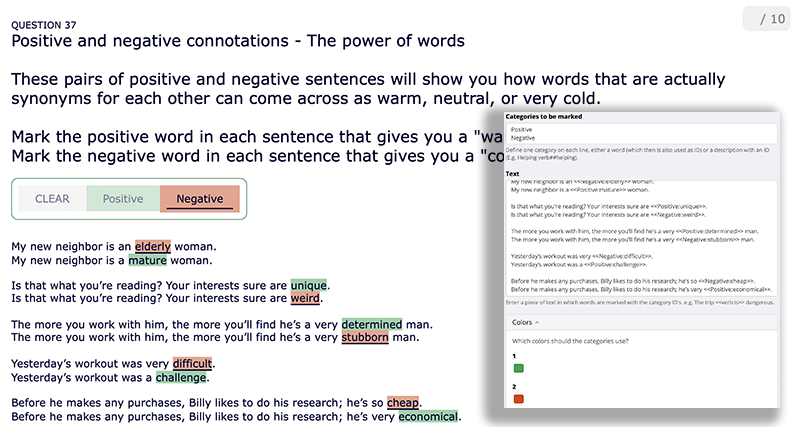 Click to open
7. Limit number of answers in the "multiple choice/ multiple answers" questions - Quiz & (split) worksheet
In all the question types where students can indicate multiple possible answers (text & images), you can now restrict students from giving more answers than needed. After indicating all the possible answers, your students' mouse will show a 🚫-symbol so they can't indicate more answers. Give it a try by clicking on the image below 👇 In the example below, you can only indicate 5 possible answers.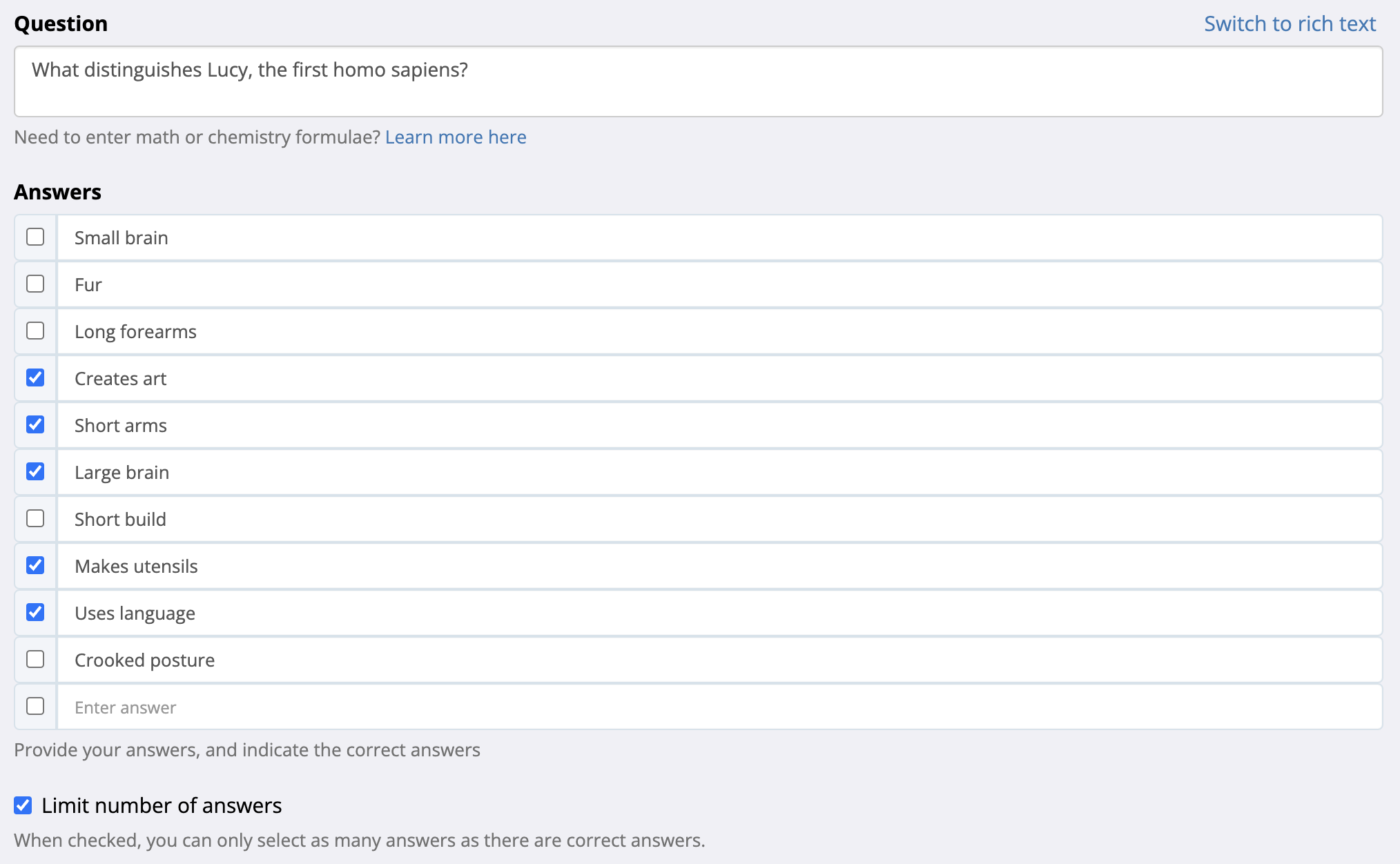 Click to open
8. Instructions
You can now add instructions to your widgets. For a lot of the widgets like a Flash Cards widget, Pair Matching widget, Bingo widget, … a title isn't enough to give students the correct explanation of what they need to do. So, there's now an "Instructions" field that you can enable and fill out. Students will also get the instructions first, before they can get started.
You can find the "Instructions" option in most widgets. For the Quiz and (Split) Worksheet widgets, you can give instructions using the Text question type. Just go to General > Instructions.
Check out the example below!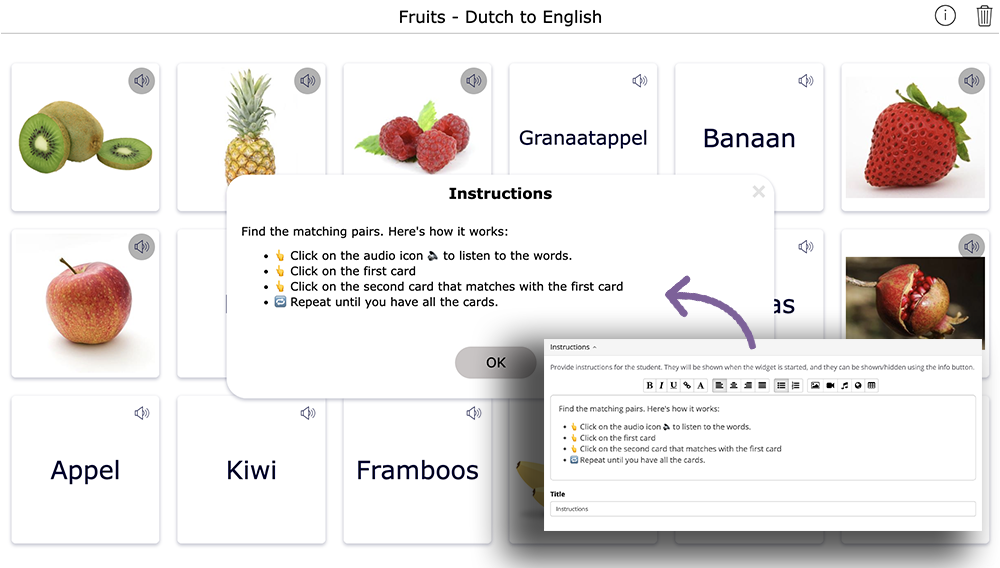 Click to open
9. Text and images to speech - Memory & Pair Matching
As you can see in the example above already, you can now add automatically generated audio to your cards in a Pair Matching and Memory widget.
Go to General > Speech options and enable this option by choosing "Use browser text-to-speech".
Indicate the languages on your first and second cards. If you want to add speech to your image cards, that is possible too! To enable speech on image cards, you need to add your cards, click on the ⚙️-icon next to the image and choose "Edit Image". Now, name the image in the Alt text field, so the built-in browser audio, can "read" and translate the image. Click on Done.
Go check it out in this example below 👇 Can you connect the Dutch (Flemish) words with the correct images?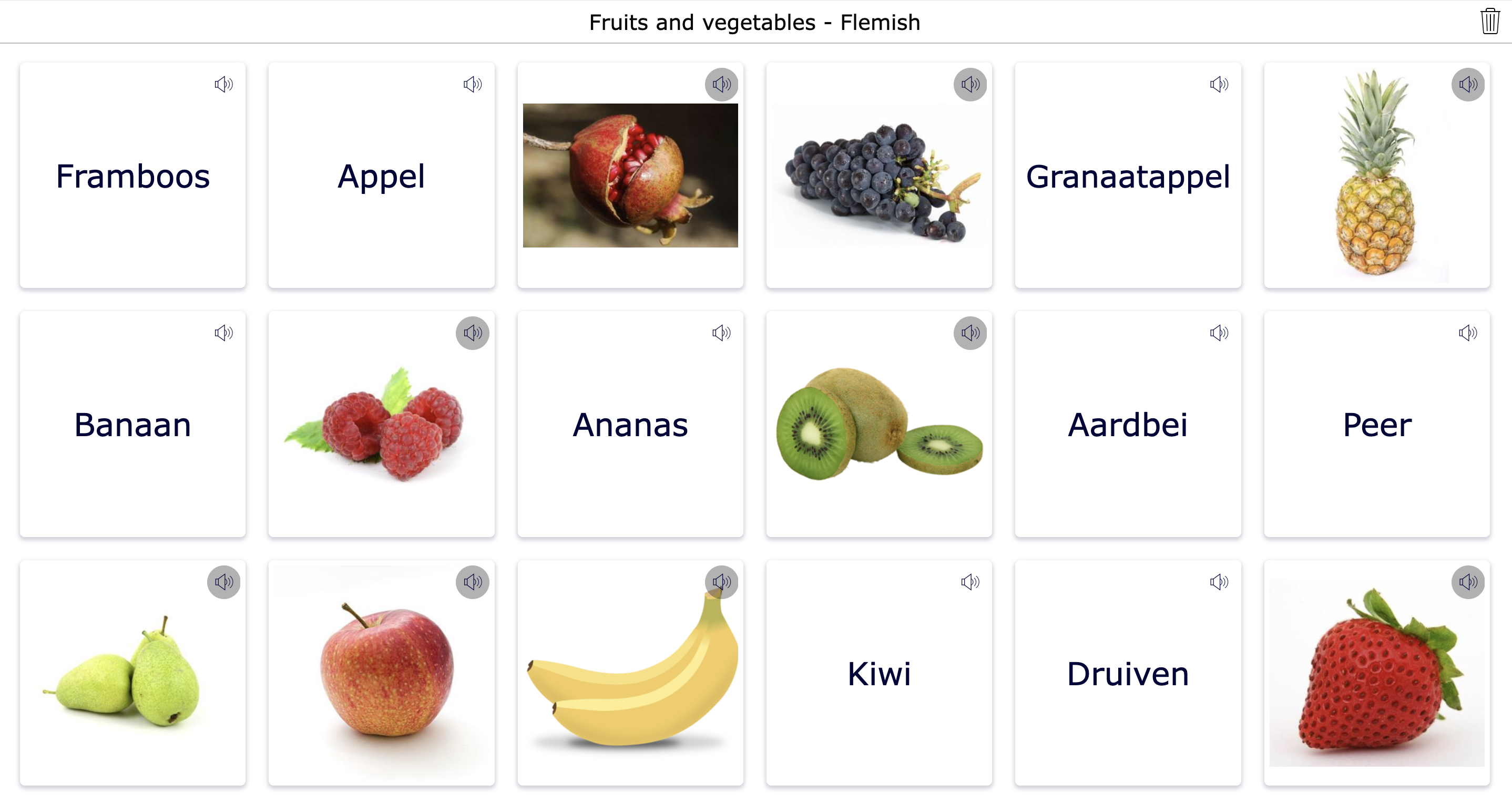 Click to open
10. Text-to-speech in flashcards
When you add words and translations to the cards, the text-to-speech option will add an automatically generated spoken audio file of the text. 
Here's how: First add the cards with your text, then go to General > Speech options.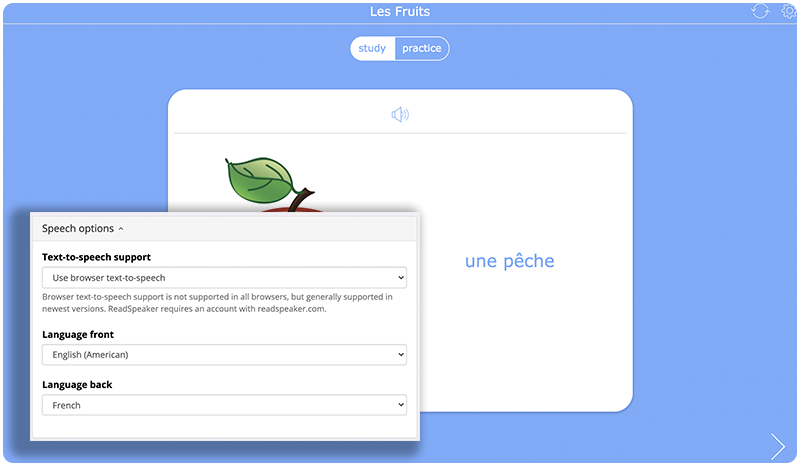 Click to open
11. Smartboard-friendly layout - Flashcards
When you're using flashcards as a study tool in front of the classroom, it's pretty hard to reach the study and practice buttons all the way up the screen. The smartboard-friendly layout places all buttons in the bottom half of the screen, to make them easily reachable.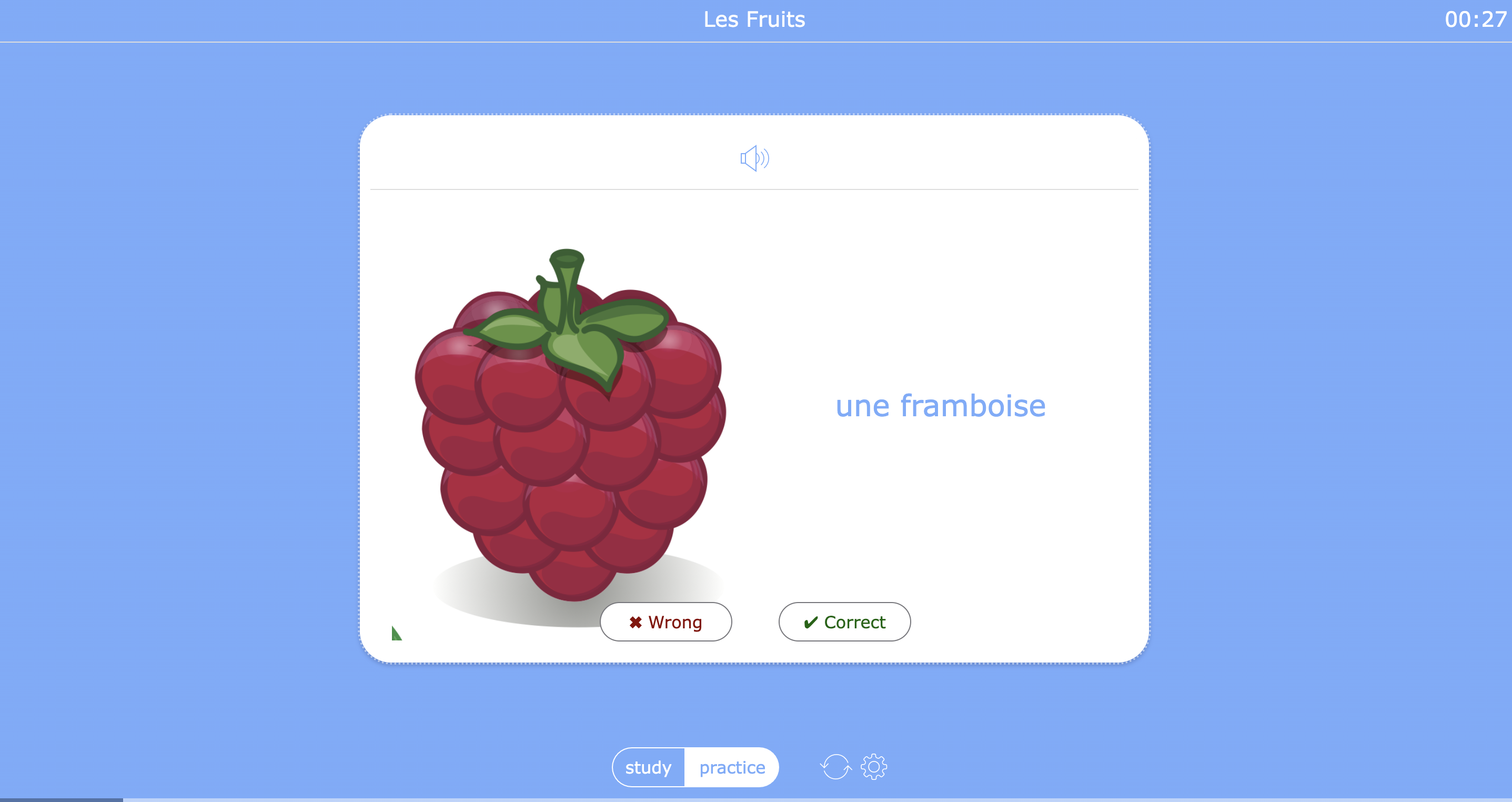 And there's more…if you want to disable the study or the practice mode (or both), that's also possible now.
You can find all these options by going to General > Advanced options in the flashcards widget.
12. Import flashcards with CSV - 2.0
Until now flashcards CSV import didn't support images. Now it does! To do this, you have to provide a .zip file containing the .csv as well as the image files (and audio files) it refers to.
Open the Flashcards widget, go to the "How to Import from Excel" tab and you'll learn exactly what to do. When you've created your CSV file, together with your .zip file, you're ready to click the ⚙️-icon in the upper right corner and choose "Import CSV". Don't hesitate to contact support@bookwidgets.com if you have questions about this.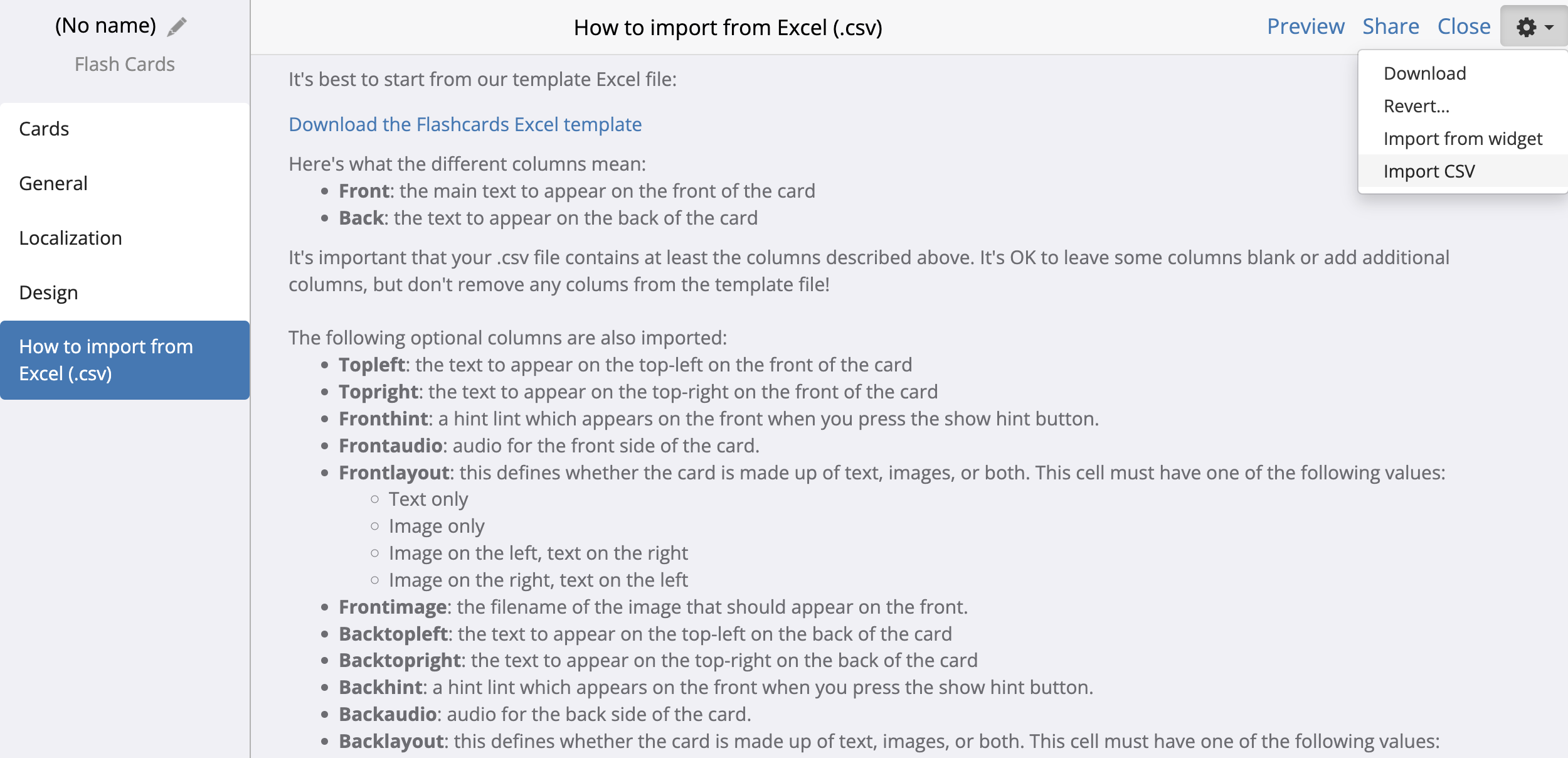 Design updates
13. Easier design configuration
We've made it a lot easier for you to configure the design of your widgets. You can basically change everything in your widget's design, but this might be a bit overwhelming. Now, when you want to change the design of something in your widget (in preview), click on that precise part in the widget and BookWidgets will guide you to the correct design settings you can edit.
Pretty cool right!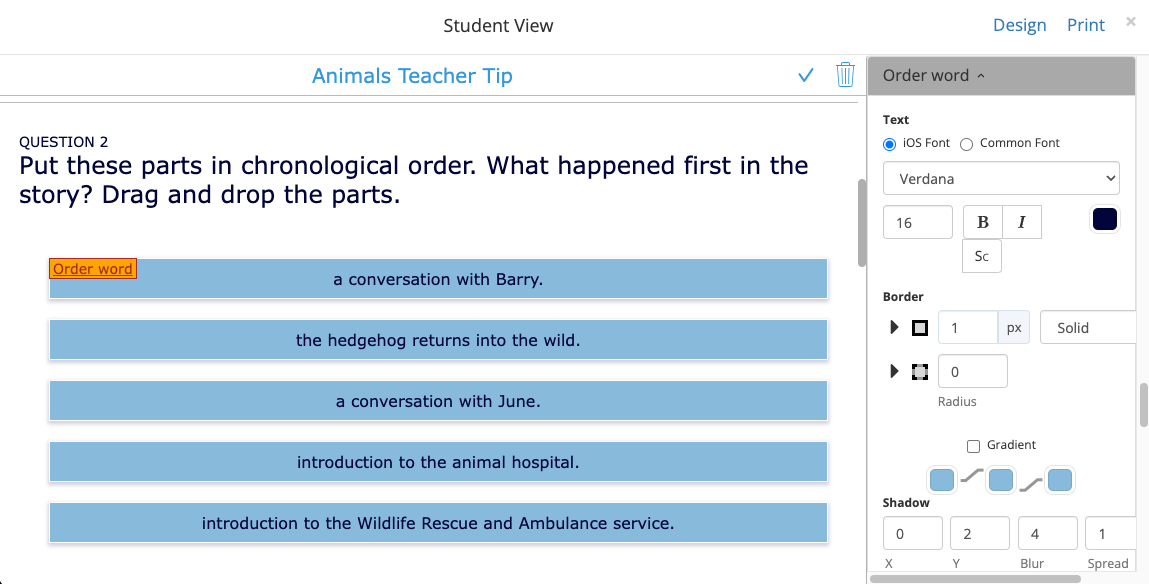 14. Export & import design templates
You can now create a design template for each widget, and store it on your computer. Later, when you've created a new widget, you can easily import that design template to that widget, changing the design immediately to the right settings.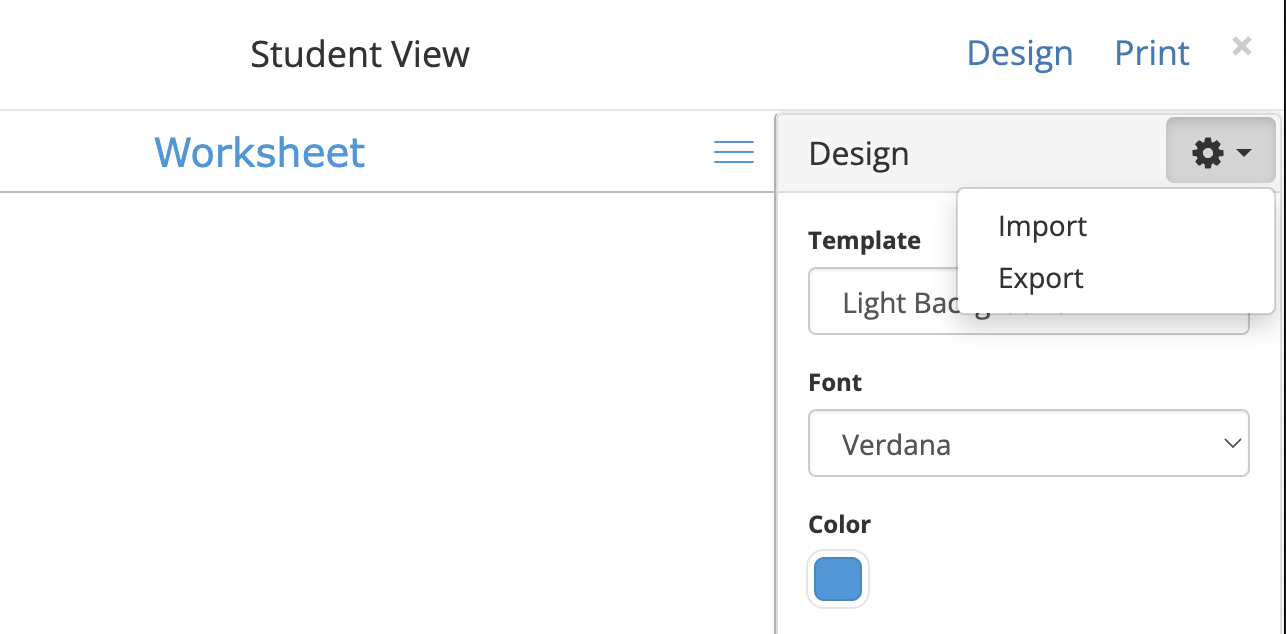 What a list!
That's it! What's your favorite addition in this list? Let us know by sharing this post on your socials, tag BookWidgets (Facebook & Twitter), and mention your favorite update.
Keep an 👀 on our socials! The best is yet to come…