The best way to review digital student work efficiently
Lucie Renard —
Whether you already know BookWidgets or not, you'll love what this post has in store for you. For the teachers that don't know BookWidgets yet, you'll discover how easy and time-saving reviewing student work in the BookWidgets dashboard is. For the teachers that consider themselves absolute BookWidgets professionals: there's something new you don't know yet! Keep reading and find out what it is! (or, for the impatient, just skip to the newest mark & annotate feature.
But first… Let's get familiar!
What can teachers do with BookWidgets?

With BookWidgets, teachers can create interactive activities in the (digital) classroom. Choose a digital template activity, adapt it with your own content, share it with your students, and review their work. You can create digital lesson activities such as crossword puzzles, timelines, memory games, and much more. For digital assignments, you can create automatically graded worksheets and quizzes with 30+ interactive question types.
The BookWidgets dashboard lets you look at your students' submitted work for
Reviewing: two different ways of reviewing your students' answers.
Grading: 80% of the digital assignment will be automatically graded, but you can still review and modify the grades.
Giving digital feedback: adding comments to student work where needed.

When you've created your digital BookWidgets assignment and shared it with your students, it's up to the students to submit their answers. Once finished, you open the reporting dashboard in BookWidgets, and BAM! All the work of your students miraculously appears, already graded. Of course, you still want to take a look at these answers, maybe change some grades, and give feedback. BookWidgets is the perfect educational tool for both summative assessments and formative assessments.
Navigating to the reporting dashboard

After creating and sharing a digital assignment with your students, you have to review their work. To do this, you navigate to the BookWidgets reporting dashboard. Here, you can review all the work, perhaps adjust automatically graded scores, and give feedback. Just follow these simple steps:
Sign in to your BookWidgets account.
Go to the tab Grades and reporting.
Go to My courses (or Student work, in case you are not using BookWidgets in another LMS such as Google Classroom, MS Teams for Edu, Canvas, Blackboard, Moodle, Schoology, Smartschool …)
Click on the title of the assignment or widget you want to review.
You're now in the reporting dashboard of that particular assignment. You'll see a list of all the questions in your assignment and a list of all the students that already submitted the digital assignment or widget. In most cases, you'll also see that the assignment is already graded.
Note: To see something in the reporting dashboard, students have to be able to submit their work from within the widget. Make sure you enabled this in your widget before sharing it with your students.
Reviewing student work

Once you're in the reporting dashboard of the right BookWidgets assignment, there are two ways to review your student work, depending on what fits you the most: you can review student work student by student or question by question.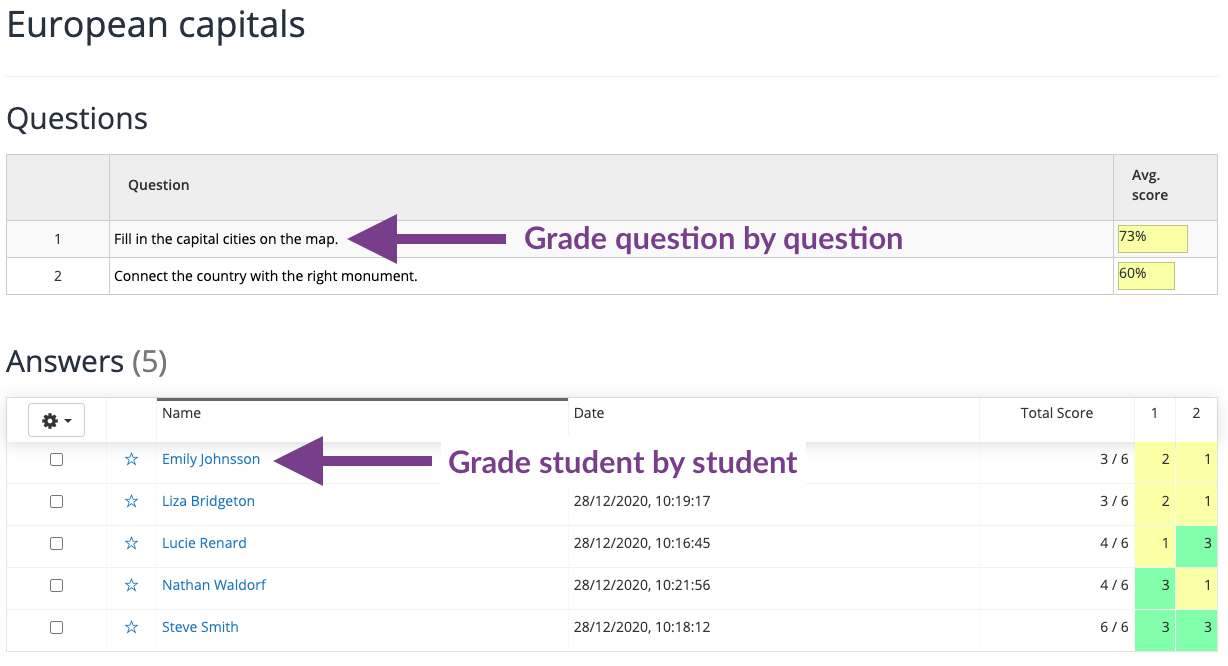 Question by question: Click on the first question that's listed in the reporting dashboard. Now, you'll get a list of every student's answer to the selected question, allowing you to review all your student's answers to that question at the same time. Use the arrows to jump to the next question and repeat the process.

Student by student: Click on the first student name in the list to open that student's submission. You can review the complete work of that student, and click on the arrow to go to the next student.
Check your students' grades and make changes if necessary
Depending on what widget and question type you choose and depending on how you configured the right answers, most of the work will already be automatically graded.
In a few cases you would want to change the automatically given grades:
Questions or widgets that can't be automatically graded still need a grade. Just add a grade next to the question.
You made a mistake when configuring the right answers in your widget. You can mark your student's answer as correct, or just change the grade. Even better is to change the autocorrection for all your students at once.
A student made a spelling mistake, but the answer is still correct. BookWidgets will grade it as incorrect, but you can change the grades and still give a point.
Give constructive feedback
There are 3 easy ways to give feedback in BookWidgetsl (including a brand new one on popular request).
1) Add a summarizing comment
On top of your student's work, you can write a summarizing comment for the entire work. Write down some constructive feedback or guide the student to some extra exercises.

2) Add a comment below your student's answer for a specific question
To make it easier for you and for the student, you can also add comments below each question. This way, the student knows that your feedback is intended for just that part of the assignment.

3) NEW! Mark & annotate your student's answer
You can now mark parts of your student's answer, and add a comment specifically for the marked part. This makes it possible to mark spelling mistakes or other parts in your student's answer that need some extra explanation.
This new mark & annotate feature is especially useful for the open-ended questions such as the single-line text question, multi-line text question, or the rich text question. Of course, you can also use it in the other question types.

Student reporting statistics

BookWidgets also gives you some interesting statistics that give you a clear overview of how students perform.
Note: Make sure to review all the student work first. When you've changed a grade, the statistics will automatically change again as well.
Average per question
The first statistic shows you how well your students did for each question. You can see the average score for each separate question in your digital assignment.
If the average score is pretty low, you know your students didn't understand your question or the content of your lesson that's represented by this question, and you may have to explain this part of the lesson again.

Total score
Click on the top of the Total Score collum to sort the total scores from high to low or from low to high. This way, you immediately get an overview of your top-performing students and students that might need extra help.

Extra statistics (mean - median - minimum - maximum)
Scroll down in the reporting dashboard to get a graphical overview of some extra statistics. You can see the mean, median, minimum and maximum score of your digital assignment. When you click on a bar in the chart, it will also reveal the names of the students that scored that grade.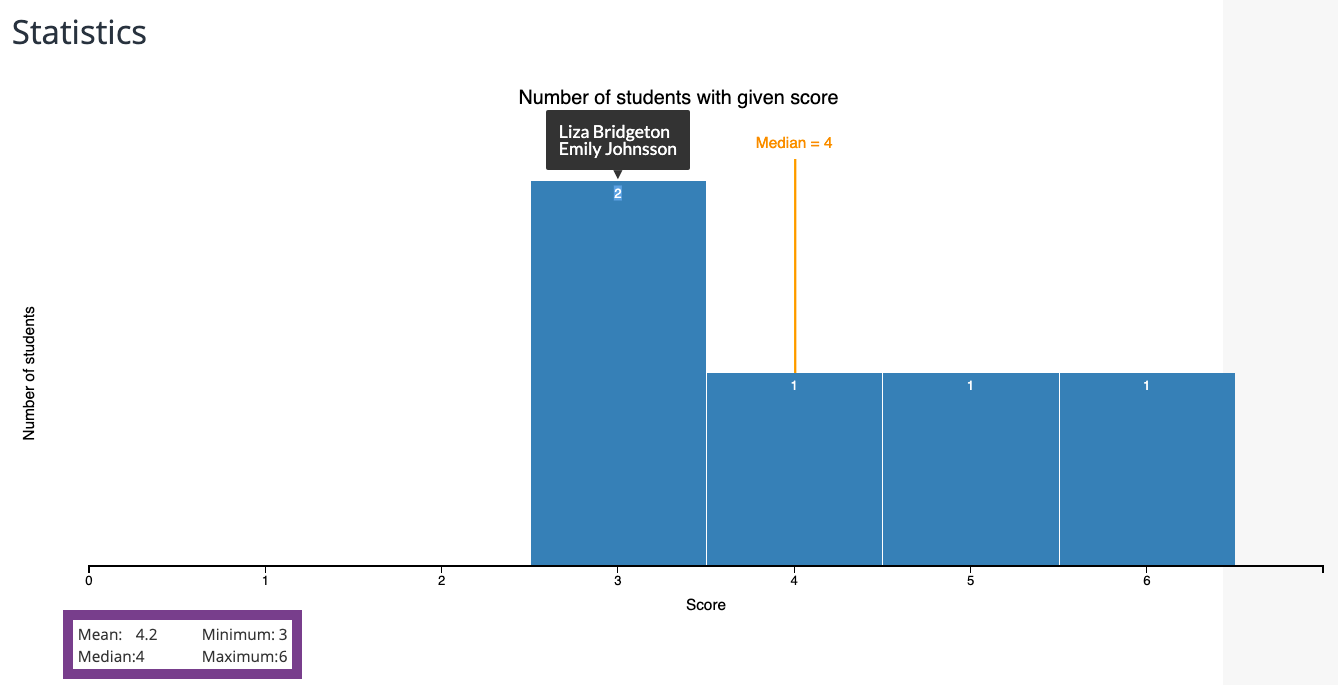 The BookWidgets reporting dashboard in action - Video tutorial

Check out this video where I show you how you can grade student work in BookWidgets. Everything is explained step-by-step in this blog post as well. If you want to see it in action, this video might clear things out.
That's it! If BookWidgets has helped you with your grading and feedback in the past year, make sure to spread the word about us and share this post with fellow colleagues in need of some BookWidgets magic!