Choosing the best classroom technology - 5 things teachers should think about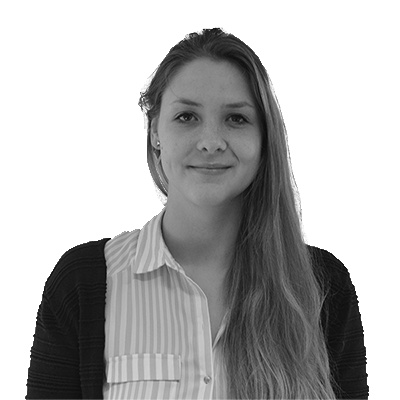 Lucie Renard —
The educational technology space is endless. Choosing the right educational apps and tools in your classroom can be a real challenge. However, it doesn't have to be.
You may find that choosing lesson materials or tools is easier after carefully considering what you want students to do with it, and why.
In this blog post, I'll give you 5 keys that will open the door to the best classroom apps fit for you and your students, as pointed out by Kurt Klynen. As Kurt is a well-established classroom innovator, this is solid advice we should all listen to.
Before we start, you should know using an educational tool or "using technology" is NOT a purpose. It's just a means to an end. Keep that in mind at all times.
5 key considerations when choosing educational technology
1. Relevance

The material has a strong connection to the curriculum or the topics you are using it for. In evaluation whether your tool meets your learning goals, you might consider:
Is the material appropriate for the student?
Is the content factual and reliable?
Does it align with your learning goals?
2. Navigation

Ease of use and a low learning curve is what you are looking for when you try a new tool. You might consider these questions while navigating through the tool:
Does the material use the touchscreen effectively throughout its use?
Is it intuitive to use?
Is there a help function or tutorial available?
3. Customization

Complete flexibility to alter content and settings help you meet student needs. In evaluating such materials, consider these questions:
Does it offer personalized or adaptive skill levels?
Does it offer flexibility to customize content to meet student needs?
Does it let users personalize the user interface?
4. Interaction

Deeply engaged students come alive and are more motivated. You might consider these questions when determining whether a material meets your criteria for interaction:
Is the feedback specific and does it result in improved student performance?
Is the material inviting to use?
Are students motivated to use the tool and select it to use often?
5. Accessibility

Many materials can help you reach students with special learning needs to access abilities. In evaluating such materials, consider:
Does the material let users personalize the user interface?
Does the tool offer flexibility to alter settings to meet student needs?
Does the material work with accessibility features on the mobile device?
There's more…
Of course, choosing an educational tool depends on what kind of teacher you are and the way you teach your students. Some of you might add other key considerations as well. Think about:
Classroom infrastructure, or the hardware (devices) you'll need to use a certain app or software.
Collaboration: Can students work together/ collaborate on projects?
I added a little checklist to help you make the right decisions. Go over this online checklist (which you can make yourself with BookWidgets) with every classroom technology tool you are considering using, or if you're already using so many tools, but want to slim thighs down and stick to the essential educational apps.
Just click on the image below: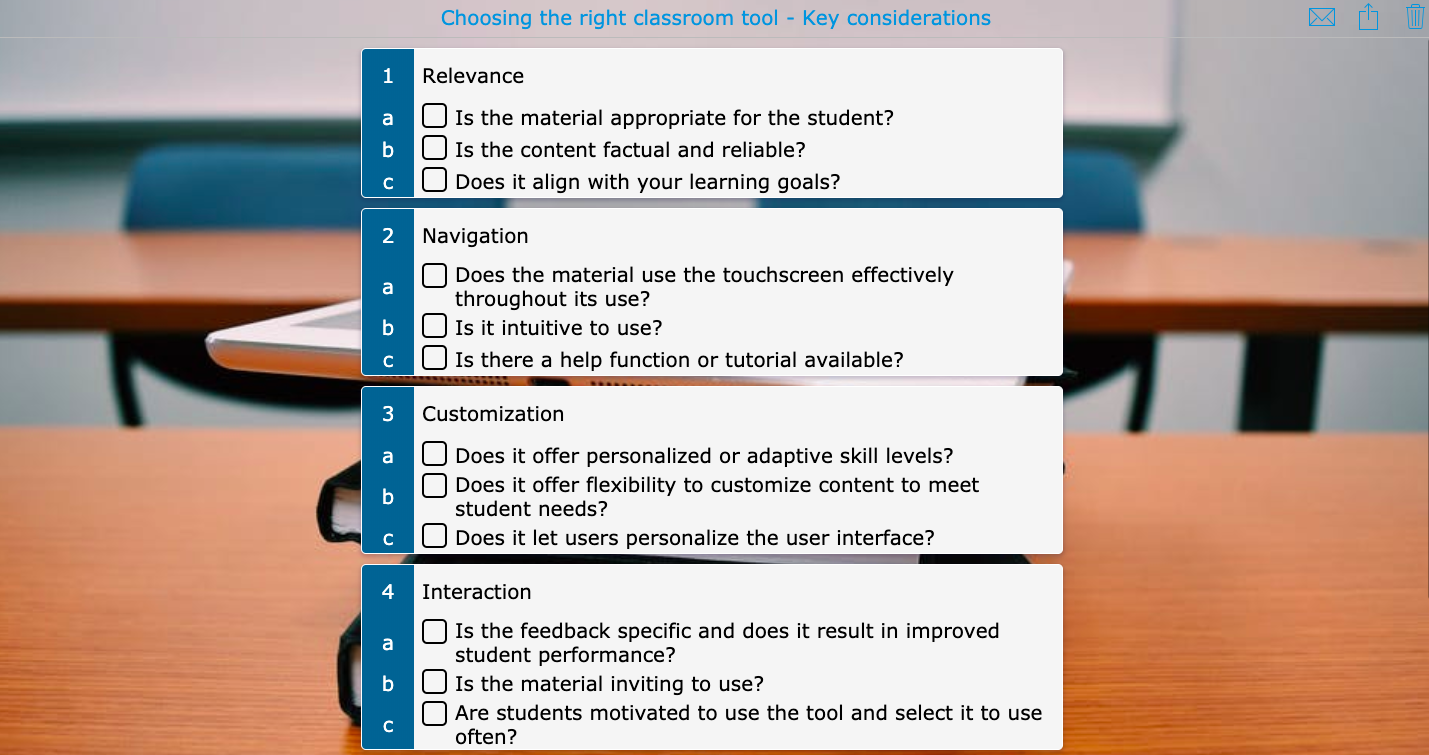 Click to open
If your school is moving to a digital school or starting with a 1 on 1 device project, choosing the right educational apps is definitely a priority and should be high on your task list. If you want a school structure using just a handful of classroom apps for teachers, check out this blog post about creating a digital classroom with just 3 educational apps.