10+ ideas for interactive word search puzzles to use in the classroom

Remko Tronçon —
Using games and puzzles in your class is always a hit with the students. Whether you use them as an introduction for a new chapter, as a practice break in the middle of a section, or to end a class, puzzles are a useful and fun way to add some interactivity to your class.
One type of puzzle that is easy to apply in about any class is a Word Search Puzzle.
Let's have a look at some examples. Afterward, you will see how to make your own word search puzzle games and the additional feature that Bookwidgets provides.
💡 Good to know: all the ready-to-use word search activities are created with BookWidgets. You can easily duplicate an activity for free, edit it if needed, and share it with your students. You can do so in the examples separately, or you can find all the word search examples in the BookWidgets Blog group folder.
Language Word Search Puzzles
Languages are all about words, so it's pretty obvious that a word search puzzle is a perfect fit here.
Let's start with an easy one for teaching foreign vocabulary. We put English words in a column as clues, and let the student find the Spanish translation :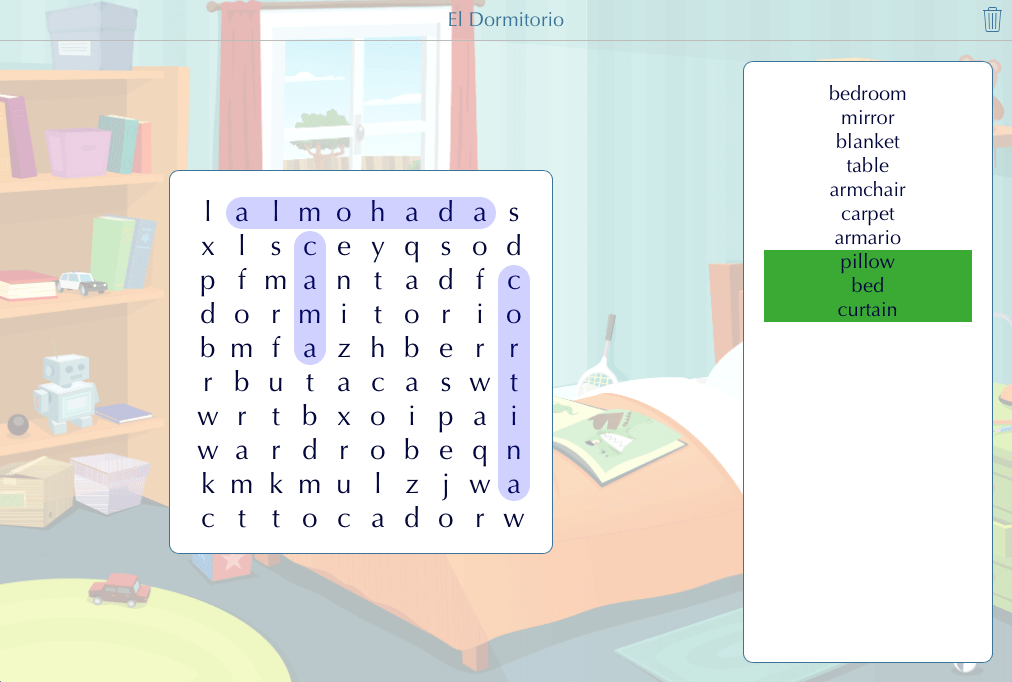 Click to open
There are different ways to change the difficulty of a word search puzzle.
Instead of just having horizontal and vertical words, also place words diagonally or even in a reverse direction.
Leave out the clues
Make the word search bigger
For example, the following English word search puzzle contains words in all directions, and doesn't have any clues (except that you have to look for objects from the kitchen):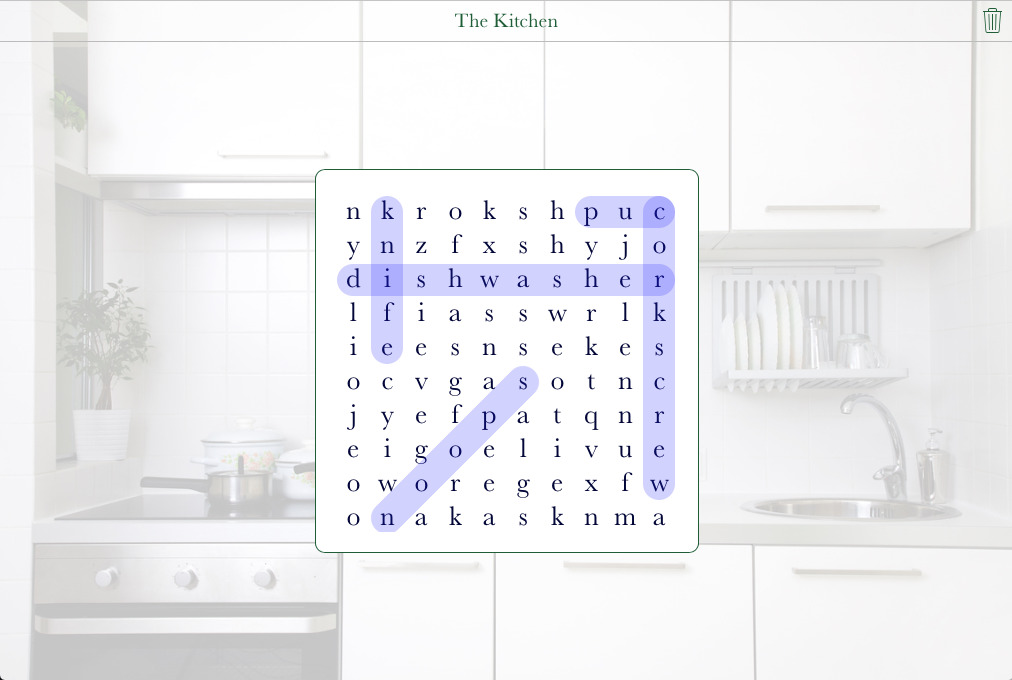 Click to open
A word search also allows you to practice new learning topics. Have you just taught the days and months to your students? Take some time to practice it with a days and months words search puzzle.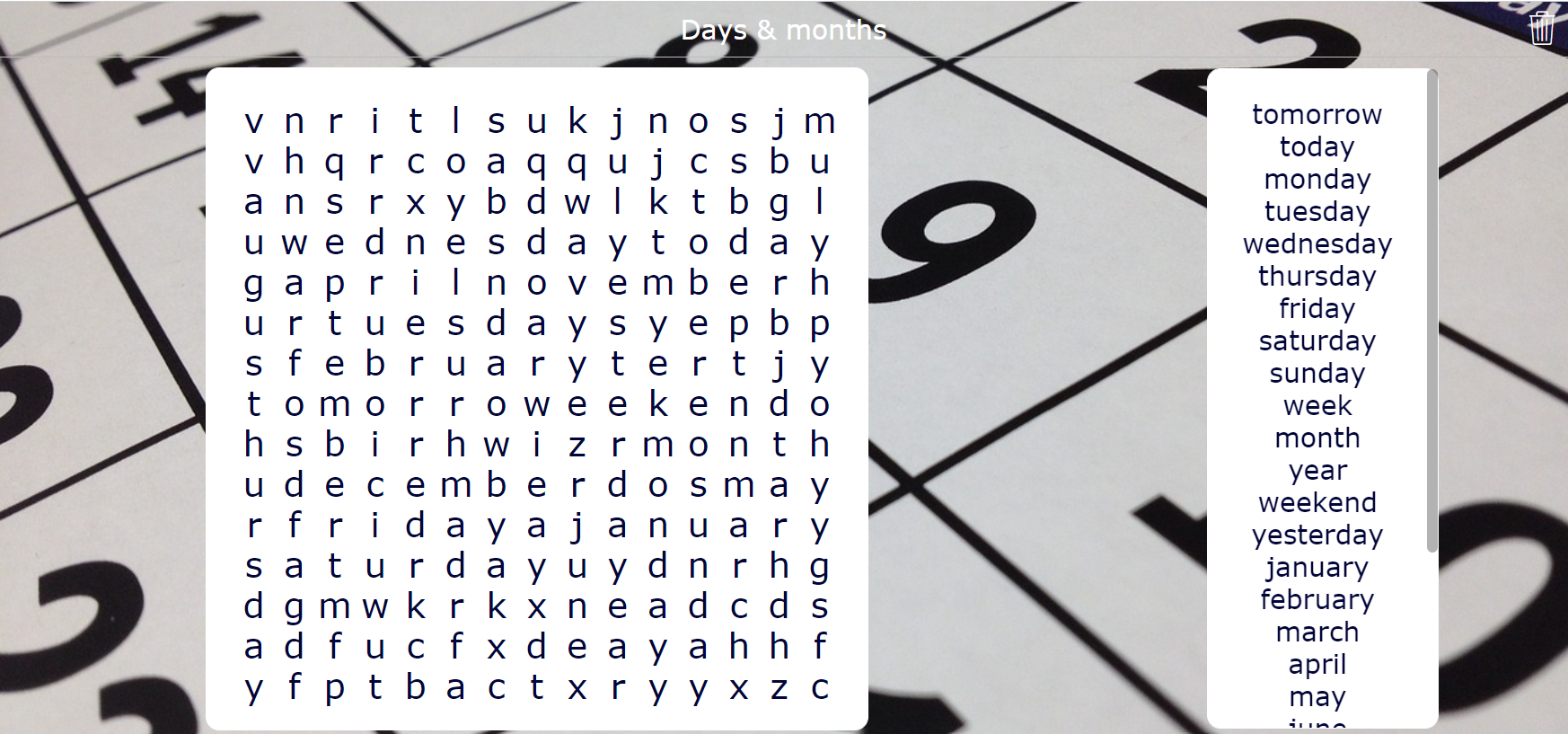 Click to open
Perhaps the holidays are approaching? Or are you going skiing with your school? A fun 'lesson starter' could be a word search where your students need to find the different ski equipment that is covered.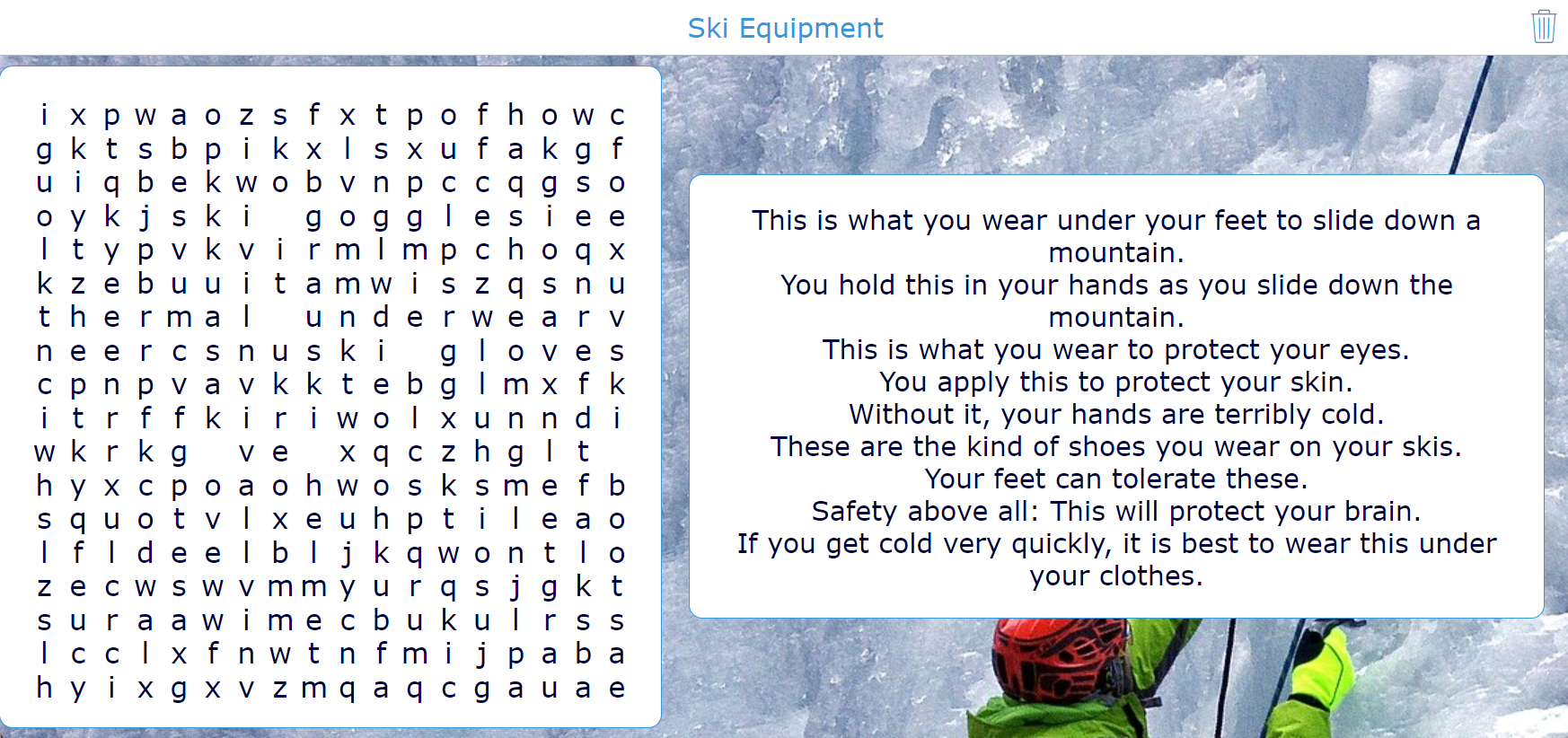 Click to open
Science Word Search Puzzles
Most science subjects come with a lot of terminology to learn. Word search puzzles are perfect for the job of introducing scientific words in an interactive way.
Let's take Biology, for examples: not only do you have a long list of plants, animals, and other organisms to learn, but each of these consists of lots of other parts with hard-to-remember names. For every level of terminology, we can make nice word search puzzles: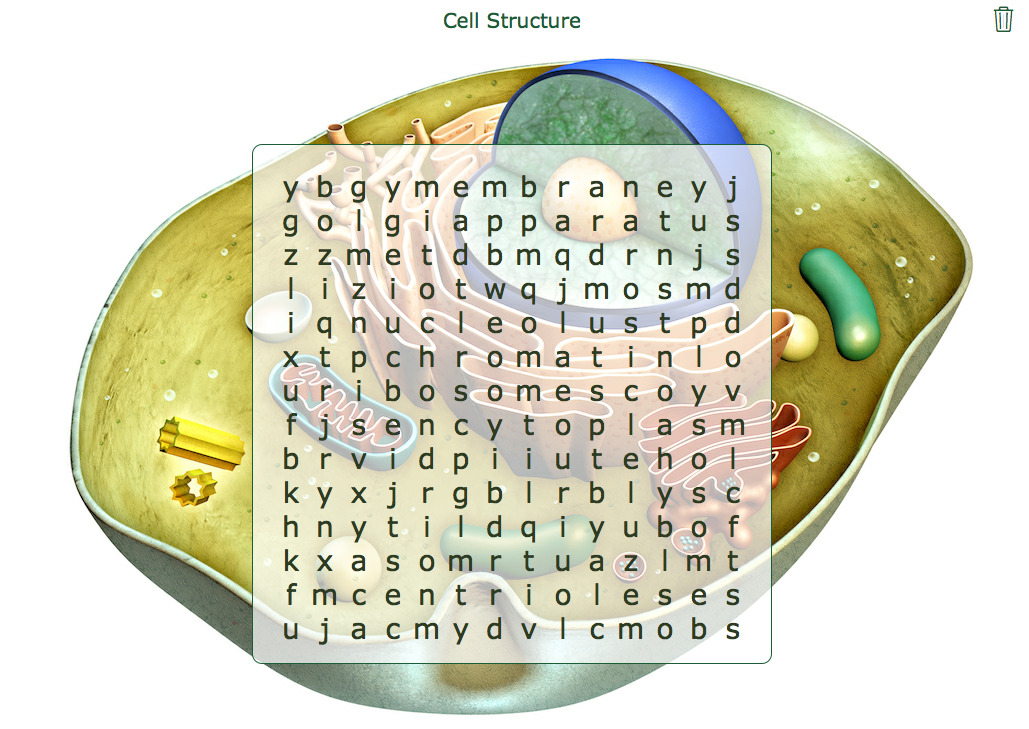 Click to open
How about geography? Names of continents, countries, cities, rivers, mountains, … All great candidates to put in a word list, and get your students enthusiastic during class: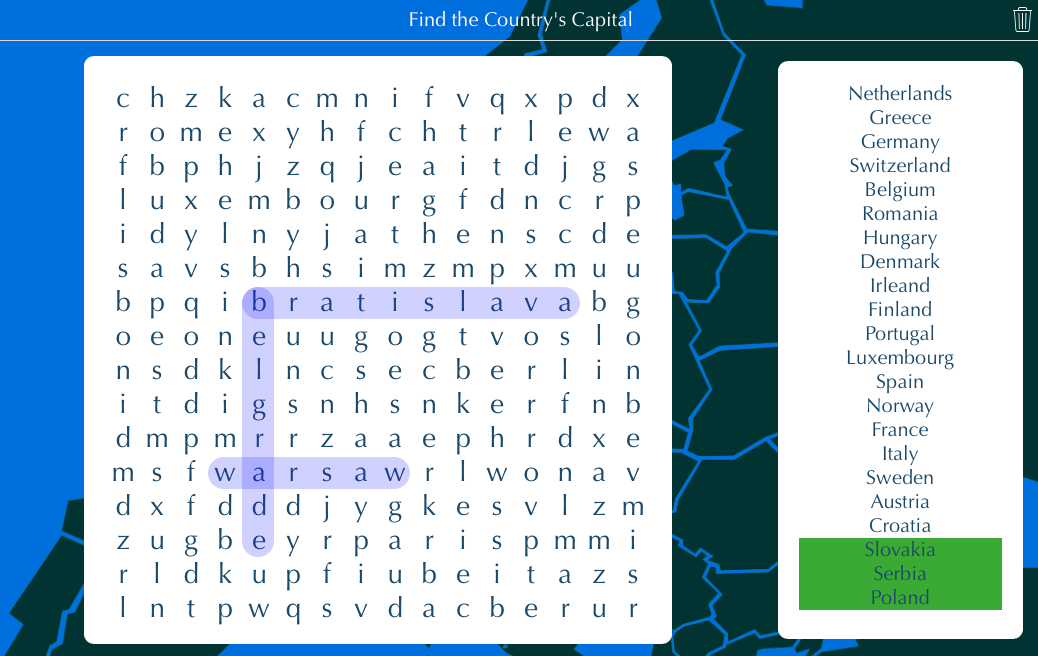 Click to open
In elementary school, you might work around the theme 'water' during the world orientation lessons. Wouldn't it be fun to include small assignments between lessons like the example below?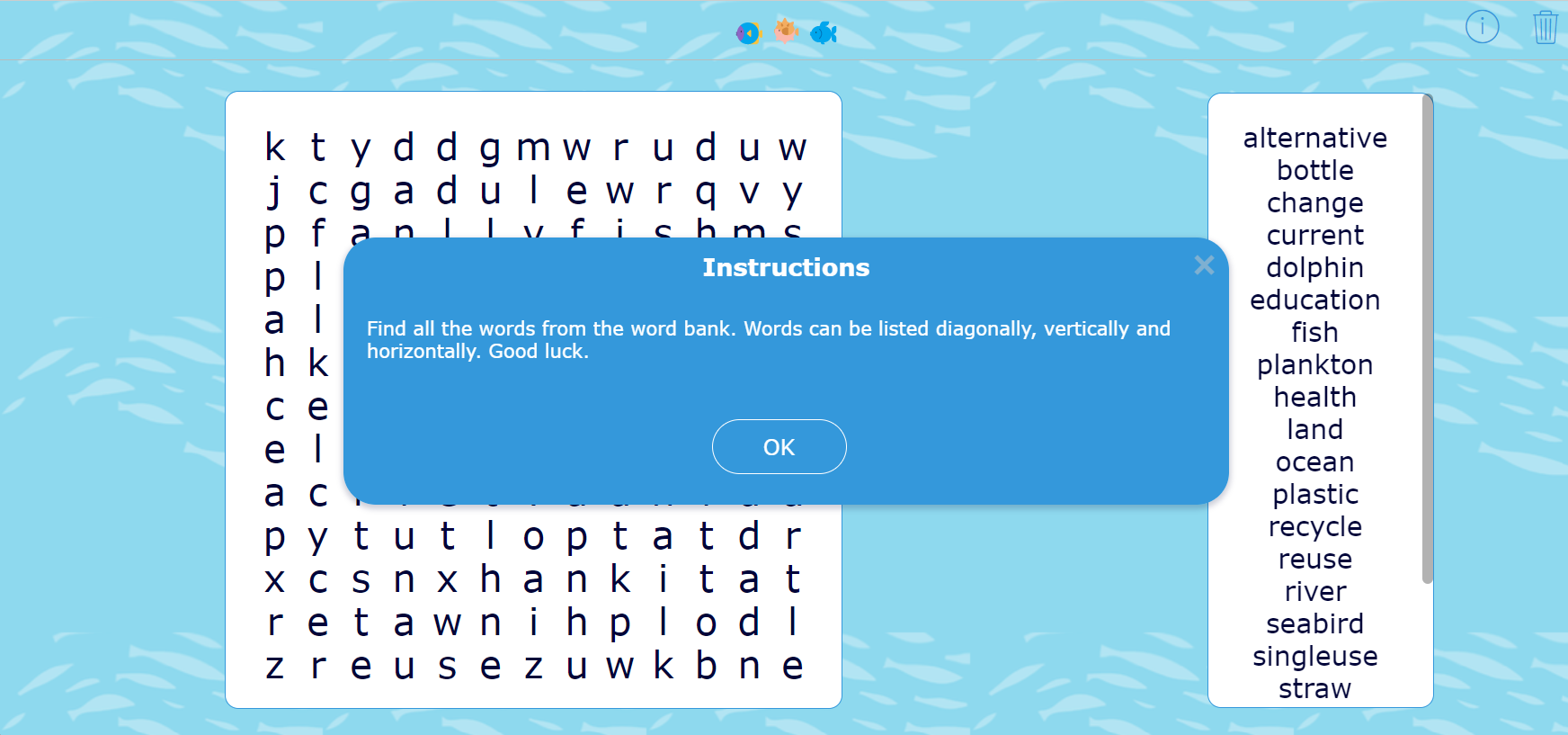 Click to open
History Word Search Puzzle
During history classes, you might bring up the subject 'Greek mythology'. Below there is an example of a fun lesson starter where your students should look for the main characteristics of a Greek hero. FYI: It is a real challenge!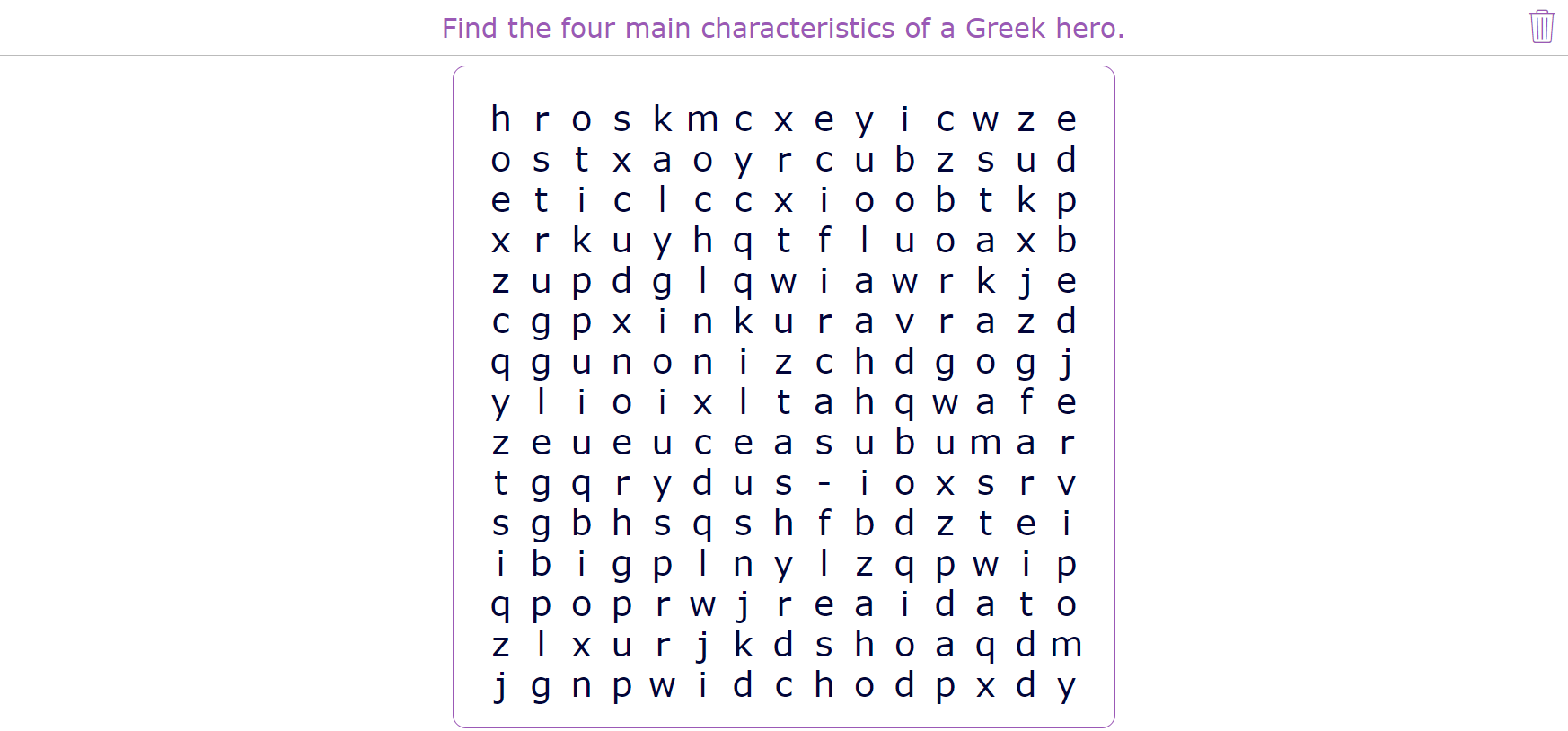 Click to open
Word Search Puzzles for Kids
There's nothing the youngest like doing more than learning by playing.
Word search puzzles can be a great way to teach young kids to read. An easy way to start off is by letting them search for simple words (such as the ones from the Dolch word list), from a list: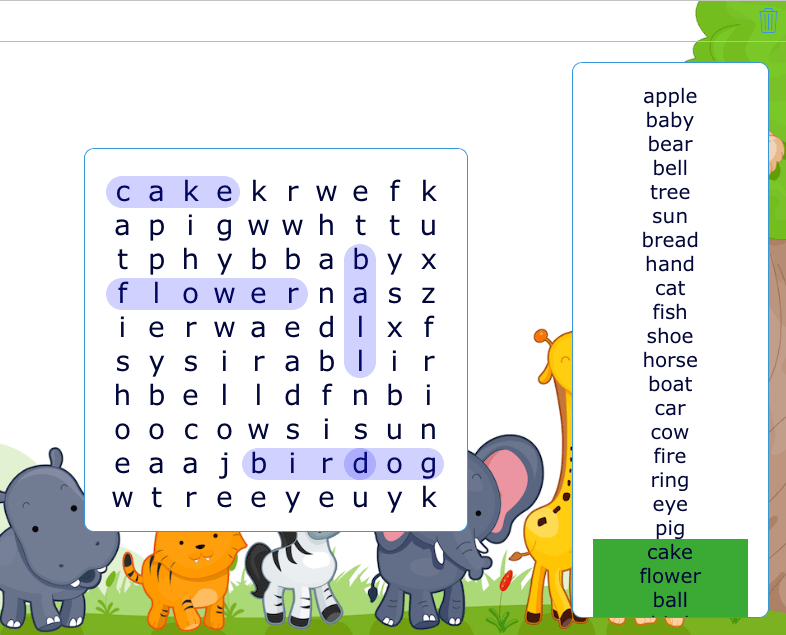 Click to open
They can match the letters from the description list with the letters from the center to get to know the letters and words.
You can make things a little bit harder by removing the words from the list, and replace them by emoji, giving them the chance to learn the letters by heart: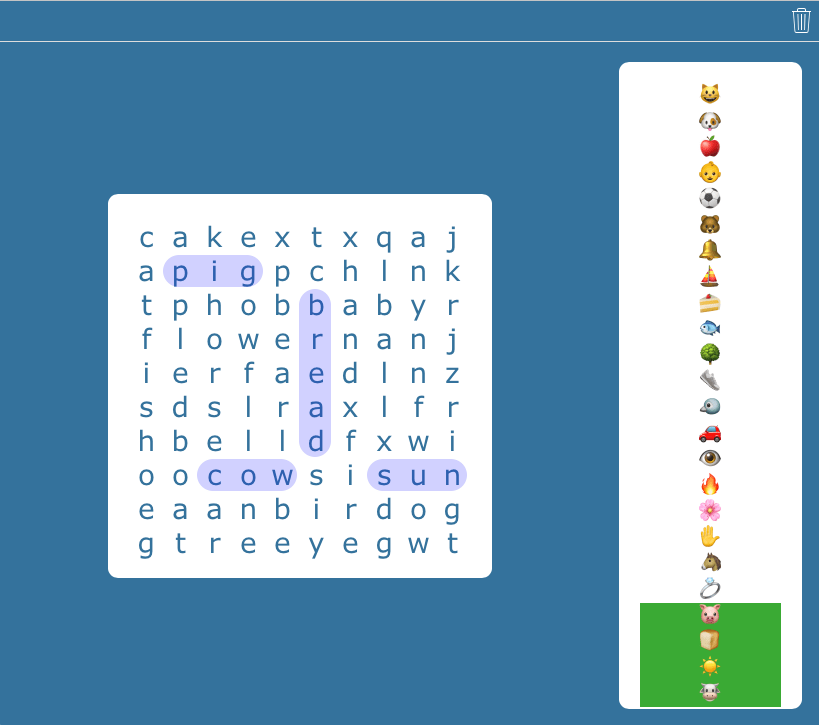 Click to open
Word search puzzles can also help with their first steps in math: learning the numbers and how to write them: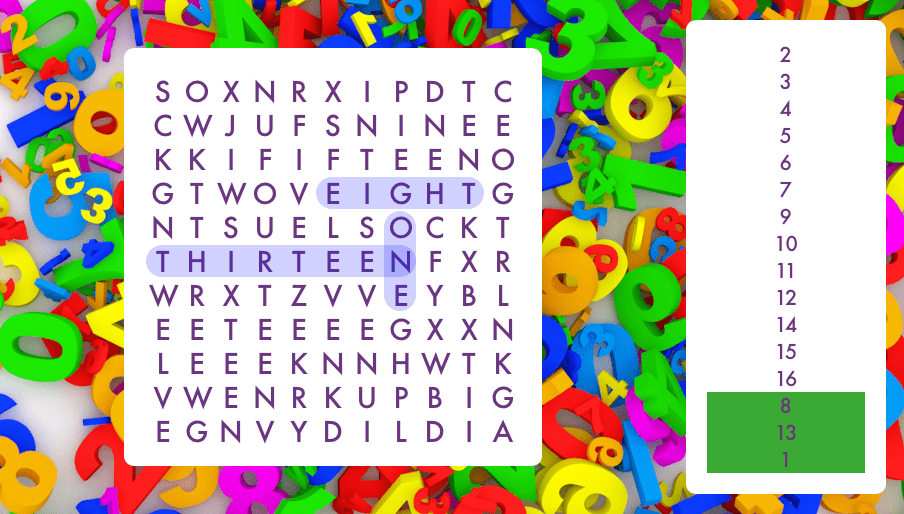 Click to open
Breaking the Ice With Word Search Puzzles
If you've been reading our blog, you know that we're fans of using games as ice breakers in the classroom. Word search puzzles can also be used as a fun way to get to know each other's names at the start of the school year.
You can, for example, use descriptions of the student as clues, and let them find first names in the word search; or, you can list the first names in a list, and leave the last names to be searched in the word search: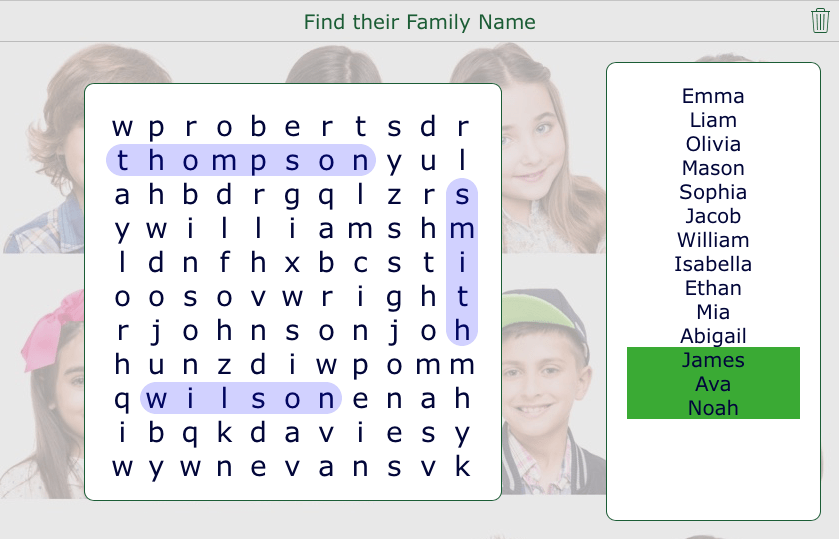 Click to open
Are you looking for something more (inter)active? You can use this one! The idea is that students need to look for names of other students in the class. If they find one, they need to get up and start a conversation. So, it is the perfect way of getting to know each other.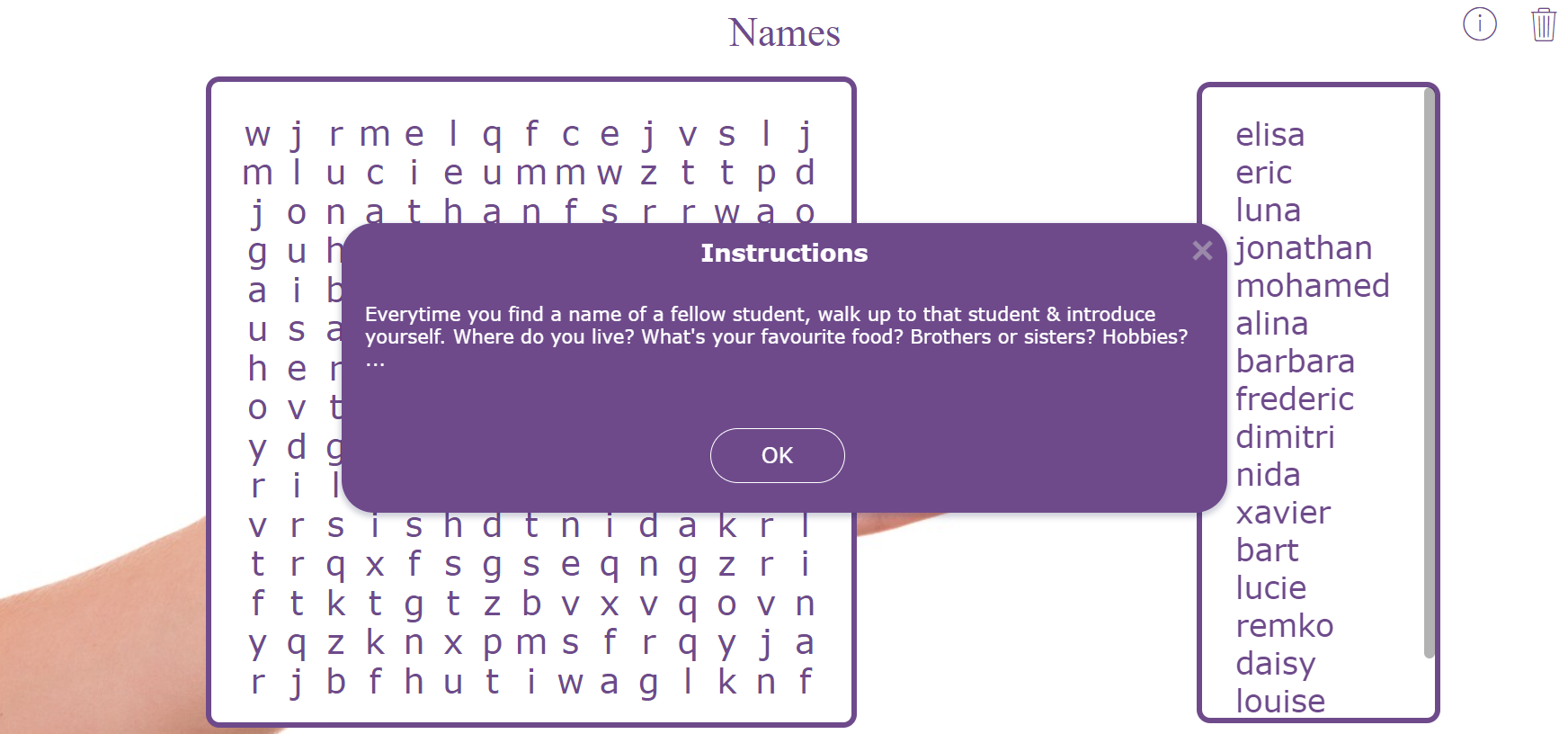 Click to open
Creating your own Word Search Puzzles
I could go on and on about ways to use word search puzzles in the class, but I'm guessing I don't have to: by now, you're probably thinking of some fun word search puzzles you can use in your class.
So, how to make your own word search puzzles? Well, BookWidgets has you covered with the word search puzzle maker. You can quickly and easily create your own puzzles. All you have to do is enter some words (and optionally, their descriptions), and BookWidgets takes care of fitting the words together into a nice-looking interactive word search puzzle. You can instantly send to your students' iPads, Chromebooks, or PCs.
Don't have devices in your classroom, or do you like to play it old-school? Then you can just print BookWidgets' word search puzzle straight from your browser.
Ready to give it a shot? Just hit the button below, sign up, and start creating word search puzzles (and many other widget types with a free BookWidgets trial.
Monitoring live in Word Search Puzzles
With Bookwidgets, you have the opportunity to follow-up the progress of your students live when they are completing the digital word search activity. This, of course, has several advantages. For starters, you can see how far along the students are in their word search. In addition, it is also possible to detect where certain difficulties are. Did you know you could also use it in a playful way? Turn the word search in a contest, and show the results on the board indicating how many words they have already found. The challenge is up to them to solve the word search the fastest. This is how you will see it:

The live widgets function also gives you some handy statistics so you can closely follow up on your students. In this example, student 1 has a harder time finding words. You can notice this from how much time has passed between the last activity and now. In addition, student 1 also found far fewer words compared to student 2.
Wrap up
You now have many different examples of digital word search activities, the explanation of how to create one, and an explanation of the live monitoring feature. So, why are you still reading?😉 It's time to get started yourself!
Join our Facebook Group to share your own creations with other teachers and let us know on Twitter what you think of the live monitoring.