25 Creative lesson ideas to use spinner activities and randomness in class

Janie Noels —
I bet you have experienced the unpredictability of chance in your daily life. Whether it's at work, at home, or while shopping, random events are all around us. As teachers, we can leverage the power of randomness in our classrooms to create engaging learning experiences for our students.
In this blog post, I will explain how randomness like spinner activities can be a valuable tool for educators looking to add excitement and variety to your teaching. Find out more below.
Here is a brief overview of the subjects that will be addressed:
The lesson ideas or Randomness examples are divided into themes, namely: fun spin the wheel ideas, random class name generators, and Randomness in school subjects: language, math, science, geography and art.
💡Good to know: You can duplicate all the ready-to-use lesson ideas from this blog post and share them with your students. You can even edit them! Find all the Randomness examples in this BookWidgets Blog group folder. If you don't have a BookWidgets account yet, you can sign up for free.
Take a chance and check out the power of randomness! 👇
What is Randomness?
You're sitting in class while a text is read out loud. Suddenly the teacher is saying your name and you should read on.💭 You think: "ooh no, I don't know where we left off." and you start panicing (just a litle bit). Do you recognize this situation? I've been there a lot!
This anecdote is an example of selecting someone randomly. Randomness offers you the opportunity to let fate decide. Exciting, isn't it? You never know what the outcome will be…
The Randomness widget is inspired by a slot machine 🎰. Here's an example. A real slot machine has 3 spinning wheels and the wheels stop turning at a random spot. If you see 3 of the same images, you win a prize. Incorporating randomness and chance into your classroom may not yield immediate results, but it does offer added value in terms of student engagement.
What are the different options for Randomness in Bookwidgets?
Bookwidgets includes a Randomness generator, or a widget called "Randomness". It has features that you can customize based on your own needs or preferences.
🔢 Number of wheels: Time to move away from the standard, 3 wheels. The choice of the number of wheels is entirely up to you. Do you prefer one wheel of randomness or maybe even five? Everything is possible!
⌛ Spinning wheel: You can configure 2 elements about the spinning wheel. The first element is the milliseconds needed for 1 turn of the wheel. The second element is the number of times the wheels spin on every turn.
🧑‍🏫 Instructions: At the start of an exercise, you can add instructions to explain the lesson activity. That way, students don't have to wait until the teacher is ready to give verbal instructions.
📰 Content: You have 3 different possibilities: an image, a text or a group. The last one is quite unique. By creating a group, you can establish conditions for the wheel. For example: If the first wheel is the word fruit, the second wheel gives an image of a piece of fruit. But if the first wheel is the word vegetable, the second wheel would provide an image of a vegetable. Here's a randomness activity example with those group conditions I also shared below.
25 Ready-to-use lesson ideas for Randomness
Fun spin the wheel ideas
Use Randomness for the well-being
1. Act of Kindness
In our busy lives, we sometimes forget to think of others. Time to change it! Students need to spin the wheel of randomness to find out what their act of kindness assignment is. This act of kindness is their homework for the next day.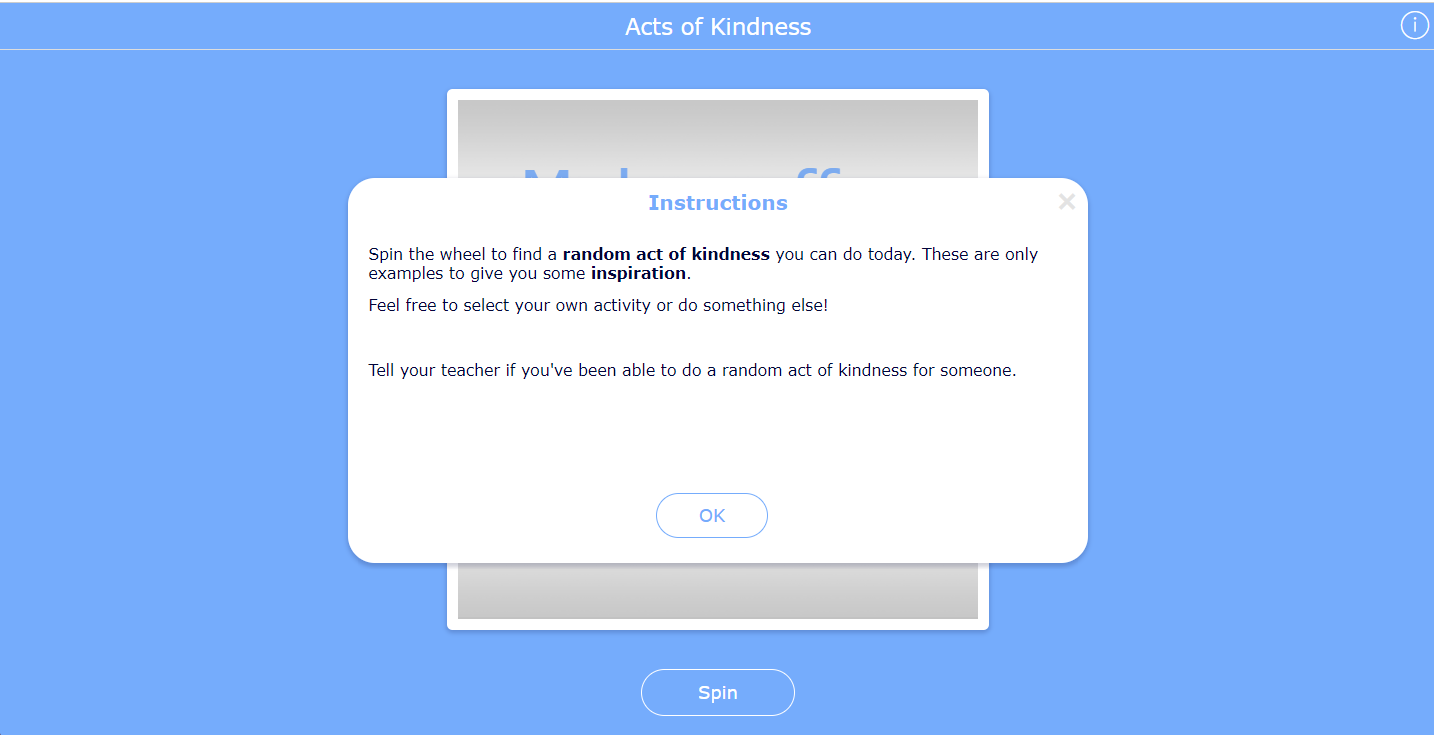 Click to open
Looking for other alternative homework ideas? Check this out!
2. Introductions
This is a fun way for students to get to know each other at the beginning of the school year. Spin the wheels, a student and picture related to a broad subject such as music or hobbies will appear. The displayed student offers information about himself or herself in relation to that topic. In this widget example, the first wheel has an image placeholder. Duplicate this and add an image (or name) of your students here.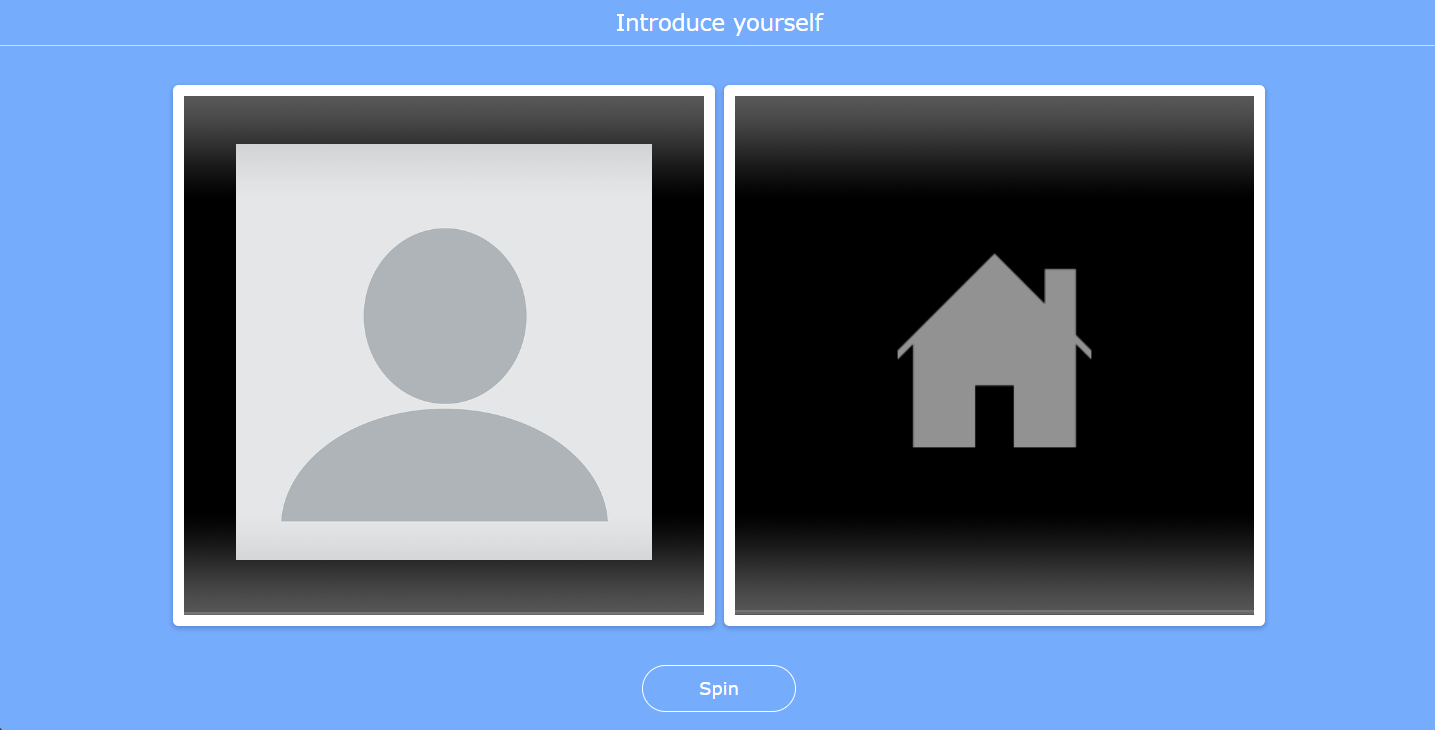 Click to open
Discover more icebreaker games and lesson ideas for the first day of school.
3. Quote of the Day
Start the day off right. Give students good encouragement with a quote. After reading the quote, start a class discussion: What exactly does it say? What does it mean? What is your opinion? …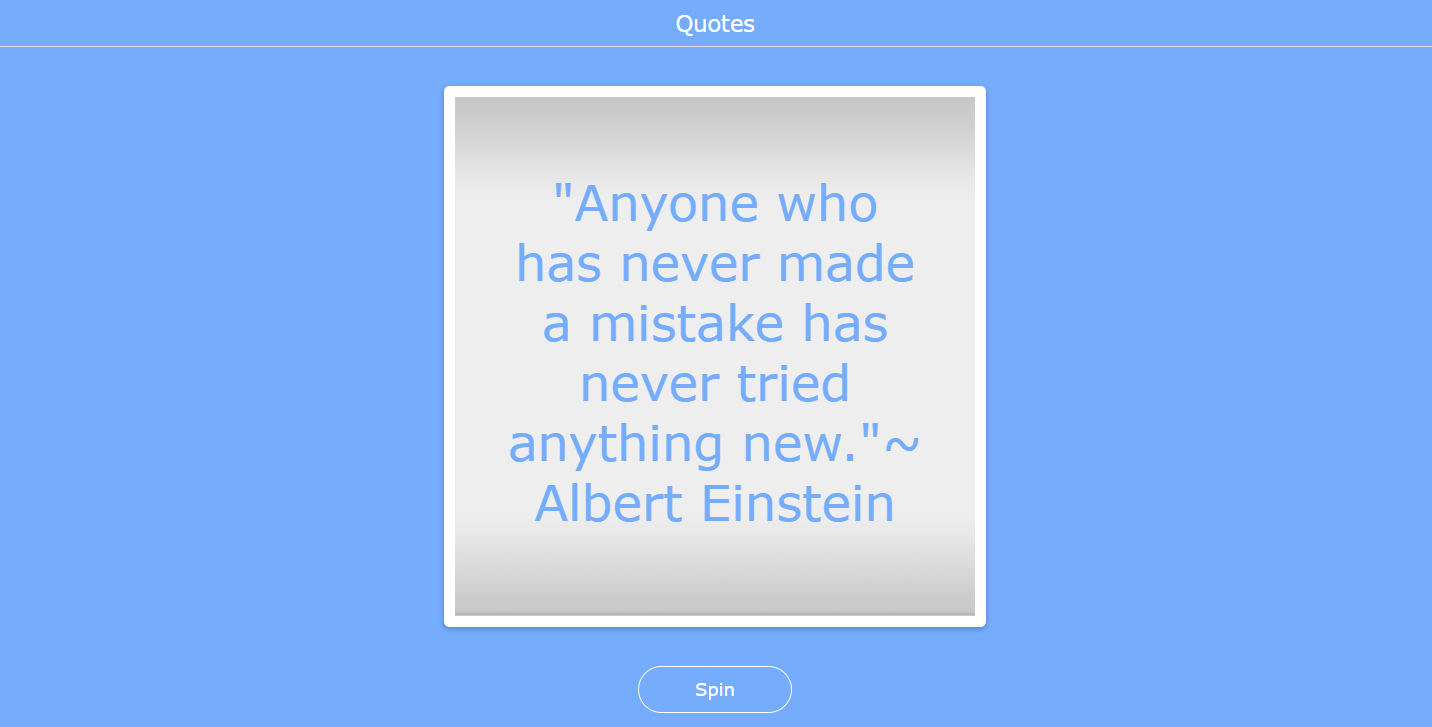 Click to open
Use Randomness for games
4. Card game
I love to play card games! ♠️♥️ Feel like giving students a challenge? Let them play a card game they may not be familiar with. The Randomness widget will decide which one. Before they can start the game, they must first look up the rules.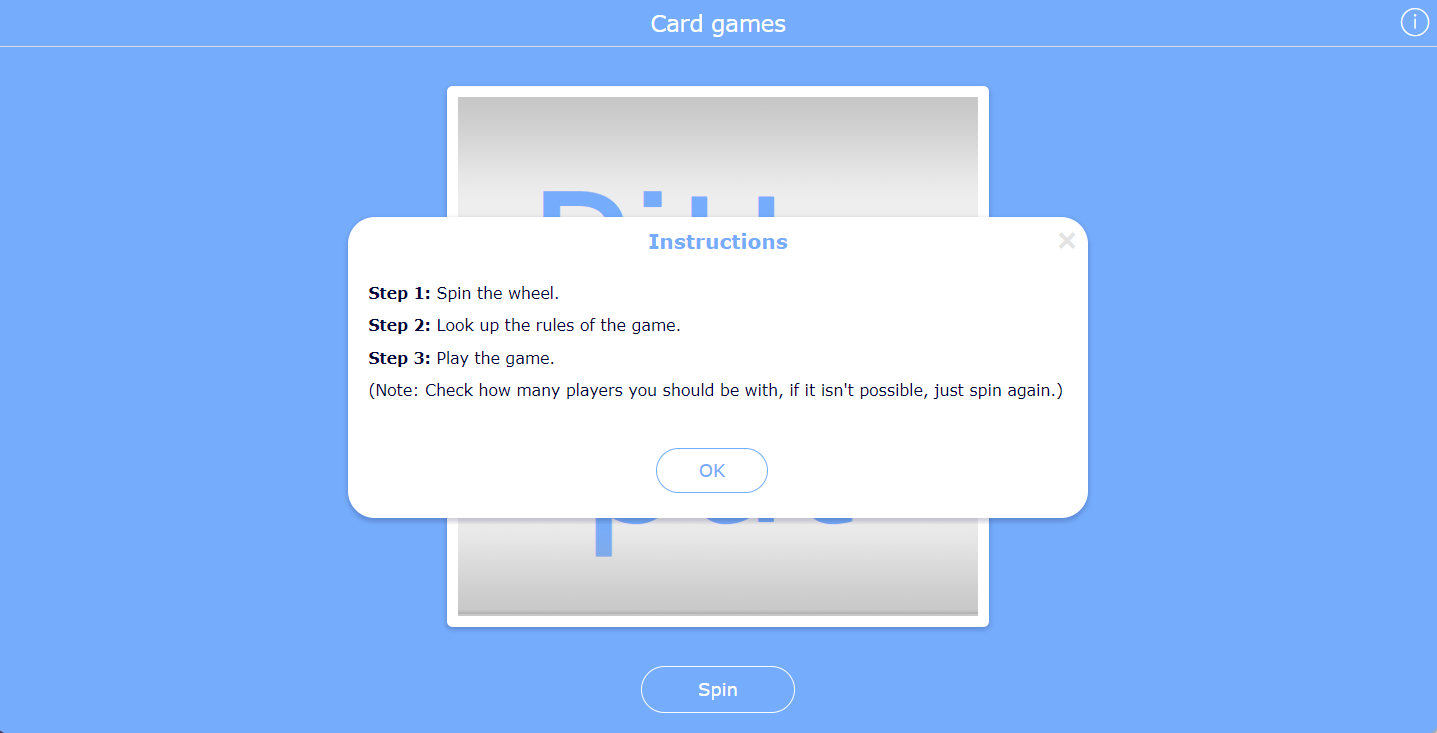 Click to open
5. Roll the dice
Have you lost all your dice or never had any?🎲 No problem, from now on you will have it online.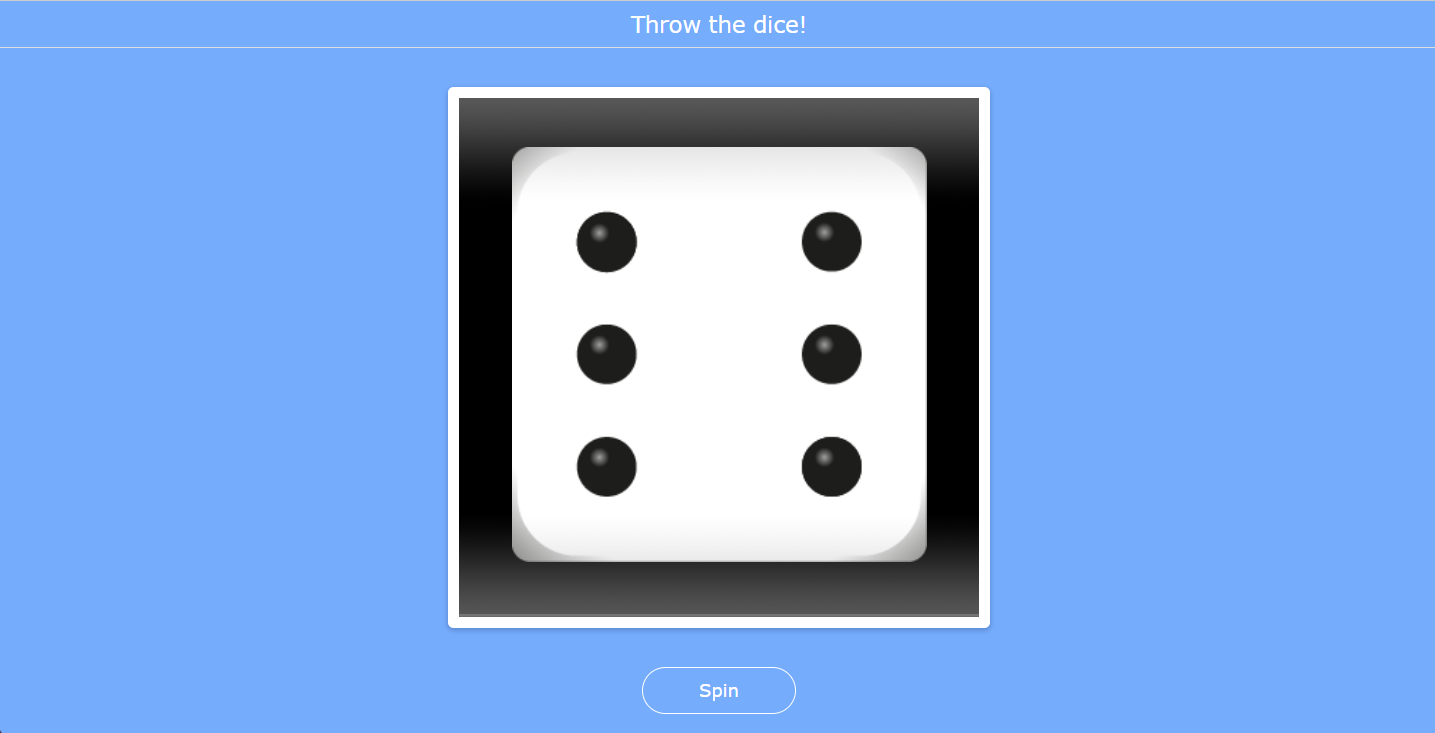 Click to open
6. Get on the chair assignments
During my student years, I played this game several times. It's a fun way to work on trust in the classroom or to get to know each other. As a result, I did this in my internship class as well. But how does it work? Place the chairs side by side in a room (it should not be straight). All students stand on the chairs. Next, the teacher turns the wheel. Depending on the given task, students must move. 📝NOTE: They can't touch the ground.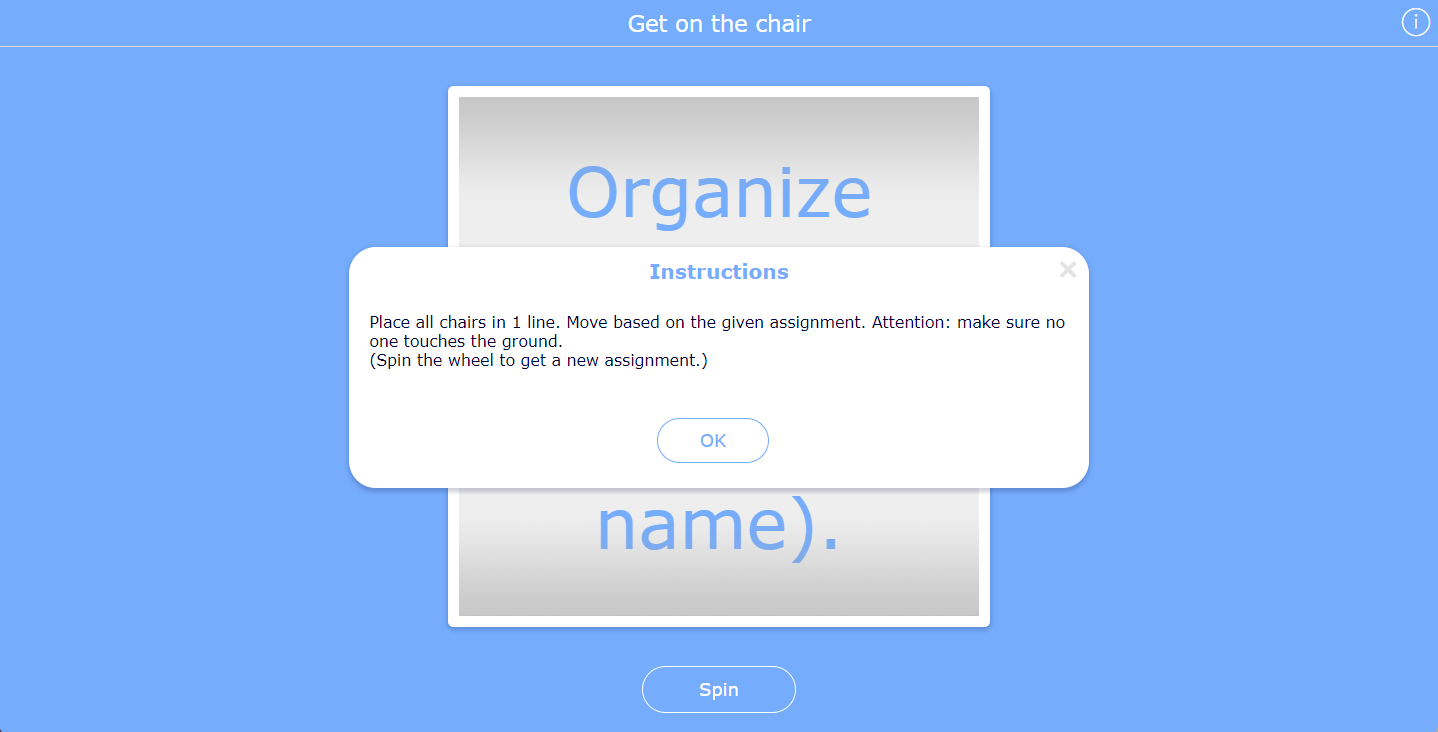 Click to open
7. Fun brain break activities
If your students' attention is starting to fade, these fun activities can help. The activities are short games and, it's easy to use them both during a class or in between lessons. To ensure there is no class discussion about which game they are playing, you can use randomness.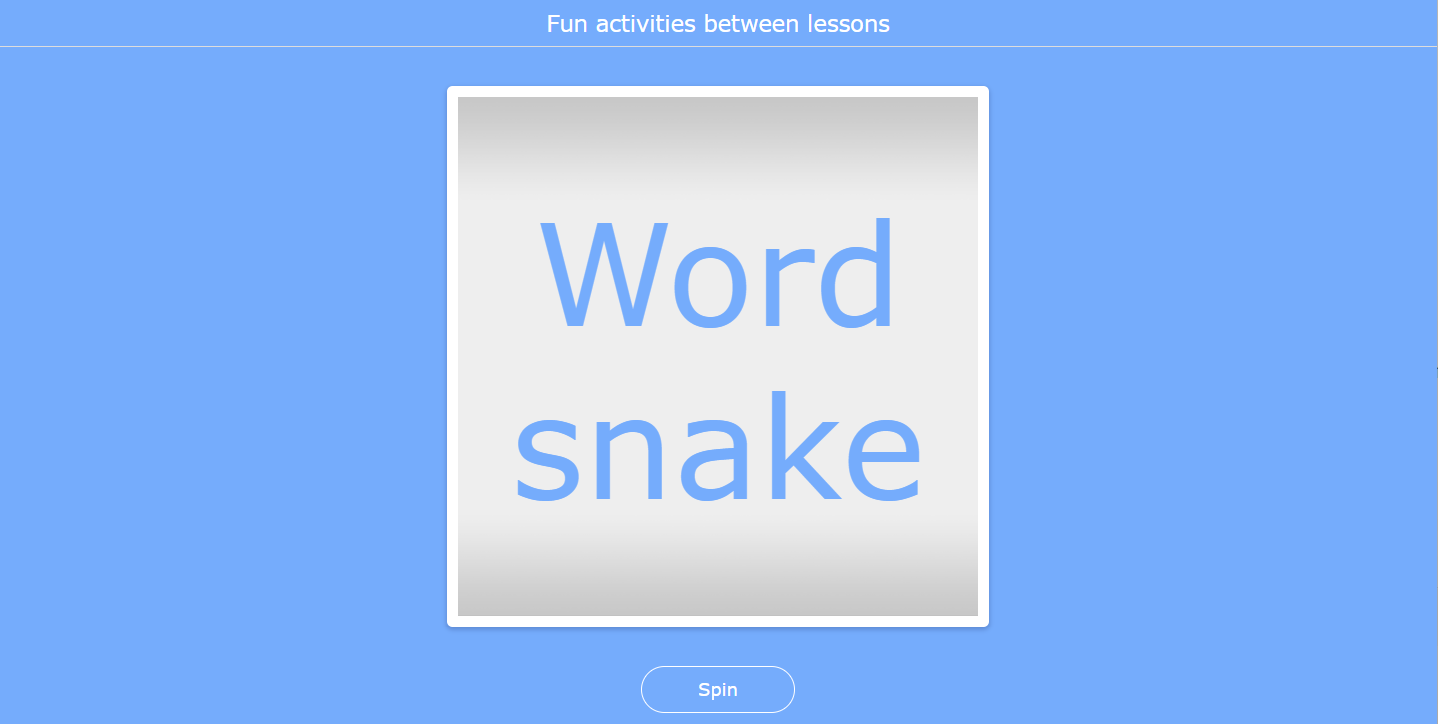 Click to open
Use Randomness for movement
8. Recreate the correct form
An important soft skill is the ability to collaborate effectively. To help develop this skill in your students, encourage them to complete tasks using their own bodies along with their classmates. Teamwork makes the dream work! 💪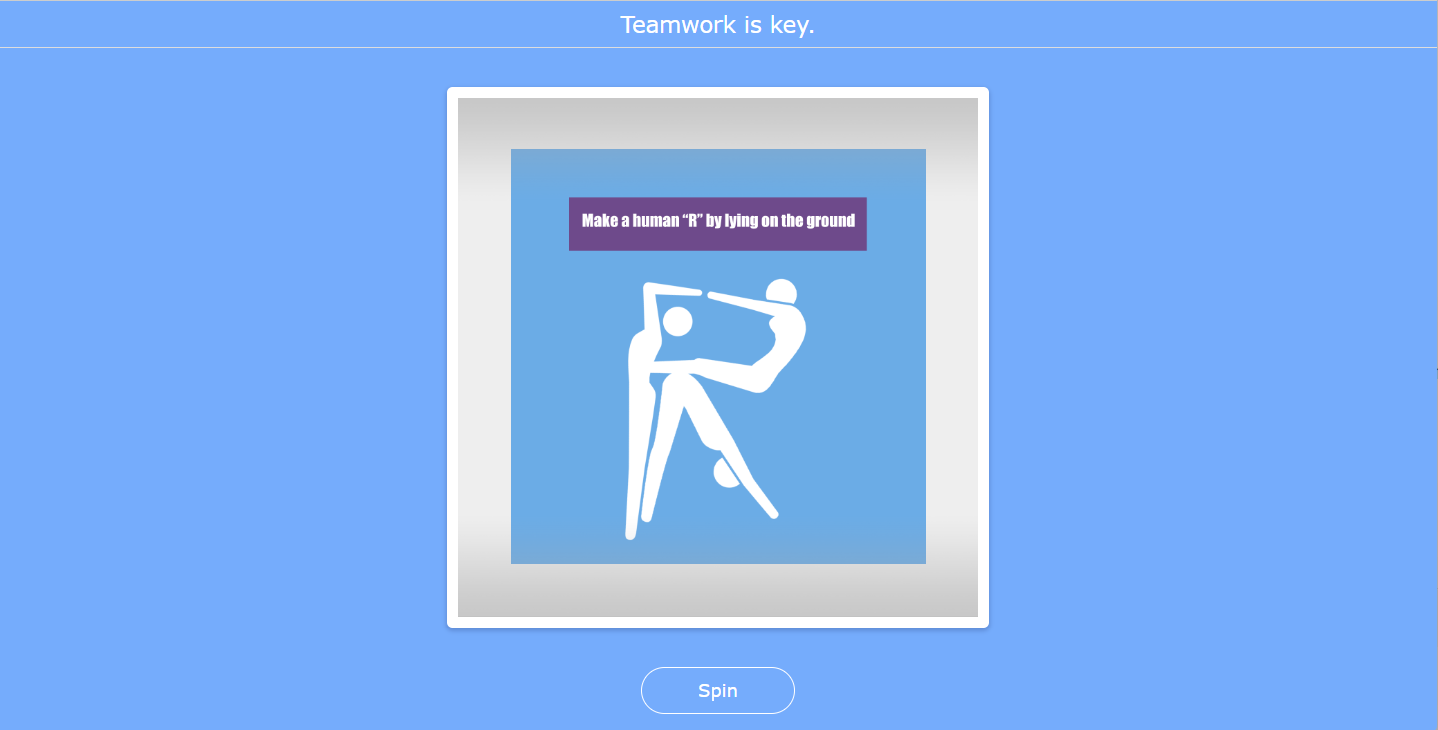 Click to open
9. Warming up
Students regularly sit in chairs for a very long time.🪑 To loosen everything up, you can give them some sports assignments. Of course, the assignment can also be used as a warm up for a physical education lesson.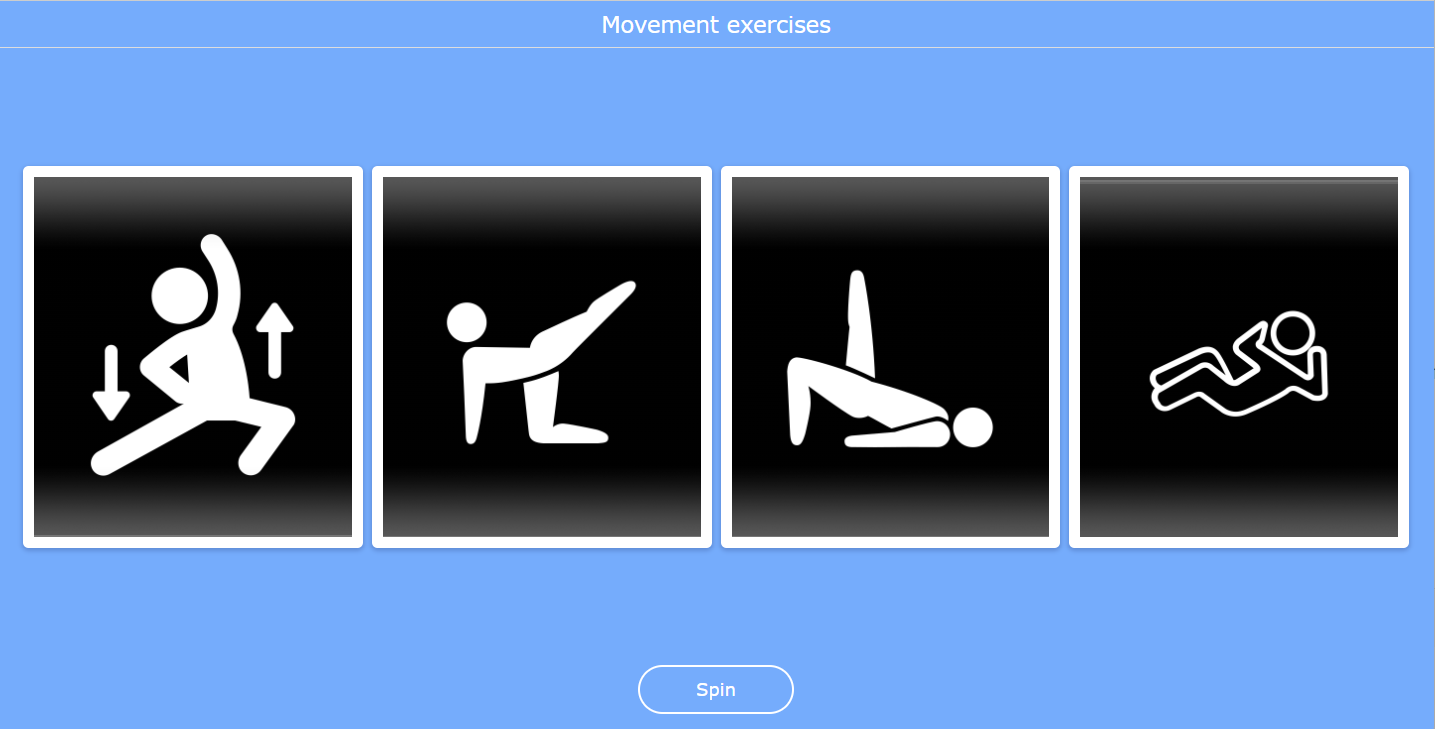 Click to open
10. Activities during gym
Are you a gymnastics teacher? Great, I will give you some inspiration. Or maybe you have to teach a gymnastics class because the other teacher is absent? Don't panic, I'm here to help you!
The content of this widget uses the "group" optionality. The first wheel has 2 activities: sport or game. If sport appears, the second wheel will show one of these words: volleyball, dancing, basketball, … If basketball appears, the third wheel will show one of these words: basketball golf, five alive, … As a result, the class activity is determined through randomness.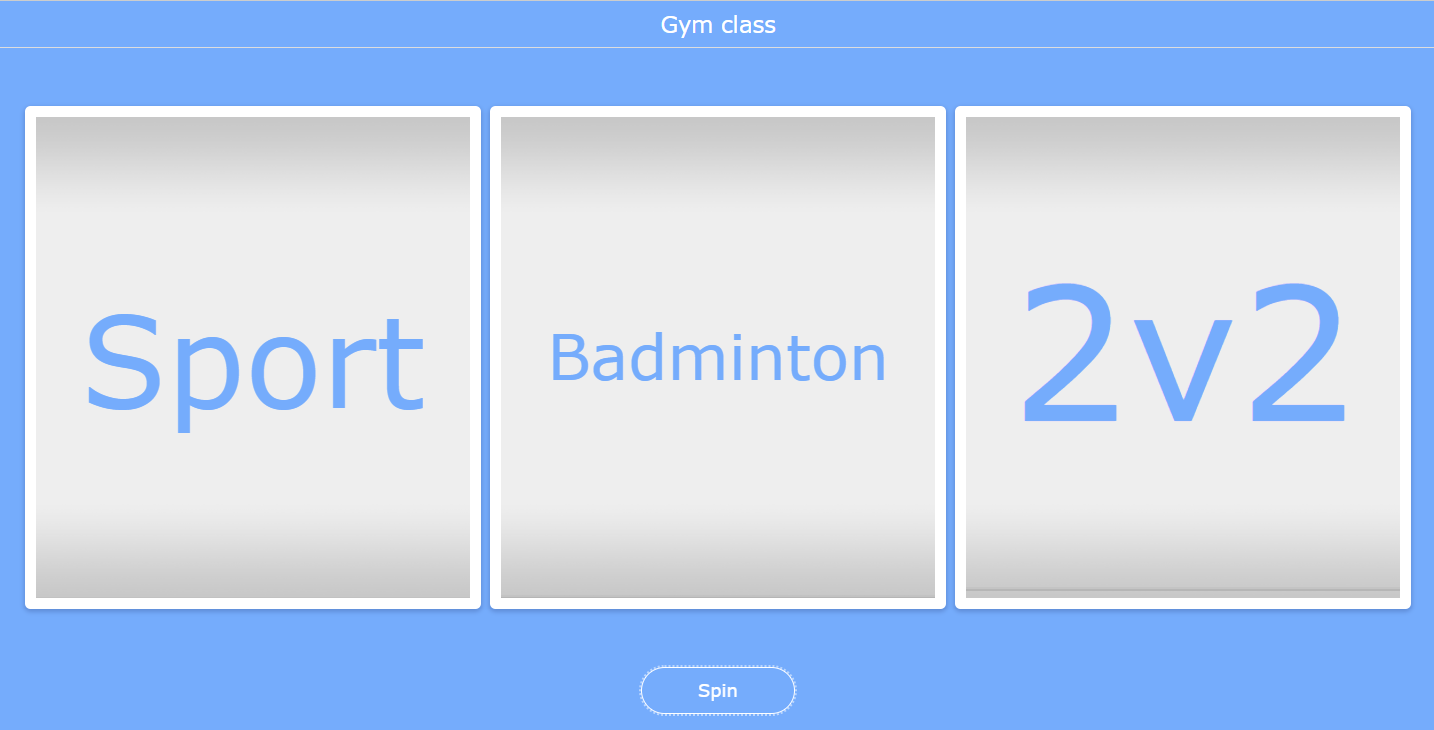 Click to open
Random class name generators
11. Making groups
Using random class name generators makes it possible to create random groups. That way, students do not always work together with the same people.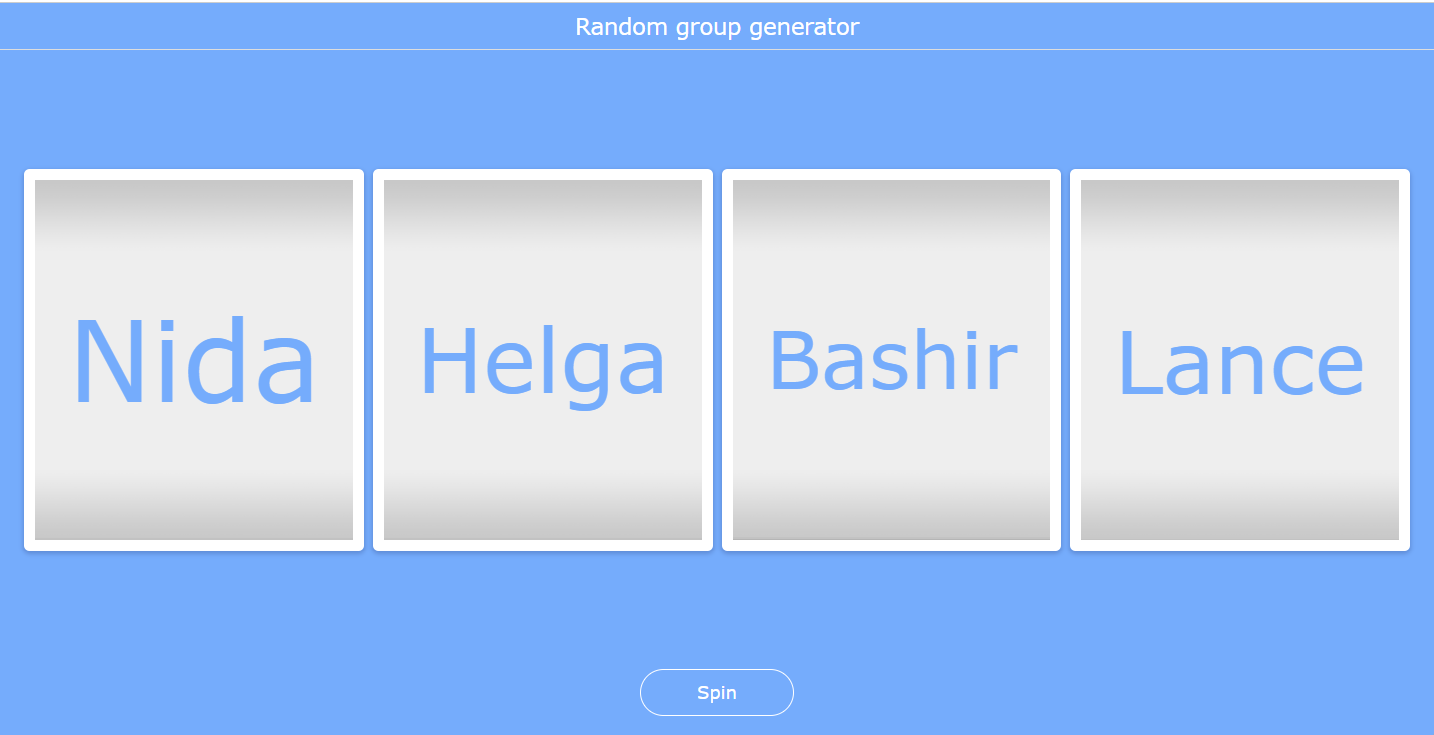 Click to open
12. Pick a student
In class, you often need the name of one student. It can be for several reasons:
To establish an order for giving a presentation
To determine places in the classroom
To choose a child of the day
And much more
Customize this example with all the students' names on the text spinner wheel. Use it in a way that helps you.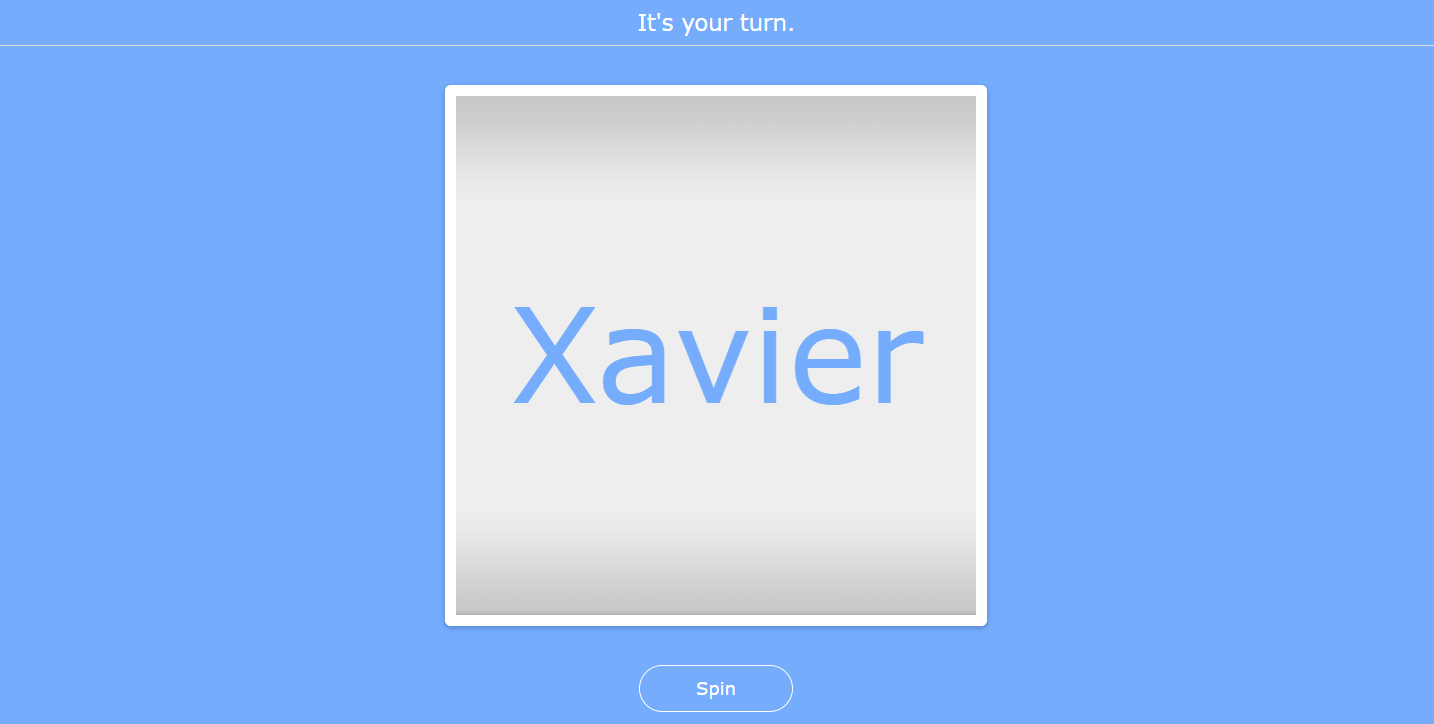 Click to open
Randomness in Language
13. Tell a story
Stimulate the creativity of your students and let them tell a story.📘 The first wheel displays the subject, the second wheel displays the place and the third wheel displays an action. (You can also turn this into a writing exercise.)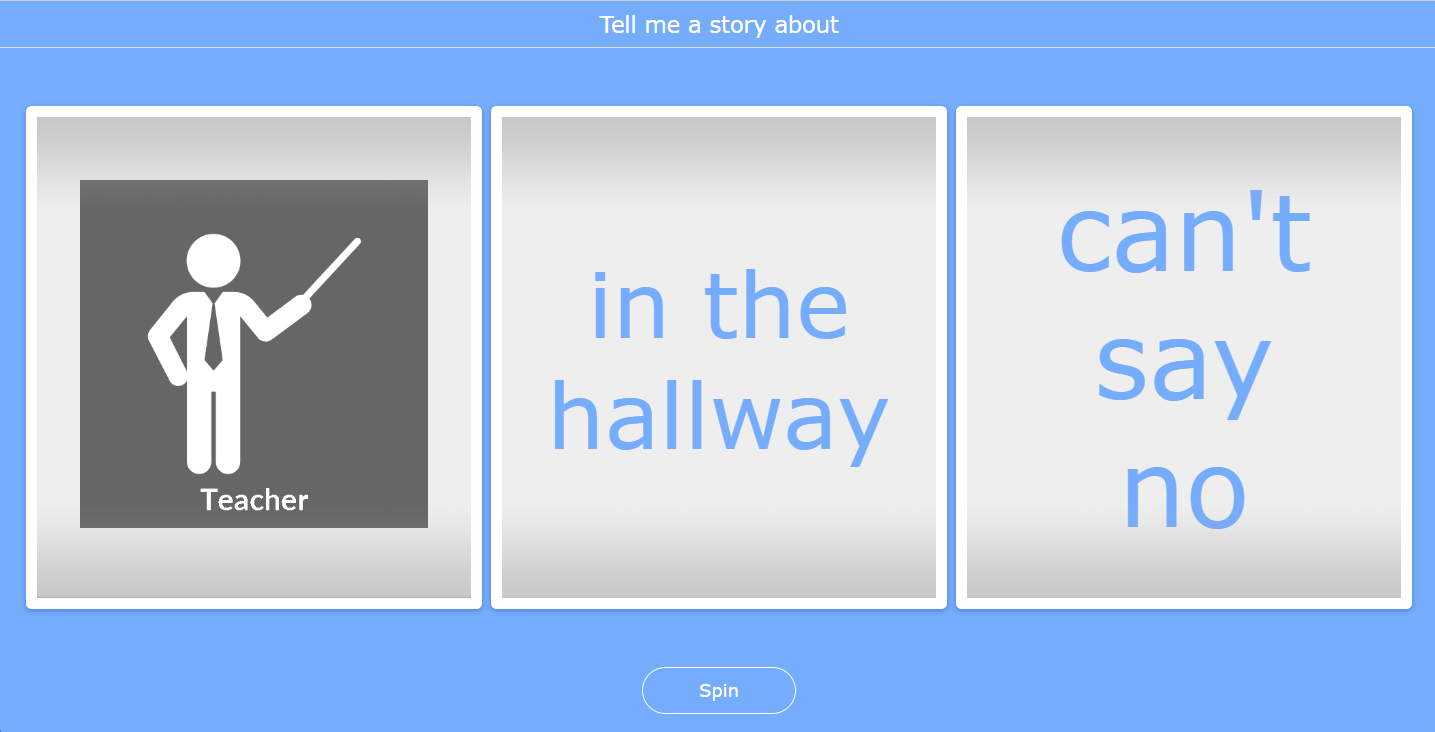 Click to open
14. Conjugate verbs
Practice the conjugation of verbs through this assignment. The subject, verb and tense are given. It's up to the student to turn this into a sentence.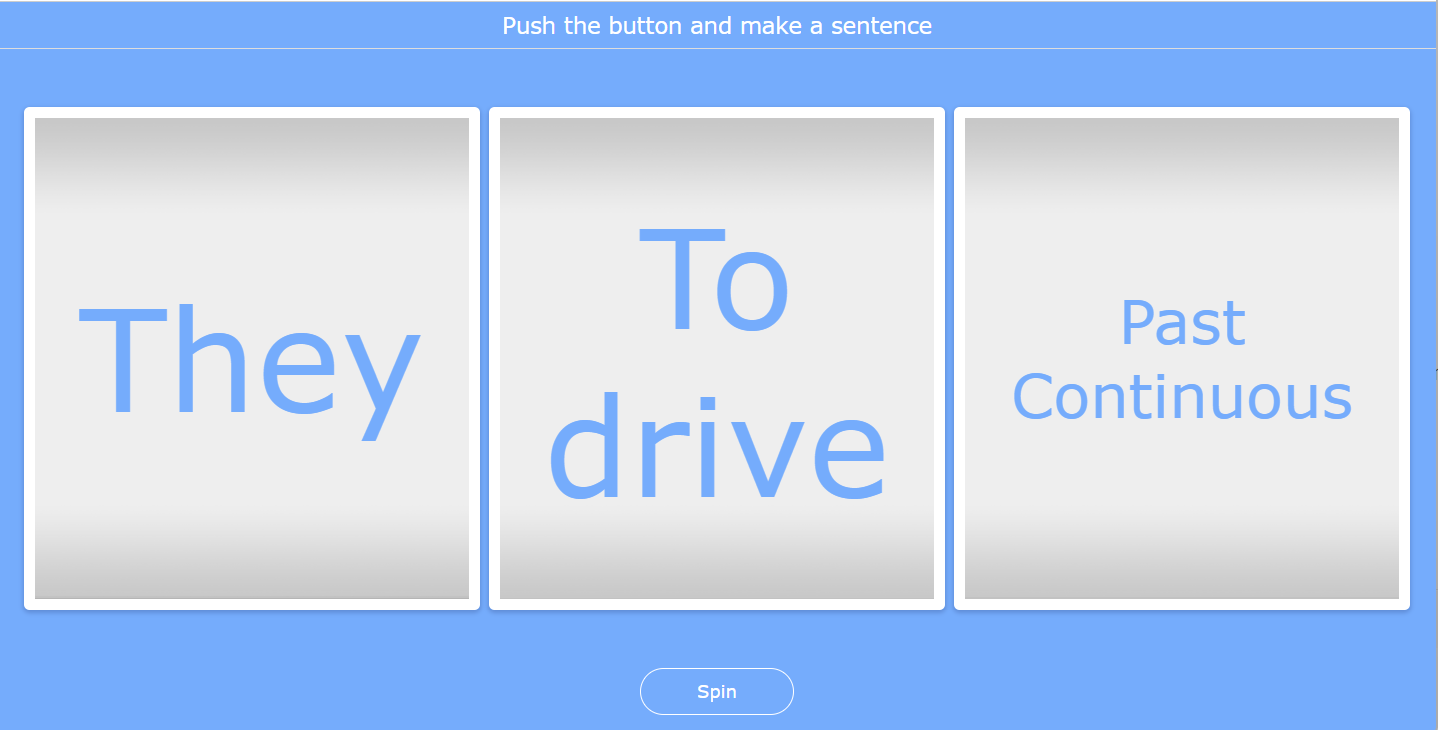 Click to open
15. Reading French numbers
Un, deux, trois, quatre, … Yes you read correctly, I can count in French! These numbers were easy, but we're going to make it harder for your students. Check out the difficulty level in the exercise below. 💡FYI: If the first and/or second wheel shows a zero, start reading the number on the wheel behind.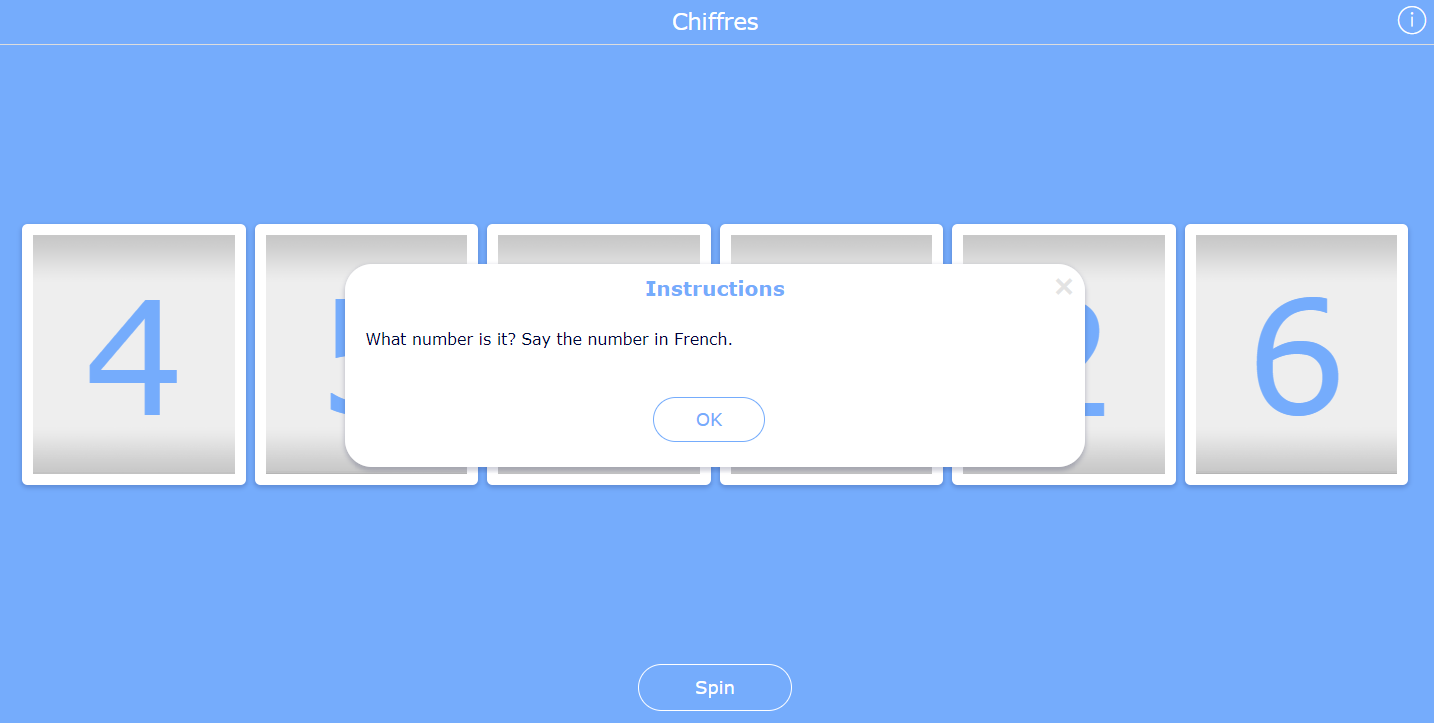 Click to open
16. Writing a poem
As you probably already know, there are multiple types of poems. Wouldn't it be fun to give each student a different assignment? Use this text spinner wheel; every student gets a unique poem type and subject. At the end of class, your students can read them aloud. Yeah, that's right, it is not going to be boring because of the variety. 🙌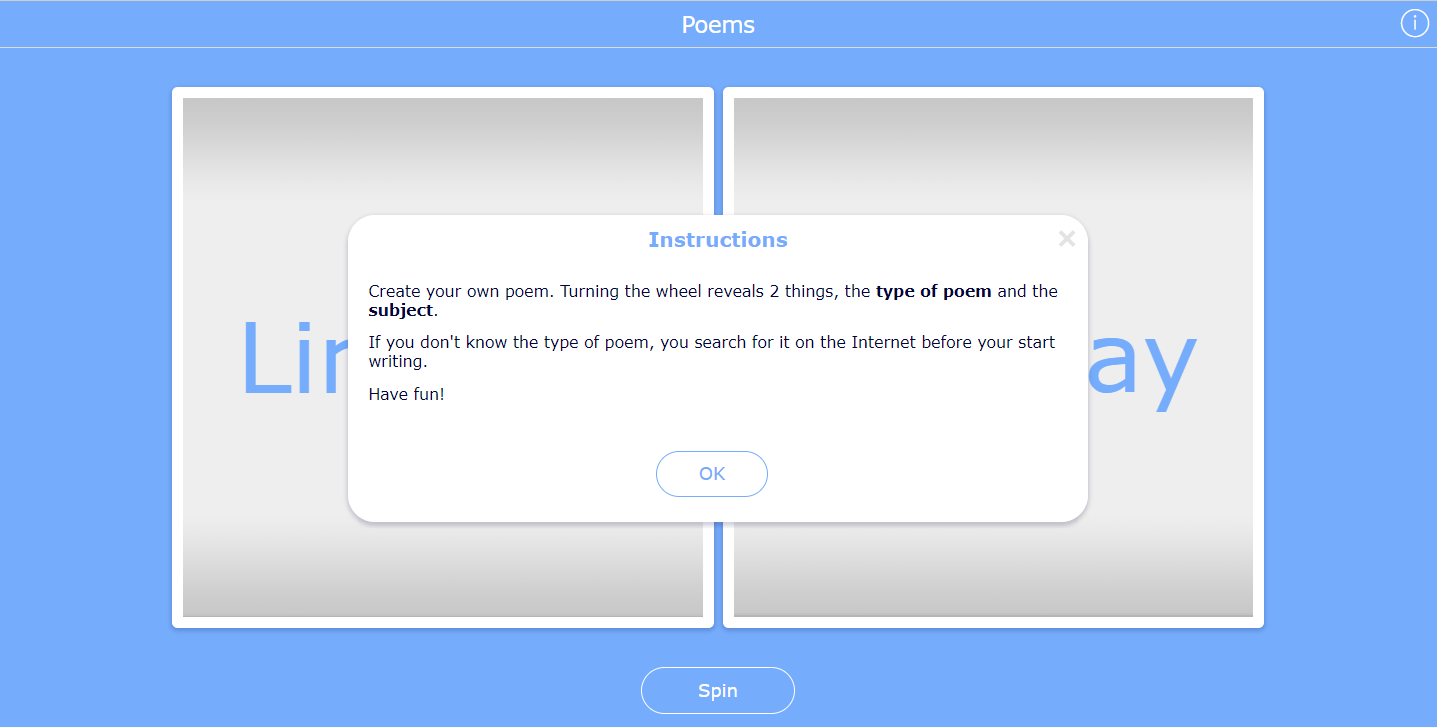 Click to open
Randomness in Math
17. Probability calculations
The perfect way to make a new topic interactive! Have students roll the dice many times and write down the results. After gathering all these numbers, you can explain the concept of probability. Obviously use their own results in this explanation.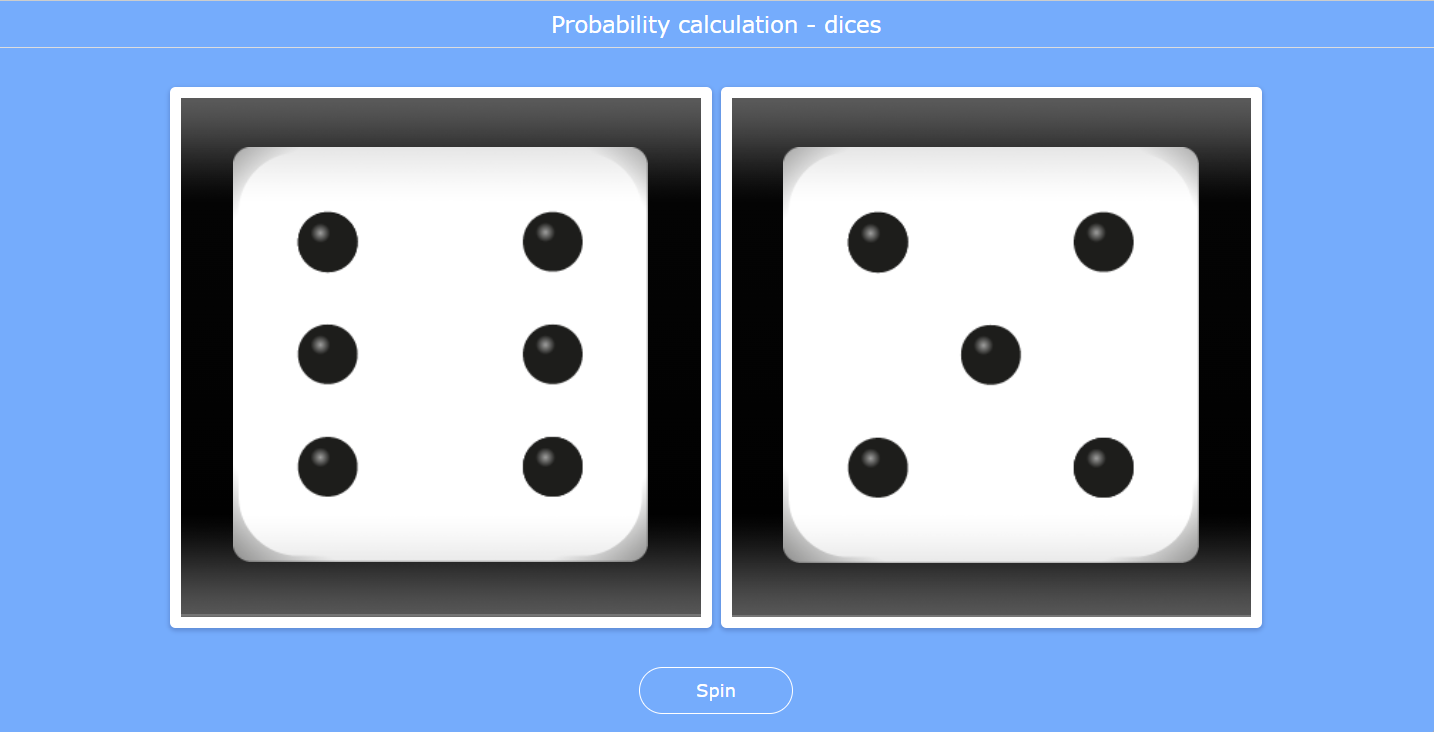 Click to open
18. Solve operations
Practicing operations remains important! In this Randomness example, I'm using the multiplication tables learned in elementary school. You can put other operations in here too: division, addition and subtraction. Do you teach older students? Add a few wheels to make the operation longer. (The students have to take into account the order of operations.)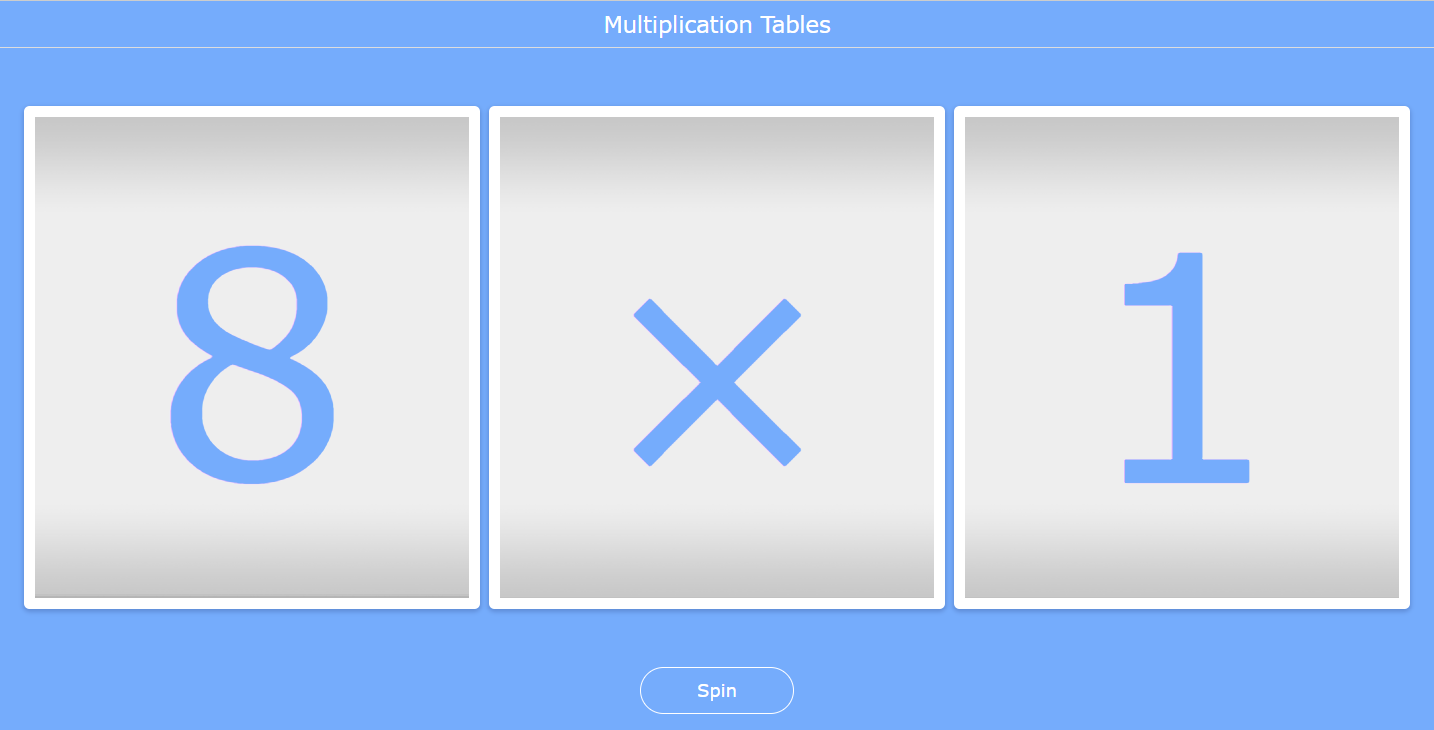 Click to open
Randomness in Science
19. Chemistry - Danger symbols
Chemistry poses some danger. Before you get students started, they need to know the different symbols. After explaining each symbol, you can briefly review the meaning. Spin the wheel and a danger symbol will be displayed. Have students explain what the symbol means.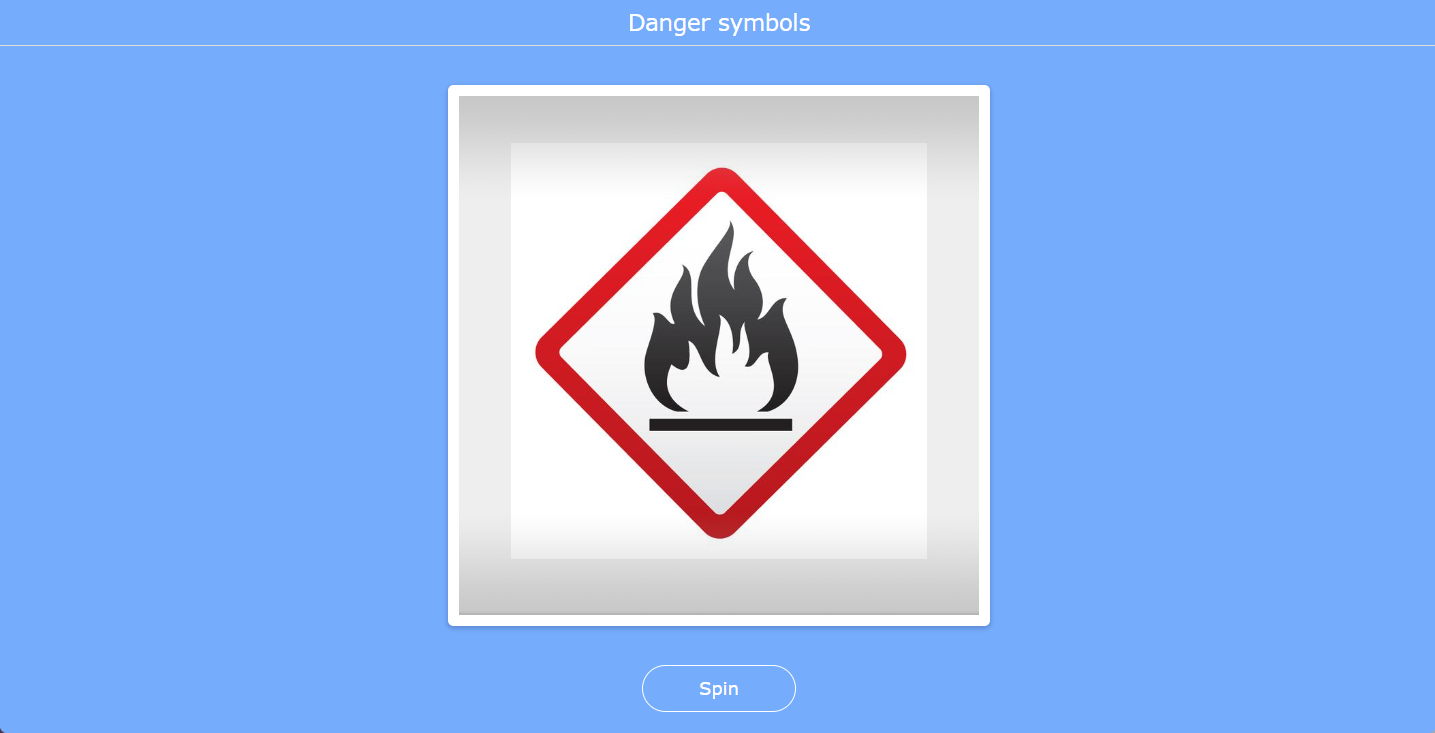 Click to open
20. Physics - Different topics
During physics class, several aspects are covered. To encourage independence, have students work alone or in groups. By turning the wheel, everyone gets a particular topic. The assignment is to show a fun experiment in front of the class with matching reasoning. So, they first need to look for an experiment and try it out themselves. Afterward they are supposed to figure out the meaning.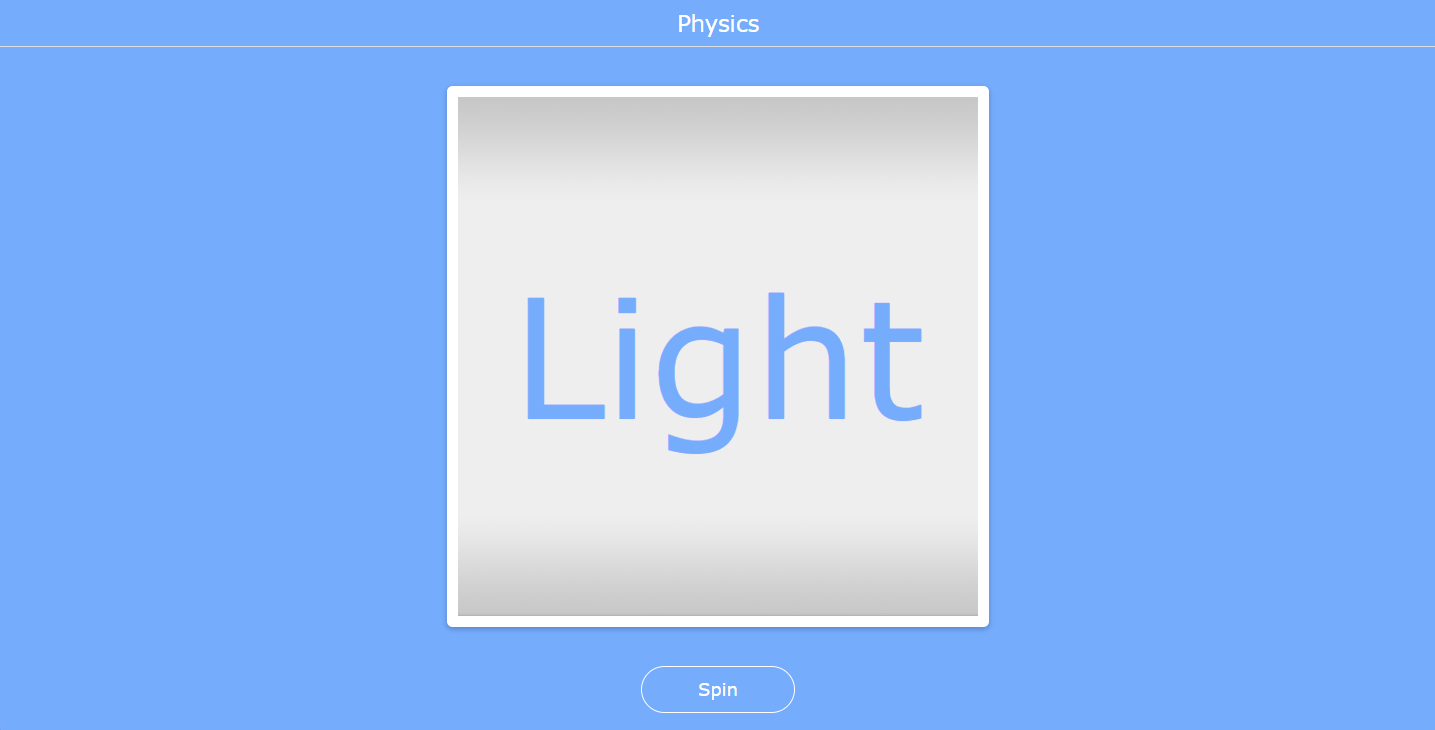 Click to open
21. Biology - Animals
"We have more to learn from animals than animals have to learn from us." ~ Anthony Douglas Williams
Let's start the learning process! The first wheel is an image of an animal and the second wheel is an assignment. Each student spins the wheel to discover their task.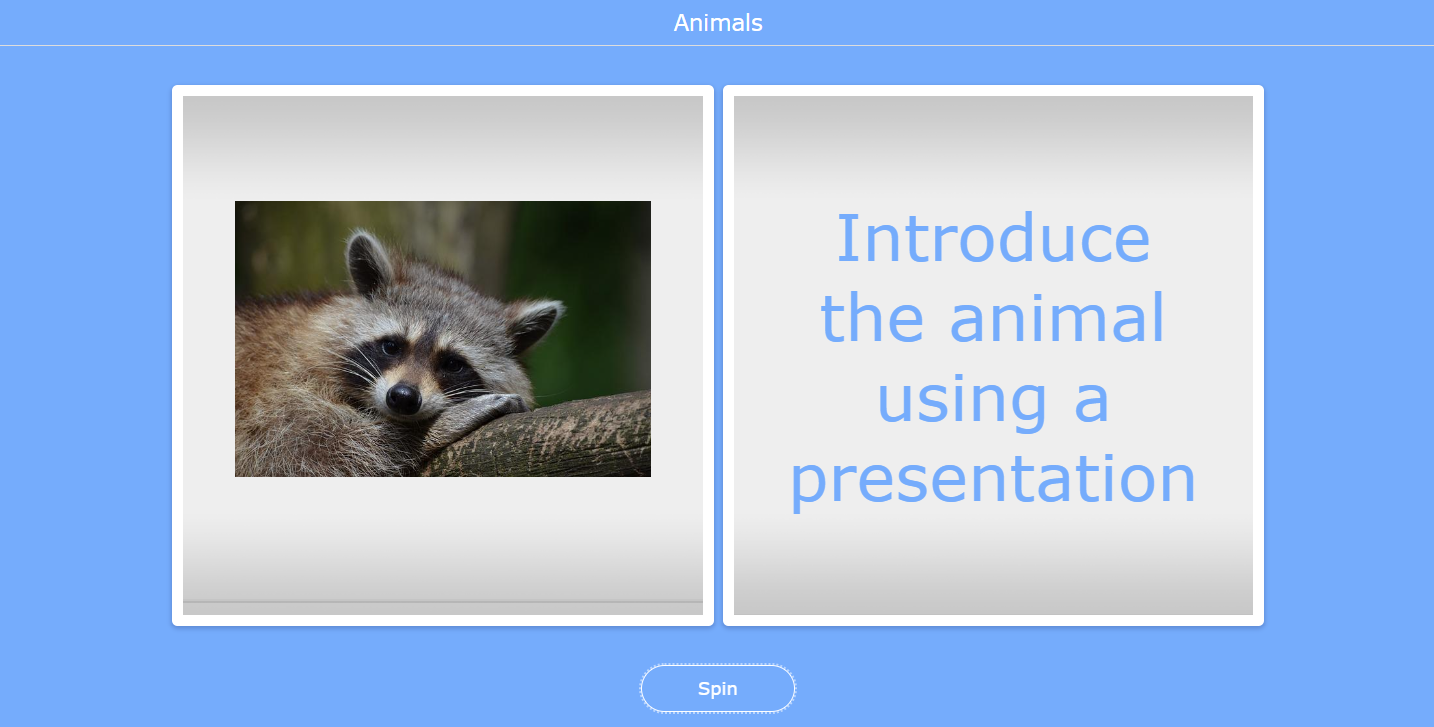 Click to open
Randomness in Geography
22. Sights
The wheels of this Randomness activity are coordinated with each other by using the "group" functionality in BookWidgets. You get the name and the image of a tourist site at the same time. Students will look up information about the sight that is shown, after clicking on the word 'Spin'.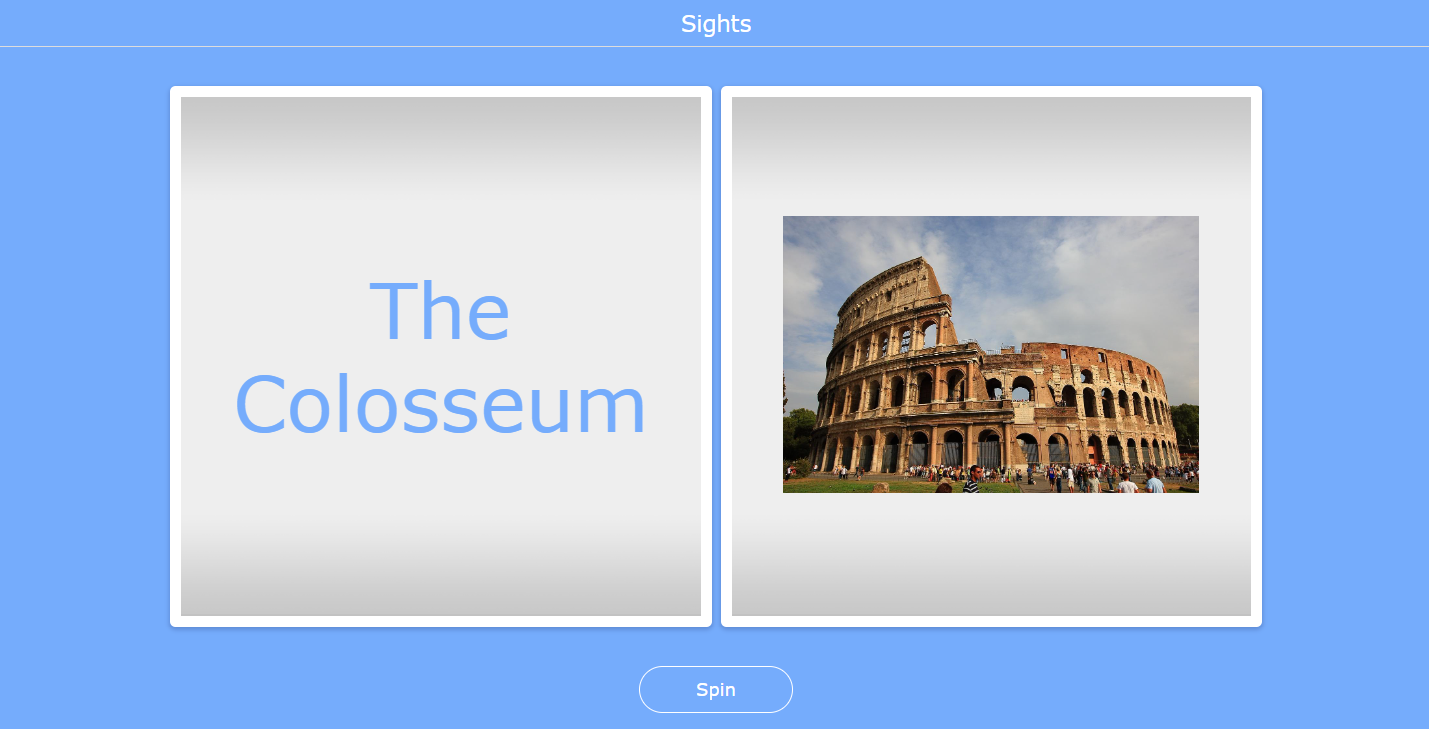 Click to open
23. The world
We are living in a big world.🌍 Extend your students' knowledge about continents and countries. As you can see, the Randomness widgets displays a continent, country and flag (I used the "group" funcionality again). Students should complete the following steps: 1️⃣ Recreate the flag in miniature. 2️⃣ Find the country on the world map. 3️⃣ Paste the selfmade flag in the correct place on a blank world map.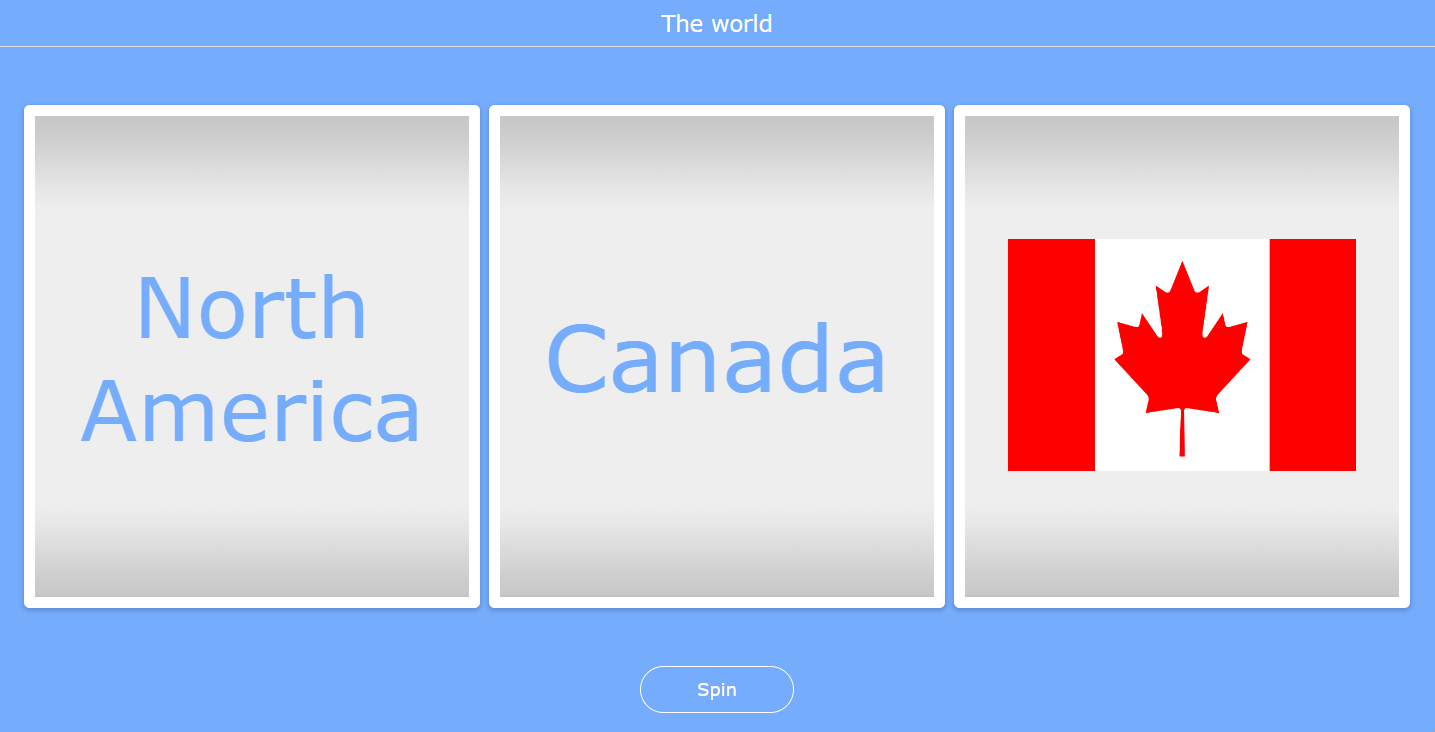 Click to open
Randomness in Art
24. Make a drawing
As a child, I never knew what to draw.✍️ Now, I have a solution for this. No student will be left without inspiration. After spinning the wheel, you will see 3 emojis. It is up to the students to create a drawing involving all three of them.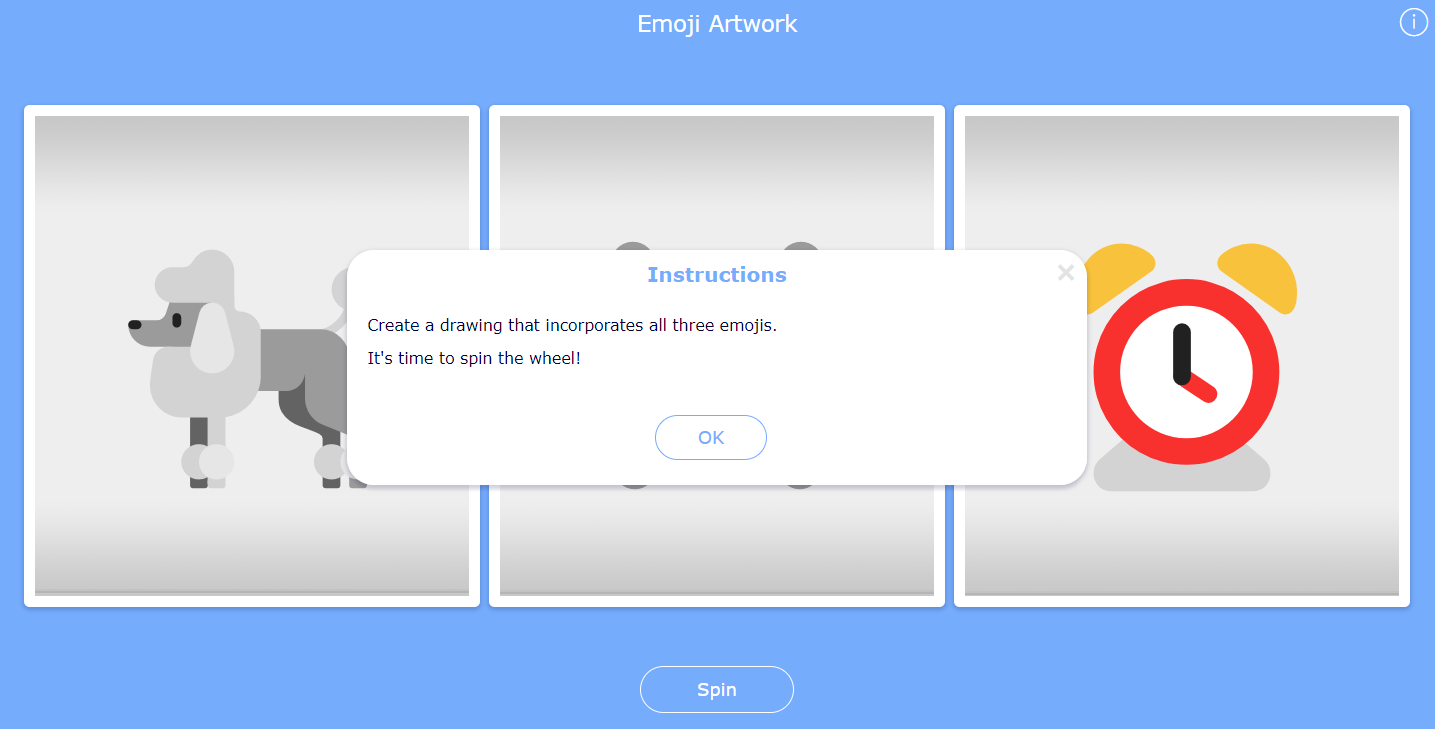 Click to open
25. Create a work of art
This is a really fun spin-the-wheel idea! In one drawing, several animals' body parts will be visible. How does it work? You will get a new color and animal every time the wheel is turned. The student draws one body part in that color and passes the paper to the next student. These steps are repeated multiple times. To make sure everyone is engaged, circulate several around the class at the same time. At the end, you will have fun fantasy animals.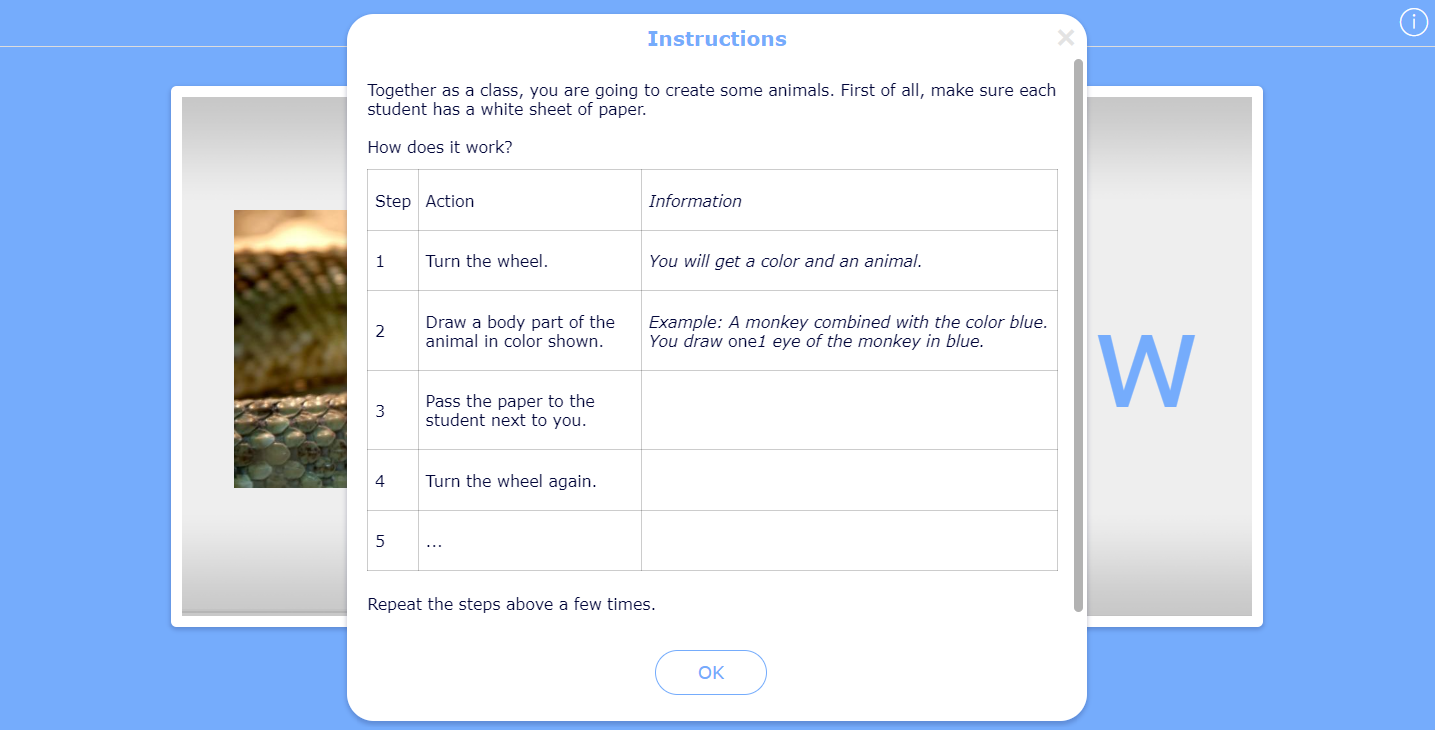 Click to open
Conclusion
I've offered some ways to use randomness in your classroom. Of course, I could go on for a while, but I'm curious if you guys have any great ideas? Share them in our Teaching with BookWidgets Facebook group, because sharing is caring. ❤️
Before you get started with all this inspiration, I have one more question. What's your favorite Randomness example? Let us know on Twitter.