Thoughtful digital transformation - 60 Tips for school leadership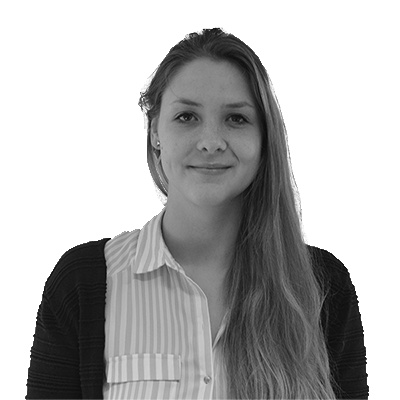 Lucie Renard —
Implementing a digital strategy in your school isn't easy. You have to be thoughtful about it and think things through.

For this blog post, I've translated a Dutch article from our partners, Schoolmakers. They help schools with their digital transformation. Yves Larok and Tom Sleewaert listed 60 tips to make your school's digital transformation a successful one.
All the tips together provide an overview of what your school can focus on. If your school wants to work with one or more of these tips, it is useful for your school to do so consciously and purposefully. Prioritize (see below) and ask the following questions: what do we think the effect will be if we follow this tip? How are we going to observe that effect?
Make sure to take these tips with you and present them to your school board and teacher team. Now, let's get started on a thoughtful digital transformation.
Before we get started, we'll divide the tips over the 20 missions of effective school leadership. Make sure to read the mission meanings in short as the tips are part of a bigger whole.
Here's an overview of the 20 missions of effective school leadership.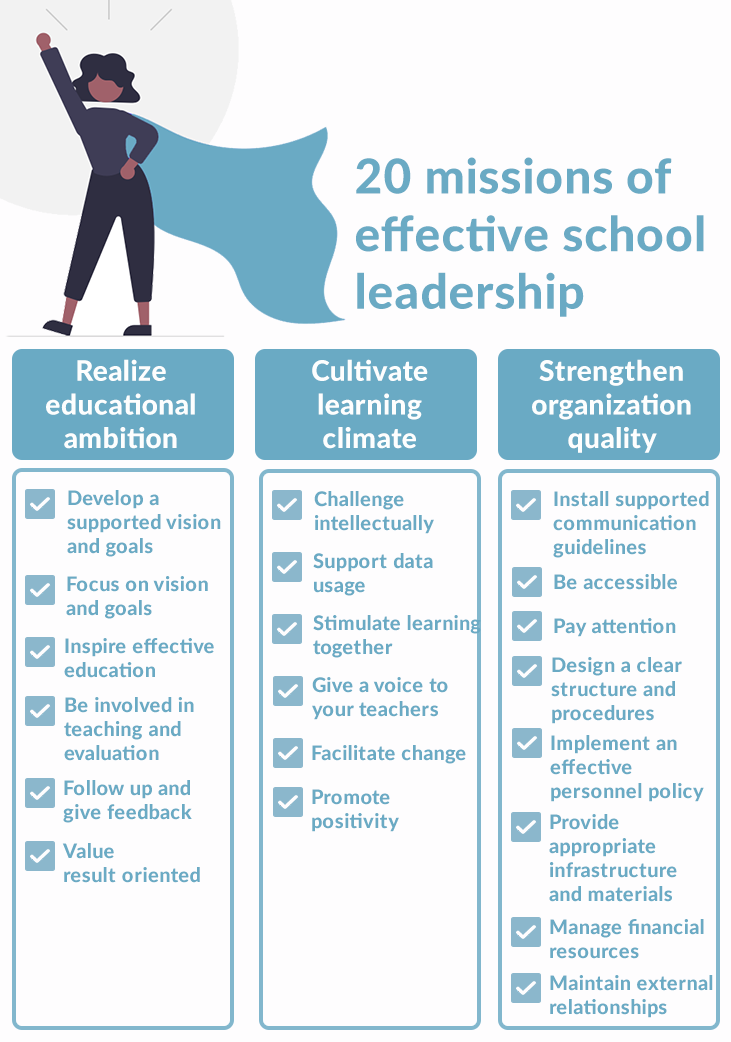 Let's get started!
Mission 1: Develop a supported vision and goals

The school's vision and goals are clear and supported by teachers and other employees.
Tip 1: Develop a school-specific vision of thoughtful digital transformation. You may be inspired by the vision of Schoolmakers.👇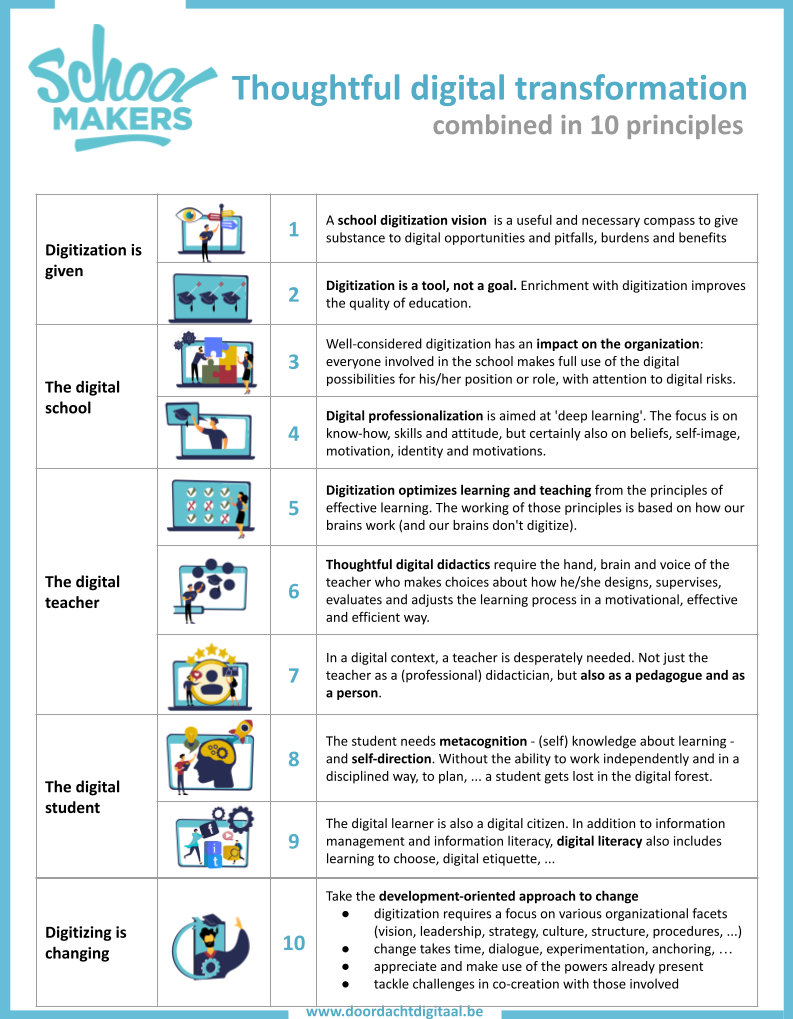 Tip 2: Determine the goals of thoughtful digital transformation in consultation with all your "stakeholders": the school board, teachers, students, parents, administration, … What does the school want to achieve with it and when? Distinguish between:
goals regarding the digital competencies of the students;
goals concerning the digital didactics used by the teachers;
and the school's digitization goals.
Organize the goals into main goals and subgoals. You can include the predetermined goals in the school's ICT (information and communication technology) policy plan.
Mission 2: Focus on vision and goals

Within the school, most of the attention goes to the realization of the vision and goals.
Tip 3: Discuss the vision and goals of thoughtful digital transformation as an expectation for the teachers and for the students.
Tip 4: Support teachers with the translation of the vision into concrete educational practice.
Tip 5: Decide in consultation which forms of evaluation the school will use for the digital competencies of the students, for the digital didactics used by the teachers, and for the digitization goals of the school.
Mission 3: Inspire effective education

Inspire fellow teachers with expertise in "effective education".
Tip 6: Inspire teachers to embrace digital technology.
Tip 7: Point out the lessons learned to teachers from the COVID lockdown. Setting up a remote classroom is one of the most interesting takeaways from the pandemic.
Tip 8: Familiarize teachers with the threefold ordering of digital competences:
using digital media and applications to create, participate and interact;
computational thinking
responsibly, thinking critically and the ethical handling of digital and non-digital media and information.
Tip 9: Ask your teachers what digitization goals they will focus on.
Tip 10: Ensure that teachers succeed in making an appropriate choice from the existing digital learning resources (digital exercises, online videos, (voiced) presentations, etc.). This post will teach them how to choose the best educational technology.
Tip 11: Encourage teachers to formatively evaluate students' digital competencies. This guide about formative assessment points out everything your teachers need to know about this topic.
Tip 12: Ensure that the school team provides appropriate guidance to all students.
Tip 13: Encourage the school team to involve parents in the students' learning process. Here are some great tools for communicating with parents.
Mission 4: Be involved in teaching and evaluation

Be involved in the design and implementation of the curriculum, in the didactic actions of the teachers, and in the evaluation of the students.
Tip 14: Coach the teachers in the realization of their digitization goals and the chosen forms of evaluation.
Mission 5: Follow up and give feedback

Follow up on the realization of the educational learning objectives and keep the teachers informed.
Tip 15: Follow up on the realization of the proposed digitization goals and the selected forms of evaluation. Provide feedback to the teachers and to the entire school team based on your observations.
Mission 6: Value result-oriented

Track and rate the performance of individual teachers.
Tip 16: Recognize the teachers more than regularly in an informal way and systematically more formally at key moments in the school year.
Mission 7: Challenge intellectually

Ensure that teachers are aware of recent theoretical and practical educational insights.
Tip 17: Show teachers the way to the online know-how about education in digital times. You can find some interesting professional development resources about this topic in this guide.
Tip 18: Provide teachers with access to external, online resources (knowledge clips, webinars, online roadmaps, etc.) to gain expertise in digital learning and teaching.
Mission 8: Support data usage

Invest in data literacy (as attitude, competence, and process), with the ambition that school activities and teaching practices can develop based on relevant information.
Tip 19: Investigate where your school stands in terms of effective digitization every school year. Discuss results and progress with the school team, determine areas of focus for the next few semesters.
Mission 9: Stimulate learning together

Stimulate teachers (groups) to learn together in different ways.
Tip 20: Invite teachers to rigorously apply the dare-ask principle towards each other and towards you. How would you do this? How can I …? What is important in…?
Tip 21: Provide moments when teachers can reflect together on the quality of their increasingly digital teaching practice, linked to their views on good education. Make sure to provide your teachers with this teacher reflection guide.
Tip 22: Encourage teachers to work together to strengthen digital expertise in learning and teaching.
Mission 10: Give a voice to your teachers

Involve teachers in policymaking, important decisions, and addressing complex challenges.
Tip 23: Involve the school team in establishing the vision and goals for Thoughtful Digitization.
Tip 24: Use the consent decision-making process to support goals and vision.
Mission 11: Facilitate change

Make sure changes are managed in the right direction.
Tip 25: Ensure a realistic and known planning of the steps that the school is taking in the field of thoughtful digital transformation.
Tip 26: Evaluate the plans regularly and adjust if necessary.
Tip 27: Encourage teachers to experiment with new digital teaching practices.
Tip 28: Make active use of the existing digital competencies of teachers and students.
Mission 12: Promote positivity

Have a positive attitude and radiate that attitude.
Tip 29: Treat teachers, other staff, and students with a positive attitude.
Tip 30: Support teachers and other staff to deal positively with the digital transformation.
Mission 13: Install supported communication guidelines

Ensure clear and transparent communication between all those involved in the school (=the school's stakeholders).
Tip 31: Make clear agreements about digital communication with and between the students.
Tip 32: Make clear agreements about digital communication with the parents.
Tip 33: Give an example of how communication can be enriched with icons and images.
Tip 34: Make clear how students, parents, teachers, and other staff can express their questions and concerns about Privacy Regulation (GDPR, COPPA, FERPA in school.
Mission 14: Be accessible

Ensures that the school leader(s) are experienced as accessible and available.
Tip 35: Be accessible to teachers, faculty, and staff who have questions about the thoughtful digital transformation of the school.
Tip 36: Be accessible to students who have questions about the thoughtful digital transformation of the school.
Tip 37: Be accessible to parents who have questions about the thoughtful digital transformation of the school.
Mission 15: Pay attention

Pay attention to personal situations and interpersonal relationships.
Tip 38: Actively listen to the digital concerns of teachers and other staff.
Tip 39: Investigate how and with which external parties your school can support students and staff in the digital field.
Tip 40: Ask how teachers and other staff experience thoughtful digital transformation at school.
Mission 16: Design a clear structure and procedures

Ensure that the organizational structure and the procedures used provide optimal support for the realization of the vision and goals of the school.
Tip 41: Set up a temporary thoughtful digital transformation steering committee.
Tip 42: Agree who will take on which roles and responsibilities in the thoughtful digital transformation process.
Tip 43: Investigate which procedures can be organized differently or better thanks to the new possibilities offered by digitization. This includes classroom schedules, student administration, parent communication, teacher administration, student tracking system, etc.
Tip 44: Make clear agreements about which digital tools are used for learning and teaching.
Tip 45: Use digital tools to increase the effectiveness of decision-making processes. Think of: apps and platforms for brainstorming, organizing online surveys, collaborating in documents, etc.
Mission 17: Implement an effective personnel policy

Work on an effective personnel policy.
Tip 46: ​​Allow teachers and other staff to consciously reflect on their self-image in terms of digital know-how: what am I good at? What do I want to grow further in?
Tip 47: Occasionally allow teachers to reflect on their views on the use of digital learning resources.
Tip 48: Use the thoughtful digital transformation process as a lever for setting up state-of-the-art forms of professionalization.
Tip 49: Consciously take into account (age-related or otherwise) differences in the digital know-how of teachers and other staff at the school.
Tip 50: Make sure that every teacher can ask someone for help regarding the didactic use of technology in teaching. In this way, you ensure that technology does overwhelm colleagues.
Tip 51: Provide someone to support teachers and other staff with the technical aspects of technology. In this way, you ensure that technology does not put the brakes on the well-being of colleagues.
Mission 18: Provide appropriate infrastructure and materials

In collaboration with the school board, ensure an appropriate infrastructure and the necessary materials for the educational process.
Tip 52: Register and analyze the needs in terms of IT infrastructure (all of hardware and software, network, servers, licenses, devices for teachers and students).
Tip 53: Provide school-managed digital devices that students can use at school when they need them.
Tip 54: Provide sufficient devices that can be used by the students at home in the context of distance learning or projects.
Mission 19: Manage financial resources

Work with the school board to ensure efficient resource management.
Tip 55: Base the choices in terms of IT investments on a needs analysis.
Tip 56: Keep a separate overview of the extra costs that your school incurs in the context of the thoughtful digital transformation.
Tip 57: Make active use of financial resources that various governments make available for the thoughtful digital transformation process.
Mission 20: Maintain functional external relations

Develop and maintain an external network that is functional for school operations.
Tip 58: Take an inventory of the contacts of external services, profit, and social profit organizations that can support your school in the process of thoughtful digital transformation.
Tip 59: Investigate whether your school could benefit from a (new) collaboration with one or more neighboring schools?
Tip 60: Keep in touch with fellow management teams within the school group/community and beyond.
Wrap Up
So that's it! I hope these 20 missions and 60 tips give you the knowledge to implement thoughtful digital transformation for your school.
Want to read this article in Dutch? Click here