20 Amazing ways to use digital flashcards in your classroom

Janie Noels —
Are you already using digital flashcards in your classroom? Or maybe you would like to try it out? In this blog, you will learn everything about how digital flashcards can elevate your teaching and students' learning outcomes.
For those who are not yet familiar with flashcards, I will elaborate in the next parts of this post:
Are you curious? Just keep on reading. 😉
What are digital flashcards?
Digital flashcards are almost the same as paper flashcards. The advantage is that you can do more with them. I'll explain that later in this post. On top of that, you have less work because you're not wasting time writing it down, making copies and cutting the paper. (An added bonus is that you're environmentally friendly without using paper.👌) So, it's perfect for your teaching and you'll improve the students' learning process.
When can you use digital flashcards?
People frequently ask the following question: "Why should I use flashcards?" There are many reasons to use digital flashcards in the classroom. You can use it across the curriculum for subjects like math, languages, reading, geography, … The way of using it can be varied. Use flashcards to:
repeat what you have been teaching in your lessons;
repeat essential elements at the end of your lesson;
teach your students independence by providing learning topics through flashcards (they need to study it on their own);
give an extra (fun) assignment to the students that finish early;
to differentiate by level;
to summarize important theory, words, or concepts,
… and more
20 ways you can use digital flash cards in your classroom
Are you looking for digital card ideas? I've gathered 20 ready-to-use activities with flashcards. You can find them all in this BookWidgets group. Click on the link, log in or create a free BookWidgets account so you can duplicate the flashcards examples, adapt them if needed, and share them with your students.
Flash cards for languages
1. Teach a new language with flash cards
Have your students practice another language. In this example, it is French! Your students need to translate the word on the front. On the back are 3 things: the answer, a picture and the option to listen to the pronunciation. As you can see, the subject is 'Fruits'.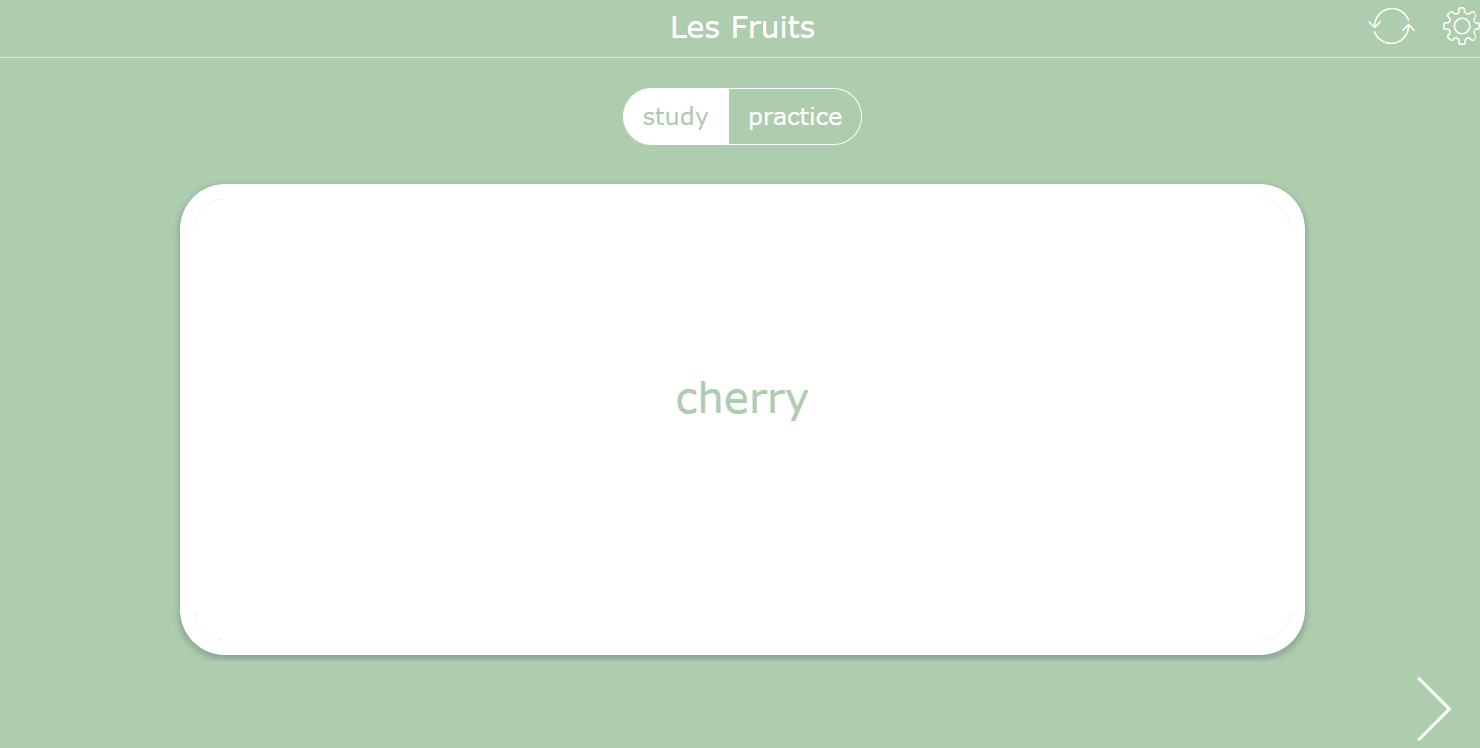 Click to open
2. Sight words flash cards
A perfect way to practice reading skills independently. The process is simple, the student reads the word on the front cover. Then, they can check if it's right/wrong in 2 ways: use the sound option on the front of the card to hear the word, or turn the card over to see the image.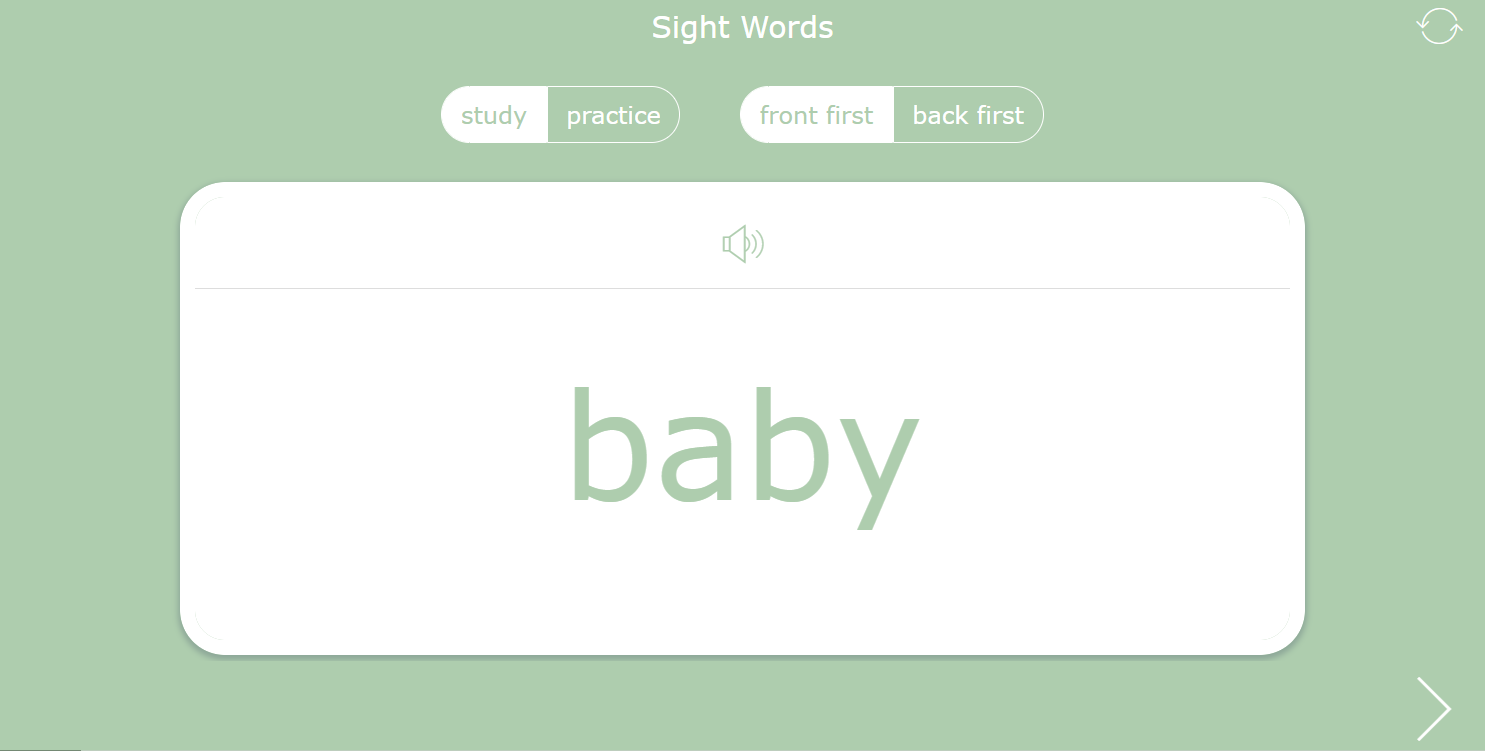 Click to open
3. Practice idioms with flash cards
An ideal assignment to use in between lessons or during language classes. They are applied playfully with an image. Do your students know the meaning of these idioms? Try it out in your class. You can use this as a class activity or individual work. To challenge students, have them write down a context in which the expressions fit.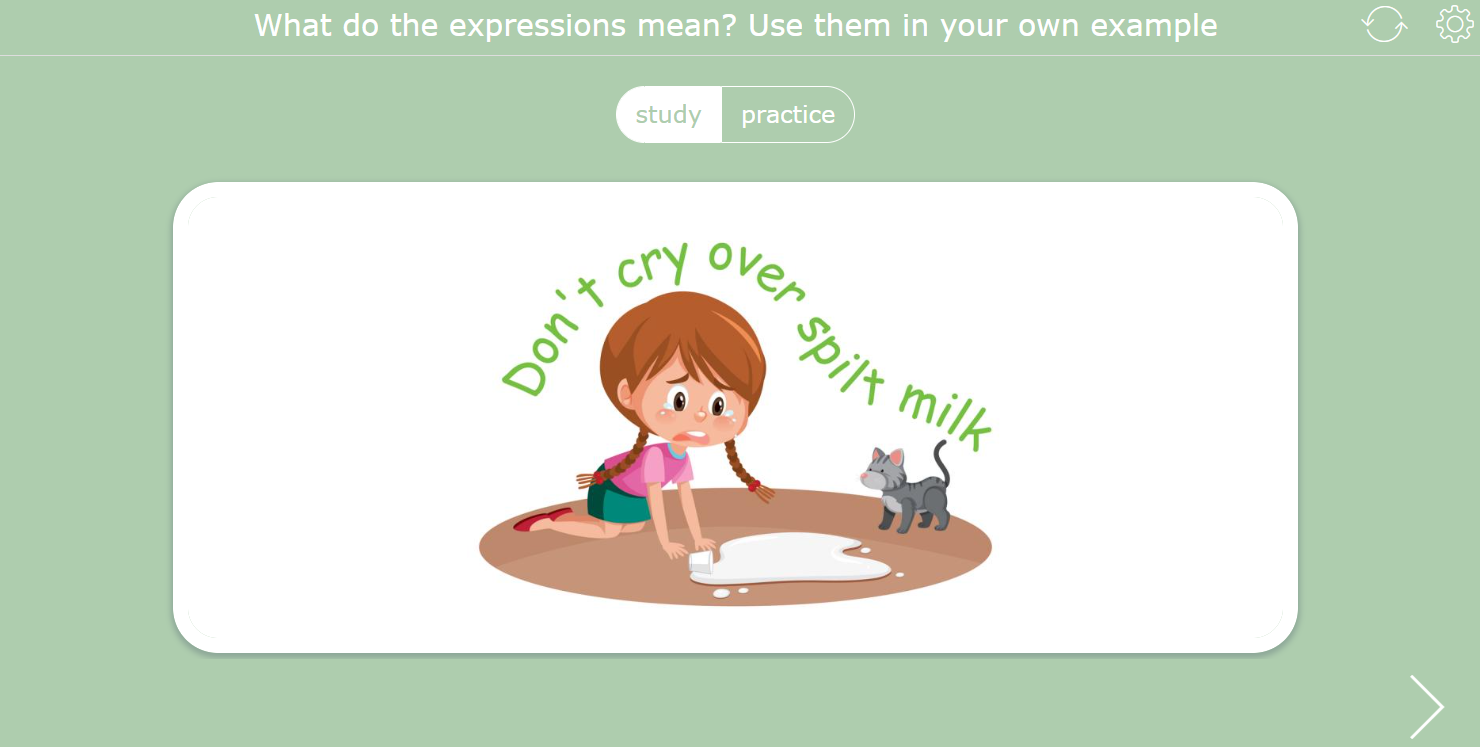 Click to open
Flash cards for geography
4. Geographical terms on flash cards
Knowledge of geography terms is important so that students can follow lessons well. These flashcards allow them to practice in 2 ways. First, showing the word and giving the meaning or vice versa. You can choose which appears first by using the buttons 'front first' or 'back first'.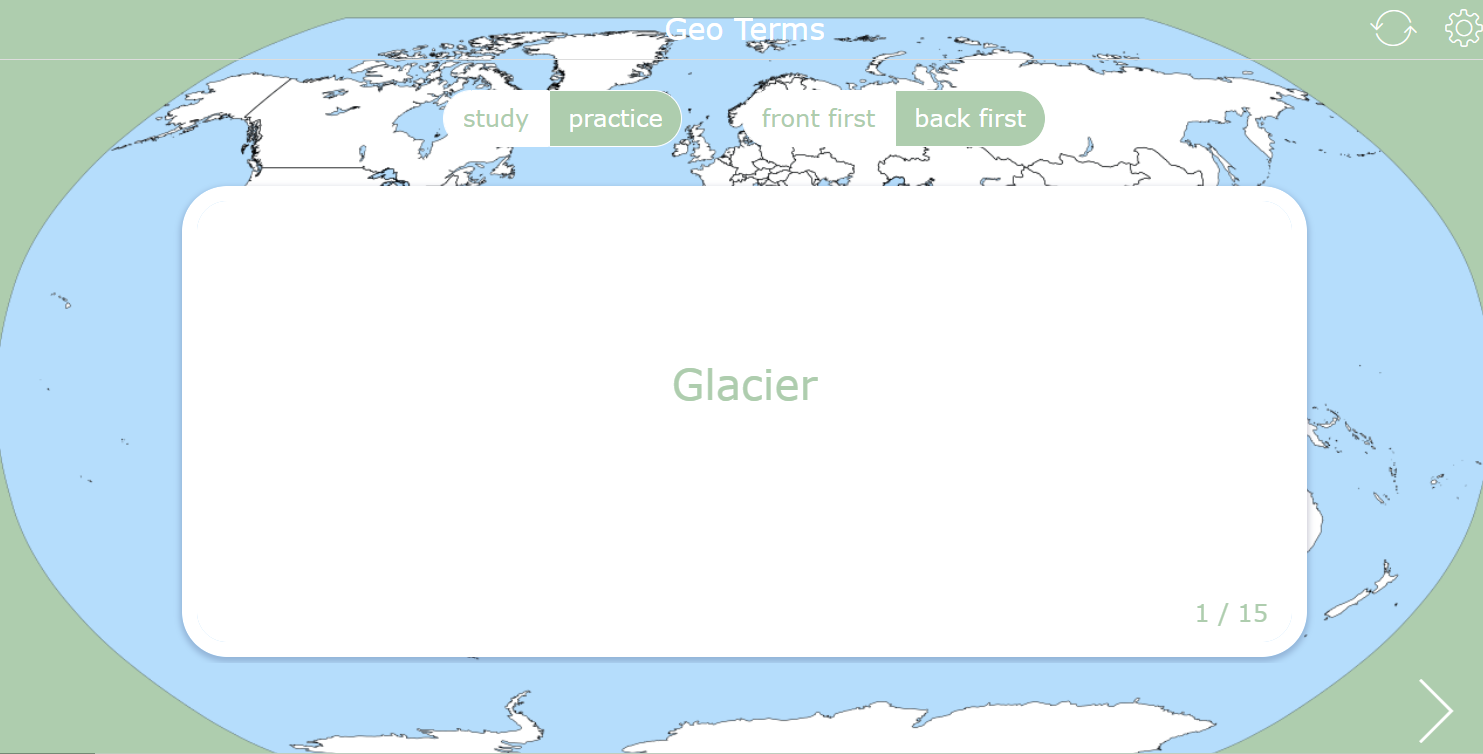 Click to open
5. Flags and countries flash cards
In this widget, you have the opportunity to find out what students know about flags. With these flashcards, sections have been created. Using sections allows you to select the cards by continent. So you only select the ones you need/want.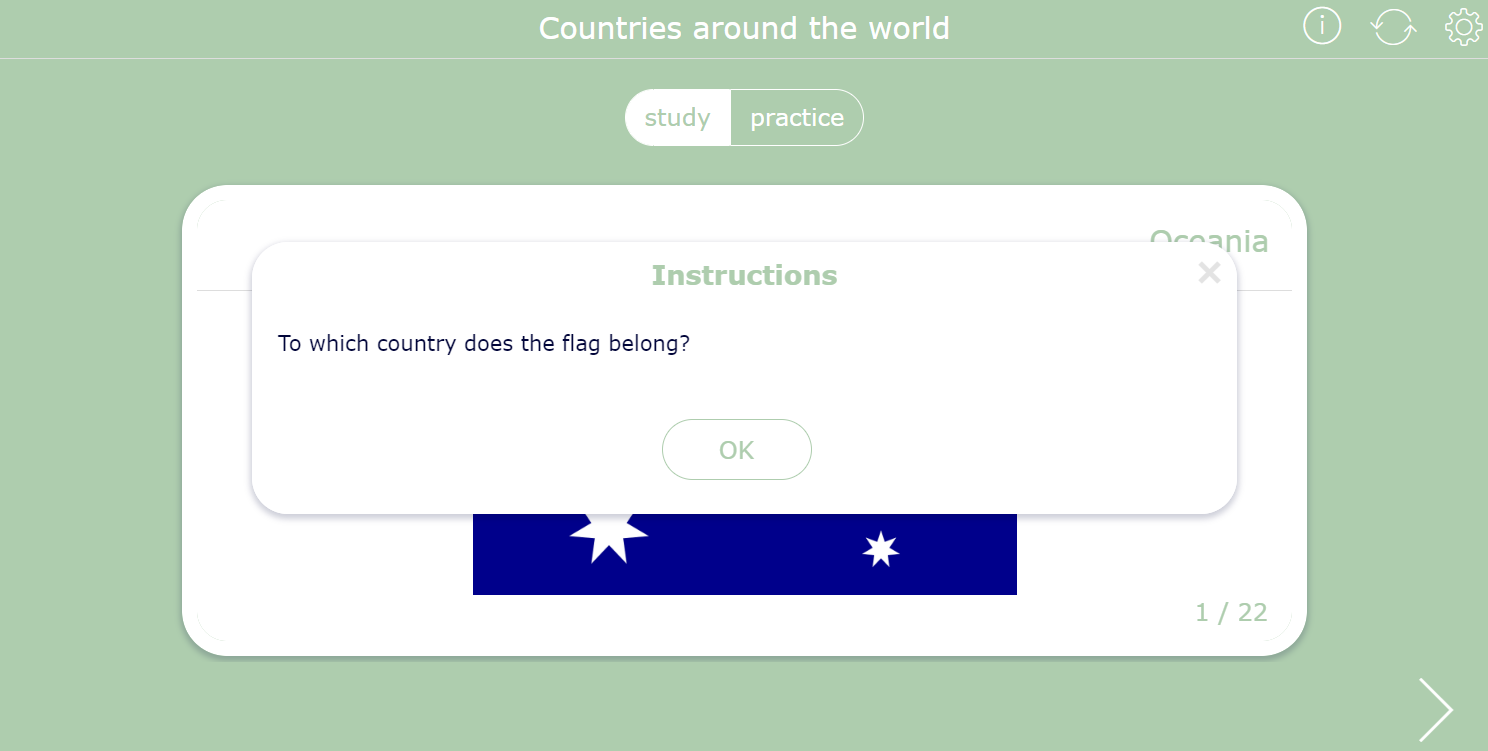 Click to open
Flash cards for math
6. Practice number recognition with flash cards
Let your students independently practice recognition of numbers 1 through 10 with these online learning flashcards. It's not a problem if students cannot yet read the answers, because by clicking on the sound icon, they have the opportunity to listen to each answer.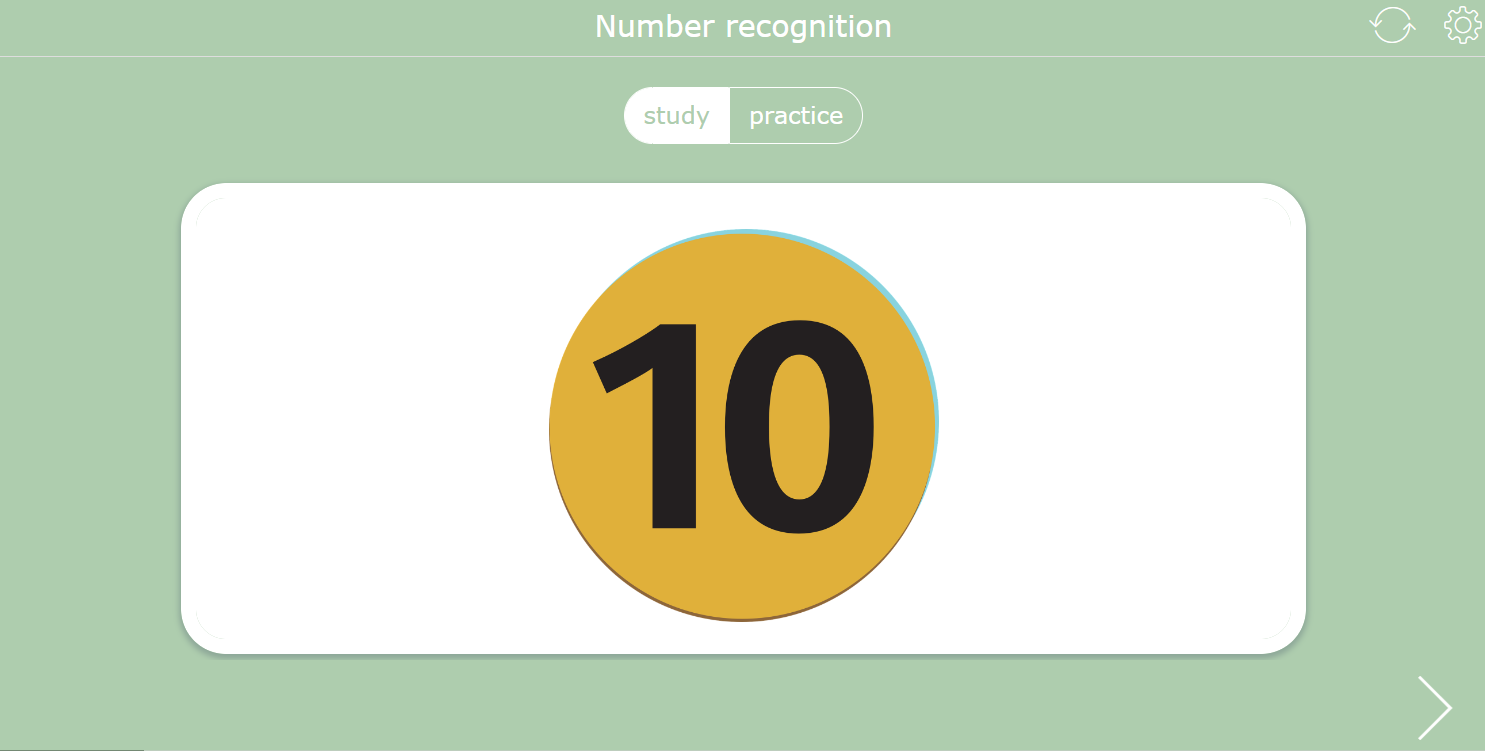 Click to open
7. Practice shapes with flash cards
Did you just teach your students the different shapes? Let them practice with these flashcards. Are they able to give the correct name of the shape or is there maybe more practice needed?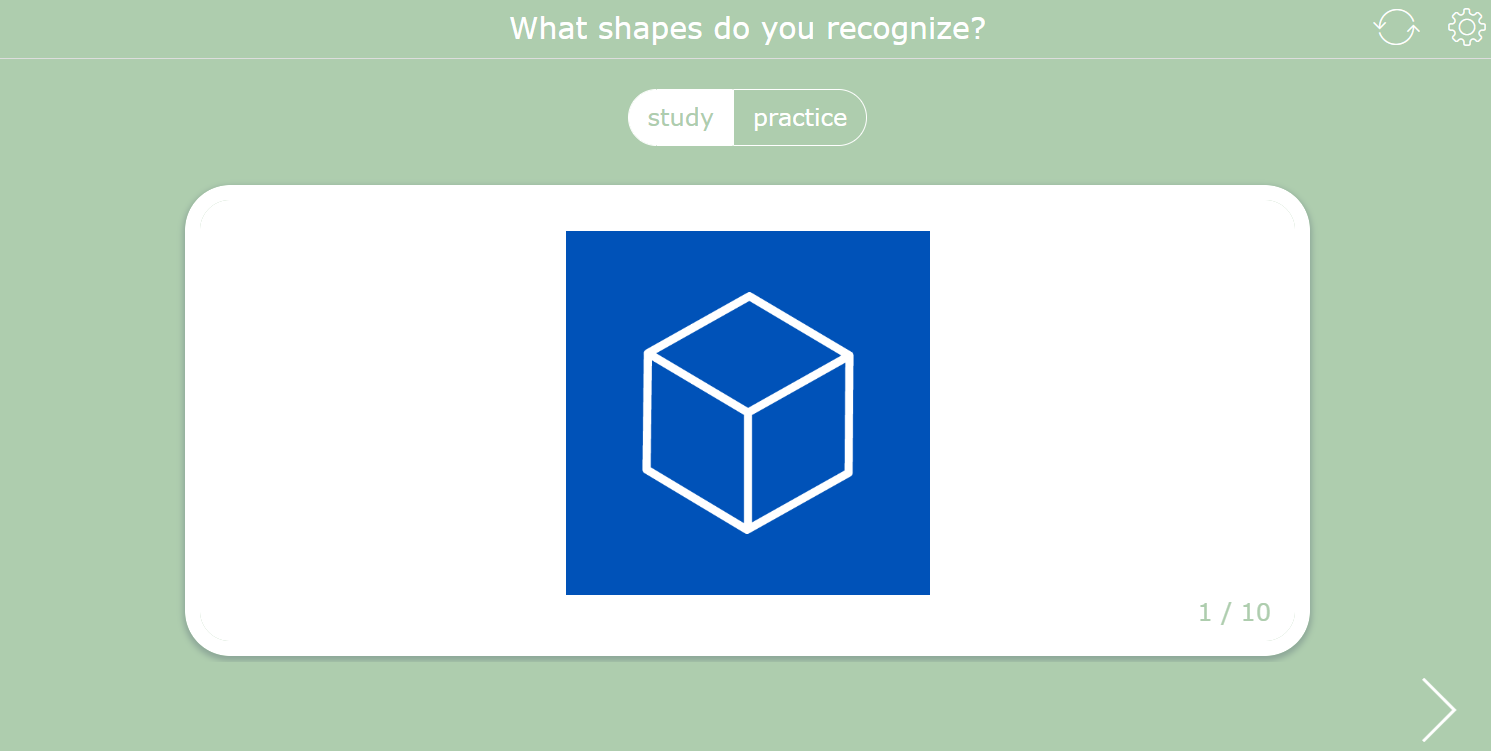 Click to open
8. Practice area and volume with flash cards
Is the previous assignment way too easy for your class? Then, this might be for you. Test out whether your students know all the formulas for the area, space and volume. Perfect as repetition, but these cards can also be used to practice after a geometry lesson.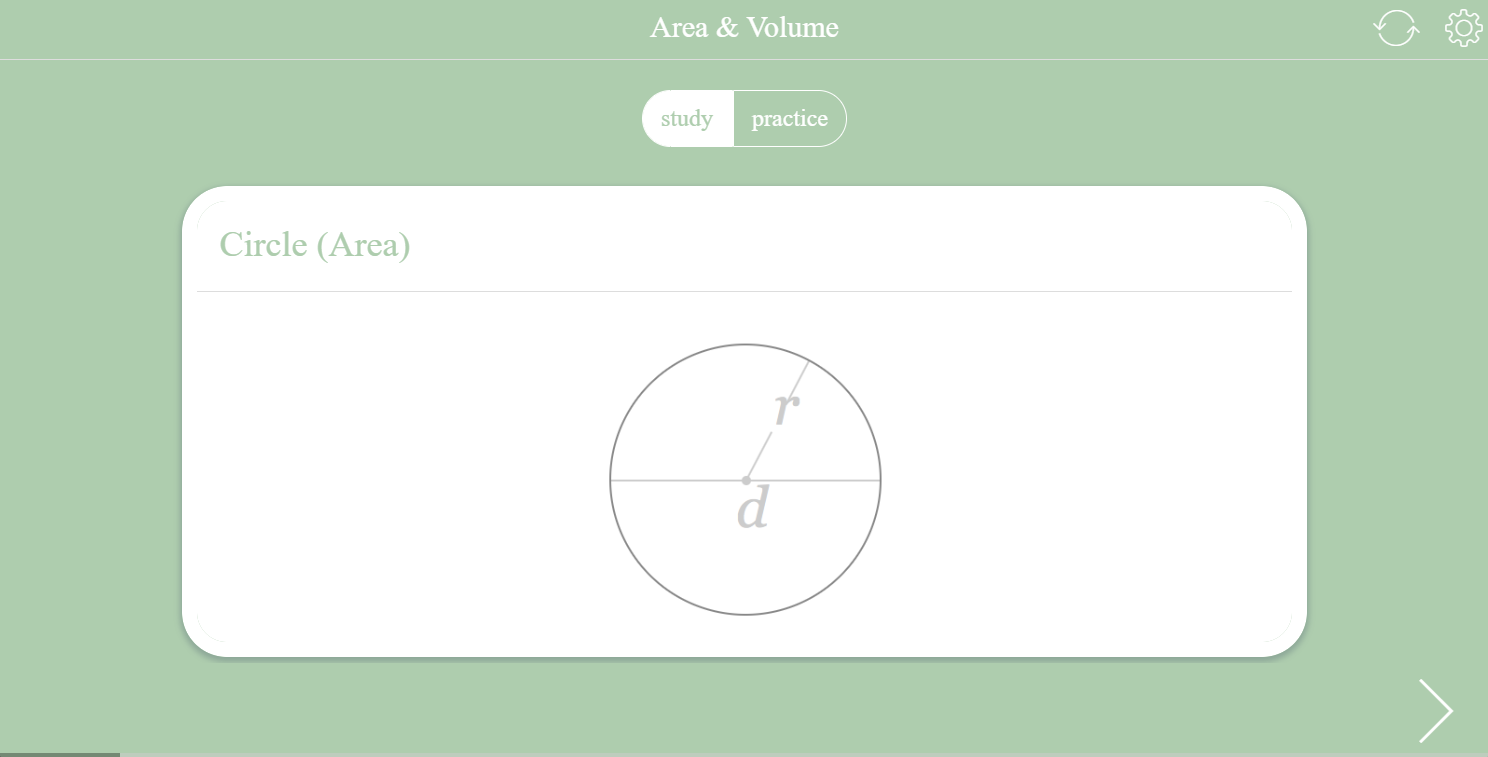 Click to open
9. Practice reading a clock with flash cards
Are you looking for digital flashcards for telling time? Then, you are in the right place. On the front of the card, students will see a clock. They need to tell what time it is. Too difficult? Use the hint. If they don't need the hint, they just don't need to click on it.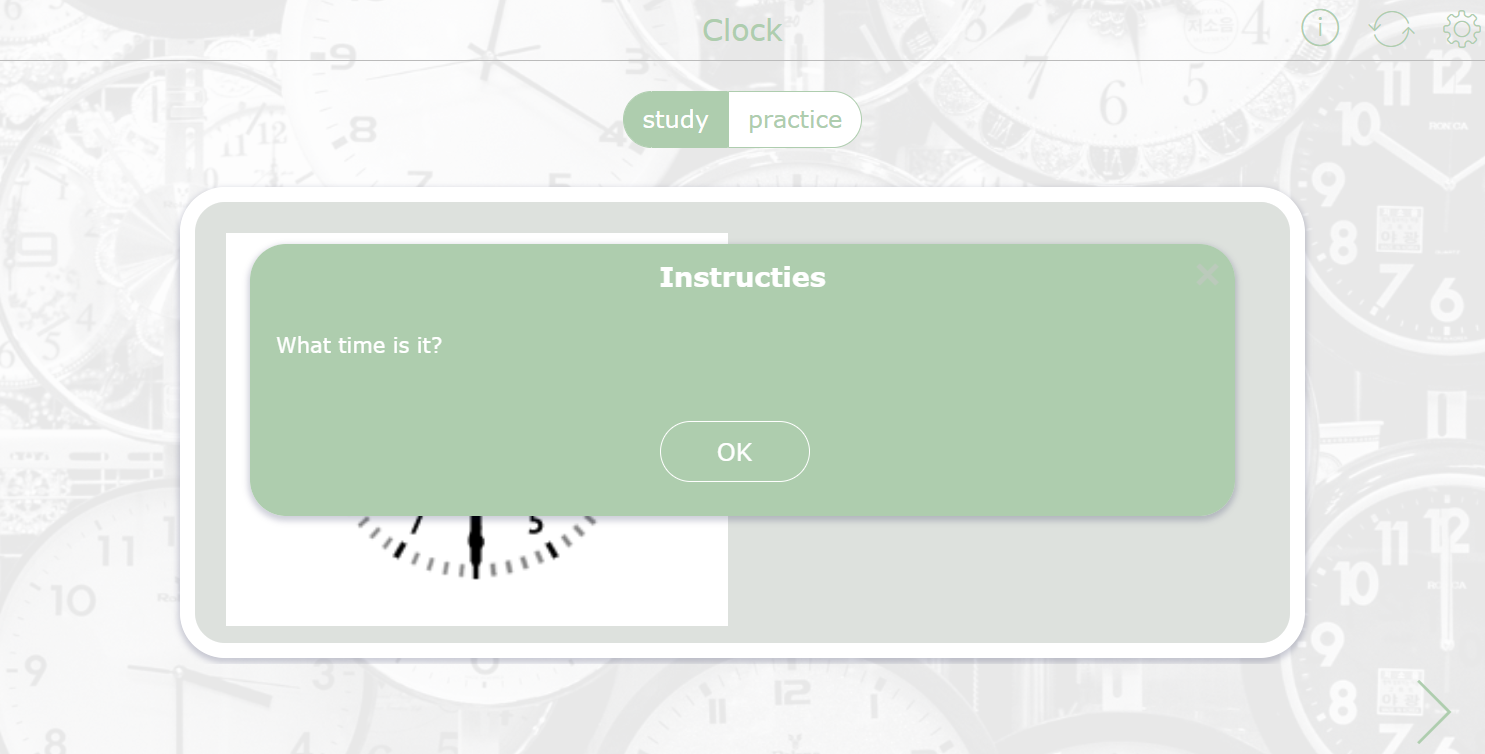 Click to open
10. Practice times tables with flash cards
These flashcards are created using sections. So, for example, you can indicate that only the multiplication tables of 1 and 10 are shown, but you also have the option of having all the tables from 1 to 10 appear interchangeably. Ideal if you want to repeat a particular table or to check that the students have understood it correctly.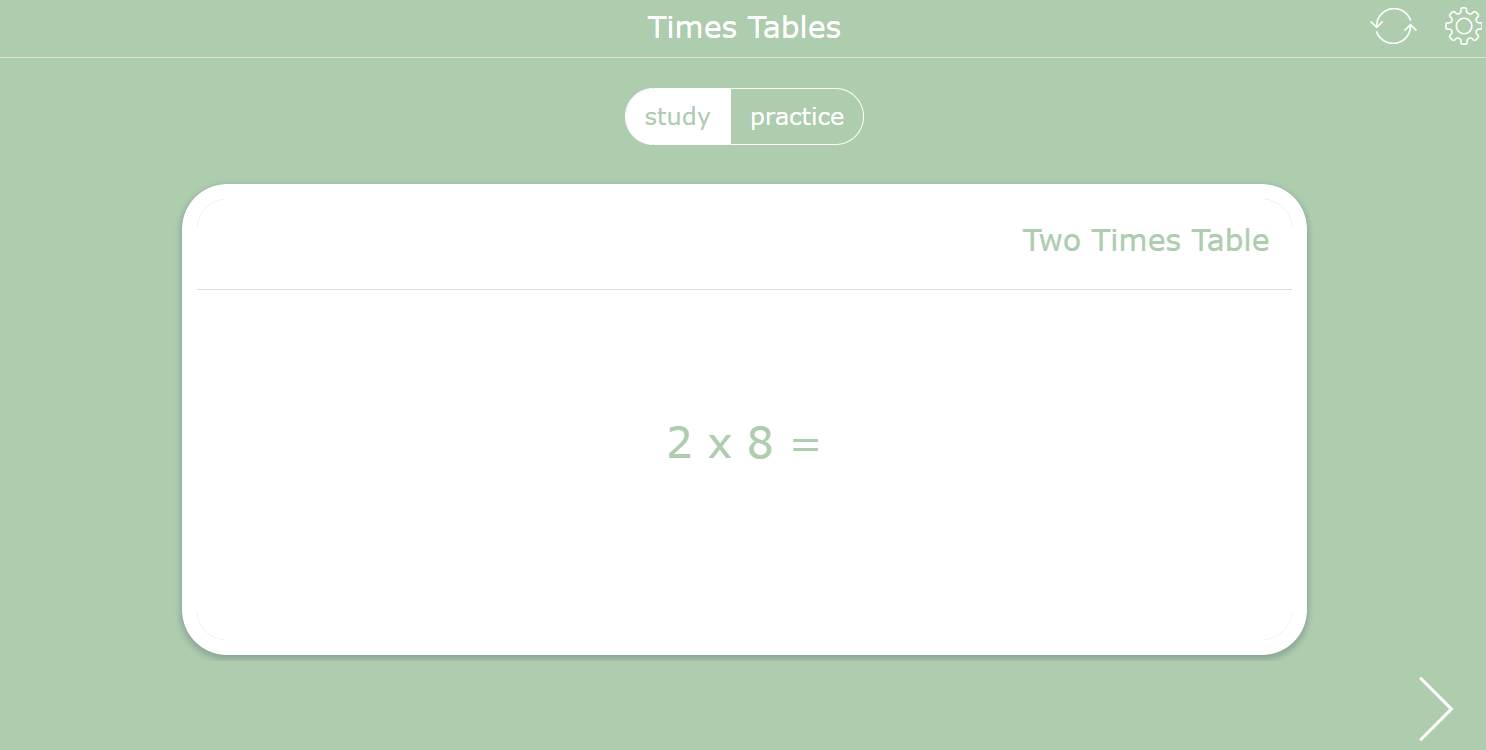 Click to open
Flash cards for other subjects
11. Physics - Study changes in matter
These flashcards are the ideal way to practice changes in matter. You can use them in 2 different ways. The first by displaying the name of the transition phase and in response they have to verbalize the change in matter. The second by displaying the change and students must name the corresponding phase change.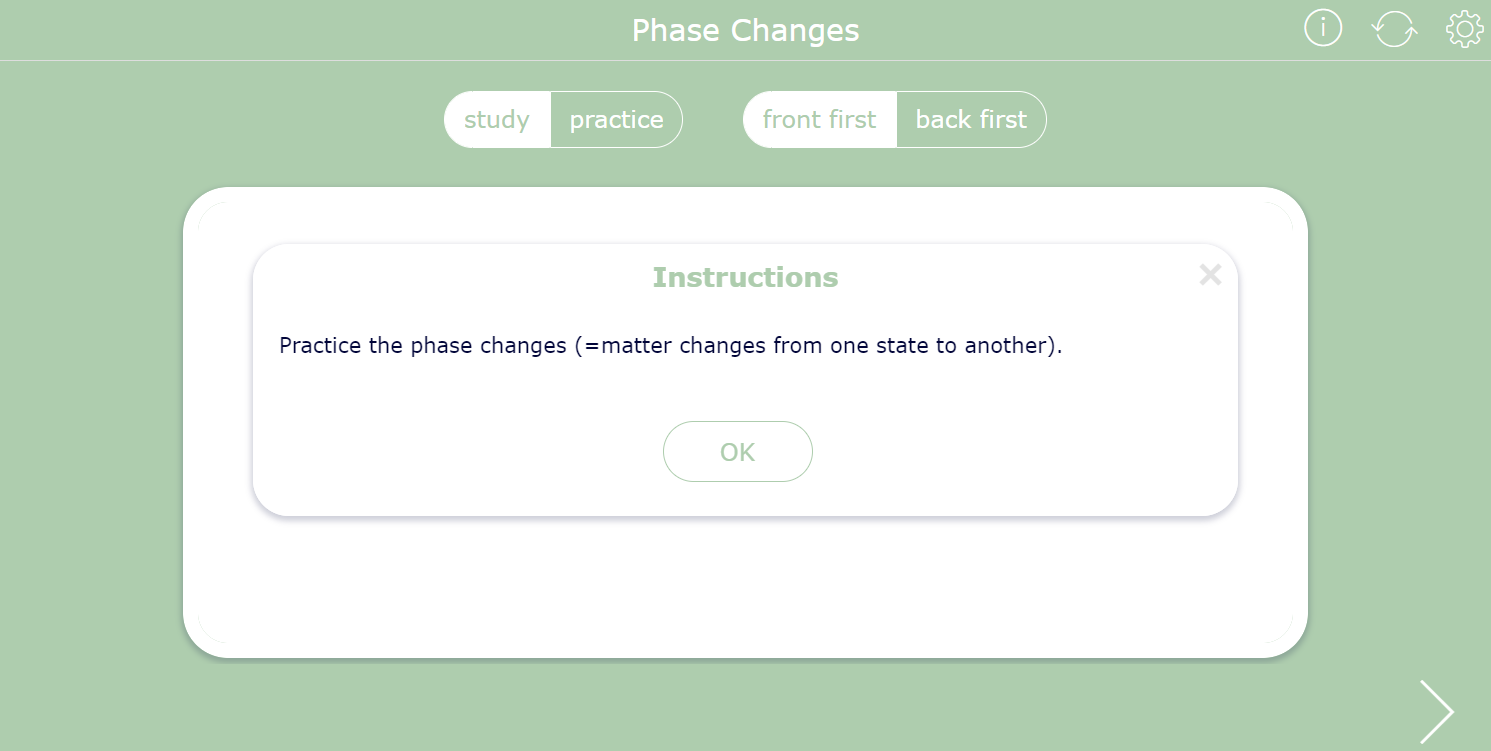 Click to open
12. History - World War II
Are you learning about World War II, or do you think it is an interesting topic to introduce in class? Then, this widget/assignment is for you. The students can use the flashcards to study various names and events.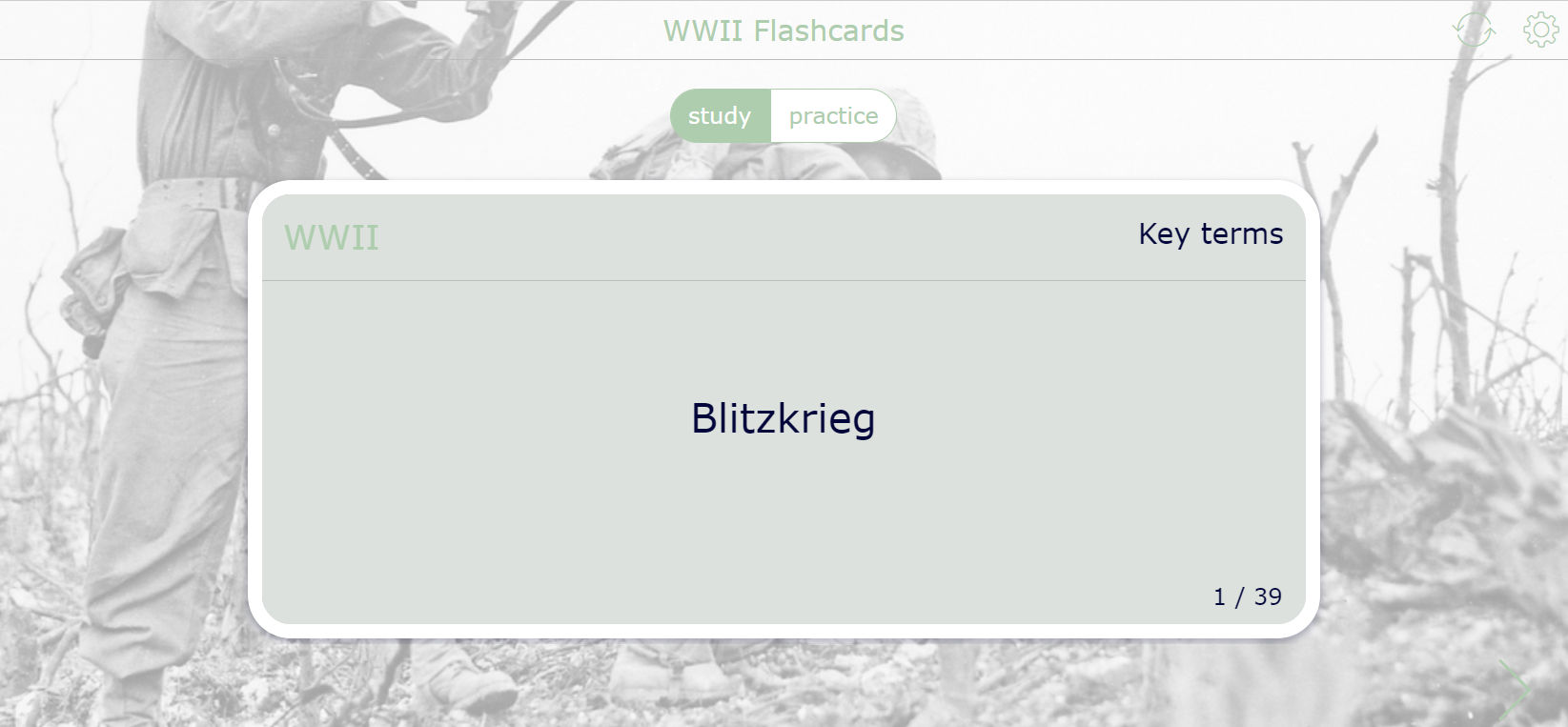 Click to open
13. Religions - Different cultures
Today, in our society, there are often different cultures in schools / in class. If you want to increase your knowledge about these religions, check this out. You can best use this if the students' knowledge is still limited about the religions or to test what they have memorized from previous years' study.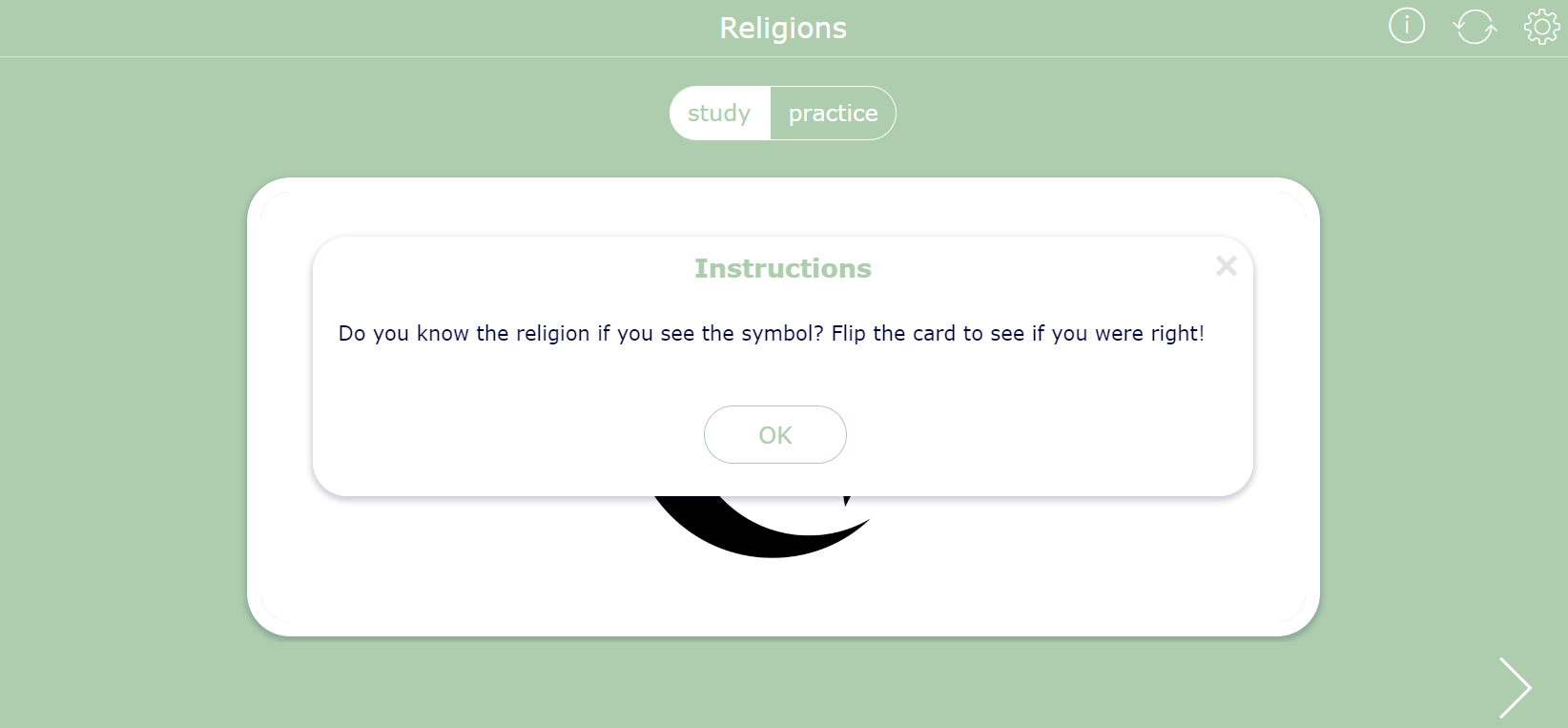 Click to open
14. Art - Famous artists
These flashcards can be perfectly used in an ethics lesson, as well as in an arts/crafts lesson. For example, you can provide students information about these famous artists and their artwork and then base their class assignment on it.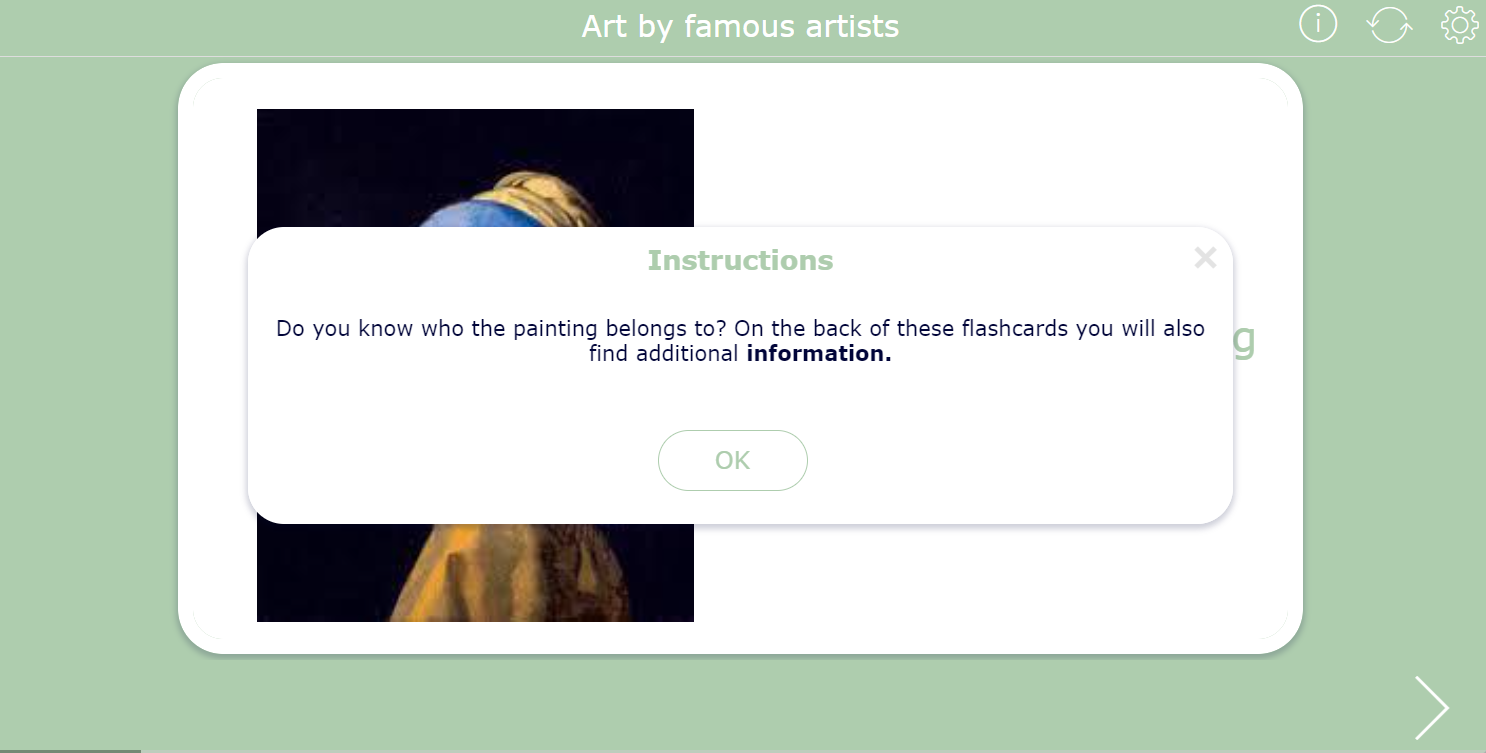 Click to open
15. Music - Songs
Looking for a fun activity in between lessons or, perhaps you want to encourage students to sing? This is the ideal assignment! Familiar songs are used. In fact, you will see the lyrics from a song, but 2 words are missing. Provide the missing words so that the lyrics are complete again. If you think your students' music knowledge is great, just listen to the song on YouTube/Spotify/ or other streaming service… . If they listen carefully, they will find the missing words.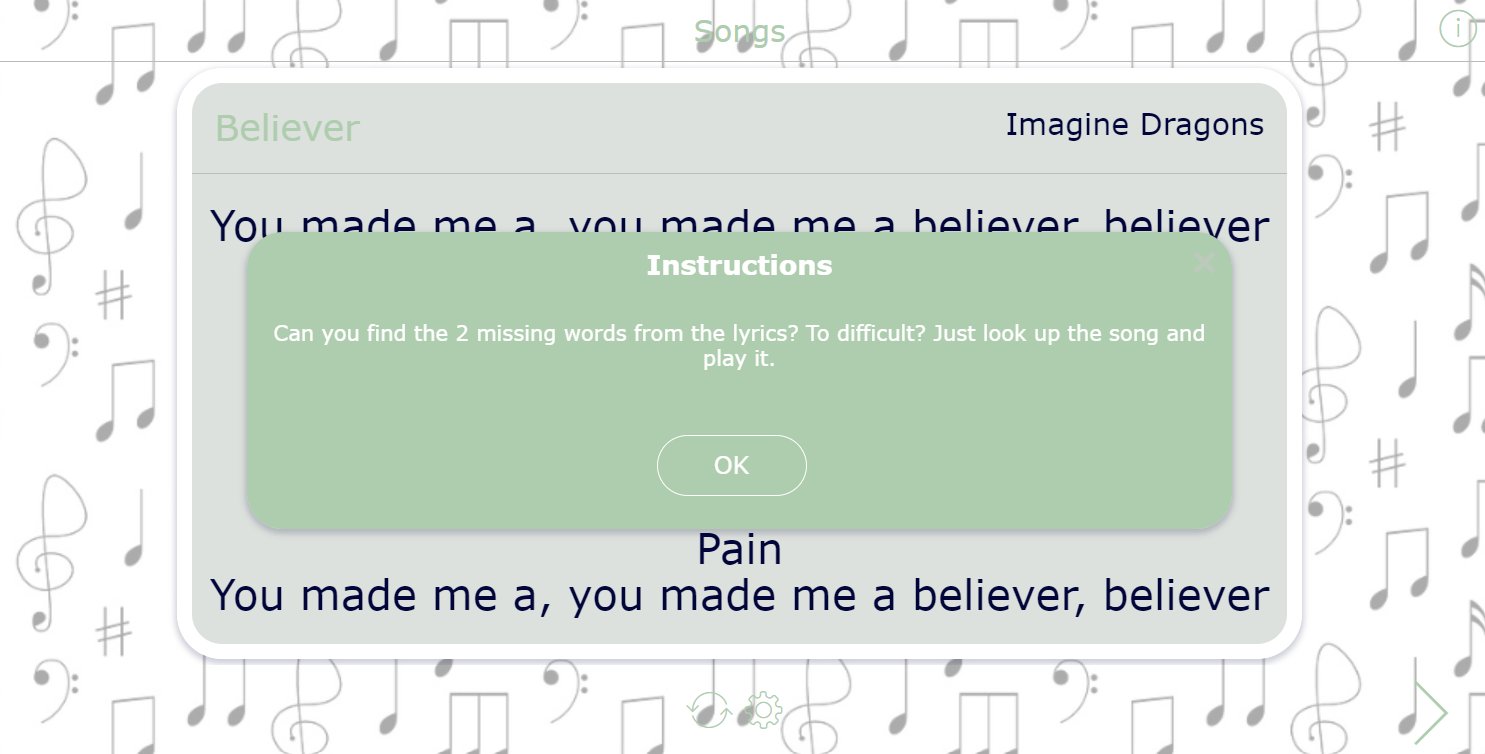 Click to open
Flash cards for awareness days
16. World Food Day - Provide information
Diversity has become an integral part of our society. By responding to this in the classroom, you have an eye on each student. In this assignment you can give your students information. Here it's focused on information about the day and dishes that are popular in certain countries.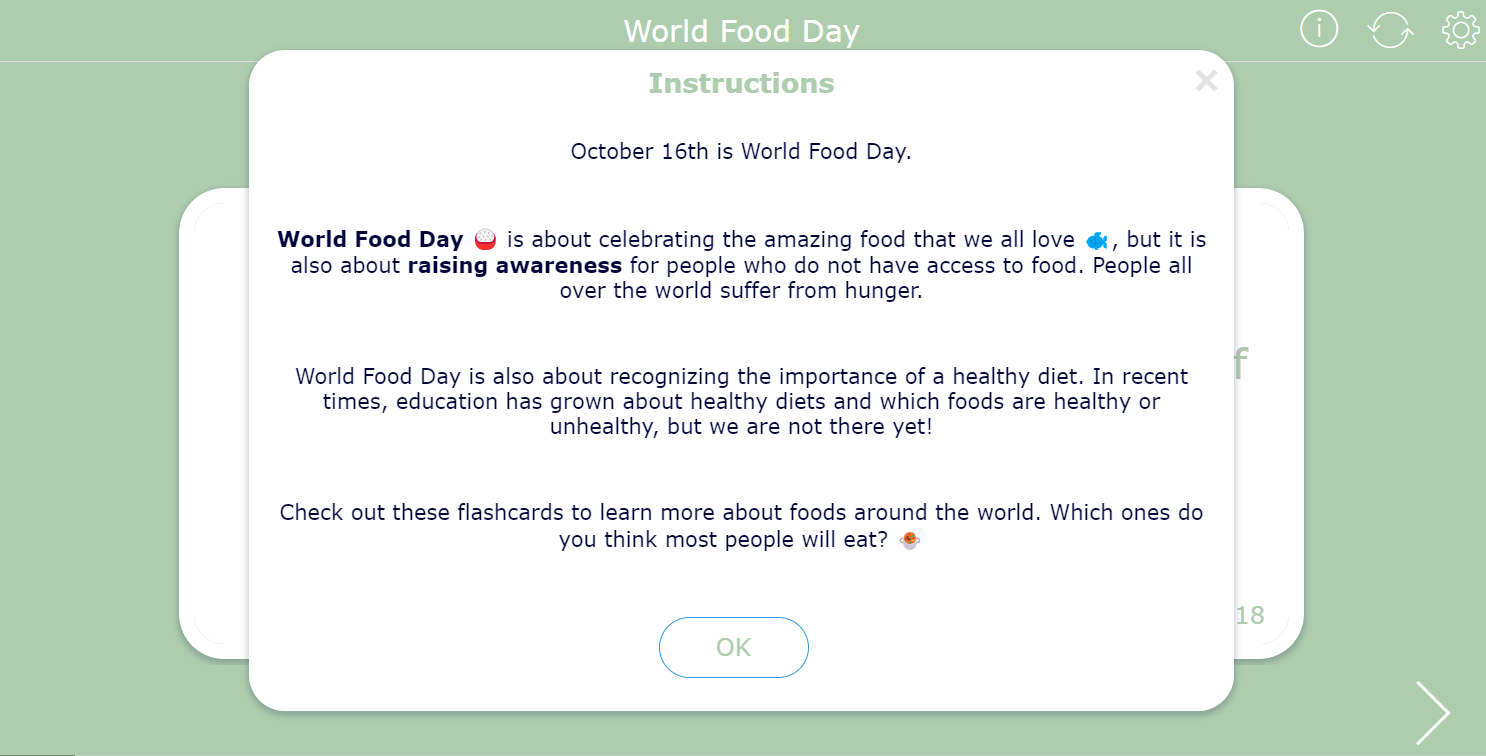 Click to open
17. World Elephant Day - Provide information
Interested in the topic 'World Elephant Day'? It takes place on August 21st. You can get started by reading these flashcards, but there are also options to listen to them. Each flashcard has the ability to be read aloud by clicking on the sound icon.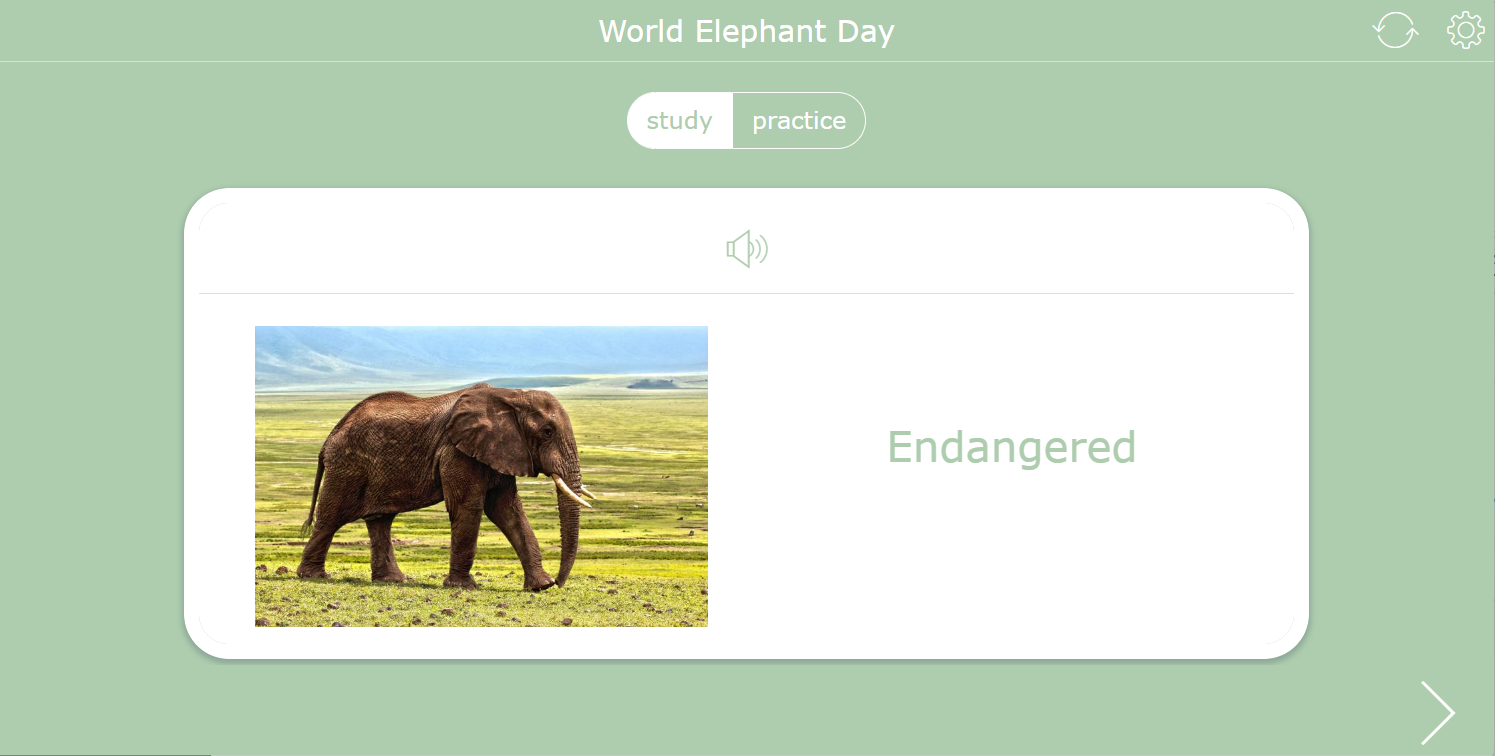 Click to open
18. International Whale Shark Day - True or false
An easy way to see if students have grasped particular material. Read the statement on the front and decide if it's true or false. Then, flip the card to see if you are correct. Here you also can have the cards read aloud.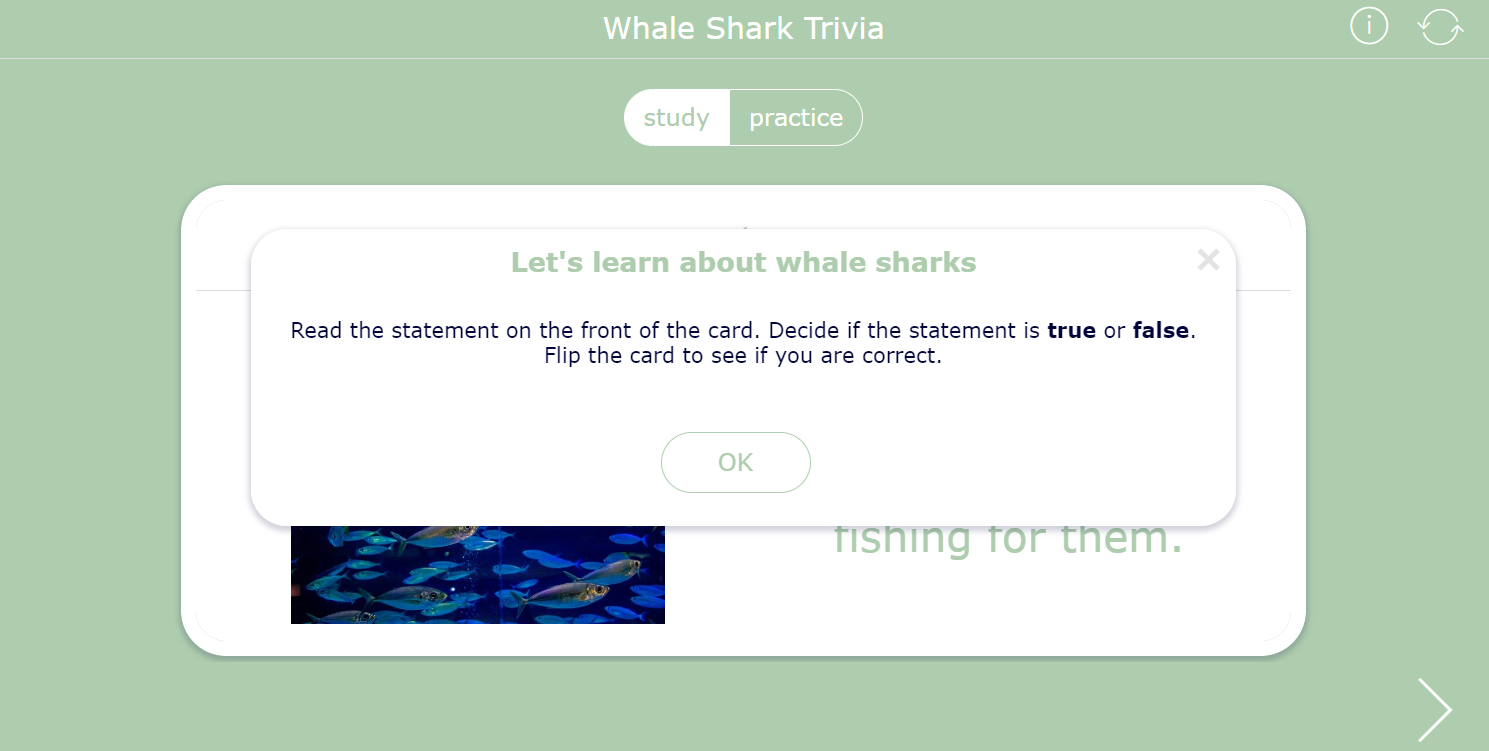 Click to open
Miscellaneous
19. Riddles - Answers with pictures
This is a fun activity to do in between lessons. You can give it to your students or maybe it will be more fun if you can do this in groups or even with the whole class. The riddles might be a bit challenging, so they may need some additional time to think about the answer. But a challenge is nice sometimes, right? On the back you will find the correct answer with a matching picture.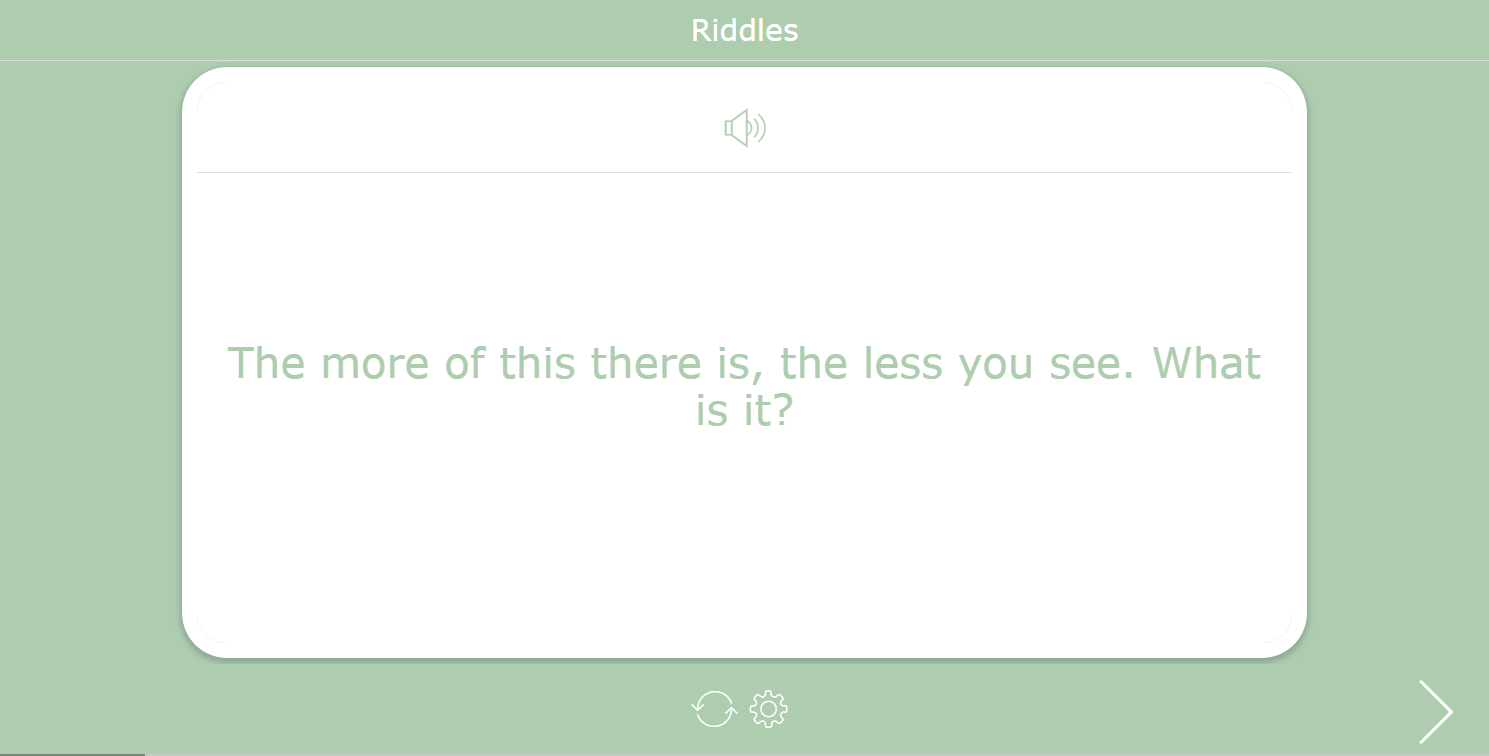 Click to open
20. Provide information about objects/concepts
As everyone usually says: Eat your veggies! In this flashcard activity, you need to identify the unusual vegetables. Then, on the back, you can find the name and more information about them.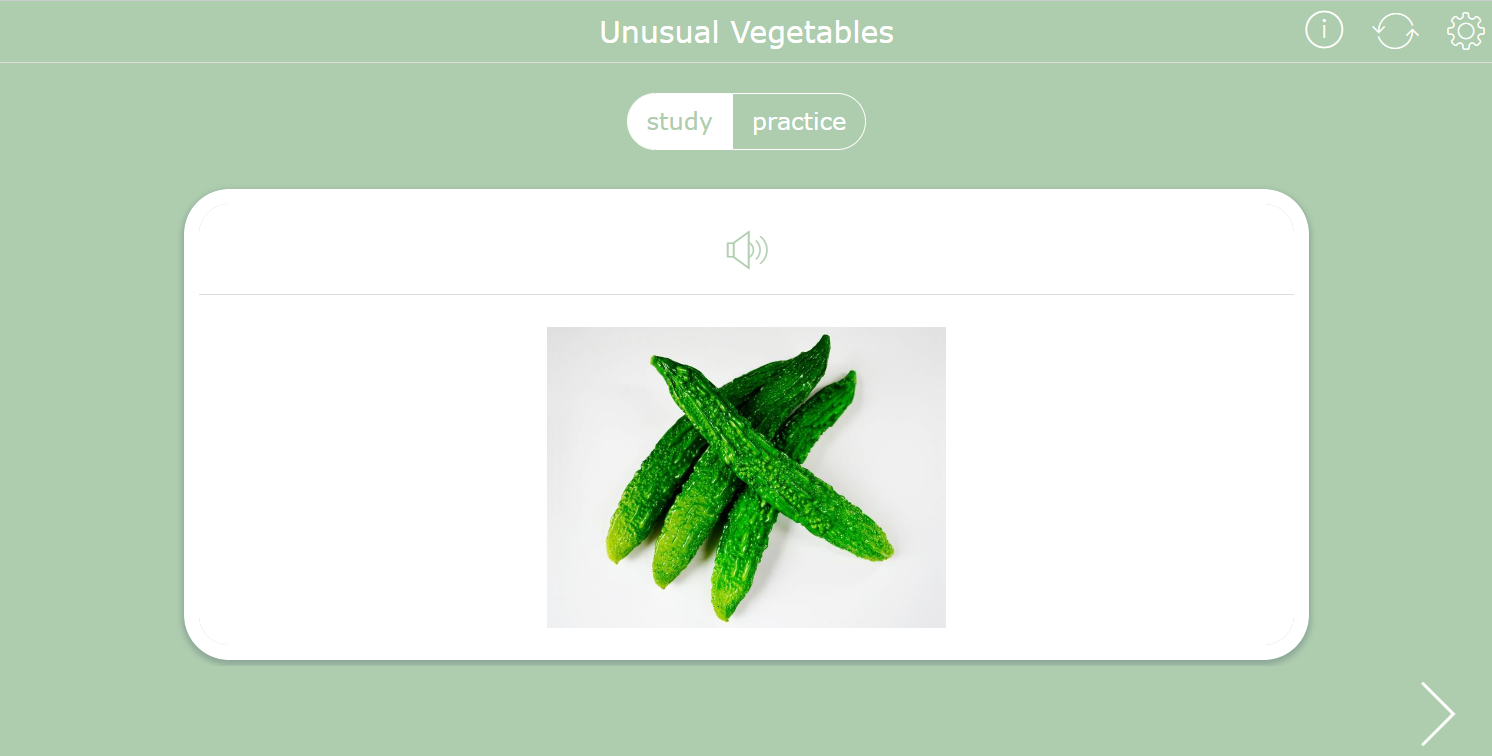 Click to open
What are the possibilities of Digital Flash Cards in BookWidgets?
Are you looking for an online flashcard creator? Then be sure to check out the BookWidgets website, to be more specific: the Flash Cards widget. Here are all the possibilities and neat features you can add to your own widgets.
1. The basics

A basic flash card has two sides. On the front side, you can find the question. It can be in different forms: a word, a sentence, …. On the back side, you can find a related answer. If you click on the card, it will flip. Normally if you're making flashcards, it is more than 1 card. So you can navigate yourself through all the cards with the small arrow at the bottom right.
2. Digital flash cards that include pictures

Pictures can be helpful for some topics. Let me clarify this with examples:
You can find the online Flash Cards widgets from these examples in the paragraph "20 ways you can use Digital Flash Cards in your classroom" above.
3. Digital flash cards with sound

Do you think the pronunciation of words is important? Then using the sound function is ideal. It can be a reminder if they are practicing at home or, as well as a control. There are two ways of adding sound to your flash cards:
by recording your voice immediately
by using the built in text-to-speech option that is automatically generated by the browser
4. Use and hide sections

Would you like to create a summary of different chapters? Use the create sections function. Give the cards you want to display together all the same section name. That way they belong to one section. If you teach your students step-by-step, you can hide certain sections. Ensuring they only see the section you have taught at that time. Of course, you can also show all sections at once so that students can study for an exam.
5. Give your students a hint

Would you like the ability to give students a hint if they don't know the answer? This is also possible! For example, if you provide the students with pictures of well-known sights in other countries, they must give the matching country. So, it can be useful to provide them with a hint such as what is in the picture. Hints can also help students with studying as you ask your students to make another connection/link with the learning materials.
6. Difference between study and practice mode

Before students take a test, they can practice by using "study" mode. Then, when they are ready for the test they switch to "practice" mode. In the practice mode, students will answer the question on the front and check it on the back side. Afterward, they must decide between 'right' or 'wrong'. In the end, they can choose between "repeat all" or "repeat missed cards".
7. Front or back

With your flashcards, you can enable an option that allows students to choose front or back. For example, this is ideal for practicing a definition since you usually need to know both sides.
8. Printing your flash cards

If you want to print your flashcards, open the preview mode and click the print button. You can choose between two options: print as cards or print as list. That way, you can use the online and offline versions of the flashcards. Very useful, for example, if you have just a few digital resources and want to give individual work or if you're doing some corner work or station rotations.
9. Live widgets monitoring

While students are practicing, you can follow up on their activity live. You can monitor how long your students have been practicing and how many times they opened their flash cards. That way, you can intervene if students don't take practice seriously. Of course, you have to enable live tracking in your flash cards.
How to create digital flash cards
If you're new to BookWidgets, you must first create an account on BookWidgets.com. Now, go ahead and follow the next steps 👇
1. Choose the "Flash Cards" Widget
Click on "Create a New Widget" and choose the Flash Cards widget. (If you don't see it, just use the Filter.) Give your widget a name so students know the topic of your flash cards.
2. The different configuration tabs
About: Here you can write down a description of your widget. It will only be visible to you.

Cards: Click on the button "Add card". Choose what you would like to put on the front and back sides. You can add a title, section, hint, image and audio. You can also duplicate the created cards if that is easier: go to the overview of your cards and click on the paper icon next to the "x".

General: Customize the different settings as you wish. "Show settings" means that students will be able to choose different settings they can turn on or off for themselves.
You won't need the tabs Localization, Design and How to import from Excel 98% of the time, though it's good to know that you can download a Flashcards Excel template to import cards in bulk. Just text, no images.
3. Design
Click on "Preview" in the upper right corner. Here you can see how your flashcards will look for your students. In addition, you can customize the design exactly the way you want it! Are you curious about what you can customize here? Click on "Design".
4. Share your widget
Share your widget with your students. There are several ways to share such as copying and pasting the link, showing a QR code, … and more. If you want to receive answers from your students be sure "Send answers to me" is checked. The best way to share widgets is through your LMS! Make sure you've set up the BookWidgets integration properly first.
Looking for more information? Open this tutorial where everything is explained in detail. You can go through the tutorial step-by-step.
Conclusion
After gathering all the information about digital flashcards and some creative ideas, you can get started . What's your favorite flash cards example in this post? Let us know on Twitter! Did you make something fun flashcards? Make sure to share it in our Facebook Group so you can inspire many more widgeteers!
In education, technology can be a life-changer, a game changer, for kids who are both in school and out of school… It can bridge the quality gaps. ~Queen Rania of Jordan