The ultimate digital classroom: connecting BookWidgets with Google Classroom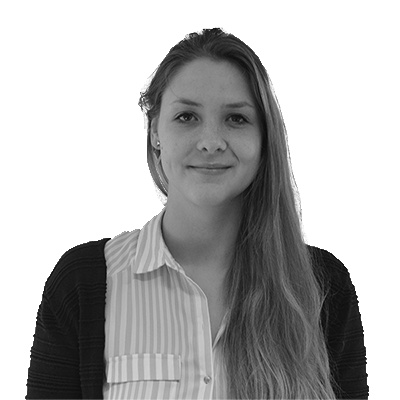 Lucie Renard —
Name one thing that is trending in education… Paperless. Or, digital classroom. Flipped learning. I can go on a little longer, but you got my point.
The classroom is going digital. And what better app is there to manage a digital classroom than Google Classroom? Yes, you could be right. There are a few other classroom management tools. But not if you hear what I have to say…
BookWidgets is going Googlish! What do you think of a handy integration with Google Classroom? One more reason to throw away the papers and invest in some educational technology.
Before I get into specifics, some of you might not know what BookWidgets is. Or Google Classroom. If you do know, you can skip this part and go straight to the details of the integration, or just take a look at the demo video at the end of the post.
What's Bookwidgets?
BookWidgets allows you to make interactive lessons. BookWidgets provides strong templates of all kinds of interactive exercises. You just have to add your own content.
Choose between more than 40 different widgets or "apps" to engage your students. Make your own adapted crossword riddles, jigsaw puzzles, web quests, quizzes, timelines and much more. Bonus: it does the grading for you.
BookWidgets can be used to engage students as well for differentiation, personalization, grading, flipped learning and gamification.
What's Google Classroom?
Google Classroom is a free application designed by — take a guess — Google. Google Classroom helps teachers and students to communicate and can be used to organize and manage assignments, to go paperless, for collaboration between students and between teachers, and so on! You could compare it with iTunes U, Showbie, and other online learning platforms.
It's built on top of Google Docs and Google Drive, which means it's very easy to use and intuitive for any teacher. But that doesn't mean it's boring. Google Classroom is full of surprises you'll encounter along the way. Just like the integration with BookWidgets. Take a look at this beginners guide to Google Classroom to get started.
Using BookWidgets in Google Classroom
So what does it mean? How is BookWidgets changing Google Classroom? And why should you use it? Here's what you can do now in Google Classroom with BookWidgets.
Basically, Google Classroom is still the same, just as BookWidgets. There's only one big difference: they are connected.
So what's new? Check it out:
1. Assign fun and engaging exercises from BookWidgets on Google Classroom in just a few minutes
Make your own quizzes, tests, worksheets, crossword riddles and other fun, educational games in the BookWidgets browser app and share them with your students by simply clicking on the "send to Google Classroom" button.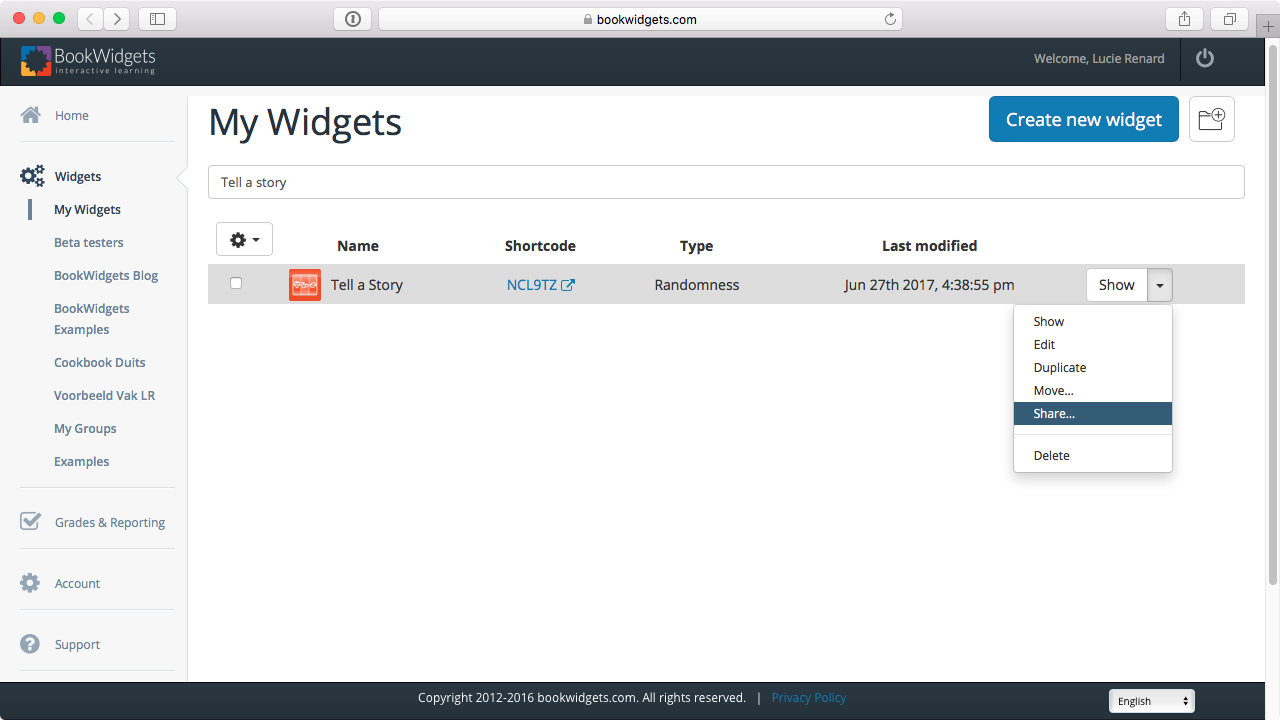 Now, just click on "Send to Google Classroom".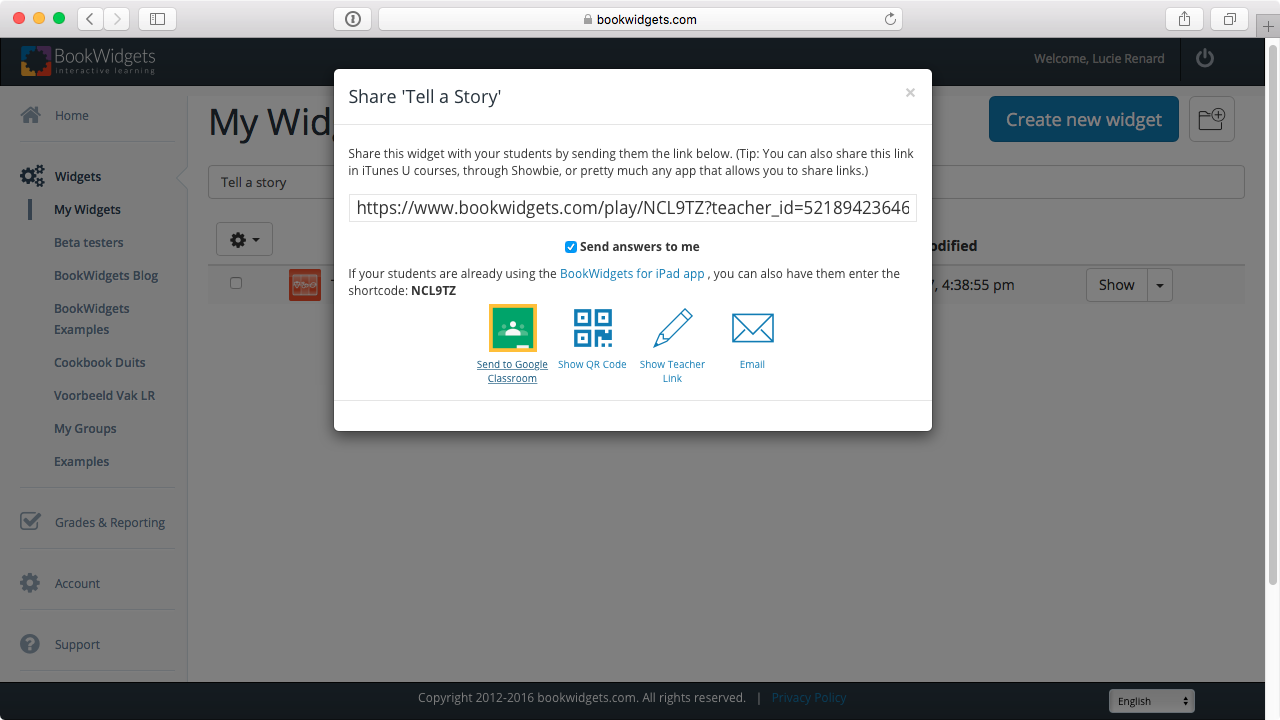 Then select your course and choose a due date.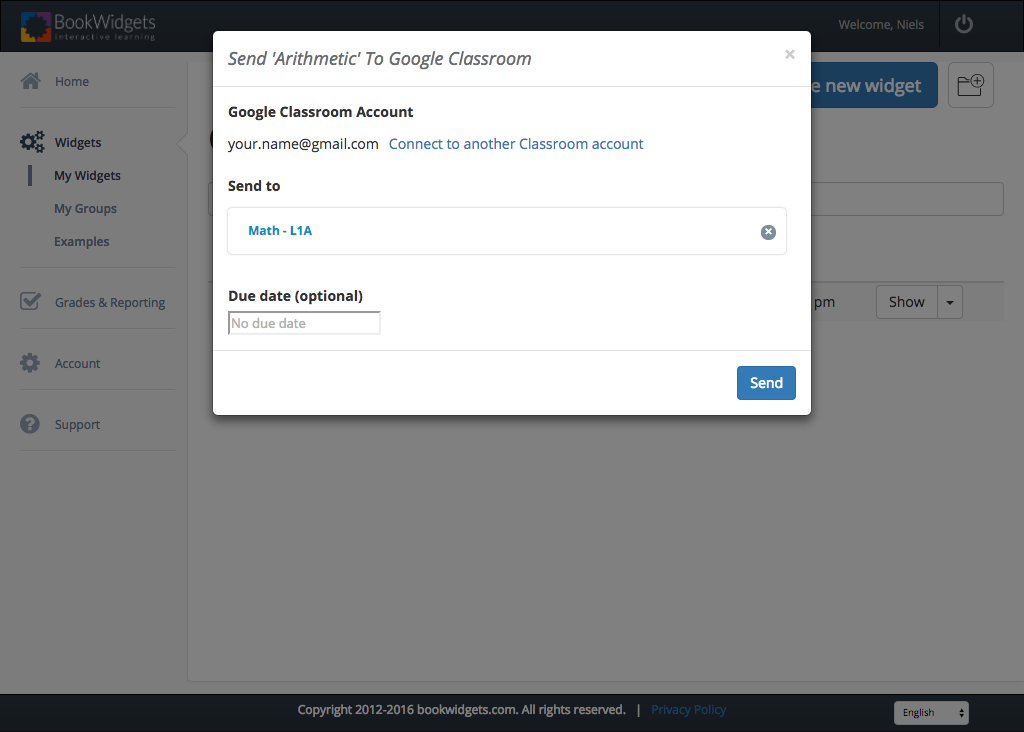 Just like that, you're ready to go. Your students will find the BookWidgets exercise in the right course. They just have to open it, make it and send it to their teacher. It's that easy.
2. BookWidgets does the grading for you, Google Classroom does it too
Once the students have made your BookWidgets exercise - let's say it's a test - Google Classroom will recognize it as "done".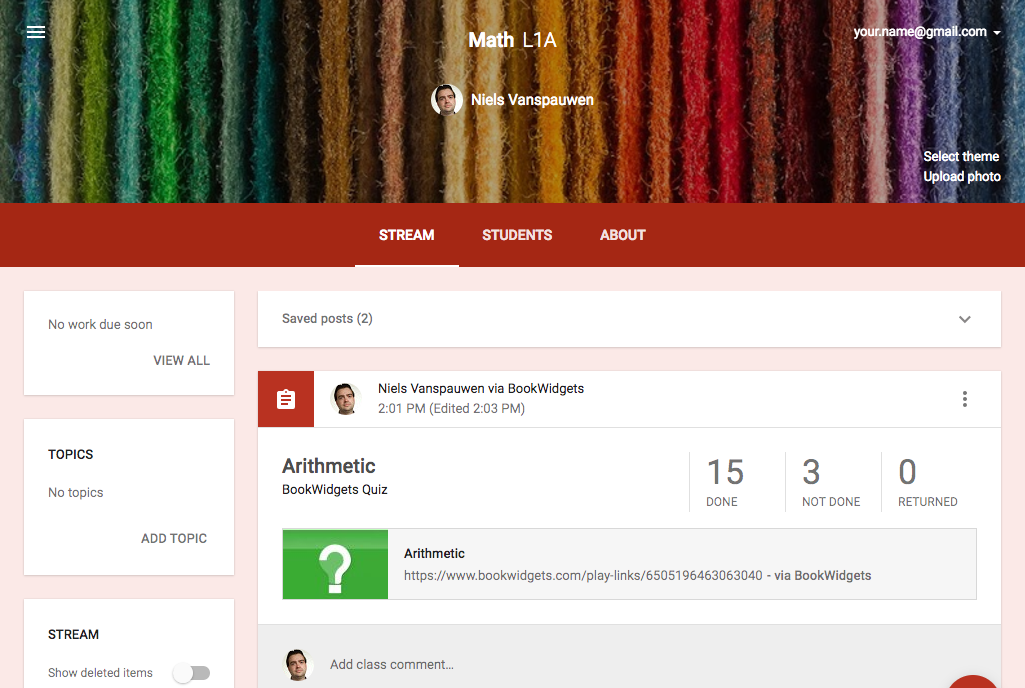 Now click on your student's work to see how he did. You'll see that BookWidgets has already automatically graded the test. And here it is… The most amazing part of this integration: Google Classroom automatically updates the scores of the BookWidgets tests. This means you no longer have to assign a grade yourself!
Of course, you can't just rely on an automatically given grade. You'll have to be able to check the answers and change the grade if you don't agree with the computer. Open your students' work in your BookWidgets dashboard, check the answers of the student and assign a new grade if you want to. Any change will be updated immediately in Google Classroom. After you checked the answers, you can just push the "return" button so your students get their tests (or assignments) back.
3. Giving feedback has never been easier
When checking your student's answers, you can easily give feedback. Just type in general feedback about how the student did on the test or type in more specific feedback on a give answer of the student. Give tips and encouragements so students know what they can change in the future.
When the tests or assignments are returned to the students, they can open it, and see their teacher's feedback.
4. Use BookWidgets directly in Google Classroom via the Google Chrome plugin
If you don't like to work with two programs at the same time, you might want to install the BookWidgets Google Chrome Plugin. This allows you to make and assign a BookWidgets exercise directly into Google Classroom.
Just click the "+" button in the right lower corner and choose for a BookWidgets exercise. BookWidgets' interface will be loaded right inside Google Classroom. Pure magic… 🦄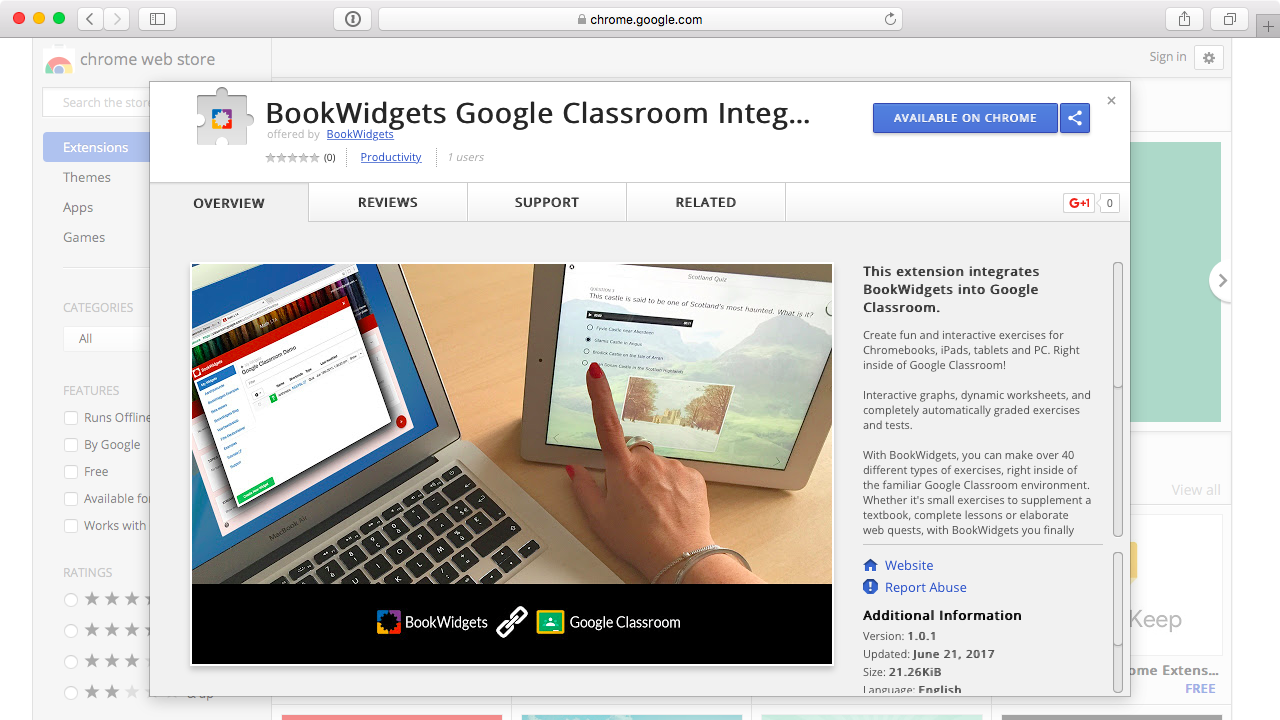 5. Easy to use for students of any age
Because of the smooth connection between BookWidgets and Google Classroom, students don't have to give up their password all the time.
After the teacher has returned their work, they'll immediatly see their grades, their answers and the teacher's feedback.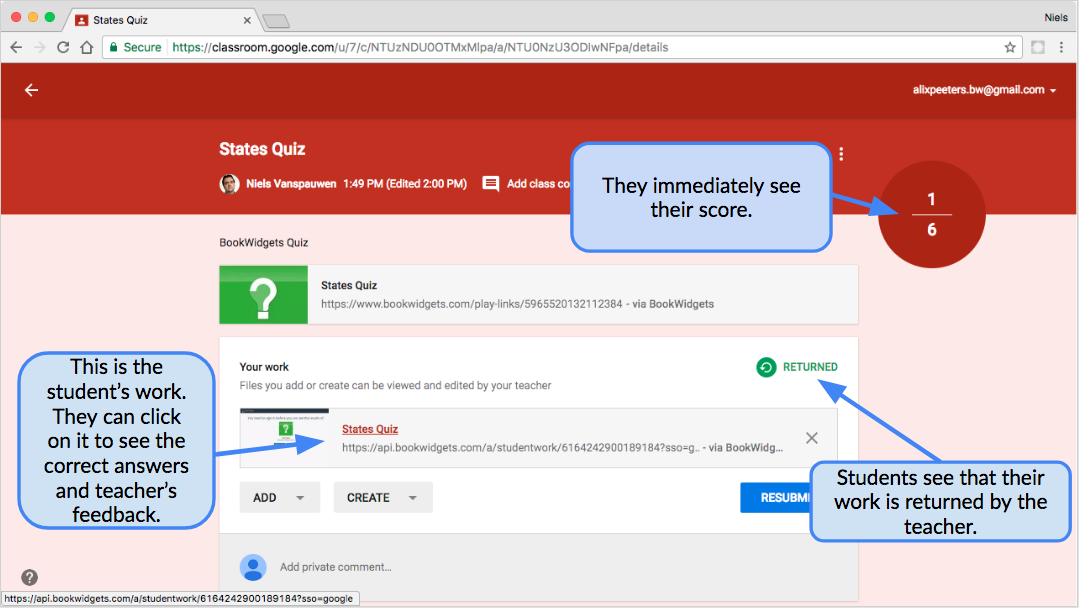 Back to you now…
Take a look at this demo video to see how it works.
We've made a handy step-by-step tutorial as well. This way you can set up BookWidgets and Google Classroom at your own pace, step by step. If something doesn't work out for you, contact us via support@bookwidgets.com. You can find some extra information about the integration of BookWidgets and Google Classroom on this page too.
Share this post with other teachers to make their day. I hope we made yours… 🎉