25 Awesome things added to BookWidgets in 2022 - The year in review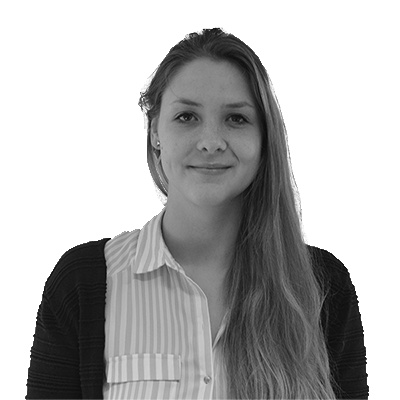 Lucie Renard —
What a year! 2022 Flew by like a rocket! 🚀 In case you missed anything from BookWidgets, even the smallest update, … we've got you covered. Keep on reading and find out every update we did in BookWidgets the past year. 24 updates to make BookWidgets even better for your teaching! + 1 yet to come 👀
Check out our BookWidgets infographic with all the changes!👇 Keep scrolling to find useful links if you want to learn more about the updates, and share your own BookWidgets year in review with us!

Phew! 😅 That's a lot. Let me do a quick recap. I'll share some interesting links to learn more about the additions and updates you saw in the infographic. I've divided them into 3 separate categories:

Widgets enhancements
For this category, we did a lot! Let's start with some enhancements for all widgets in general, then do a deep dive into the Quiz and (split worksheet) widget enhancements, just to end with some other widget-specific additions.
General widget enhancements
We've made some improvements that concern most widgets:
Live Widgets: for all the widgets that support "Live view" you can click on a question to see live results from all your students on that question.
Add instructions to your widgets: fill out the "Instructions" panel in a widget so students will get instructions first before they get started.
Widget design 2.0: click on a specific part in your widget (preview), and BookWidgets will guide you to the correct design settings to edit.
The "About" tab: provide more information about your widget in the "About" tab. This is only visible to widget editors, not students.

Widget description label: widgets can get a secondary description label (below the widget name), e.g., to disambiguate.
Reuse content from other widgets: click the setting wheel icon in the upper right corner and choose "Import from widget".
👉 You can find a more in-depth overview of most options mentioned above in here.
Quiz and (split) worksheet widgets enhancements
As our quiz and worksheet widgets are the most used widget by all of you, it makes sense to add some improvements here. I would say that this is the most important one you should definitely check out again: You can import questions from existing DOCX & PDF documents into Quizzes and (Split) Worksheets - a massive timesaver for teachers that have a lot of paper assignments and test created with Word!
Here's a short list with some more additions. 👇 You can find most of them in the "General" tab when creating a quiz or worksheet.
The scratchpad: add a scratchpad to questions so students can think things through & calculate the solution.
Enable browser text-to-speech for students in a Quiz, (Split) Worksheet & WebQuest widget
Only show right/wrong answers: choose for students to only see their correct/wrong answers without giving them the correction.
Flash Cards widgets enhancements
The Flash Cards widget has been on top of our list this year! These are all the updates for the Flash Cards widget:
Flashcards CSV import supports Images: provide a .zip file containing the .csv and the image files (and audio files) it refers to.
Monitor live student activity in a Flash Cards: follow up on students that practiced, for how long, & how many times they flipped their cards.
Hide sections in the Flash Cards widget: create one widget for your entire course and show the sections when students learn about it.
Print your Flash Cards widget as a list or as cards: create one widget for your entire course and show the sections when students learn about it.
Text-to-speech support in Flash Cards: automatically read words aloud in different languages that are configured in the browser the student is using at that time.
Smartboard friendly layout: for practicing flashcards with students on the big screen in your classroom
👉 We've explained some of the options a bit more in-depth in this blog post.
Even more enhancements
We've enabled text-to-speech support in Flash Cards, Memory, and Pair Matching Widgets. Beware, this option is connected to the browser the student is using and is not something BookWidgets controls.

New question types and question enhancements
We know that questions are actually part of specific widgets, but I figured they deserved their own category in this post. 💪 As you know, you can already create crossword puzzles with the crossword puzzle widget. Now, you can choose the crossword question in your quiz and (split) worksheet assignments alongside other questions.
We also introduced you to the rubric question type. This question can serve for both formative and summative evaluation in various ways with various purposes. Check out this rubric teacher guide with some ready-to-use rubric examples, inspiration, and some neat tips & tricks.
Besides introducing two new question types in BookWidgets, we also updated some other questions. For example;
you can now define colors yourself in the categories of a "Mark sentence" question,
limit number of answers in the "multiple choice/ multiple answers" questions, and
"Fill-in-text/Fill-in-table/Annotate picture/Equations" questions now have "All or nothing" scoring option
👉 Read more about these options here.

Reporting dashboard enhancements
For us, the reporting dashboard is one of the most important features of BookWidgets. It enables you to grade more efficiently and give personalized and comprehensive feedback. That's why these three enhancements are so important. They are all about teacher efficiency and feedback.
👉 Check out this blog post for more information about these options.
"Star" assignments: remember which assignments you reviewed already. This will keep you on track with your grading and feedback.
Exporting class/ course scores as CSV: export the scores of an entire course, or multiple courses at once, as a CSV file.
The student feedback view is configurable: Choose how you want to return feedback to individual students or to the complete class.
Your BookWidgets year in review!
So that's it for our year in review. How about yours? Fill out this fun widget and let us know. Take a screenshot 📸 of your answers and share them with us on social media. Make sure to tag or mention us on Twitter and Facebook.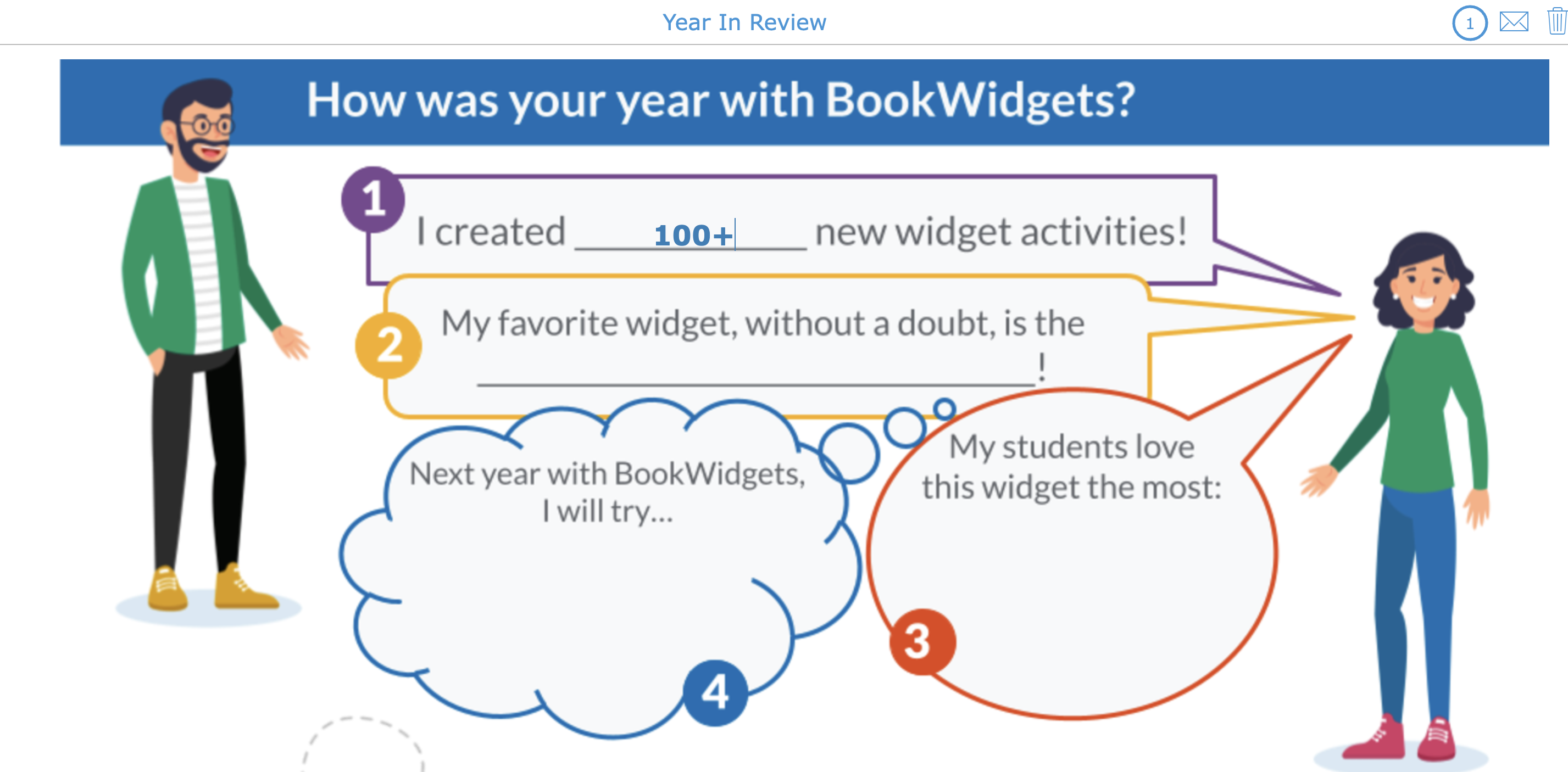 Click to open
Wrap up
All there is left for us to do is wishing you Happy Holidays! Take a break (from BookWidgets) and enjoy your time with your family. We know, we'll grab our warm socks, mittens, beanie, and scarf because, 🎶 oh baby, it's cold outside 🎵 in tiny Belgium.