The best way for students to use math and science symbols in digital assignments

by Lucie Renard — Nov 16, 2020
What is the best way for students to use math and science symbols in digital assignments? Use BookWidgets! There, shortest blog post ever written…
Just kidding. Read on to find out how you can use BookWidgets to let students answer questions using mathematical and science symbols in digital assignments, without being limited by the symbols on their keyboard.
If you've never heard of BookWidgets, let me quickly introduce you to it: BookWidgets allows you (teachers) to create digital, interactive exercises and automatically graded assignments; choose an activity template and adapt it with your own content.
The most popular interactive activities (or widgets) are quiz and worksheet widgets, which allow you to create digital (homework) assignments or tests with different types of questions in it. BookWidgets offers you 30+ different question types to choose from that are very visual and interactive as well.
One of these question types is the Equations question type, which allows your students to add math and science symbols in the worksheet or quiz. This question type is especially useful for STEM teachers.
The Equations question type in BookWidgets
So, how can you and your students use equations and formulas to digital assignments? Teachers use LaTeX to add various symbols and formulas, whereas students will get an "equations editor" (a pop-up with symbols).
LaTeX
In the Equations question type, as in every other question type or widget (Pair matching, Flashcards, …), teachers can show mathematical and scientific formulas to students using LaTeX. This gives teachers the possibility to add more symbols than the ones they can see on their own keyboard. LaTeX uses simple commands that will display as a math or science symbol for your students. If you're working in BookWidgets, you'll see there's a cheat sheet for these commands. There are many other websites that can help though, as LaTeX is a language that is used in many applications.
That being said, we're still left with the problem that it is still difficult for students to write down symbols in their answers, as they typically don't know LaTeX. This is where the Bookwidgets Equations question type comes in.
Pop-up with math and science symbols
When your students get an Equations question, they will get a pop-up with math and science symbols in it. This makes it easy for them to add formulas and symbols.
The students will get a text input field in which they can add both their calculations and the answer to the teacher's question. The available symbol options will appear as a window pop-up as soon as the cursor is placed within the text input field.

The upper white-on-black arrows on the left side of the box allow students to select parts of the formula input in case selecting its elements with the mouse is difficult or impossible. The lower arrows move the cursor around within the formula they have typed.
Note: Only the symbols that you use in the correct answer answer will show up in this pop-up, unless you explicitly configured more symbols to show. You can define more symbols in the Formula Editor.
The Formula Editor
By default, only the symbols used in the correct answer are shown in the student's pop-up. However, as a teacher, you have full control over which symbols you want your students to see in the pop-up.
If you want to show more symbols than the default, go to the "General" tab in your quiz or (split) worksheet, and click on "Formula Editor". Here, you'll see all kinds of math and science symbols.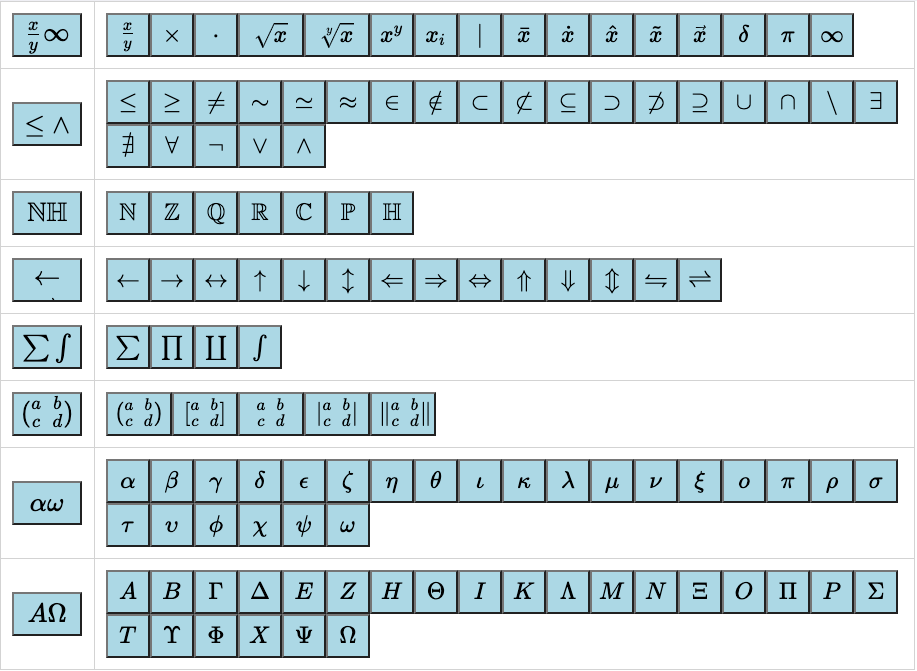 The colors of these buttons determine which options your students will see when they want to fill in a formula in the blank field. You can click any of these buttons to change its color.
A green button means that the formula or symbol will be visible and useable by your students.
A red button means that the formula or symbol will not be visible and useable by your students.
A blue button means that the formula or symbol will be visible and useable by your students if it is either required for the answer, or if other symbols in the group are required for the answer.
Depending on the exact exercise, the availability and especially absence of certain symbols can act as too much of a giveaway as to which symbols your students ought to use. So on one hand, you might not want to restrict the options too much. On the other hand, you do not want to overload them either, whether it be with symbols they don't know (yet), or symbols they definitely won't need for your exercise. Striking a balance between the two will produce the most suitable outcome for both the exercise and your students' skill level.
Note: Students will only see symbols that are not on a standard keyboard. This means that they can still use the keyboard symbols when needed.
How to create an Equations question - video tutorial
To make it a bit easier for you, I created a comprehensive video tutorial in which I show you how to configure an Equations question type in BookWidgets. It will make sense without the video as well, but in this case, I can show you a few of its possibilities.
It's a wrap!
I'm sure this new mathematical and scientific question type in BookWidgets will be of great help to both teachers and students. Don't forget to share this post with fellow teachers, so they can instantly start using the Equations question type. Good luck with it, and above all, have fun!