How to use voice recording in your classroom - The complete guide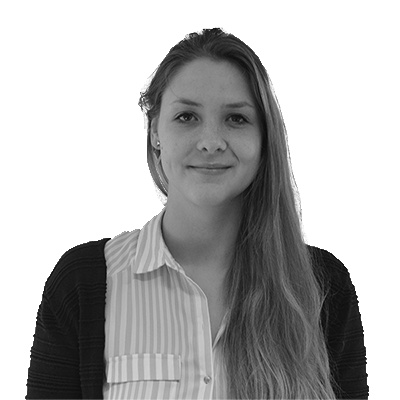 Lucie Renard —
Voice recording software for teachers can make everything much easier. The possibility to record your own voice and share it with your students can give a whole new dimension to your digital lessons.
But it's not only audio recording that brings your lessons to a new level: it's actually the combination between the ability to record something, and combining the recording with questions, images and texts. This combination makes your digital lesson more interactive than before.
In this post, I'll show you a great tool for your classroom that combines audio recording with interactivity. I'll also show you some great ways to use audio recording in your lessons, and how you can combine it with other interactive digital elements.
Use BookWidgets as voice recording software
If you know all about BookWidgets, great: you can skip this part and find out the ways you can use the voice recording options in your digital lessons. If you don't, stick around for a short intro.
BookWidgets allows you to make interactive lessons you can share with your students. BookWidgets provides strong digital templates of all kinds of interactive exercises. You just have to add your own content.
Choose between more than 40 different widgets or "exercises" to engage your students. Make your own adapted crossword riddles, jigsaw puzzles, web quests, quizzes, timelines and much more. Just share a link with your students, and they can start working.
You can easily add text, image, video, audio files and of course: a voice recording. BookWidgets isn't just about using audio in the classroom: It has much more possibilities.
How to use voice recording with BookWidgets?
In BookWidgets, you can add your own voice recording instantly in these exercise templates:
Quiz and worksheet: every question type supports audio input and voice recording
Flashcards
The questions of a Split Worksheet
Hotspot image
Tip Tiles
Survey
Just click on the action to add "Audio", choose "Record", record your piece, click "Accept", and you're done!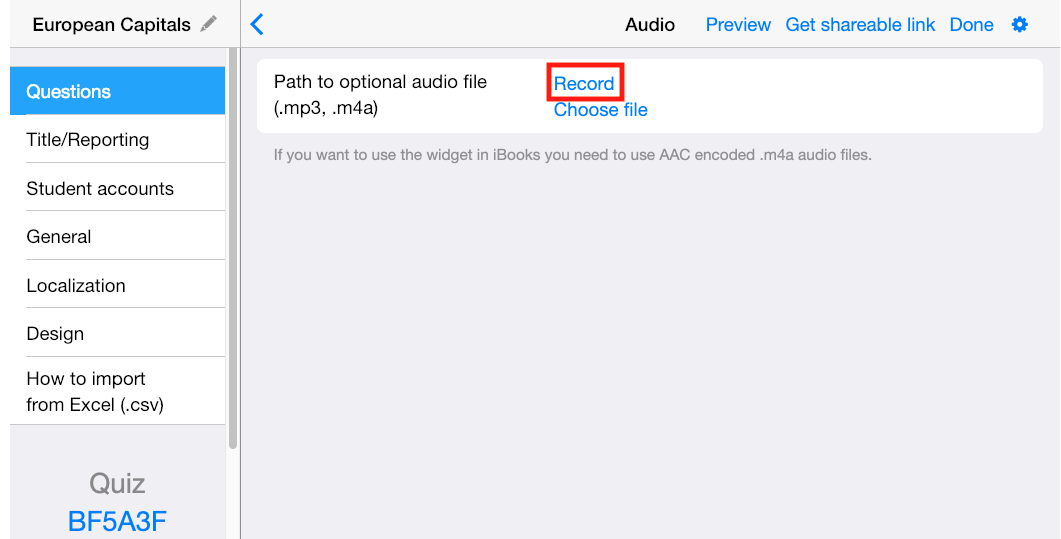 18 ways to use voice recording in your lessons
You can use the voice recorder for many purposes in your classroom. To give you some inspiration, here are 18 ways teachers can use voice recording in their digital lessons.
1. Dictation assignments

Use voice recording for dictation assignments. Students can listen to the recording several times on their own pace and write down the right spelling of the words in it. As a teacher; you can record dictation exercises in minutes, and students can even practice at home.
2. Listening assignments

Teachers can record their voice instantly to create a listening exercise. If you use the BookWidgets quiz or worksheet widget, you can add interactive questions of all kinds.
3. Improve pronunciation

As a teacher, you can use the voice recording function the record your voice and to teach your students ponunciation the right way. Use for example the flashcard widget so students can practice translations. You can also add audio with the right pronunciation of the words students have to learn or translate.
4. Homework instructions

It's much easier to just give instruction through speech, and add some words along. As students finish their assignment at home, they have enough instructions to get started.
5. Explain theory

Sometimes students get an exercise, and they don't know how to get started. If you give the theoretical explanation again, students can get started without wasting time looking for the right explanation on the right pages in the textbook.
6. Storytelling

Use your voice to create a fun setting, and make a story out of your assignment. Students will be more motivated when the instructions or assignments come with a story that occurs in their own living environment.
7. Give good examples

You can add good examples using a voice recording to homework or assignments, so students know what is expected of them and can start working without worrying if they are right or wrong.
8. Give bad examples

You can insert bad example using a voice recording on homework or assignments, which students have to improve. They have to find the mistakes and rectify them on their digital worksheet.
9. Clarify pronunciation

Use the split worksheet to clarify the pronunciation of certain words in a text. This way, students learn more than to just read and understand the text. Two birds, one stone.
10. Show differences between languages or dialects

Every language has its own variations and dialects. Where I'm from, we are taught the difference between British English and American English. As a teacher, you can record those differences to make sure students pronounce the word in the right way.
11. Clarify intonation

Students have to learn to read a text or story with the right intonation. Questions have to be real questions and sentences with an exclamation mark have to come out stronger. As a teacher, you can give them the examples with your own voice.
12. Give tips

Sometimes students are stuck and don't know what to do next. As a teacher, you can guide them the right direction by giving useful tips. Just record the tip and add it to the questions in a BookWidgets quiz or worksheet.
13. For students with bad sight

When you're teaching students with special needs, for example, students with bad sight, it's definitely a good solution to adapt your text assignment into one with spoken questions.
14. Make it personal

In BookWidgets, it's very easy to change a worksheet or any other exercise template. This opens some opportunities here. If you want to keep your students' interest, it might be a fun ideas to create personal assignments with the student's name in your questions. It's pretty easy. Just duplicate a widget and insert a new voice recording. You don't have to change every question. One personal question will capture their interest right away.
15. Setting a scene

When you're much more of a creative teacher, it could be a fun idea to set a scene before your students start working on their assignment. You can upload some focus music for students to play during their assignments, or you can record your voice and give tips about the best learning setting. For example: go somewhere where there are no distractions, empty your desk, create a pleasant temperature, reward yourself after studying 20 pages, take a break timely, and so on.
Students are more likely to execute these tips if they hear it again before they begin to study or make their assignment.
16. Bring statements

When you want your students to write their opinion on a statement, it's easy to just record the statement and play it in front of the classroom or on their worksheet. You could bring different statements in text as well, but that has one huge disadvantage: honesty.
When students are able to read the next statement before answering the first one, it's possible that they will adapt their answer on the first statement to get in line with the second statement. Pushing the play button first is an extra barrier.
17. Update your materials

As I've mentioned before, BooKWidgets makes it easy to update your widgets or exercises. If you added a voice recording, you can just delete the old one and add a new voice recording with fresh resources and current events.
18. Create a learning path

Use your voice to create a learning path. Task after task, you can lead students their way. You can even print out QR codes that open a voice recording of the teacher explaining an assignment and giving a tip to the next location of the QR code.
Conclusion
I hope you can see some value in using voice recording in your BookWidgets exercises. If you want a free training in using BookWidgets and the audio recording feature, just contact BookWidgets. But first, try it out yourself!