Using QR codes in the classroom with BookWidgets - 5 creative lesson ideas
Lucie Renard —
QR codes are hot. That's why BookWidgets decided to do something with them. Yes, since a few weeks, you can make a QR code for every widget and your students can scan them with the app.
In this post, I'll show you how and I'll explain a few fun lesson ideas with widgets and QR codes.
Sharing widgets via QR codes
When you work in groups, you have to be able to share widgets with each group of students. As they all have their own device, whether it's a smartphone or a tablet, they all can scan a QR code that opens a widget.
BookWidgets has recently updated their app so you could use QR codes in your classroom too. There are a few ways to do this.
1. Making a QR code
Via the iPad app and Browser app
In the BookWidgets browser and in the BookWidgets iPad app, you were able to share widgets before with a link or via mail. Now you can also opt for a QR code. Take a look at the images and learn where to find the QR code in the iPad app and via the browser.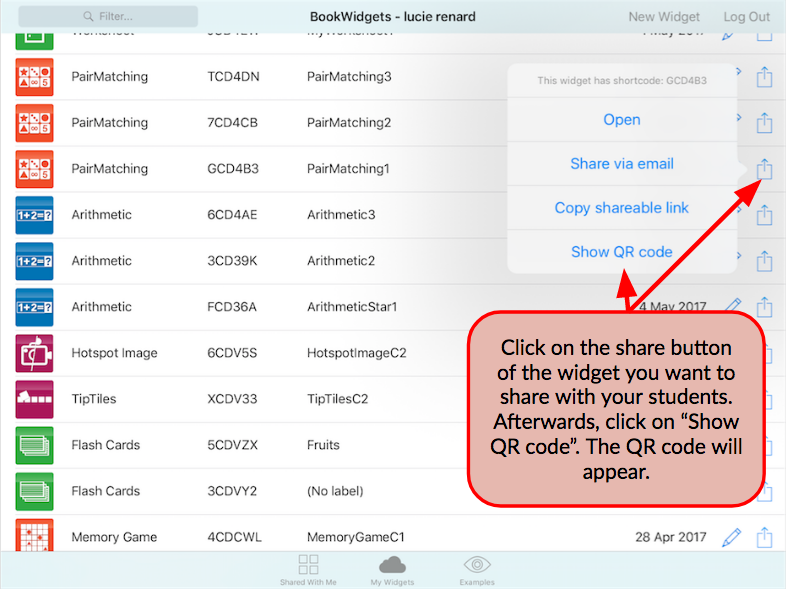 Making a QR code with the BookWidgets iPad app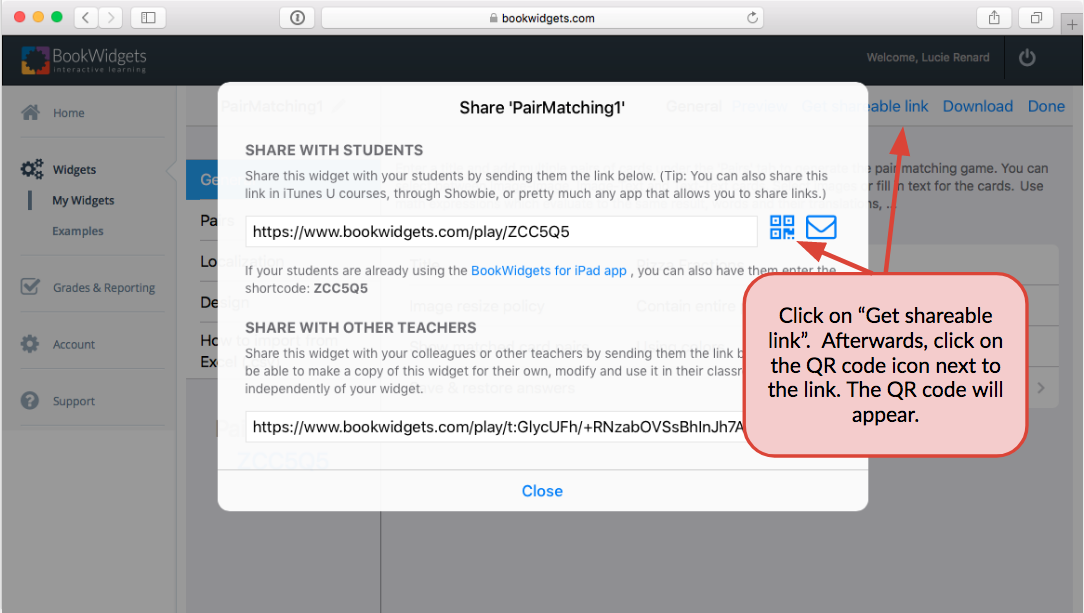 Making a QR code in the BookWidgets browser app
When you do that, you can show the QR code of that widget to your students via your iPad, computer or the beamer. It would be nice to print it too. In the BookWidgets Web browser, you can just copy the QR code, and paste it on a file you want to print out.
Via another website
There are plenty of websites where you can make your own QR codes. Just add a link and let the site generate the QR code. This is a good website.
Then download it, show it to your students virtually or print it out on paper. That's up to you.
2. Scanning a QR code
As you probably know, there are a few apps you could install that are made for scanning a QR code and opening the link that hides behind it. But what if I told you there's an easier way?
If your students don't have the free BookWidgets app on their smartphone or iPad yet, they better download it right away!
Open the app. In the right upper corner your students can choose to enter a shortcode. You could give them the shortcode, but where's the fun in that? They also can scan a QR code. Once they did that, the widget will open in the right format. Of course, they can scan the QR code with their smartphone as well. (You heard that BookWidgets is now available for smartphones as well, right?)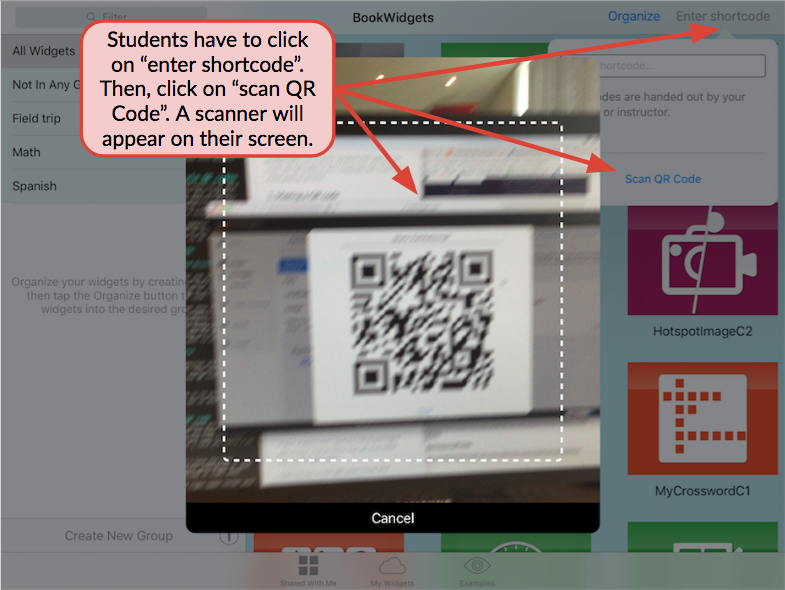 Scanning QR code with the BookWidgets iPad app
Let students use their smartphones to scan the QR codes or distribute one iPad per group of students, if you are using QR codes outside the classroom without an internet connection. Before your students scan the widgets offline, you have to open the widgets online on the iPad. If you do this, before handing them out, students won't have any trouble scanning QR codes without an internet connection.
QR code lesson ideas
1. The QR code WebQuest
You probably know that our WebQuest widget lets you collect different lesson materials and widgets to create a complete lesson package. Instead of using the WebQuest widget, you can create a WebQuest offline outside the classroom on the school terrain.
Let your students scan the first QR code in the classroom. There, they have to make a widget. This can be a quiz, or a fun game about the lesson material, you name it. You can even give them instructions via the YouTube Player Widget. After completing, students can check their answers. There, they get a tip to the next QR code location outside the classroom.
After finishing every widget, they get back to the classroom. The first one back wins. You don't have to make it a competition. Students will work better if they don't have to hurry.
Are you visiting a certain city with your students? How cool would it be for students to find out that there are QR codes all over the city, just for them? Highlight special locations by explaining the history of streets and buildings in a widget. When student scan the QR code on that location, the information will pop up. Give them a map with the location of all the QR-code points in the city.
2. Different learning paths with QR codes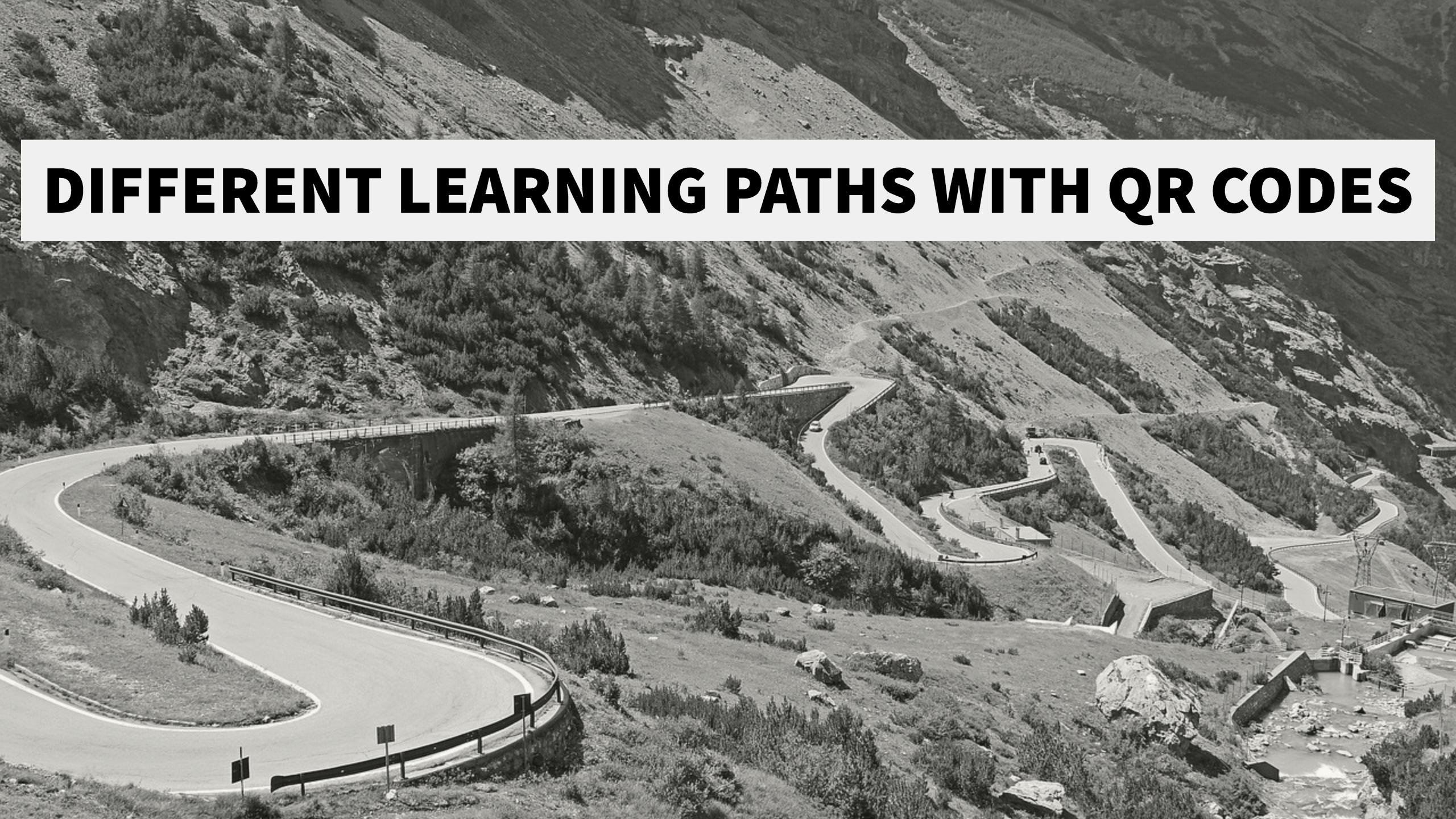 In some classrooms there are a lot of students with different learning levels. This makes it hard for students to keep up with the teacher. Other students, on the other hand, can get bored and finish exercises in a record time.
Split your students into groups according to their learning level or special needs. Students with dyslexia or dyscalculia might need other exercises.
Make about 20 exercises about that topic, beginning with very easy exercises to very hard exercises. Each widget gets a QR code. Print out all those QR codes.
Every students has its own timeline in class where you can place the printed QR codes. Not every student will start with the same exercise. You, as a teacher, know which student should start with what exercise.
Hand out the right QR code to the right student and paste it in the beginning of their timeline. According to the exercises they have made before, you assign a new exercise by adding a second QR code to their timeline. Students just have to scan the QR code and make the widget exercise. At the end of the lesson your students will have scanned approximately QR codes.
Students have to make the widgets by themselves. Using QR codes to level the students doesn't reveal in what learning level the students are. That way students won't be marked as "the weak student" or "the nerd".
Differentiating is important. Here's a post on how to differentiate with BookWidgets. There are two more examples in it.
3. Adding QR codes in your course material
As technology becomes more important, textbook publishers are using it more often. But they don't have the best answer to it. Students have to go to websites by copying a long web address, or the teacher has to log on the website first to be able to show an exercise, after looking for it for hours (or just a long time).
By adding QR codes to your own course material, everything is so much easier. Use BookWidgets to add exercises like quizzes, games, different question types, video and audio. Make a QR code out of the widgets and copy the code to your course.
Students just have to scan the QR code with their iPad or smartphone, and they enter the right widget exercise in seconds.
4. Learning road instruction with QR codes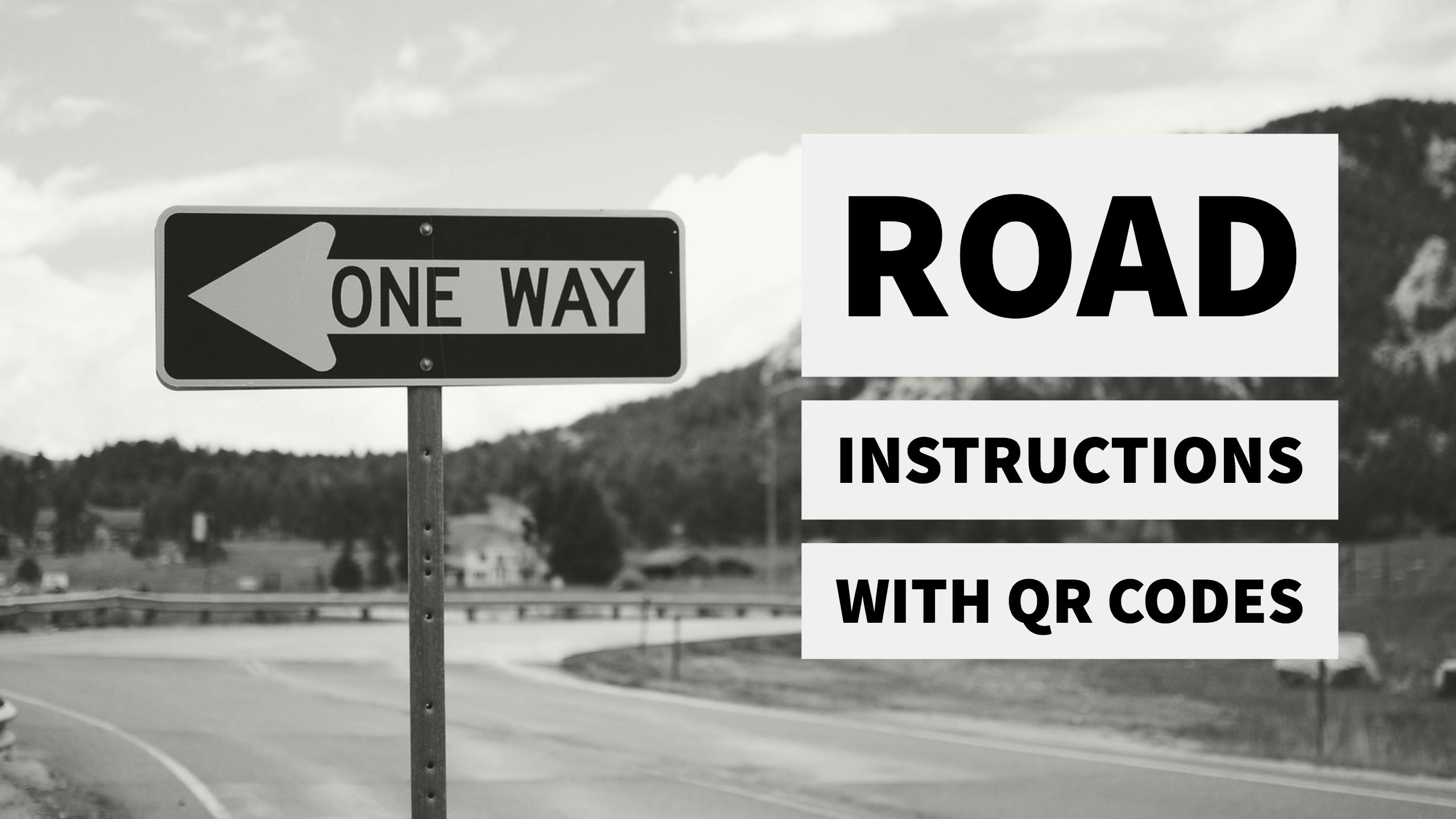 You probably already know you can insert audio in BookWidgets. Let your students scan the first QR code that opens an audio fragment of you explaining the way in French, Spanish or another foreign language.
Students take the iPad with them and walk to the right direction by following your instructions. If they have listened well, they should come to a second QR code somewhere in the school building. After scanning that second code, they listen again to some road instructions. The instructions go on until they reach another QR code or the classroom. Fun guaranteed!
5. Linking books to instructions
Hand out a list of good books to read, that are available in your school library. You can add a QR code in the back of the book. The QR code will lead the student to a widget with questions about the book and further instructions.
See it as a book review in a more fun and interactive way. Don't limit the widgets with quizzes full of boring questions. Use a WebQuest to integrate fun widgets relating to the book.
You don't have to stick the QR code in the book if the librarian doesn't want you to. You can just give your students a QR code when they choose the book.
So, these were my lesson ideas with QR codes and BookWidgets. I hope you will use them. It makes your classroom so much more interactive! Good luck!