How to encourage self-regulated learning in school - An SRL blueprint for teachers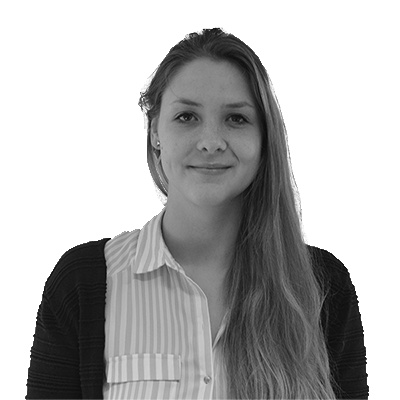 Lucie Renard —
BookWidgets was a contributor to the INSTALL-ed project, which aimed to provide practical and effective solutions for online, hybrid, and blended learning that enhance self-regulated learning (SRL) experiences for both teachers and students. In other words: the project, INSTALL-ed, focuses on encouraging self-regulated learning in schools with the help of technology. INSTALL-ed provides schools and educators with a comprehensive theoretical framework for using technology to enhance SRL, making the process more efficient and enjoyable for all involved.
We took that theoretical framework - A LearningM!X - and we transformed it into a hands-on practical, and digital blueprint any teacher can use. If you already know about SRL in the classroom, you can jump to the ready-to-use blueprint right here.
Here's what you will learn in this post:
💡 If you want to take it easy, you can also watch the webinar 😊 Click here and get started!As the webinar is very comprehensive and takes you through our digital blueprint, step by step, you will learn more about the concept of self-regulated learning below.
Okay, let's get started! 👇

What is Self-regulated learning (SRL)?
Self-regulated learning empowers students to take ownership of their learning process. By becoming active participants in their own education, students develop a deeper understanding of the value of learning and gain greater control over both what they learn and how they learn it. It is the teacher's responsibility to foster this sense of agency and provide students with the necessary tools to succeed. As a guide, teachers must offer their students the puzzle pieces required to navigate the learning process and support them in putting these pieces together effectively. Self-regulated learning holds three fundamental elements:
Cognition, which involves the mental processes of comprehending, acquiring knowledge, and learning.
Metacognition, which can be defined as the ability to learn how to learn.
Motivation, which refers to the willingness to utilize our cognitive and metacognitive abilities.
I also did my own research on self-regulated learning and stumbled upon this amazing book from Jeltsen Peeters. If you're a Dutch teacher, make sure to get the whole picture and read the book. If you're not Dutch, just read on. I've included some components of her approach to SRL in this blog post.
SRL is a cycle
Self-regulated learning involves a cyclical process where students plan, monitor their performance, reflect on the outcome, and then use that self-reflection to adjust and prepare for their next task. The SRL process is not one-size-fits-all; and to some, SRL can't be just labeled as a cycle. The cyclic nature of SRL was just one model Zimmerman came up with. It should be tailored for individual students and for specific learning tasks (Zimmerman, 2002).
To make SRL as a cyclical process more clear, it's best to check out the image below. For every phase in the SRL cycle, students need to opt for different self-regulation skills in order to bring a task to a satisfactory conclusion. There are 21 self-regulation skills that students need to have. Skills are taught, so make sure your students have those skills. If they don't, they will have trouble in your self-regulated learning lesson.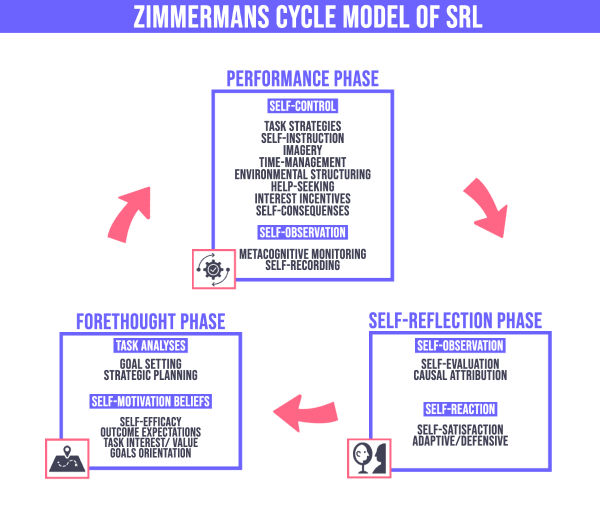 There are lots of theories about how students can become self-regulated learners. Zimmerman even has three! Thinking about how the student's character and behavior within the learning environment is also of utmost importance for them to self-regulate their learning.
This article on self-regulated learning will broaden your perspective and show many different angles a teacher can take.

How to get started with Self-regulated learning
The hardest thing about self-regulated learning is understanding it yourself as a teacher and how you can take the theoretical approach and apply it in your classroom. A SRL classroom won't look the same in every school. It's a learning process for teachers, as well. To get started with self-regulated learning, you must ask yourself 5 important questions. As you're gathering the answers, step by step, you're getting ready for SRL.
Let's do a quick dive into these questions!
1. Why do we introduce self-regulated learning in our schools/ classrooms?
Before you start, make sure to reflect on the "why". Why do you want to start with self-regulated learning? How would you like to do this? What's the purpose or goal you're working towards with SRL? Basically, why are you reading this article?
Here's a checklist (by Jeltsen Peeters) that might help you with understanding your WHY.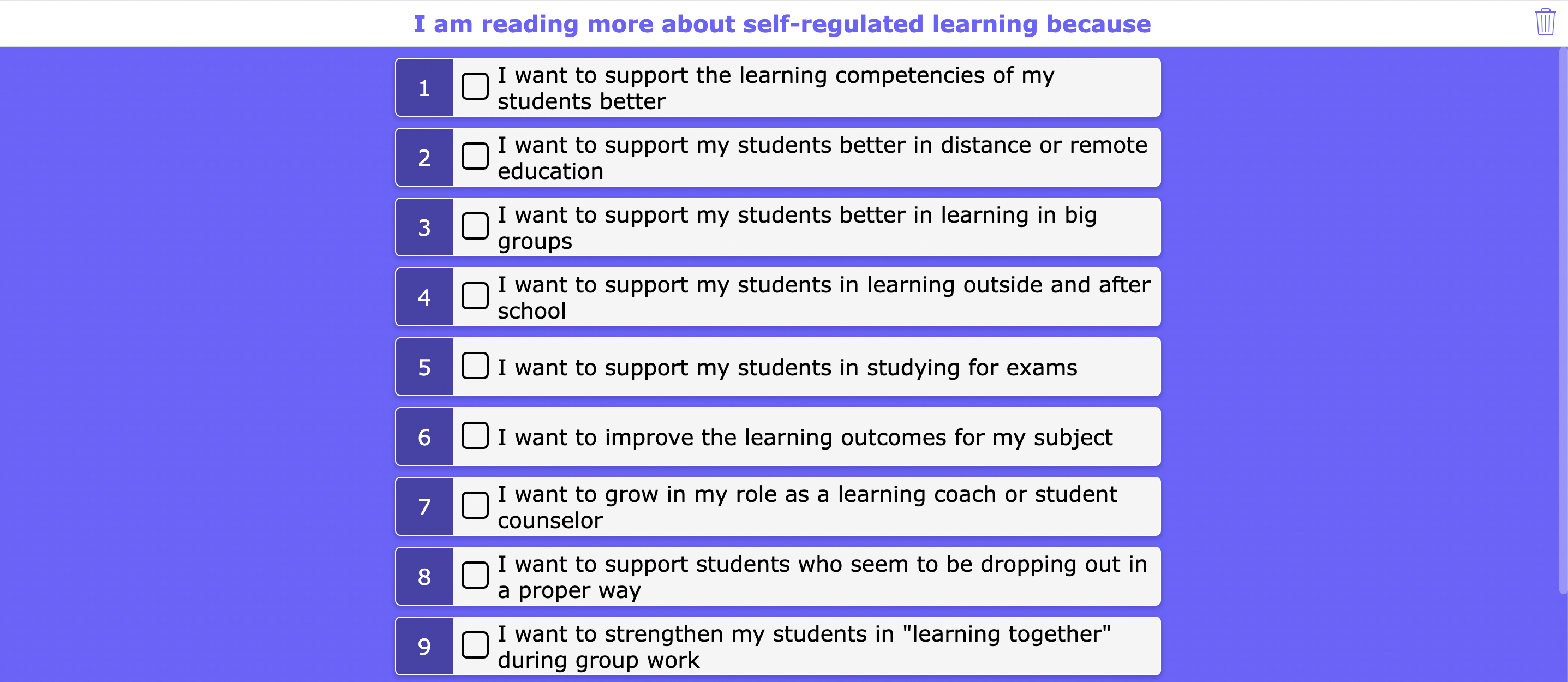 Click to open
You can see that this checklist introduces several reasons to start with SRL, even if you just check one, SRL might be a good fit for you.
2. What does the self-regulated learning process look like?
As mentioned earlier, this blog post will focus on explaining self-regulated learning through Zimmerman's self-regulated learning cycle model. This model is one that I find particularly relatable and have incorporated into my own blueprint for SRL. However, this explanation is just an introduction, and there is much more to learn about the topic!
So, If you skipped that part, click here to jump to the previous section, where I explain self-regulated learning.
3. How do I map self-regulated learning?
In this step, you're going to observe your students so you can map their self-regulated learning competencies. As you've learned by now, Zimmerman's cycle model has 3 phases and in each phase, students need to use their self-regulated learning skills. 21, to be exact! What SRL competencies do they already have, and which ones need to be taught?
Jeltsen Peeters provides some ideas to measure your students' self-regulation skills:
Evaluate the student's SRL skills through a list of statements, which can be completed by the teacher, student, or parents.
Observe your students and analyze their behaviors and verbalizations, incliding what they don't say or do, to assess their use of SRL strategies.
Encourage students to verbalize their thoughts, emotions, and actions while working on assignments.
Conduct a survey with individual students or groups to gather insights into their SRL skills and preferences.
Examine student work and other artifacts to identify evidence of SRL skills and the use of SRL strategies.
Every measurement method listed above has its own context with advantages and disadvantages. It's best to combine a few of these methods.
4. How do I support self-regulated learning?
Now that I know my students' self-regulated learning competencies, I should be able to support them so their SRL skills can grow where needed. Supporting self-regulated learning competencies can be categorized in four ways:
Explicit direct support: Explicit teaching of self-regulated learning strategies/competencies by telling students what it is, why it's important, and when and how it can be best used.
Implicit direct support: Support and stimulate the use of self-regulated competencies by demonstrating, recalling, surveying, encouraging, giving feedback
Indirect support: Create practice opportunities multiple times through a powerful learning and living environment that evokes the use of self-regulated learning competencies.
Transfer: Support self-regulated learning in a sustainable way across the years and context by building metacognition about self-regulated learning.
5. How can we make our support for self-regulated learning sustainable?
There may be some barriers to translating your SRL journey into something hands-on and practical in your school community. So, you need to find out who and how you can influence those things so your self-regulated learning journey can continue. Here are some important stakeholders when it comes to introducing SRL: your school colleagues, parents, and students.
Jeltsen Peeters describes the school environment as very important. Everyone needs to put their shoulders behind self-regulated learning in order to succeed. She describes the conditions as shown below in the image.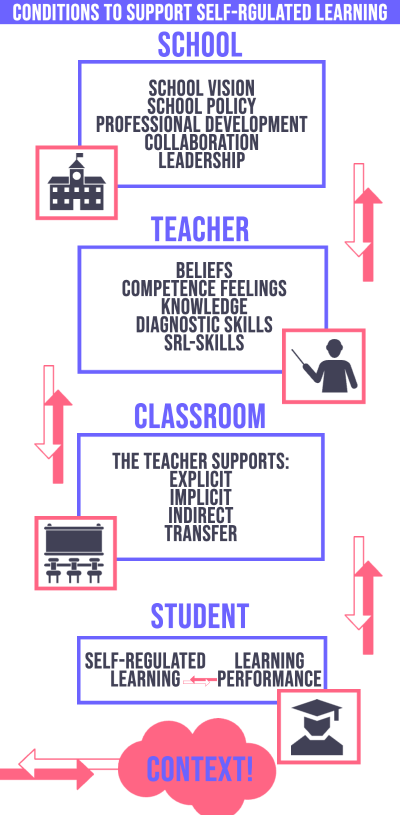 Parents play an important role as well. According to Pino-Pasternak and Whitebread's research, responsive parents who are giving their kids more autonomy and encouraging them in taking challenges, are preparing their kids for self-regulated learning.
So, do you think you're ready to get started with SRL? Let's move on to the LearningM!X!

The LearningM!X explained
The LearningM!X is a blueprint or template in which you can prepare your SRL lessons. It was developed by "GO!", a Belgian organization that represents a huge part of the Belgian schools. It is a blueprint in which you establish structure and ground rules for SRL classroom management in advance. The concept was internationally introduced and validated within the Install-ed project. It provides a framework for design principles that support the digitization of the core process in schools, in particular the learning process. You use this framework depending on the classroom practices you use. You can put your blueprint down in a template called, for example, project M!X, theme M!X, or Misses Lucie's M!X. We'll talk about that last one, a digital blueprint of the BookWidgets M!X, in the next section. First, you need to learn more about everything that makes a LearningM!X.
Now you know, self-regulated learning is taught. Your students are not born with this skill. They learn how to do this. Schools and students need a clear, self-regulated learning structure. A digital structure is the way to go, even if some of the activities will still be hands-on or paper-based. Why is this digital structure to engage SRL with students so important? Here are 4 reasons:
Teachers will be using learning activities as the cornerstone of their lesson preparation and students need to be able to navigate through them autonomously.
With a digital structure, preparing a lesson becomes a compact instructional moment. Then all teachers need to do is prepare the content (digital or physical learning activities) and not the way a lesson is taught. That's where your LearningM!X template comes in. It's the digital structure for your SRL lessons. You should preferably do this in a pre-made structure (We show you one below). Or you can create an SRL Blueprint or LearningM!X from scratch. You only have to do the work once. Even better, collaborate on making a blueprint with several colleagues!
Digital tools allow you to structure the learning process in sets of learning activities. Traditionally, the structure is offered from the content (eg Chapter 1, Theory, examples, …). The opportunity, however, lies in building a digital learning structure to really structure the learning process for students. You can then reuse that structure in fixed sets for each approach when you prepare a lesson of a certain type (project approach, classic approach, flexible learning or learning square operation, remediation,…). Sets are structures that teachers, teams, or schools can design to help students understand the learning process.
Structure comes with rules. In a LearningM!X blueprint, you can speak of "Game rules". These rules refer to the 21 self-regulation competencies students need to succeed in SRL. As I've mentioned before, a large group of students might not be able to self-regulate their learning. What needs do your students have when working independently? Which skills should you structurally develop with them? Designing a number of rules to accompany your structured learning activities will help you overcome this problem. A very simple rule is to "tick off" learning activities to keep track of how far each student is progressing through the lesson. Another could be "scale in", a game rule that lets students indicate whether they need instruction for a particular set of learning activities. Such a rule then lays down clear agreements on how the scaling process proceeds. By indicating those game rules - or SRL skills - students learn to use them and develop the skills they need along the way. Make sure to support these skills throughout all your lessons and other teachers' lessons.
💡 In short: to get your students started with self-regulated learning, you must provide a digital structure or LearningM!X with:
sets of learning activities that always follow a clear structure so students can navigate through the lesson autonomously
game rules, so students understand how to respond, react and interact with the learning materials.
To really understand how this will look for your classroom, check out the next part, where I will show you my SRL practice frame for teachers (or SRL template, LearningM!X, or blueprint). I want to thank Mark Willems and Karolien Vertriest for providing me with this theoretical frame and the support whenever I had questions about translating the LearningM!X concept into a tangible blueprint.

A ready-to-use SRL blueprint or LearningM!X for teachers
I translated the theoretical LearningM!X design and structure (that's based on Zimmerman's cycle of self-regulated learning) into a ready-to-use blueprint for SRL: the BookWidgets WebQuest LearningM!X for SRL. It will serve as a guide and template that you can duplicate and fill out yourself with the appropriate resources for your subject or project. In it, you prepare your learning activities over and over again, in which the students can then work autonomously. The repetition of structure and ground rules provides a unified language and tools that give SRL classroom management hands and feet. The greatest benefit of such a blueprint is clarity! Because you start working with such a template on a structural basis, week after week, you can commit much better to a consistent approach. You can also learn structurally from that approach and thus adjust the blueprint after a period of use.
Let's split up the blueprint so I can explain what you can find in it, step-by-step, for you to better understand everything.
1. The BookWidgets LearningM!X - Two SRL blueprints
We created the self-regulated learning blueprint with the WebQuest widget in BookWidgets. To understand what you will see in the SRL blueprint, you must first understand BookWidgets and the "widgets" concept.
What is BookWidgets? BookWidgets is a content creation and evaluation tool for teachers with 40 interactive templates teachers can customize with their own content. Those interactive templates are called "Widgets". For the SRL blueprint, I used a WebQuest widget. This is a template in which you can really structure a lesson. And that's exactly why it works so well as a self-regulated, learning lesson template. Also, inside this structure, you can add interactive elements or other widgets that hold the content of your SRL lesson. Any teacher, teaching any course can use BookWidgets activities.
I created two types of SRL blueprints. One can be used when you're teaching more project-based lessons, the other is a SRL template for different courses. You can find both SRL templates in this BookWidgets group folder (even in Dutch!), along with the example activities in it. We'll explain later how you can use them yourself.
⚠️ It is essential to note that the example activities are intended to inspire rather than dictate content. When creating your blueprint, you will need to incorporate your own subject matter. Our goal is to provide you with a range of widgets and activities that can be implemented at each stage of the LearningM!X process, offering inspiration and guidance as you develop your own personalized approach.
The BookWidgets ProjectM!X
First, go check out this ProjectM!X so students can go through the lesson autonomously. The passwords in some parts of this ProjectM!X are always 0000 (I made it easy for you to move on 😊)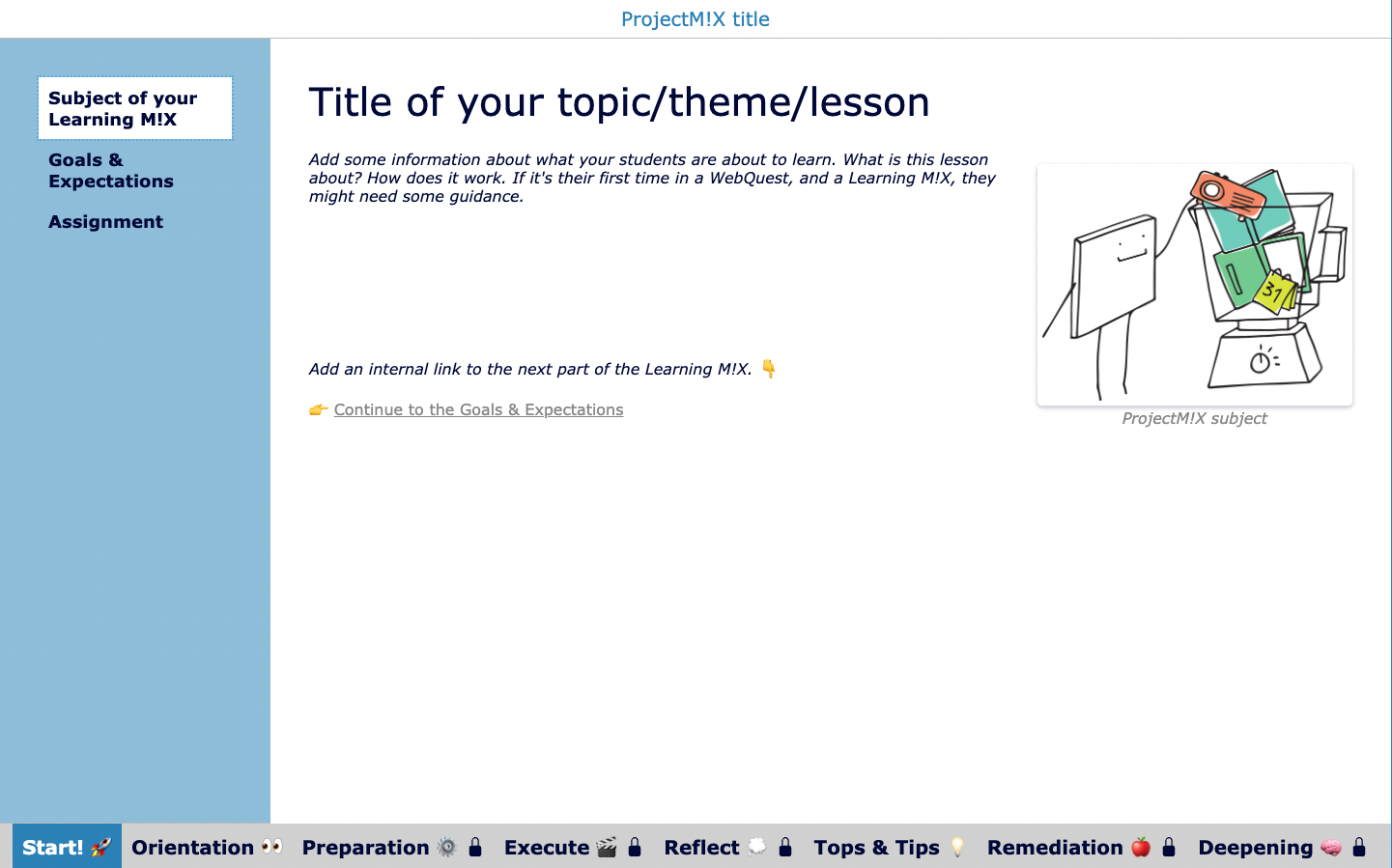 Click to open
This LearningM!X is designed for teachers that are doing project-based learning or give lessons that are poured into one big project. When you want to encourage your students to self-regulate their learning during bigger projects, this SRL blueprint will definitely help. In an SRL ProjectM!X, there are some basic lesson design principles - or activity sets - students have to go through that always stay the same:
Subject, Goals & Expectations, the Assignment
Orientation, Preparation, Execute, and Reflect
Tops & Tips
Remediation & Deepening
The only thing you have to change in this template is the activities in the activity sets. You can delete and update your activities in the template. You can even describe physical or paper activities in the ProjectM!X. Not everything needs to be digital, but it does need to be explained in the ProjectM!X.
💡 This SRL template is filled with examples and tips to give you a clear view of how a ProjectM!X for SRL might look. Example activities don't have a coherent content function, but an inspiration function. This way, you get a clear view of what you can do(and which widget activities you can choose) to make your self-regulated project a success. Games rules are provided, but can change! Remember: game rules refer to the 21 SRL skills students need. This is something you must come up with as a team of teachers as you know what your students already can or can't do.
The BookWidgets CourseM!X
First, go check out this ProjectM!X so students can go through the lesson autonomously. The passwords in some parts of this ProjectM!X are always 0000 (I made it easy for you to move on 😊)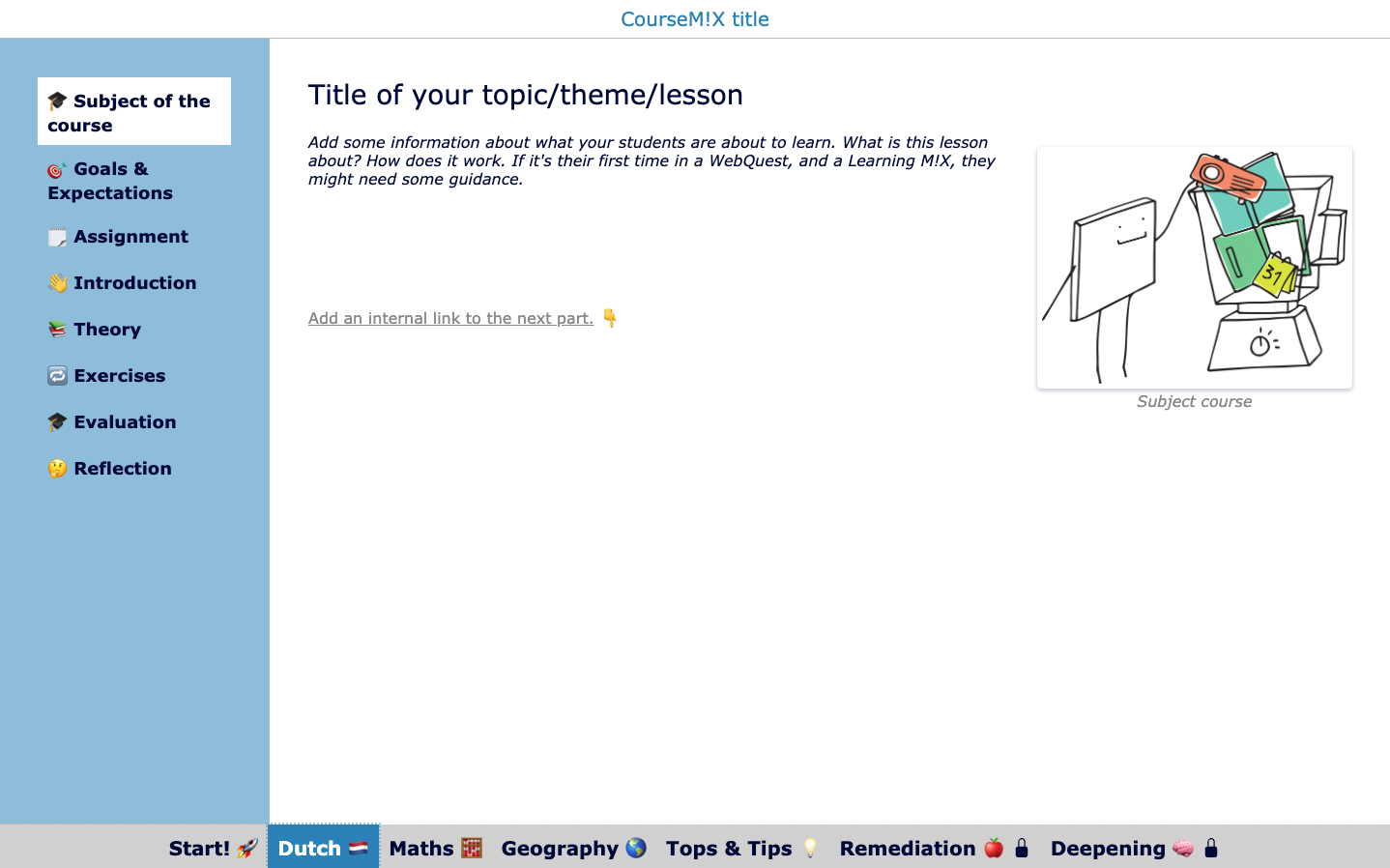 Click to open
This LearningM!x is designed for teachers mixing up their subjects or courses. Students can choose what they want to do during a period of time. Teachers from different courses add their lesson content to the mix so students can choose what they want to focus on first: Math, Languages, Geography, or something else? All lessons have the same structure that supports self-regulated learning. With this LearningM!X, you can mix different classrooms into one classroom where students are going through different lessons. The teachers of the classrooms are there to support the students through the lessons on certain points, as students might still need help in their SRL journey. Every course is structured the same way:
Course subject
Goals and expectations
Assignment
Introduction
Theory
Exercises
Evaluation
Reflection
Every element is there to support students in self-regulated learning. When students finish a course in the CourseM!X, they need to proceed to the Tops & Tips. The teacher also guides them towards remediation or deepening exercises by providing the password.
💡 This SRL template is filled with examples and tips to give you a clear view of how a ProjectM!X for SRL might look. My intention with the example activities is to encourage and inspire you to develop your own activities using your own content This way, you get a clear view of what you can do (and which widget activities you can choose) to make your self-regulated project a success. Games rules are provided, but they can be changed! Remember: game rules refer to the 21 SRL skills students need. This is something you must come up with as a team of teachers as you know what your students already can or can't do.
2. How to use the LearningM!X blueprints and adapt them?
The good thing about templates is that you can add your own content. And, as SRL needs to be implemented on a higher level, we encourage you to plan out a day with your fellow teachers to take this template and make it your own. Here's how:
Create an account on bookwidgets.com or log in.
Click here to navigate to the shared group folder in BookWidgets that holds the two LearningM!X templates.
Click on the arrow pointing down 🔽 , next to the CourseM!X or ProjectM!X, and choose "Duplicate". Now, use the navigation arrow ⬅️ on top of the new screen and select "My Widgets" (or another collaboration group) and duplicate the template to that folder.
Go find your duplicated WebQuest widget, or LearningM!X template, and click on the pencil ✏️ to start editing.
There are some things you should know you can do in this SRL WebQuest activity. Make sure to watch this video or check the WebQuest tutorial.

After editing, you can share the M!X with your students. The best way to share is through your connected learning management system (Google Classroom, Microsoft Teams, etc.)
💡This is what you have to change or delete in the SRL template:

Delete all text in italics: it's only there to explain what you might want to add to your LearningM!X.
Change the game rules if needed: I provided you with some ready-to-use game rules that refer to the 21 SRL skills students need to have. Depending on what your students already can or can't do, you might want to pick different rules or add even more. This will help them build their self-regulation competencies and gain metacognition about their learning process.
Delete the BookWidgets tips: These tips are for you, the teacher, so you understand what's possible inside this BookWidgets WebQuest template. It's technical advice.
Replace the widgets: For each step in the LearningM!X, you have to provide your students with the right lesson content and lesson activities with that content. Make sure to replace the widgets that are in the M!X with your own. The types of widgets that are in there will inspire you with what's possible and guide you in choosing the best widget.
Replace the passwords: As you can see, some tabs in this WebQuest LearningM!X are locked. It's a way to guide your students through the next part of your lesson at the right time and to the right place. Make sure to choose passwords you know (and your colleagues too!) or just delete the passwords to make the tabs accessible anytime.
3. BookWidgets features for teachers and students in the SRL LearningM!X
The Install-ed program came up with 9 design principles for edtech to enable SRL. So, before we began creating the LearningM!X template in BookWidgets, it was important to ensure that we could provide the appropriate digital solutions to support both teachers and students in their self-regulated learning journey. This aspect is particularly intriguing for teachers, as the LearningM!X digital template provides a range of opportunities beyond simply providing your own content. I'll explain some important features for every design principle that are a part of the LearningM!X template in BookWidgets. Some of them BookWidgets even developed as a response to this project!
1. It's all about the learner
EdTech must deliver a learning design that is more learner-centered than material-centered. Metacognition, self-regulation, and social learning with students are of growing importance.
💡As teachers know their students best, we give them the tools to go for a student-centered approach. Teachers can enable options within their BookWidgets activities (widgets in the LearningM!X) that fit the student's needs and encourage students to self-regulate. Think about text-to-speech, audio possibilities, calculators, scratchpads, and more. When teachers enable these tools, they are there for students to use as they wish. The student can now decide whether they want to use, for example, digital scratchpads, to self-regulate their learning process and map out their understanding.
2. More focus on the learning process
How can EdTech support learning processes in schools? Of course, the school, the team, and the teacher are more decisive in this than the architecture of a digital tool or of the materials issued. They want to be able to decide for themselves how to provide materials in the learning processes they have designed. In short, Context is king! But how can a tool support that school, team, and teacher so they get more insights into the learning process?
💡 By using BookWidgets to develop learning materials, teachers can focus on the student's learning process in 3 ways:

Webquests: As BookWidgets offers lots of different templates to create learning materials, a WebQuest widget (like the LearningM!X) would be the one teachers can use to build their context first and add learning materials to it. A WebQuest is a structured widget in which teachers can structure their content to create context. The SRL blueprint is also created with a WebQuest widget.
Live monitoring: Almost every BookWidgets activity can be monitored by teachers, when students are working on them. This allows teachers to get a better view of the student's learning process and even intervene at the right time - which is always as soon as possible - to guide students in the right direction. Teachers can get an overall view within a WebQuest and can see which parts your students did already and are working on. Check out "Live widgets" in your BookWidgets account, and make sure you've shared your SRL LearningM!X with students by an LMS. Different activities give different insights into your students' learning processes. Here's a step-by-step tutorial about Live Widgets.
Reporting dashboard: Allow students to submit their results to you, the teacher. Even if they get auto-feedback and correction, you get valuable insights and get a chance to give personalized feedback to students.
3. School & team blueprint
School teams should be able to collaborate digitally from a shared didactic vision/approach. They structure learning processes for corner work, co-teaching, differentiation, remediation, flexible learning, learning projects, etc. In these, they can offer, adapt, and combine own and purchased, digital and physical learning activities. This way, schools can create a variety of blueprints for self-regulated learning, and everyone can copy and adapt them to their own teaching and learning environment.
💡 You don't have to reinvent something that is already there. That's why BookWidgets introduced "My groups" a few years back. It's a collaboration space where teachers can share activities they have created with each other and take others' activities to adapt. When schools are developing their own blueprints to support self-regulated learning, they can start from our template (which you can find in this group) and share their version in their school's group so other teachers can do the same.
4. Learning activity & active learning as a cornerstone
Tools and digital content are interconnected and can be tailored to each learner's specific school context to create an engaging and dynamic learning environment that facilitates active student participation.
💡 This ensures that in one learning environment:

Students can work clearly and teachers can follow the learning process: BookWidgets activities are clearly structured, and have all the settings teachers need to follow up learning and to give students the help and tools they need to support their learning.
Teachers can collaborate: using the "My groups" collaboration space in BookWidgets.

Learning resources can be used sustainably: Activities can be updated by teachers in minutes, minimizing small mistakes and maximizing a personalized approach for students.
External tools and innovation can be used: BookWidgets integrates with learning management systems such as Google Classroom, Teams, and more, so both teachers and students find their way to the activities by navigating within a known learning environment. BookWidgets also allows and encourages teachers to embed other edtech activities within BookWidgets.
metadata for follow-up and effect measurement is accessible: That's possible in BookWidgets with "Live Widgets" and the BookWidgets reporting dashboard.
5. Data dashboards for learning processes
School teams create their own data dashboards making their learning processes manageable and coachable from their own blueprint/approach. They provide insight from their own learning design consisting of the structure of the learning process and school-tailored principles such as grading, key activity, improvement key, self-evaluation, feedback, and other schools' own didactic flows. Data-driven teacher reflection & team reflection get an enormous boost.
💡 As you know by now, BookWidgets has two important data dashboards; The live dashboard to monitor student progress in real-time and the reporting dashboard to provide correction and feedback to students. However, these dashboards are set so teachers can use them to get the important insights but they can not change what kind of data they get.
6. Managing learning from a curriculum perspective
Without goal dashboards, goal-oriented work and evaluation are very plan-load-intensive. Each learning activity can generate metadata on goals. This gives teachers easier insight on questions like:
Which learners score strongly on which goals?
Which pupils are failing on which objectives?
For which objectives do I still need to provide material?
Which objectives are now in the zone of proximal development for my pupil(s)?
💡 Data, if used correctly, is a blessing in education. The teacher still has a big role to play here, as data must be read correctly in order to make students grow. BookWidgets' data dashboards offer some valuable insights to use for your curriculum approach. With the data the teacher gets, you will be able to answer the 4 questions above. I've made a quick summary of the data you get and how you can use it to see if students reach the lesson objectives.

Immediately discover learners that can't find their way to your activity. Not every student is computer savvy. When you don't see them popping up on your dashboard, you immediately go to that student and help them out navigating to the correct exercises.
Get live insights on students skipping activities or questions. Why are they doing this? Don't they understand the question? Are they having difficulties with this exercise?
As digital comes with auto-grading, live dashboards will also indicate immediately what your students are doing wrong and right. Go to your students that need help. That way, you're immediately interacting with your student at the right time, when they can still revise their thinking process.
How about your fast learners? Some of your students master the topic really well and are left waiting for others so they can move on. You can see that in your live dashboard. Immediately guide them to more advanced exercises.
Some students finished really quick but might have made a lot of mistakes.That's something you get from your live data dashboard as well. Before you want them to continue, you can ask them to revise their answers. If you didn't have that live data, you would have sent them to the next exercise, only realizing afterward that the student actually doesn't master the lesson content.
The average score on an activity or questions in your assignments is very valuable as well. When one particular question has an average score of 34% it's clear that your students struggle with this question. Make sure to give instructions again in your next lesson. Or maybe your question was misinterpreted and you have to revise it?
In the reporting dashboard, you can easily sort your students on the score for each question. This way, you know immediately which students have which questions wrong, and you can provide them with extra exercises just to practice what you evaluated in that particular question.
7. Conditions for innovation climate
The network always wins! This is where collaborations and integration possibilities between EdTech companies are of high importance. Schools should be able to choose innovative tools that integrate with their learning platform. This makes integrating and embracing new innovations easier.
💡 One of BookWidgets' main focuses is LMS integrations. This allows teachers to create or use a toolset in their trusted learning management platform without having to switch to different websites. It keeps the students focused and engaged as well. The navigation to learning materials stays the same, and the activities they get vary. Another focus is the simplicity for teachers to add multimedia to their learning activities. Audio, video, images, other tools and websites, and more. Besides LMS en multimedia integration, importing content from Word or pdf worksheets is a huge time-saver and an innovative way to go from paper to digital.
8. GDPR etc. Unburdening!
Implementing a GDPR-compliant data architecture can alleviate the burden on innovation and its implementation, with the goal of creating digital connections between educational tools and innovations. Several innovative schools have already adopted this approach, making it easier to engage with new platforms. By utilizing learning activities as a data anchor, research centers and schools can more easily assess outcomes and effects. The ability to measure outcomes is rapidly becoming a crucial strength for schools. Furthermore, new technologies are delivering comparable results, making them increasingly relevant to modern educational contexts.
💡 It's very important for teachers and schools to know what happens with the data in the hands of these tools. In Europe, every company must abide by the GDPR law and state everything they do with data in their privacy policies. The BookWidgets privacy policy can be found on the website at all times.
9. Innovation for AND with educators, students, parents
The innovation process is very challenging. Human-centered design requires a thoughtful approach and clear processes, preferably in co-creation with schools. Expectations differ according to the phase of innovation they cover: co-creation, testing, piloting, and implementation. The education field and EdTech would benefit from clear frameworks and facilities that can guide such processes. This would ensure that Start-Ups and schools have fair opportunities to pursue their ambitions. Guidance services and research centers also have a place in such frameworks that can facilitate the roles of each stakeholder.
💡BookWidgets continues to listen to teacher feedback. What do YOU need that will benefit you and your students? For this SRL project, we listened as well. It was clear to us we needed to develop some improvements in order to make Self-regulated learning possible with our tool. Here are 3 additions schools requested we didn't have before, but were needed to make SRL happen. Some of these innovations are still a work in progress as they will become part of a bigger whole.

Lock tabs in a Webquest: When your students are going through your SRL lesson, teachers want to be able to lock parts in that lesson for various reasons. You could ask for a 1-to-1 with students first, then give him the correct password to move on. Or how about providing passwords in automated messages when students get over 80% on an assignment? If they don't master their learning, they don't get the password and have to continue practicing. This is a mastery learning approach.
Live widgets monitoring of the WebQuest: as the WebQuest widget is your students' SRL learning path, the teacher needs to be able to follow up on students. This was already possible in separate activities, but not yet on a high level. Now it is. You can easily see where your students are in your SRL LearningM!X.
Raise virtual hand (under construction): Students who self-regulate their learning still need a guide. And not all activities are completely individual. Your students should still be able to ask for help. As schools often create new learning spaces, breaking out walls, creating small corners, boxes, etc, it might be harder to see all your students in front of you and spot them if they have questions. When students can raise their hands virtually, you can get up and navigate to that student for help. Also, self-regulated learning follows the game rules you set as a teacher. One of the rules could be that your students must ask for help or check in with the teacher. They can raise their hand to do so.
Wrap up
And that's it for me! I hope you can see the value of self-regulated learning and you are impressed with our ready-to-use SRL template for your class. If you want to learn more about BookWidgets, make sure to join the community here and follow us on Twitter.
And me, I'm Lucie! 👋 Connect with me on LinkedIn.
Cheers!