15 Creative Ways to Let Students Choose a Book to Read

Janie Noels —
How to choose a book?📘 It can be a challenging task because of the many options out there. In my school experience, we were often given a reading list which limited the motivation to read. As a teacher, exploring alternative approaches to book selection is important. Thinking outside the box when selecting books, can provide hours of enjoyable reading and motivation. This applies not only during the school year, but also during summer vacation. Discover here all the benefits of a summer reading program.
In this blog post, you will find some of these enjoyable and interactive activities to choose a book, but first discover why students should choose their own book.
Let the book selection fun begin! 📚
Why should students choose their own books?
Independent reading is a valuable way to foster a lifelong love of reading. Allowing students to choose their own books is an effective way to increase reading engagement and reading motivation. When students have the opportunity to choose a book that interests them, they are more likely to be excited about reading and invest more effort into it. This approach also empowers students by granting them autonomy and control. It is important to ensure that students are introduced to a diversity of authors and reading selections (genres) to foster their curiosity and stimulate their interest in reading.
15 Creative ways to choose a book
1. Book Reviews

Display several written book reviews in class, and each student must select two reviews that align with their interests. Once all the students have made their choice, you will reveal which books correspond to the chosen reviews. This will enable students to receive the titles of two books. Eventually, they can make a final decision by choosing between the two books that are linked to the reviews they picked.
2. Book Trailer

It's time for a movie moment in class.🎞️🍿As a teacher, pre-select a few books that have corresponding films. During class, screen trailers of the films and have students select a book based on the trailer that they find most intriguing. To make this activity more interactive, you can use our Video Quiz.
3. Book Bingo

Another way to give students a choice menu is through the use of a Bingo Card. Develop criteria that books must meet, such as being written by a woman, set in a different era or featuring an animal on the cover. The goal is for students to work together in class to complete the Bingo Card. So one student can look for a book that is written by a woman, while another student can take a book featuring an animal on its cover. Check out the example below that has been created with BookWidgets.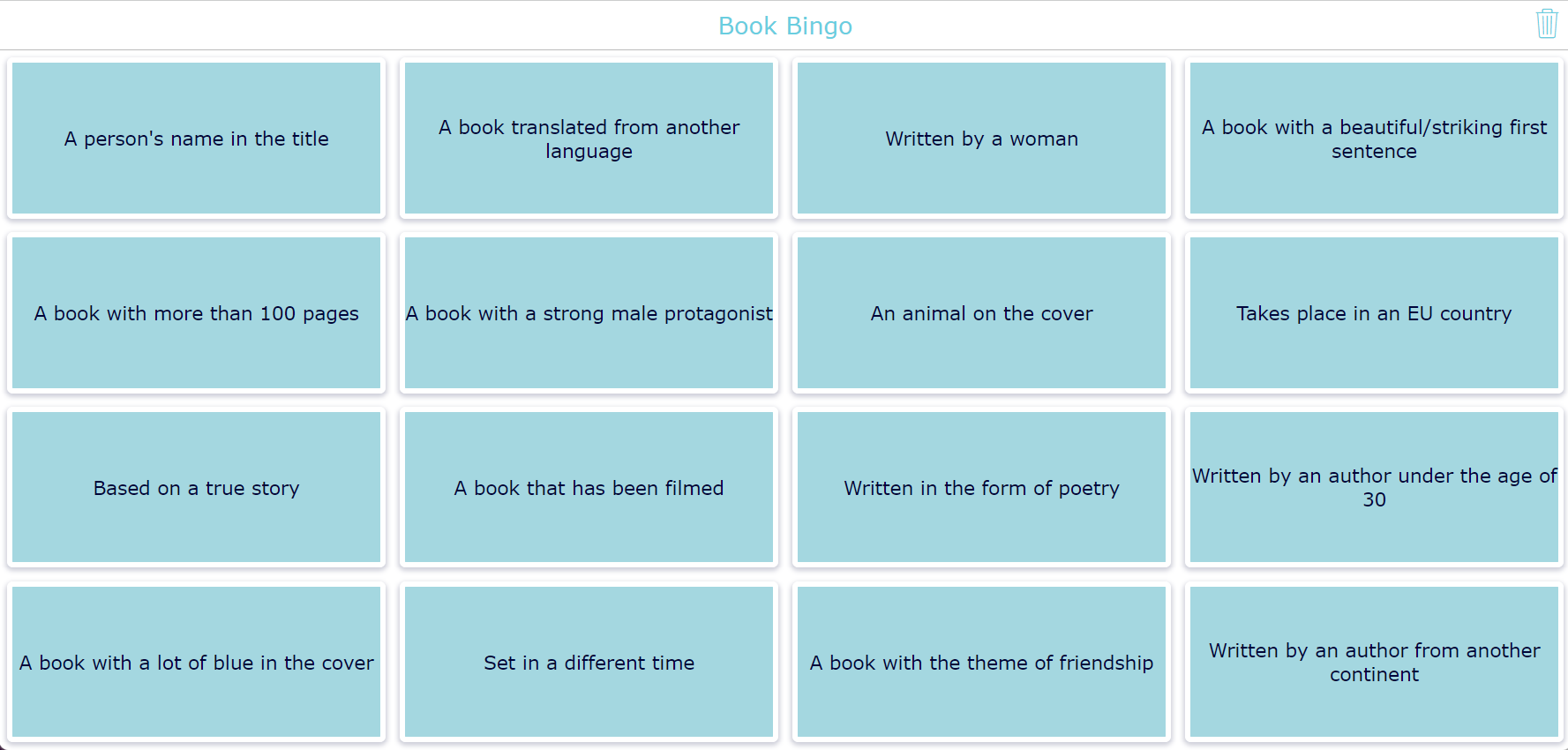 Click to open
4. Guess the author

Snowman, a game everyone has played before. The objective of the game is to guess the correct word by trying different letters.🔠 This principle can be applied to help students choose a book. In the first step, students are divided into groups of four. The words that they need to guess are the names of book authors. As a teacher, you put at least 10 authors in the snowman game. When each group guesses three names, they can proceed to choose a book from the library. The chosen book must be written by one of the three authors they guessed. As a result, book selection is a collaborative effort between the teacher and the student.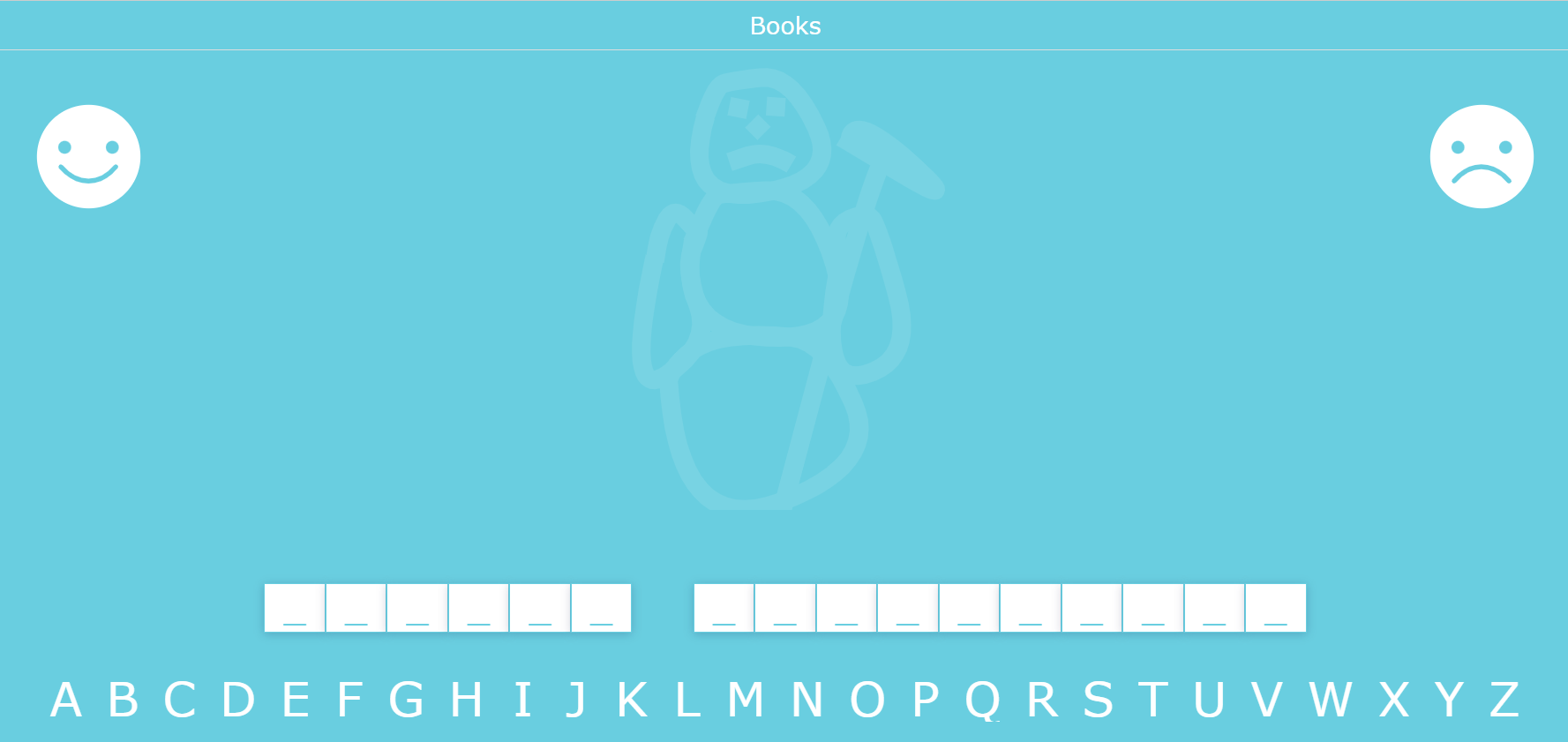 Click to open
5. Book Rebus Puzzle

Choose several books and categorize them by theme. Convert the title of each book into a rebus puzzle.🕵️ In class, visually present the themes in a fun way. To start, students select a theme and then choose a rebus that interests them. They solve the rebus puzzle to discover the book they will read. Go check out my favorite rebus maker!
6. Speed Dating With Books

Have you ever tried speed dating? While I haven't experienced it myself, it does seem like an entertaining concept. This idea can also be adapted in the classroom library to allow students to select their own books. Place the school desks separately with one book on it and set a timer on the board (You can use Classroomscreen for this!).⏰ During two minutes students have the chance to look at the book, when the timer ends, students have to move on to the next school desk. Yes, the students must slide, not the books, because a little exercise doesn't hurt.😉 After the speed dating session, students submit their top three choices, and the teacher assigns one of them to the student so that duplicates are avoided. To ensure success, it is important to stock the classroom library with new and exciting books.
7. Blind Dating With Books

Remaining in the dating concept, we can set up blind dates. Wrap books in paper and write keywords that describe the content on the paper. Based on these words, students will select a book. And yes, after choosing, they get to do the most fun part: unwrapping the book, or in other words "the present".🎁
8. Book Jar

To ensure sufficient diversity in literature, an alternative approach can be taken. It's actually very simple, write predetermined book titles on small pieces of paper and place them in a jar. Students can randomly draw three cards and choose a book from among those three. This way, they might have other genres than they usually take. Another possibility is to organize the jars by theme; this is more responsive to students' interests. However, encourage students to include multiple genres in their book selection, it is recommended that they choose from different jars. This can also be done using the Randomness Widget. Check it out👇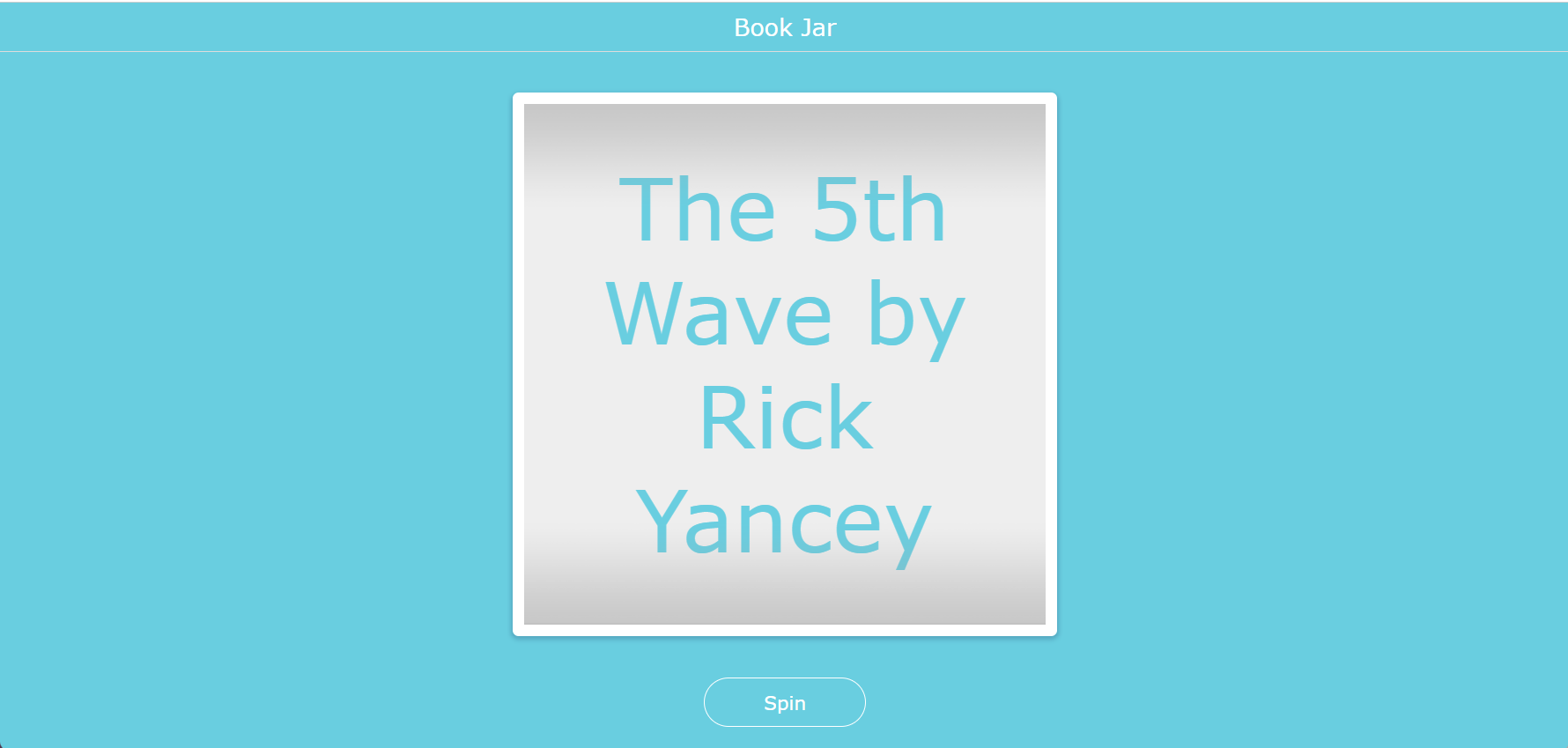 Click to open
9. Book Play

A student choice menu of literature books can be created based on plays.🎭 Pair up students and have them read the same book, there are plenty of examples in this blog post about ways to choose a book. After the reading assignment, they work together to transform the story into a 5-minute play. An additional positive aspect is that it encourages collaborative learning and creativity. After the plays, students can select their next book according to what they have seen. 👀
10. Book/ Letter race

Looking to boost reading engagement? Introduce a little competition to the book selection process! Students can work in pairs, with each group assigned a letter of the alphabet. Their task is to collect four books from the library whose titles begin with their designated letter, as quickly as possible. Although speed is crucial, it is also essential to choose books that match their interests. Once they return to the teacher, each student can choose one book from the four they've selected.
11. Writing a poem

This classroom activity boosts creativity, writing, and speaking skills.✍️🗣️ They will create a poem about the last book they enjoyed reading. No additional instructions are given at that point. Once the poems are complete, each student will present their poem to the class. Then, based on the theme of their poem, they will choose a new book to read.
12. Creating a bookmark

In this example, students are allowed to express their creativity through art.🧑‍🎨 They create their own bookmark and have the freedom to design it however they like, making it a personal and unique piece of artwork. Once the bookmarks are ready, students must look for a book that fits their designs. This encourages them to think critically about the themes and messages. Overall, it is an excellent way to merge the worlds of literature and art.
13. Creating a social media post

Social media is taking a more and more prominent part in our lives. Whether we like it or not. This task offers the opportunity to include social media in your lessons while also fostering digital citizenship. Students can promote their favorite book by creating an Instagram post about it, using a provided template. This way, the student choice is based on the promotion, or in other words, they choose the social media post that appeals the most to them. Eventually, they read the book of the chosen social media post.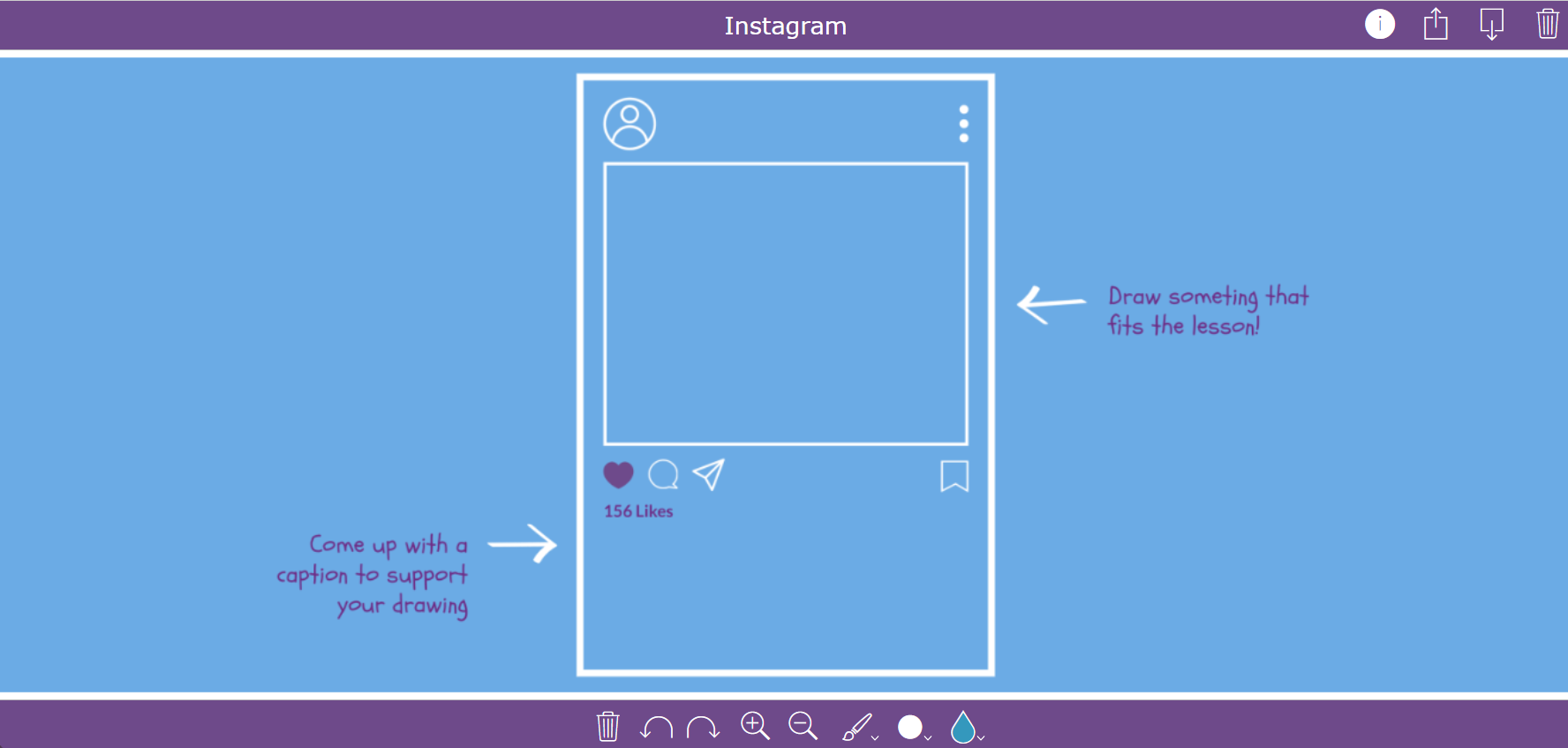 Click to open
14. Making an alternative book cover

To add a touch of creativity to your classroom reading activity, try this idea. Students will randomly choose a book from the classroom library and examine the picture and description on the back cover. Afterward, they will design a new front cover for the book. All the designs will be collected and displayed in front of the entire class. At this point, the students will choose their next book to read based on the image only. This activity is a fun way to engage students in the creative process and add some variety to their book selections.
15. Choosing a book for a classmate

Choosing a book for a classmate is a great way to increase engagement and reading motivation. In addition, it's a way to promote diversity in literature. As good friends👨🏿‍🤝‍👨🏼, they are expected to know each other well, making this a great opportunity to broaden each other's reading horizons by exploring different genres and authors. This activity promotes a more diverse reading experience.
Creative book report ideas
Now your students have chosen a book and are reading it, you can spice up your book reports too. Step away by letting them summarize a book! That's also something students can ask ChatGPT. You can do so many fun things with book reports! Here's a blog post with 15 creative and digital book report ideas that will get your students even more excited to read!
Conclusion
By encouraging students to actively participate in the process of selecting their own books, you can foster a love for independent reading.💞 These activities are just a starting point. There are countless other approaches to explore. Let us know on Twitter which one you will try and join the Teaching with BookWidgets Facebook group to inspire others with your own creative ideas.
Together let's create a generation of enthusiastic readers through the power of student-driven book selection! 📚