30 Awesome YouTube Channels for Teachers to Use in an Interactive Video Quiz

Janie Noels —
Did you know there is a new widget available in BookWidgets? Maybe you have already tested it out! I'm a fan. 👌 How about you? For those who haven't figured it out yet, I'm talking about our Video Quiz widget. Read everything about this amazing questions video quiz activity in this blog post. You'll get some ready-to-use lesson examples too.
To make sure you can use this in the best way possible, I'm sharing some amazing YouTube channels for educational videos with you. And you will also find 3 ready-to-use examples! Finding the perfect YouTube video is essential to creating the best video quiz lesson for your students.
These parts will be covered:
Let's get started! 👏
Why should you use YouTube videos in your classroom?
Today's generation has grown up with technology. By using classroom videos, their environment is more involved, and the result will be that their attention is higher. In addition, the explanations are often supported by images, which provide a real story of the subject you want to teach. And combining visuals with text or audio is called dual coding. It's a very effective learning strategy for students to remember new lesson content better. And, in a lot of cases, YouTube videos are a very good entry to introduce a complicated topic that might be too abstract to explain. The YouTube videos can help students visualize those concepts better. So this is definitely worth a try! Don't you think? 🤔
Why should you use the Video Quiz in your classroom?
This tool gives you the opportunity to insert questions into a video at different times. You can choose between 36 types of questions. That way, you don't need to wait until the end of the video, and your lessons will be more interactive. At the same time, students are already processing the lesson and thinking about their answers to the questions. It will stimulate your students' brains! 🧠
30 awesome YouTube channels to use in a Video Quiz
The following educational YouTube channels are made for teachers or students. 👩‍🏫🧑‍🎓 I have made categories based on the school level. In these categories, you will find different lesson subjects. There is a YouTube channel for history, math, languages, and as you can see, many more! It is up to you to find the right channels for your lessons and classroom. Good luck! 🍀
Pro tip! 💡 Before I get started, I wanted to point out TEACHFLIX! Yes… the Netflix for teachers. It's a collection of videos – sorted into categories – that you can use with your students in class. They've added their favorites – and curated suggestions from classroom teachers as well. You might not think it first, but all these videos are YouTube videos. So, they can all be turned into an amazing Video Quiz!
Youtube channels for preschool and kindergarten

This channel offers you the opportunity to teach numbers to 10, colors, and shapes in a playful way. You can also find some fun nursery rhymes and kids' songs.

The channel host makes trips to different locations, such as the dentist, an indoor playground, a water park, … During his videos, students are subconsciously learning new vocabulary, and they are developing more knowledge about the world around them.

Do you want to make learning English incredibly fun? Make sure to check out this channel! There is a very diverse range of lesson topics. The children will learn new songs, new words, and the base for conversations, … with the help of these videos.

Counting together, learning the ABCs and so much more. You can find it all on this YouTube channel for toddlers! The videos are all created by parents.

Again, like in the previous channels, you will find a wide range of videos. After all, it is important that children have a certain foundation before they can attend elementary school. This YouTube channel for Preschoolers teaches them numbers, the ABC, colors, shapes, and more.
How can you turn these YouTube channels' videos into a Video Quiz lesson?
Check out this Video Quiz example for inspiration!👇 The video stops at certain times and students have to point out the matching picture of the letter that was pronounced. With the pictures, you will also find a short recording. Students can use this to support their speech as the letter will be pronounced again.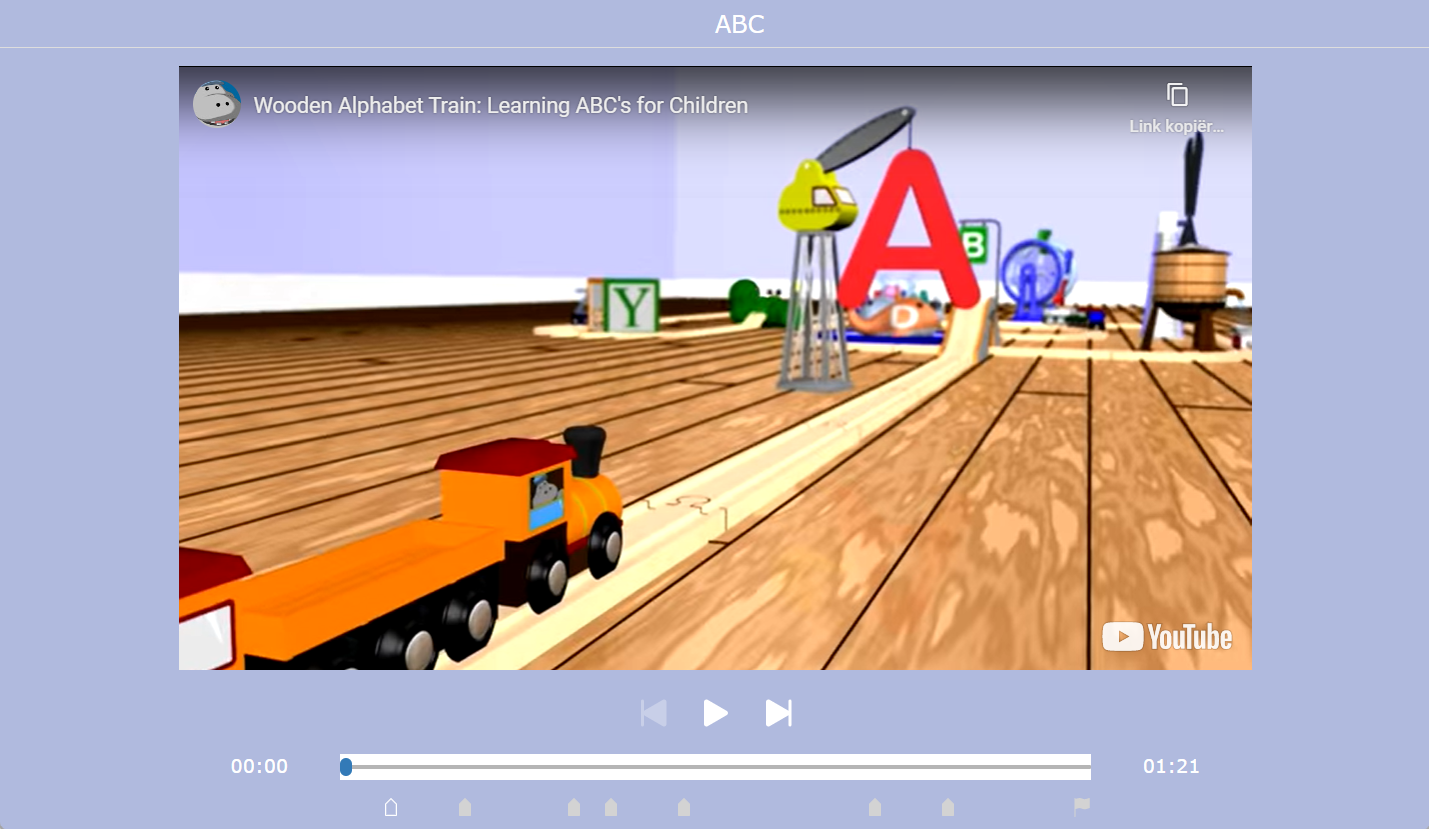 Click to open - Credits to "Teeter Taught Animation"
YouTube channels for elementary school
The students learn to read, and they learn all about numbers from 1 to 10. That means they learn to recognize numbers (if they can't already), write them down and they will learn the corresponding written word. In addition, this channel has a puppet show where the children can learn all about science.

You will not only have the opportunity to teach English but also other languages! Besides learning languages, you will find fun math lessons: time on a clock, count to 100, coins, and more!

Have you heard of living letters? Find out on this channel! The letters will hold hands to create words. This way, thanks to the amazing letter people, you can teach your students how to read and spell.

Not only can theoretical subjects be taught through YouTube videos, but you can also teach your students to draw. The videos show step-by-step what elements you need to draw to achieve a beautiful drawing. When you're putting this idea into a video quiz - ask your students to insert pictures in the photo question at specific points in the video. It will map out their progress and teach them to follow essential steps.

Everything you can learn about animals can be found at Houston Zoo! The speaker is a keeper at the Houston Zoo and will teach you about giraffes, chimpanzees, elephants, and a few other animals.

Sabrina, the host of this channel teaches science! To be more specific, the topics she covers are earth, space, engineering, chemical reaction, and much more.

Consult this educational YouTube channel if you are looking for extra resources. Just like many YouTube channels, they provide a full catalog with lesson plans on the following subjects: science, math, history, language, arts, and reading. They are committed to quality and fun!

The KLT YouTube channel focuses on astronomy, geography, and USA states and counties. Everything is explained very well by singing objects to make it more fun!

This, like many of the other channels, has a variety of lesson topics. Here, you can find almost every topic that you teach in your classroom and everything is explained very well!

Homeschool Pop is a YouTube channel created for homeschooling by a homeschool dad, Daniel. Of course, it is also possible to use this in your classroom or your flipped learning lessons - which students complete at home.
How can you turn these YouTube channels' videos into a Video Quiz lesson?
Check out this Video Quiz example for inspiration!👇 Your students will learn about the topic "gravity". During the video, students will need to engage, and different types of questions and assignments are covered.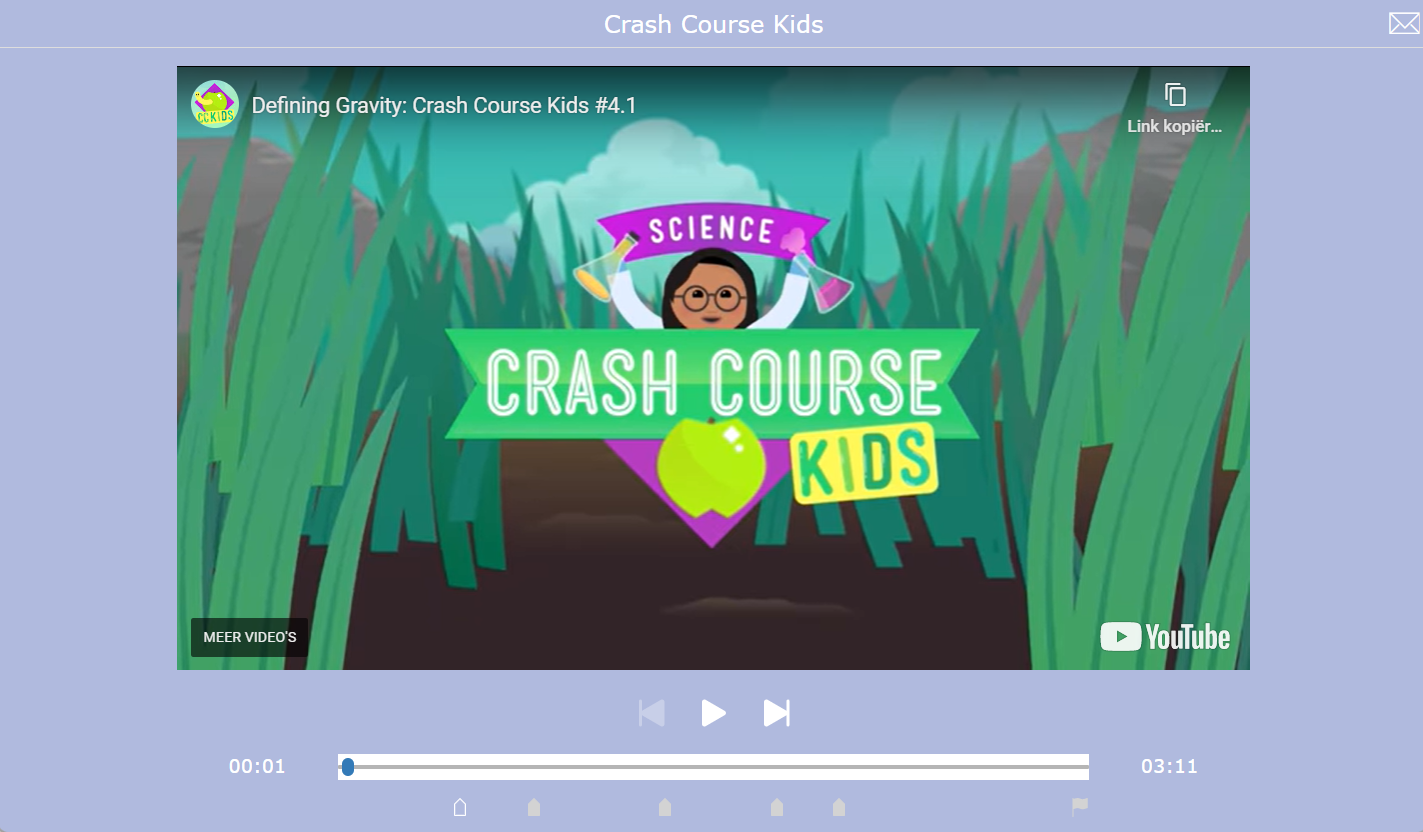 Click to open - Credits to "Crash Course Kids"
YouTube channels for middle and high school

If your students are struggling with studying and organized work, let them check out this channel. It's full of tips and tricks. Incorporate this in a Video Quiz at the start of the new school year, so your students immediately get started the right way.

As the name implies, here you are going to find information about physics. Generally, they use short and very well-explained videos (around 5 minutes), but occasionally you may come across a longer one.

Use videos from this YouTube Channel so your students can learn everything about history: developments in technology, battles, events, culture, and more! A significant advantage to me is that the explanation can be supported with images, so students will memorize it better.

These days, it is impossible to imagine a world without the internet. Therefore, you need to start talking about this with your students. On this channel, you will learn everything about digital citizenship skills.

If you want to teach fractions, percentages, statistics, …, everything is here at your disposal. Dive in and find a wide range of math courses.

Do you want to pay attention to language diversity in your classroom? This channel will help you teach different languages to all students in your diverse classroom. You will find a nice subdivision: European languages, Asian languages, languages of Latin America, and African languages.

Our world is a complex place. Make sure your students know enough about it! Are you looking for something about extreme weather conditions, the reason why rivers curve, … ? You will find it all on this YouTube channel about our planet.

Just like in number 22, this YouTube channel offers videos with an explanation of how our world works. However, they also include topics such as economics, marketing, and much more!

This channel was designed by a guy, Simon Clark, who got his Ph.D. in atmospheric physics. He covers all topics that he finds interesting himself, with a focus on atmospheric science and climate change. However, in addition, you will find a variety of video games, etymology, and more!

Do your students have questions about science and the rest of the universe? Be sure to take a look here! This channel covers subjects like biology, earth science, space, animals, climate science, and physics.

TED-Ed's mission is to spread great ideas. The videos are often a collaboration between excellent teachers and animators. This also means they don't commit to one specific topic. You can find everything here!

Math, chemistry, biology, finance, grammar, and many other topics are the focus of videos on this famous educational YouTube channel. The nonprofit organization provides free, world-class education for anyone.

Professor Dave's goal: "to increase science literacy in our society". As a result, there is once again a wide variety of science videos.

The CrashCourse YouTube channel wants to give high-quality educational videos that are available for everyone. Today, they have 42 courses on a wide variety of subjects, including organic chemistry, literature, world history, biology, philosophy, theater, ecology, and many more!

They will help you get smarter, and faster. Who wouldn't want that? The lessons are taught by the world's greatest thinkers and doers.
How can you turn these YouTube channels' videos into a Video Quiz lesson?
Check out this Video Quiz lesson for inspiration!👇 Most students use social media at some point throughout the day. Using this Video Quiz will kickstart their thinking process about the use of social media. They are encouraged to think further and to reflect on their actions on social media and how other social media accounts make them feel.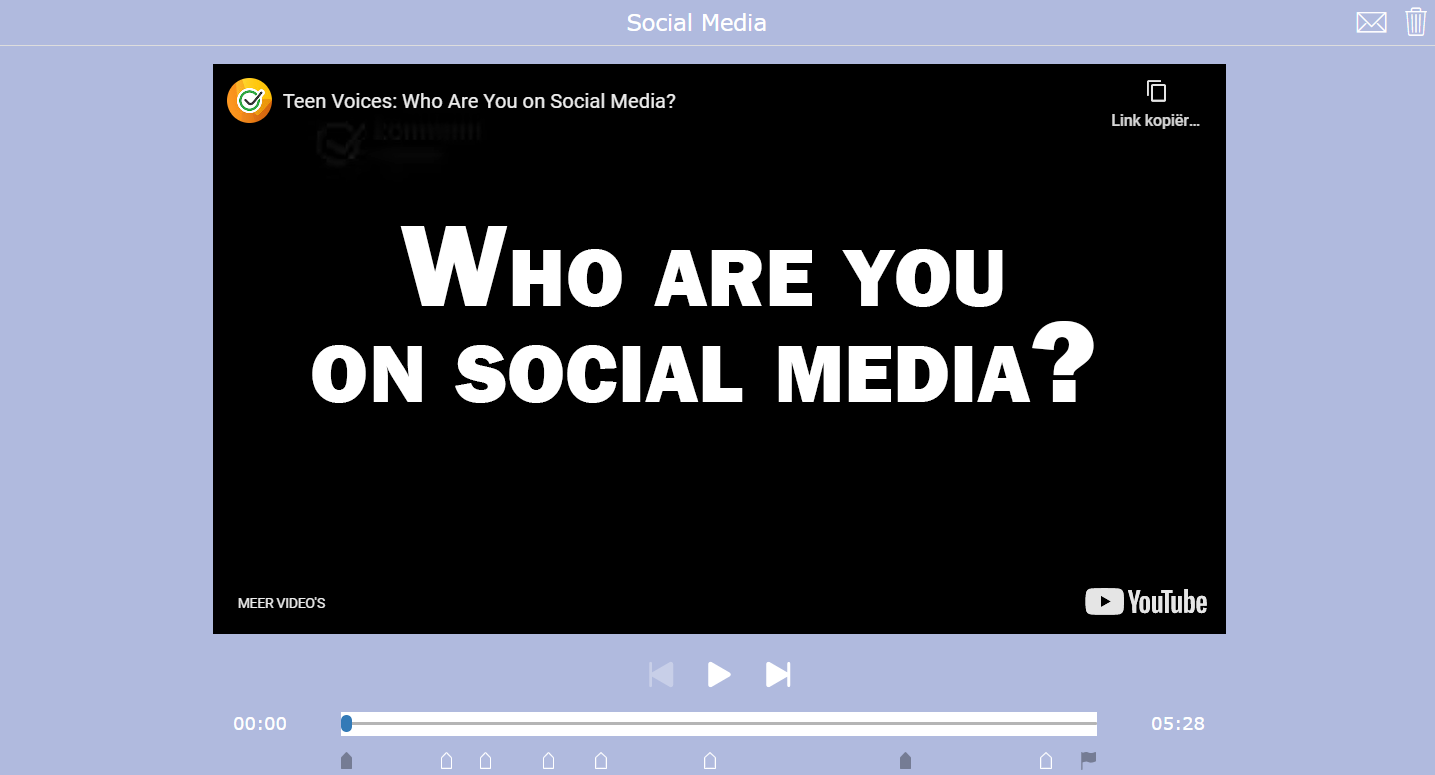 Click to open - Credits to "Common Sense Education"
Conclusion
This YouTube channel list for education doesn't include everything. There is much more to discover! Check out this blog post for more inspiration. If you know any other great YouTube channels with educational purposes, make sure to let us and other teachers know on Twitter. Also, share your very first Video Quiz in our Facebook group to inspire others. Get started right away on bookwidgets.com.
One more thing: have fun using these videos in your classroom! 📽️