5 Clever ways to bring structure to your digital lessons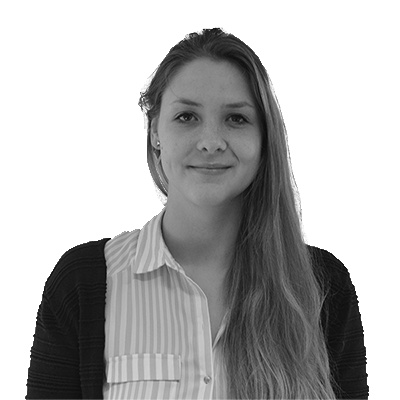 Lucie Renard —
Never before, so many teachers have been teaching from a distance. Making the switch from a traditional classroom to a digital classroom isn't easy. It's hard to instantly start creating digital lessons, homework, and assignments. It's even harder to keep your students from drifting away when they have to stare at a screen for a long period of time.
That's why, in this post, I'm giving you 5 tips on adding structure to your online lessons. This way, students don't lose focus (much 😉) and you keep them on the right topic.
Don't forget that students might lose an overview of what they have to do and learn when they are being taught by different teachers, using different tools, announcing assignments in different places. There's a solution to this.
ONE digital classroom for distance learning
This digital classroom is a school-level classroom, not just something any teacher may choose to do or not to do. If you're not on the same page as your fellow teachers, your students won't be on a page at all.
There are many tools you can use to set up this digital classroom. It really doesn't matter which tools you use, as long as they can cover these 5 key components. You'll need to:
Choose any combination of tools you like, BUT, make sure not to choose too many. When choosing a tool, think about whether the tools can integrate with each other, which makes it easier to use one platform that has the possibility to integrate all the tools. Here's a blog post on creating a remote classroom with a combination of tools used above.
TIP: BookWidgets integrates with all the learning management platforms mentioned above. As it's a very comprehensive tool, you'll notice that I mention it a few times below as well. This makes it easy for you to just keep a hand full of good tools, all in one.
How to bring structure to your online lessons
1. Start with a bigger picture

Giving your students an overview of what they are going to learn is the best way to give them a clear structure. They can always go back to the overview and check whether they learned everything. They can easily take the overview and put it next to them when they have to learn complete lesson themes and units. It'll give them a steady structure to follow.
Digital Checklists
A simple digital checklist is the easiest way to give structure. Students just have to follow your steps and check off the tasks if they finished them.
Before starting a lesson, you could include a digital checklist with the learning goals. Students can check the list if they did all the work and think that they can reproduce the knowledge from the learning goal. The checklist will bring structure to learning, but above all, it will help your students recognize on their own if they understand the topic (metacognition).
Digital checklists can also be agendas with lesson topics or units. Students immediately know what to expect, and can check off the topic/unit.
Another way to use a checklist is by giving students steps they have to follow to get to the end of the assignment. Here's an example of a digital checklist about building a strong password:

This simple but structured checklist is made with BookWidgets. Just choose the checklist widget.
Mindmaps
Another way to bring structure to your lessons is by using mindmaps. At first, you create a mindmap that represents the bigger picture of your topic. What are your students going to learn? Just put the main topic or theme in the middle, connected with the smaller topics that link directly to your main theme.
At the end of the lesson, ask your students to make their own mind map, retrieving all things they just learned, with more details as well. This way, they structure the lesson content a second time. Bonus: while doing this, they are retrieving knowledge and thus: remembering.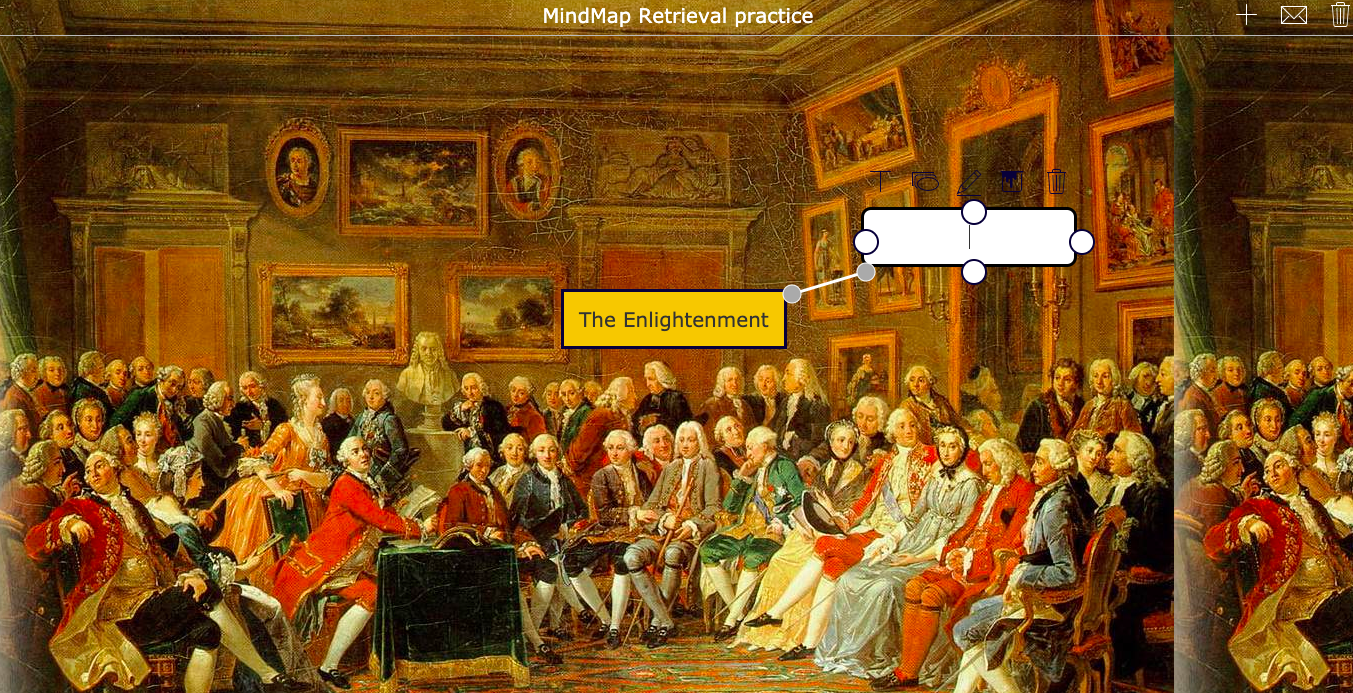 So what do you remember from "The Enlightenment"? 😉 Add balloons to the mindmap and structure them if you still know a few things.
2. Create learning paths students can follow

Creating a lesson path that students can follow step-by-step is probably the best way to structure digital lessons, especially if students have to work independently (which is more common when teaching from a distance).
There are a few ways to create a learning path for students.
BookWidgets Planner
With BookWidgets, you can create lots of different interactive exercises. Choose the "Planner" widget or exercise template to create a learning path.
Add different tasks, such as:
YouTube videos
links to online exercises and resources
audio instructions
an extra list with more tasks for students to add to their learning path
You can give the tasks different colors or add images in front of the links.
Can't imagine what this looks like? Below is a simple example without interactive elements. Know that you can add more BookWidgets exercises (such as auto-graded worksheets), other links, videos, and more behind the icons in the example! Students can easily tick off the steps they have done an follow their path.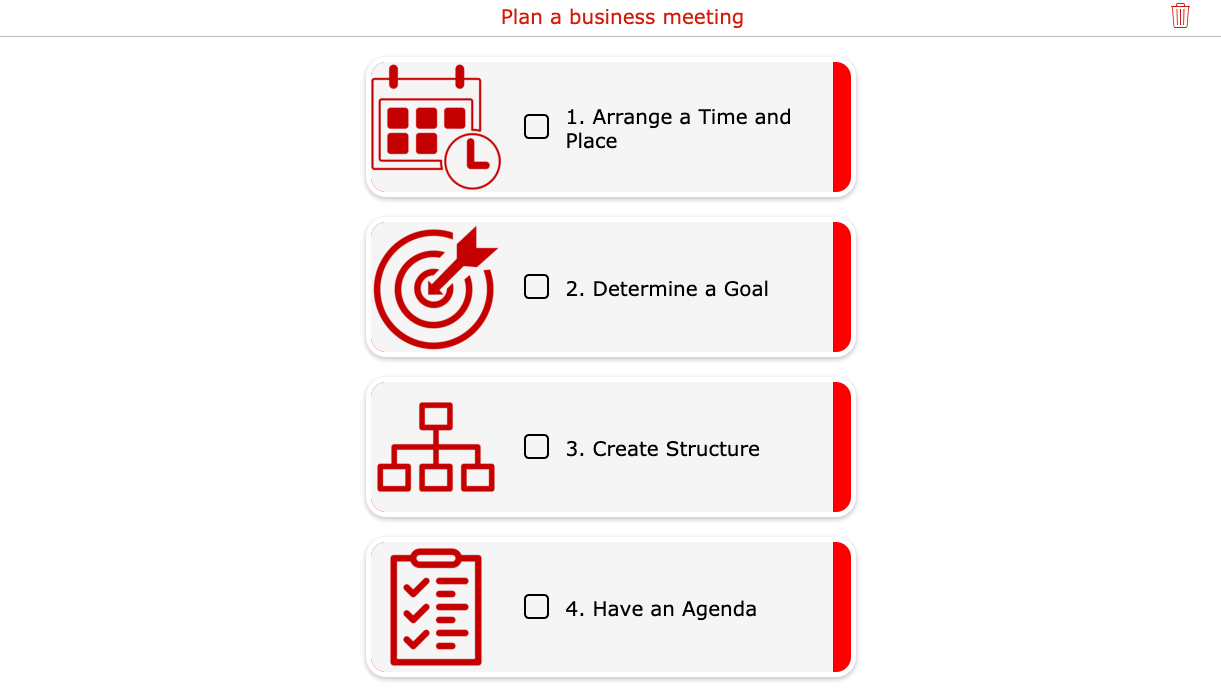 Tip: Follow this short webinar tutorial on adding learning paths in Google Classroom using the BookWidgets Planner. This is shown in Google Classroom, but you can make these interactive learning paths via the BookWidgets website as well.
Symbaloo
With Symbaloo, you can create a path with different tiles. Behind the tiles, you can add learning materials, links, and, again, BookWidgets exercises to make your lessons more interactive.
Here's an example: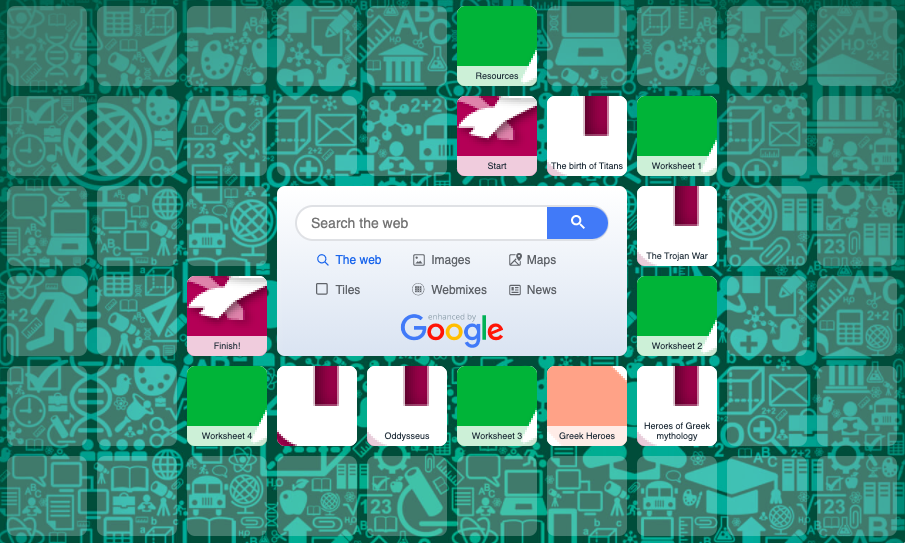 This example is created with the standard version of Symbaloo. For education, there's now a better way to create your learning paths, without advertising.
3. Tell as tory

Another way to bring structure to your lessons is by telling a story. A story always has the same stages that are familiar to students, so they know what to expect, and more importantly, how to remember it.
Create a WebQuest for students, where students go through different stages in your lesson. You clearly define the steps and themes in your WebQuest.
Take a look at this WebQuest (made with the BookWidgets WebQuest widget) about Ancient Rome, teaching students about the time and life back then.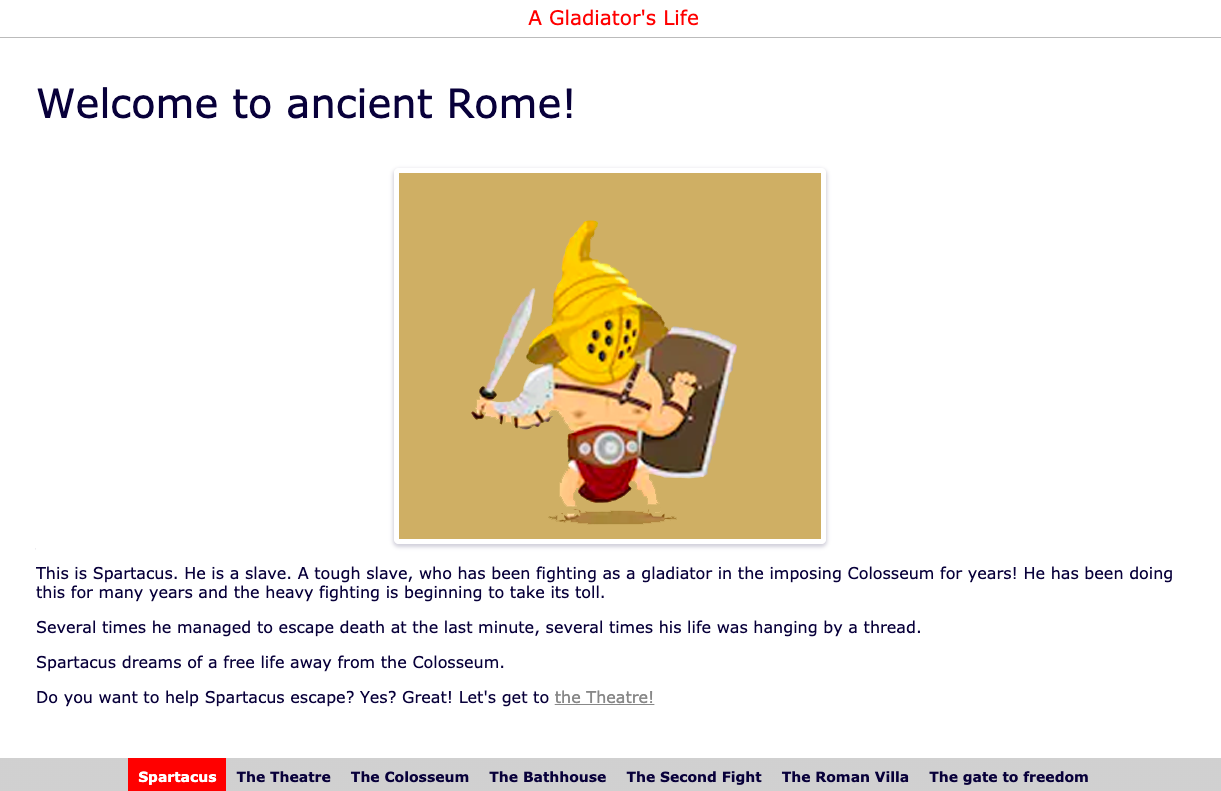 The fun thing in this example is the inclusion of interactive elements. Students are involved in your lesson, as they have to solve a problem in the story, and help "Spartacus" escape. Along the way, students learn more and more about the lesson content. You could compare it with a digital escape room.
Check out this post on creating digital escape rooms using this WebQuest template and your own lesson content.
4. Keep students on track

When teaching from a distance, it's hard to get an overview of what your students are learning/doing at that exact moment. Aren't they drifting away?
I've got two tools that help you keep your students on track.
PearDeck
With PearDeck, you can create an interactive slideshow. Students sign into your PearDeck lesson using the unique code, and the teacher sets the pace of the presentation: when you go to the next slide, all your students will be guided to the next slide as well, making sure they are on the right slide. You can even add interactive elements such as quiz questions and whiteboards. Every student can answer these in real time on their own device. This truly engages students, and you're sure that your students are participating as well.
Live Widgets
Another way to keep an eye on your students is by using Live Widgets from BookWidgets. If you're using BookWidgets inside Google Classroom, MS Teams for Education, or another LMS, you can follow student progress live while they are working in a BookWidgets activity. You can see students answer the questions, and you can immediately see if those are correct or not.
Live widgets give you a quick glimpse of what your students are doing (and not doing). It detects inactivity as well, so you know when a student is stuck and needs help. Read all about the possibilities in this post.
5. Internal links

Digital lessons come with handy features. Try to guide students through your lesson using internal links, such that when a student clicks on "next", they will immediately end up in the right place. From there, they can follow your "digital tour" through the lesson as your internal links are connected and form a closed lesson loop. When you are not around to guide them through the lesson, students can still follow your lesson by clicking the internal links you've added.
WebQuests
Use a BookWidgets WebQuest widget to create a complete digital lesson. Combine videos, images, text, other exercises, and weblinks. Students go through different stages in your lesson. You clearly define the steps in your lesson, and you can build internal links to parts of your lessons to make sure students don't just skip a part.
Check out this webinar about the possibilities of the WebQuest widget.
Powerpoint/ Google Slides
You probably know this one already: Powerpoint or Google Slides and even other presentation tools allow you to link to other slides further ahead. When you give students slides to go through individually, the links give them the right path to follow.
Wrap up
As online learning is new to many teachers, it's also new for your students. I hope this post gave you some new tips and inspiration to get started and make distance learning easy for you and your students.