The 5 step guide to adding interactive exercises to Moodle with BookWidgets
Lucie Renard —
A new integration is in our midst. Besides BookWidgets' recent integrations with Google Classroom and the (Belgian) Smartschool platform, we are now introducing an integration with Moodle. Hooray! 🎉
We'll get to it right away, but first:
What is Moodle?
Moodle is one of the most appreciated free online learning management systems. It provides educators and enterprises with an open source solution for e-learning that is scalable, customisable and secure. It's used worldwide and has a large selection of activities available:
Organize and display courses the way you want on the dashboard and view at a glance current tasks and messages.
Moodle enables you to work and learn together in forums, wikis, glossaries, database activities, and much more.
The calendar tool helps you keep track of your academic calendar, course deadlines and group meetings.
You can also drag and drop files from cloud storage services including MS OneDrive, Dropbox and Google Drive.
Formatting text and adding media and images is very easy with an editor that works across all web browsers and devices.
Notifications make it possible for users to receive automatic alerts on new assignments and deadlines, forum posts and private messages to one another.
These are just the general features. Take a look at the administrative features and the course development and management features.
Just now, we added another fun feature: the possibility to create interactive exercises and automatically graded tests right inside Moodle!
The 5-step guide to adding an interactive exercise in Moodle
What a better way to get a taste of this integration than creating your first BookWidgets exercise in Moodle yourself. After your Moodle administrator enabled BookWidgets in your Moodle environment (they have to contact us to enable this), simply follow these short steps, and you're good to go!
1. Add an activity or a resource
To add a BookWidgets activity, you have to go to that particular course in which you want to share an exercise.
It's important to turn on edititing, so you can add an activity or recourse.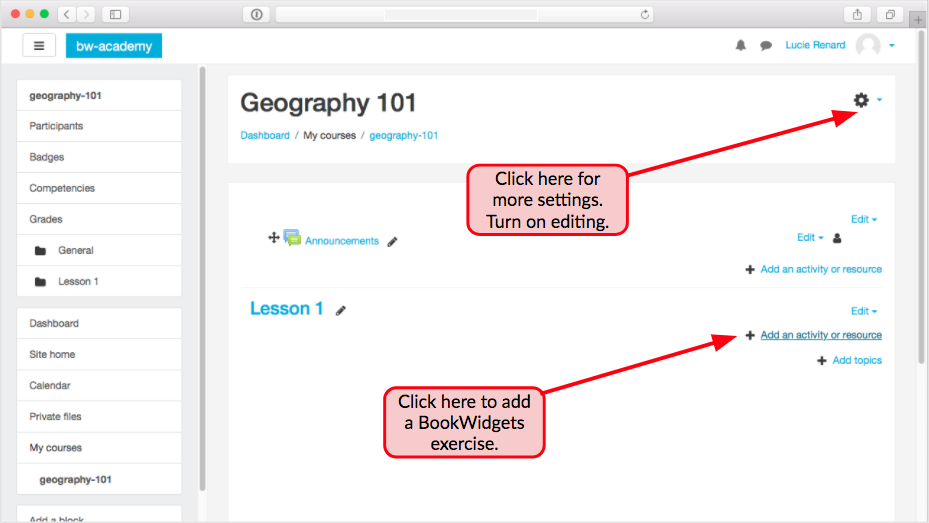 Now, you'll get a list with activities and resources. Choose for the BookWidgets Widget. In case you don't know what a widget is: in this case, it's a synonym for exercise.
2. Create or link a BookWidgets account
When you're using BookWidgets for the first time, you'll have to create a BookWidgets account first. If you used BookWidgets before, you can just link your existing BookWidgets account to Moodle.
You can just stay in Moodle to configure the connection between two platforms. Simply click on the 'Select Content' button to get started. Just don't forget to confirm your email address!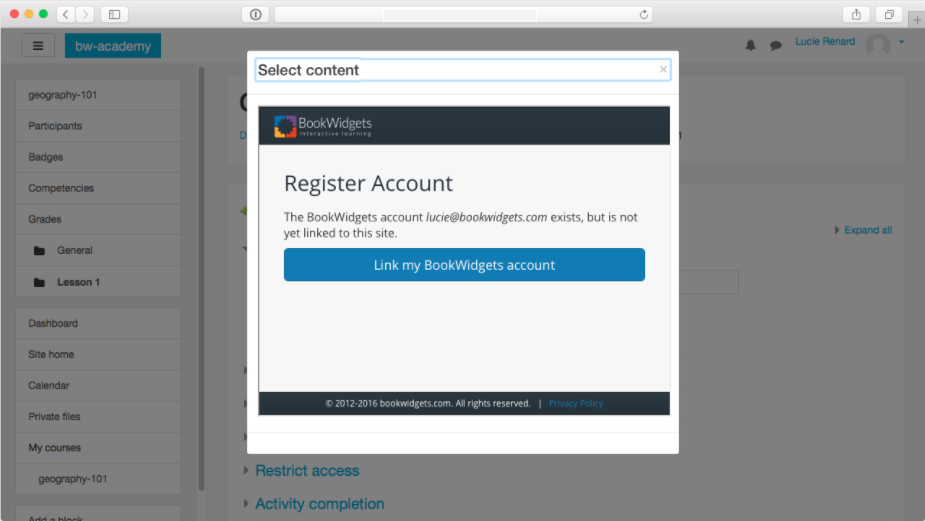 After linking Moodle and BookWidgets, you can close the pop-up screen.
3. Select content
Next step: select content. This short step includes pushing the "select content" button. A little window will pop up. You'll end up right in the BookWidgets editor. Here you can see widgets you've already created before. If this is your first time, using BookWidgets, this will be empty.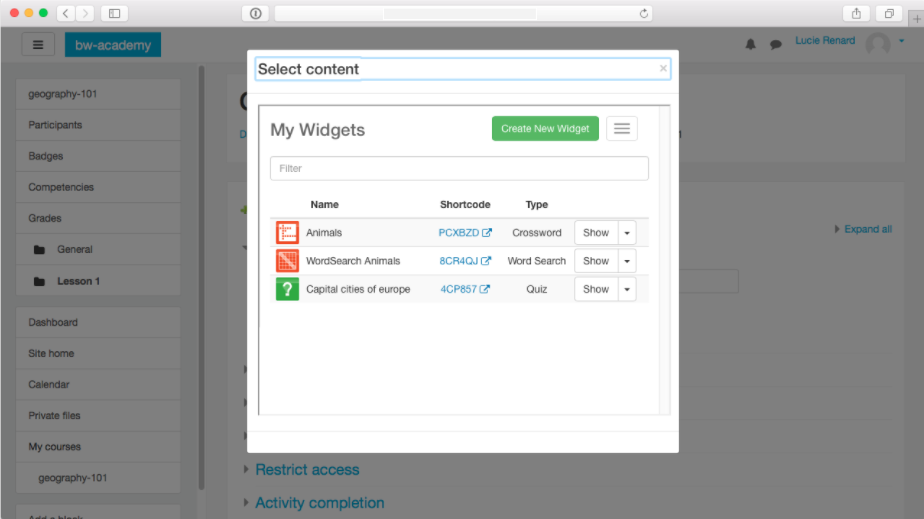 This takes us to the next step: Actually adding a widget or creating a new one.
4. Add a widget or create a new one
There are two options for adding a widget to Moodle:
Add a widget you've already created with BookWidgets before: in this case you can click on the widget you want to choose. It will be added to Moodle.
Create a new widget: click on "create new widget" and choose a widget type. The little pop-up screen will give way to a new tab in your browser. You're now in the widget editor. Follow the template to configure the widget with your own content. When you're finished, click "Done". Your new widget will be added to Moodle.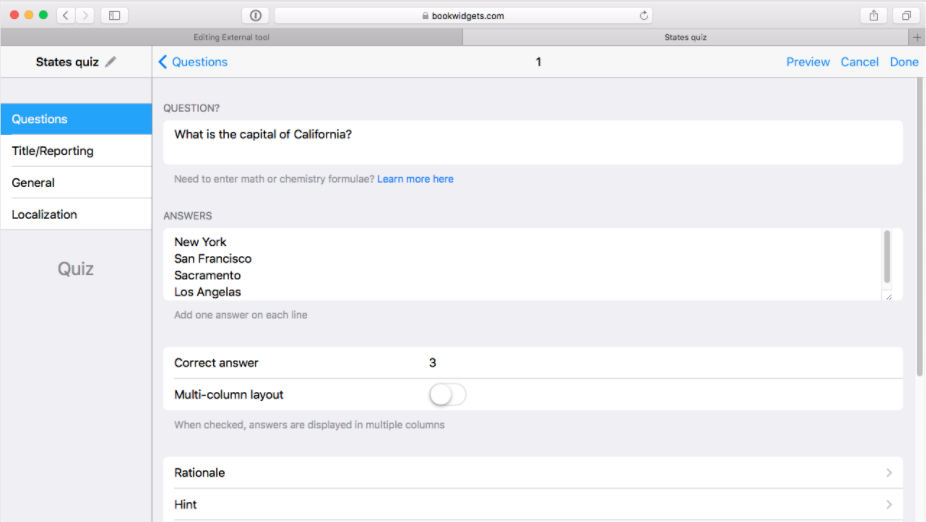 5. Extra options
Moodle has some extra grade and activity completion options that come in handy. You can set a maximum grade and a minimum grade to pass. You can also opt not to give any grades. Not all widgets work with grades, so you'll have to choose that option from time to time.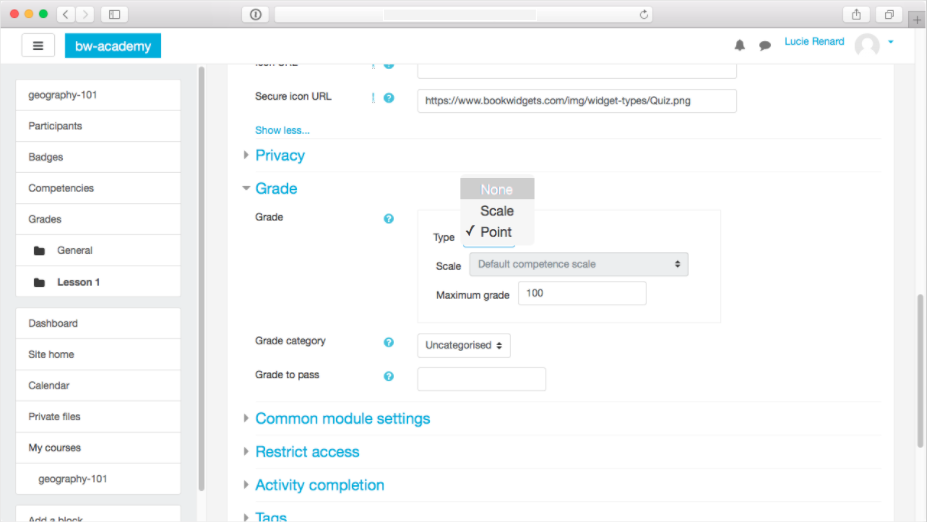 You can also track if students have completed your widget or not. Add some completion requirements as well if you want.
Don't forget to save your widget and options! Once saved, students can start making your widget.
What's next?
You just shared your first interactive widget or exercises with your students. That went great! Here's how it goes next:
Your students go to your course and make the widget. In case you've created a quiz, they'll submit their answers as well.
You go check your students' grades.
You go check your students' answers in the 'Student Work' section of the BookWidgets website, give feedback, adjust grades if necessary and return the work to your students. The changed grades are automatically updated in Moodle.
Students check their grade on Moodle and their answers in their mailbox.
Tutorial
Was this blog post a bit concise to your taste? Don't worry! We've created a tutorial with all the detailed steps from the beginning to the end. Just go through it at your own pace, and you'll be fine! If not, contact us: support@bookwidgets.com