8 Free lesson plan templates fit for your teaching
Lucie Renard —
As a starting teacher, you've probably switched between lesson plan template a few times. What template is the best fit for your teaching, course and grade? I went through hundreds of lesson plans for teachers on the internet to find the best templates you can easily try out and download.
In this blog post you'll find only blank lesson plan templates. If your looking for lesson ideas and inspiration, just start reading our blog.
Let's take a look at this collection of free lesson plan examples!
1. Universal lesson plan templates
This lesson plan template pdf is generic and isn't aimed at any particular type of teacher, trainer, instructor or activity.
All the information you have to enter into the lesson plan should help you to identify and organise the following;
The lesson objective(s)
Tasks and activities to undertake during the lesson or "what you are going to do during your lesson?"
Materials and equipment required
Useful references that you and/or your students can look up
Homework relevant to the lesson content if that's the case
Most of the lesson plan templates are in pdf, but I found a lesson plan template in Word for you right here. Just download the Word lesson plan template and start typing.
Or, even better:
I've made another universal lesson plan format template you can use and fill in digitally. You can download and clear the digital lesson plan template every time you want to make a new one. Click on the image to open it.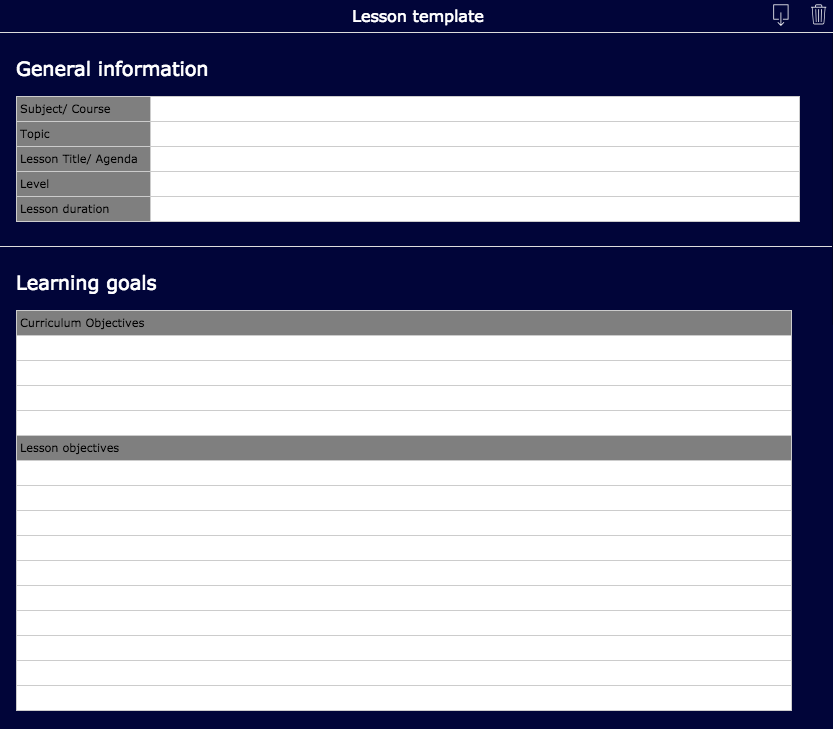 (Here's a tip: with BookWidgets you can make lesson templates like this by yourself, and you can make interactive exercises on tablets for your students. No time left? Don't worry, BookWidgets' tests are automatically graded!)
Lesson plan templates by grade level
All the lesson plan templates are suited for all ages. It's what you put in that counts? Of course it's easier to find a lesson template that already fit the specific needs of students groups like preschool, elementary school, high school and college. Here you go:
If you teach in kindergarten, these lesson plan templates for preschool will definitely help you out!
I found a good lesson plan templates for special education right here.
Here you can find some good lesson plan templates for elementary school.
You can find lesson plan templates for high school above. Most of the lesson templates in this post are for teaching high school students.
And last, lesson plan templates for college students. If you didn't know, you know now: lesson plan templates for high school work for college students as well. In fact, teaching principles don't change when students get older. keep that in mind, and you'll do fine! I suggest using the universal lesson plan template above.
2. Lesson plan template - Daily
When you teach different classes in different grades, you might like to have a daily lesson planner with you.
I found a page which just has some amazing daily lesson plan templates for every teacher. There's not much to it of course, but they come in different shapes. That's why I'm sure, you'll find your fit.
Check out this page on class-templates.com. This website is definitely one to keep close!
3. Lesson plan template - Weekly
This weekly planner might help you to get things ordered. The planner shows the days of the week and the hours of the day on one sheet. Just right for a quick overview and easy to consult when you are planning meetings.
I suggest you use some highlighters for each activity. It will give you a better overview.
4. Course planner templates
After you are done planning each separate lesson, it might come in handy to put them in a course planner. The course planner is meant to get a nice overview of your course and the different lessons in it.
Take a look at this course planner template.
It's very basic, and that's exactly the point!
5. Unit lesson plan templates
I just showed you the course lesson planner. The unit lesson plan format does the same, but on a smaller scale. Every course has its own units or chapters. So how many lessons relate to that one unit? A unit lesson plan is a collection of all the lessons you teach in that unit.
Here's a lesson plan template that's a right fit for that purpose.
You can also take a look at the unit lesson plan template on this website. Make sure to look around, because there might be some other useful templates!
6. Lesson plan templates on Pinterest
Finally, there's Pinterest. If you can't find anything on the web, just go to Pinterest, and you'll find what you're looking for in just minutes. Especially when it's teacher related!
If you're looking for some creative and nice looking lesson plan samples on Pinterest, you have to take a look at this fun template collection.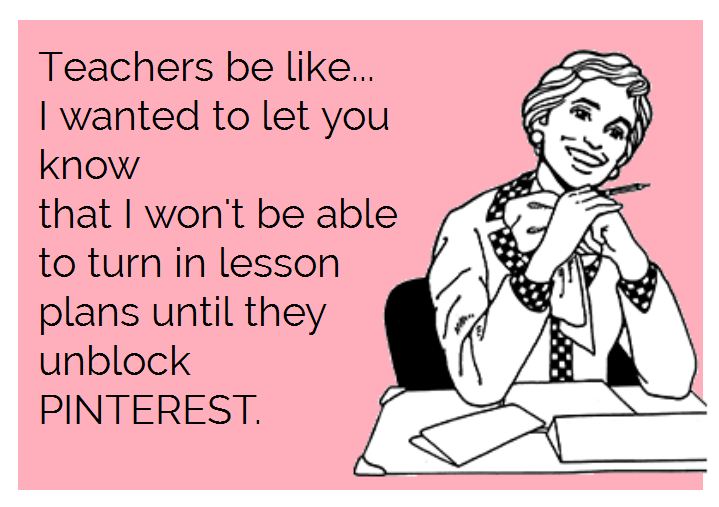 7. Online lesson planner
Common Curriculum is a free online lesson planner that allows you to align your lessons to CCSS and organize lessons by days, weeks, or months.
You can make your own reusable templates with common components such as "essential questions", "objectives", "resources", "homework", and so on.
The long-range planner allows you to create units containing individual lessons. You can even work on them together with your colleagues.
8. Excel lesson plan template
If you're looking for even more teacher lesson plan templates, you should check out this website, which offers lesson plan templates in Excel.
The lesson plan template has 6 main sections in it:
Dashboard
Attendance
Daily Lesson Plan
Weekly Lesson Plan
Homework
Exam Results
Now it's up to you to pick out the right lesson plan template for your teaching. I hope it will soften the struggle of making your own lesson plans! Good luck!

— Updated in June 2019 —