How to prevent students from cheating
Lucie Renard —
Browsing my way through the internet, I stumbled upon a very interesting quote: "We're not here to learn, we're here to get the highest grades."
It's a pity that a lot students think like this. Trying to maximize grades and avoiding failure goes hand in hand with another problem: cheating.
In this post I'll show you how students are cheating and how you can prevent them from doing so.
7 ways students cheat and how to prevent it
1. Cheat pens
Beware the UV pen and the pen with a cheat paper option. Pens don't seem suspicious, but these pens are the top of the top spyware for students. And I'm not even mentioning the pen that can record and play audio files.

Images: CheatingPen - The Polymath
Teacher hack
Distribute pens with the school logo and oblige your students to use them.
When you catch a student with a UV pen, keep it for a while. You can do a fun classroom activity with it! Let your students go on a quest with UV lights and let them investigate the classroom for instructions and answers.
2. Calculator tricks
Students often need their calculator when they take exams. But the calculator is as large as the universe when it comes to cheating possibilities.
Students write with pencils on their black calculator. It's almost invisible to a teacher's eye.
Students hide notes in the calculator's cover.
Student program solutions on the calculator.
Students even replace the screen with their mobile smartphone.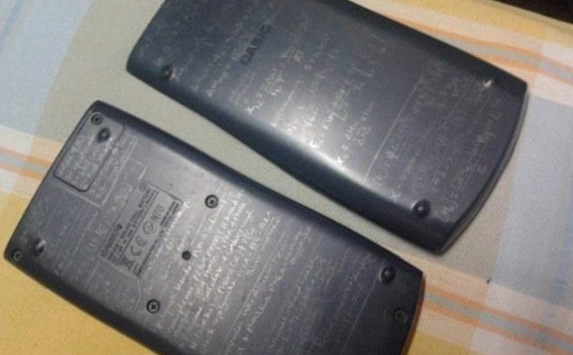 Image: Dailymail
Teacher hack
Collect all the calculators and redistribute them randomly. Cheaters won't have their own calculator anymore. The student who gets the other calculator is just a lucky bird.
3. Water bottles
Thirsty students? No Way! Water bottles on a desk are there to cheat (and maybe for a sore throat). Students cheat their exams by writing on the inside of the water bottle label. They get even more inventive when it comes to water bottles.
Make sure to check the labels thoroughly. Read them. Some students make a sport out of cheating and are getting really good at it. They replace the label by a lookalike label with the answers to the tests on it.

Images: Commics web
Teacher hack
You can ban water bottles, but I'm not sure if that is a good solution. Just make sure to check the water bottles.
4. Smart watches, smartphones and other technology
Smart watches are the optimal cheat tool when it comes to technology. It looks like students are just checking the time, but they are actually copying every word and writing it down like they just got a knowledge boost.
Smartphones and other technology can also be used for cheating.

Images: Smartwatches Android - University Compare
Teacher hack
Most teachers ban mobile devices during the exams. Make sure to check the smart watches too. But what else can you do to prevent them from not lying to you? Students can always say they didn't bring their smartphone with them and they can hide it to use it later.
Take a look at these images to see how these teachers got a hold of it.

Images: Humo
5. The human body
The student's body is the largest cheat sheet there is. Students can just write things everywhere. From their legs up to their nails.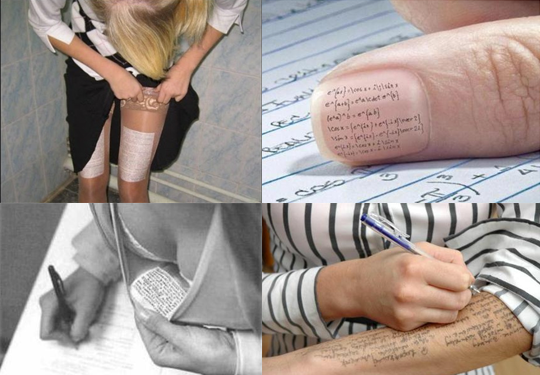 Images: Oddee
teacher hack
Not sure how to hack this one. Sadly, people have not yet invented a cheating detector. I guess you can still strictly monitor your classroom like they do in these examples below.

Images: Humo
Chinese students who take a very important test called the "goakoa" are strictly monitored by cameras to make sure they don't cheat.
6. Fake injuries
Some students are faking, some are not. But that doesn't mean they won't dare to cheat. Watch out for cheat notes on bandages and plaster or visits to the bathroom when a student feels "sick".
Make sure not to overreact. Some students are stressed and really don't feel well.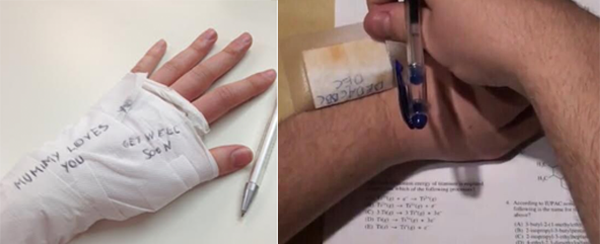 Images: The Tab Nottingham - Daily Mail
Teacher hack
You can kindly ask the student with a plaster to show you what's written on it. That's it. Not much more to do than monitoring your classroom.
7. The most obvious form of cheating
Not much explaining to do here. We all have had that one student who is very bad at cheating.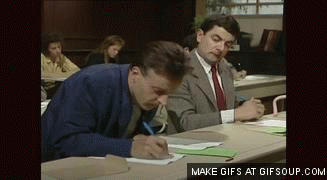 Image: Giphy
Teacher hack
They say that students are inventive, but it looks like teachers are inventive too. Check out these anti-cheating tricks that teachers use to make sure students keep their eyes on their own paper.

Images: Humo
I hope you learned from all these teacher hacks. If you are even more inventive in preventing students to cheat, let me know! There's always room for more teacher hacks.