The BookWidgets Web Editor

Niels Vanspauwen —
Until our recent 4.0 release, you needed to install the BookWidgets tool on your Mac or Windows PC in order to create widgets. While this results in an efficient workflow — especially if you're creating widgets for iBooks Author — not everyone is comfortable with downloading and installing tools. Some people prefer using web-based tools, aren't allowed to install tools by their IT department, work on a Chromebook and so on.
For those people, we have some good news: you can create and edit widgets using the BookWidgets web editor. If you already have a BookWidgets account, you can access the web editor here.
If you don't have an account yet, we suggest you take our guided tour to create your first widget online.
A quick look at how it works
If a picture is worth a thousand words, I guess a video clip is worth a million?
If you're familiar with the BookWidgets desktop tool, you'll notice that everything is organized in a similar way, and that almost everything that can be configured with the desktop tool, can also be configured through the web editor.
The biggest exception at the moment: design customization isn't available on the web yet, but we'll add that in the coming weeks. Oh, and before you ask: widget editing is coming to our iPad app soon as well.
Once you're ready to share your widget with students or fellow teachers, hit the publish button:
Sharing can be done by simply giving students the shortcode, or by sending them a link they can click or tap. Use the handy new sharing dialog to obtain the link for your widget: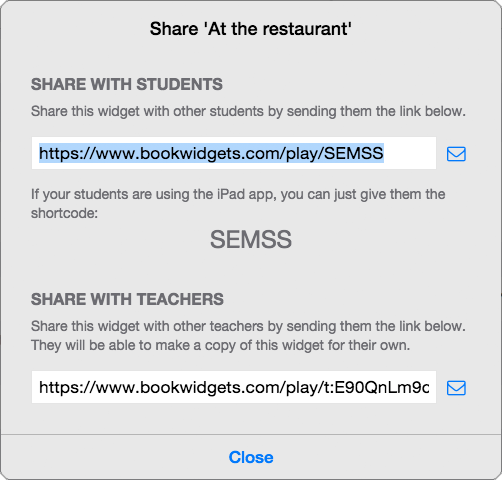 The sharing dialog
The links will work regardless of the device your students are using: on iPad, they will open the widget in our free iPad app, on other devices, it will run the widget in the web browser.
Curious about that "Share with teachers" link? Read all about it in this article.
Using iBooks Author?
If you use BookWidgets to create custom widgets for iBooks Author, you'll probably be more efficient if you use our Mac tool. Widgets created using the desktop tool can be edited and shared via the web tool, and vice versa.
You can download it here.