New in BookWidgets - The autocorrection update

by Lucie Renard — Jan 16, 2020
We all make mistakes. You just created a quiz in BookWidgets, sent it to your students, and suddenly realize you forgot to enter the correct answers for automatic grading, made a typo in one of the correct answers, or gave it the wrong scoring weight. BookWidgets' automatic grading can be a gift from heaven, as long as you don't make mistakes like these (which, even as a seasoned BookWidgets user, still happens to me regularly too).
If this sounds like you, you will be happy to learn that you can now change the grading of your widget at any time, even when some students have already submitted answers.
In this post, I'll show you the new "Update autocorrection" functionality, and you'll learn what exactly you can change in a submitted BookWidgets test.
What's new?
You can now make changes to your BookWidgets quiz, worksheet or split worksheet, even after your students have submitted answers for it. When you do, you get the option to update the autocorrection, so the changes will be incorporated in your existing students' work and grades.
What can you do?
You can change two things:
You can change the scoring weight of a question (e.g. when you forgot to configure it, or you configured it incorrectly)
You can change the right answer of the following question types: multiple-choice, multi-select question, single line, fill-in-the-blanks, fill-in-table and annotate picture question.
Bear in mind that you can't …
… add or delete questions to your tests
… change the order of questions
… add extra answer options or fields to multiple-choice question types and the annotate picture question type
Doing any of the above will put new submissions into a separate section.
How can you use it?
Let's say you created a quiz with a multiple-choice question to find the right capital of Belgium, and your students already submitted answers for your quiz. Then you discover you marked "Antwerp" the correct multiple-choice answer, and auto-grading marked all the students who correctly indicated "Brussels" as being incorrect.
Here's how to fix your mistake:
Step 1: Go to your quiz widget configuration in BookWidgets, and change the correct answer from "Antwerp" to "Brussels".
Step 2: Update the shared copy of your widget.
Any new submissions will now be graded correctly. Now, proceed to update any existing submissions:
Step 3: Go to "Grades and Reporting" on your BookWidgets dashboard, and open the student work that has the submissions.
Step 4: Click on the settings cog wheel, and choose "Update autocorrection with latest widget version".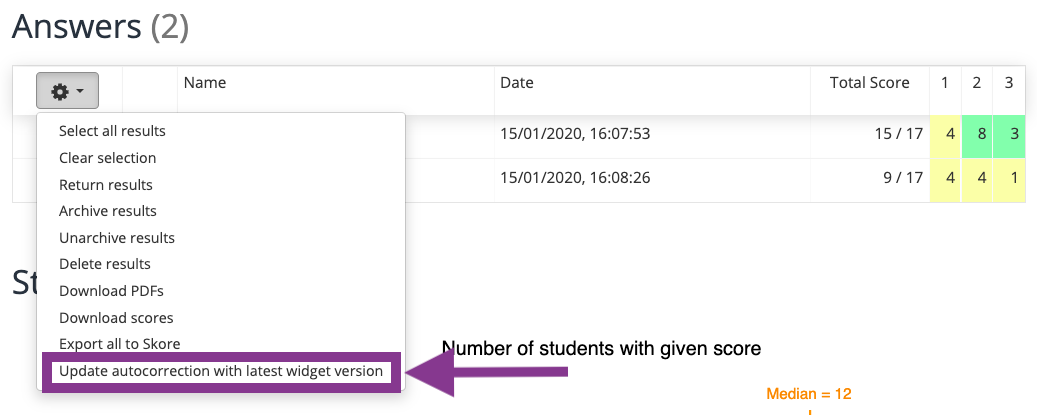 Now, all answers will be automatically graded again, based on the widget or test you just changed. In our example, Antwerp will therefore be marked as incorrect, and Brussels as correct, and the scores of your students will be adapted correspondingly.
And if you made a mistake correcting your mistake (remember, we all make mistakes), don't worry: you can still switch back to the first graded version of the autocorrection; just click the cog wheel again to do so.
That's it! I hope that grading your students' work is now one thing less to worry about.