How to use a timeline in your lessons.

by Bart Buckinx — Jan 08, 2017
What is a timeline?
A timeline is a graphical representation of events in a period of time. Most of the time these events are chronological and typically represented and displayed on a bar. This bar represents the progress of time.
The events can be over a longer period of time or just a day or even less. The events on a timeline can be organised by date (the rise and fall of the Roman empire), by time (your daily diary: get up, brush teeth, back to bed, etc.) or by event (a training schedule: warm up, exercise, …, cooling down).
Organising timelines by date is typically what you can use in a history lesson, but don't feel limited to the history lessons. Timelines can be useful in almost all other classes as well.
In this post I will give you some examples and share some resources you can use to start creating your own timelines.
Some great examples.
Let's start with the obvious: history lessons. Timelines are extremely useful to organise important events over a period of time. This can be events over a longer periode of time (think again about the rise and fall of the Roman empire) or shorter (the lifespan of a person). Take a look at this interactive timeline of the life of Nelson Mandela created by "Time".
Click on the image.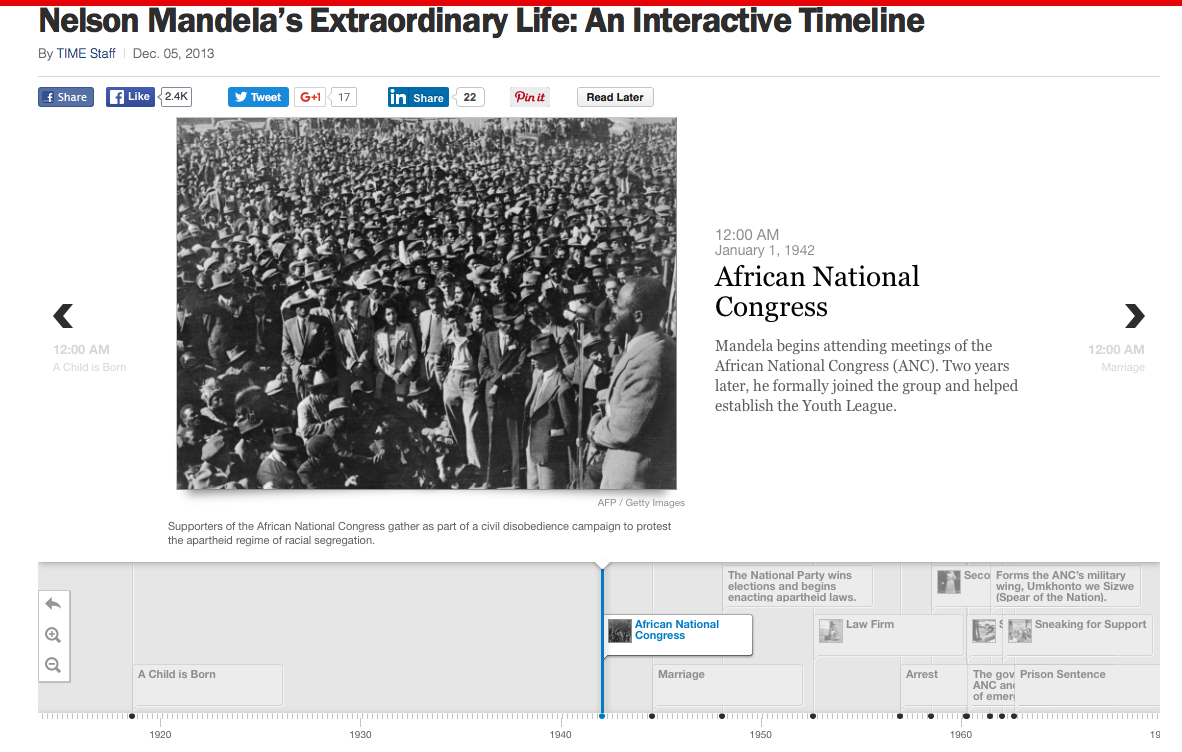 Nelson Mandela's Extraordinary Life: An Interactive Timeline By TIME. Click to open
Companies often use timelines to show their product portfolio. When adding images to such a timeline, it nicely displays the progress done in a certain product line. This is a nice example of the Apple product line.

© History Wall 2016 (http://history-wall.com)
Create your own timeline
With any graphic art software
You can easily make these timelines yourself in any art graphic program like Powerpoint, keynote, illustrator, you name it. Depending on your graphical skills this can be very beautiful, almost pieces of art. Or… not that appealing at all.
Microsoft has some nice looking templates available for Word, Excel and PowerPoint which can be used as a good starting point. But the end result will be a static timeline image with no interactivity. And it depends on your own creativity if this is a good looking timeline or not.
With the online timeline builder
Adding interactivity is what makes a great timeline stand out. There are nice online resources available to make your own timeline. Most of them are free of charge. This is my absolute favourite: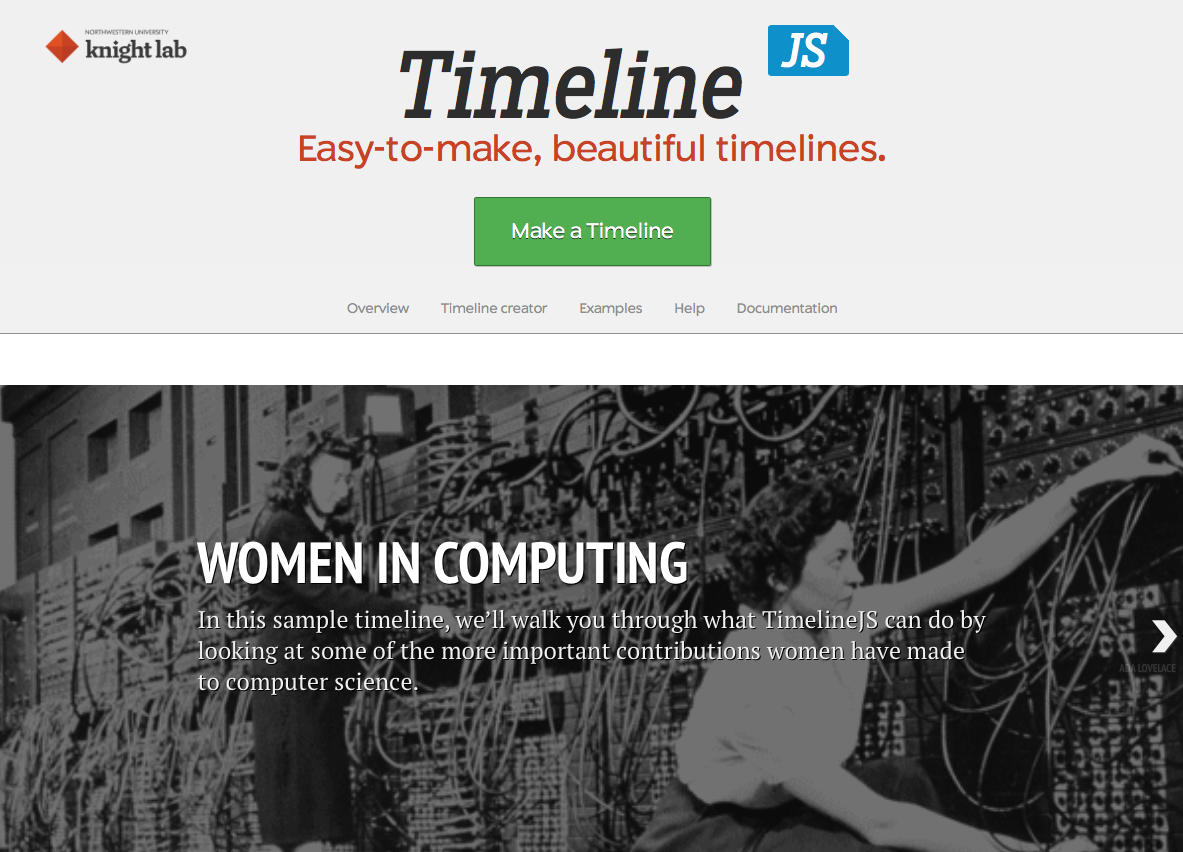 Click to open
Timeline JS is a project of the Northwestern University Knight Lab, a community of designers, developers, students, and educators which develops prototypes, projects and services that help make information meaningful and promotes quality journalism, storytelling and content on the internet. Besides this timeline project, it's worth while your time to explore the other projects as well. The previous mentioned Nelson Mandela timeline is created with this website.
Another nice one is: ReadWriteThink
The timeline builder is a bit buried into all the rest of the info, but fairly easy to use and helpful. Unfortunately it requires flash, leaving iPad and tablets out of the equation.
Add interaction with the BookWidgets timeline widget
All these online timeline builders are lacking some features that would make them even a better pedagogical tool for students:
reporting;
expanding existing timelines with more events;
rearrange the order of events;
sharing your timelines with other students.
All these features are available in the BookWidgets Timeline widget. When creating a timeline, choose one of these 2 modes:
Fixed timeline: this is a static timeline just for viewing.
Editable timeline: allows students to add events to the timeline and change the order of the events.
Editable timelines are very useful in the classroom. The teacher can start with adding a couple of events and students can complete the timeline. The result is available in the BookWidgets dashboard.
Here is an example. Two events are already added by me and the student gets the task to complete the timeline.
Another approach is having a timeline with events in the wrong order. Students are challenged to rearrange the events in the right chronological order.
Another useful application is using a timeline as a reporting tool during laboratory and science projects. Each step in the project will be a new event on the timeline, where students can add a status picture and add some comments.
I found my inspiration here for the following widget:
The student can use this widget to keep track of their progress:

Do it yourself
If you want to start with the timeline widget, here is a tutorial to guide you through the steps: Timeline widget tutorial
Click on the button to start building your timeline in just a few minutes:
To find inspiration, you can always take a look on this website. Here you can find several world history timelines.