5 Easy steps to adding interactive exercises in Apple Schoolwork

by Lucie Renard — Sep 05, 2018
Two months ago, Apple recently announced its newest tool for teaching: the Schoolwork app. Apple Schoolwork is an interactive app to both engage students in your classroom, as well as a way to distribute homework. Hopefully, you had some time over the summer to try it out, so you can start using it in the new classroom.
If you still need to be convinced of Schoolwork's powers, keep on reading. In this blog post, I'll show you how you can add interactive exercises in Apple Schoolwork with BookWidgets. I'll show you how these two apps work together and give you everything you need to create a more interactive classroom.
Just follow the steps carefully, or check out this step-by-step Schoolwork tutorial: Schoolwork Tutorial
How to add lesson materials to the Apple Schoolwork app
In Schoolwork, you can easily add lesson materials of all kinds, but I want to show you some impressive stuff as well. Since the Schoolwork app has some cool statistics, you absolutely need to create and share exercises with your students that are fit for that amazing feature. Get everything out of this classroom app. Here's what you need to do:
Step 1: Download the BookWidgets iPad app
With BookWidgets, you can create fun interactive exercises like crossword riddles, jigsaw puzzles, pair matching games, bingo games, automatically graded tests and much more. Choose between 40+ exercise templates and adapt them with your own lesson content.
Just click this link on your iPad and download the BookWidgets app for iPad or go the app store (iPad) and search for the BookWidgets app.
Step 2: Create a BookWidgets exercise

BookWidgets comes with a large library of exercise types. Let's choose an easy exercise for now: a crossword Puzzle. Building an exercise like this just takes a few minutes. Follow these easy steps. The BookWidgets tool will guide you through:
Sign up in BookWidgets for free.
Create you first widget (or exercise): in this case, we're creating a "crossword" widget.
When done, make sure your widget is shareable by getting a shareable link. You won't actually be using this link if you're using Schoolwork.
Check out this short video below for a more detailed tutorial. You can also check this step-by-step tutorial on your own pace.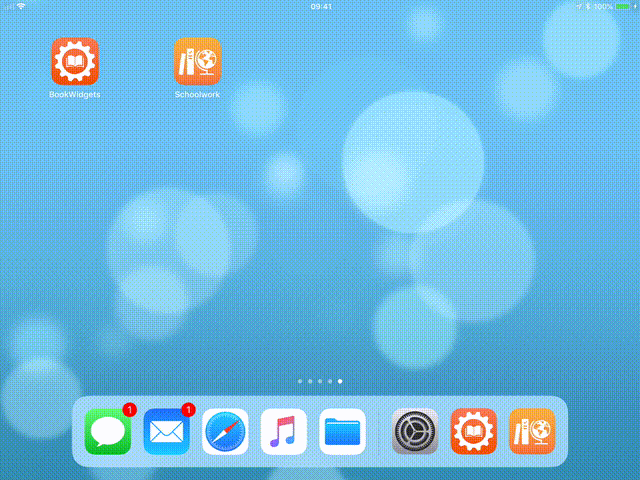 Step 3: Assign work in Schoolwork

Assigning work to your students in the Schoolwork app is pretty easy. After just a few clicks, students are able to open your newly created lesson material. Here's how it goes: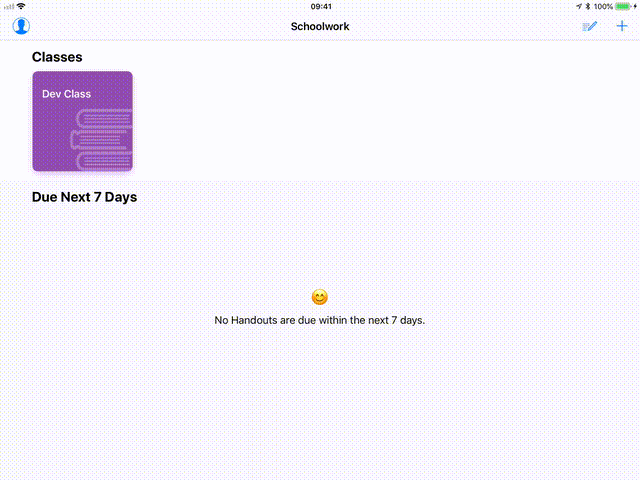 Step 4: Students make the exercise

Students just need to open the work you assigned in their Schoolwork app on the iPad. Within Schoolwork, they click on the exercise and get started!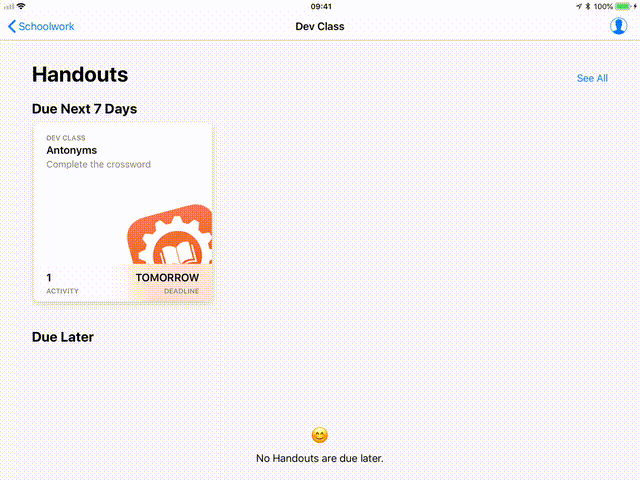 Step 5: Review student work

Schoolwork shows you some pretty fun statisctics. You can review student work instantly, live. You can see their progress and how much they scored on your assignment. Even your students get immediate feedback. They can see their score right away, when finishing the BookWidgets exercise, along with some other statistics.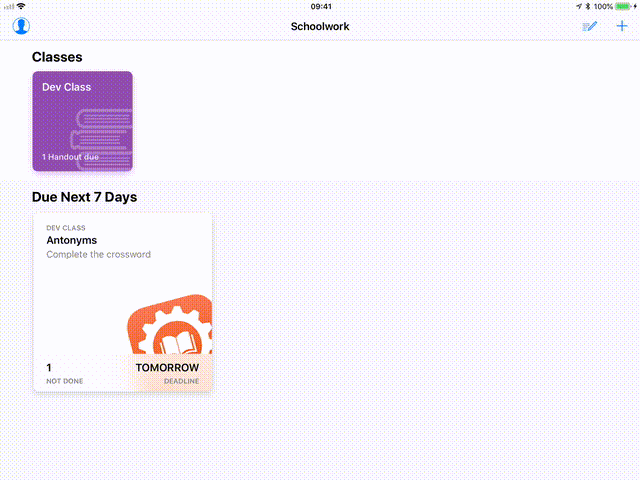 That's it! Looks fun, doesn't it? Check out this blog post that gives you some nice BookWidgets lesson ideas to assign in Schoolwork. That's not all of course! Use your own imagination!
The Apple class kit has some great features and other school apps to take education to the next level.