3 Creative lesson ideas with the Apple Schoolwork app

by Lucie Renard — Jun 27, 2018
And it's out! Apple's newest tool for teaching: Apple Schoolwork.
In this post, I'll talk about Apple's Schoolwork app. What is Schoolwork? How does Schoolwork work? And more important… What fun things can you do with Schoolwork? Read along, and find some creative lesson ideas.
What is Schoolwork?
Schoolwork is Apple's brand new tool for teaching on iPads. In Schoolwork, you can easily assign your students learning materials. Apple allows other apps like BookWidgets to integrate smoothly with the Schoolwork app. This means you can also assign BookWidgets quizzes and learning games (like hangman, crossword, bingo, pair matching, word search…), flash cards, and many other fun widgets to your students.
AND..
You get to track your students' progress live! Schoolwork gives every teacher some important statistics about the assignment students are solving at that very moment!
How does Schoolwork work?
Schoolwork is intended to make it easier for teachers to share learning materials, homework and classroom assignments with their students via iPads. All of this in a safe environment.
Assign work to your students in a few simple clicks. Here's a short preview: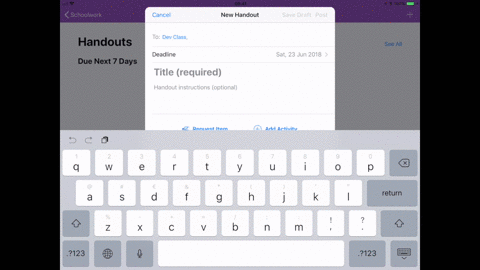 That's it! Now, students can get started. They just have to open the Schoolwork app on their iPad and click on the activity in their feed. As soon as they start working, the app gives the teacher the statistics of every single student and every student gets statistics about his work as well.

Image: Student statisctics examples in Schoolwork
Schoolwork statistics
Schoolwork's statistics give teachers some useful insights about the students and their work. It makes it easier for teachers to follow up on students closely and to take action when needed. And of course… it's so cool! Here are some great advantages of Schoolwork statistics:
You can easily distinguish fast working students from slow working students.
You can see if a student's stuck or didn't entirely complete his work.
You can see how many times it took for the students to solve the assignment.
You can immediately see how many answers were solved correctly and how many answers were wrong.
You can compare a single student with the average score and progress of your classroom.
You can see how many students did their schoolwork, and which didn't.

Image: Teacher statisctics examples in Schoolwork
3 fun learning activities teachers should assign to their students in Schoolwork
As I've said in the beginning of this post, Schoolwork integrates well with BookWidgets and other apps. The integration with BookWidgets is coming very soon. In the meantime, you can already sign up, create a BookWidgets account and try out all its possibilities.
!! Using BookWidgets teachers can create interactive learning games, automatically graded quizzes & worksheets and many other exercises. With the Schoolwork app, you can assign these exercises to your students and track their progress.
Here are just a few amazing things you can do with BookWidgets in Schoolwork:
1. Assign Crosswords in schoolwork
Let's say you want your students to solve a crossword riddle about your course. Create one with BookWidgets and assign it in Schoolwork.
A BookWidgets crossword is easily made and could look like this:
Apple Schoolwork gives you some statistics as well. In this activity, you can see:
how many words the student has found;
how many words are correct and false;
how long the student took to finish the crossword puzzle.
2. Assign quizzes in schoolwork
Most quizzes that are automatically graded limit the question formats to multiple choice questions and true or false questions. But, with the BookWidgets quiz or worksheet, you can do much more.
Here's an example of a quiz with all question types that get automatically graded:
So what does this mean for Schoolwork? Well, you can see
how many questions the student has answered already;
how many questions are correct and false;
how long the student took to finish the quiz.
You'll probably see the value of the BookWidgets quiz as you go true it's questions. So many possibilities. Your students will love making quizzes like these!
3. Assign pair matching games in schoolwork
Let's bring Pair matching games to the next level. Let your students pair up words and images. Pair up translations, definitions and their terms, synonyms, opposites, words and their meaning, idioms, math exercises and their solution, countries and their capital city, and many, many more.
Here's a pair matching example for math: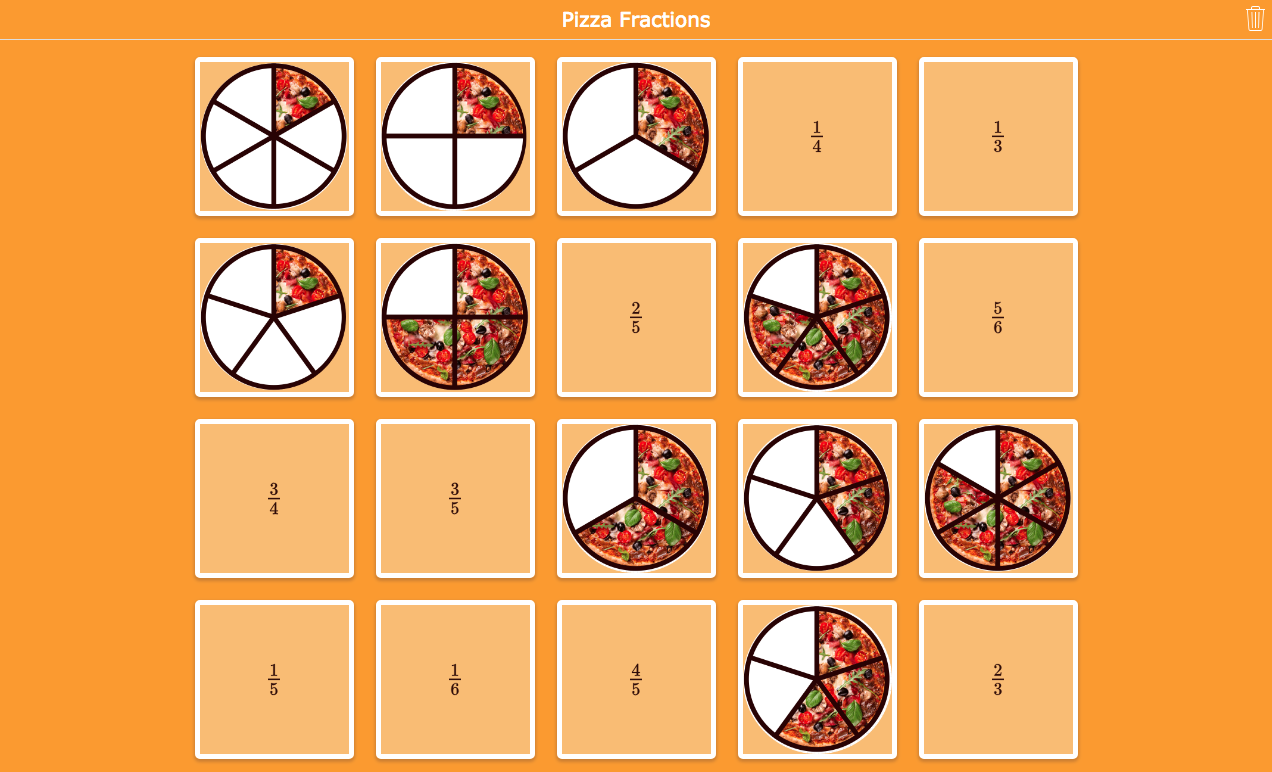 These are the statistics schoolwork gives you about the pair matching widget:
how many pairs the student has found;
how many tries it took the students to find a pair;
how long the student took to finish the pair Matching game.
Reporting & Privacy
When you're already a BookWidgets user, and you want to use BookWidgets in Schoolwork as well, there's one thing you should take in account regarding BookWidgets' reporting options.
What doesn't work in Schoolwork is using the student identity when sending in answers to e.g. a Quiz and making these answers visible in Schoolwork. Students will have to type in their name to identify themselves and you'll have to go through the BookWidgets website to view and grade their answers. That's because all Apple products are built with an integrated approach to privacy and security - providing schools with devices, apps, and services that keep student work and personal information secure.