Digital differentiation examples with BookWidgets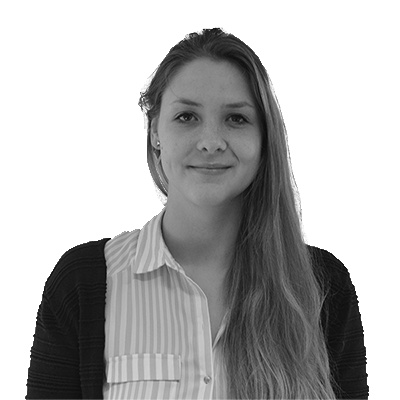 Lucie Renard —
"The limit is your imagination." That's what I like to tell teachers when they ask about the possibilities of BookWidgets. And it's true. BookWidgets is pretty diverse and you can create your own exercises with it, as you like. No more outdated textbooks or textbooks full of the same exercises for every student. Yes, EVERY student.
That means that every student has to make the same exercises, even when they are at a different level of mastering the lesson material.
In this post I'll talk about digital differentiation with BookWidgets and how you can implement it in your classroom. I'll give you some great examples, so you can get started.
Ways to differentiate in the classroom
Levels and stars
When you think about differentiation, you think about helping students with different learning levels. When a student is done with an exercise, you have to be able to give him another, more advanced one. When a student is struggling with the lesson material, you should give him easier exercises until he gets the basics.
In short, you need to have an exercise for every level. It's best to decide how many levels you have first. In most cases you have three levels: beginner, advanced and specialist. You don't have to stick names on it. You can represent it with stars or other figures too. 1 star, 2 stars and 3 stars.
The 2-star exercises are the most important ones. These are in line with your curriculum objectives. You want your students to be able to make exercises like these.
But not everyone learns at the same pace. Some students understand the lesson material quicker than others. But that doesn't mean the others won't get there. They will, they just need more time.
Learning styles
Another angle on differentiated learning is that students don't learn in the same way. Some like to learn, while playing, some like to learn while reading or listening to music. You can certainly provide some solutions for all your students with different learning styles.
Digital differentiation with BookWidgets
Difficulty levels with the WebQuest widget
So how can you create these three different exercise levels and still let your students choose which one they want to make? That's easy.
The most suitable widget is the WebQuest widget. Take a look at this example WebQuest and you'll understand what I mean.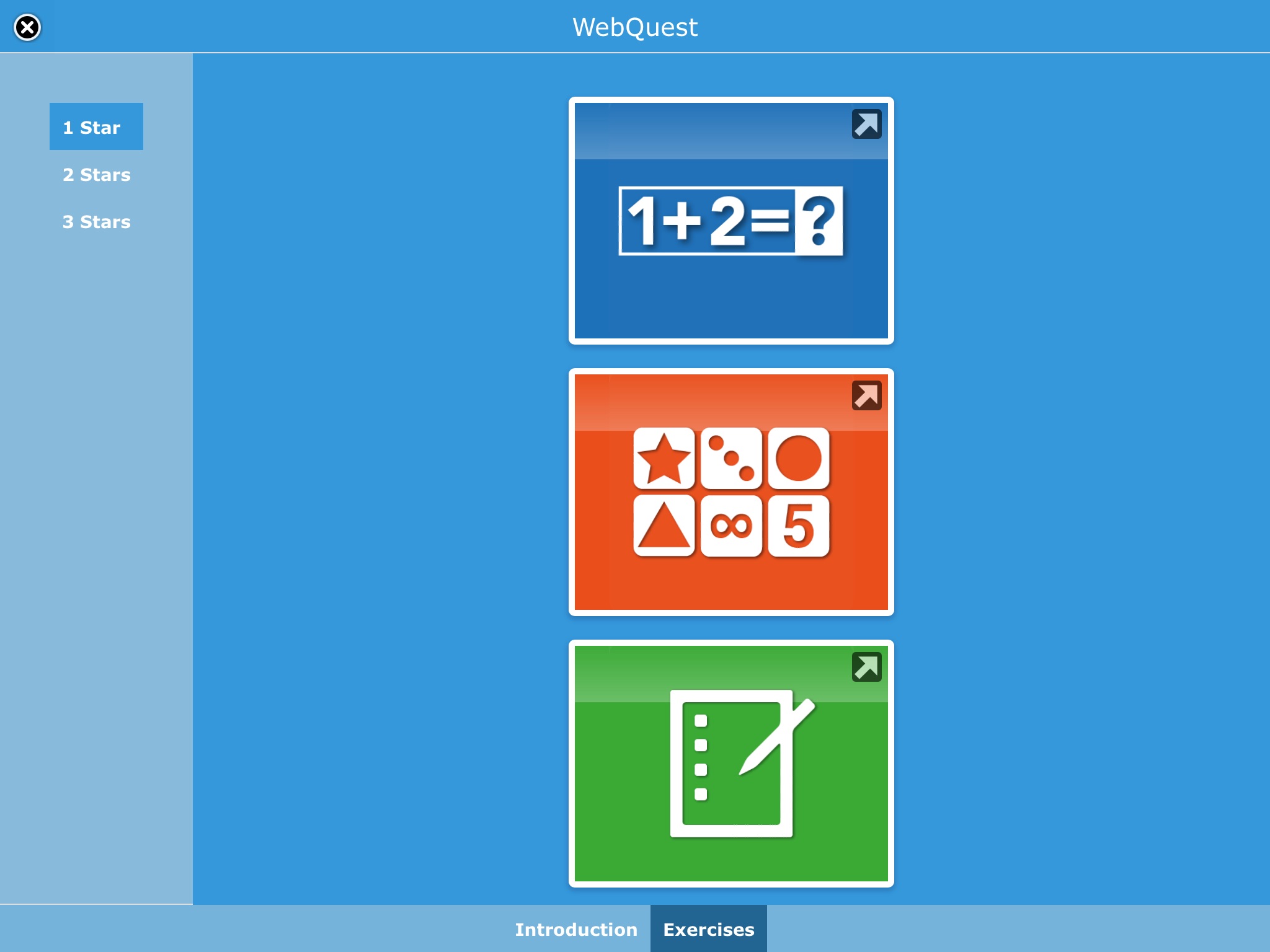 Here students have to make a few exercises. It doesn't matter how many they make, as long as they get 12 stars in total. Which exercises they combine, is completely up to your students.
If you want your students to really try a hard one, you can mention that in the instructions. That way you challenge your students to take the hard road once in a while.
Learning styles with corner work
There's another way you could differentiate with BookWidgets. Like I explained above, some students learn in a completely other way than other students and therefore have different learning styles.
To solve this problem, you might want to think about providing different learning types yourself. Divide your classroom in 4 to 5 corners. Every corner represents a different learning style. Here's where BookWidgets comes in handy.
Make the same learning material four times. The first corner represents the learning material with games, the second uses images, the third corner explains a concept through audio and the last one is built around a text. Check out the following examples!
In this lesson, students learn to translate different kinds of fruit in French. They can choose in which corner they want to learn the lesson material. Students have already learned the translation of the fruits. They have to do some exercises now.
Corner 1
This corner focusses on games and is more kinetic. Of course, all corners contribute to the kinetic learning style because students are working interactively on iPads.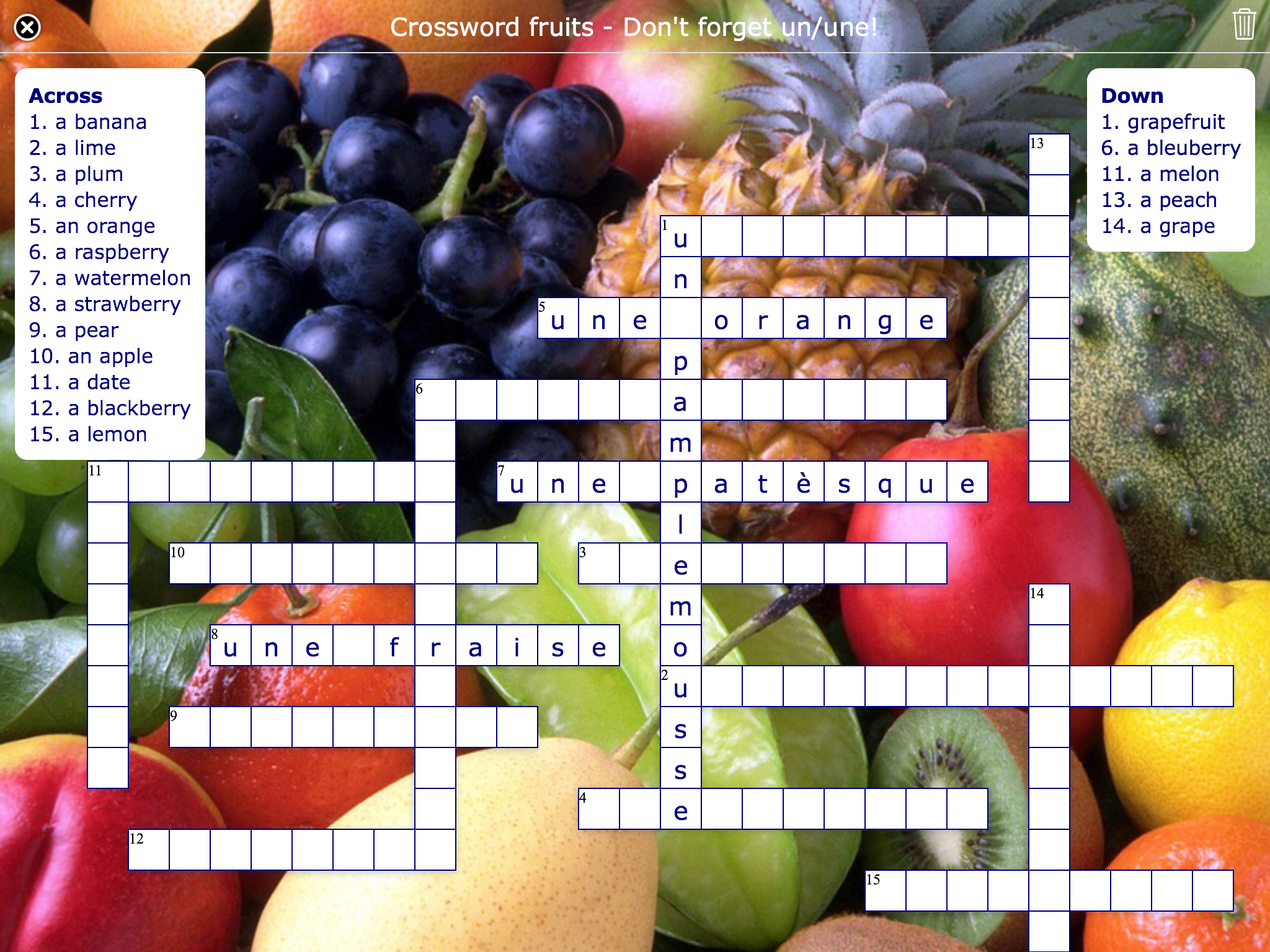 Corner 2
This corner focusses on the visual aspect of learning. Here you can create a lot of widgets with pictures or videos. A great advantage is that you can make every widget very visual by adding a nice background image or examples.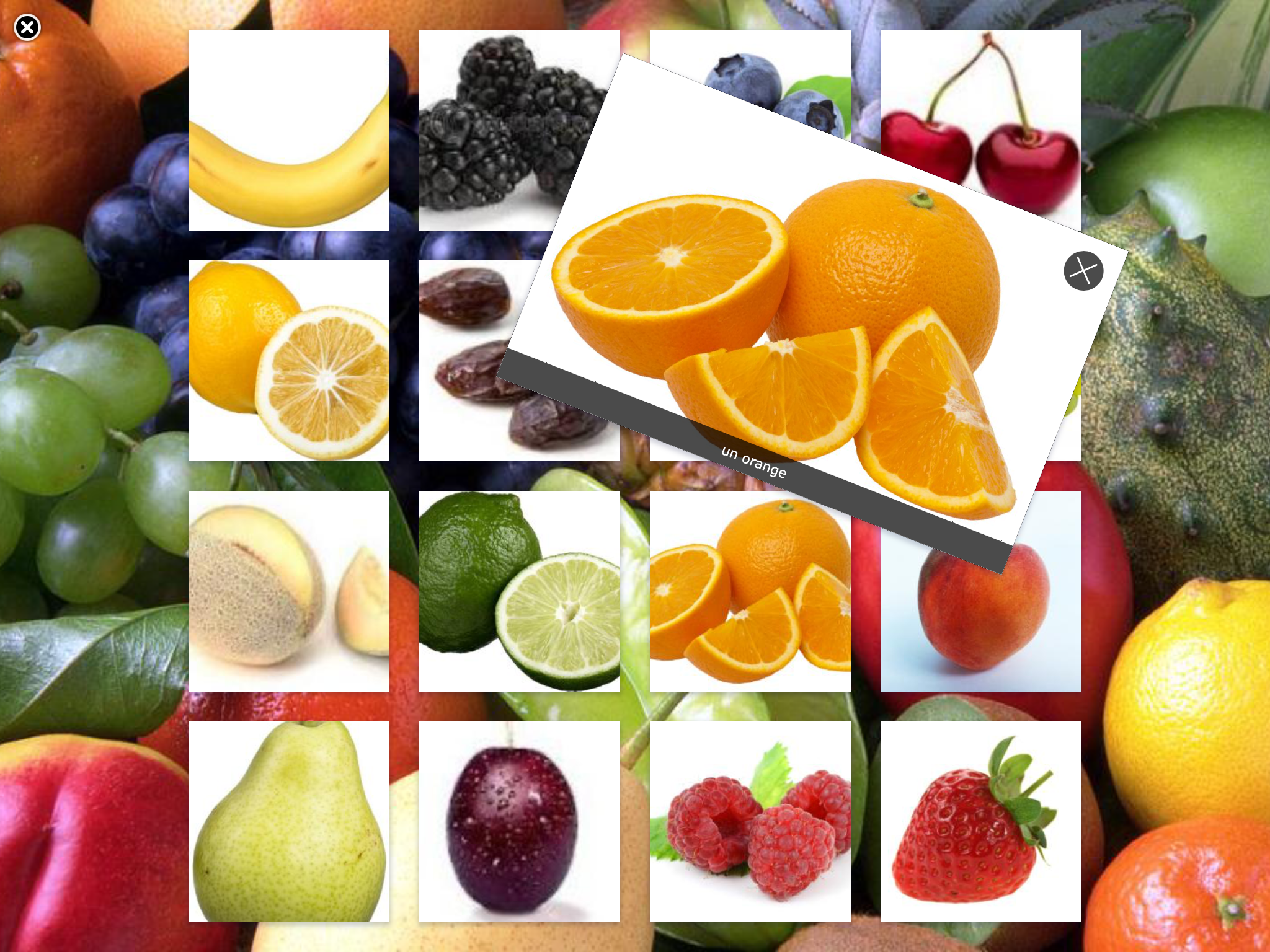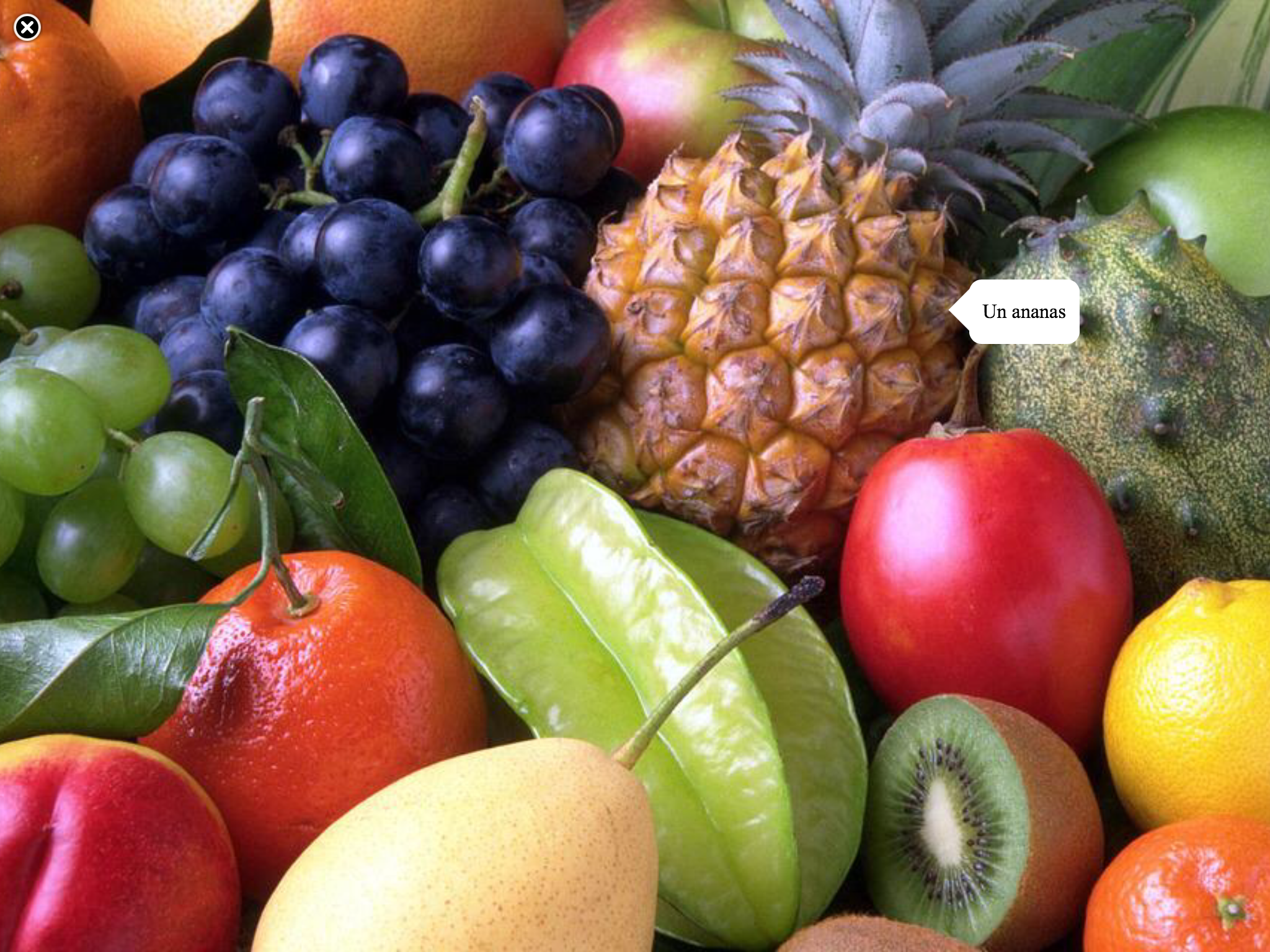 Corner 3
Students can go to the third corner if they want to listen to the lesson material. With BookWidgets it's easy to add audio to your widgets.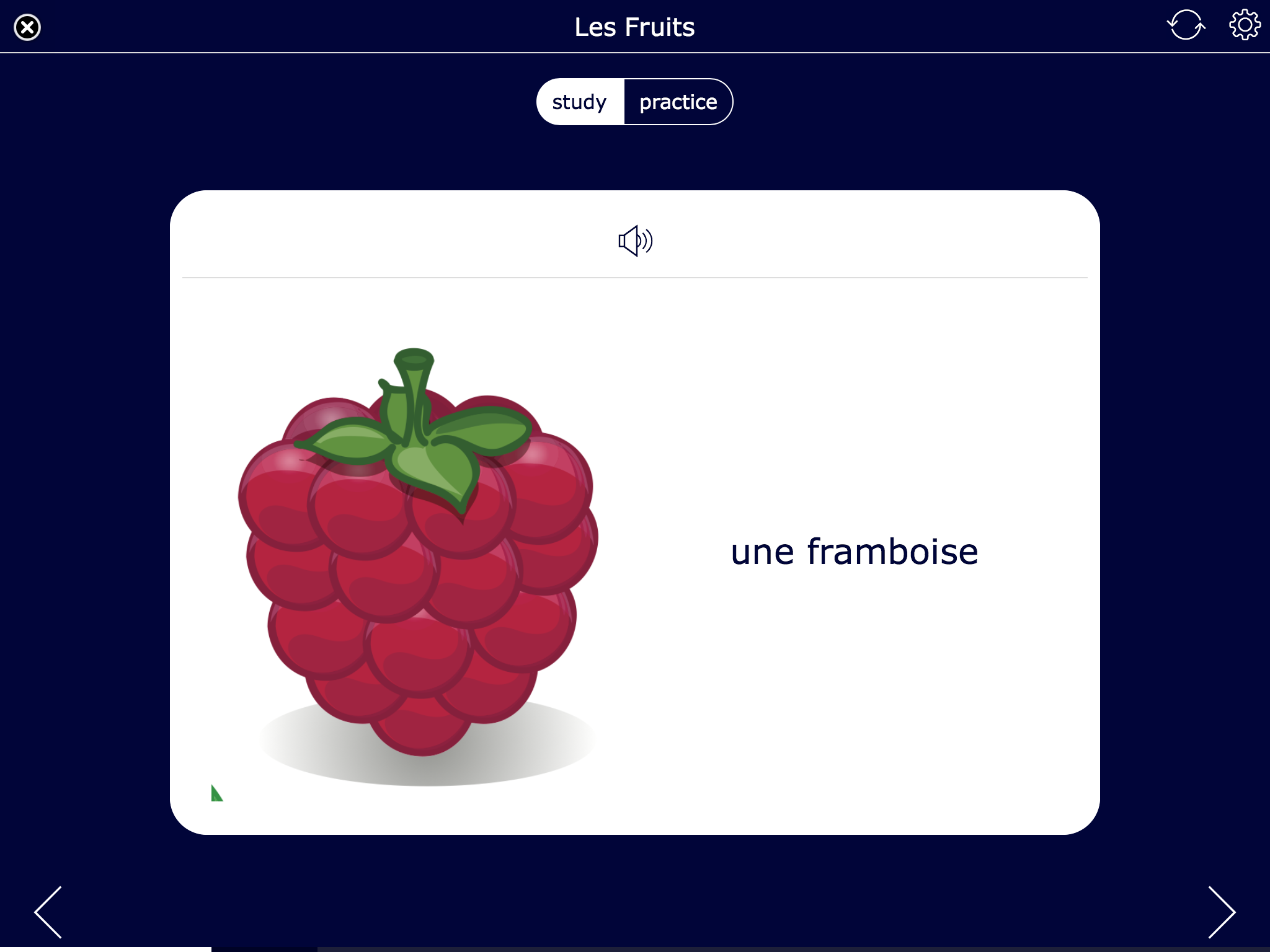 Corner 4
In the last corner, the lesson material is represented in a text. Ask your students questions about the text so they can solve those questions right next to it.
These are just a few examples. You can add other corners with other focusses too.
Of course you can already guess that some corners will have a lot of students and others close to zero. That's why I would suggest to let your students "taste" of every learning style in every corner.
Sharing widgets via QR codes
When you do cornerwork, you have to be able to share those widgets with your students. As they all have their own device, whether it's a smartphone or a tablet, they all can scan a QR code that opens a widget.
BookWidgets has recently updated their app so you could use QR codes in your classroom too. There are a few ways to do this.
1. Making a QR code
Via the iPad app and Browser app
In de BookWidgets browser and in the BookWidgets iPad app, you could share widgets before with a link or via mail. Now you can also opt for a QR code.
When you do that, you can show the QR code of that widget to your students via your iPad, computer or the projector. I would be nice to print it too. In BookWidgets Web browser, you can just copy the QR code, and paste it on a file you want to print out.
Via another website
There are plenty of websites where you can make your own QR codes. Just add a link and let the site generate the QR code. This is a good website.
Then download it, show it to your students virtually or print it out on paper. That's up to you.
2. Scanning a QR code
As you probably know, there are a few apps you could install that are made for scanning a QR code and opening the link that hides behind it. But what if I told you there's an easier way?
If your students don't have the free BookWidgets app on their smartphone or iPad yet, they better download it right away!
Open the app. In the right upper corner your students can choose to enter a shortcode. You could give them the shortcode, but what's the fun in that? They also can scan a QR code. Once they did that, the widget will open in the right format.
Differentiated learning goes by many forms. I just showed you two of them. Take a look at this amazing report to find out more about differentiation in the classroom.