The 10 best language apps for in the classroom
Lucie Renard —
Speaking more than one language increases your chances on the job market. It also lets you learn from different cultures and reduces communication problems.
Then why don't students want to learn languages? Is it too boring? Is it too hard or not "hot" enough? Don't they see the benefits or do they just not care?
Some of these assumptions you cannot change. But others, you can. When you try to make learning languages more fun, it will encourage students to learn. When you are creating success stories with your students, they will crave for more success and learn harder. It's that easy.
The best way to learn a language can be a fun way. So, how do you do that? In this post, I'll show you some incredible language learning apps you can use to teach foreign languages.
The best language learning apps
Language courses
Get your students more active by letting them do fun homework. Not the ordinary language worksheets. Instead, let them learn from these apps below! I'm sure their parents will encourage them even more. When your students have finished an exercise early, you can challenge them to level up in these language apps. This makes waiting for other students not as boring as it actually is.

Duolingo is made for learning foreign languages and was awarded "the app of the year" in 2013. Google invested a lot in the language app. There are 21 languages to choose from.
Students have to set a goal: from 5 up to 20 minutes a day and pick if they are a beginner or not. If not, they have to take a placement test. Duolingo focusses on words and their translation and is very intuitive.
Students even get reminders if they missed a session. The best part is that it's a free learning app.

This language app looks a lot like duolingo, but with a more mature layout. You can choose between 14 languages.
Here, you don't have to take a placement test. Just choose between a beginner or a more advanced student. This might be the biggest downside to the language learning app.
Nevertheless, don't turn it down because of that. You can practice wherever you want because it also works in your web browser!
The first session is free, but when you want to go further, you have to register and pay a monthly amount.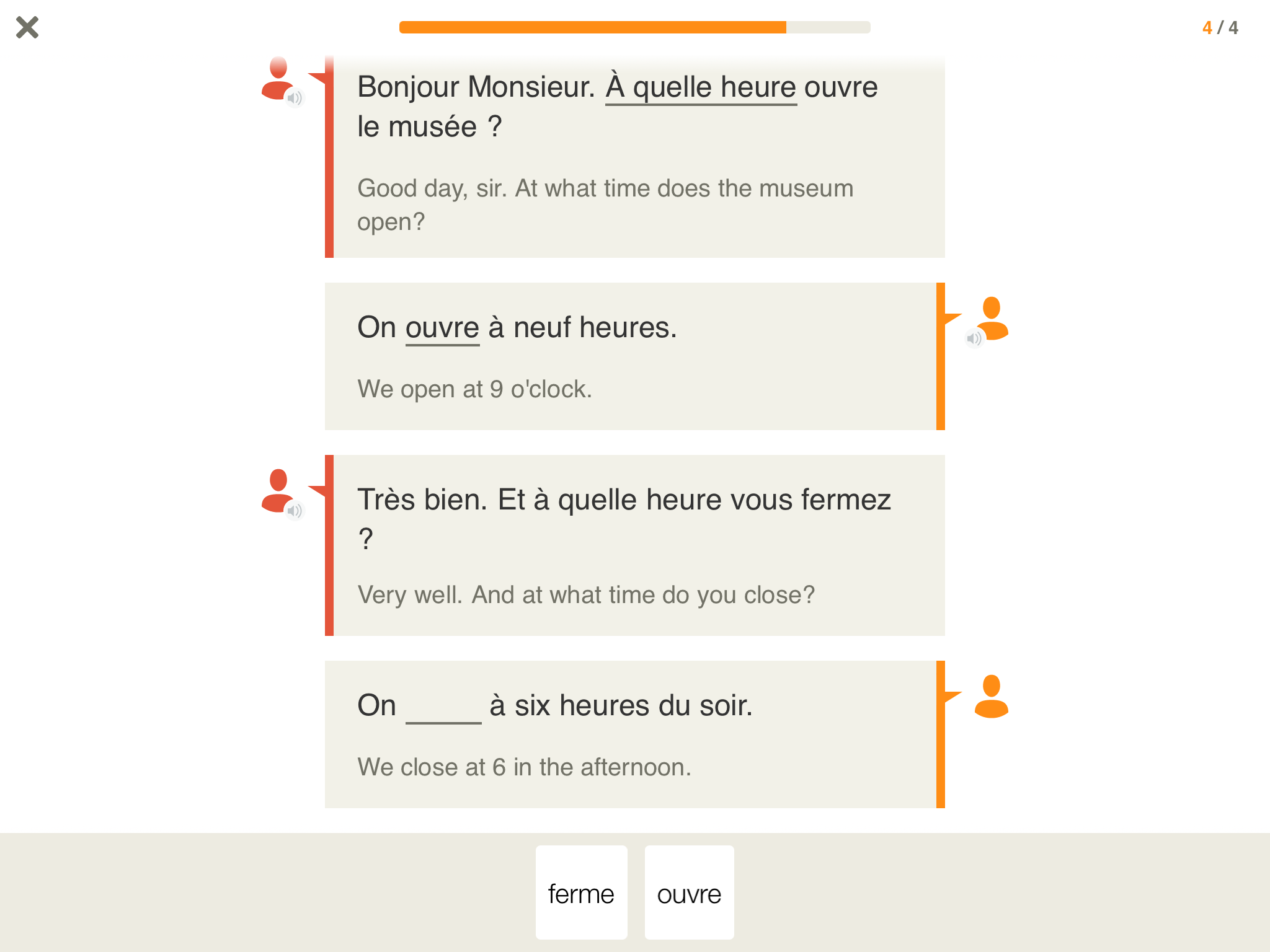 Just like the two apps above, this app teaches you a language. Choose from 12 languages and choose if you are a beginner or not. If not, you can just jump into a lesson further down the road.
The basic version is free and teaches you a language using flashcards.
Busuu also has a community. Help other language learners by exchanging tips of your mother tongue. That way you are learning a foreign language, and also helping someone else to get a hold of your own language.
Language games
Let your students play educational games between short lesson breaks or quiet moments. Some students have finished their work earlier than others. So why not reward them by letting them play these games? If the money is a problem, you can ask their parents to buy the app. That way, parents will motivate them even more for playing the language game at home.

This language gaming app makes learning foreign languages fun and easy. It helps to build your vocabulary, but also aids you in strengthening your conversational skills.
The app offers eight amazing games to help you master over a thousand words and phrases. Each language has about 50 lessons designed by Ivy League instructors.
Only the first couple of lessons are free, though. To have access to all fifty lessons you have to pay around 5 dollars.
After learning some words, you get to practice them by playing a fun game. You keep playing the games until you really know all the words. then, you level up!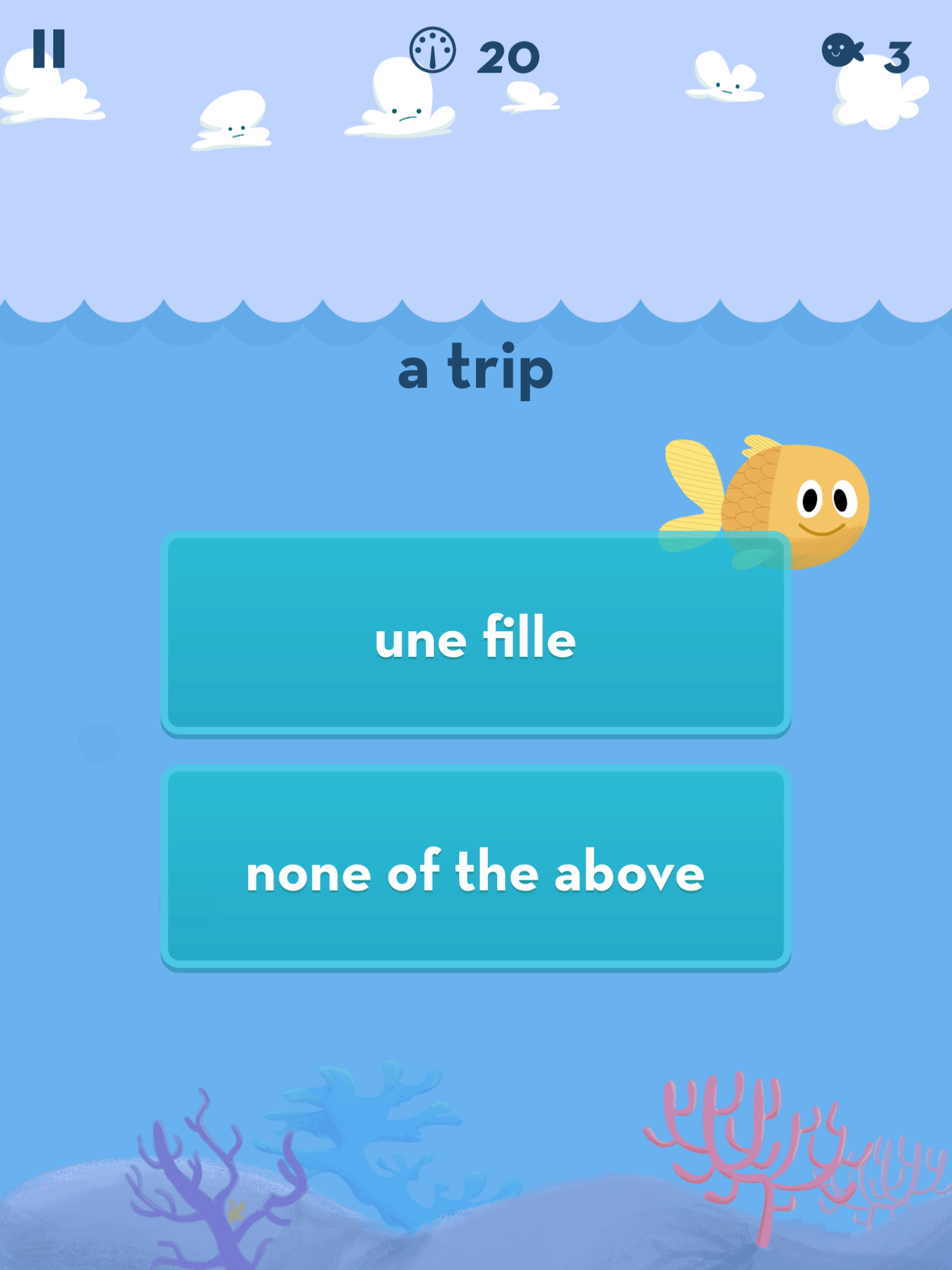 This apps works just like Mindsnacks. The only difference is the layout and the games you have to play.
Level 1 to 21 is free and to unlock all levels you have to pay 5 dollars.
In order to play another game, you have to get 80% on the first set. This means you have to keep practicing until you understand the most of it!

Count to Ten, the International Numbers Game is a game which teaches students how to count from one to ten in whatever language they choose.
Although the only vocabulary words that can be learned are numbers, this is still a very useful app and fun game. The game challenges players to compete against others in duels to get the highest score possible.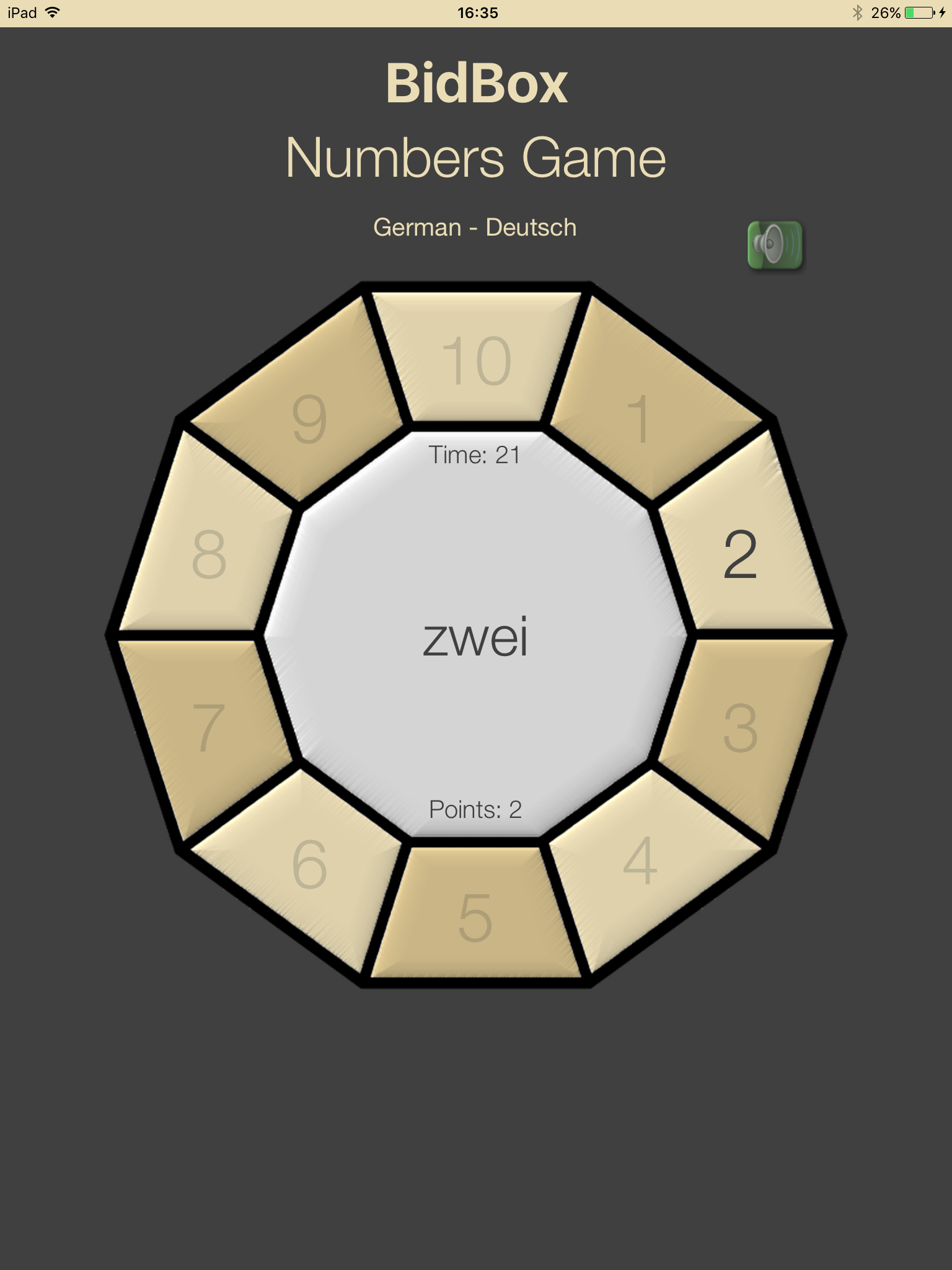 You could say this is more like a language course, but it's not. Because of the storyline and images, it's more like a game. One in which you travel to a foreign planet as a spy. You score points for correct answers.
The bulk of the lessons consists of memorizing specific words and phrases using mems, which are strange sentences or images.
The app's basic functionality is free, but a subscription will give you access to additional games and an offline mode.
Q&A & social sharing

This app teaches you all the basic sentences you need when you take a holiday to that certain country. Keep the app with you and browse through it when you want to explain yourself and ask for something simple.
You can download the basic version for free or pay 5 euros for the complete version. When your students visit a foreign country, this app might help them a lot.
The language app is divided into 12 general themes. All themes are addressing topics you'll need when you are traveling. So this app can come in handy for you too!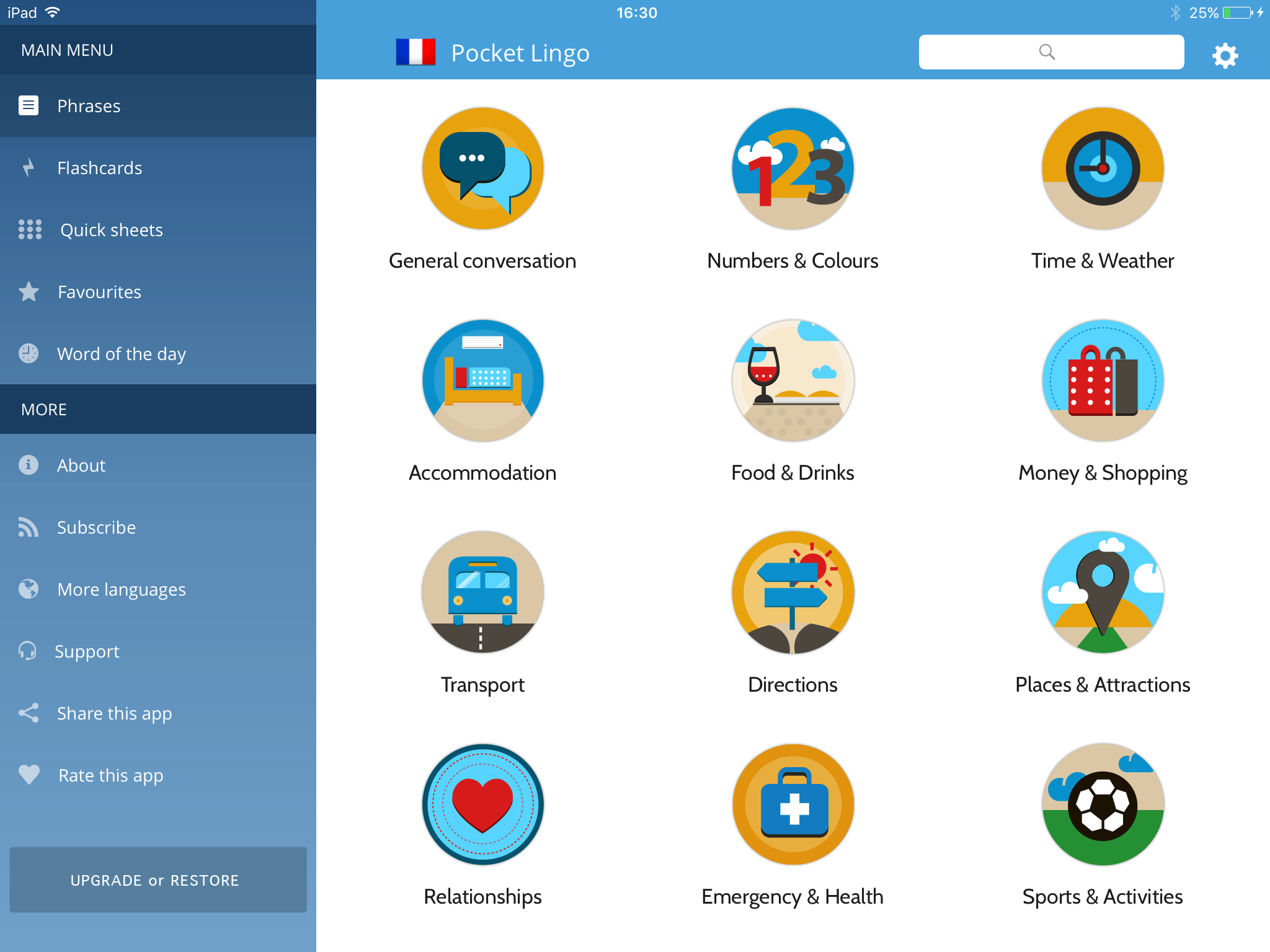 HelloTalk is the first global language and culture exchange community that connects you with native speakers of other languages.
Search for people whose needs match yours, practice your target language with native speakers via text or audio messages, use the free audio and video call to better practice your listening and speaking skills, share moments with other members and get likes and comments, use some other specific learning features such as the translation tool, grammar correction, text to voice feature, and voice recognition to improve your writing/speaking skills.
This app teaches you to communicate in a foreign language with other people. Start a conversation and they will correct you. It's free and you get to make new friends. Let your students start conversations with people as a fun and real time exercise.
Language content creation

If you want to make your own content instead of following every word in these apps, you should try out BookWidgets. Learning languages with BookWidgets is possible too. Choose between more than 40 different exercise templates to add your own content and make learning interactive.
Let students solve your exercises on their tablets or computers. You can even make great language games in just a few minutes. Check out these fun examples in this post: 7 creative ways to teach languages.
Explore the bingo sheet, a pair matching exercise, the crossword puzzle, the randomness widget and many more. Your students will love it!
I hope I've inspired you to use these apps to illuminate your language lessons. I'm sure your students will like this way of learning combined with the traditional way. A little bit of interactivity and gaming in the classroom never hurts.