Transforming paper worksheets

Niels Vanspauwen —
Ah, worksheets. It's a sensitive topic with many educators, isn't it?
Good or bad, the reality is that worksheets are the workhorse of many classrooms. With iPads and Chromebooks taking the educational world by storm, a common question is how to transform worksheets for tablets.
In this post, we'll show you a couple of options.
Converting paper worksheets to PDF
Chances are that you create your worksheets using Word. If so, exporting them in PDF format is straightforward. On Windows 10, or MacOS, you can simply use the print to PDF option from the File - Print menu. If you're on an older version of Windows, you'll need to install a PDF printer. Have a look here for step-by-step instructions on how to do that.
Many publishers provide PDF copies of their worksheets, but in case yours doesn't, you can also use the camera on your phone or tablet to convert them to PDF. I highly recommend using Microsoft's free Office Lens app, which is an outstanding document scanning app available for iOS, Android and Windows.
OK, great, you now have a PDF copy of your worksheet.
Next step is to send it to your students, and enabling them to annotate it.
Annotating PDF's
Not too long ago, you needed separate, fairly expensive PDF annotation apps but these days, there are several great tools available that combine distributing, annotating and collecting assignments into one slick workflow. While not quite as powerful as dedicated PDF annotation apps, they do the job in many cases.
These are our top picks:
Schools using Office 365
If your school is already using Office 365, you should take a good look at OneNote Class Notebook.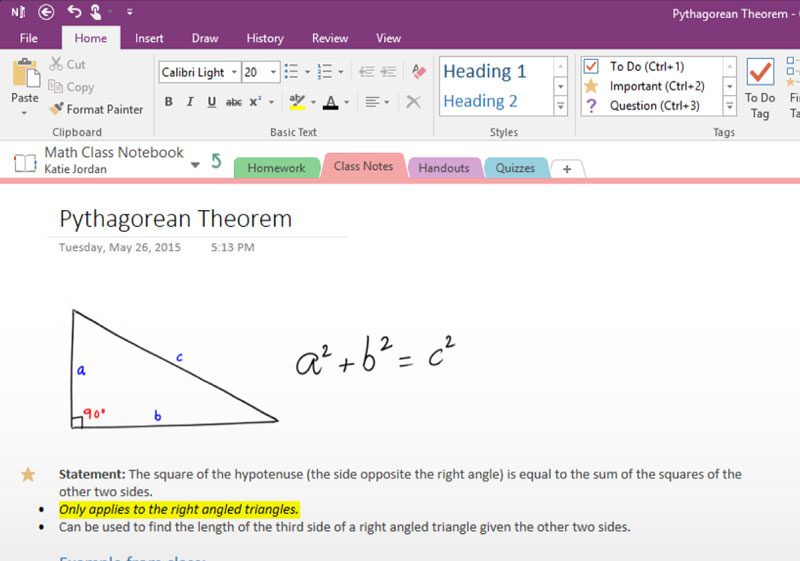 Annotating PDF worksheets with Microsoft OneNote
Among the many great features is the ability to write or draw on top of any document. It takes a bit of setup and getting used to "the OneNote way of doing things", but it's a solid note taking and annotation app.
Schools using G Suite for Education
If your school uses Google's G Suite for Education (formerly "Google Apps for Education"), the free Google Classroom app is a natural choice for sending documents back and forth between students.
It provides intuitive tools to write, mark, highlight and draw on top of PDF documents.

Google Classroom annotation tools
Schools using iPads
Microsoft OneNote and Google Classroom are of course available for the iPad as well, but Apple also comes with its own offering that's well worth a look: iTunes U.
iTunes U lets teachers build, distribute, collect and grade PDF assignments, among other things. It also contains basic PDF annotation tools that students can use to draw on a PDF.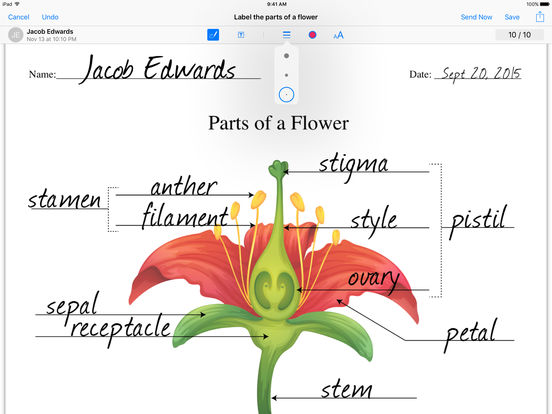 The simple annotation tools built into iTunes U
One of the main advantages of iTunes U — and many other Apple apps — is simplicity. It may not be as full featured as some of the other contenders, but it is (for the most part) straightforward to use.
A cross-platform, premium choice: Showbie
Last, but certainly not least, is Showbie. Showbie's a versatile, quality app that streamlines several classroom workflows, including handing out and collecting assignments.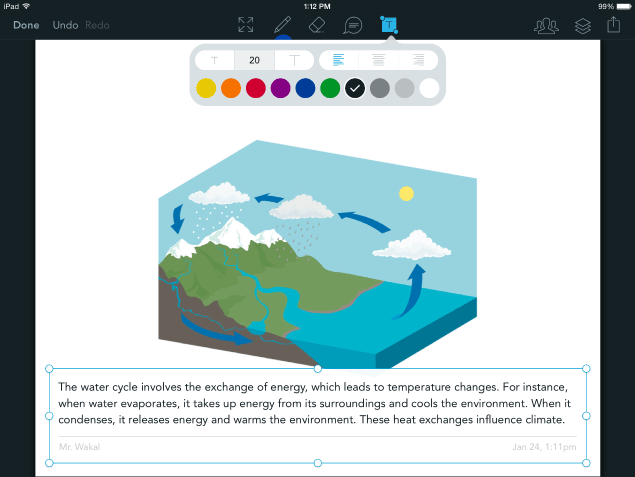 Showbie provides a rich set of annotation tools
The free version contains basic PDF annotation tools, with more powerful tools available as part of the paid version. It integrates with 100's of other apps, so don't dismiss it too quickly for one of the free alternatives.
Showbie is available for iOS, Android, Chromebook and Windows PC.
Beyond PDFs: interactive worksheets
There's a problem with all these systems though. They make it too easy to assign static worksheets that don't challenge, engage and empower students in their learning.
A PDF worksheet is still… just a worksheet. It doesn't take advantage of the huge potential of the powerful tablets that students hold in their hands.
Interactive worksheets — such as those created with BookWidgets — can include instructional videos, and can have many different question types leveraging touch screens. They can be automatically graded, providing students with instant feedback. This reduces the workload on teachers, and speeds up the learning cycle for students: win-win.
An interactive worksheet created with BookWidgets
Some teachers have an entire year's worth of worksheets printed and ready to go before the school year starts. Many use pre-printed workbooks provided by publishers. But this assumes that all kids are similar, and learn at the same pace.
Differentiated learning ensures that what a student learns, and how they learn it, matches that student's readiness level, interests, and preferred mode of learning.
Being able to quickly tailor a worksheet to a student's needs — or even better, having worksheets automatically adapt to student needs — is a huge help for differentiated learning. Interactive worksheets can provide this.
Another big advantage is that these worksheets can use the accessibility features built into iPads, such as VoiceOver; a tremendous help for vision impaired or dyslectic students.
How to create interactive worksheets
BookWidgets makes it easy for any teacher to quickly put together interactive worksheets. Take a look at this step-by-step tutorial:
The key is to start small. Start with replacing just one worksheet with an interactive widget and see how it goes. Watch the reaction you get from your students. Try out one of the many other widget types to leverage the power of your tablets. You'll find that it challenges and motivates your students, and engages them in ways no paper worksheet ever can.
Why not give it a try right now? It's free to get started.