Using BookWidgets in the updated Google Classroom

by Lucie Renard — Aug 14, 2018
Just a quick update on the new Google Classroom update and how this is affecting our BookWidgets Chrome plugin.
First: If you're still working in Google Classroom courses created before the update, everything will work just fine. You can still find our BookWIdgets button when clicking on the "+" to assign new tasks.

Second: If you're working in a newly creates class or course in Google Classroom: don't worry! You can still use BookWidgets in Google Classroom, but there have been some small changes on where to find our BookWidgets button. I'll show you in this blog post.
Here's a tutorial about it, or you can just read along: Tutorial Google Classroom
Working from inside Google Classroom
Sharing widgets
Just follow these steps and you'll be fine. The workflow is exactly the same. But things are in a different place. Here's what you need to do:
Log in to Google Classroom
Go to "Classwork"
Click on "Create"
Choose for a BookWidgets exercise (That's possible when you've installed the BookWidgets Chrome plugin.)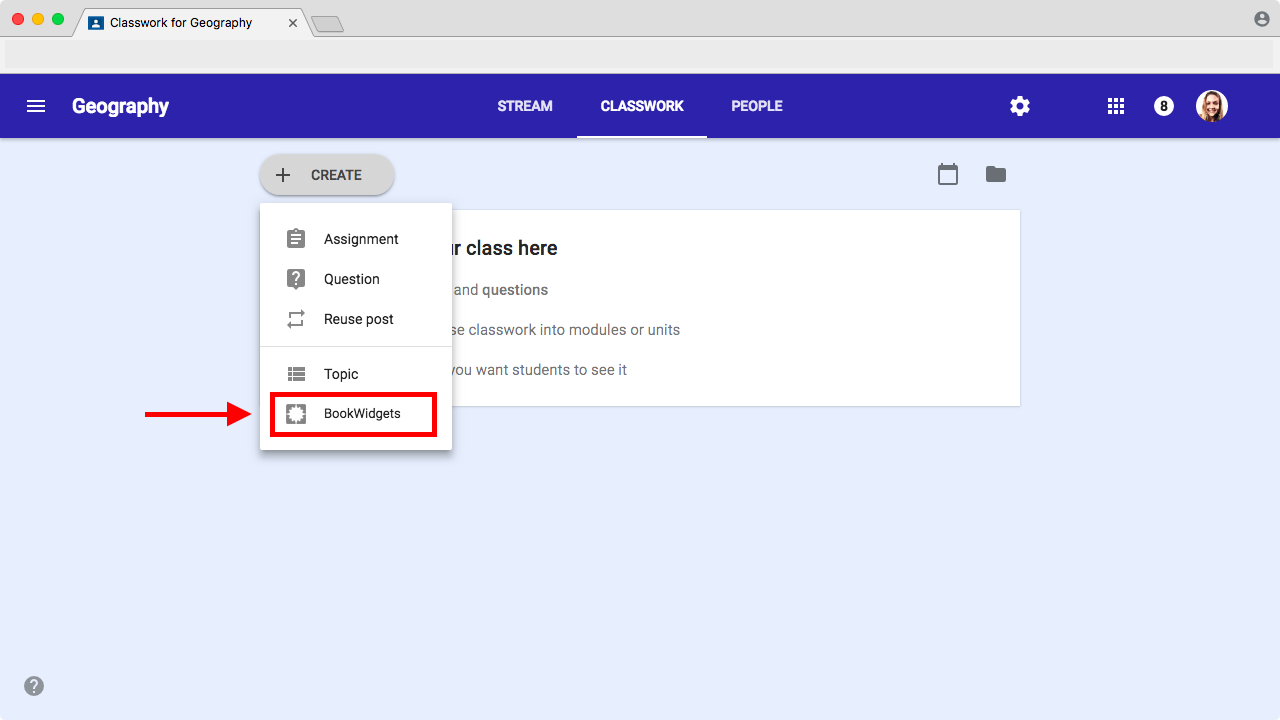 From there on, everything works just the same as before! The BookWidgets environment doesn't change.
Reviewing student work
When you assigned your student work, and the student has handed it in, this is what you have to do:
Go to "Classwork"
Click on the widget or exercise, you just assigned to your students
Click on the work that has been handed in
The rest works just like before!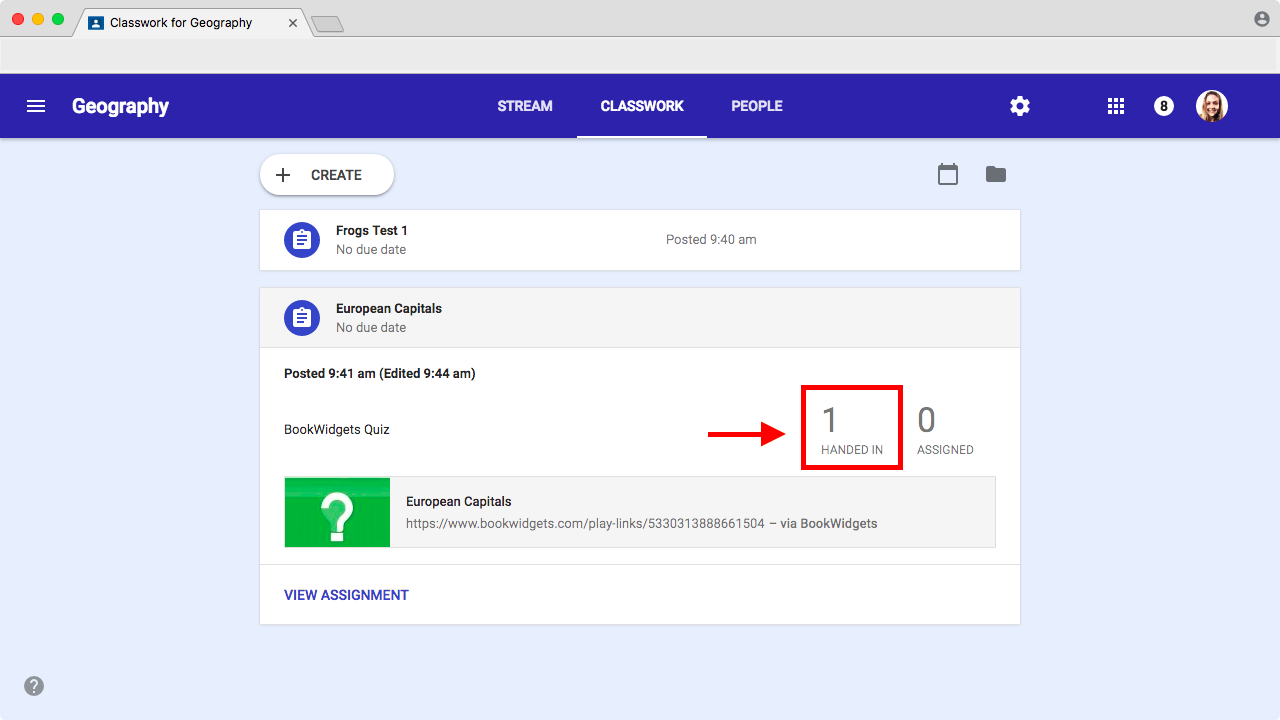 Working from inside BookWidgets
Maybe you didn't know this, but there's another way to share widgets in Google Classroom as well. From inside BookWidgets. It's a little detour and you will be switching between 2 platforms instead of 1, but if you're used to working in BookWidgets, this is a nice feature.
Step 1: Login to BookWidgets
Remember in order to create widgets or exercises in Google classroom, you had to install a plugin and create a BookWidgets account? Well, you'll need your BookWidgets email address and password again.
Go to www.bookwidgets.com and sign in.
Step 2: Create a widget
You're now in the BookWidgets editor, which is exactly the same as you were working in Google Classroom.
Just create a new widget as you did in Google Classroom. Don't know how to do that? Take a look at this tutorial.
Step 3: Share to Google Classroom
In Google Classroom, you had to click on "Done" when you finished creating your widget and then send it to your course stream. Now, it's a little bit different.
When you have finished creating or editing your widget, you ask for a shareable link. There, you'll see an option to send the widget to Google Classroom. Click on the icon and choose your course. Then click on "send to Google Classroom".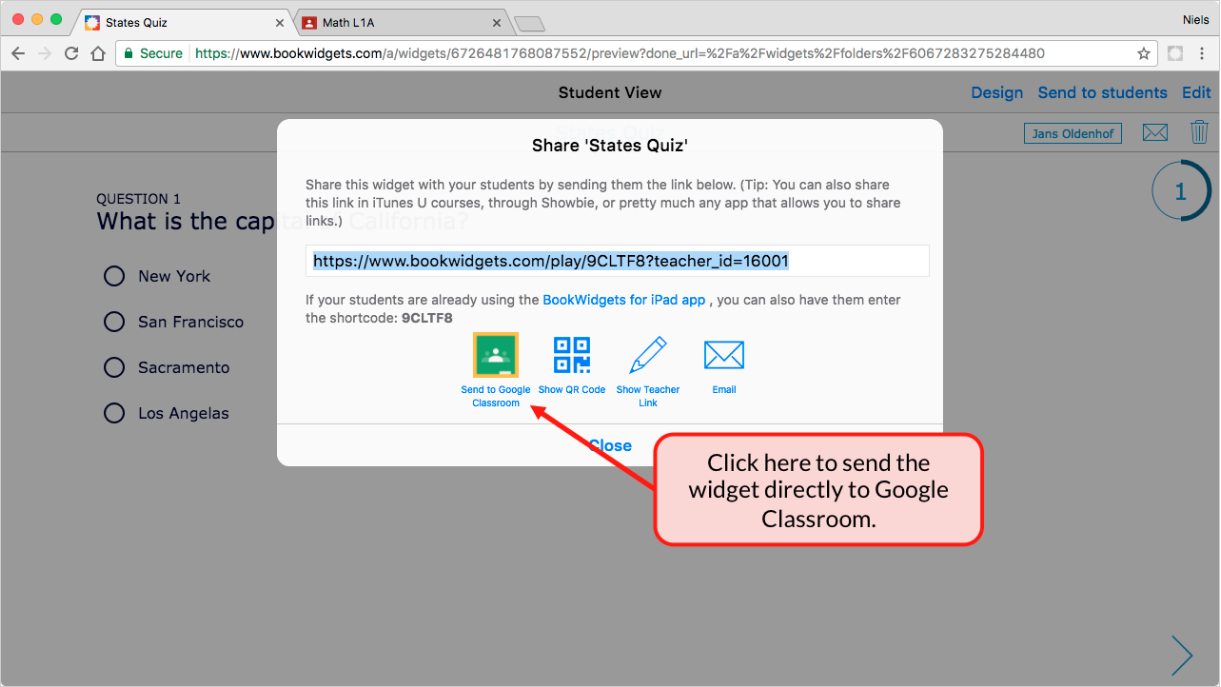 If you had already created a widget before, you can simply go to "my widgets" and click on the little arrow next to the widget you want to share. A little drop down menu will appear. Now just click on "Share" and choose your Google Classroom course.
That's it! Now, your BookWidgets exercise will appear in the student's course stream. From now on, the flow is just the same as before. Students get to make the exercise and submit it to the teacher. The teacher can open the student's work grade it and return it to the student.