Caution: iOS11 / iBooks 4.13 breaks internet content

by Xavier Van Elsacker — Sep 26, 2017
For a lot of people iOS upgrades, bringing new features and productivity upgrades, are something to look forward to. Unfortunately there is also a downside, Apple developers are only human, and they write bugs like the rest of us.
This post is about an iBooks bug which was introduced with the iOS11 upgrade. If you're not using (or publishing for) iBooks you can stop reading now, but if you are, please read on. Your books could have become annoying to use or completely unusable…
Using internet content in iBooks
Prior to iOS 11, YouTube, Vimeo or internet webpages could be embedded in your books using widgets, e.g because you don't own the rights or the videos are too big.
Using BookWidgets, this content could be integrated on it's own, using our WebEmbed, YouTube and Vimeo widgets.
It could also be integrated as part of a widget, e.g. an online simulator embedded at the start of a Quiz, a hotspot popping up, a YouTube video, etc.
What changed in iOS11 / iBooks 4.13
The new iBooks version brings 2 problems.
The minor problem is a usability problem: whenever content is loaded from the internet, authorisation is requested. I'm not sure what drove the decision to add this, but the reader gets presented with an URL which means little to him and he has no opinion about.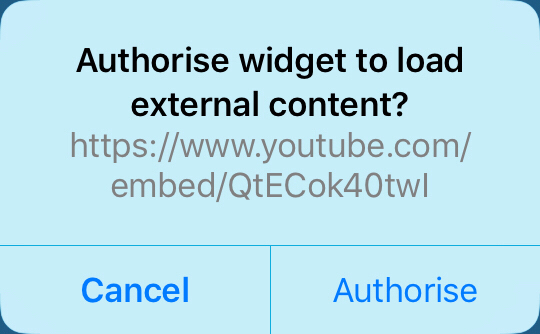 There used to be a time when Apple made fun of Windows for this type of behaviour, seems we've come a long way…
Brings us to the major problem: after you authorise the access, your widget is gone. The video replaces the widget. So, if you added a video as part of a quiz, you will no longer be able to access the quiz.
What to do about it?
If you're using our WebEmbed widget to integrate web content, your widgets will now come up as a white screen. In most cases this problem will be fixed by updating your widget with our upcoming release.
If you're using internet content as part of a widget, or you're embedding a page which contains iframes, no such luck. There is nothing we can do to fix it.
We have reported these problems to Apple. Apple told us that they're urgently looking into this issue, we don't know when it will be fixed but we of course hope it will be soon.
In the mean time, if you need this, please don't upgrade to iOS11 and prevent your students from upgrading to iOS 11 until either Apple has fixed this problem or you've managed to change your books, e.g.
by removing access to internet content outside of widgets,
by replacing online videos with embedded ones
by providing access to the widgets outside of iBooks.
We're fully aware none of these solutions are easy.
Based upon their communication, we believe the team at Apple is handling this with urgency. Of course, if either of these problems affects you or your students, you can always reach out to Apple yourself, either through personal contacts or by submitting a bug report.