The t-MAIL project: using mobile learning for continuing professional development

Xavier Van Elsacker —
Where most of us agree it's important to keep our skills and knowledge up to date, it's often a struggle to find the time, balancing learning with the zillion professional and personal responsibilities and activities in our lives.
Yet it's important. So what does it mean? Learning is of course very broad… it's done continuously and in many different ways… Both formal, in training courses, and informal, when we're reading, watching, listening or simply doing things and reflecting on them, learning from our own experience. In all cases others are important, be it teachers, trainers, colleagues, mentors, anyone who helps moving you forward by explaining, giving feedback, discussing, …
How much we learn from all of these depends on many factors. Both the environment we're in (challenging, focus on change and improvement, …) as well as our personal attitudes and skills have a great impact. In my previous post about the tMAIL project I've focused on the Self Regulated Learning (SRL), a toolbox of learning strategies that the t-MAIL project aims to instill in primary school pupils.
And, getting back to continuing professional development (CPD) topic of this post, where enhancing the SRL skills of the future generation is a lofty goal, t-MAIL aims to do much more. Teaching SRL to the pupils starts with teaching the teachers… and the way that t-MAIL addresses this is quite novel and can become the basis of other teacher CPD going forward.
t-MAIL has chosen to use a mobile learning approach for teacher proffesional development, delivering training courses on the different SRL strategies through a mobile app, accessible through each teacher's smartphone.
Mobile learning
Use of mobile learning overall has been gaining ground steadily, due to the many advantages it offers:
The mobility aspect means you can do your learning anywhere and anytime, which may mean whenever you have time, e.g. when you're sitting on a bus or a train, but more importantly when you need it, e.g. review some material right before you're planning to apply it.
Learning can be personalised, taking into account your interests and knowledge
Mobile technology can help making topics more authentic, e.g. by integrating real tools, simulators or videos.
Because of it's communication features, the mobile devices support cooperation between learners
The mobile devices can monitor what you've done and help you reflect on your learning and progress, offer you a way to compare with others, give a teacher - trainer - mentor - educator insights on how to best help you.
The t-MAIL app
For the t-MAIL app we've chosen to deliver SRL information in the form of microcourses which are organised according to the different phases of the Zimmerman model.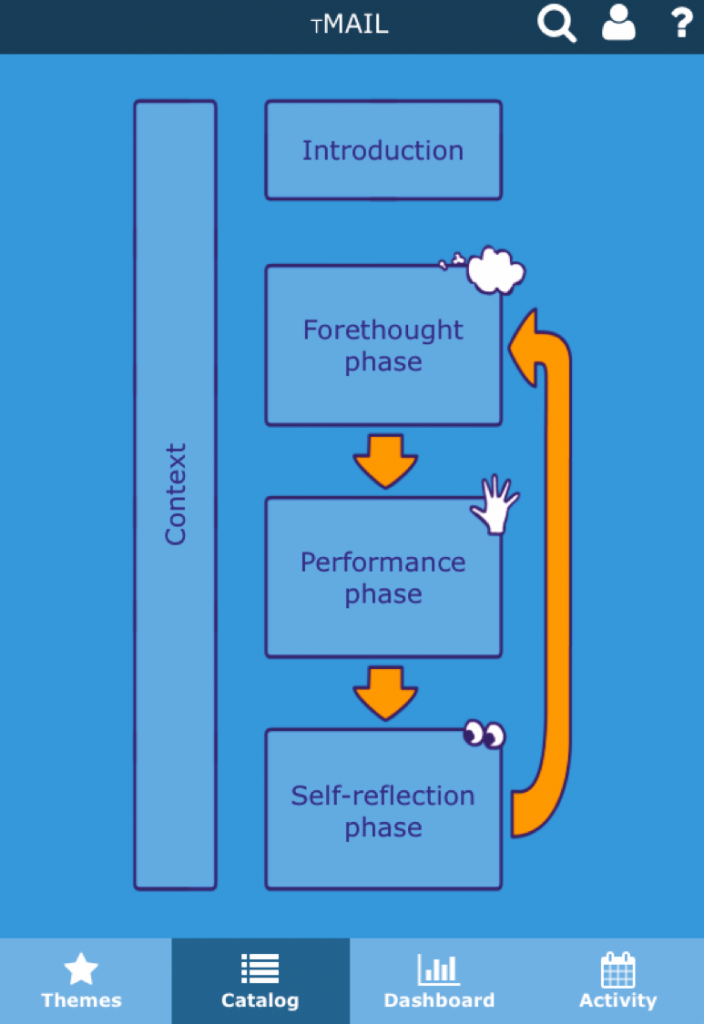 These microcourses are small, to-the-point modules, each of which takes a couple of minutes. They are built up out of mix of static information and interactive activities. Each of these achieves multiple tasks:
explain a specific SRL strategy
invite you to use the strategy yourself and reflect upon it
hand out tips on how to stimulate the use of it with your pupils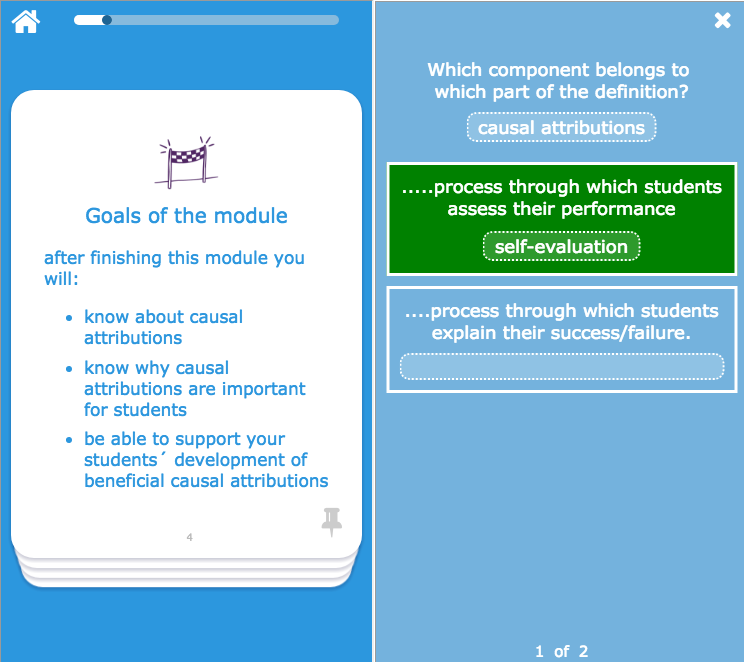 To allow you to quickly get to the course you need, t-MAIL offers different ways to navigate the course material:
You can pick a course from the catalog based upon the Zimmerman model phases.

Navigate based upon Zimmerman model

You can follow the apps personalised theme-based recommendations


Personalised suggestions

From the progress dashboard you can navigate to the courses which help you improve specific skills.

Using full course search you can find specific information, e.g. to quickly review the tips before stepping into your classroom
t-MAIL provides the personalised path through the material using a set of questions about how you feel, how well you understand and how confident you feel in teaching different SRL aspects. These questions achieve much more than a personalised path:
They force you to reflect upon different aspects of SRL
They're used for measuring progress displayed in the progress dashboard.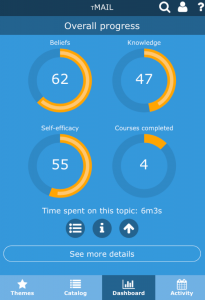 The app also provides a diary in which you can record the SRL support you've given in your classroom and visualise your progress.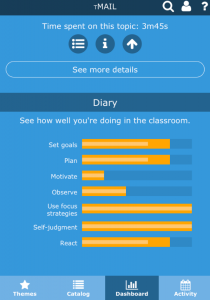 For the pilot we've chosen not to include a specific communication channel inside of the app but to set up facebook groups to facilitate the discussion between the different teachers.
Teacher educator support: monitoring and analytics
Where learning can happen in isolation, often progress is quicker when working with others. To support the use of t-MAIL in group settings, t-MAIL offers support for connecting teachers with teacher educators who can monitor their activity and progress.
Used as a mentoring tool, the teacher educator can provide specific feedback and suggestions.
In a group setting, information about what aspects of SRL are being used to prepare and steer group discussion.
Also, overall usage analytics are tracked to measure the project success.
So where are we with the project?
We've started work on t-MAIL last year, ensuring we had a solid foundation buiding on the latest in SRL research, mobile learning and teacher learning, building the training courses, the mobile app and the backend server infrastructure.
From Februari till now a pilot has been going on in the schools in Flanders , Spain and the UK. The pilot was guided by teacher educators in each country who have also organised face to face sessions where the course and the application of the SRL techniques in the classroom could be discussed.
During the pilot phase a lot of data was collected, both quantitative data based upon the analytics embedded within the app, giving us information about app use and teacher progress, as well as qualitative data collected using interviews and surveys both at the start and end of the pilot.
The pilot phase is now complete and we're starting with the analysis of the collected data. Although there have been positive signs it's too early to draw any conclusions. I'll of course report on the results when we have them, you can also subscribe to the t-MAIL newsletter.
Both apps and training courses need feedback and iteration to impove, andwe're looking forward to the analyis outcome for steering the t-MAIL future.
Want to learn more about t-MAIL?
The t-MAIL project is driven by the VUB (Free University of Brussels) together with 8 partners, among which the university of Vienna (UNIVIE), the university of Madrid (UAM), the university of Hull(UH) and the educational network organised on behalf of the Flemish community (GO!). BookWidgets took care of the developing the mobile app and backend services.
More information about the t-MAIL project, the full list of partners, it's goals, and results can be found on the t-MAIL project website.