How and when to use Exit Slips

Niels Vanspauwen —
In almost all education, one lesson builds on top of the other. Knowledge acquired yesterday, forms the foundation of knowledge that will be built up today. To build a stable tower, you have to be sure the previous layer is firmly set, before you pile on the next layer.
An exit slip (a.k.a. exit ticket) is a great way to quickly gauge student understanding at the end of a lesson. It gives you a snapshot of how well students have understood today's lesson, so you can tell whether you can start building the next layer.
In this post, we'll cover how and when to use exit slips, tips to create great exit tickets and of course how you use them with BookWidgets.
What makes a good exit ticket?
Exit tickets should be short: ask every student one or two short questions (or "prompts") about today's lesson. Keep in mind your goal here: the answers should tell whether you need to reiterate, or continue building your tower.
Importantly, exit tickets are not tests and you certainly shouldn't grade them. Think of exit tickets as a measuring instrument that provides feedback to the teacher. In a way, you're not assessing your students, but rather your own teaching.
Good exit tickets challenge students to synthesize information and express what they've learned in their own words. This means asking open questions, so steer clear of multiple choice questions here.
Broadly speaking, there are 3 kinds of prompts:
Prompts that document learning
For instance: "Write one thing you learned today."

Prompts that emphasize the process of learning
For instance: "Write one question you have about today's lesson."

Prompts to evaluate the effectiveness of instruction
For instance: "Did you enjoy working in small groups today?"
We'll provide some inspiration for good prompts further down in this article.
How to make and interpret exit slips
With BookWidgets, creating exit slips is very easy. Our exit slips always consist out of two questions: a feedback question and a content question.
The feedback question gauges how students feel about today's lesson, and they answer with a positive, neutral or negative emoji. By default, this question is: Did you understand today's lesson?
The content question is an open ended question about today's lesson. For instance: What are the main points of today's lesson? You can optionally add an image to the content question.

The BookWidgets editor for exit slips
Students use their tablet, Chromebook or laptop to answer both questions and submit their answers with the push of a button. BookWidgets automatically collects all of their answers and presents you with handy overview: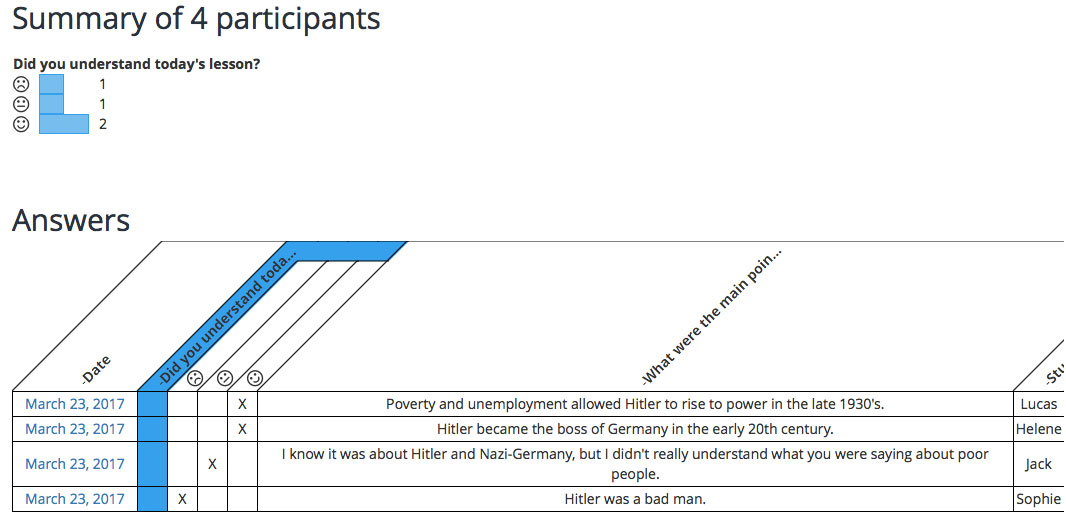 Automatically collected student answers
When to use exit tickets
As the name implies, you use exit tickets at the end of class. The main goal is to check student's understanding, but there are a couple of other reasons you might want to use exit slips:
Verify that students can solve a problem
Emphasize the essential part of the lesson
Gather questions that students have about the topic
See if students have a sufficient level of understanding to apply the content in a new way
Get input for differentiated instruction (more about that in the next section)
Sometimes, exit slips are actually used as entry slips. In this case, you use them to quickly figure what students already know (or think they know) about a topic as you begin a new unit.
Exit tickets as a tool for differentiated learning
As we've talked about many times on this blog, we're firm believers that personalized learning is the key to maximizing every student's potential. If you craft your content question right, you can use exit tickets as an instrument to measure level of understanding.
Clustering the answers can give you insight into which students need reiteration and which students need extra challenges.
Teachers that use the flipped classroom methodology, often create more elaborate quizzes instead of simple exit tickets. For instance, they use our Quiz widget to create a short, auto-corrected test that students take at home, after reading a chapter or watching a video on some new material. At the start of the next class, the teacher looks at the results in his dashboard to decide which students can proceed to applying their new knowledge, and which students require in-class instruction.
How to come up with good exit slip prompts?
Here are some example prompts to draw inspiration from:
Write down three things you learned today.
If you had to explain today's lesson to a friend, what would you tell him/her?
What question do you have about what we learned today?
What part of the lesson did you find most difficult?
What would you like me to go over again next lesson?
Write down two questions you would put in a quiz about today's lesson.
What were the main points we covered today?
Did the group activity contribute to your understanding of the topic? Why?
Read this problem … What would be your first step in solving it?
I used app X extensively today. Was it helpful? Why or why not?
Was this post helpful?
What better way to end this article than by gauging your feedback via… an exit slip! Please let me know if you found this article useful by filling out the widget below: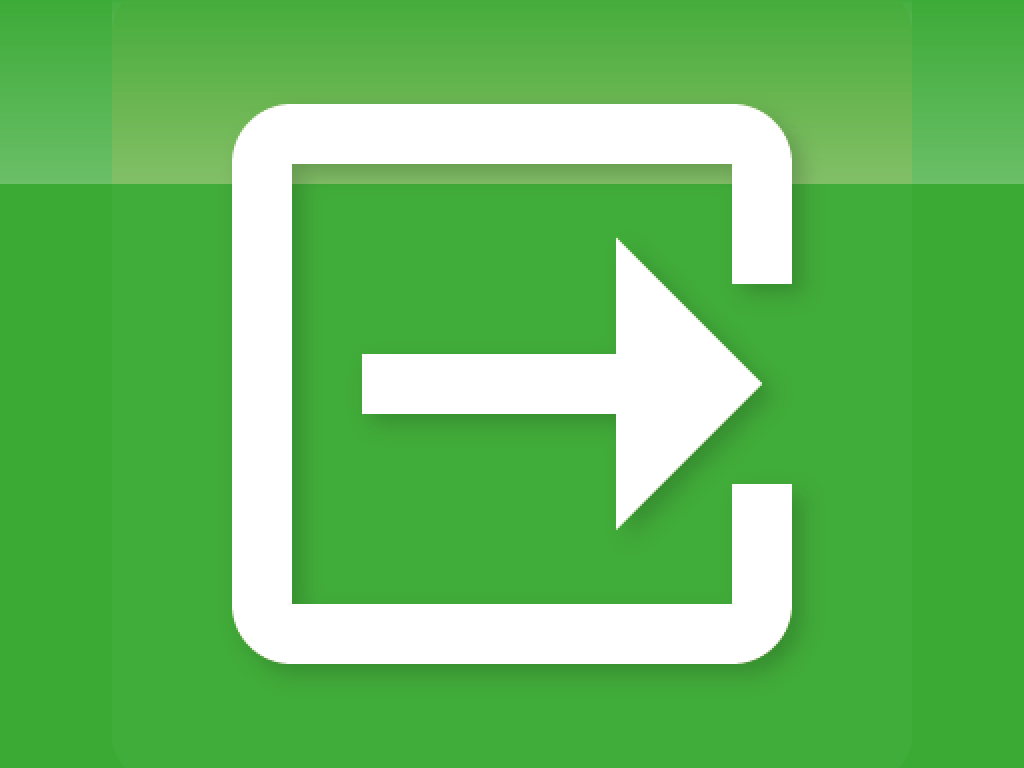 Click to open
Want to try your hand at creating exit tickets with BookWidgets? We offer a free 30-day trial.